A Swiss hiking adventure
12 September – 14 September
One of my best mates, Jez, from high school was living in Switzerland working at the World Health Organisation (WHO) in Geneva. We planned to catch up for the Mt Schilthorn hike with two other friends Rockie and Julie who were also working for the WHO. All four of us had hung out in London and I was looking forward to catching up.
I flew into Geneva on Friday morning. Jez had work so I had the day to myself to explore Geneva. It is a nice city on Lac Léman (Lake Geneva) though wasn't too much to see. It was nice to explore though I only needed one day. I met up with Jez, Rockie, and Julie around 4 pm and we headed off towards Interlaken.
We had booked a car and an Airbnb just outside Interlaken, so we had a 2-hour beautiful drive across Switzerland. It was just stunning, the mountains, lakes, and countryside are so dramatic and beautiful. We often hoped out of the car to just take in the fresh air and enjoy the stunning scenery.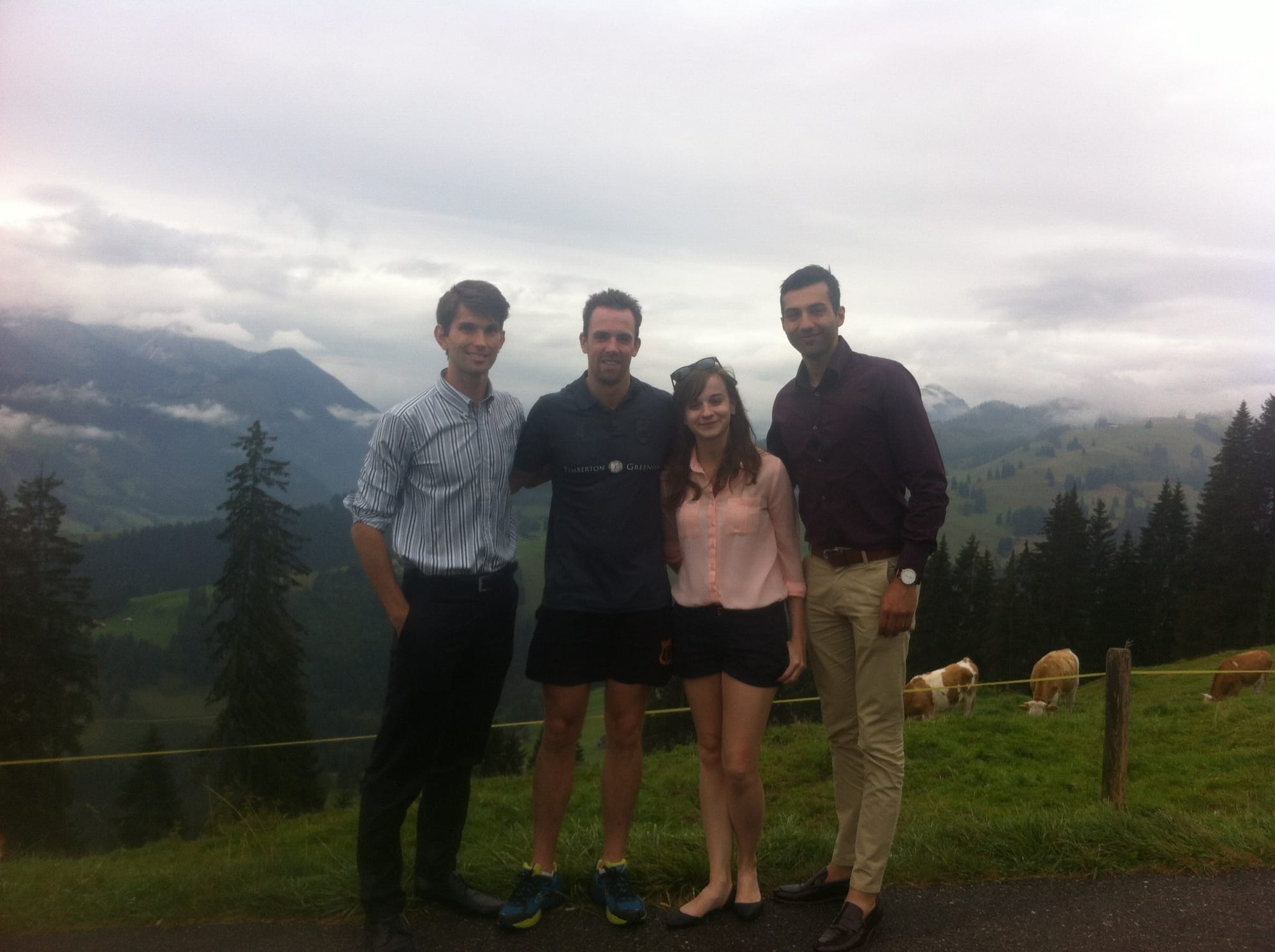 We arrived at our Airbnb, it was beautiful, a huge double story wooden house nestled into the countryside surrounded by mountains and farmland. We had purchased some food and drinks on the way up and it didn't take long for the cheese, cold meats and beers to come out. We had a great night catching up and just taking in the stunning Swiss countryside. It is the most scenic place I have ever enjoyed a cheese platter. The next morning we needed to be up early as we were off to hike Mount Schilthorn.
Mt Schilthorn is a summit in the Bernese Alps of Switzerland. It overlooks the valley of Lauterbrunnen in the Bernese Oberland and is the highest mountain in the range lying north of the Sefinenfurgge Pass. The Schilthorn lies above the village of Mürren, from where a cable car leads to its summit. It is 2,970m in elevation with a prominence of 358m. Despite the cable car we were going to hike it on foot.
In the morning we headed to Interlaken to pick up some hiking maps and pay our park fee for the hike. Interlaken is known as one of the adventure towns of the world. Nestled between two lakes and the Swiss Alps, Interlaken offers adventure seekers a plethora of adrenaline-pumping activities that make for a great adventure holiday. Thousands of hikers, skiers/snowboarders, kayakers/canoers, para-gliders, mountain bikers, bungee jumpers, base jumpers, skydivers and so many more adventures come to Interlaken each year to challenge their skills.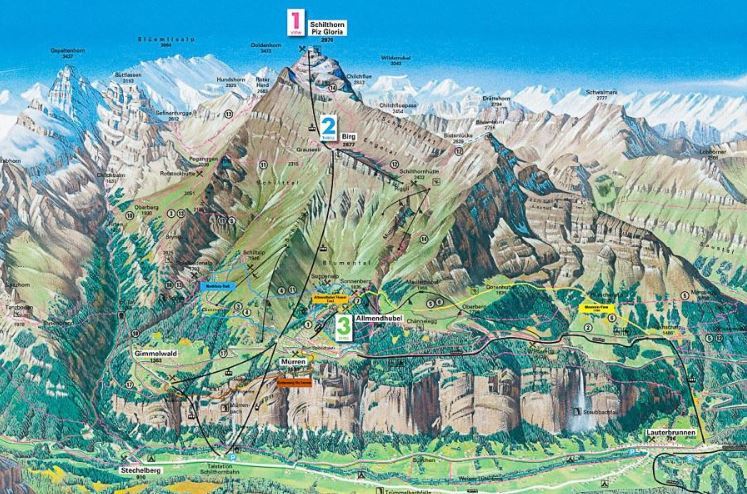 We drove in Stechelberg where there was a local marathon run taking place and base jumpers and skydivers were in the skies above us. There is always an adventure event happening. We took the cable car to from Stechelberg to Mürren, where we were able to then start our hike. Th trail took us towards Allmendhubel a small farming village on the slopes of the mountains. The hiking trail was well guided and we planned to follow the yellow triangle markers up to the town of Birg and then up to the summit, Piz Gloria. The hike was around 12km to the summit.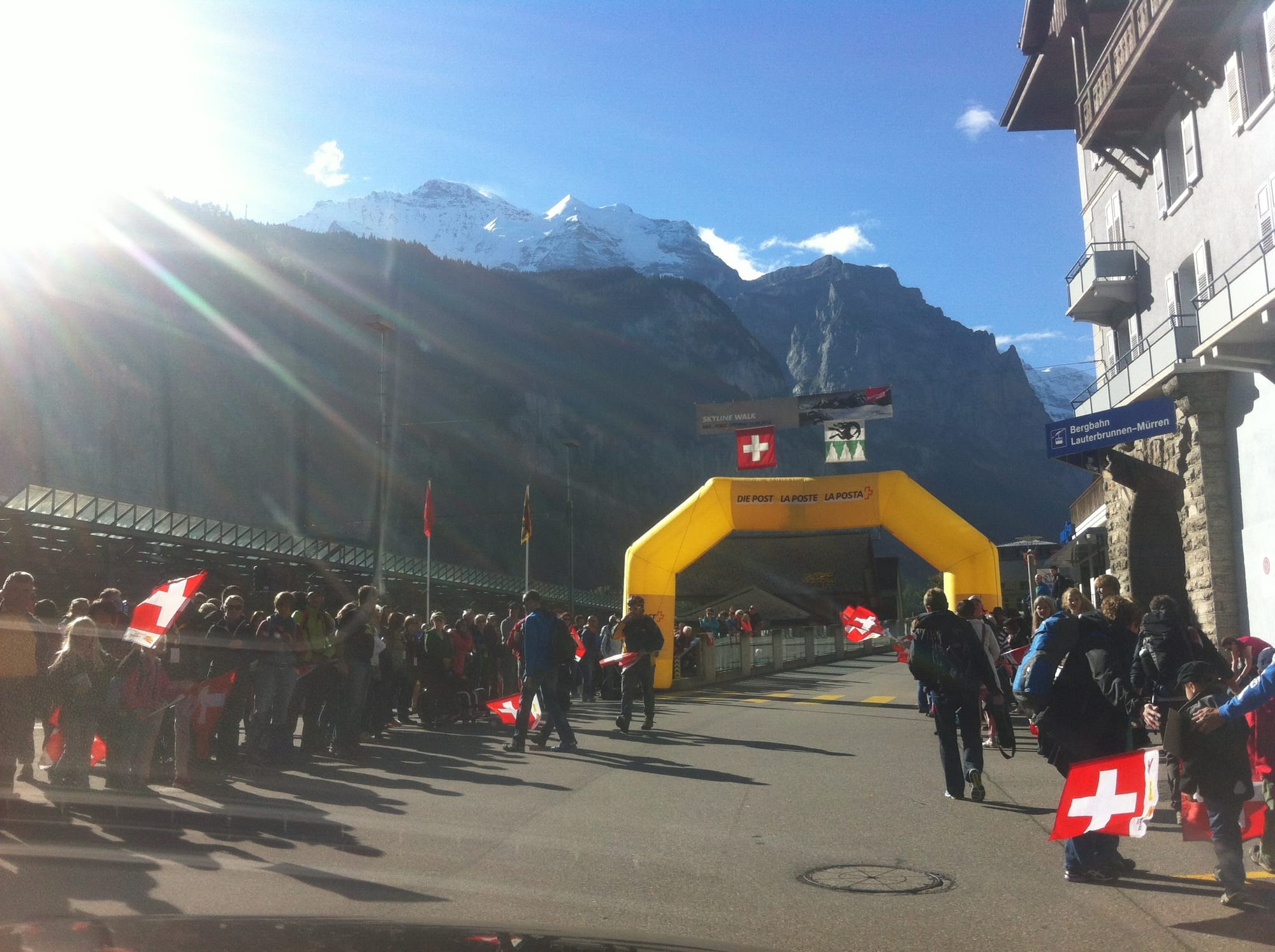 The views were just stunning! We were so lucky to have a clear sunny day and it just felt like the mountains were alive and full of life. Dramatic snow peaked mountains surrounded us everywhere we looked with lush farming fields of sheep and cattle below. Every step higher we took the view just got better and better. It was just incredible! To this day they are some of my favourite views and I am just blown away from how beautiful the Swiss countryside is.
We knew it was a long hike up and back so we had to keep moving. We kept heading up. We were the only people on the trail which made it so nice to just enjoy, joke around, and make pit stops when we wanted. Once we got higher up and in the open fields there wasn't a clear path we were able to just veer off to enjoy the farming fields and lakes as we pleased provided that we kept finding the next marker to the Mt Schilthorn peak.
Across the valley from us stood Mount Eiger, Mount Monch and Mount Jungfrau. Mount Eiger is a 3,967-metre mountain, Mount Mönch at 4,107 metres mountain, and Mount Jungfrau, at 4,158 meters are all mountains in the Bernese Alps. Mount Jungfrau is one of the main summits of the Bernese Alps located between the northern canton of Bern and the southern canton of Valais, halfway between Interlaken and Fiesch. The three peaks of Mount Eiger, Monch and Jungfrau forms a highly recognisable group of mountains, visible from far away. The north face of Mount Eiger is one of the deadliest hikes in the world claiming at least 64 climbers since the 1930s. The passage up the north face of Mount Eiger has been advised not to climb due to climate change which has made the ice on the climb melt making it incredibly dangerous to follow this passage.
No matter where we looked we were surrounded by stunning white-tipped mountains. It was just so beautiful! Lush green fields and clusters cute farm cottages scattered the countryside. It was a hikers heaven!
As we continued our hike up Mt Schilthorn the temperature started to drop. We were all wearing light hiking gear with good hiking shoes, though you should always have some warmer clothes if the weather changes, which can happen so quickly when you are hiking at altitude. Regardless of the cooler weather, it was still pleasant hiking weather as we ascended and the views just kept getting better. Numerous small lakes and blocks of snow/ice started to appear as the peak started to level out.
We arrived at the final section of our hike. By this time we were hiking amongst the clouds. The final section of the trail lead up to the summit Piz Gloria. The trail was across a sheer cliff face of rocks. Luckily it wasn't too windy and there were handrails to hold onto. The clouds had settled in and we could barely see more than 5-10m ahead off us. The trail had spray can arrows marked on the rocks to guide us across the ledge and up to the final peak. We had our last drink stop and walked into the clouds.
It was like an Indiana Jones movie walking into the clouds across the spine if the cliff. A sheer drop off either side of us, rumbling and loose rocks beneath our feet, and eerie clouds surrounded. As we made it across and up the last section we climbed through the clouds to see the peak. We cruised up the final 100 metres of the trail to the peak. It was great to get up to Piz Gloria to enjoy the views and a James Bond hamburger.
Piz Gloria was featured in the 1969 James Bond movie 'On her Majesty's Secret Service. It is a black ski run that leads down to the town of Birg below. At the summit, there is now a James Bond museum and a revolving restaurant.
We decided we would hike down to finish the day. To be honest…we weren't too sure which trail path we were following on the hike down provided that we arrived in Mürren we just kept going. We did find a beautiful lake where Rockie and I enjoyed a swim in the Alps! Back-dropped by the stunning Swiss Alps it is still one of the most beautiful places I have swum. We dried off and kept heading down the mountain. At times we had to jump some farming fences, as the clouds came in and the sun started to set behind in the mountains we knew we had to keep moving to get down before dark.
The cows weren't too happy with us interrupting them and we had one close call with a male bull. Jez used his Dr Doolittle communication skills while we kept moving out of the bulls line of sight. Not sure whose backyard we came out from though we ended up in Mürren in time to catch the cable car back down to Stechelberg to collect our car.
By this time it was pretty dark so we stopped in at one of the local pubs on the way home for dinner and a cold beer.
It was such a great day and definitely the best day of hiking I have had to date. Just such a beautiful part of the world. It was a long 24km day hike but relatively moderate hike with a few difficult sections. I would definitely recommend for everyone to do the Mt Schilthorn to Piz Gloria hike at least one leg of the way rather than just taking the cable car. It will give you an experience you won't forget.
My flight wasn't until the evening so we took the time to explore some of the Swiss countryside on our drive back to Geneva. We stopped in at Gruyères to explore the small medieval town and take a Gruyères cheese tour of a Gruyères cheese factory. We also explored the 13th-century Château de Gruyères before heading back to Geneva.
Unfortunately, it was time for me to head back to London life. It was great to catch up with Jez, one of my oldest friends from the old Perth days, and always fun to catch up with Rockie and Julie who are now married and live back in Canada. An amazing 3 days in Switzerland and an experience I will never forget!
Can't wait to be back in Switzerland for some more adventures!