If you haven't seen my Estonia blog. I was taking 10 days between jobs to do some travel through the Baltics. I had a fun few days exploring Estonia and was heading south-west to Latvia via train. Due to Estonia and Latvia being in the EU the trains free pass the borders. We did have a short stop at the border and as I was not an EU citizen I did need to clear customs to come into Latvia. It was a simple chat on the train about my intentions to come to Latvia and collecting a stamp in my passport.
My first stop was Gauja National Park (https://www.latvia.travel/en/sight/gauja-national-park) and I would be staying in Sigulda for a few days. Being autumn the national park is famous for beautiful hikes and its three castles (Castle Of The Livonian Order, Krimulda Castle, Turaida castle, and Sigulda Castle). It was looking forward to relaxing for a few days and going hiking through the Gauja National Park.
I booked at a local hotel in Sigulda which was nice to have my own room for a few nights. Arriving in the later afternoon I went to find a meal and to get some tips on the best hiking trails. I went to the information centre first near the train station to pick up some maps and local tips then headed over the main road where the cafes and restaurants were. It was a very small town with one main road running through, it had such a nice feel to the town. I stopped in at Mr Biskvits (https://mrbiskvits.lv/en) to have a look at the menu as it looked like a fun café with a nice atmosphere. The owner, Inese, was a lovely lady who was the only staff that spoke some English so she served me. She couldn't believe an Australian would come to Sigulda so we had lots to chat about as the café started to shut up for the evening. She suggested what I should have on the menu and I put my trust in her. The meal was delicious, and I had found my local café for the next few days. Her mum and children arrived in the café when she was shutting up which was nice to meet her family. It was such a nice family-run café with that beautiful innocent small-town feel.
Being a small town there wasn't much to do on a Wednesday night so I headed back to the hotel for an early night.
Waking up for a day of hiking, it was a chilly autumn Sigulda day though the sun was shining. I dropped into Mr Biskvits to pick up a salad roll for breakfast and headed off on my hike.
I was looking to hike through to each of the castles today and just enjoy the autumn look of the national park as the trees shed their leaves for winter. I headed to Castle Of The Livonian Order first as it was closest to the town. From there I went to Krimulda Castle and Turaida castle, crossing the Gauja River which was so beautiful.
In the afternoon I caught the canopy cart that crossed part of the national park so you could see it from above, it was so beautiful to get a birds-eye view of the national park. Castle Of The Livonian Order and Krimulda Castle had not been maintained as well with restorations though Turaida castle had been restored and converted into a museum now. It was a relaxing day hiking and exploring the national park. The sun was starting to set and I was definitely getting hungry.
I ducked back to Mr Biskvits, it was nice to catch up with Inese and her daughter Kristine for another local meal. It was nice to catch up with Inese and Kristine and talk about the hike and history of the area. Being a Thursday and a small town not much was open, so another early night awaited.
I wanted to make it to Riga for the weekend so Friday morning was just ducking into Mr Biskvits for breakfast and a quick goodbye to Inese and Kristine before catching my train. We exchanged contact details to keep in touch as they sometimes came to London.
The train ride to Riga was quick and easy. I had booked two nights at a backpackers in central Riga. I arrived in the afternoon and joined a walking tour. The tour guide was brilliant, really passionate about Riga and very funny. He loved his ice-hockey and offered us tickets to the match tomorrow night if we wanted to join him and his friends. There was a Beatles tribute band playing in the main square on Saturday so there were lots of festival sets ups going on in the main square, it was going to be a big party tomorrow.
On the tour, I met a few people from my backpackers and some other travellers. We agreed to meet up later to check out. I loved that Riga meant 'little river' as that was what the city was built on, the Daugava River, which was so important for trade into Russia. That is why Latvia/Riga had been such a popular city to control by different empires over the centuries. Riga has such a beautiful old town full of colours and beautiful old buildings. I really enjoyed exploring the old town!
Our walking tour guide suggested that we go to Rozengrals (http://rozengrals.lv/en/) for dinner and drinks. It was an underground pub that served medieval meals and drinks. It was a great suggestion. It was so much. They had soo many beers to try and they were served in large ceramic pots. The food was very hearty with huge portions and the pub was decorated like a pub from 100s of years ago. It was so much fun and we were all having a great night. I highly recommend you go there if you are passing through Riga. It was a fun night with a mix of Aussies, Germans, Indians, and Americans all out together.
The night was kicking on and we wanted the party to continue. We ended up at the local Irish bar close by where a live band and DJ was playing later.
The next morning was very relaxing and I just enjoyed exploring the city to get some fresh air. It was definitely getting cooler and I could feel that winder wind pass through me! The city had some beautiful coloured houses like you often see in Scandinavian cities. It was such a beautiful old town.
I caught up with some of the Americans later to watch the Beatles tribute band in the main square. I didn't know Latvia were such Beatles fans. It was great fun to party with all ages just singing the classics! A few of the other backpackers had gone to the ice hockey match and we would catch up with them later for a beer. Once the tribute band finished we met up with the others and decided to have a little pub crawl around the old town which was good fun trying the local beers.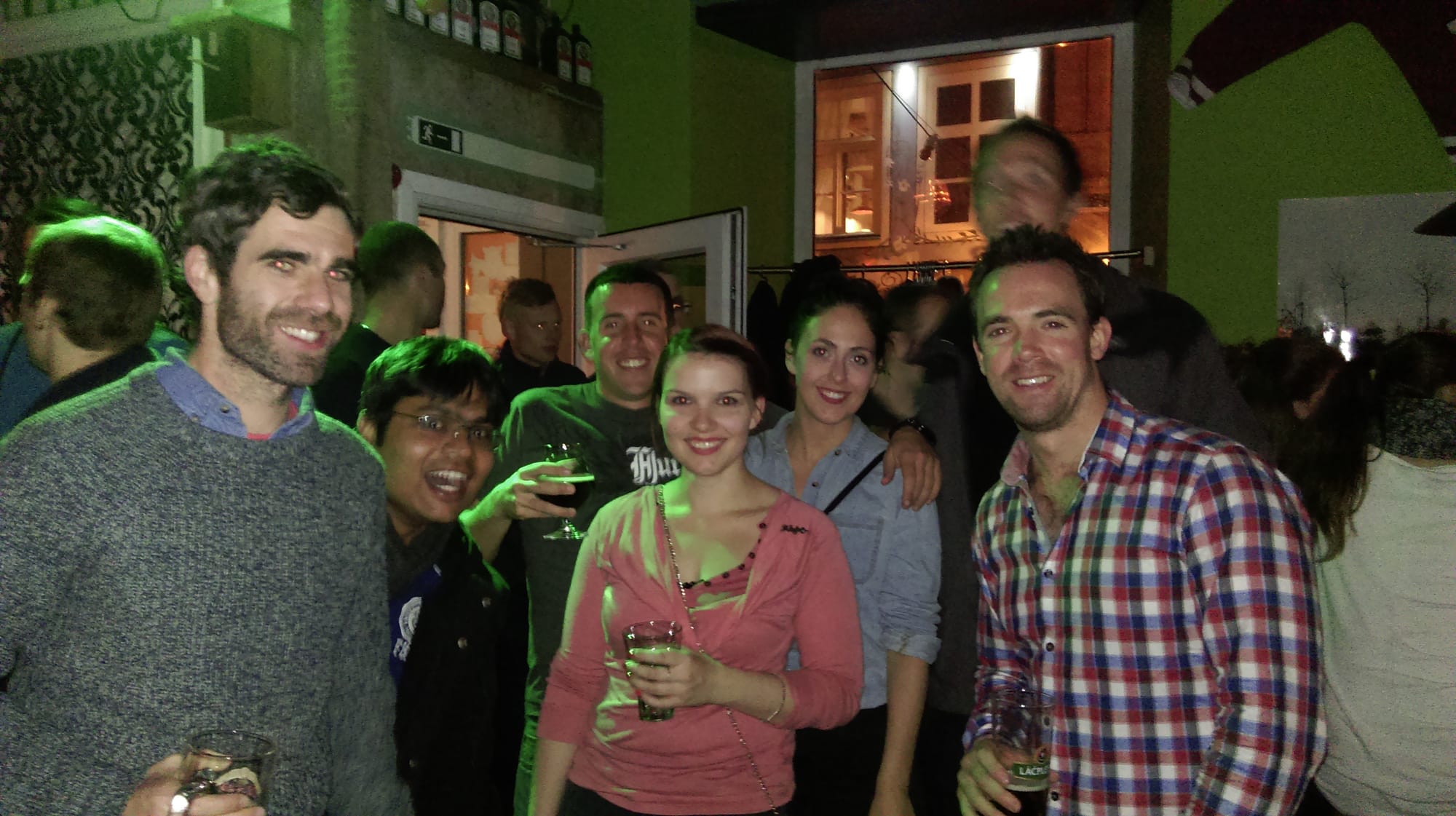 Sunday morning arrived and it was my time to check out and start heading to Lithuania for a few more days before heading back to London.
It was a fun 5 days in Latvia, I wish I had more time to explore the countryside as there was plenty more to explore. It was great to meet Inese and Kristine and the other backpackers in Riga. Riga is such a beautiful old town full of rich history. I loved my time there! A few friends have since been to Riga and also had a great time, i definitely recommend it for a nice weekend escape!
Inese, Kristine, and I kept in touch and emailed frequently after my return to London. I hope we cross paths again.