Belize is an aqutic travellers dream! From snorkelling and scuba diving on some of the best tropical reefs in the world to yachting adventures and spear fishing, Belize has it all.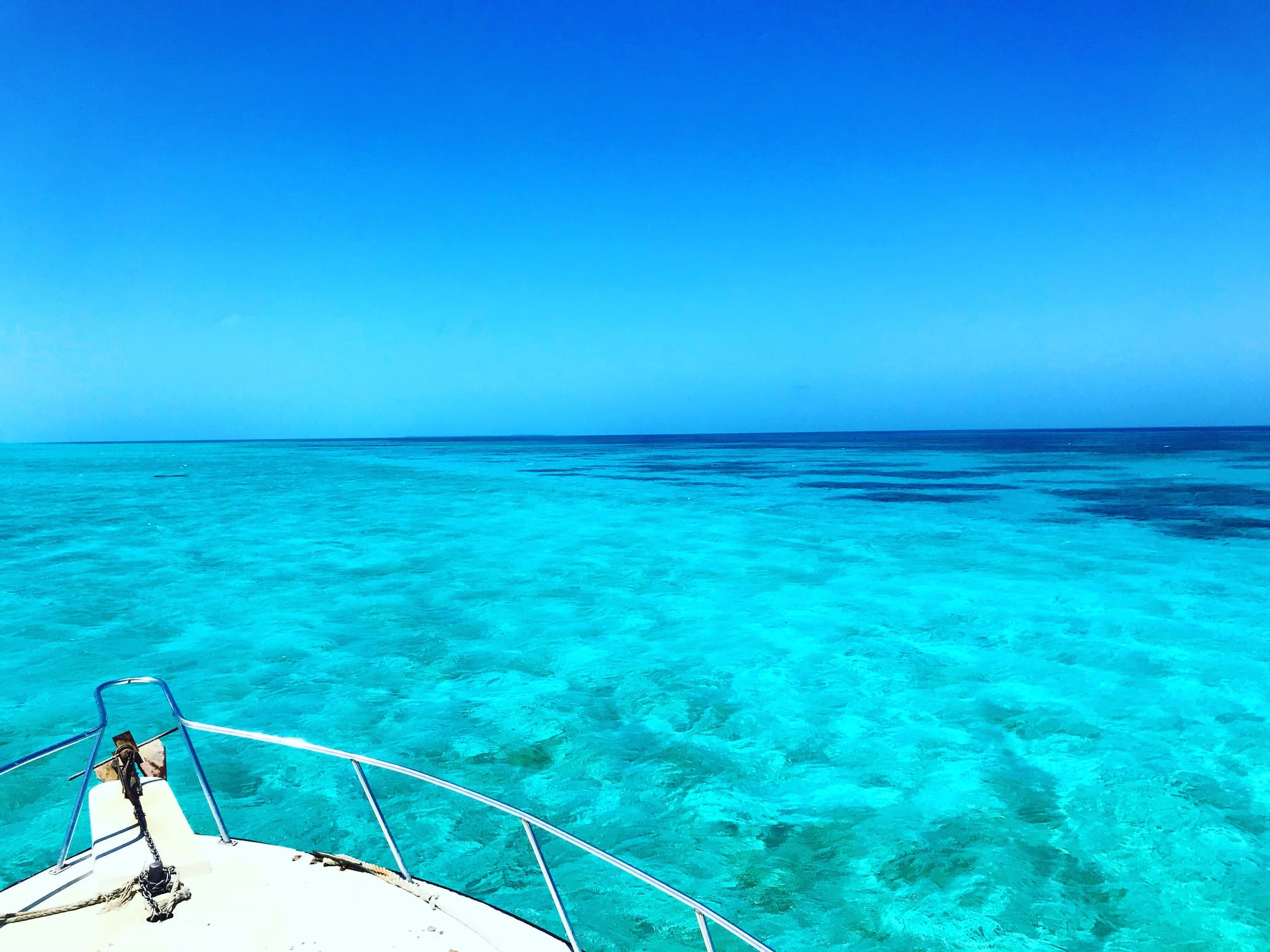 I flew in to Belize City from Roatan Island in Honduras. It was a beautiful 45-minute flight over the Belize barrier Reef and one that I will remember forever, just wish it was longer!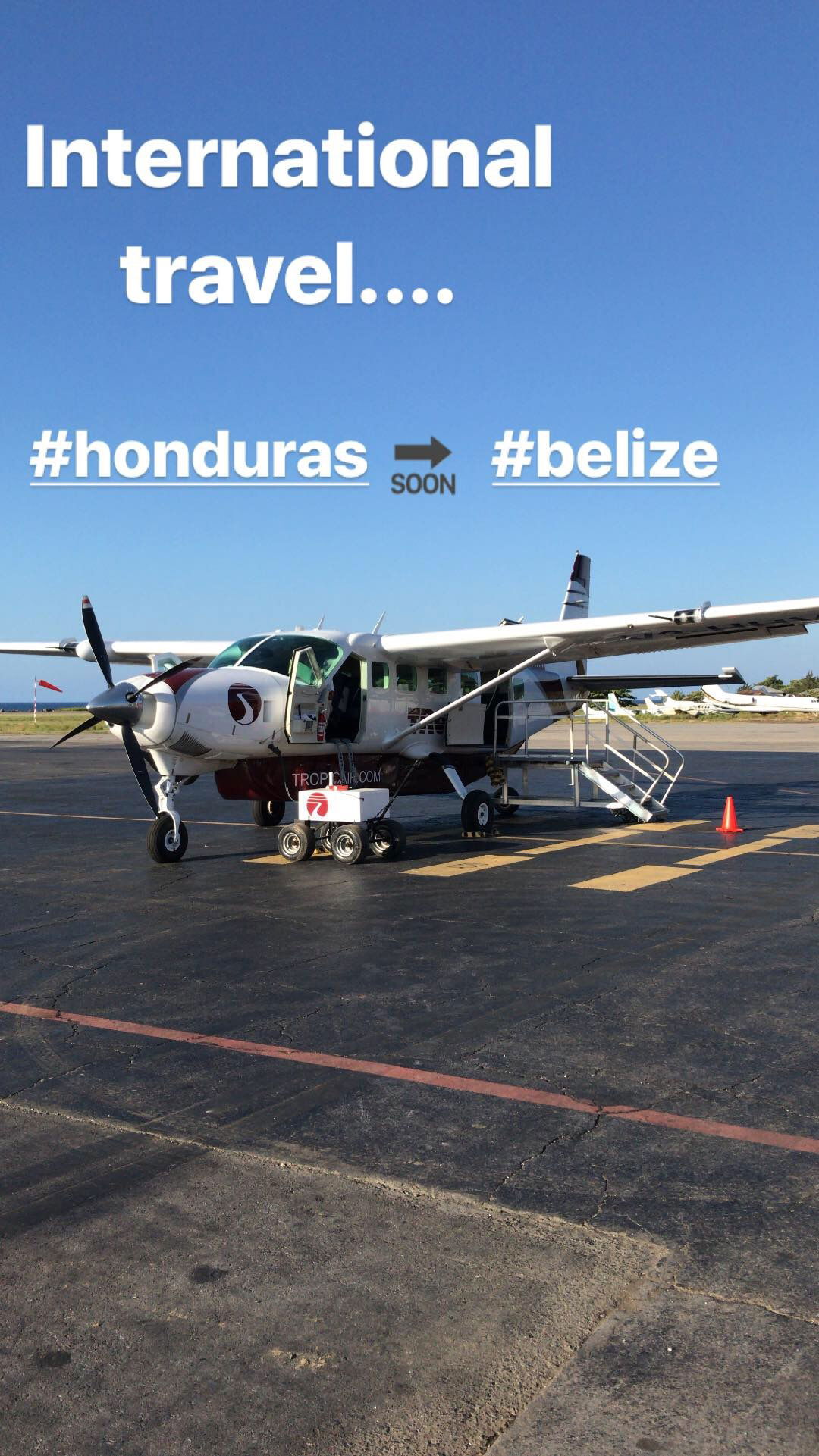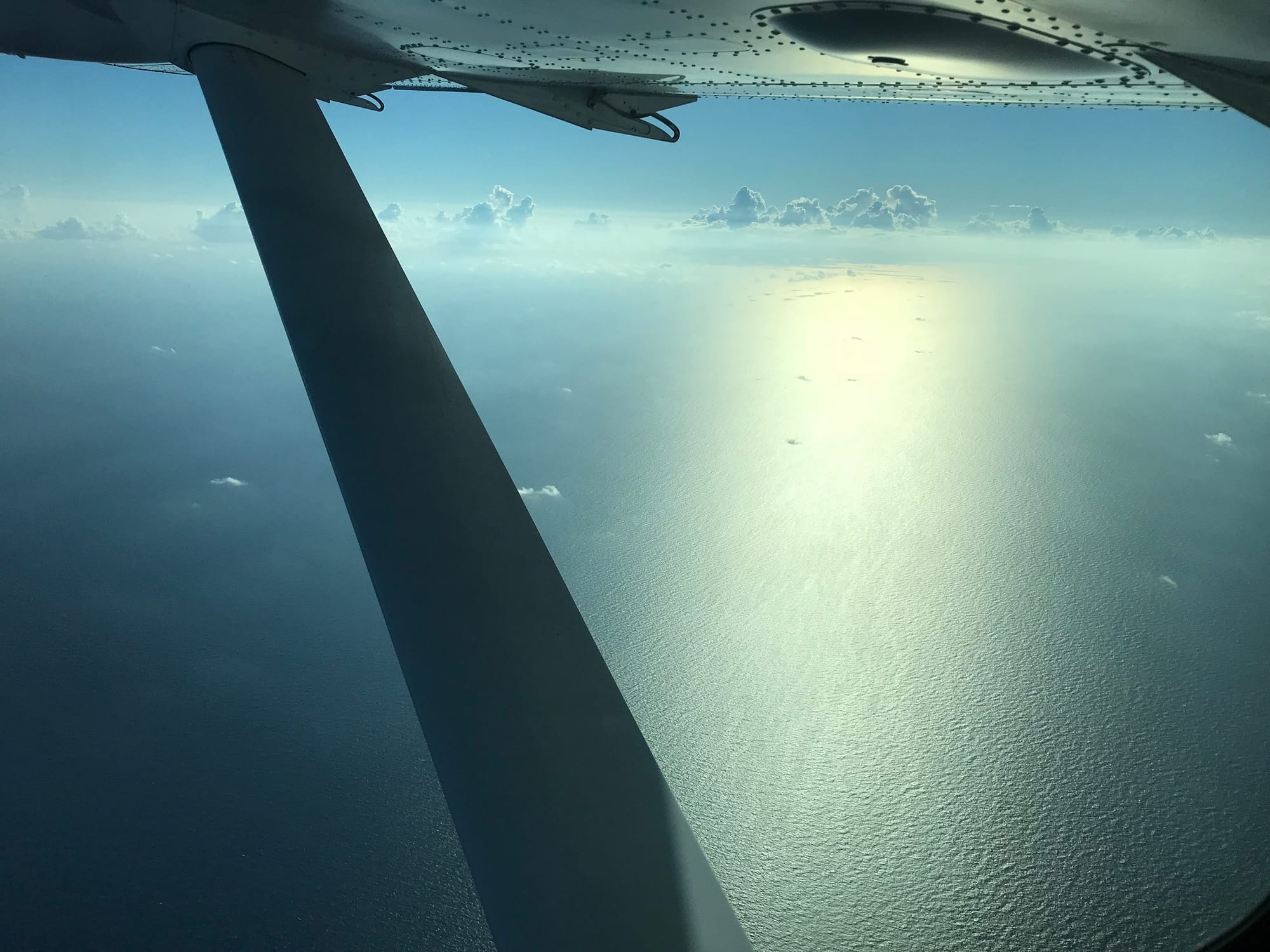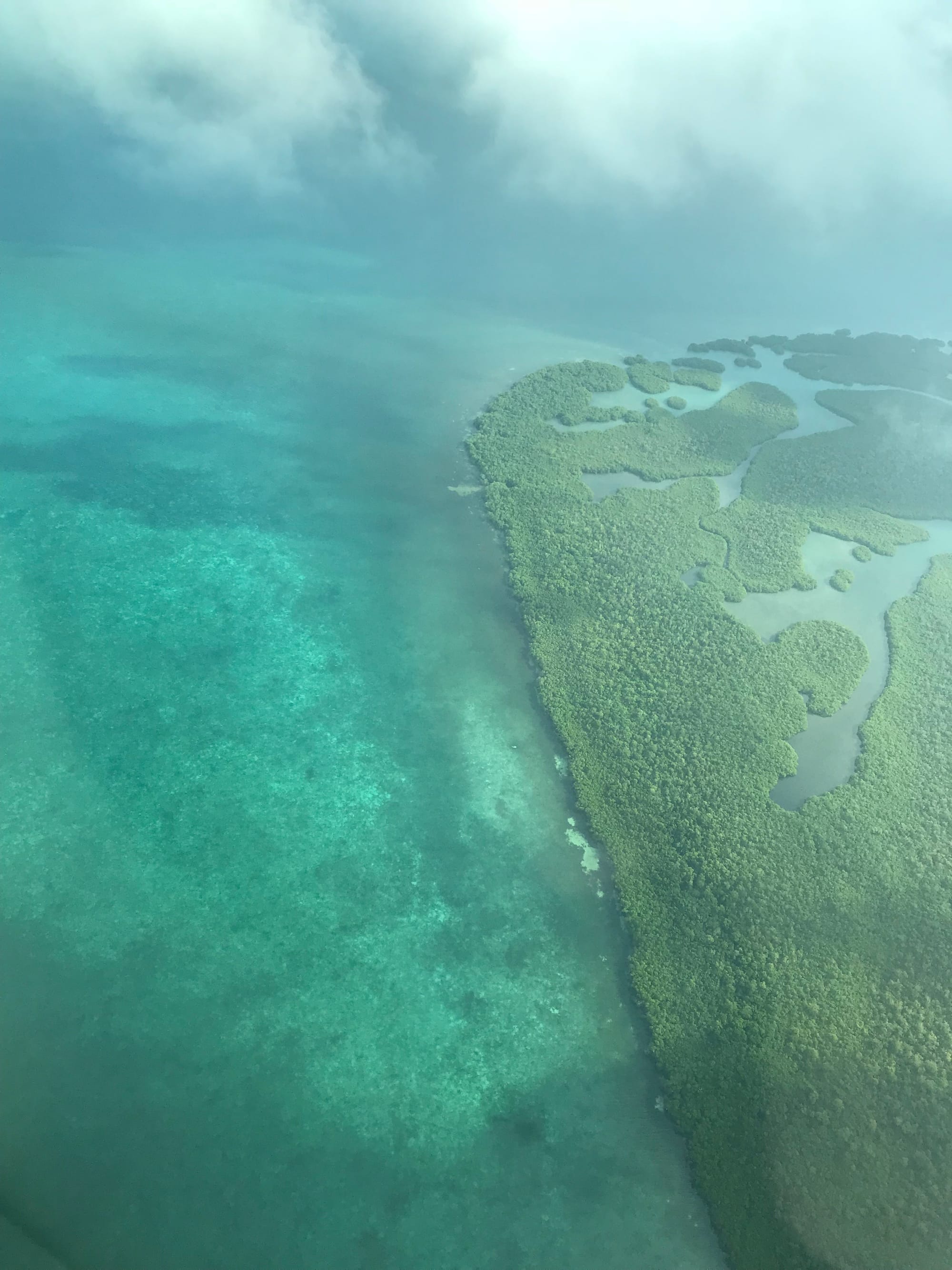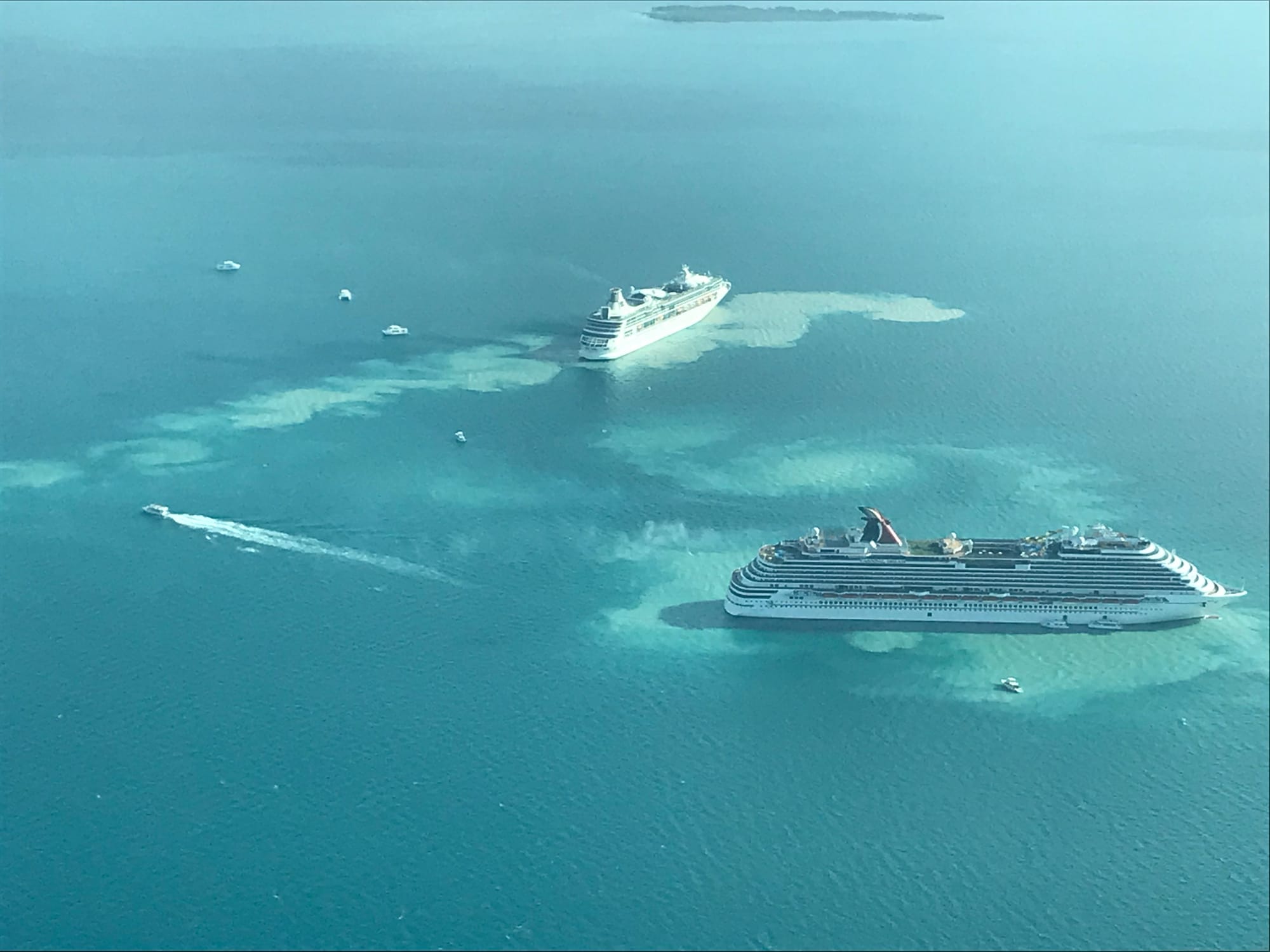 As I had hiked volcanos, explored hidden caves, ventured through Mayan temples, and done jungle safaris through Costa Rica, Nicaragua, and Guatemala I decided to spend more time on the coast to dive and fish while in Belize. Some friends had told me to get to San Pedro as there was some great diving there. So that was going to be my first stop.
The ATMs at the airport did not work so I needed to ask a taxi driver to take me to another ATM on the way otherwise I would have no cash. He was willing and agreeable. After finding an ATM that worked we headed to the harbour where the ferries went out to the various islands in the Belize Barrier Reef. I didn't want to spend any time in Belize city, seeing as it is ranked as one of the most dangerous cities in the world.
The harbour area was busy with tourists and there was street markets and shops if you needed. Most of the people working on the boat counters spoke English fine as it is a popular tourist destination. Boats run regularly from Belize City to the various islands and coastal cities so it was easy enough to catch one when I arrived around midday.
Belize City is known as one of the most dangerous cities in the world though from my first experience it didn't seem too bad, maybe because this was during the day. I was heading to San Pedro which is a small beach town in the north of Belize. A friend had mentioned that he goes there every year to scuba dive with Scuba Steve (http://scubastevebelize.com/). I booked a room at Sandbar Beachfront Hostel (https://sanpedrohostel.com/) which is a nice hostel on the beach. It had a good vibe and a fun night life. My shared dorm was nice with good air conditioning and security boxes.
Once checked in I immediately went over to Scuba Steve's to book in some dives and find out about diving at the Blue Hole. I booked in for some dives with Steve the next day and then went to meet with the larger dive centres re a day out at the Blue Hole.
San Pedro is a small beach town, there are lots of resorts and hotels further south away from the main town however it pretty simple. There are lots of beach bars and places to eat which was great. The ATMs didn't like my bank cards, so I needed to go to the banks to withdraw money from the bank tellers directly. So just be prepared for this.
It was easy to get a feel for the town and found out that the weekly chicken roulette was on that night. I went back to my backpackers to relax and freshen up before heading out for a beer and some chicken roulette.
Chicken roulette is pretty simple, there is a large square with lots of numbers randomly numbered, it is fenced off and a chicken is added to the enclosure. You purchase numbers from the emcee and if the chicken poos on your number you win!
The first few rounds were good fun and there was plenty of atmosphere around the chicken roulette game. After a few rounds it does get a little repetitive and the crowd dies off. I met some travellers from my backpackers there and we kicked on to the bars soon after. As I was diving the next day I wanted an early night.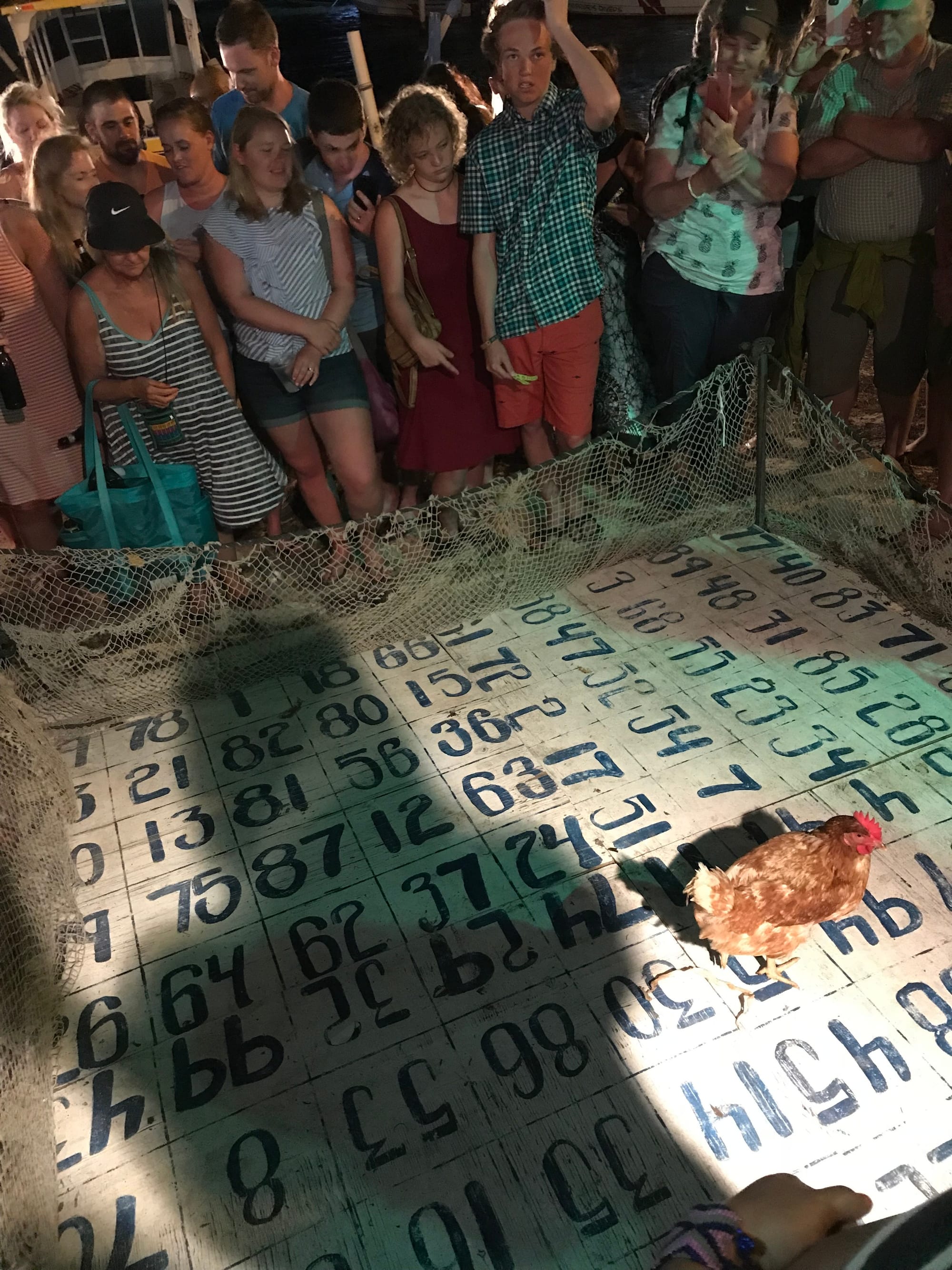 Diving with Steve is fine, it is a pretty simple dive shop though the gear is all safe and up to date. I would not go there if you are an inexperienced diver as they are very relaxed. Once we got out past the reef wall we anchored and went through the safety instructions before dropping in. The water was pretty choppy on the surface with strong swell though once we were in the water and descending the water was calm underneath the waves. The dives were just outside the end of the reef at the drop off zone, so we saw some amazing large fish and sharks. I dove with some friendly guys from Indianapolis who were experienced divers on holiday with their family. After a short lunch break we met back at the dive shop before going out for our afternoon dives.
I had booked in to do the Blue Hole dive the next day so decided to have an early night to make the most of the day of diving out on the Blue Hole. The Blue Hole is a large marine cavern or sinkhole, which is open to the surface and has developed in a bank or island composed of a carbonate bedrock. Blue holes typically contain tidally influenced water of fresh, marine, or mixed chemistry. The Blue Hold in Belize is the largest Blue Hole in the world and one of the most famous dive sites in the world.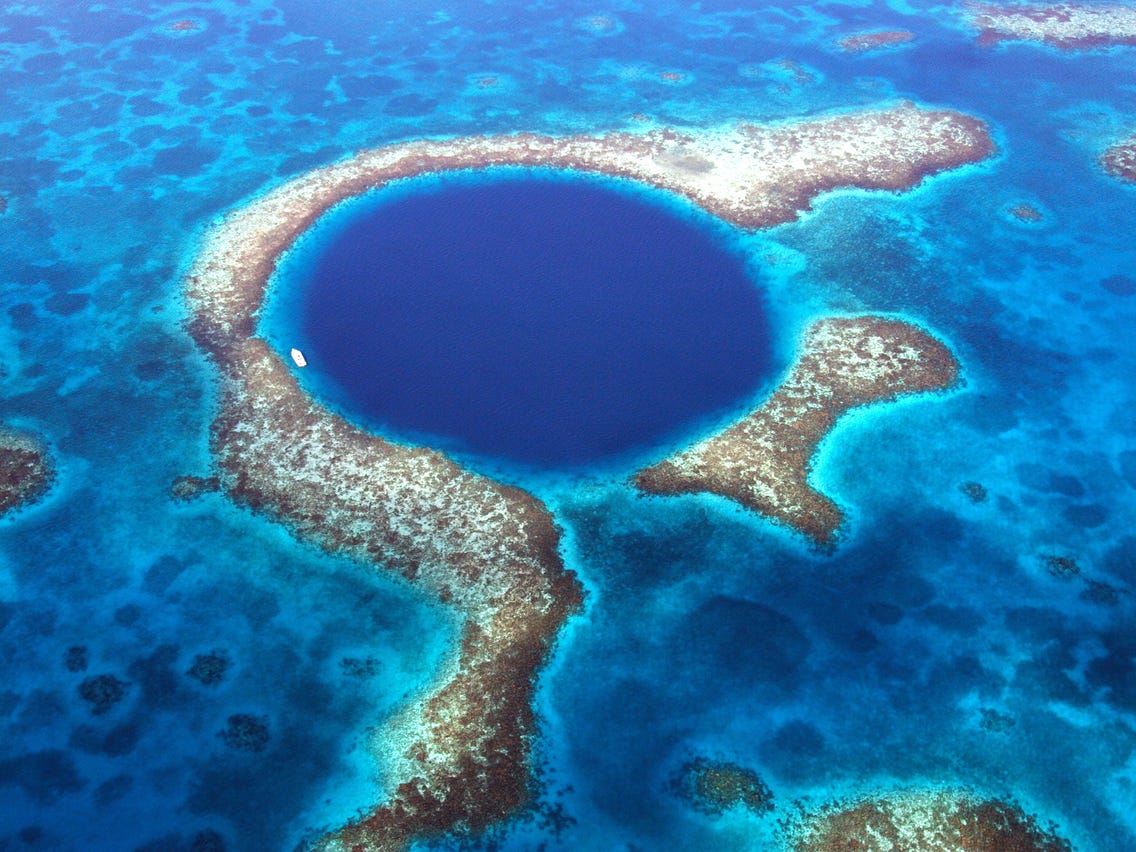 I booked with Blue Dream Adventures (https://www.bluedreamadventures.com/) which was a nice dive centre. The gear was top of the range and the service was the best I have experienced. It was an early start and we needed to pick some people up from Caye Caulker on the way as well. I didn't realise that it was a 4-hour journey out to the Blue Hole so we had a long ride to enjoy and get to know everyone. We had a group of American lads on a boys trip who were snorkelling then an Irish bloke, Japanese, and English guy who were diving with me. It was amazing cruise out to the outer reef seeing the Belize Barrier Reef and all the little islands scattered amongst the reef. We saw flying fish and dolphins on the ride out there which was just amazing. The water was just so beautiful! I have never seen such clear water and vibrant aqua and blue colours in the ocean like this before!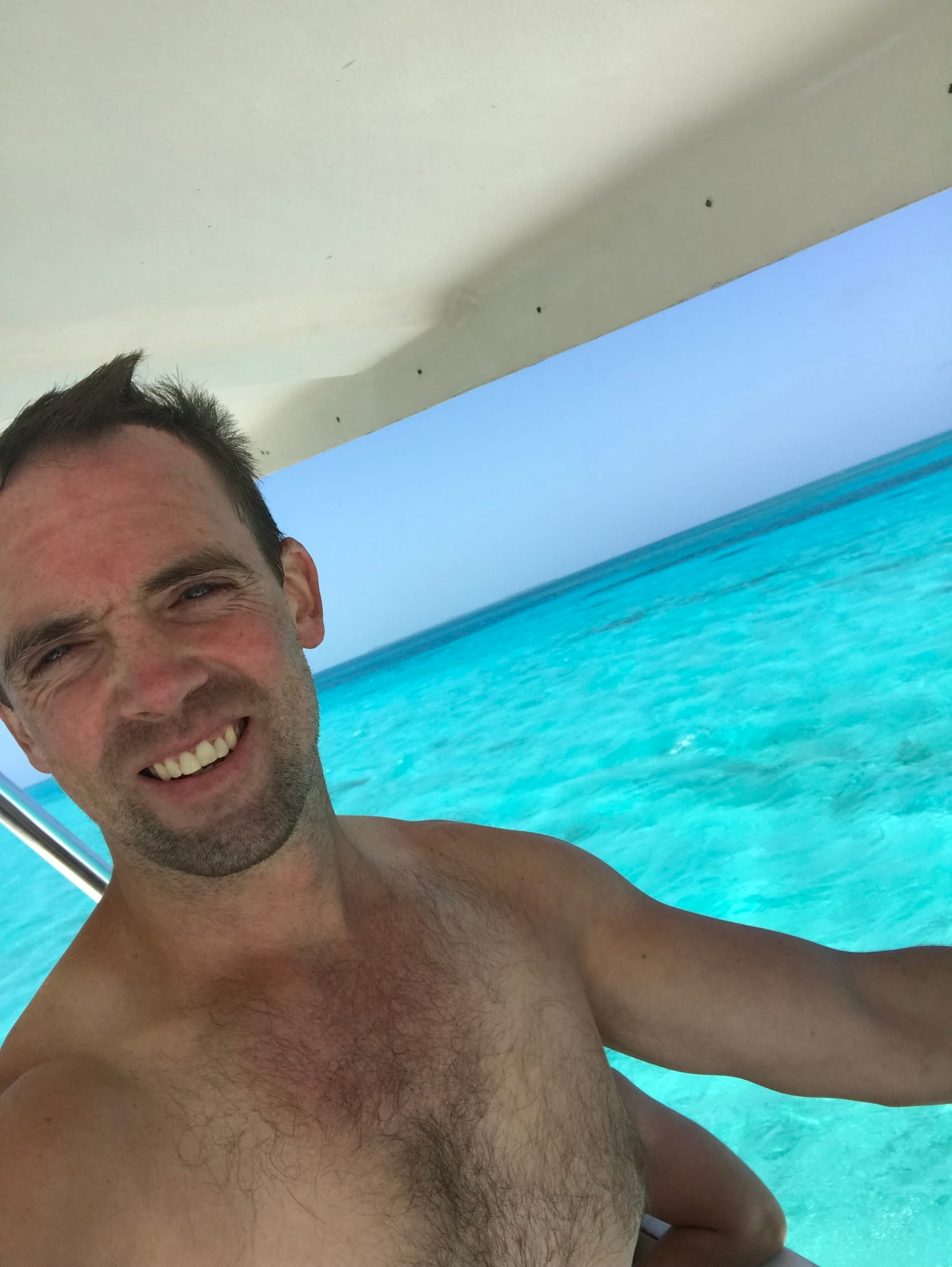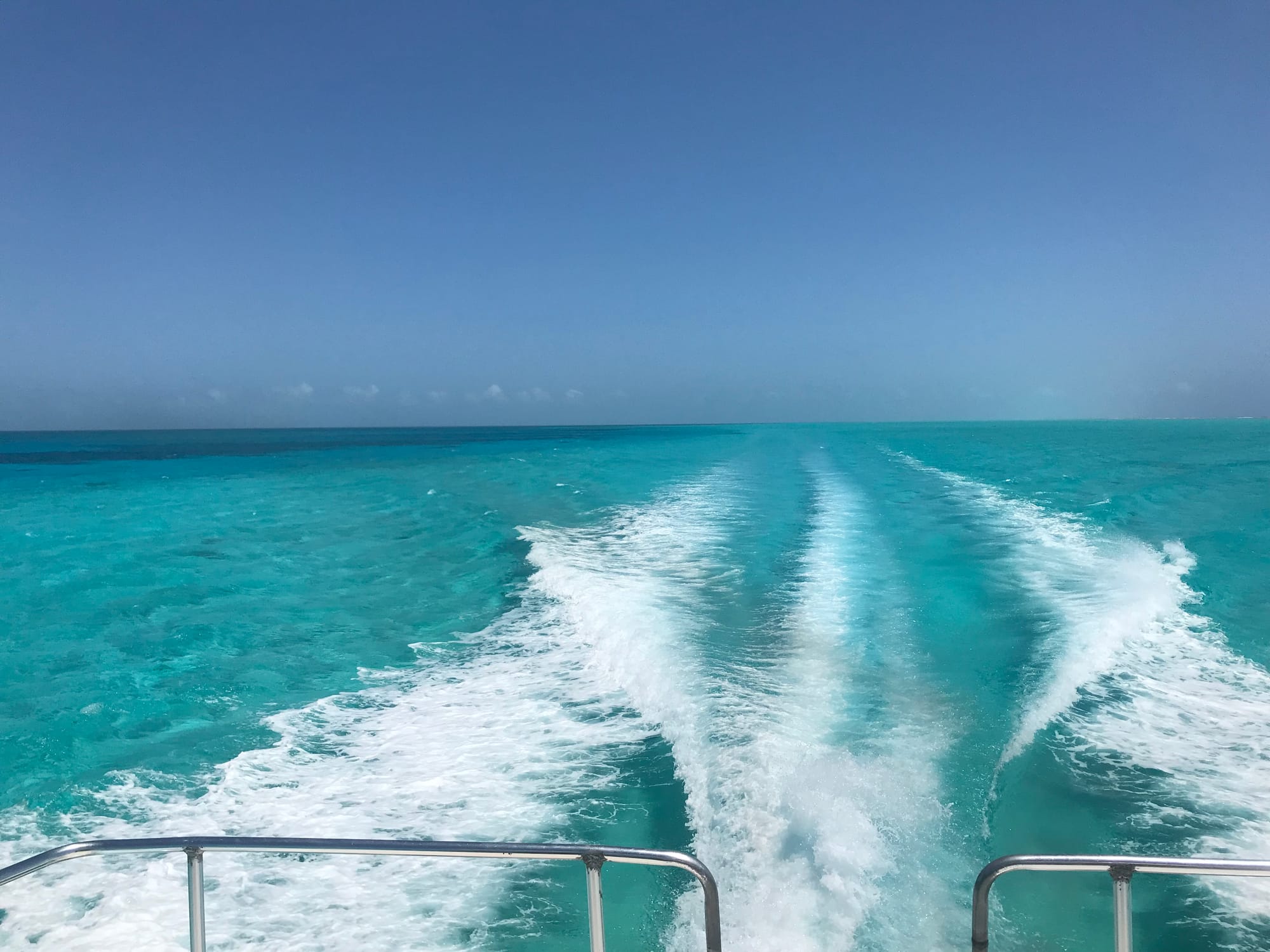 The Blue Hole was our first dive site. Our dive mater was strict for this dive. It is a 40m decent which you need to complete within 2 minutes, then a 5-7 minute dive through the stalactites before a 25 minute slow rise to the surface. It is the first time I had been so deep, and we were given a good safety background on narcosis which can sometimes occur when diving this depth. Usually when descending at the beginning of a dive you slowly release air from your BCD and sink standing up right, for this dive we had to release air from our BCD and paddle downwards to get to our dive depth within 2 minutes.
A lot of people told me that the Blue Hole dive was overrated and not worth doing as there was nothing to see down there. It was an expensive day trip (around $350 USD for the day all inclusive with gear drinks and food) but also it is a once in a life time experience. For me, I loved diving the Blue Hole, it was not about seeing coral reefs full of fish and crazy sea life, the Blue Hole dive was like no other, to go that deep so quickly and then be 40m down with the sunlight still shining through while you glide through the huge 35-70m long stalactites. As the water pressure is so intense breathing through your regulator is difficult, you really need to suck in air to breathe. Our dive master was very diligent the whole dive with strict rules that we must stay in a line at all times for this dive. I loved it and would highly recommend it!!
Lucky none of us suffered from narcosis on the dive and we all loved the experience.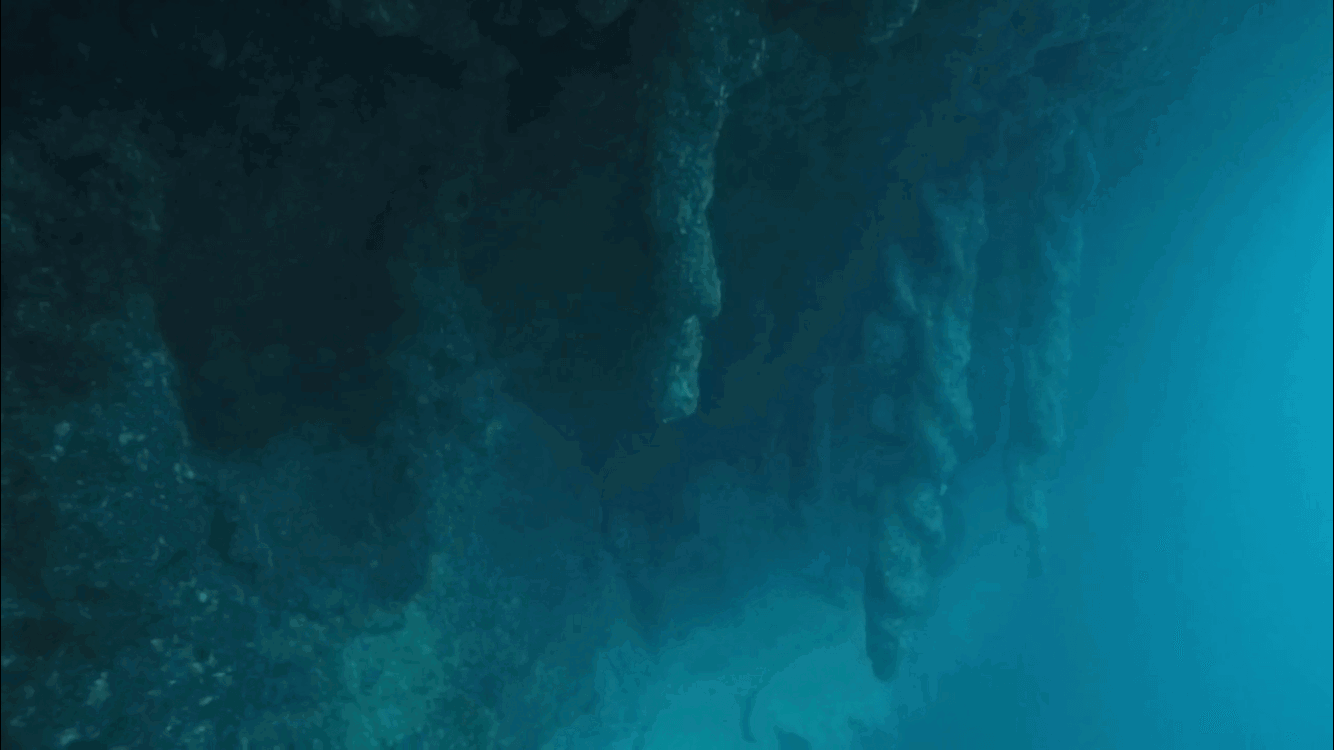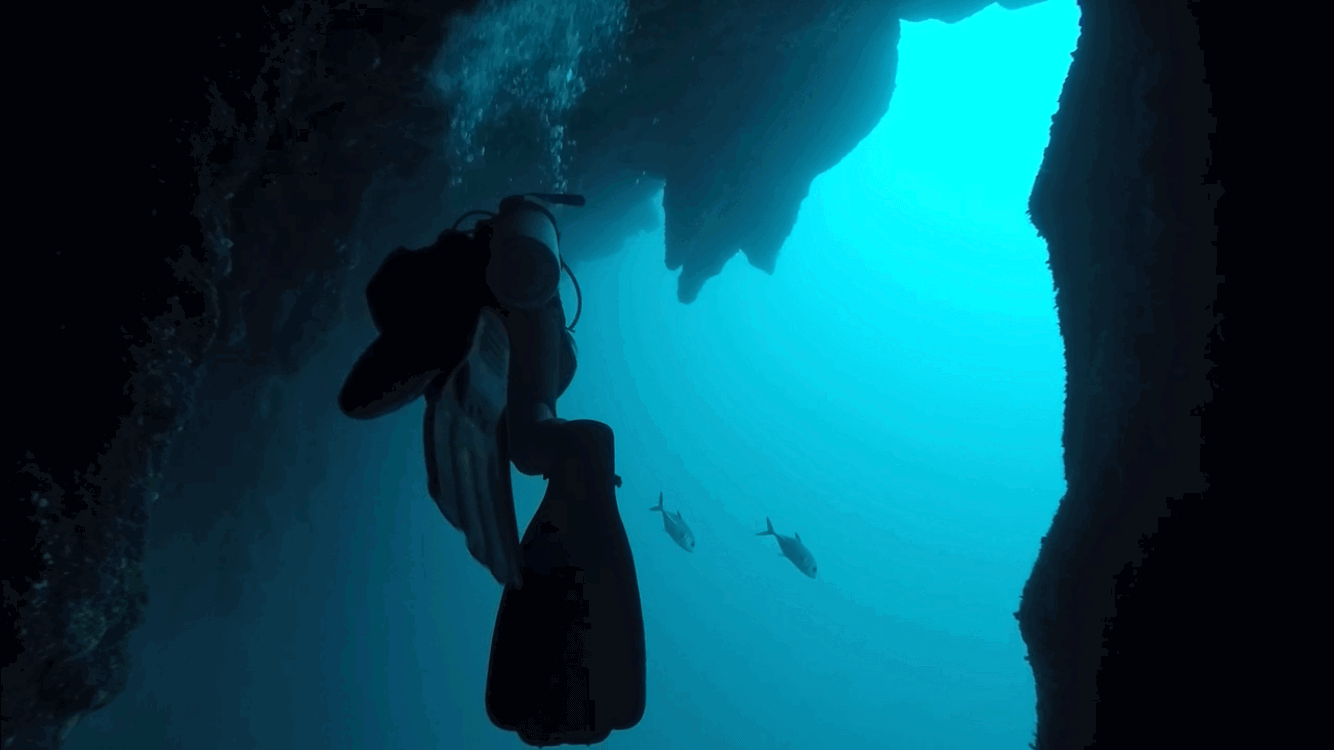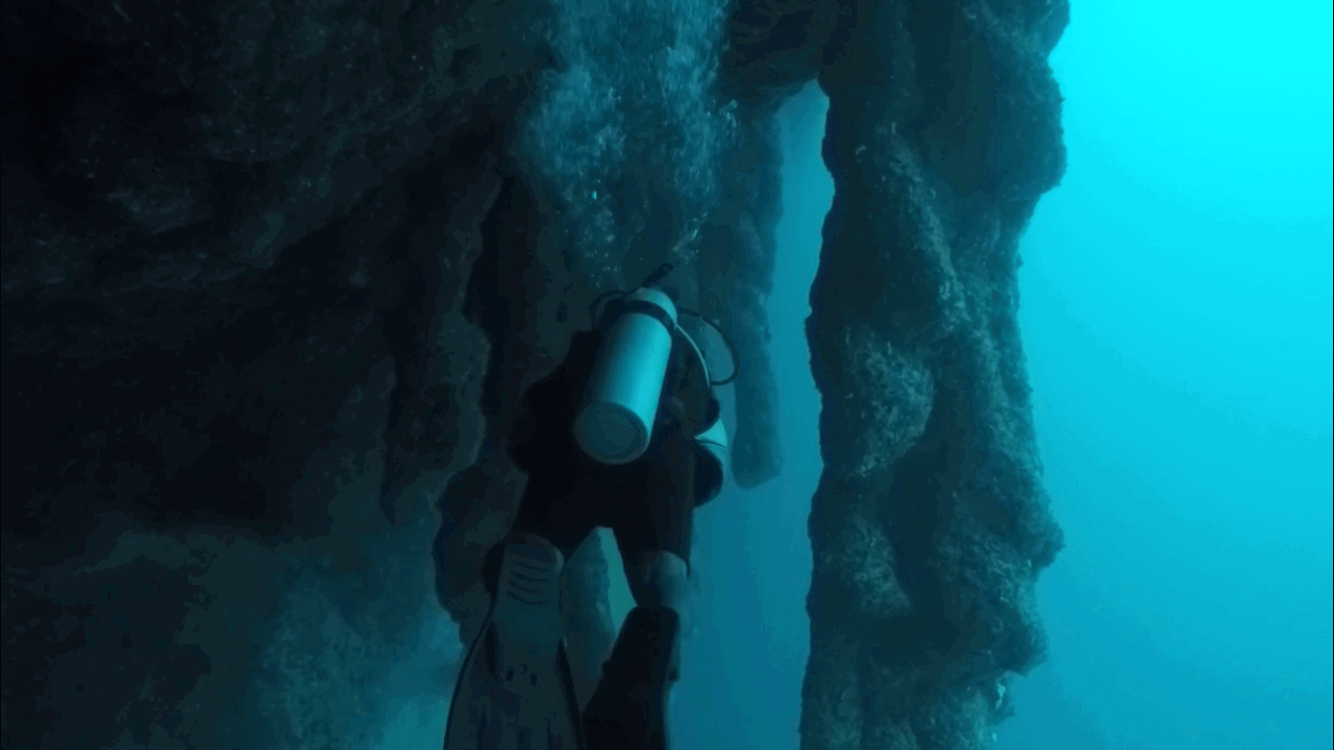 With our adrenaline rushing with rose to the surface with excitement for the next two dives! It is amazing that diving just brings people together as we could not stop talking about the experience.
We headed to our lunch stop first before our last two dives. The lunch stop was beautiful, a tiny little island with a small jetty surrounded by coral reef. The lunch was delicious and just sitting in the sunshine was perfect getting to know all the other divers on the boat.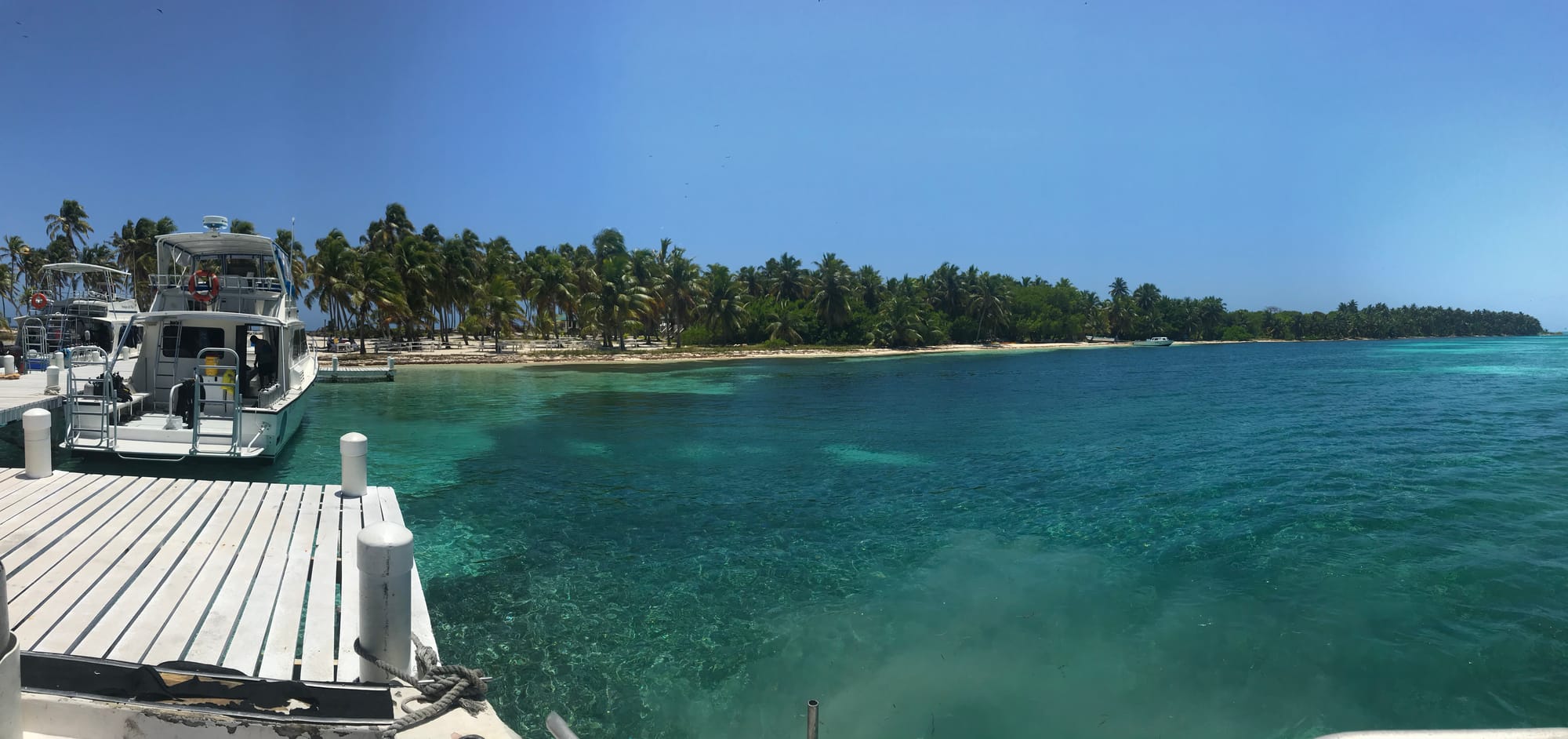 The last two dives were reef dives, we did Half Moon Key Wall and Aquarium dive sites. Half Moon Key Wall is my favourite dive of all time. We cruised through the reef and its caves. The sea life was just amazing. Being 4 hours off the coast of Belize the reef was untouched and the sea life was so much more vibrant and bigger! We saw two large green moray eels, two beautiful eagle rays gliding past us, plenty of groper fish and four 3-4m reef sharks exploring the reef with us. It was just amazing!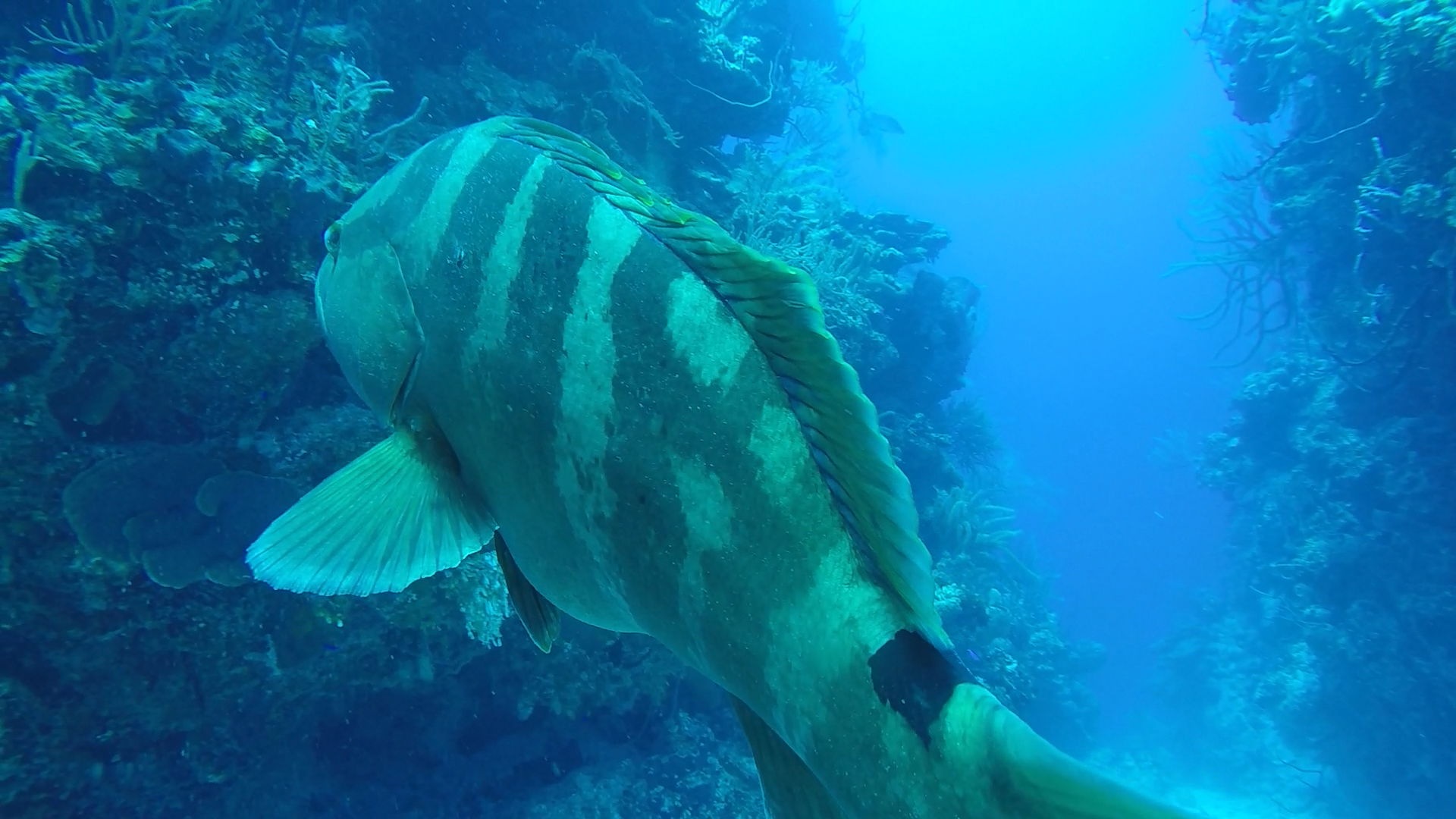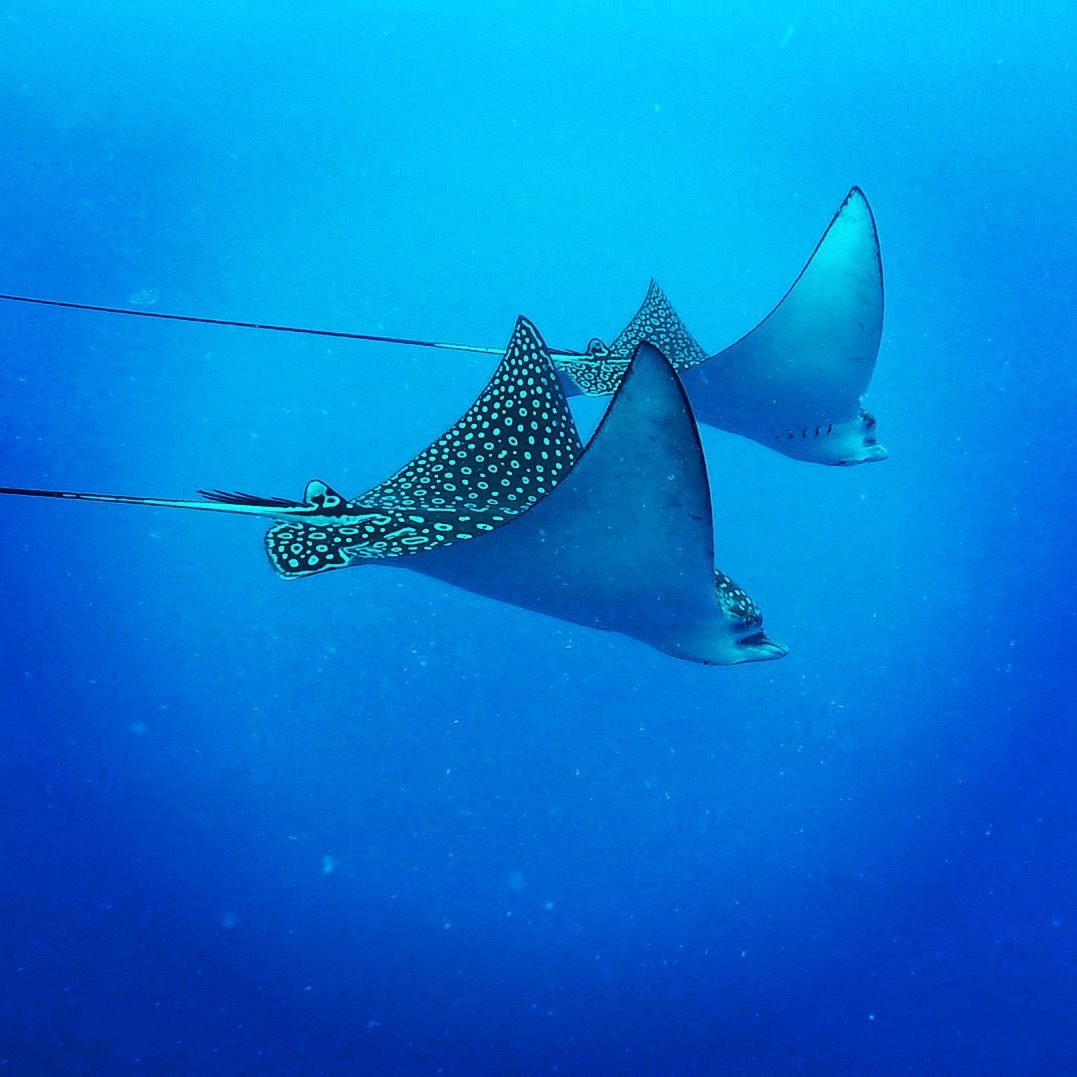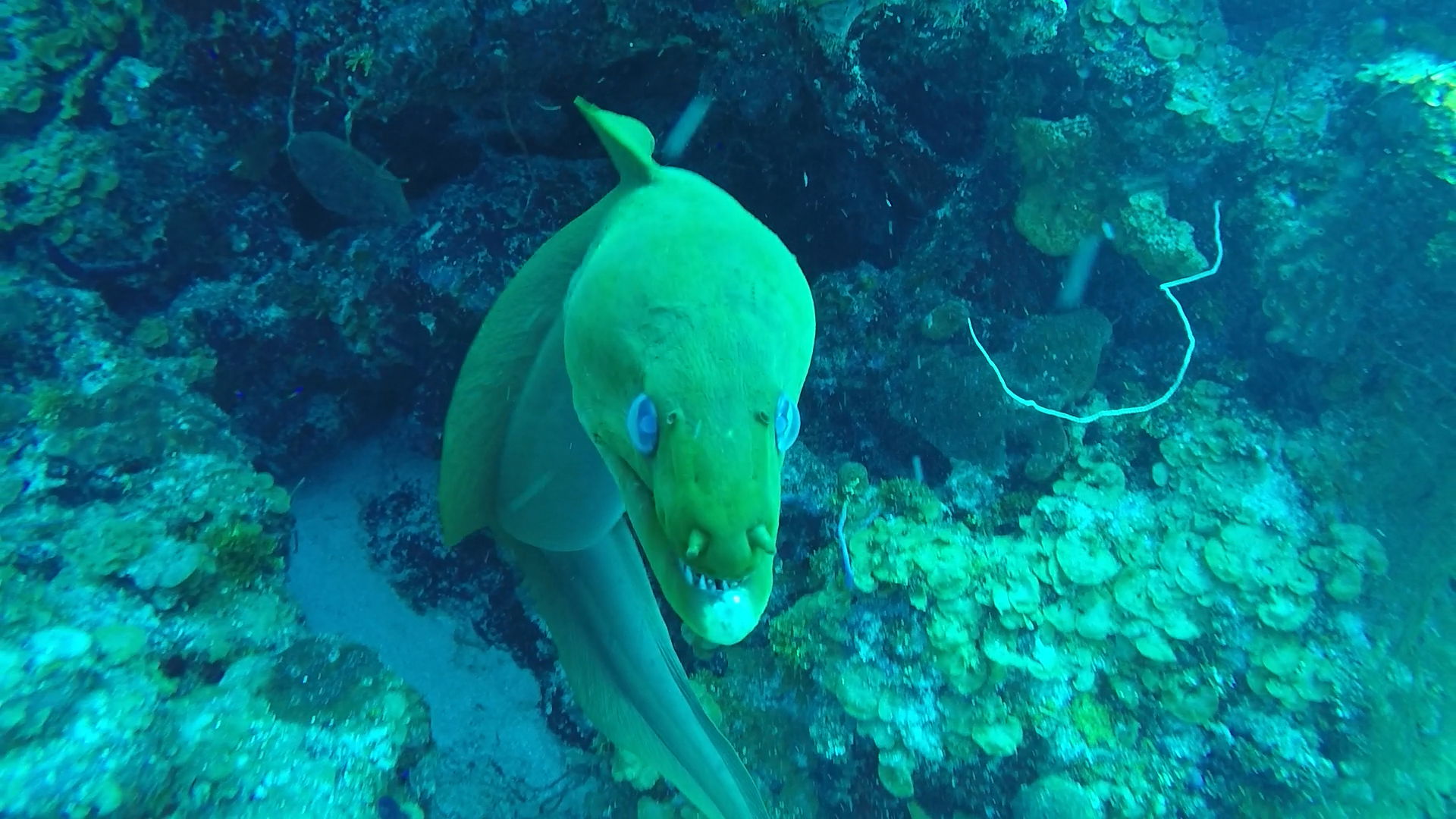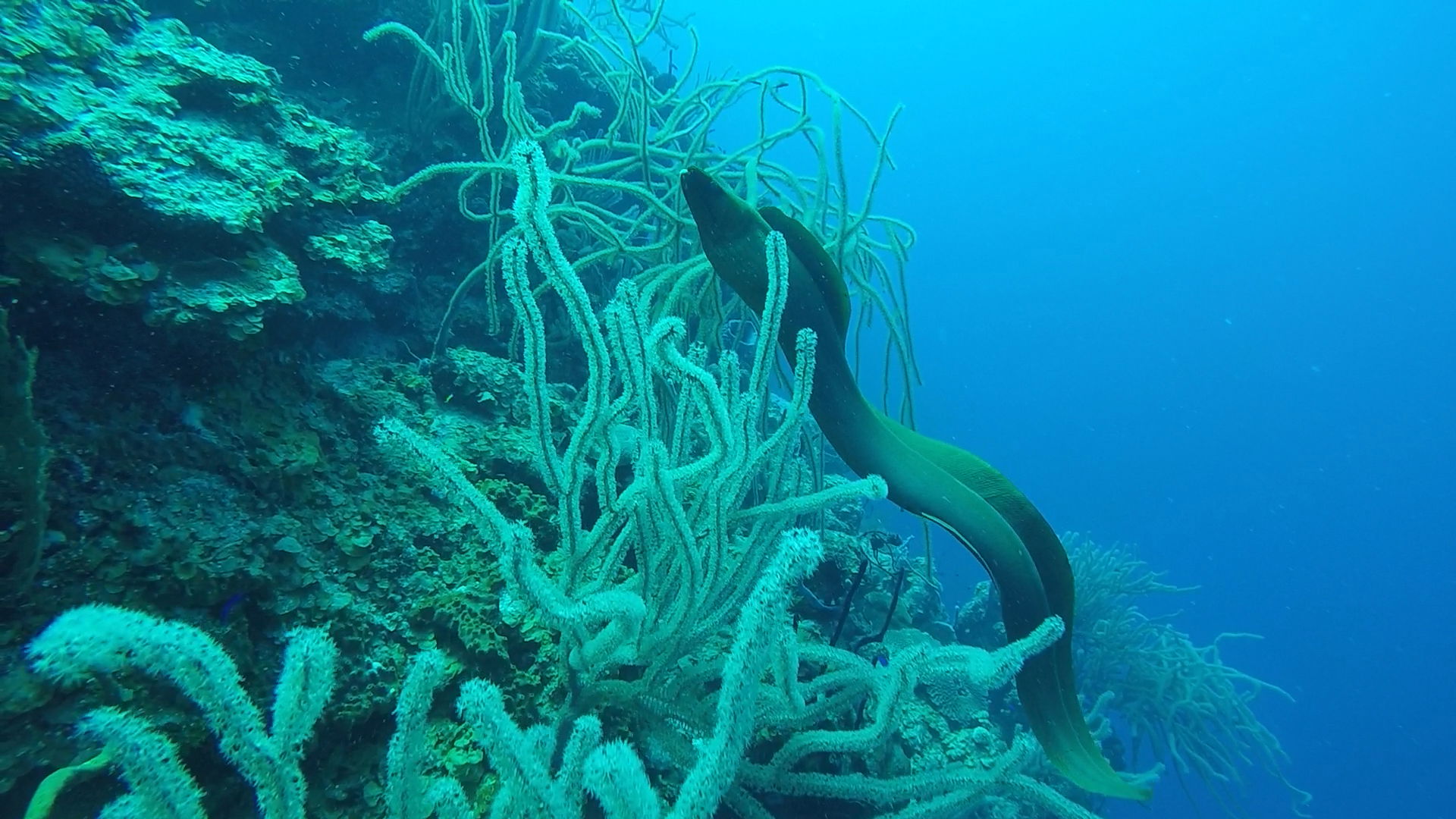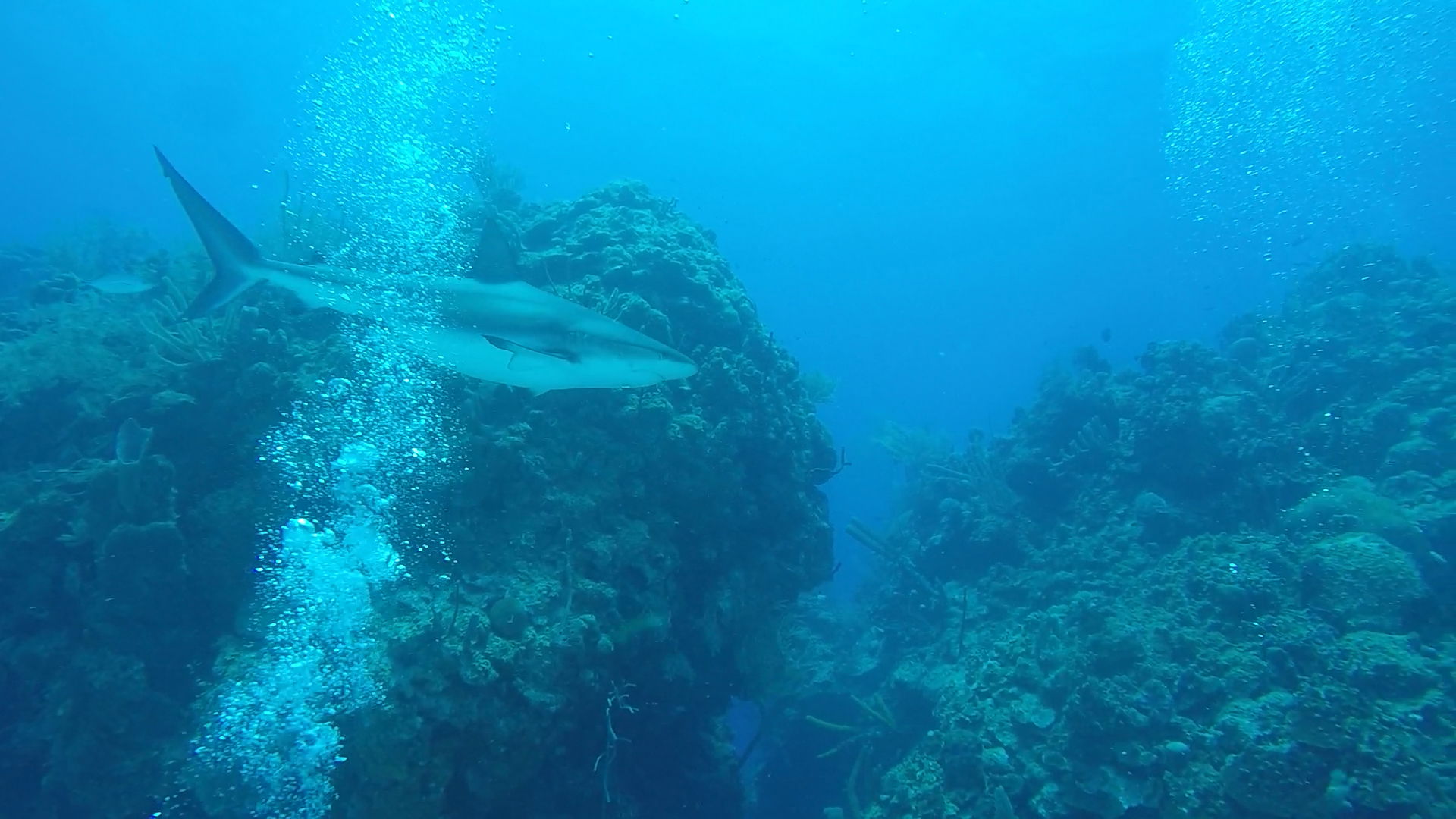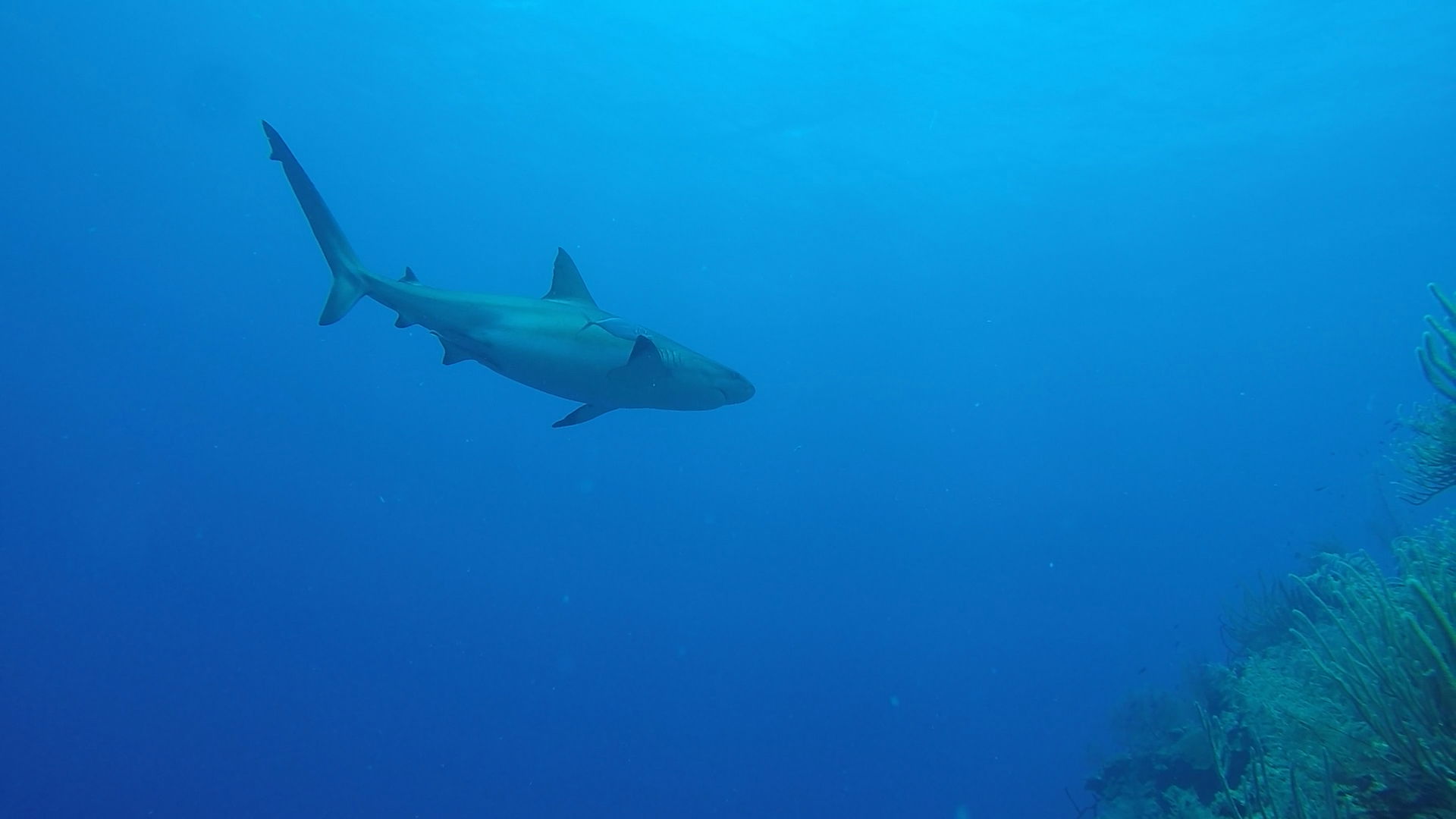 Aquarium was like a massive aquarium, it was at the edge of the reef dive so huge amounts of fish in the shallows then the reef just dropped off into the deep. The amount and variety of fish on the reef was just incredible and they constantly followed us around the dive.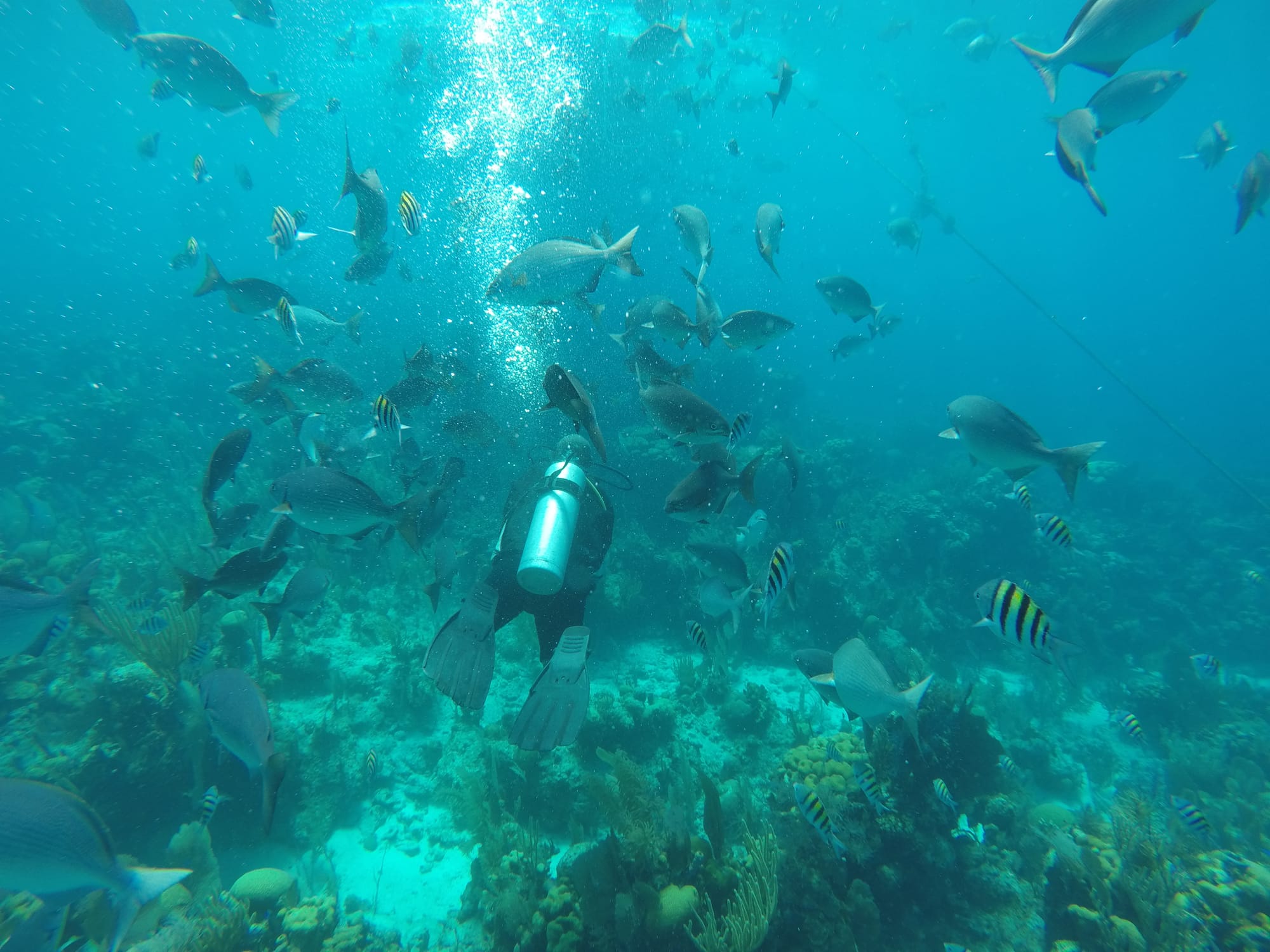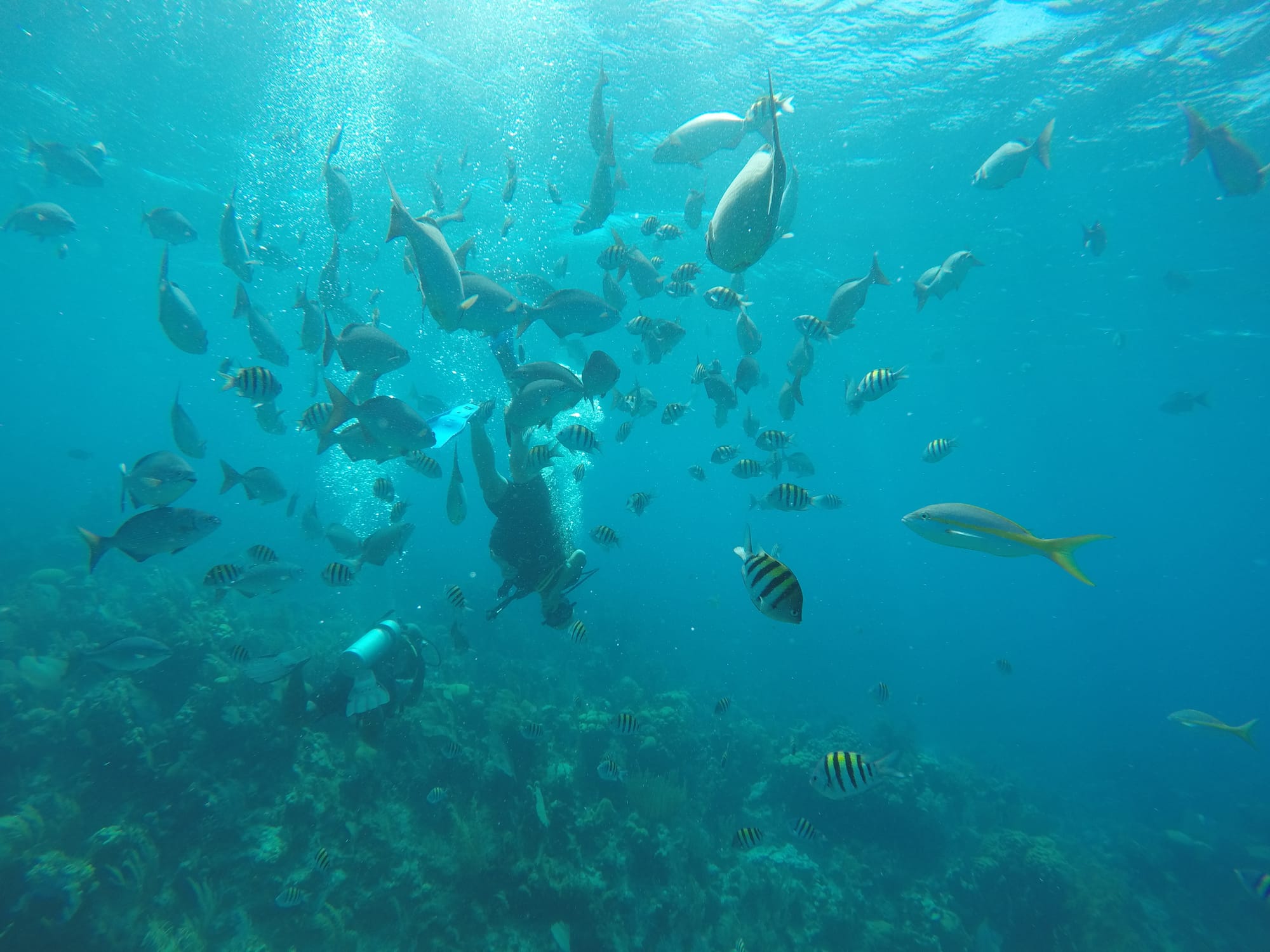 After an amazing three dives we started to head back to land. Plenty more food and drinks on the way home which allowed us all to catch up and chat about the amazing day that we just had.
If you do not have an advanced dive license or confident to go down to 40m depth when diving I would not book this trip. We had a group of Americans who were just snorkelling for the day, as we went out so deep you needed to be able to dive to enjoy the experience on all three dives. Half Moon Key Wall and Aquarium dive sites were 15-20m deep though still most of the sea life was enjoyed diving not with just a snorkel.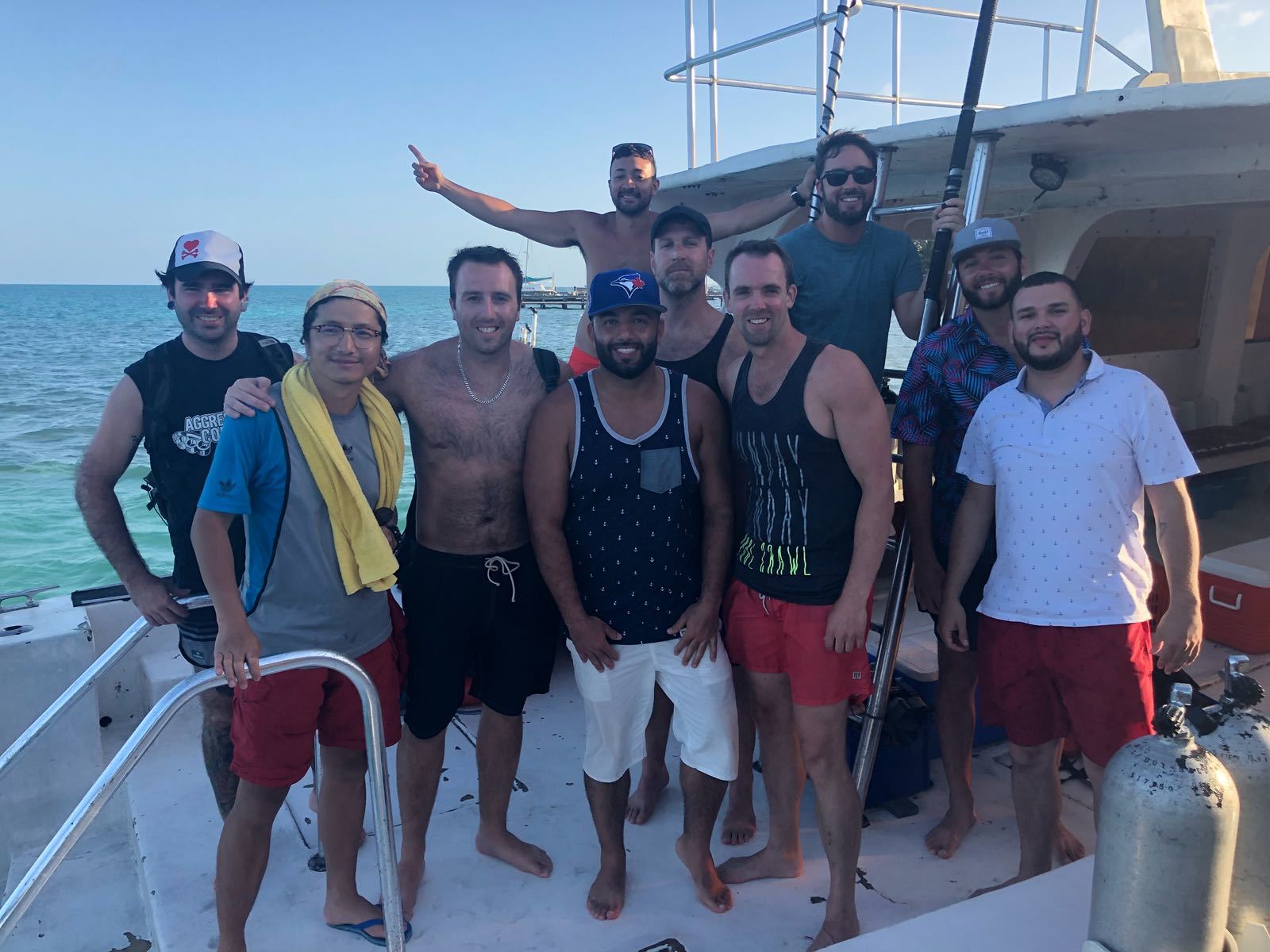 That night I went out with the Americans and had a great night. Top blokes and hopefully we have another cold beer together one day.
I decided to make a move to Caye Caulker the next day for a new experience and different dive sites. I heard Caye Caulker was a little more of a party island with younger travellers.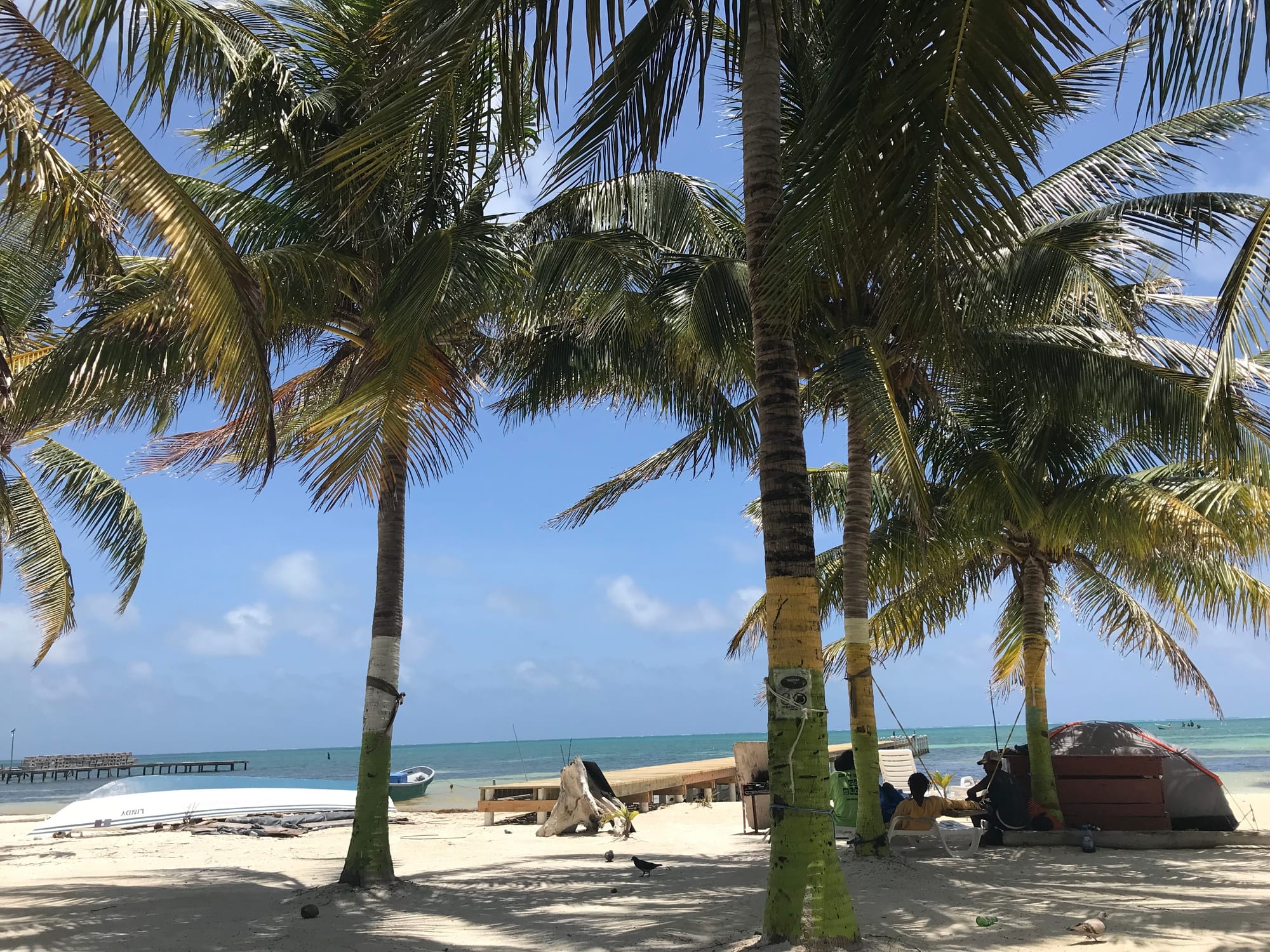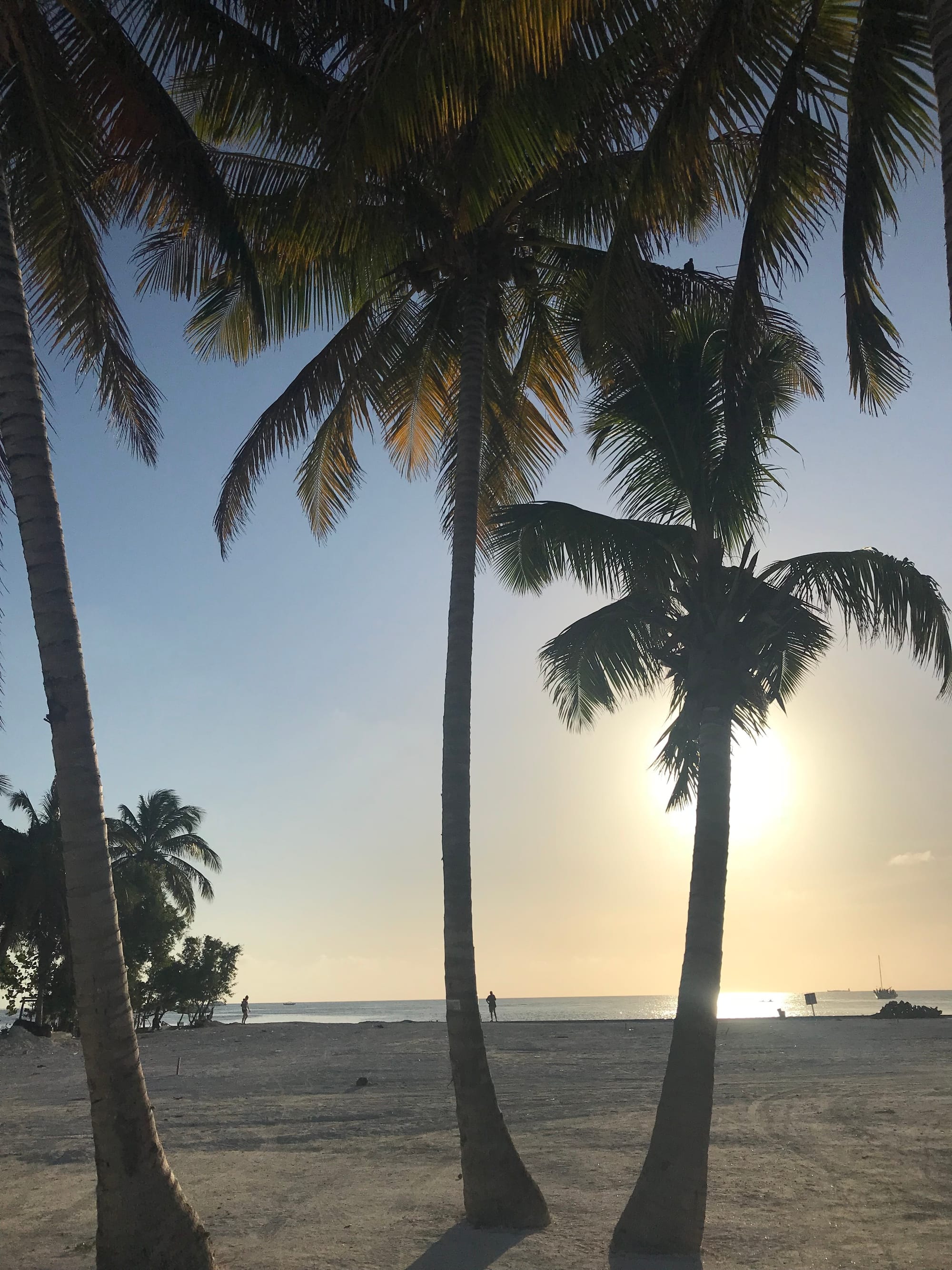 I booked a bed at Travellers Palm Backpackers Hostel which was a little further off the main strip (5min walk) though was much nicer and cleaner than the other backpackers I saw there. We had an awesome crew of people staying there who were into diving, fitness, and looking for fun. Three German girls were really into fitness so we went on morning runs together with one of the staff before the heat kicked in each day.
I booked some dives, including a night dive, and also a day of spear fishing. I had also heard of a three-day sailing trip that hosted by Raggamuffin Tours (https://raggamuffintours.com/) that sails south along the Belize Barrier Reef that was a must experience. The next Raggamuffin three day trip was a week away so I had a week to relax and enjoy Caye Caulker. It is a fun island and nice town than San Pedro, just cleaner and felt safer.
The whole of the west coast of the Caribbean was feeling the affects of the seaweed accumulating along the coast which made the beaches smell a little which wasn't nice. It was really hot during the day so you needed to get your activities done in the morning or the evening before the heat kicked in.
Every evening most people on the island gather at The Lazy Lizard https://www.lazylizardbarandgrill.com/) for happy hour drinks and a view of the stunning sunsets over the ocean. It is beautiful and became our 5pm ritual every day with everyone at the backpackers to meet there. It was a great spot to meet locals and other travellers to.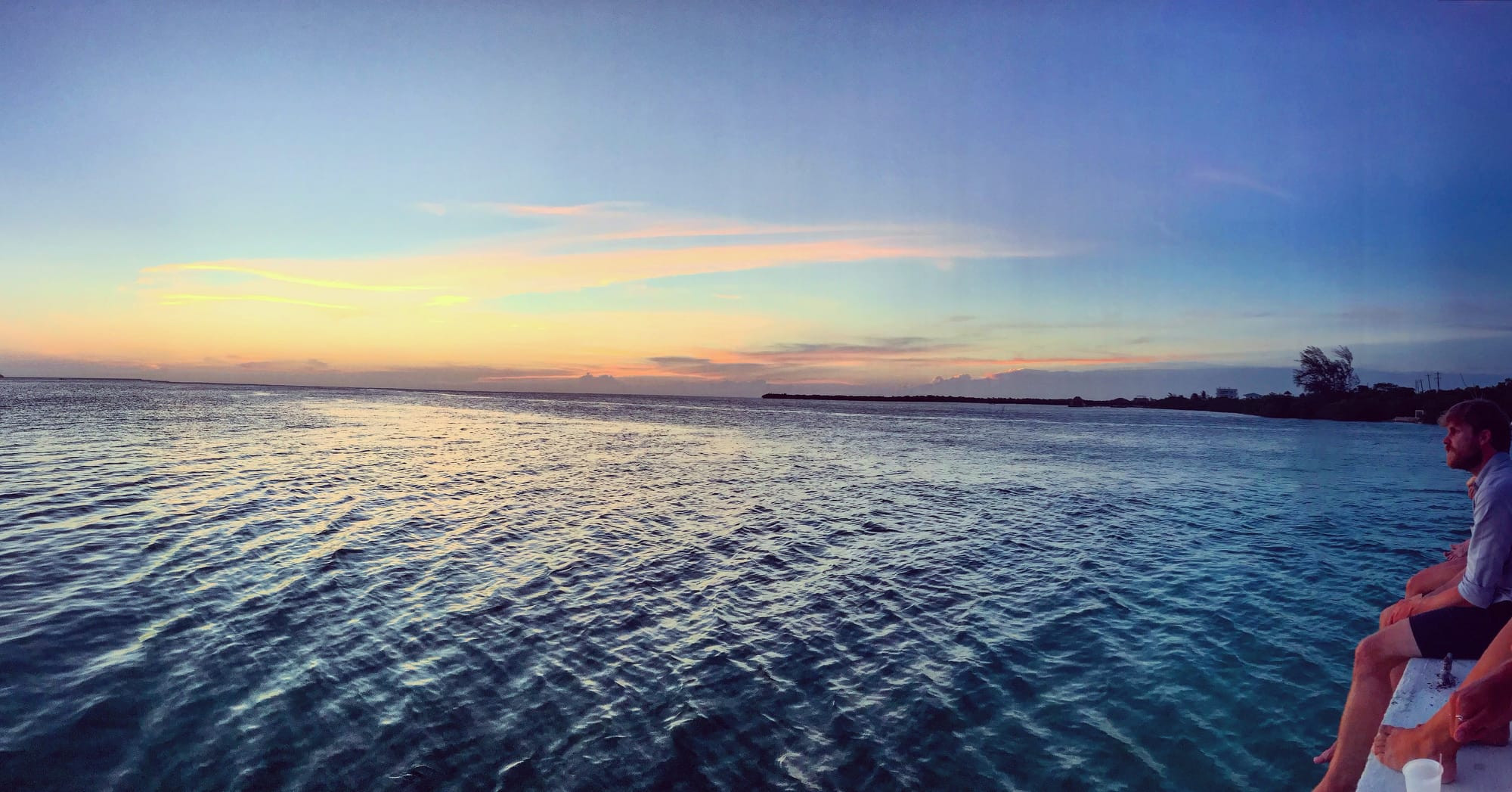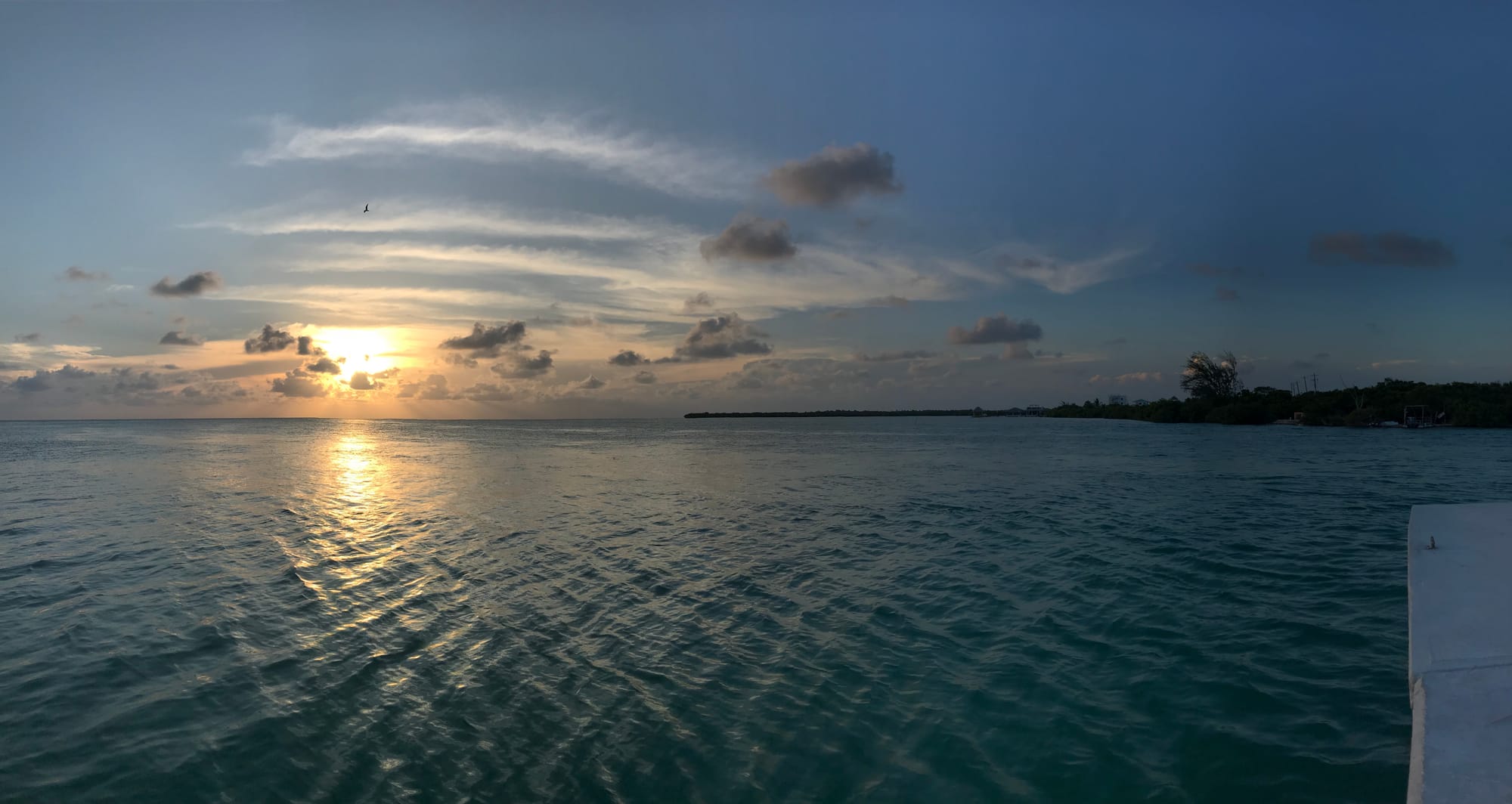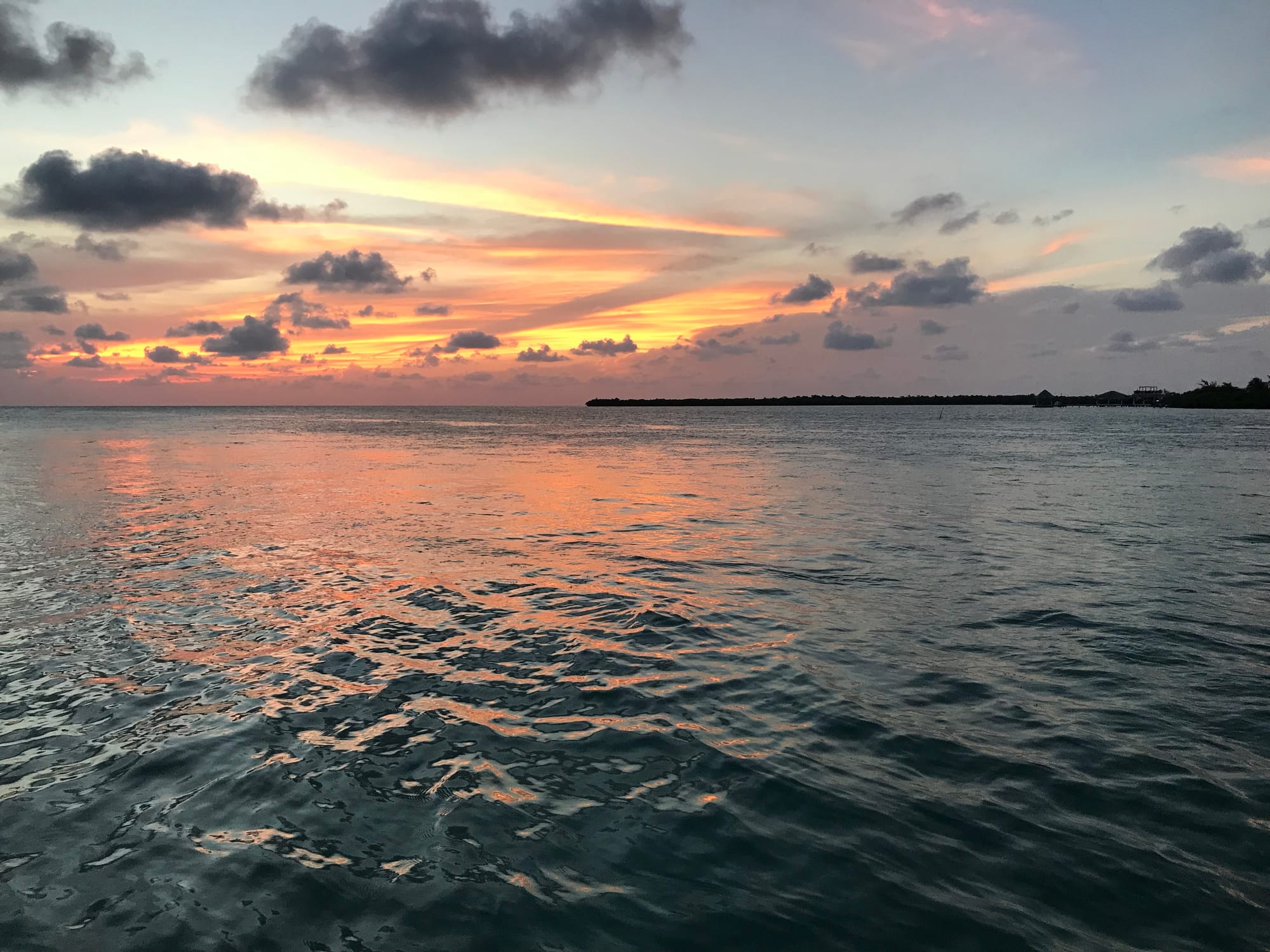 My dives from Caye Caulker were good fun and the night dive was an awesome experience watching some of the big and small predators of the reef out hunting. Spear fishing…well I still have a lot to learn. It was much harder than I expected. Despite batting away all day I only managed to catch one fish and it wasn't anything to be proud of. The local who took us out caught plenty and some of the other divers excelled so we had plenty of fish to enjoy when we got back home. The guide cooked us up a local fish feast which was delicious and great to enjoy with everyone.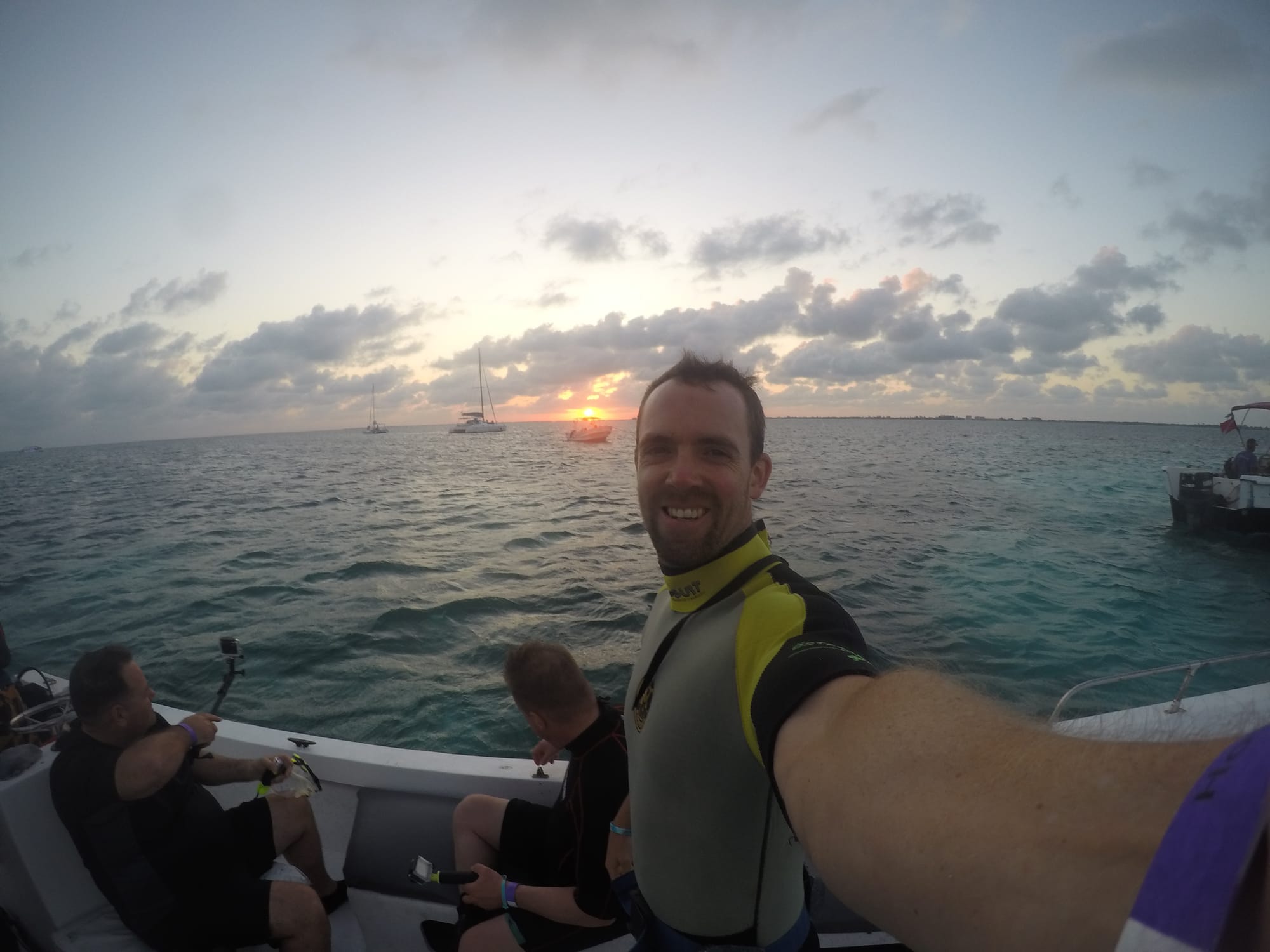 Most nights were spent at Bambooze Beach bar which always had a fun night of music and drink specials to look forward to before finishing the night at Reggae Bar for a late night of dancing.
It was either on Pasero Street or Calle del Sol a small tapas wrap stand run by local two women. It was $2 for an amazing local wrap that was so filling. I would go there every morning for my breakfast. Hope they are still operating when you visit as it was just sooo damn good! Just get there before midday!
It was kinda of sad that many of the shops and stores were owned and run by Chinese. I spoke to some of the locals and they said they sold their businesses without realising the future impact on the island. Something I just didn't expect to see.
My time at Caye Caulker was coming to an end and I had one more sunset to enjoy before joining Raggamuffin for a three-day sailing tour of the Belize Barrier Reef.
We met with the group early on the morning and were given a safety check before we started to load the catamaran and meet our crew. The crew were hilarious, three classic Caribbean men who had grown up on the water, plenty of flavour and such a chilled view on life. We commenced our trip and not before long the rum and tropical juice were flowing with the music bouncing as everyone just relaxed under the Belize sunshine while getting to know one another. We had some fishing lines trawling out back and from time to time we stopped for a swim and some spear fishing along the reef.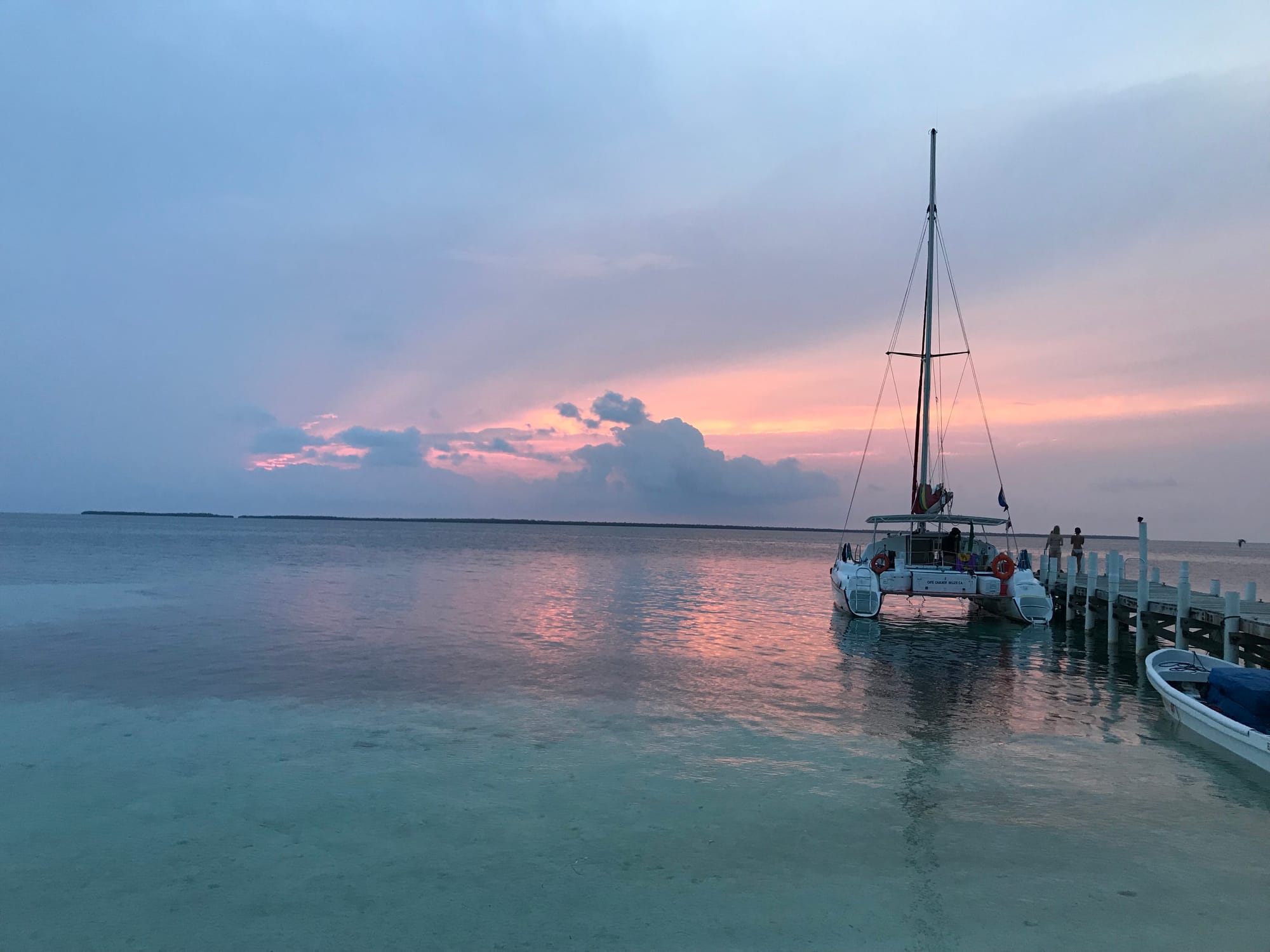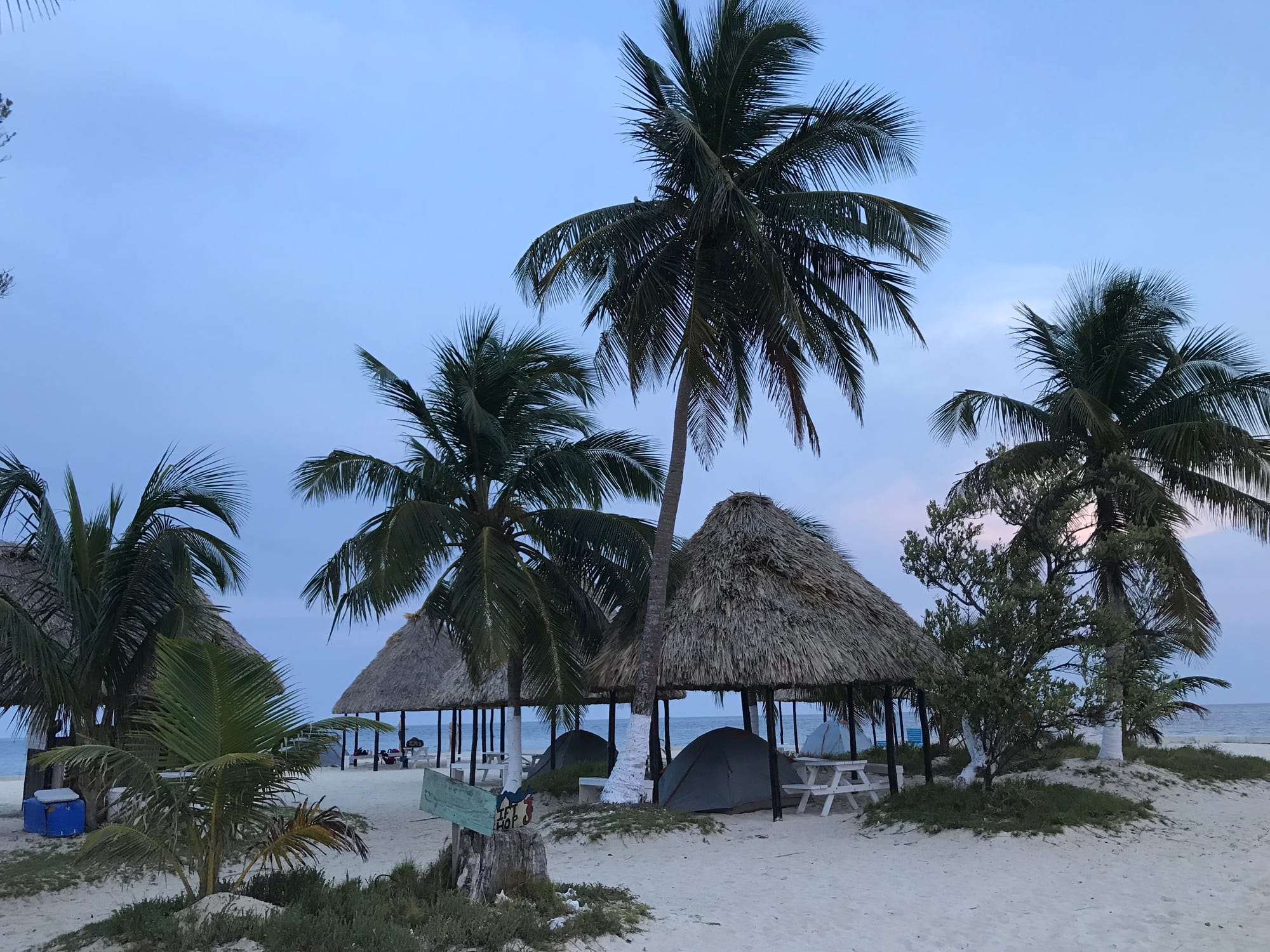 Our first night stop was at Rendezvous Caye which is a tiny little island that you can walk around in just a few minutes. After an amazing sunset, dinner feast and plenty more rum a large storm started to roll in which forced everyone into their tents. The stormed hit us hard and the tents were leaking water or the tent poles hitting you in the head all night as the wind was so strong. Some of the tour group had to evacuate the tents and try seeking shelter in the toilets. I was lucky and was able to stay in my tent all night and managed at least a few hours' sleep. We all rose early to check on everyone before quickly packing up. The stormed had blown over and we were ready for kick on!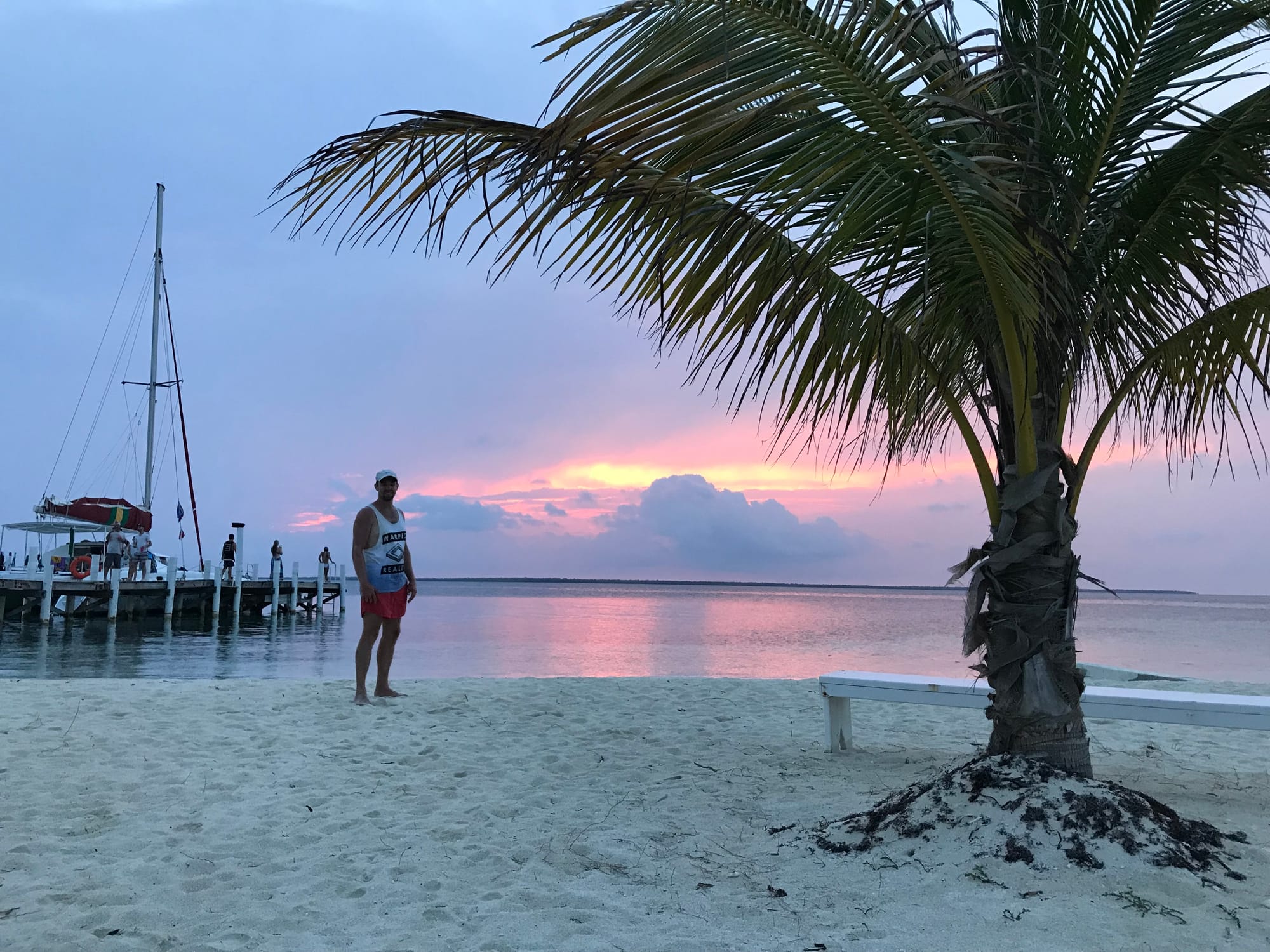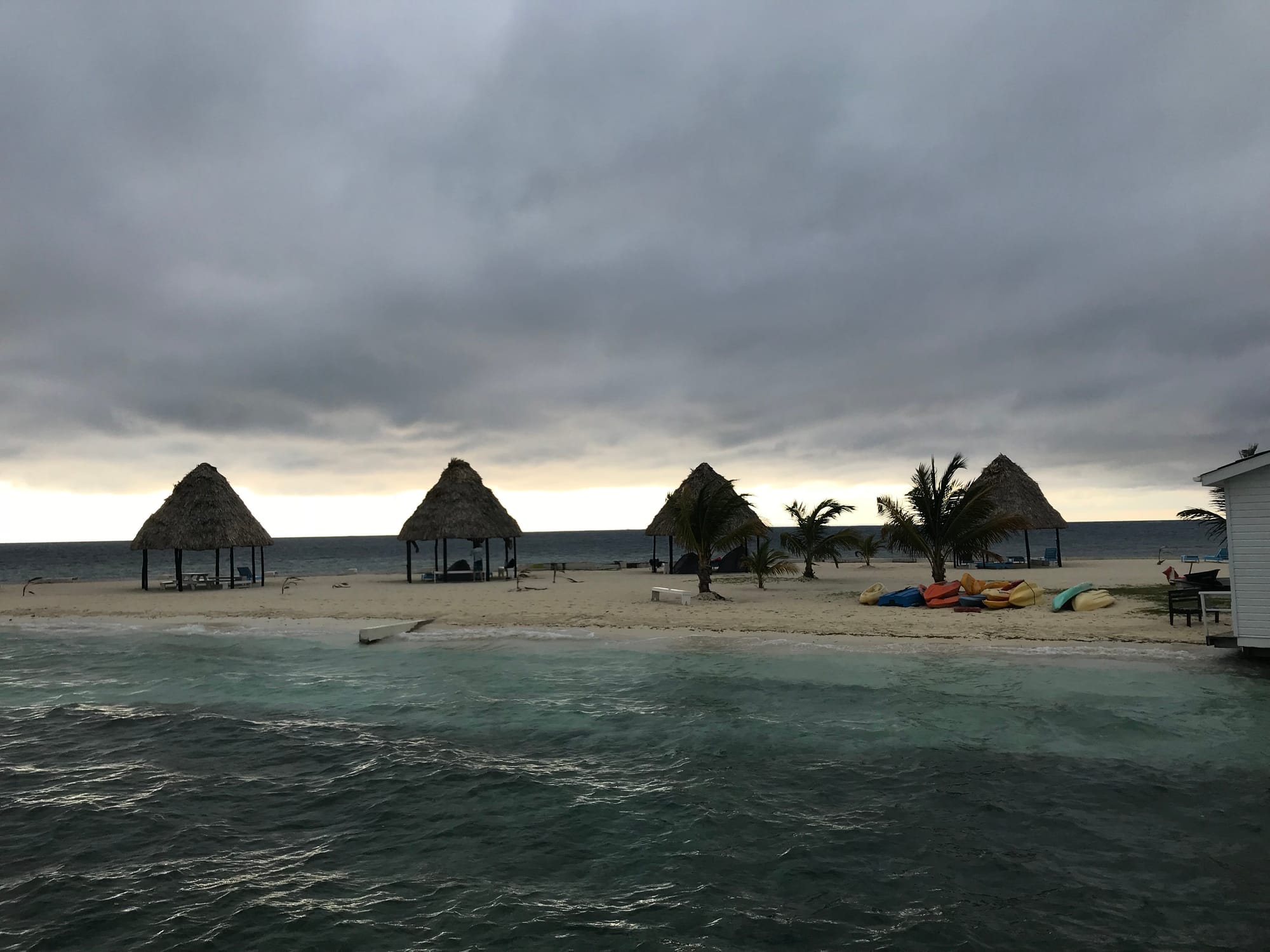 As the tropical juice (rum) flowed on we discovered that one of the ladies on the trip was a professional dancer so she had us all dancing salsa on the boat and partying together. The fishing lines were out, people were jumping off the boat and the drinks were cold. The party Belize continued!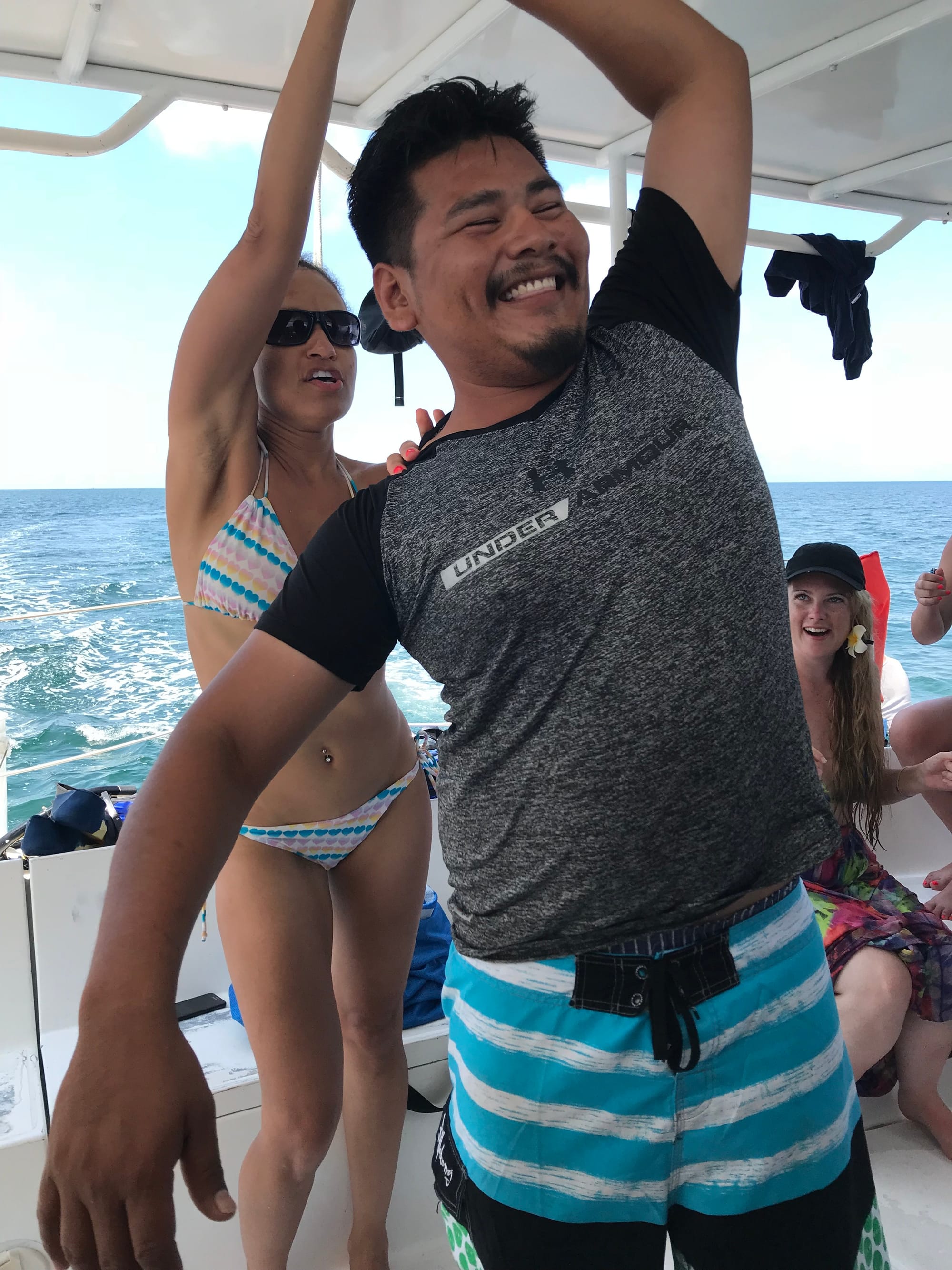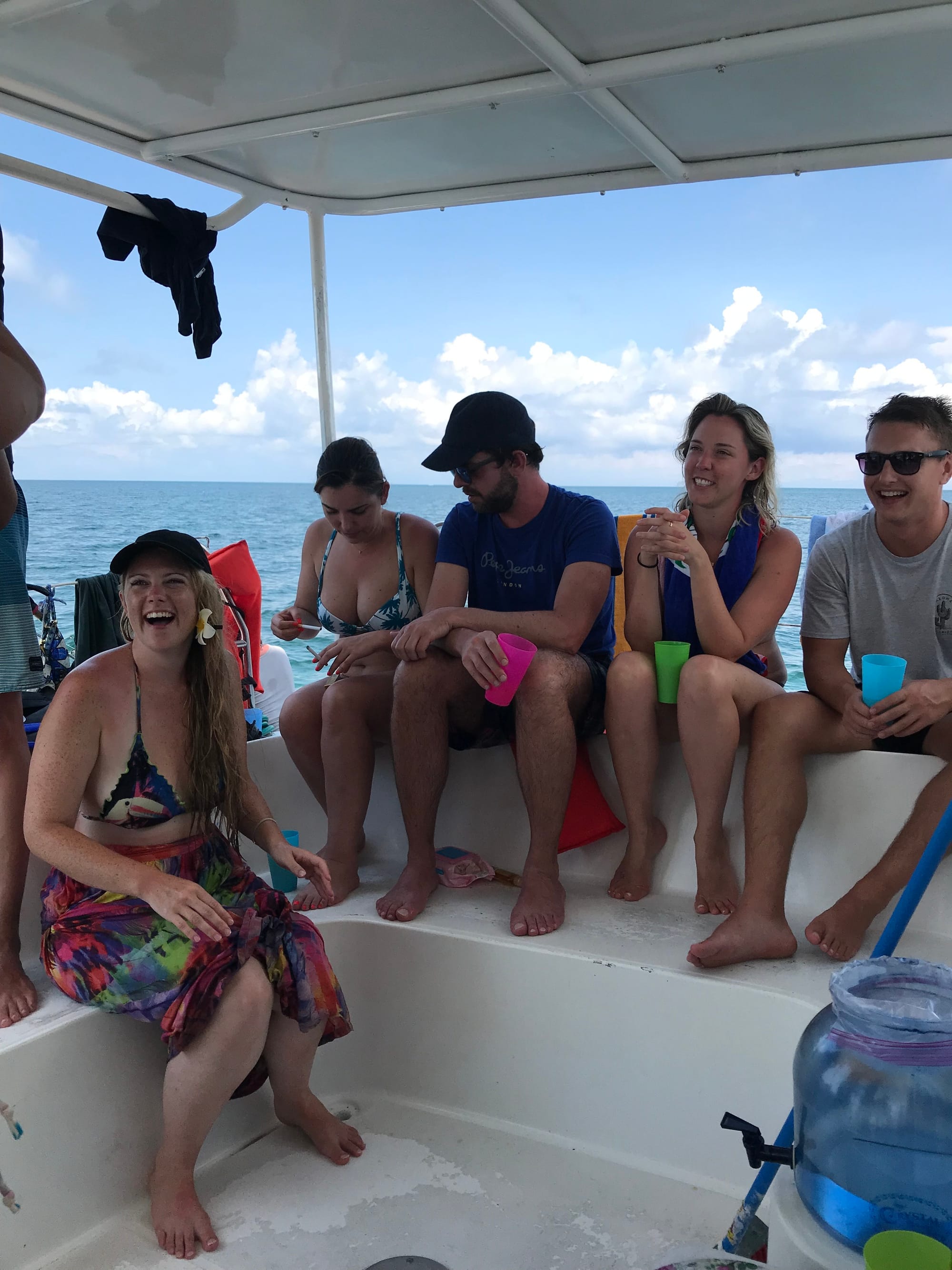 I was lucky to hook a nice barracuda while fishing which provided for a fresh fish dinner! On our way we stopped at Goffs Caye or English Caye, Tobacco Caye and South Water Caye. All beautiful islands that we could wonder around and explore. These isolated tropical get always were just beautiful. Surrounded by reef everywhere we swam we experienced amazing sea life.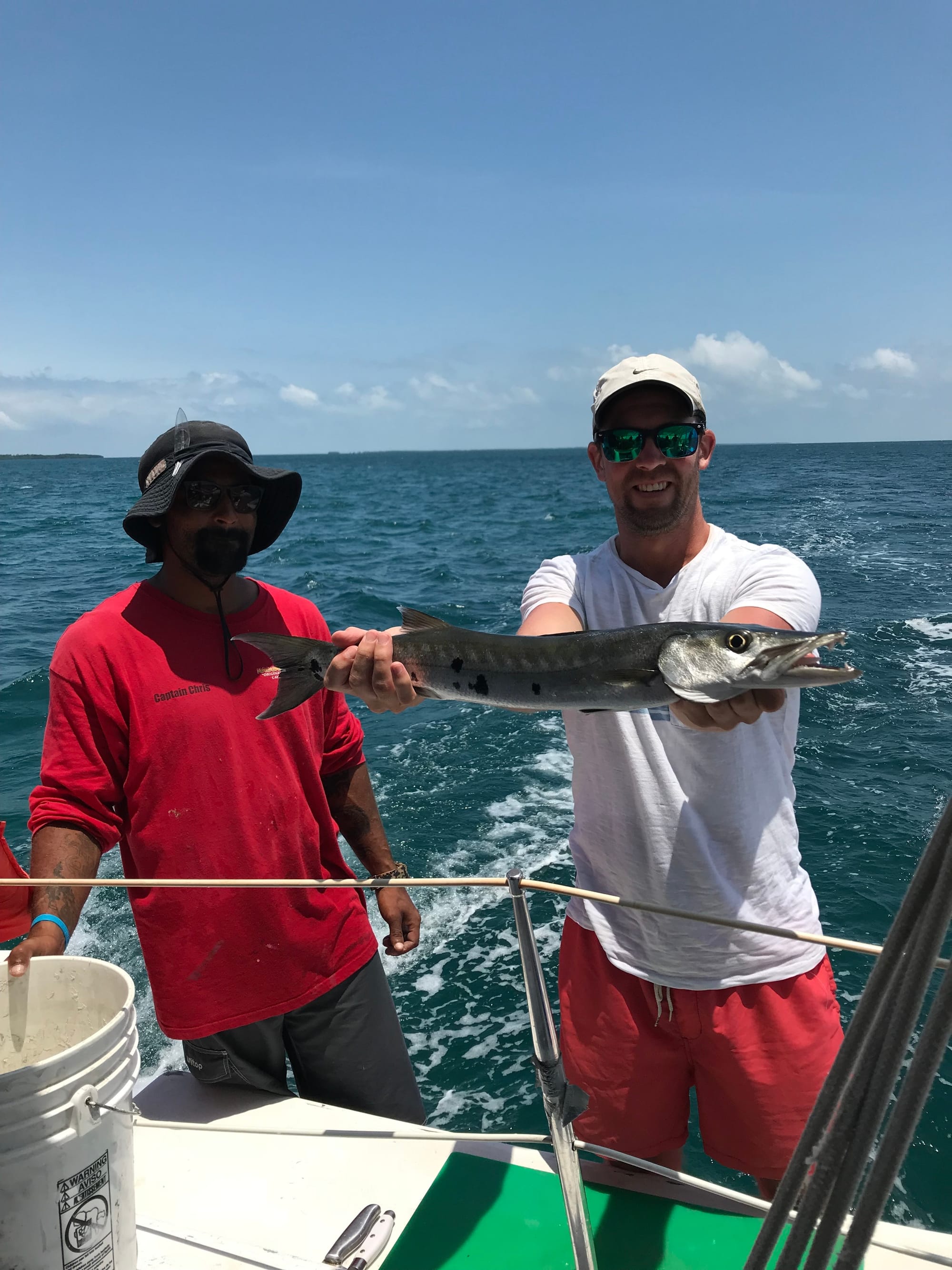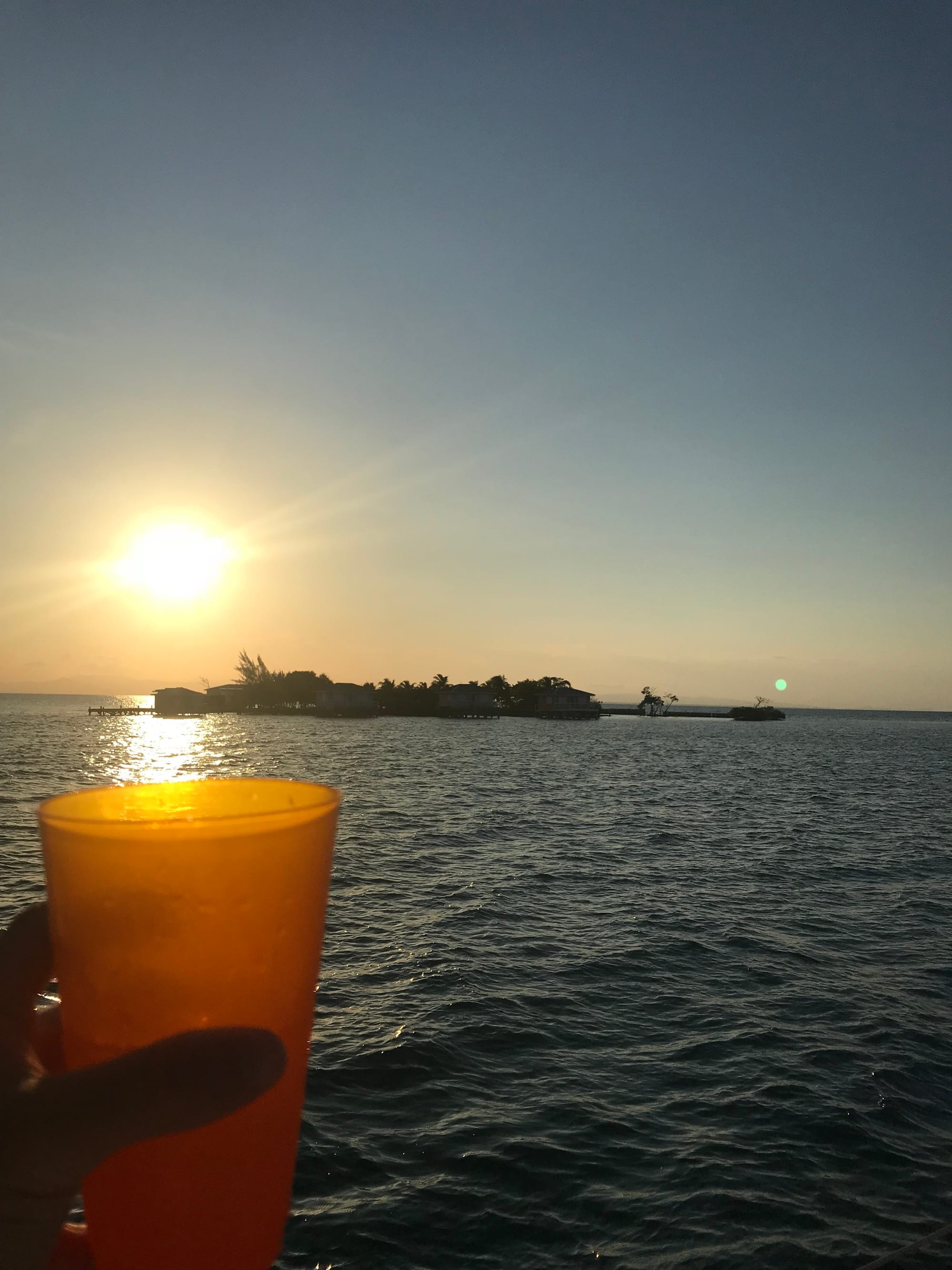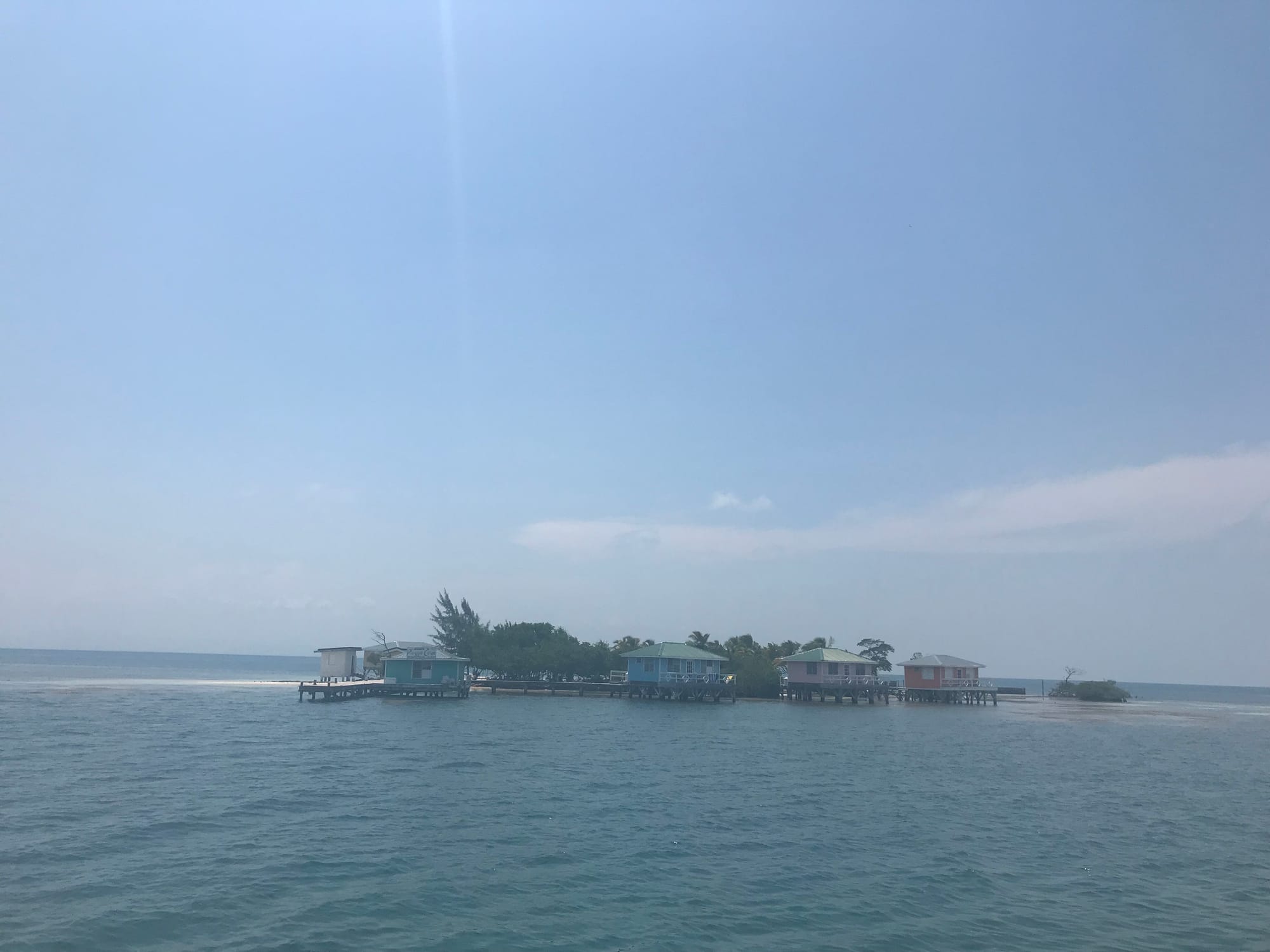 Our last night was at Ragga Caye which a beautiful stop with beach shack style accommodation. The rum kept flowing all night and despite being our last night together we all had a great time!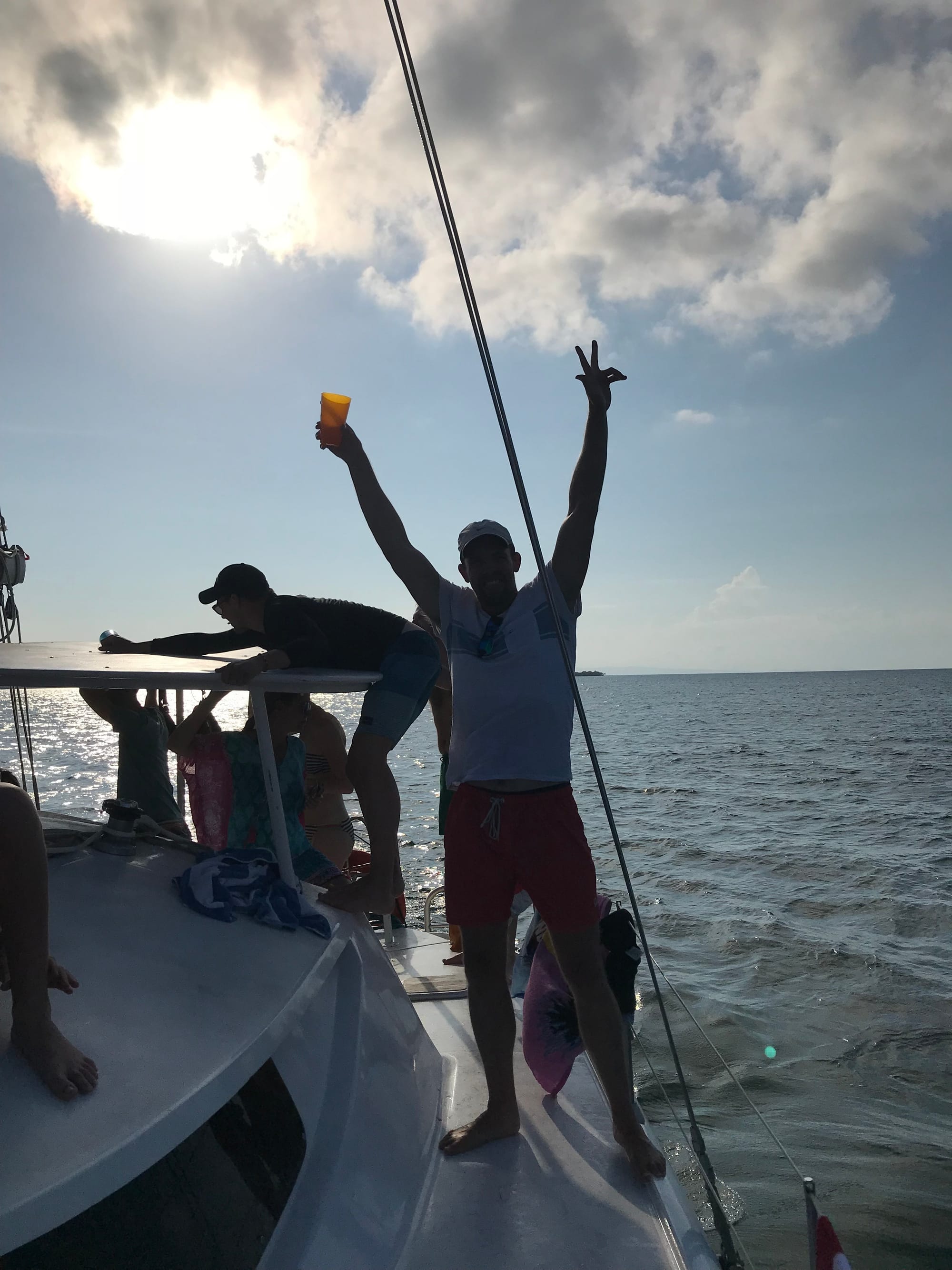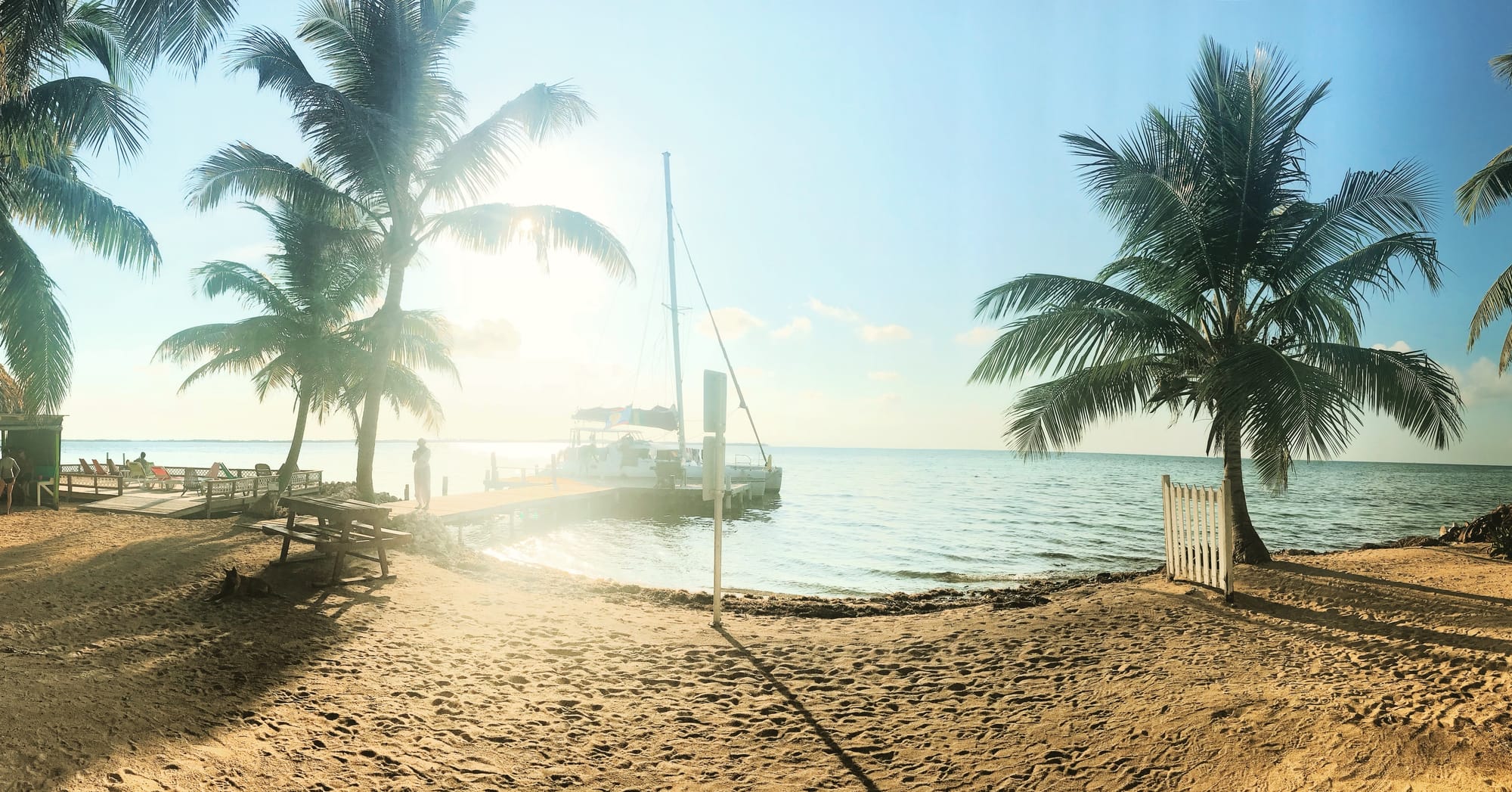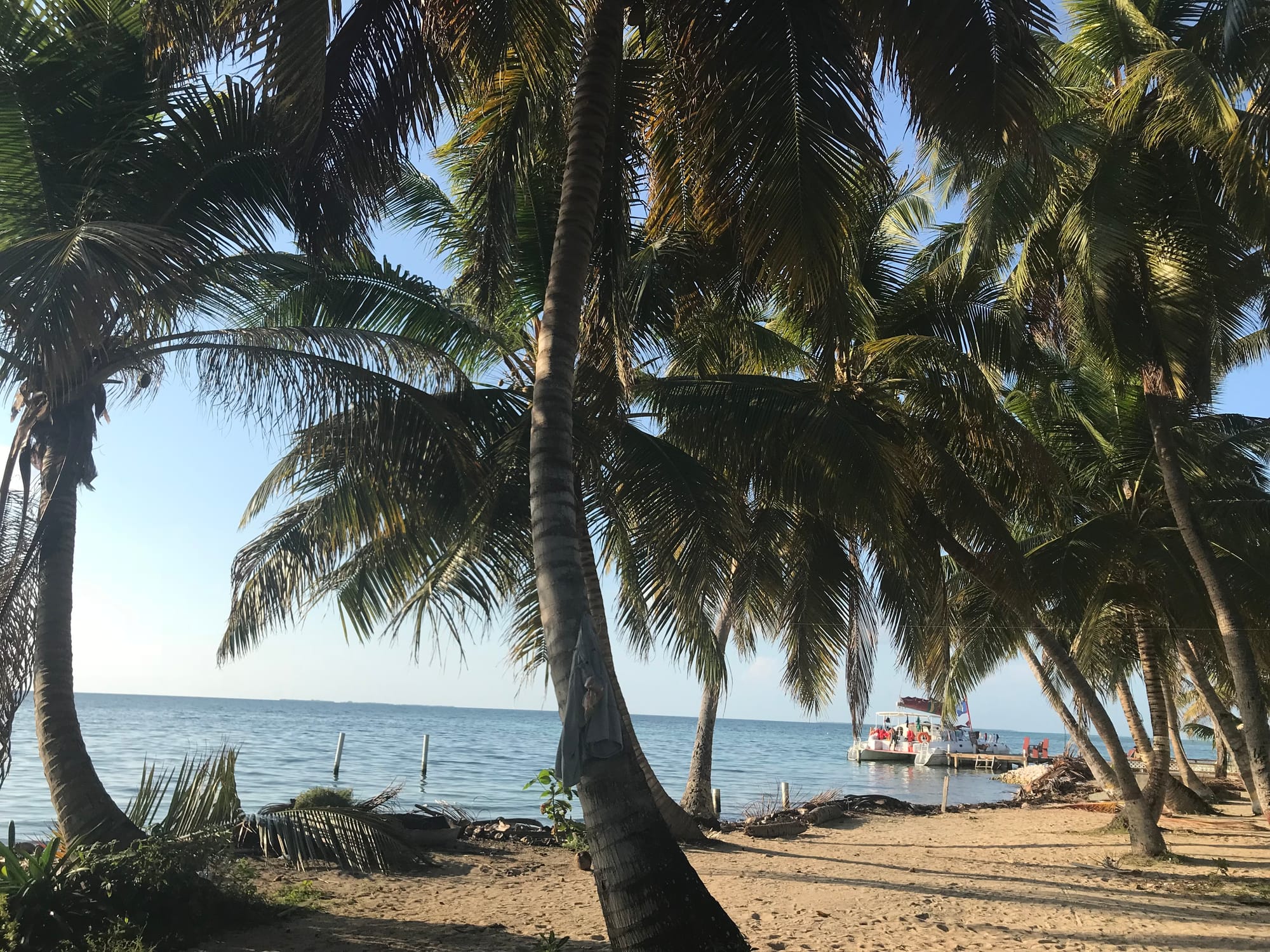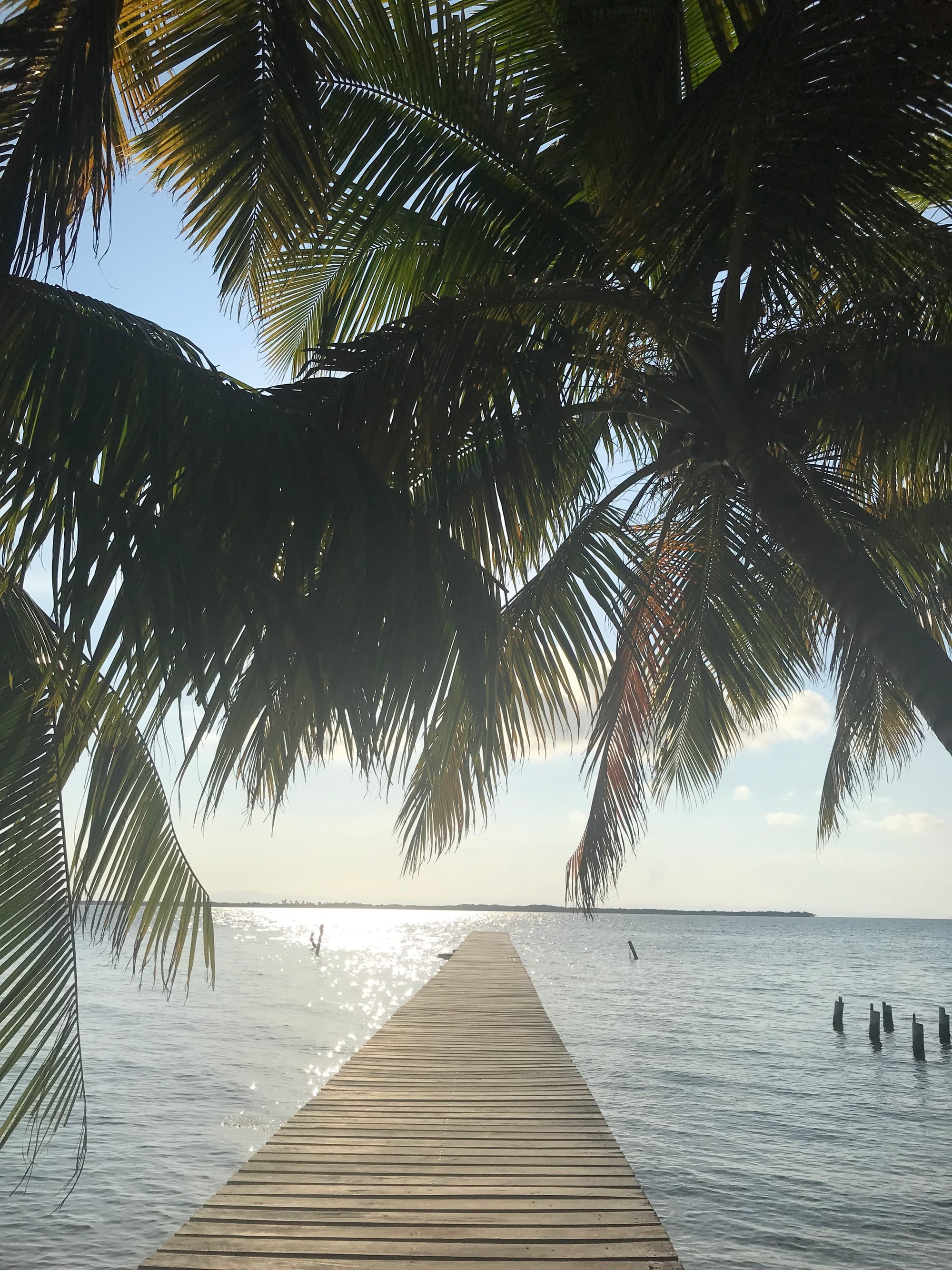 On our last day we continued sailing and snorkelling down the coast until we arrived at Dangriga. It really was an amazing experience and I highly recommend that you book a trip with Raggamuffin. There are a few other tour providers that provide a similar style trip but Raggamuffin is easily the most professional and has the best experience. The staff were profession yet still very relaxed and great fun (including hilarious).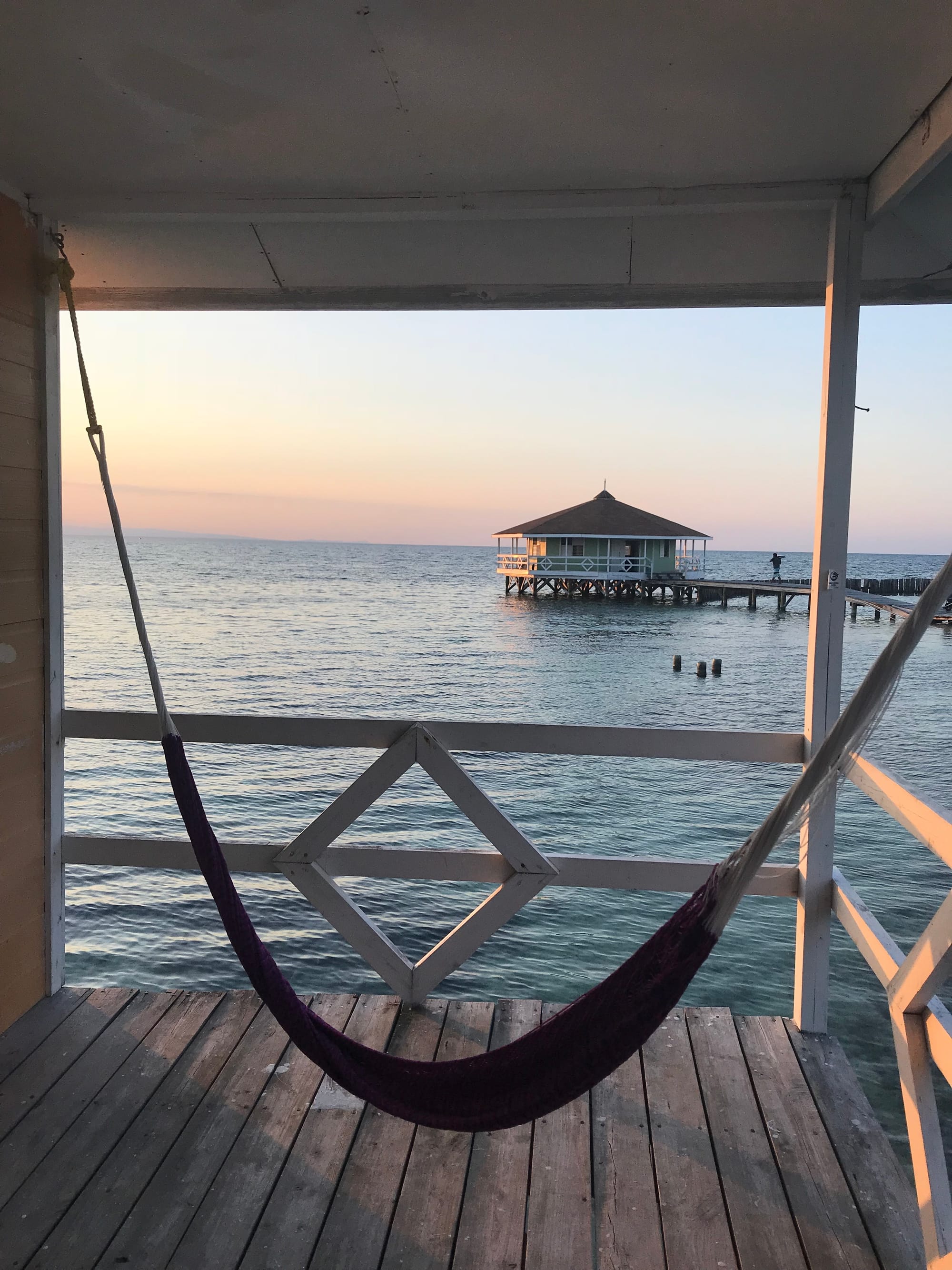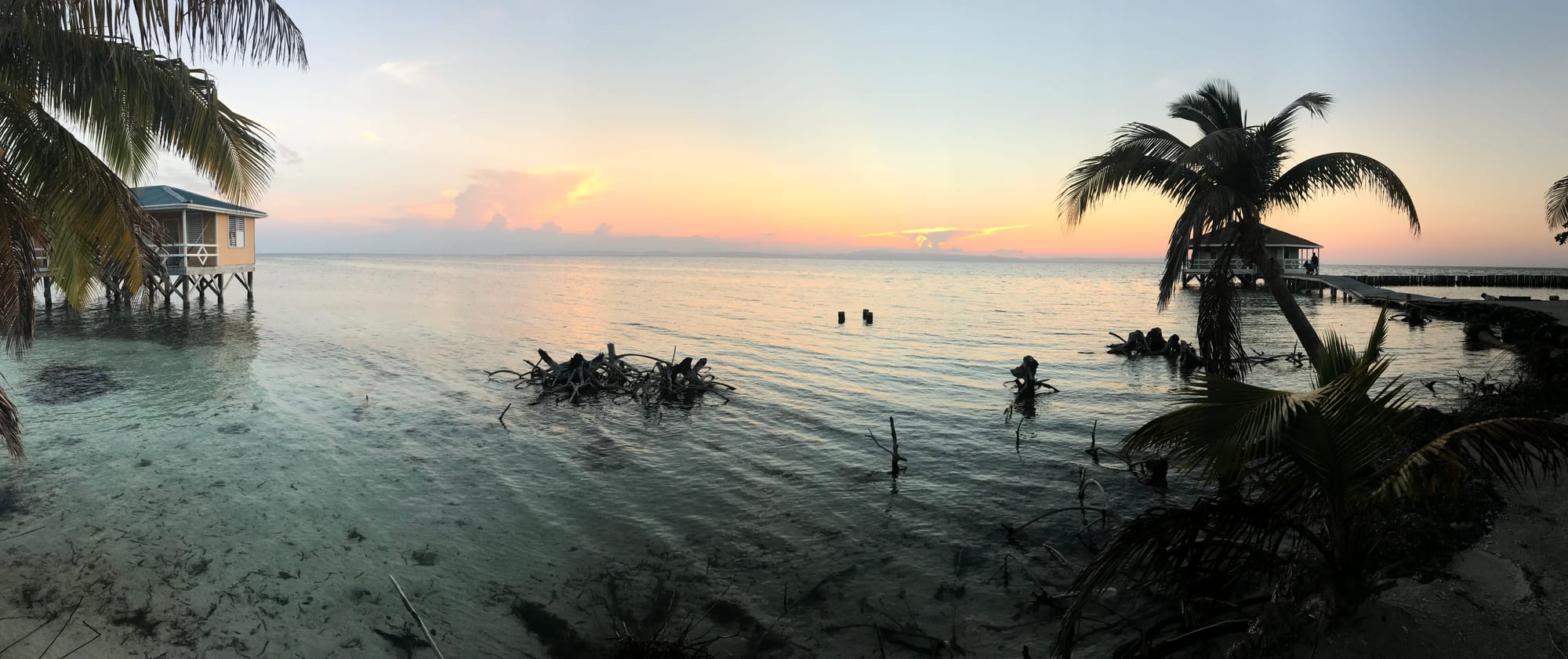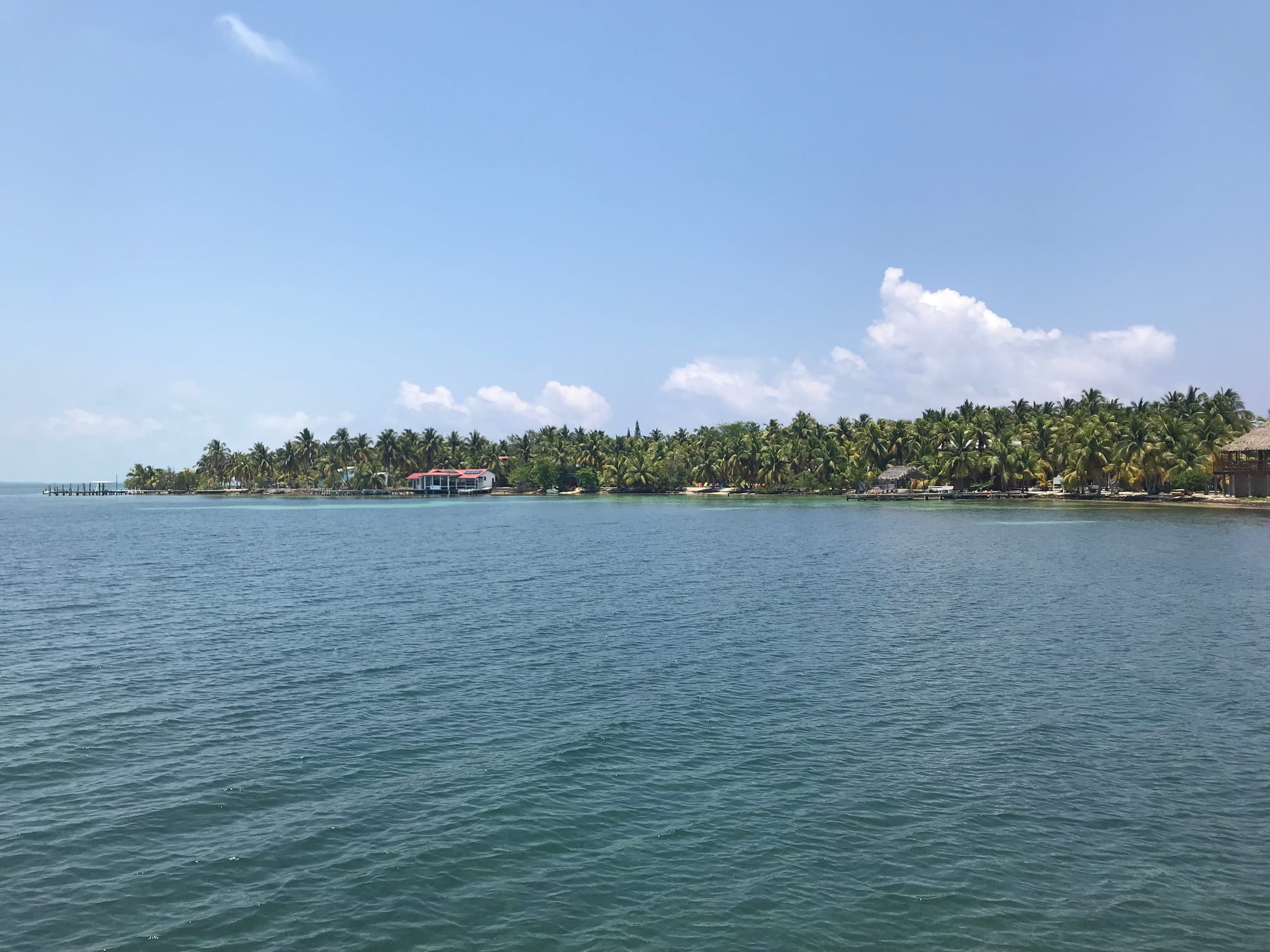 Unfortunately the 3 day trip came to an end and we all were going off separately. For me I needed to get up to Tulum in Mexico as quickly as possible to meet a mate in Cuba.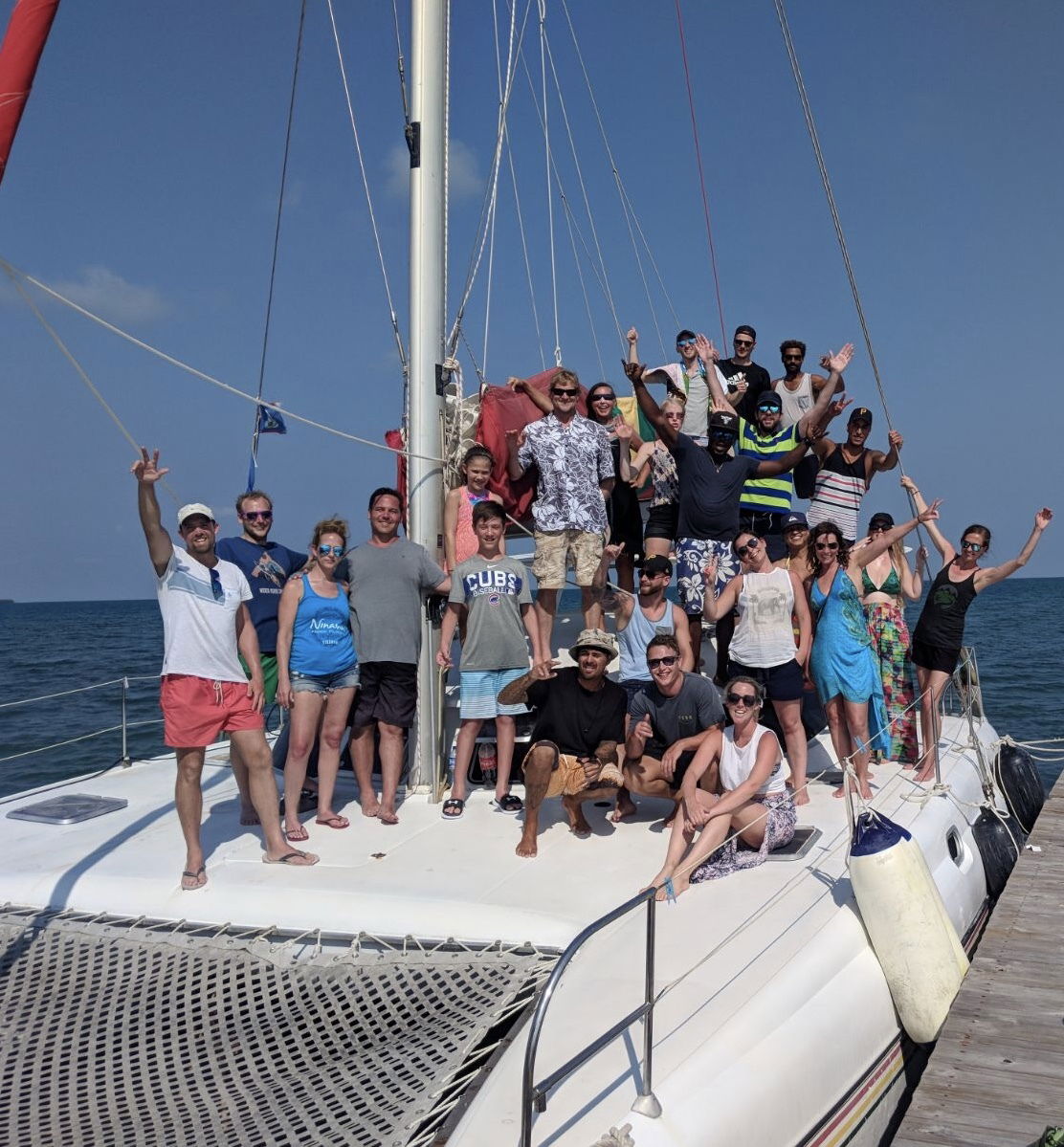 I was able to catch a bus to Belize City however I would arrive late at night. You know how I mentioned Belize City as one of the most dangerous cities in the world…I was about to find out. On my bus trip I had booked a hostel so least I had a place to stay. I arrived late at night and the streets were dark with little street lighting. Despite the hostel only being a few 100 metres away the bus driver advised me to get a taxi due to how dangerous it was. I resisted at first though agreed it was a safer option from walking. The taxi driver was sure there was no hotel or backpackers at the address I gave him, though he took me anyway. Very lucky I did go with the taxi as the streets were littered with group of men who followed us in the taxi, there was no hostel or any accommodation at the address I was given from the website so the taxi driver took me to a hotel he knew was open and at a reasonable price. He was incredibly kind and helpful. The hotel he took me to was great, good wifi and simple bedroom set up. They helped me get the bus I needed the next day to Tulum and were so nice.
I was lucky to find some helpful locals that night!
My time in Belize came to an end with another bus ride north. Obviously, my day diving the blue hole and surrounding reef dives was just one of the best days of my life. I learnt so much about diving and just saw the most amazing sea life.
My time at Caye Caulker meeting great people from around the world, enjoying the beach parties, spear fishing and diving was a perfect way to relax for a week.
The Raggamuffin sailing trip, I just wish it was for longer!

Belize is such a beautiful country with an amazing coast line to explore. There are the Mayan ruins, jungle hikes, caving, and volcanos to explore as well if you haven't done them already in other parts of Central America.
I did get the feeling that Belize was becoming more western friendly, so I fear that it will lose its local touch and hint of rawness so definitely get there before it becomes too developed!