A good friend of mine BA used to work as the communications manager for the Wallabies (the Australian rugby team). His then-girlfriend (now wife) Bel lived in London and we all became friends through my cousin who is close friends Bel and BA from Brisbane.
The Autumn internationals occur each year during October and November when the southern hemisphere rugby union teams (Argentina, Australia, New Zealand, and South Africa – now Japan as well) tour Europe.
Australia was to play Wales on 8 November 2014 in Cardiff at Millennium stadium. Millennium Stadium is known as one of the premier rugby stadiums in the world and perfectly located in the centre of Cardiff city so close to pubs and great nightlife. The Welsh are a powerhouse of world rugby and are an extremely passionate rugby nation. Being Movember, apologies for the phenomenal moustache!
Danni, Bel, Camille, and I caught the fast train out to Cardiff from Paddington station in London. It was packed! All the Aussie and Welsh fans heading out to Cardiff for the weekend. The atmosphere on the train was great fun. We had a room at a backpackers booked for Friday and Saturday night. We checked in and headed out to the pubs for dinner and a drink. This time of year in the UK is pretty cold and wet so wasn't much else to do! We checked in however our fellow roomies had already headed out for the night….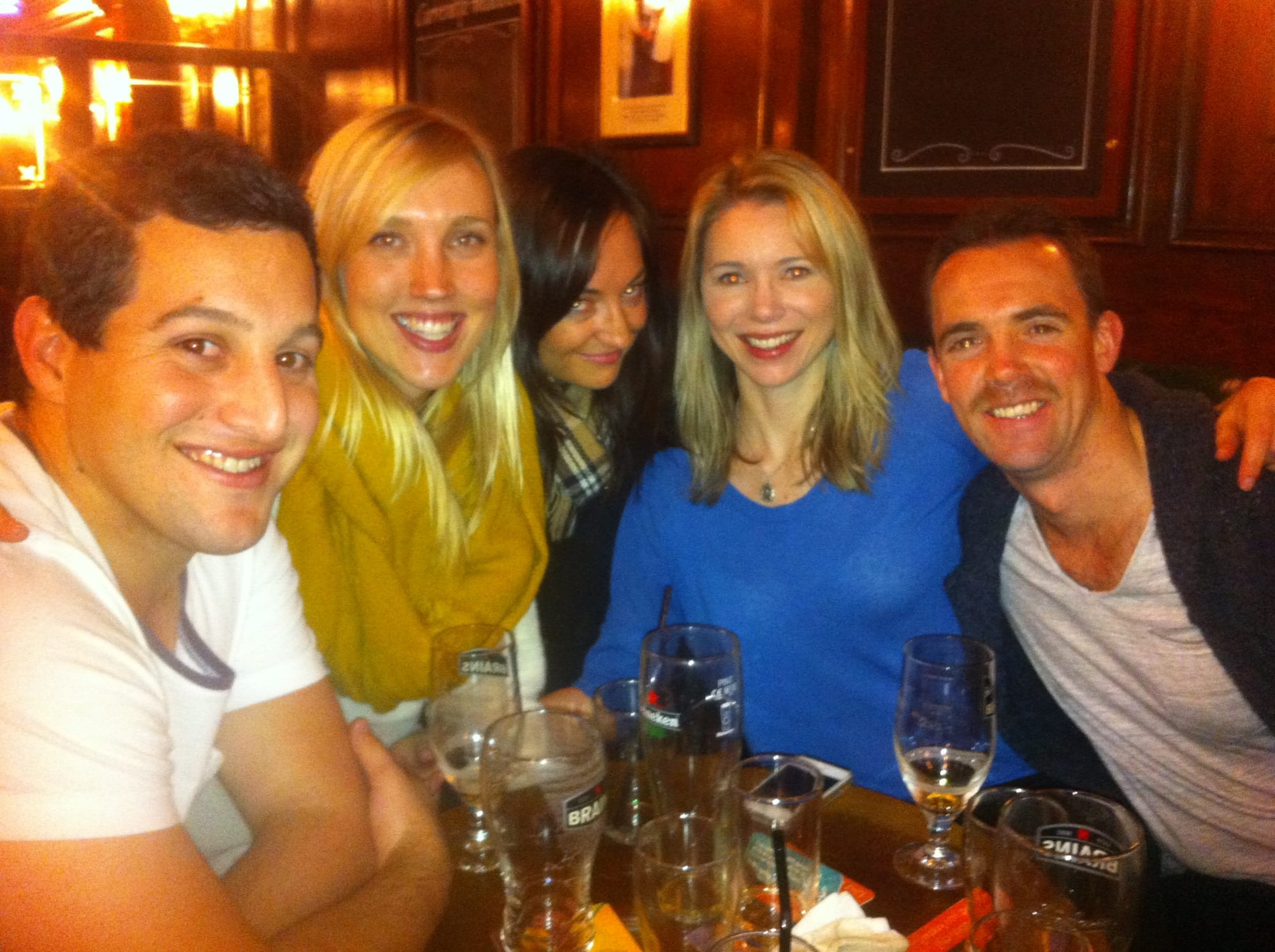 We found a classic old man pub in Cardiff and settled in for the night. BA finished up his duties with the Wallabies and met us for a beer.
We didn't want to be too late before the big day tomorrow so called it a night around midnight.
That night around 3 am our roomies arrived back to wake us all up (except Bel who had earplugs in) to tell us all of their nighttime adventures. They were three (3) Aussie navy lads who loved a good time. Despite their rather hilarious stories at 3 am we were all dying for bed.
We took it easy on Saturday morning and despite the rain made it our for a nice brunch. It was raining and cold so definitely time to hit the pubs before the match later. The pubs were already building up for the big test later that evening.
We arrived at the Millennium Stadium and our seats were awesome. We were sitting with the players and players' wives/girlfriends. The stadium roof was closed and the national anthems rang out. 60,000 Welsh singing is still a sight and noise to behold. It sent shivers down our spines! The match was on!
Rhys Webb's try opened for Wales which saw the crowd erupt however we inched our way back into the test and the teams were level 21-21 at the break.
The second half was tight and in the 74th minute Bernard Foley kicked a drop-goal to keep Australia in the game. In the dying minutes Australia was able to wrestle a penalty to take the match 33-28 in an exhilarating and tight match between two great teams!
Australia beat Wales for the 10th successive time in a thrilling game, sealing victory late on.
Australia 33
Tries: Folau (2), Kuridrani; Pens: Foley (3); Cons: Foley (3); Drop-goal: Foley
Wales 28
Tries: Webb, Cuthbert, Jones, penalty; Cons: Halfpenny (2), Biggar, Priestland
We headed and crossed the river straight into all the pubs. It was drizzling a little and bloody cold though the atmosphere on the streets was electric. The main street was alive, people were just enjoying the great atmosphere after a match. We found ourselves in a classic Welsh pub with a live band. 'Hotel California' came on and the crowd erupted in song. Three old men in their 60s snuck behind the bar to use the brooms/mops as air guitars it was awesome fun! We joined the old boys and loved singing along.
The night rolled on and we had so much fun.
As always we had to be outdone by our navy mates in our dorm and they successfully had a few epic stories to tell us at 4 am again.
We woke up with a few sore heads though a big breakfast was to follow before we caught our train back to London. The sun had come out and I took the opportunity to walk around Cardiff city…which took me all of 45 minutes. Other than the Cardiff Castle and Brains brewery there wasn't a huge amount to take in.
An awesome weekend away in Cardiff with good friends and brilliant rugby. Highly recommend to anyone, rugby fan or not, get out to Cardiff for a rugby test match at the Millennium Stadium, you won't regret it!