Vienna – Christmas 2015 (24 – 28 December)
I have a been to Vienna a few times though this blog will focus on the first time I went to Vienna.
Phil, Johnny, and I were not heading home for Christmas / New Years so we decided to do some travelling around Europe. We decided to go to Vienna for Christmas, Bratislava for two days, then Prague for New Year's. This blog will focus on Vienna with the other two blogs to follow shortly.
We had an Airbnb booked in in the central area of Mariahilf and our host was Roland. He was awesome! We were arriving on the morning of 24 December, in Vienna, they celebrate Christmas on the 24th rather than the 25th so many of the shops would be closed. Roland offered to purchase our food and drinks before we arrived so that we had things before the shops closed. Incredibly kind! Roland got the most epic spread of food, wine, and schnapps for us!
After checking in and meeting Roland we thought we would get out and see some of the city as it was a sunny winter day. As most of the city was shut for Christmas we went for a walk around the city and took in some of the sites to get a feel for the city. We bar hopped around to the bars that were open and explored the amazing churches like St Stephen's Cathedral, St Peter's Catholic Church, Jesuit Church, Holy Trinity Greek Orthodox Church, and Kirche am Hof. Being Christmas the churches were the often the only open buildings. They all had choirs singing which welcomed us at each church. I am not a religious man though it was nice to enjoy some Christmas carols and soak in some of the Christmas spirit as we explored the city.
There were Christmas markets close to St Stephen's Cathedral which we stopped in for some gluhwein and a bratwurst sausage to keep warm. We each purchased a Christmas boot drinking cup and started the Christmas celebrations! This is where the term 'brosting' was inspired. Three mates (bros/brothers) toasting their drinks and in German they say 'Prost' so we just combined it all together to say…"Brosting!"
Hahaha it became the theme for the next 10 days of travelling for us and has continued today!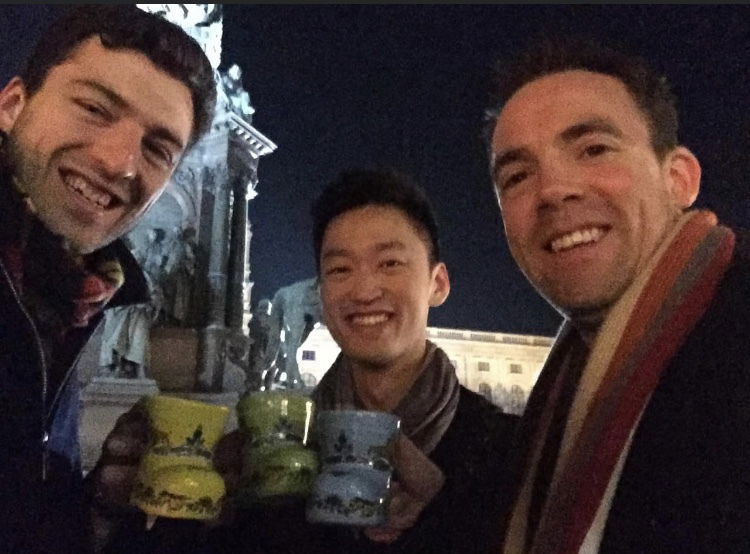 It was getting late and bloody cold so we headed back home for dinner and drinks.
The next morning was Christmas and we had some fun presents to exchange and an epic meal to prepare! Roland had bought us some roast chickens, veggies, cheese/crackers, etc so we had a big day in the kitchen to start preparing!
We did get out for some fresh air though as it was so cold and everything being shut we didn't feel too guilty to just enjoy a day together inside cooking and drinking. We had a great lunch feast with plenty of wine and schnapps. With our bellies full and plenty of laughs we thought it would be good to get some fresh air before the sunset.
Being Christmas, we were not sure if there were any bars open yet or what was happening in the city. We jumped onto some social media apps and found out there was a one night club having a Christmas party that night – Prater Dome (https://praterdome.at/de/). We freshened up and had a few drinks before catching a taxi over. It was packed! There were multiple rooms and areas which was cool, tickets were €20 and off we went!
Johnny is a lover a of vodka and one of our traditions for the tour was to start each night with a vodka red bull and shot of tequila. Tonight was no different. The night began with some great dance moves when a large circle opened up on the hip-hop dance floor. There were some bboys and I jumped in to throw down some poorly executed footwork, but just fun to be back in the circle. With the red bull bubbling in his belly 6 foot 5 Phil felt the urge to crack out the classic worm maneuver. Not many 6 foot 5 men can elegantly pull this move off after a day of drinking though Phil approached his entrance into the circle with a subtle pause, glance across to Johnny and I before leaping onto his hands. As his chest graced the dance floor and crutch and knees soon followed, his well-timed worm was in full motion as he lept back up for a second phase his confidence had risen. Alcohol-induced confidence can do wonders to a man on a dance floor! It didn't take long for this confidence to reach his hands and unfortunately for Phil that is where it ended. His crutch and knees did not quite get the message and they came crashing down on to the floor. As Phil lay there looking bewildered for a split second before quickly thrusting himself into a push-up position to the cheers of the crowd, putting on a cheeky smile as he exited the crowd. He quicked grabbed Johnny and I to say "go quick go quick, my knee is fucked" which we could only reply with "more vodka!"
The night continued with many great laughs and plenty of rude dance moves on the dancefloor. It was early AM and the club was closing. An awesome night out for Christmas and so much fun meeting some locals on the dance floor.
We woke up the next day and felt relatively fresh. Again not much was happening in Vienna and many of the sites and buildings were still closed for the festive season. We tucked into some leftovers from our Christmas lunch and headed out to find a more substantial meal.
We had learnt the night before that there was a Vouge party at one of the night clubs tonight and we thought that would be great fun to get along to. After finding some food we headed over to Belvedere Palace and to explore the Belvedere gardens. We were able to get tickets for a Mozart concert at the Belvedere Palace which was really nice. The music was inspiring and beautiful. The palace was just amazing with such great architecture and history. It was great to just escape the apartment and relax for a little. The sun was starting to set and we decided to head home to freshen up before heading out for the night.
We started to head home via the Christmas markets and Parliament House. It was such a grand building from the Austro-Hungarian Empire with amazing powerful statues scattered around the gardens. It really represented the wealth of the previous empire. We also found some more Christmas markets with Christmas decorations in the surrounding parks which were fun to explore.
Roland had mentioned that we should go to Café Rüdiger, supposedly one of the best cocktail bars in Vienna. It wasn't far from where we were staying so we thought let's duck in for one drink on our way home…unaware to us that it was a gay bar (well played Roland). We ordered some drinks and took in the festivities of the bar. It was still relatively early so it wasn't too busy. We got speaking to a couple of the bartenders and had a good laugh with them. Let's just say they weren't appropriately dressed for the winter. Johnny went to the toilet and came back to tell us we had to check them out…Phil and I entered cautiously…it was just mirrors…floor, roof, walls…everywhere you looked was just mirrors. Hahaha it made for interesting urinal chat and not knowing where to look. It was good fun and we were glad that we dropped in for a drink.
We finished our drinks and headed home to freshen up before heading out again. We only had cheese and crackers left with a couple of bottles of wine and some schnapps left. Being our last night in Vienna we wanted to finish off what we had left. We finished most of it all off while getting ready and picked up a quick snack on the way to the club.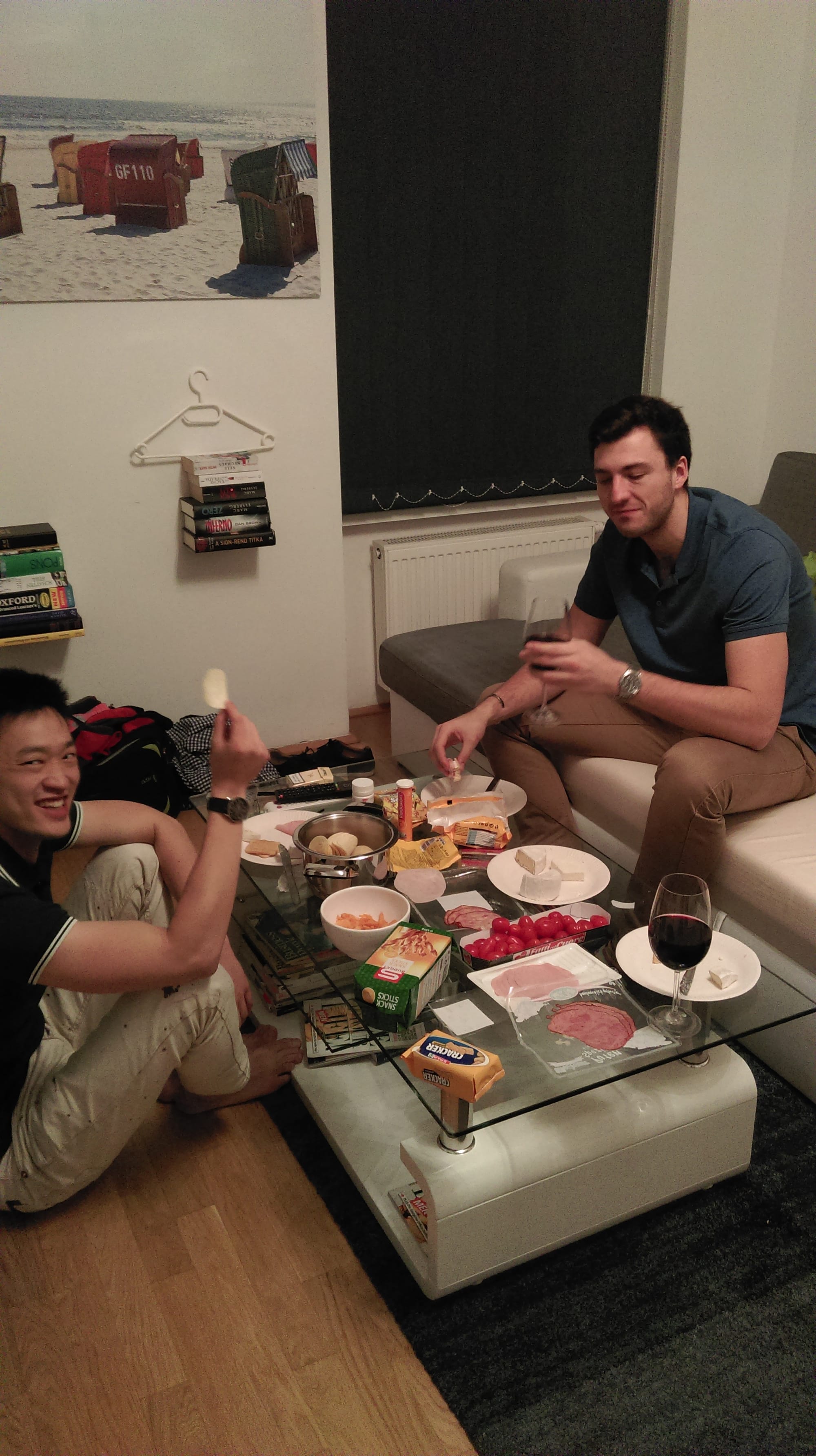 As it was our last night in Vienna we decided to get table service at an area at the bar. The vodka kept flowing and we were having a great time dancing. The club was packed! It got to around 4-5am when I decided I was done for the night. Johnny and Phil wanted to keep dancing so I caught a cab home. The club closed around 7am and Johnny and Phil started to head home…only problem they had lost their key to the apartment. They proceeded to spend the next 15-20 minutes searching the dance floor and coat stalls for the spare key. No luck…they got into the cab hoping that I would somehow wake up to their cries at the door. I wasn't answering my phone so they hoped once they got home I would wake up from the banging on the door.
Roland's apartment was up some spiral stairs on the 3rd or 4th floor of the apartment complex. As Phil came around the stairs to the floor our apartment was on, he saw some feet, then a body with red fluid close to the mouth of the body…."Blakey is dead" Phil shuttered, Johnny and Phil ran to my aid, with Phil shaking me to wake up, Johnny's attention drew to the front door…there was a key in the front door, Johnny lept in the air in celebration "Phil there's a key in the door" As Phil realised they could get into the apartment they began hugging and high fiving, this is the point I started to come to my senses to see them both hugging over my battered body, hahaha. Once their celebrations had finished they opened up the apartment and got me cleaned up. They cleaned up my mess (that red wine from earlier in the night didn't make cleaning easy). They were awesome!
We had to wake up a few hours later for our train to Bratislava, I wish I could have slept for a week. I was sooo hungover and miserable. Rugged up in my beanie, scarf, and coat I was not a happy man. Phil and Johnny enjoyed letting me know about it the whole way to Bratislava.
We wrote Roland a nice thank you letter and purchased him a bottle of wine to thank him for all his help and buying our food for us. He really went out of his way! We apologised for losing one of his keys and we paid him for a replacement key.
Vienna has a lot more to offer than clubs and churches however being Christmas there were not many places open for the few days that we were in town. I have been back since and had a great time exploring the city properly and dining at some amazing restaurants. This first trip was a lads trip and great fun. We loved our time in Vienna and often reminisce about this great antics and memories. Not sure I'll ever travel like this again, the body just isn't up to it any more though it was great fun. The only issue was we were 4 days into our 10-day trip and there was plenty more fun to be had in Bratislava and Prague.