Copenhagen 26-28 June 2015
Denmark and Copenhagen were always on my to-do list and an opportunity came up with two close friends, Wayland and Katy, to have a long weekend escape in June 2015 to Copenhagen. Wayland and I worked together in 2013 while contracting as lawyers in London while Katy and I worked together from 2013 to early 2015 at Deutsche Bank.
We booked a nice Airbnb in the meatpacking district of Copenhagen and headed over on Friday morning. The flights were quick and it was easy to get a taxi to our Airbnb. Wayland had a close friend who lived and worked in Copenhagen as well who we were looking forward to catching up with. Our apartment was modern and near the Sydhavnen River not far from the Dybbølsbro station. We had a cool balcony overlooking the river with a BBQ which was going to be perfect for the long summer nights.
We checked in to our Airbnb and then went out to explore the city. We hired some bikes and headed into the city to explore. The bike ride into the city along the river was so nice and we were getting a great feel for the city. There were a lot of dump trucks driving around the city with kids drinking and partying in the back of the trucks. We weren't sure what was going on, we thought that it was just a summer party and that is what the kids do here.
We parked our bikes and started to explore the old town on foot. There was a walking tour starting in a few hours so we just enjoyed taking in the city until the tour started. The walking tour we joined was around the Klædebo Kvarter area then heading over the Knippelsbro Bridge (Knippels Bridge) to Freetown Christiania. We did know much about Christiania before we arrived other than it was a park where people lived. The tour guide was great fun and pointed out some great local restaurants and bars to get to on a Saturday night. As we crossed over Knippelsbro Bridge and there was a makeshift beach that had been installed for the summer months which looked great fun to enjoy the sunshine.
The tour guide outlined that it was the end of high school so all the trucks driving around the city were high school kids graduating their final year of school. They hire trucks and drive to each of their houses where their parents give them food and drinks for the party. Then after visiting all their houses they finish in the centre of the city for a big party at all the pubs. It was the only day that underage drinking was allowed/managed to allow this celebration. It was awesome fun to see the city enjoy the celebration of the kids graduating from high school. It was a fun tradition!
We made our way to Christiania which we now learnt was a 1960s community that during the post-war era lost jobs and had nowhere to live so broke into the old navy shipyard to build their own homes and live in the park. The community created its own laws and rules and lived separately from the main city of Copenhagen. It was always accepted that long as the people of Christiania did not overstep their lifestyle then the police and city of Copenhagen would let the community continue to live in its own ways.
The laws of Christiania:
No hard drugs
Help thy neighbour
No weapons
No violence
No private cars
No bikers colours
No bulletproof clothing
No use of thunder flashes
No stolen goods
No running on Pusher Street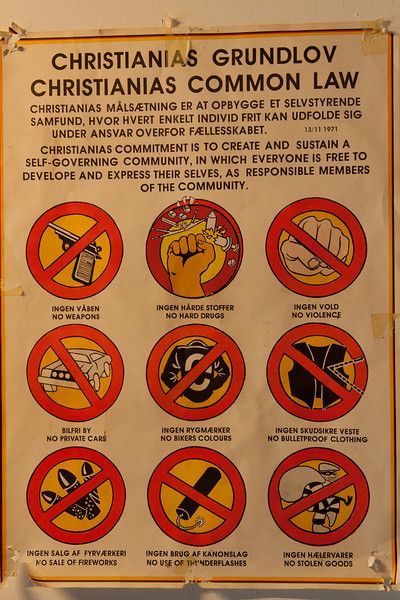 Pusher street is the man street through Christiania where locals sell weed and non-hard drugs. So, if someone is running on Pusher Street it means the police are coming so everyone knows to get moving. Being a community they all help and support each other with often their houses been built from the materials found in Christiania. Provided that Christiania maintained a level of peace and order the police did not interrupt the community and let people sell and take the soft drugs provided you did no leave the park with drugs. There were always police present on the outskirts of the park to monitor things in the park and to search people leaving the park.
The walking tour walked past some of the treehouses and homes built from local materials which were pretty basic though I am sure the locals were comfortable. Pusher Street had a small street festival vibe with local musicians playing, people selling homemade jewellery, bags, gifts, etc with open bars full of people. There were small huts which were heavily covered with camouflage with one person in each hut, the person in the hut had their faced heavily covered and big glasses as this is where you purchased the weed from and other soft drugs from. We purchased a couple of joints and two cookies. I have no ability to smoke so I had a cookie while Wei and Katy enjoyed a joint and cookie. It was really fun to just relax in the park and watch the street festivities. It was as close as a 60s hippie party that I can imagine and everyone was welcoming for tourists to be there supporting their community.
As Copenhagen has expanded since the 1960s Christiania is now a prime location in the city for living or as a business district. There are several Michelin star restaurants like Noma that close by so there has been a push for Christiania to be shut down and for the land to be sold/used for commercial and private use. The Government is working with the community to find a middle ground however in the world we live in now places like Christiania may not last much longer. I enjoyed my experience and love that parks like this are still active in our community. I am sure there is crime and issues that are caused by having a community like this operating under its laws though it is nice to have a community exist like this in such a central major city. I hope the Danish can find a middle ground to co-exist together.
The sun was starting to set so we decided to head home to get changed, have a BBQ and head out for some drinks.
We got home after a quick stop at the shops to pick up the food for the BBQ. Wei and Katy took a nap while I got the BBQ ready. The munchies started to kick in as the cookie started to take effect. It was so much fun BBQ'ing and snacking along to some good tunes while cookie kicked in and the sun set over Copenhagen. Once Katy and Wei woke up the BBQ was ready and the giggles were in full swing. Eating dinner was not the easiest task to perform as we all had a great few hours laughing along together.
Wei and Katy were still pretty exhausted, so I headed into town alone to explore the city. I bounced around a few cocktail bars in the city around the Klædebo Kvarter area which seemed to be the popular night area in Copenhagen. I met some fun locals though headed home around midnight.
The next morning was a little slow though we hopped back on our bikes and headed back into town. We went to have brunch on Nyhavn street. It was a beautiful sunny day which was perfect to relax in the sun with a cold beer and enjoy the beautiful colourful houses and restaurants along the water. It was bubbling with people enjoying the sunshine.
From there we rode to The Little Mermaid, walked through the King's Gardens, explored Amager Strand, Stoget and Old Town, and Christiansborg Slotskirke, saw Amalienborg Palace, walked up Rundetaarn (the Round Tower), and enjoyed exploring the city. We wanted to try some local food and the walking tour pointed out restaurant Det Lille Apotek (http://detlilleapotek.dk/en/) which is the oldest restaurant in Copenhagen which had great local food. We were able to get a table on the street in the sunshine. The food was very much hearty stew and potatoes which was really nice. The atmosphere was awesome and the local beers were delish. We enjoyed a few hours just relaxing.
That night we were meeting Wei's friend Kiri who was living and working in Copenhagen. We went around to her place for a few drinks with her friends before we headed out in town. Kiri took us to a fun local restaurant with great sea food and the standard meat and potatoes which was so nice! We met an awesome waiter who was just hilarious. It was such a fun night out!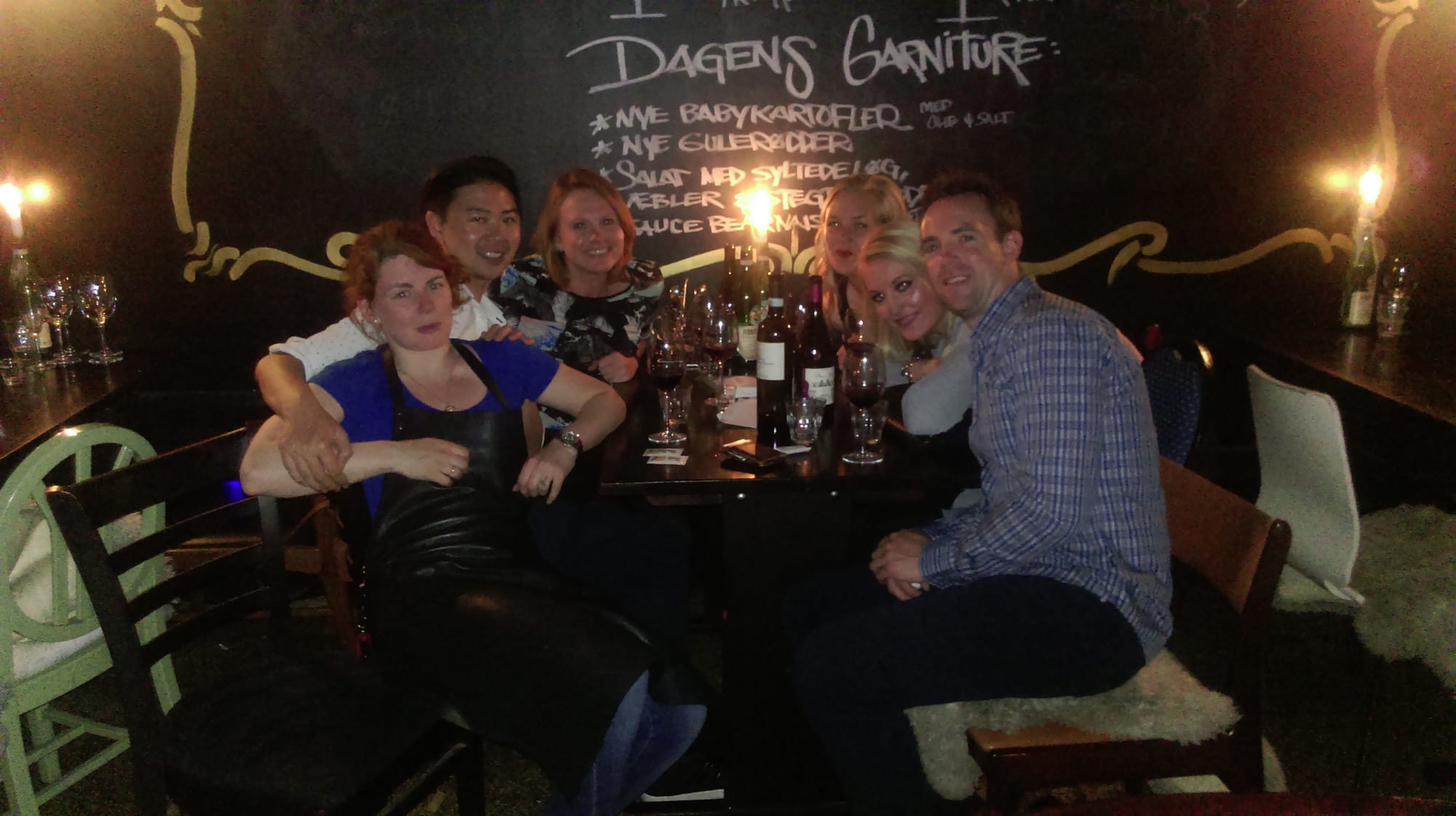 We had an early afternoon flight and Kiri had promised to take us to the best brunch place in Copenhagen before we left. We packed up and left a nice message for our Airbnb host before dropping our bikes off. We walked over to The Laundromat Café (https://www.thelaundromatcafe.com/en/home) which was not what we were expecting but was awesome. It was a Laundry and café in one. The food was sooo good and we had a great morning just relaxing together at the café catching up with Kiri.
London was calling and we needed to head back to the real world. Was a really fun 3 days in Copenhagen and nice that we weren't rushed. It is a cool city with lots of history, fun bars, and travel experiences to have. Wouldn't want to be there when it starts to get cold though a great summer city escape!