I have been wanting to get over to Cuba for so long. Initially I planned to finish my trip in Belize and start heading back home. Though with Cuba so close I couldn't miss this opportunity and decided to extend my trip.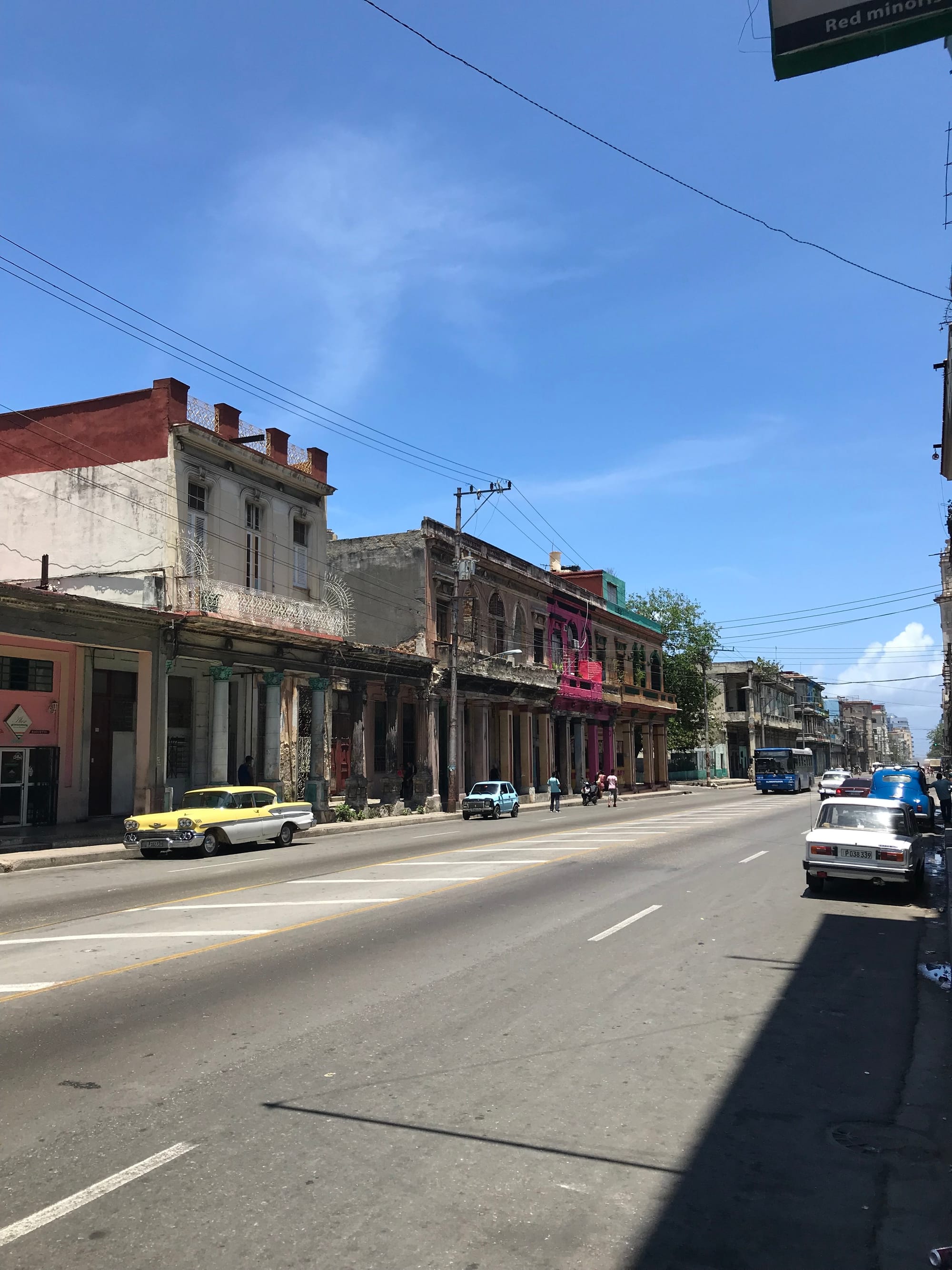 The easiest way to get over to Cuba is from Cancun in Mexico. Highly recommend that you fly Aeromexico rather than the local Cuban airline Cubana de Aviancion, it is just not worth the risk. A Cubana de Aviancion flight crashed a week after I left Cuba. Just pay the extra $$! You won' regret it!
Before you arrive in Cuba:
get a few hundred USD in cash;
book accommodation in the Cuban city you are travelling to; and
download the app maps.me and download the "Cuba" map so you have access to a map with no wifi. Really helpful and much needed in Cuba without access to internet.
When you arrive at the Cuban airport get ready for some intense customs questioning on why you are entering Cuba and your past trips. They went through my whole passport questioning every stamp and visit. Once getting through customs you will need to wait for your luggage and this could take some time, so don't get too stressed if it has not arrived on the conveyor belt anytime soon. This was my first shock as it had been 45 min to an hour and no luggage had come out. Then I needed to go to the toilet and there was no toilet paper…. this is pre Covid-19 days when toilet paper was a normal commodity.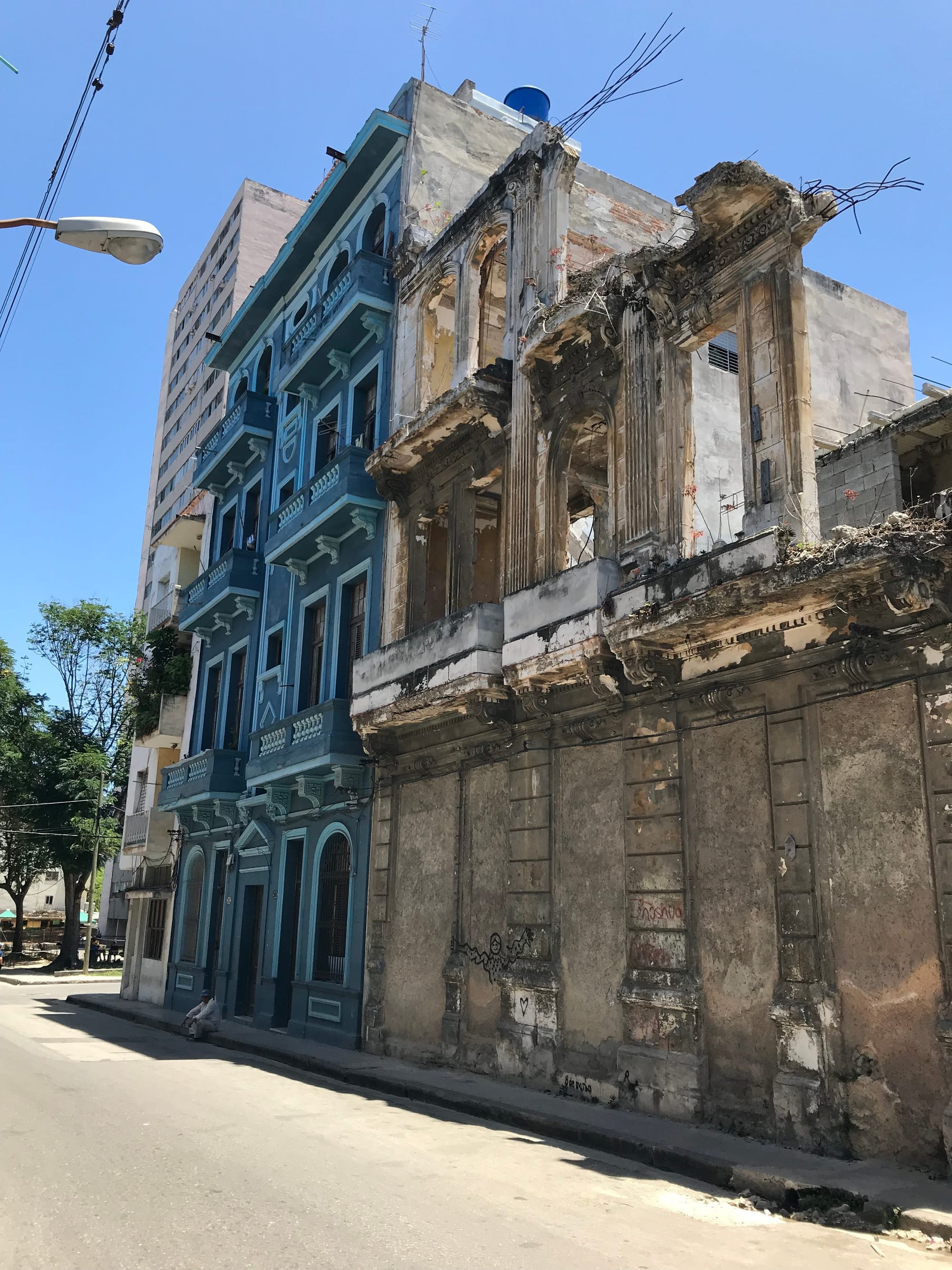 Everyone around me from my flight was not stressing so I just assumed you just gotta wait until the luggage comes out. Once my luggage arrived I went to get cash out though the ATMs at the airport were all broken or did not accept my bank card. TROUBLE! How was I going to afford a $50 cab ride to Havana, yes $50 – it is a one fee for all.
I was able to talk to a cab driver who gave me a lift to a bank in Havana where I was able to take out local cash which was incredibly kind of him.
I had booked accommodation in New Havana at a Casa Pa'Mochileros Mirella. It was a simple apartment / Airbnb style where Mirella had two spare rooms full of bunk beds. It was very basic. I recommend that you find accommodation in 'Old Havana' it is much nice despite the name. Old Havana is the original Spanish settlement that has been renovated where New Havana is more where the locals live and new areas of Havana that have not been renovated. Was fun to watch the kids play soccer in the streets each night!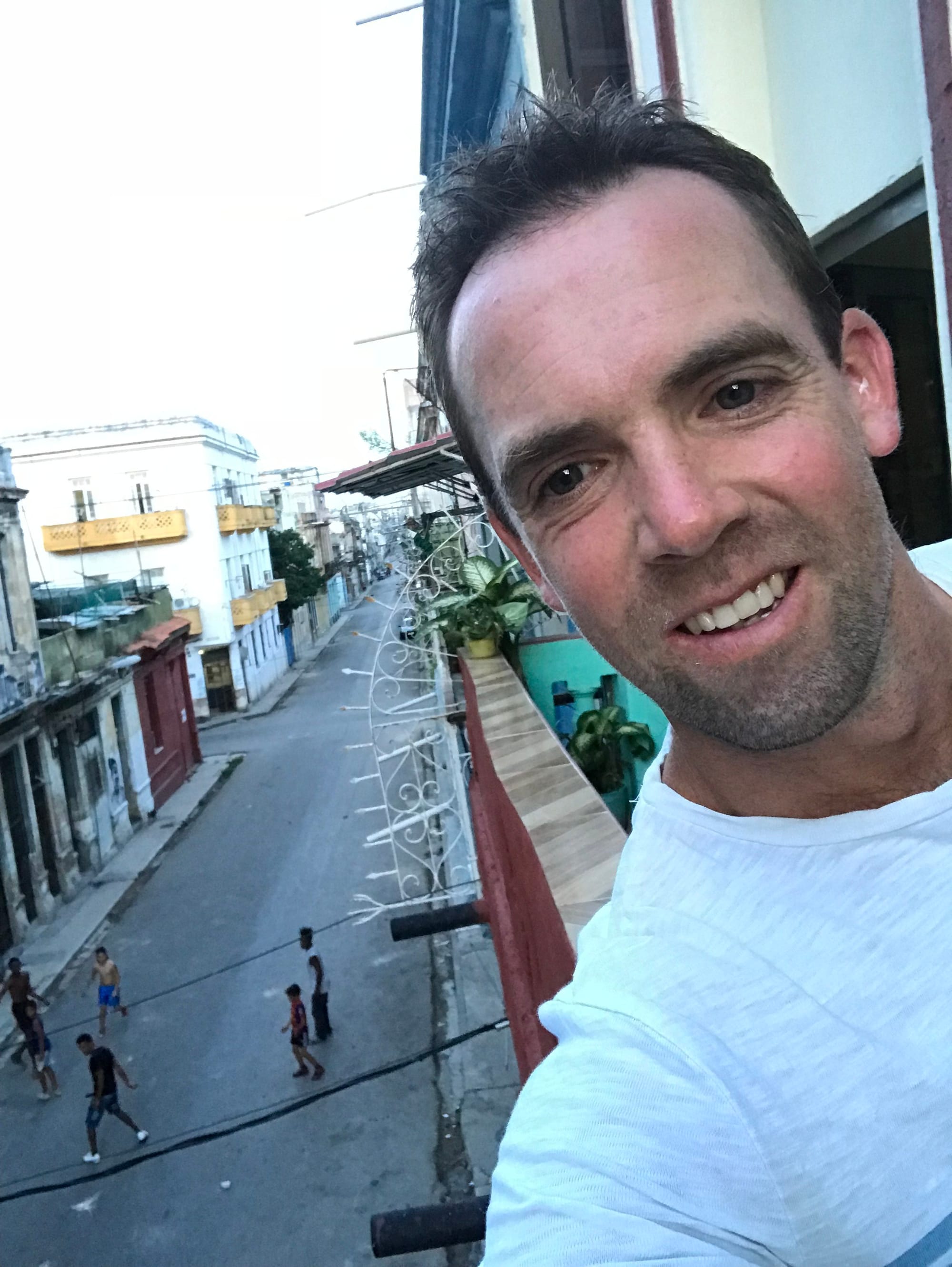 Regardless Mirella's place was fine, and she gave me local tips on bars where the locals went instead of the more expensive tourist bars in Old Havana (through "more expensive" is relative as it is all still cheaper than the western world).
One of the local bars was Bar de Pablo, you need to find some locals to take you to these bars as they are hard to find, often someone's house operating illegally so they don't pay tax on their sales. They close early (9/10pm ish) so try get there before. You'll find local beers and rum that the owners brew themselves and there is a fun local atmosphere.
Tikoa Club: Fun local club to dance.
Café-Galeria Mamaine: Really nice local/small cocktail bar.
Getting wifi:
There are limited areas in each city that you can connect to the wifi. You need to go to the parks that have a wifi zone like Quintin Banderas to buy a wifi card. You will need your passport and another form of ID (Drivers license, etc) to purchase wifi cards, they are pretty expensive but needed to connect with the outside world. I found these parks to have slow wifi as there are so many people in the park using the wifi.
Otherwise as a tourist you can go to the Grand Hotel Manzana Kempinski La Habana in Old Havana to use their wifi, it is in the central area of Old Havana near central park and capitol hill. It was faster, safer and more comfortable.
Food / dining out
Food is not great in Cuba so just get used it. They can't import food, fresh fruit or really anything due to the embargos on the country, so you get some very basic styles of food as they can only use what they have.
The restaurants are very basic, and the local food is nothing to get excited about. Just be willing to keep your dining to very basic and lacking flavour no matter how much you spend. We did find a nice lil pizza place near Hostel 58 in Old Havana that sold pizzas for $1 USD. The pizza was like a 6-year-old made it. But it was easy, cheap, and tasted fine.
The supermarkets are often limited to a few different items, so you may need to go to a few different supermarkets to get what you need. I did go to the local fruit markets (not the cleanest) to buy fresh fruit and the fruit was much nicer, just make sure you wash with bottled water before consuming.
Buying fruit at the local markets allows you to also able to get your hands on the local currency which will make things cheaper. This leads me on to money!
Money:
As discussed above make sure you have USD or some local money before you arrive in Cuba as the ATMs don't always work or some ATMs / banks just won't accept western bank cards so when you find one that does get as money as you can to prevent running out of money.
There are two currencies in Cuba:
Cuban Peso which is the local currency for locals and then there is CUC (pronounced cuu-k). Cuban Peso is around 25 Cuban Peso to 1 CUC. At the banks they will give you 1:1 CUC to USD. Tourists cannot exchange money to Cuban Peso only by buying food at local markets can you get Cuban Peso and then that will allow you to buy things at a cheaper price. Though in all honesty, Cuba is a socialist state they are not paid well and highly taxed, things are so cheap even with CUC so be nice and support the locals by using CUC.
As always in this neck of the woods prepare to get a little ripped off as you are a tourist. I just accepted it and the amount they rip you off is so small compared to what we are used to for living in Australia. They have very little money and very highly taxed being a socialist state. So, accept that you are just helping them live.
Make sure when you leave that you exchange your money back to USD before you leave the country as you cannot exchange Cuban money outside of Cuba.
Language:
English is not widely spoken so if you know Spanish it is very helpful otherwise get ready for a lot of body language!
Accommodation
Cuba 58 Hostel: Good backpackers and good for booking tours and accommodation around Cuba. I met some great people here and the locals who worked here were good fun. They did easy and nice meals which was good to get everyone in the dining room area for a drink and to meet people.
There are plenty of hotels which looked nice, however as a solo traveller backpackers were fine for me.
Havana to do:
Museo de la Revolución (Museum of Revolution): Shorter than expected though really interesting experience seeing history told from Cuba's point of view. I really enjoyed this experience and it just shows history can be told or reported in many different ways. It was interesting reading about the Bay of Pigs and Cold War from a Cuban perspective.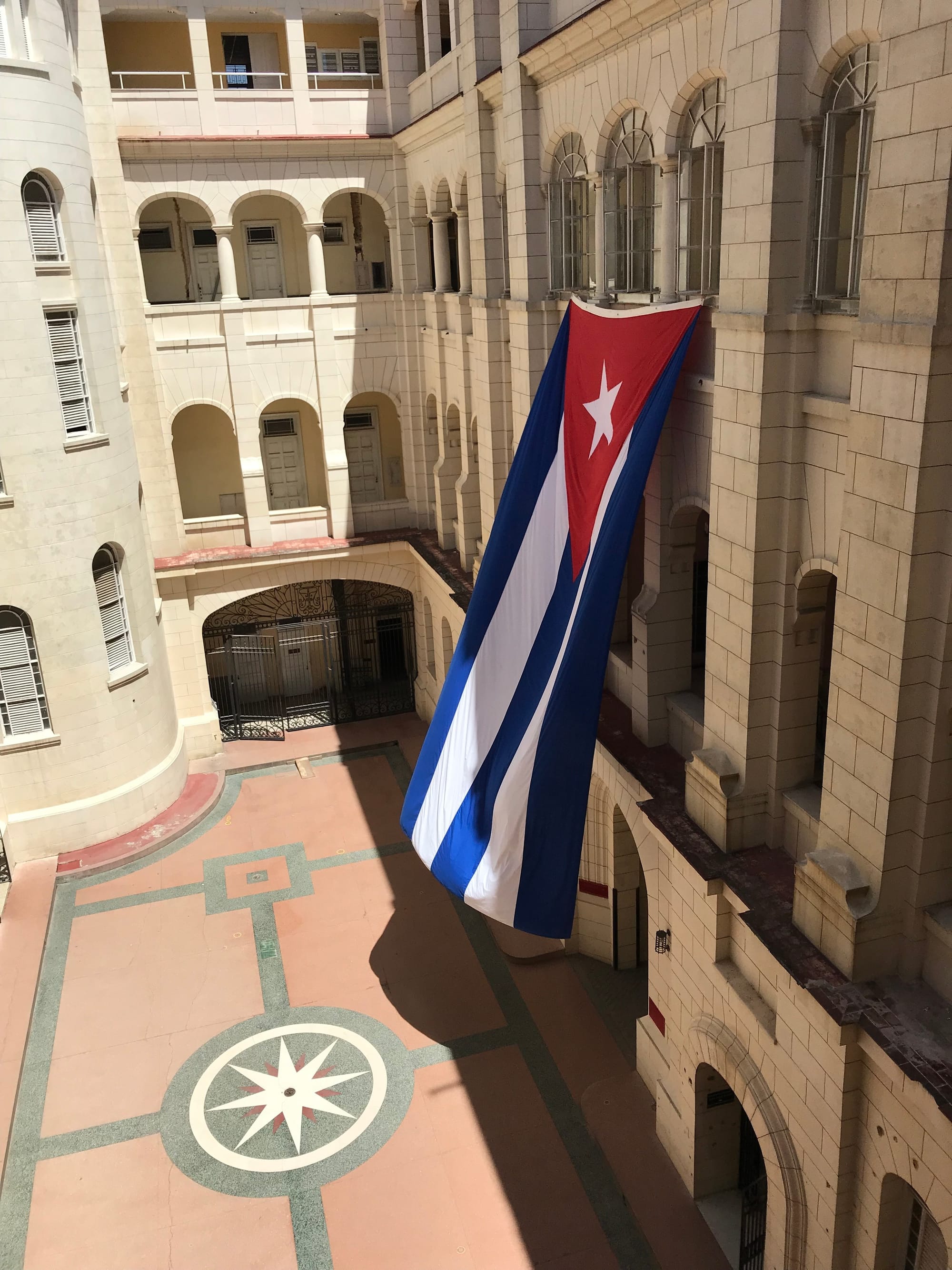 National Art Gallery
I really enjoyed this experience. Art has always been an avenue for people to express their feelings / emotions and the much of the art was very confronting. The art told a very different story to the Museo de la Revolución (Museum of Revolution). Highly recommend.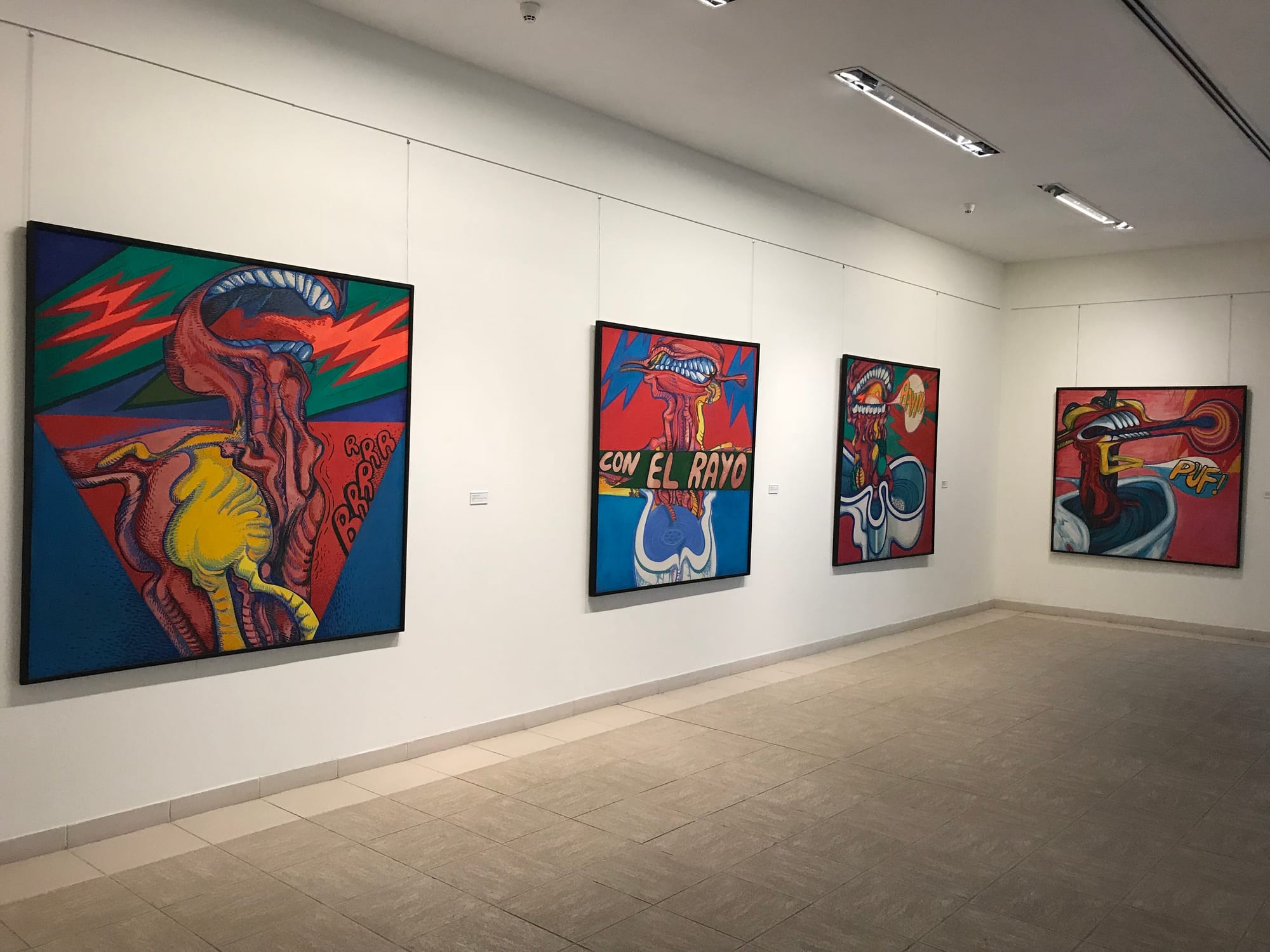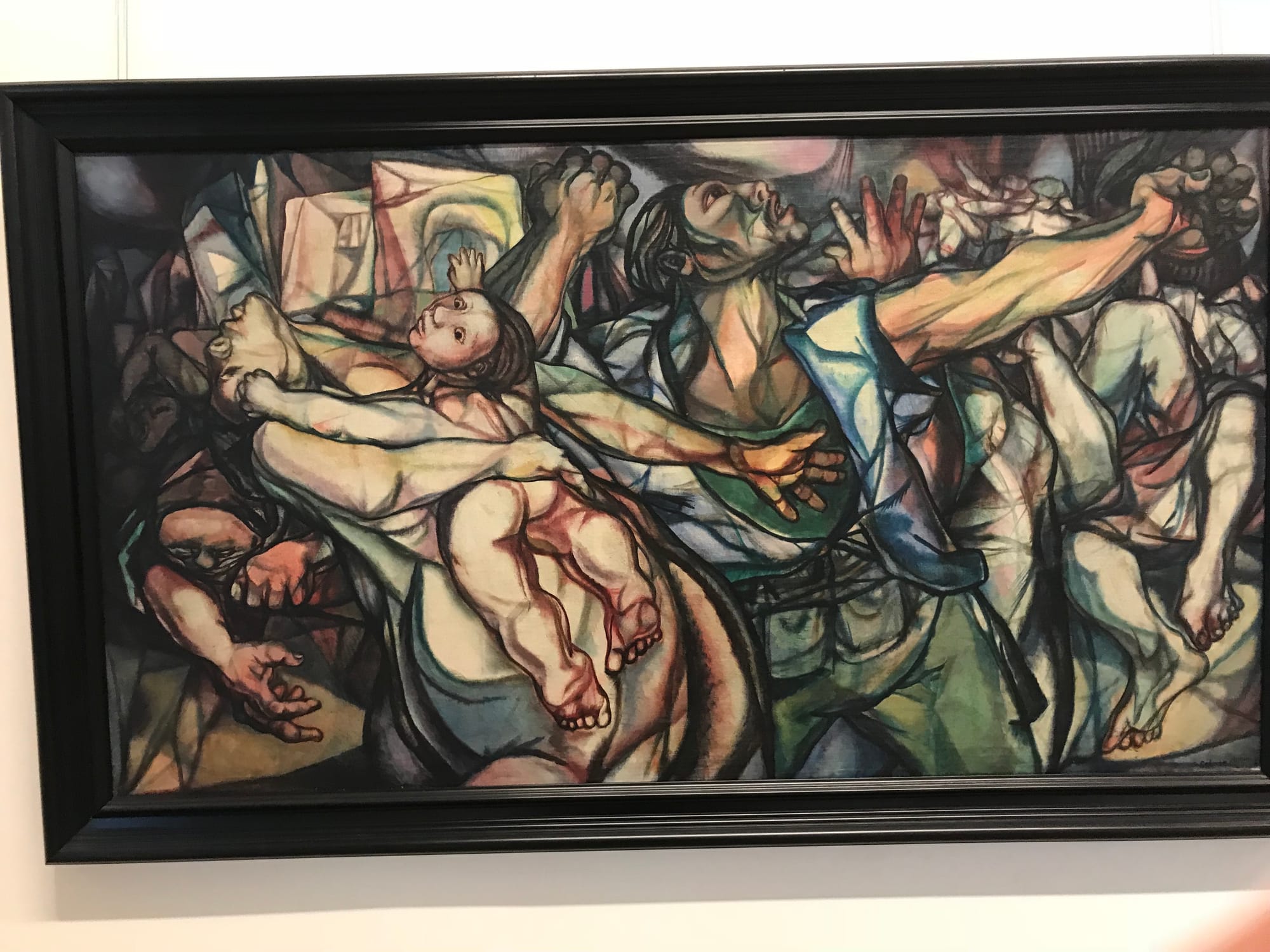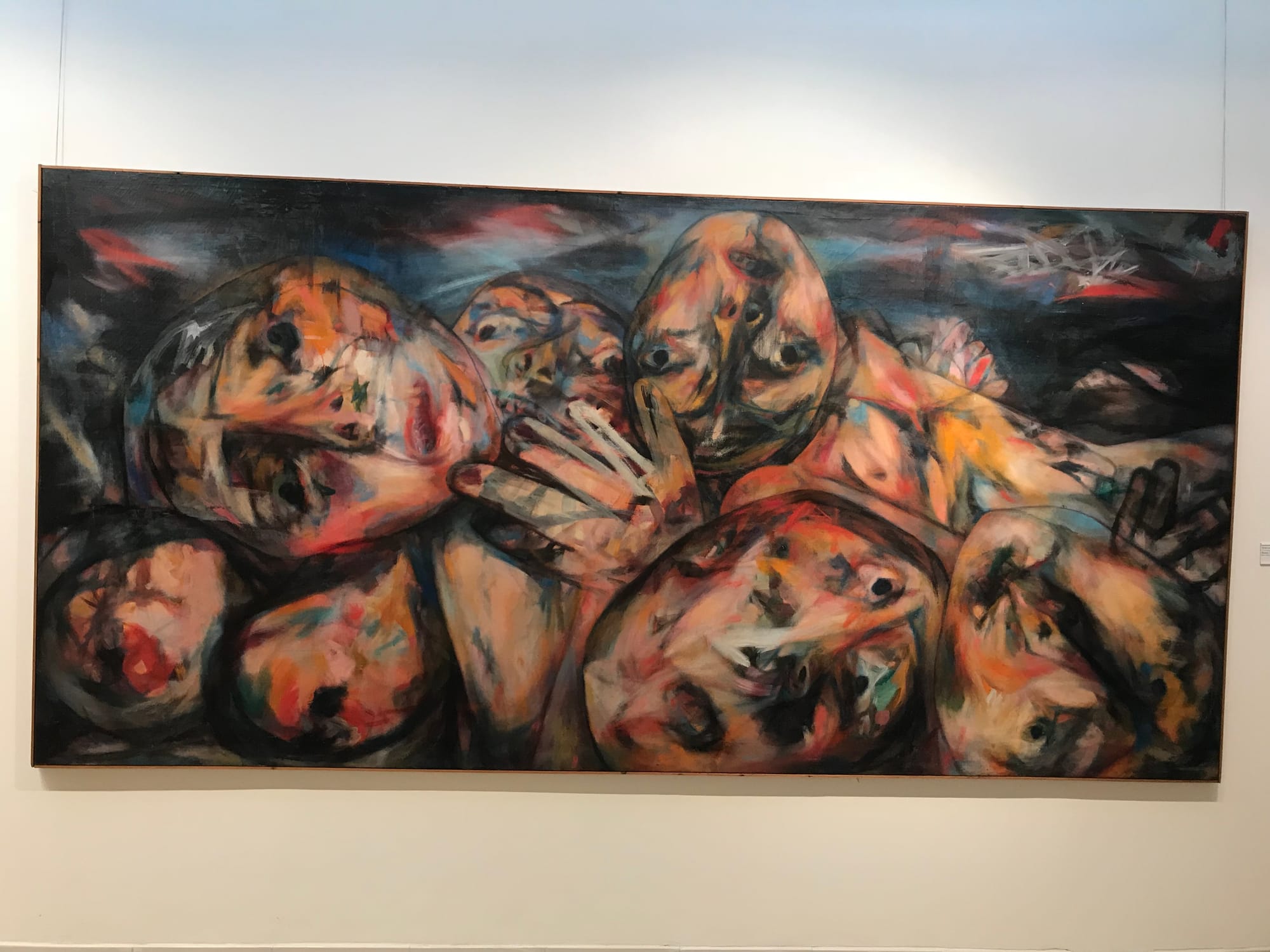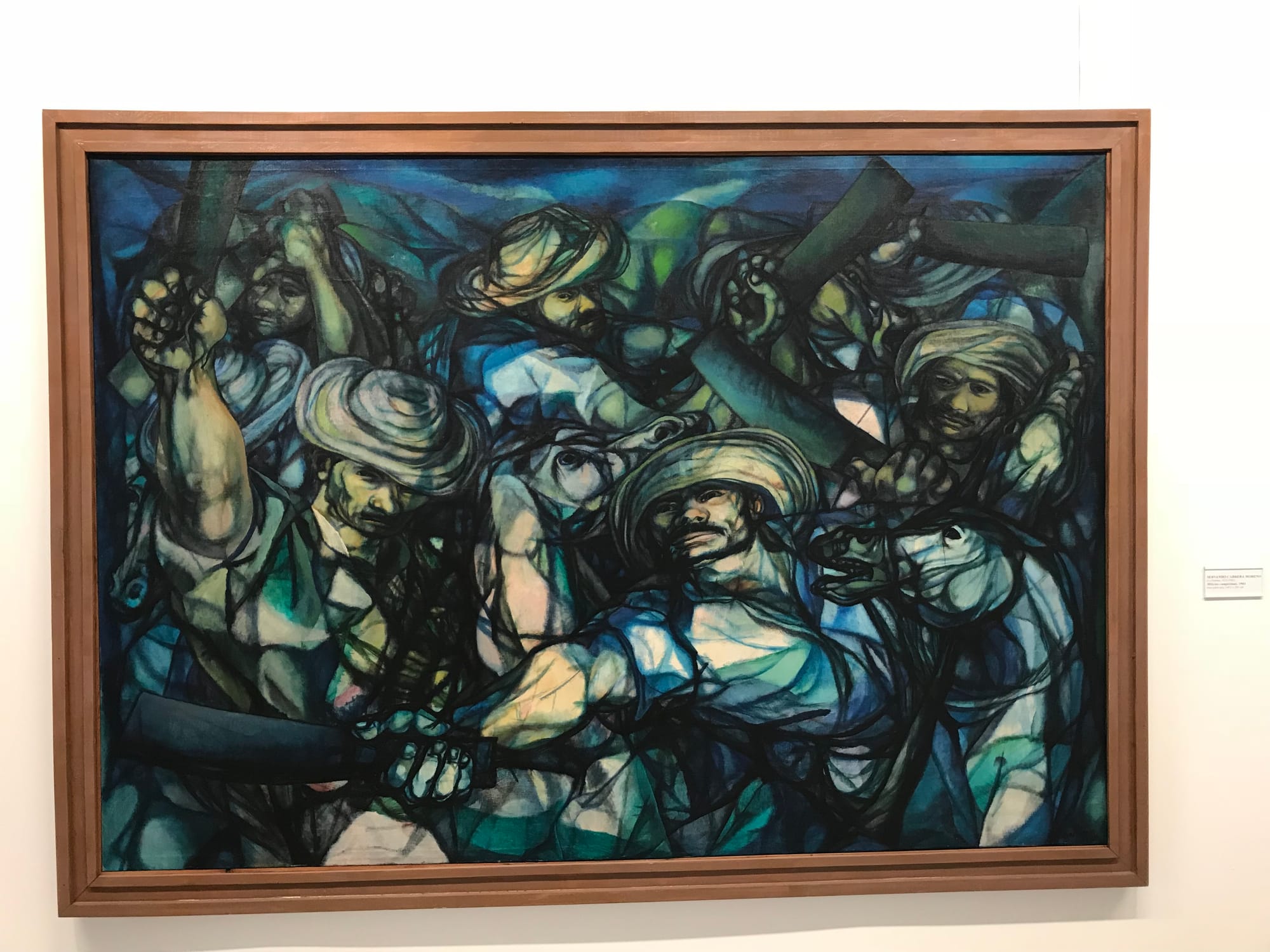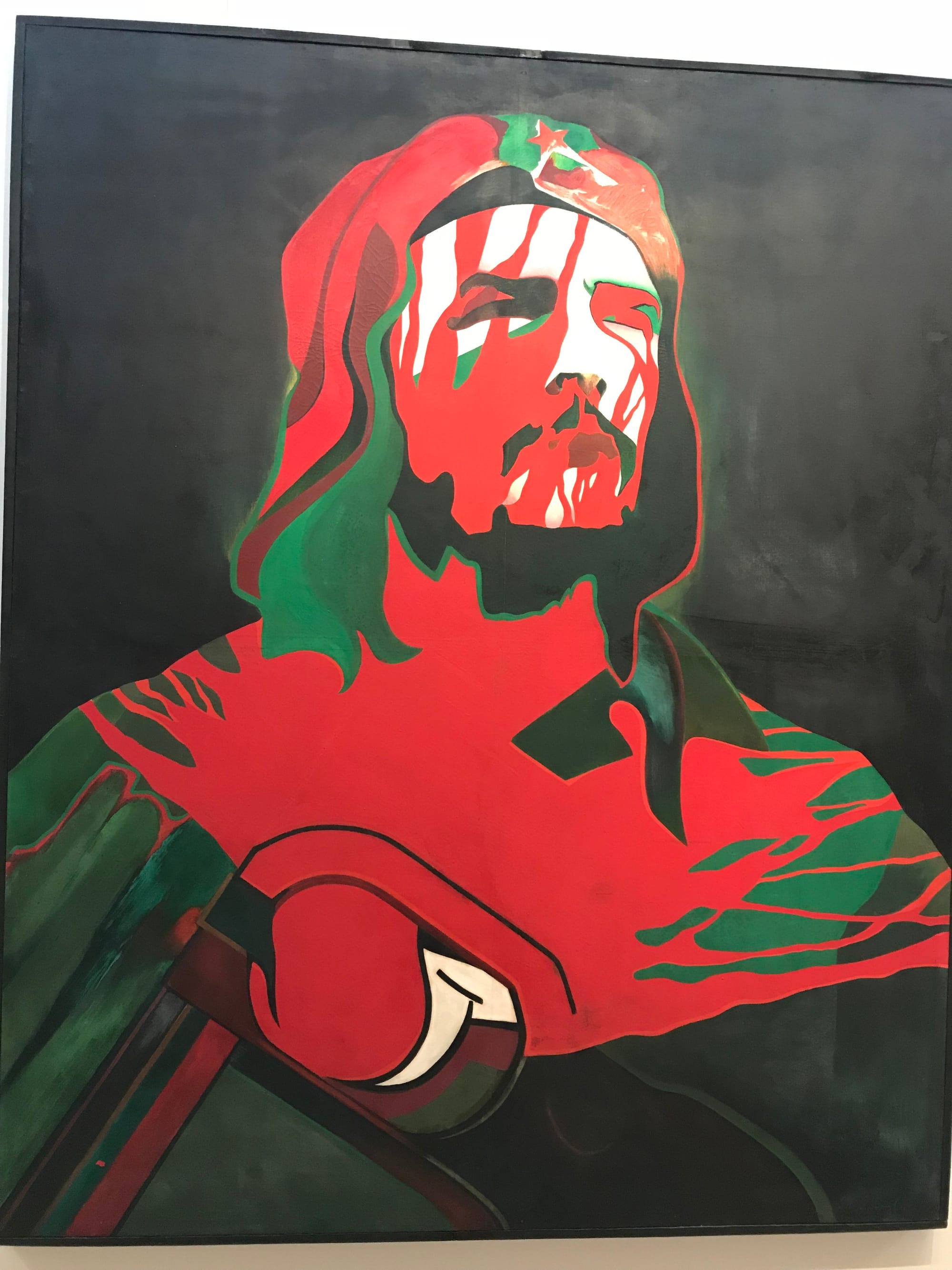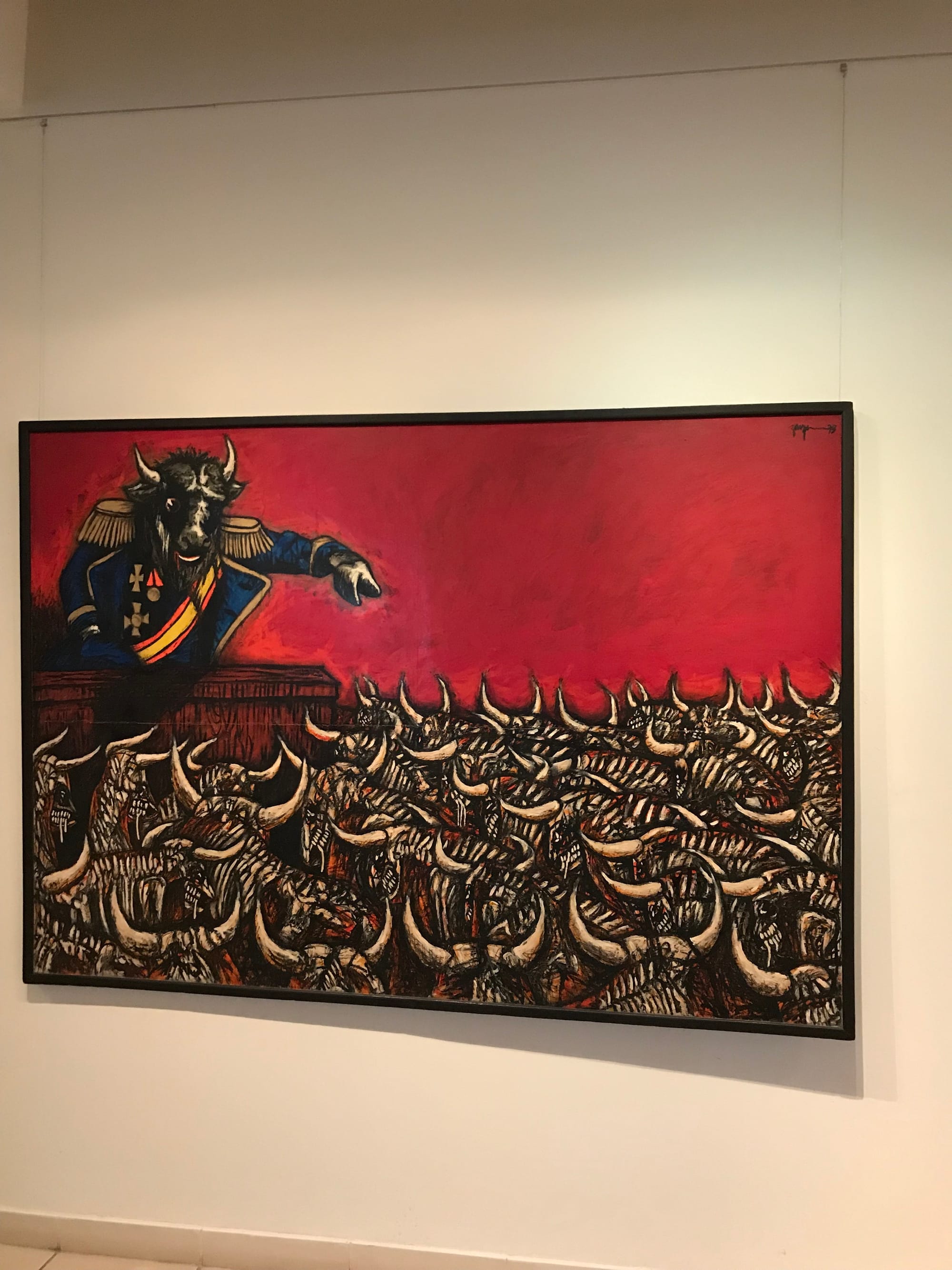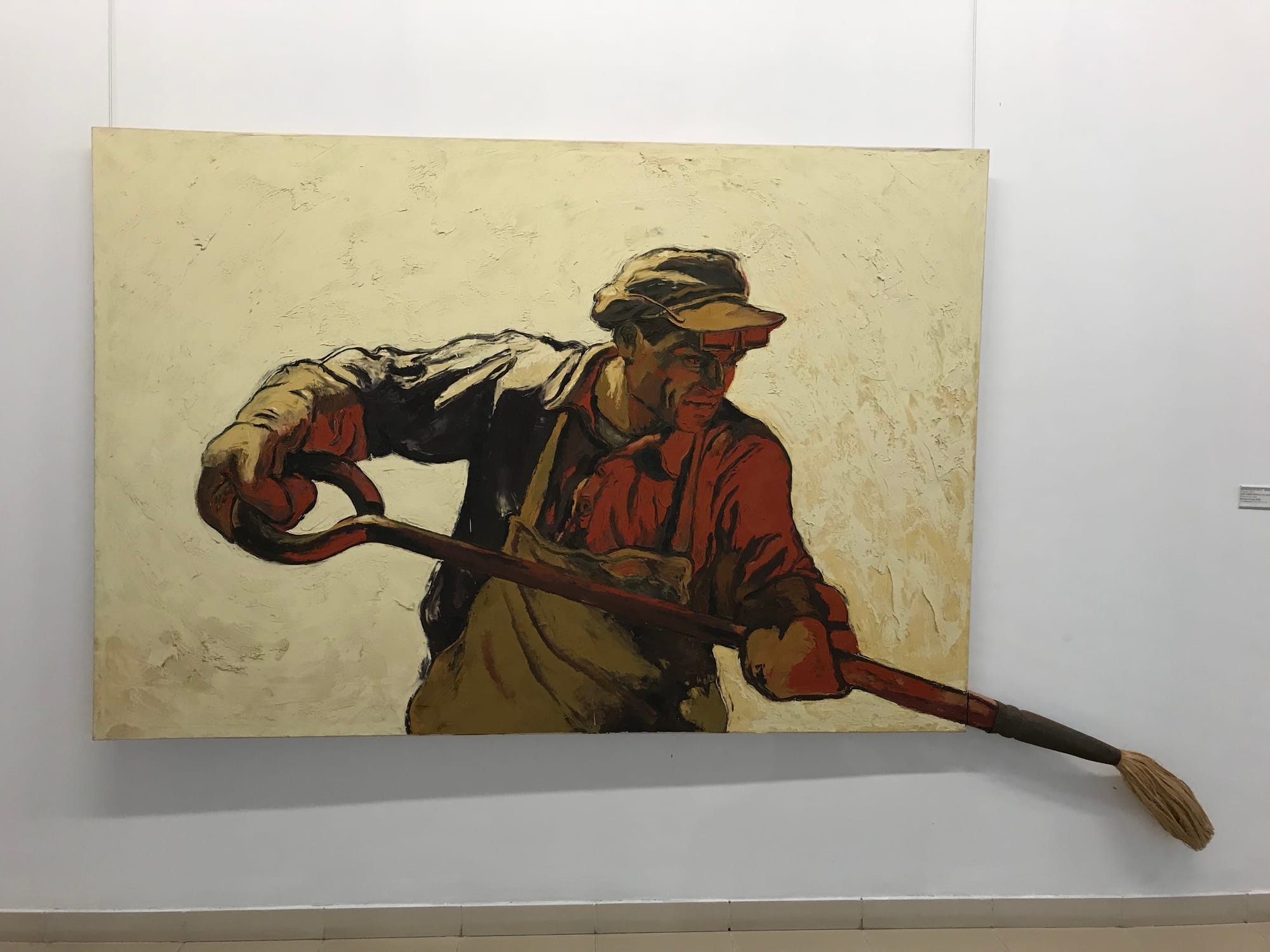 Walking tour: Was pretty basic but ok. Worth to get a feel of Havana and places to go out though we left after about an hour as we were pretty bored.
Capital Hill/Central Park: As the USA was so close and Cuba wanted to show its might the Government building and main park are named after and designed on the USA buildings. Capital Hill in Cuba is 1m taller than the US Capital Hill to show that Cuba can be stronger.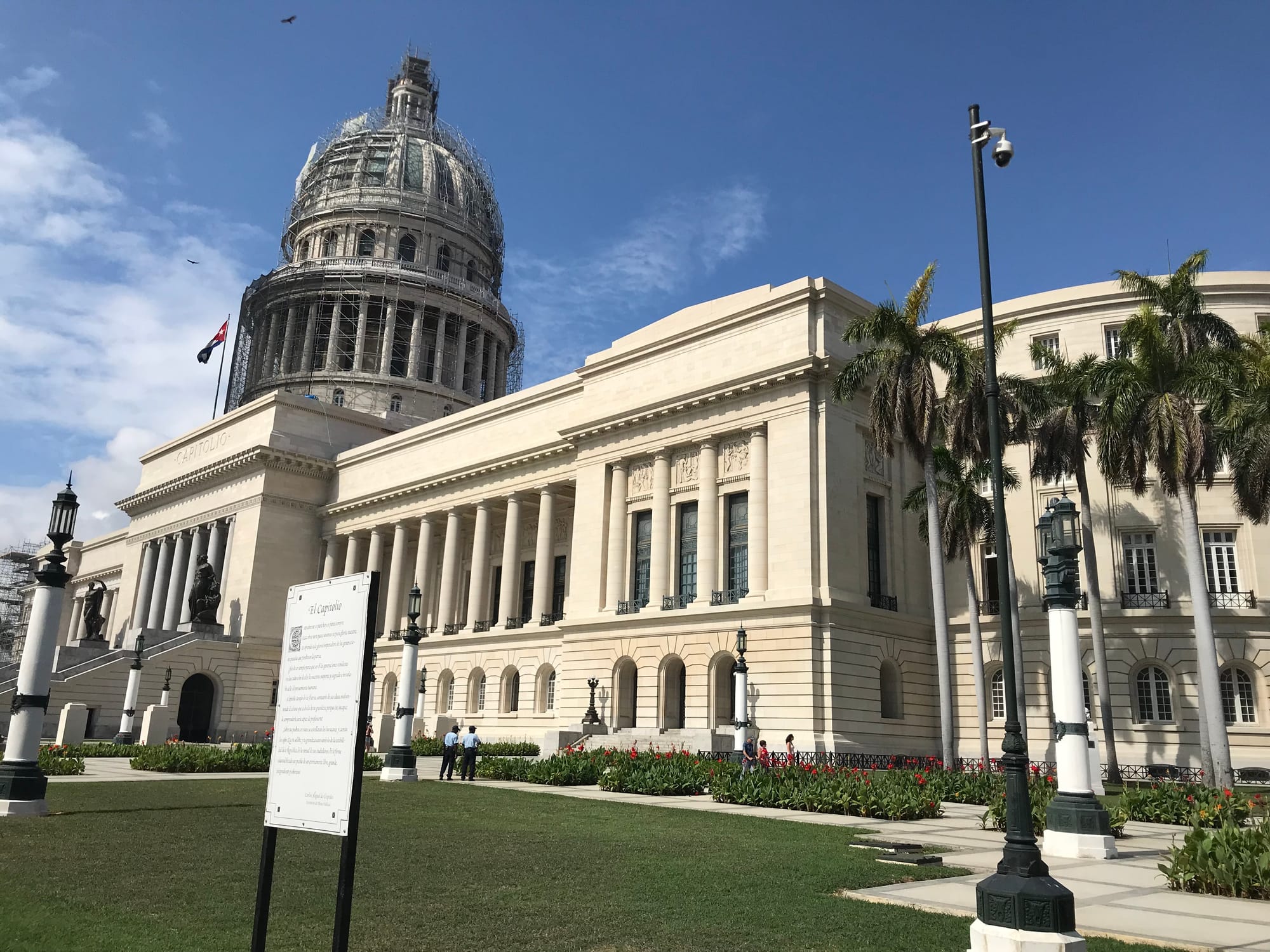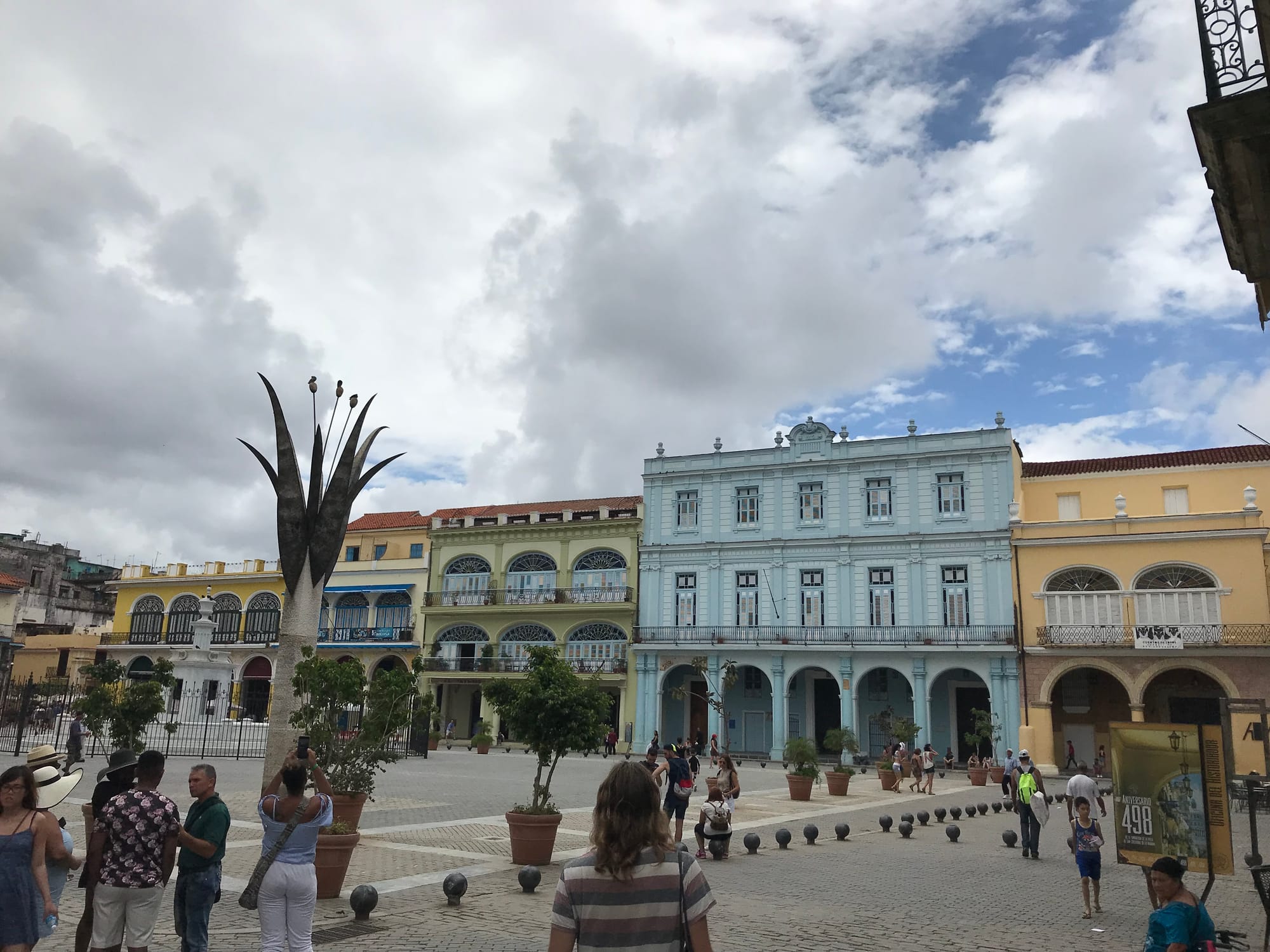 Going out:
1830 Club: Big local nightclub. If you can get here, you will have a fun night. We took taxis as we went in a big group. Bit more upper-class area of Havana. Dress up and have a fun night dancing the night away. Lots of local salsa dancing with great live music. Worth it!
https://havana-club.com/en-ww/live-havana/club-1830
The night we were there we were lucky to have the local Cuban boy band (Backstreet Boys, NSYC style) Charanga Habanera performing which was so much fun and they were awesome live! The dancing was insane!
Just watch out guys, plenty of hookers out that just want your money.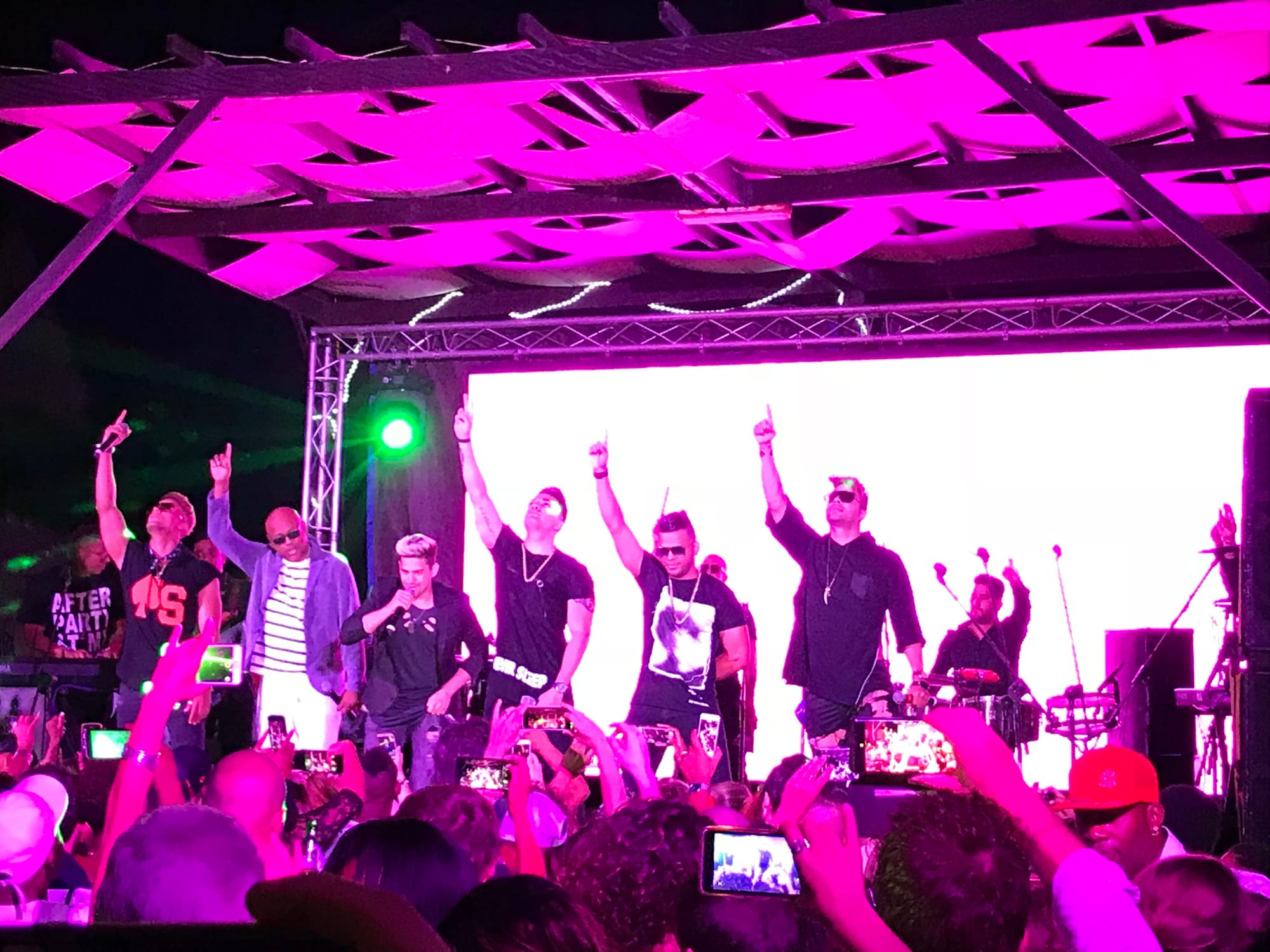 el chanchullero: Good local restaurant
las brisas: Nice place to relax. One day we just had enough of local life and went to a nice western hotel with a rooftop bar to chill and swim.
El Floridita Bar: Cool bar
Legendarios del Guajirito Buena Vista Social Club: Another fun cocktail bar
Try the local rums like Legendario as you can only buy them in Cuba. Havana Rum also has some rum that it only sells in Cuba that is worth trying to!
I really feel in love with rum while in Cuba, so different than other rums I had experienced previously.
Maximo Restaurante, Bar: Fun place for dinner and drinks
El Fígaro - Aguiar 18: nice place for dinner.
Havana is a fun city to explore for 4-5 days. You can do it quicker if you want to rush though it is a slow-paced city. I found it very safe despite being stared at by locals in the evenings though I never felt threatened or anything.
My friends Chris and Olga (Dutch girl we met at the backpackers) decided to head to Vinales for a few days to see the countryside. Hostel 58 organised our car and accommodation. Every time you stay with someone or at a hotel/backpackers/Casa they will call their friends in the city you are going to and will organise your accommodation and travel. The local buses / trains can only be ridden by locals so tourists need to go by private car. These are often old 1950s cars which is fun until you realise you are going at 120km down the highway in a rusty old car that has no seat belts. I guess you just gotta get on and enjoy the ride until something goes wrong…. Luckily nothing went wrong! Your driver usually stays with you for your whole trip which was nice as our driver was hilarious and open to talk about life in Cuba. Where we found many Cubans did not want to say much or expand more on the government, taxes, lifestyle, etc.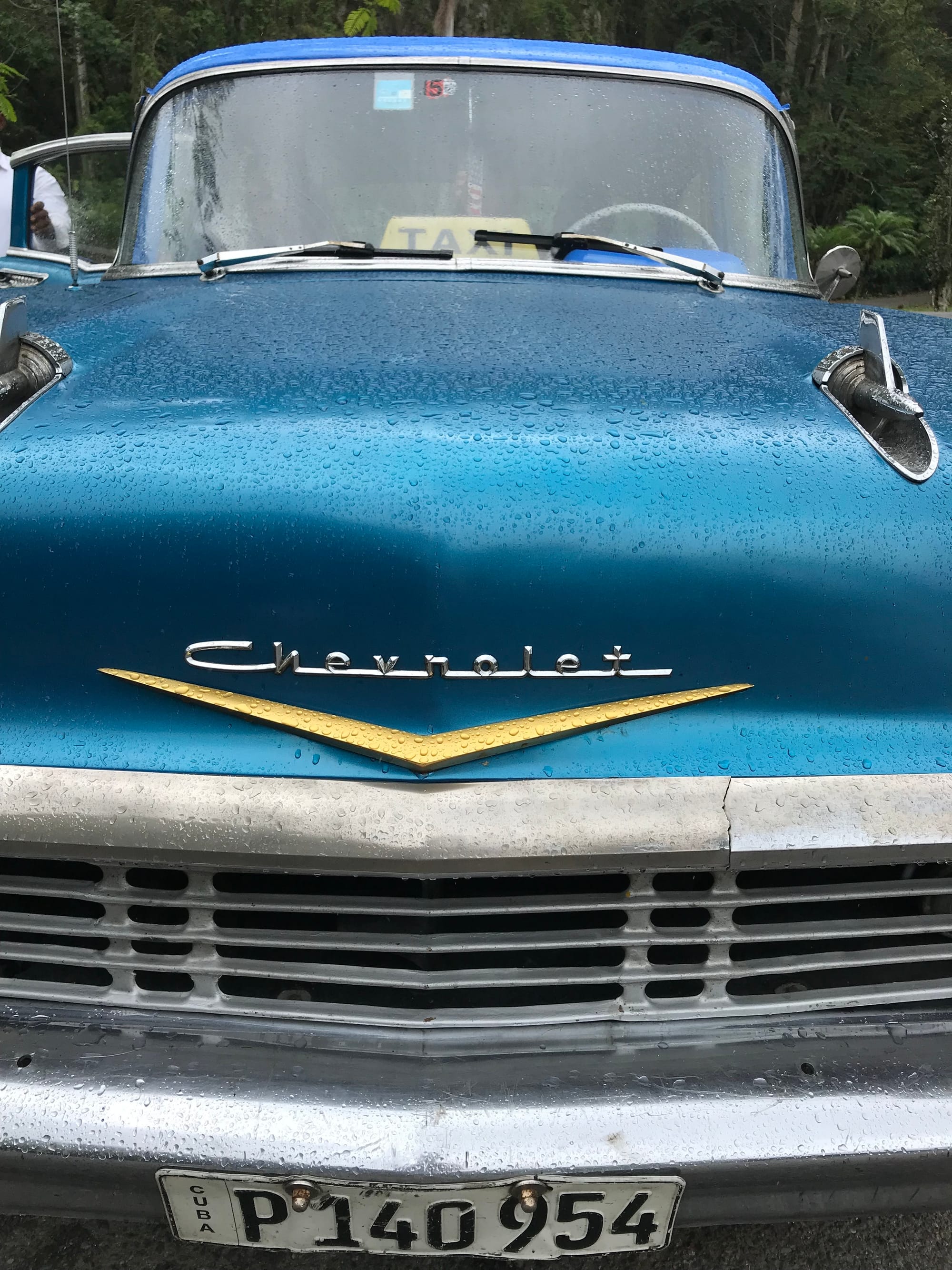 Vinales:
Vinales was my favourite place in Cuba. A beautiful small countryside village. Lots of cigar plantations, rum distilleries and much nicer/cleaner than Havana. We stayed at Casa Mirita y Orlando which was nice, they made us breakfast each morning and gave us good tips on where to go.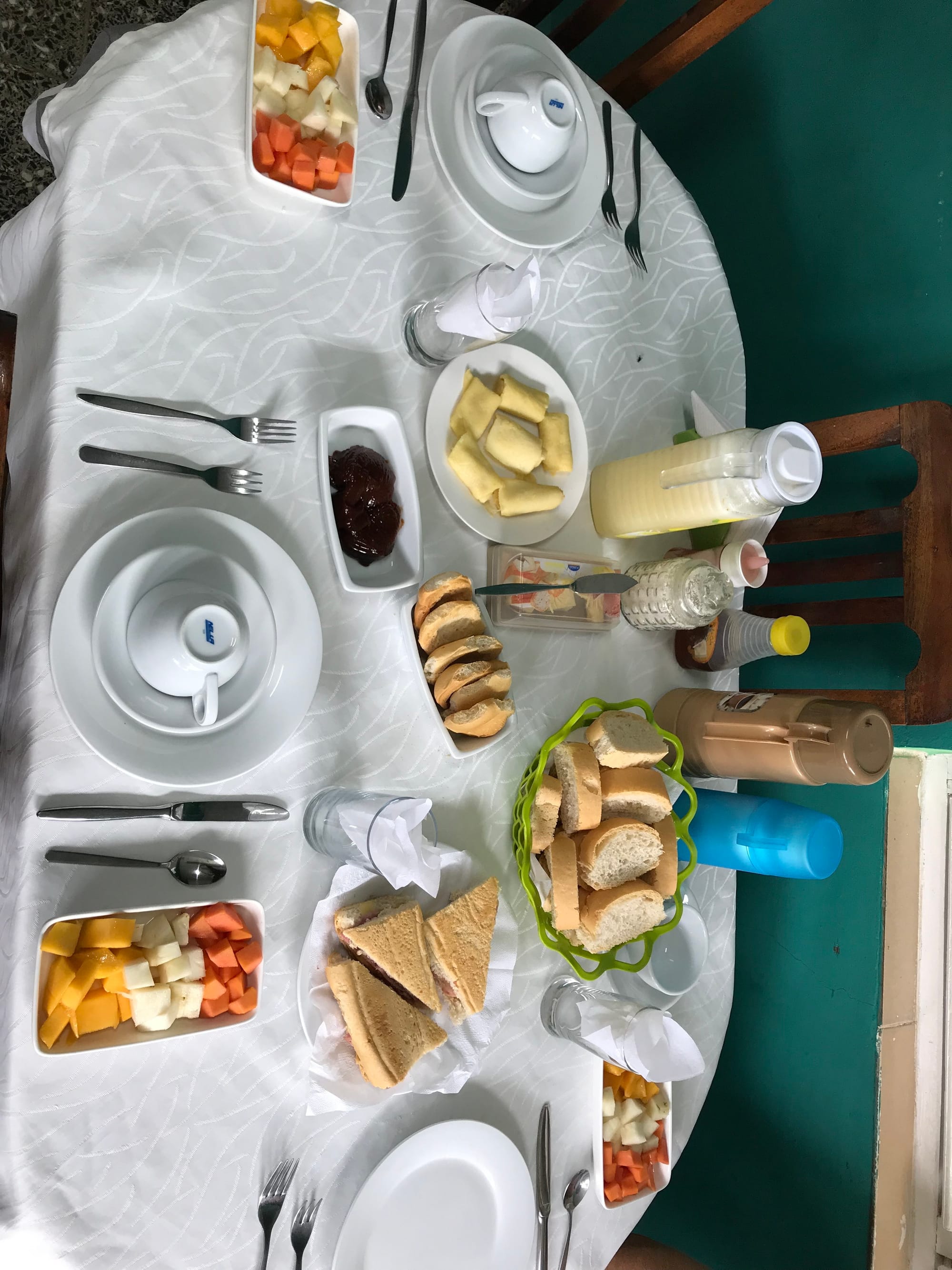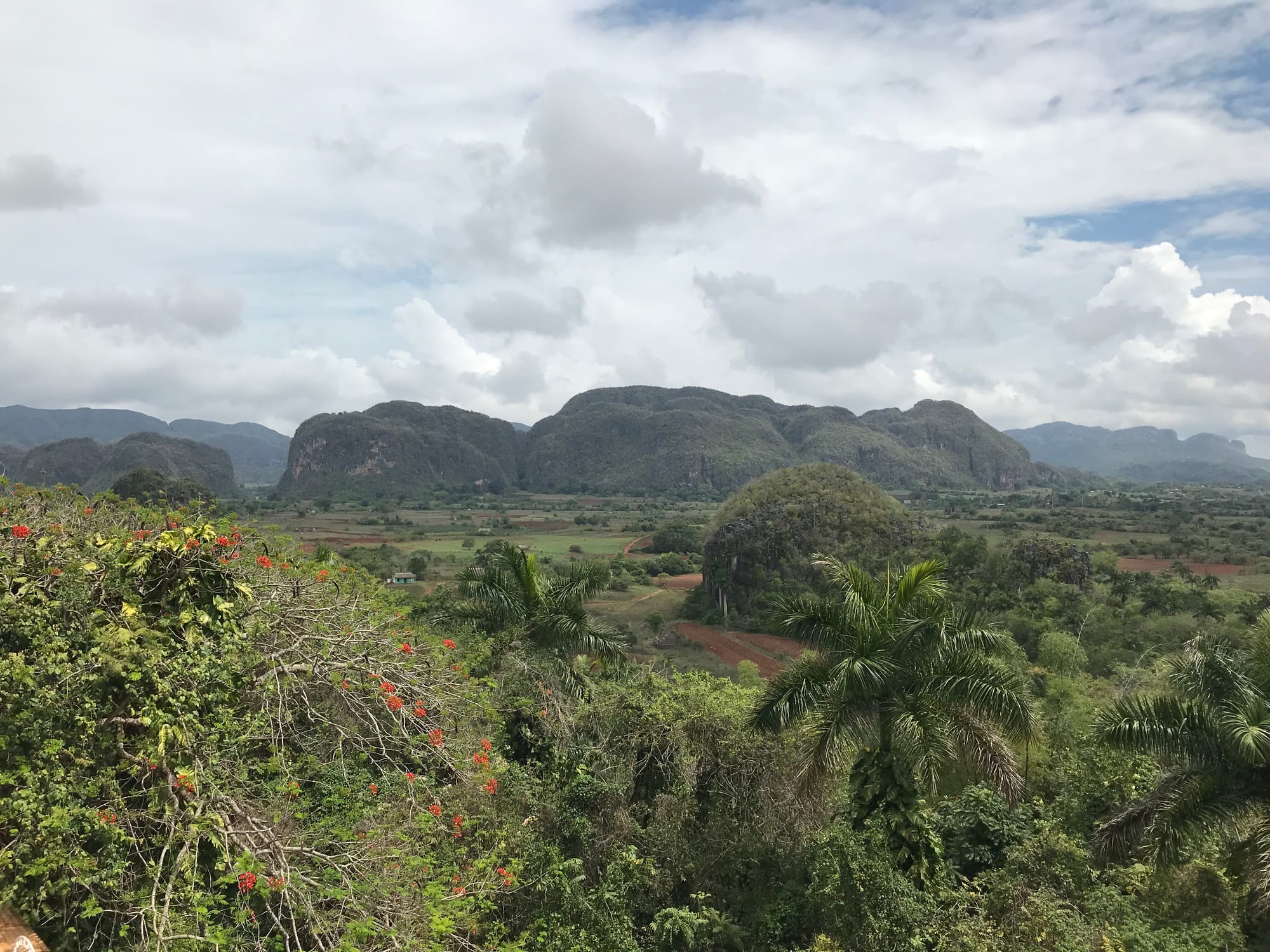 It was about 4 hours to drive to Vinales and we had booked a tour in the afternoon. We picked up our tour guide who took us to Casa Manolo, a cigar plantation which was awesome! Like going to a winery we learnt the various flavours of leaves depending where they grow in the area, type of soil, and elevation also depending if they are at the top, middle, or bottom on the plant as the amount of sunlight they are exposed to impacts the flavour.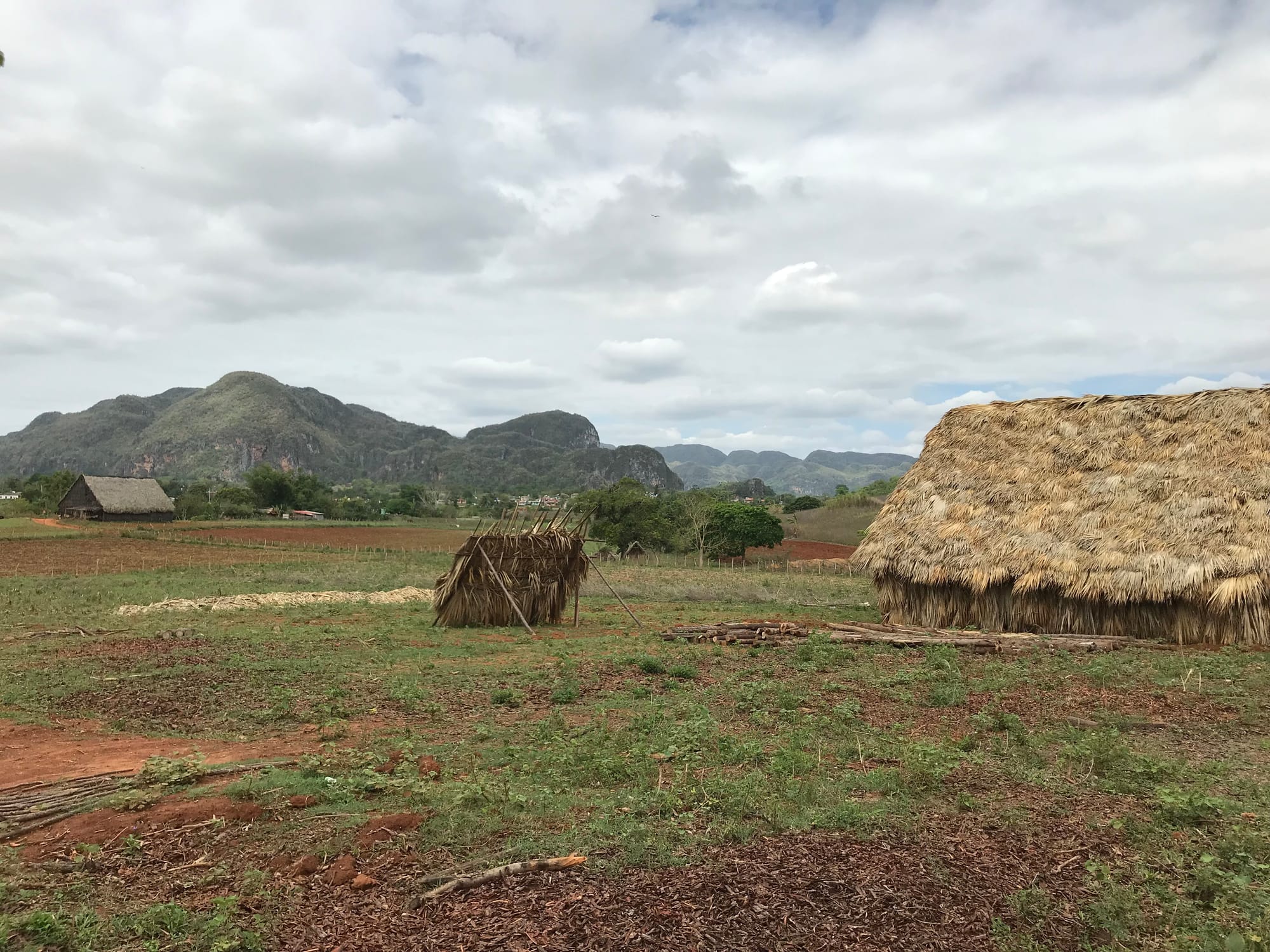 Once picked they hung the leaves for different time periods and/or mix flavours with the leaves to obtain different flavours. Was so interesting, I just loved my time there learning about this world. We also learnt how to properly hold a cigar when smoking it and that you can dip the butt in honey, whiskey or rum to add flavour to the cigar when smoking it. Honey also acted as a filter to reduce the amount of smoke in your mouth. Absolutely loved it!!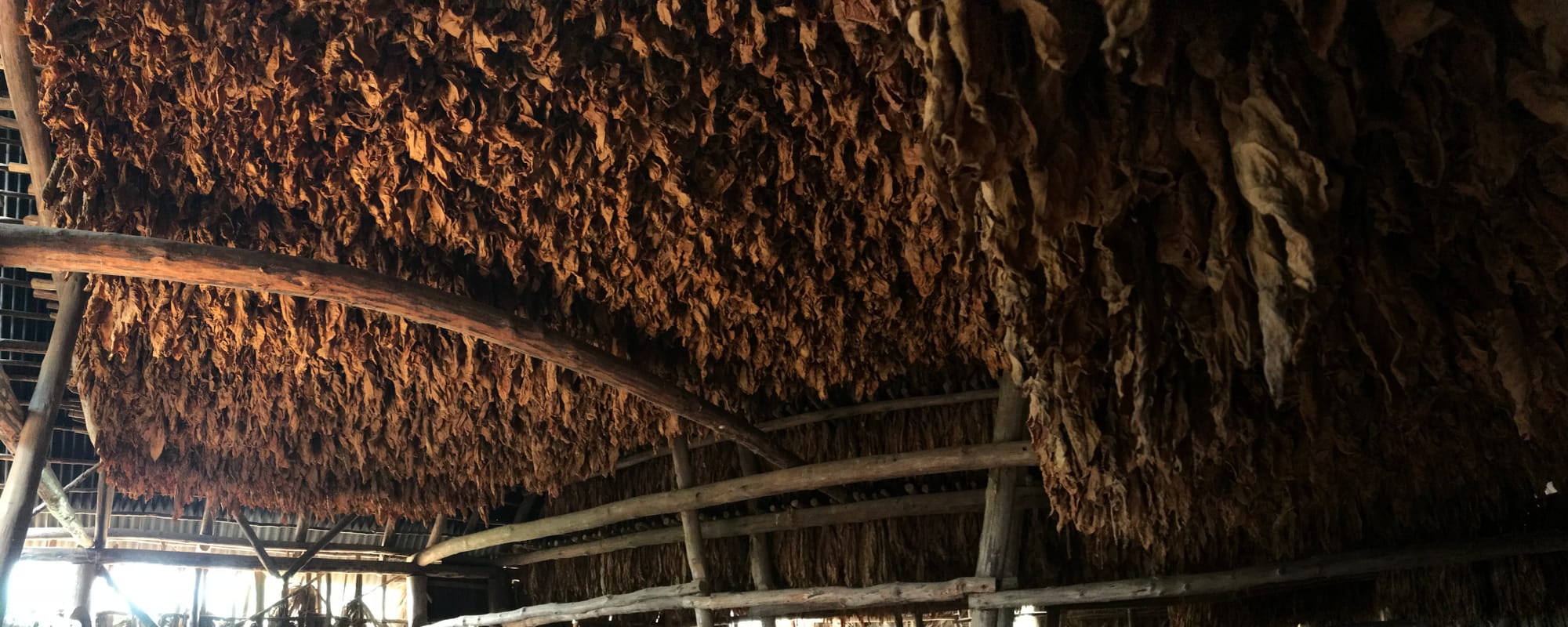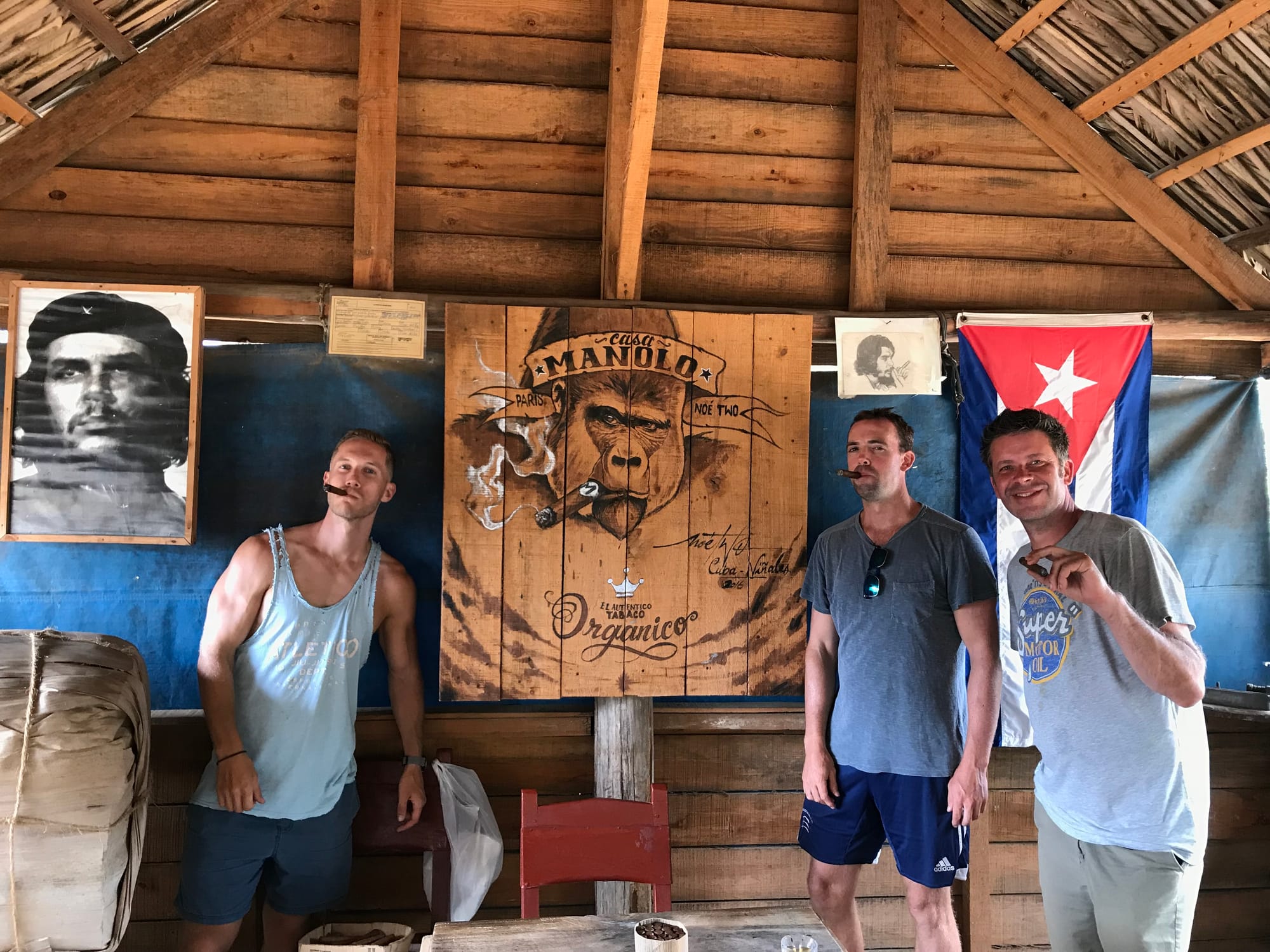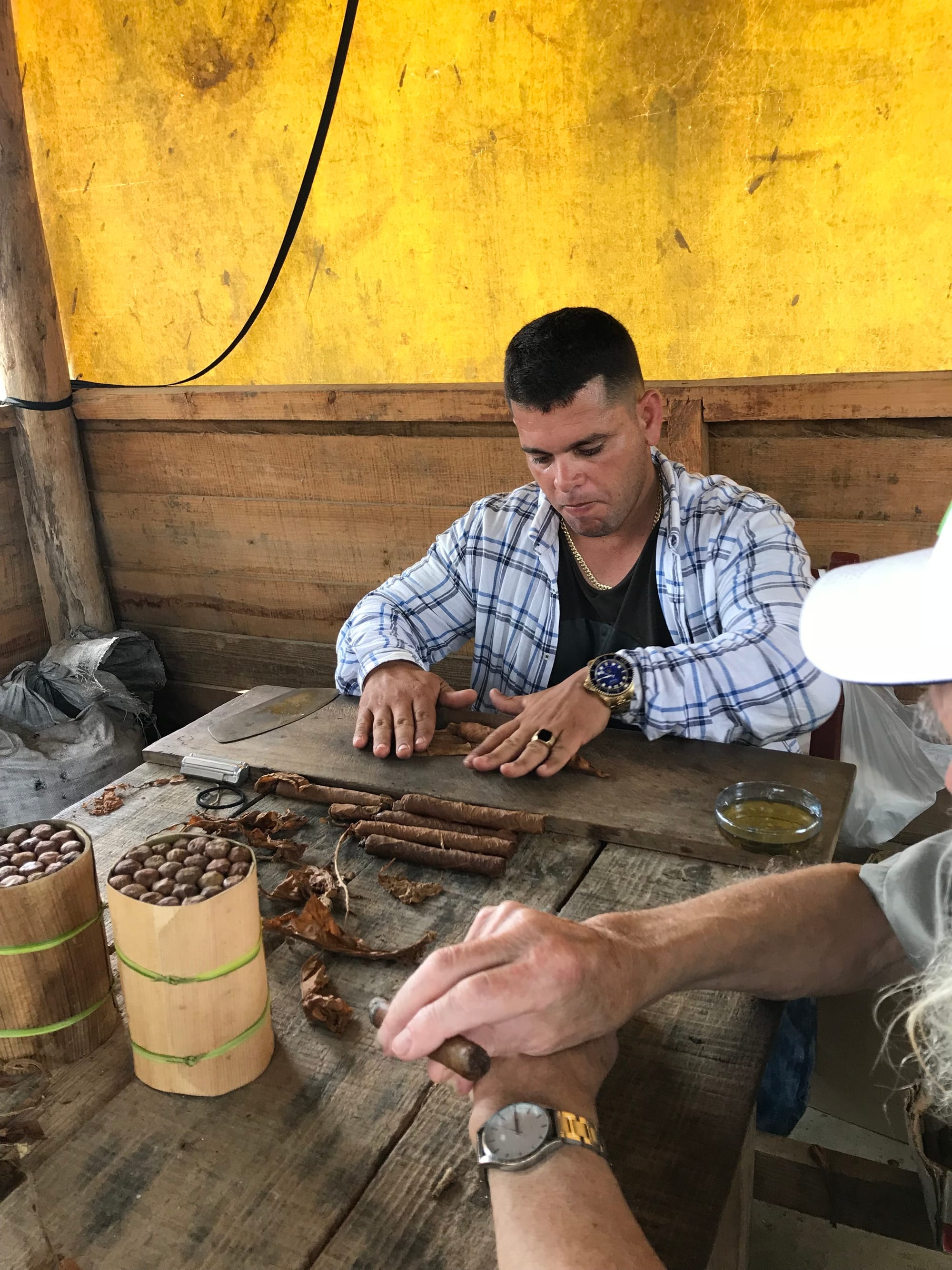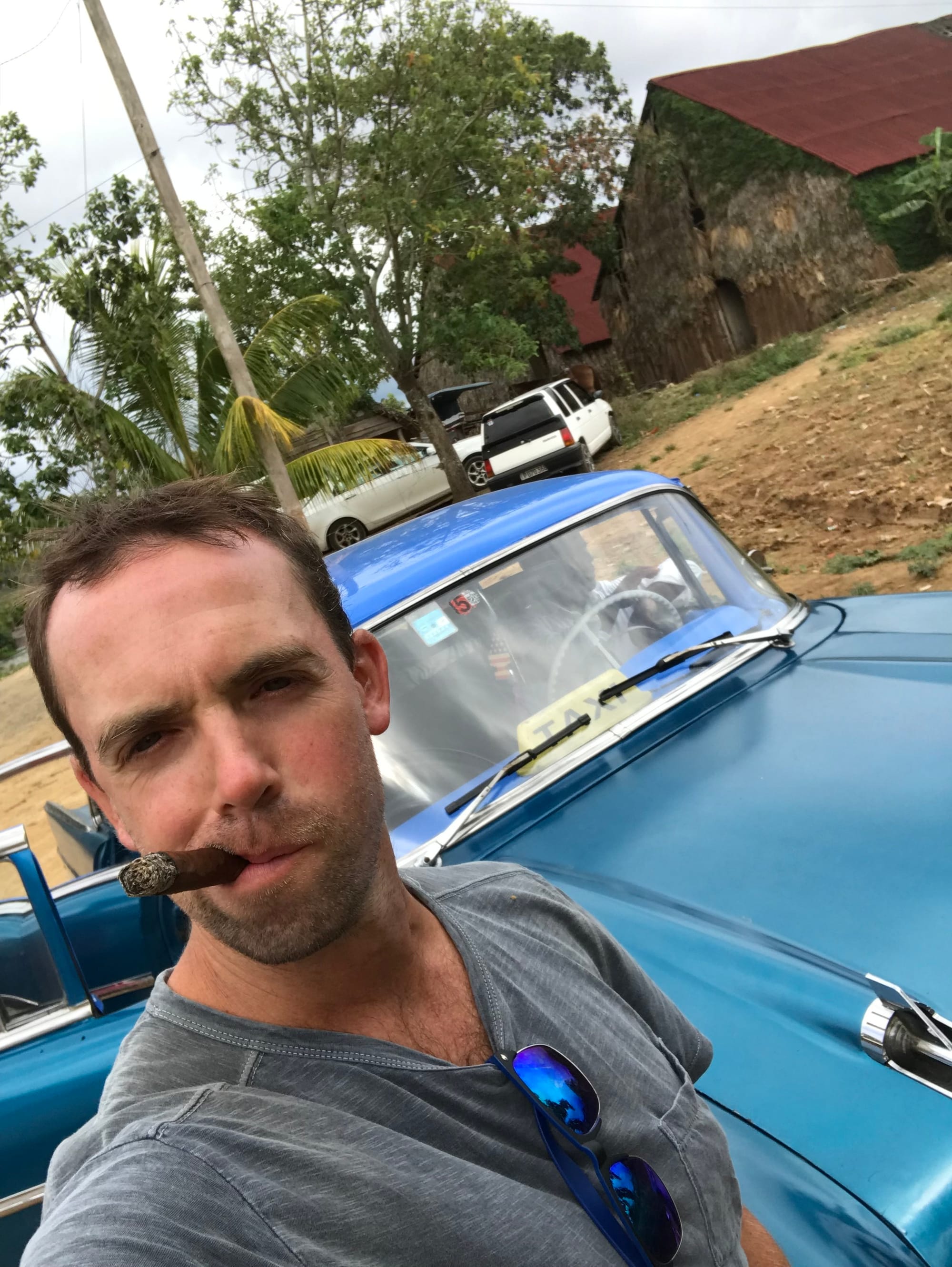 Our guide advised us that we could bring 50 cigars back to Australia, this was clearly a sales tactic as we later discovered that you can only have 50 grams of cigars, story below…. I bought 30 ($4 a cigar) cigars and as I was wearing a Nike hat we traded my hat for a further 10 more cigars. They cannot get Nike in Cuba so he would look cool if he had a Nike hat! Trading at its best!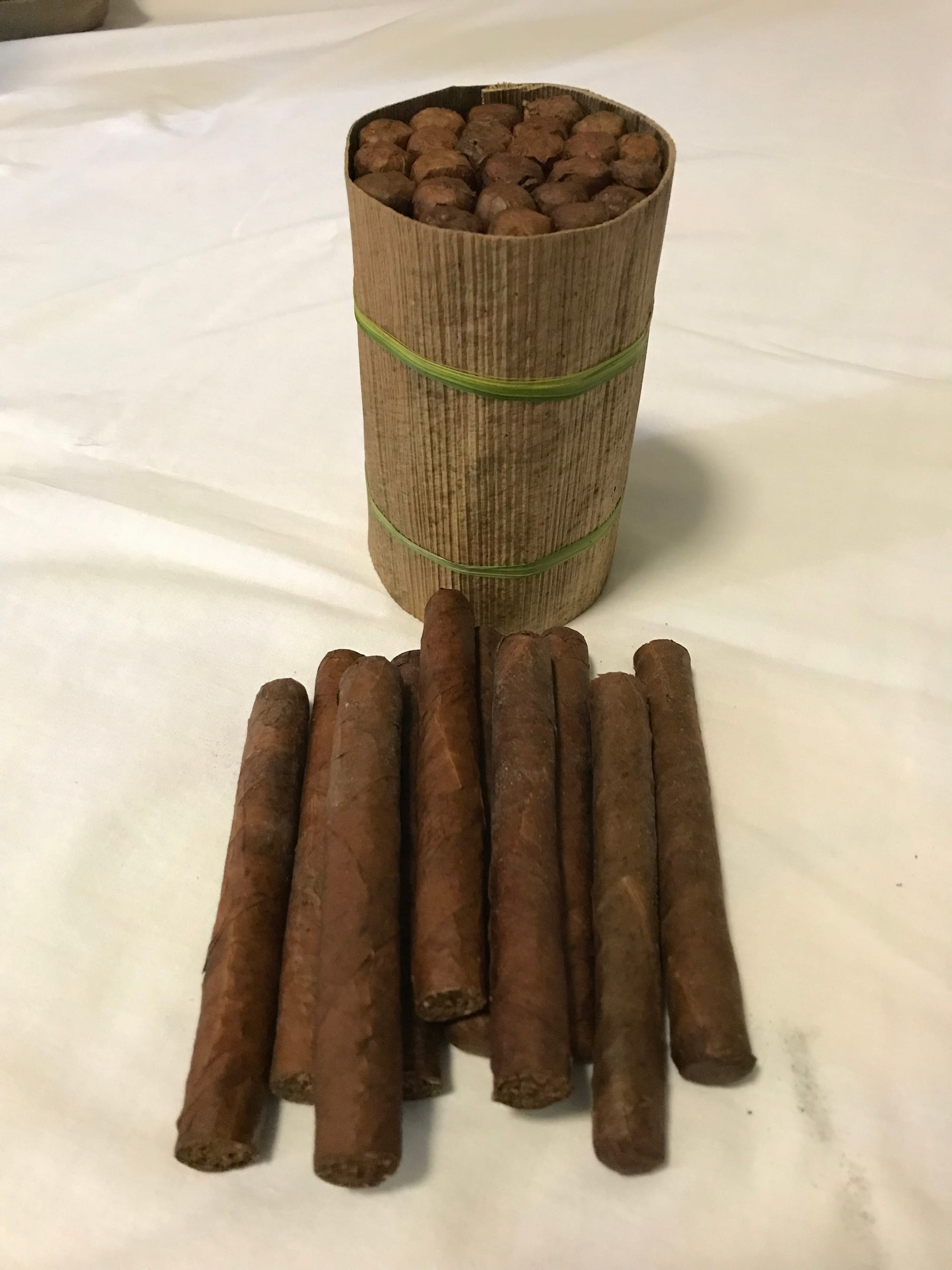 Was interesting hearing the tax and mark-up on cigars that the Government imposes. The plantation was taxed at 90%, they sell the cigars to the government for $4, the government sells the cigars locally for $8 and internationally they are sold for $40-80 USD.
We had a great time and despite being a little ripped off by the sales guide, it was Cuba, and we had fun!
We went out to some waterfalls + caves before going to a huge rock painted with animals and fun colours (nothing special) before heading back to our accommodation.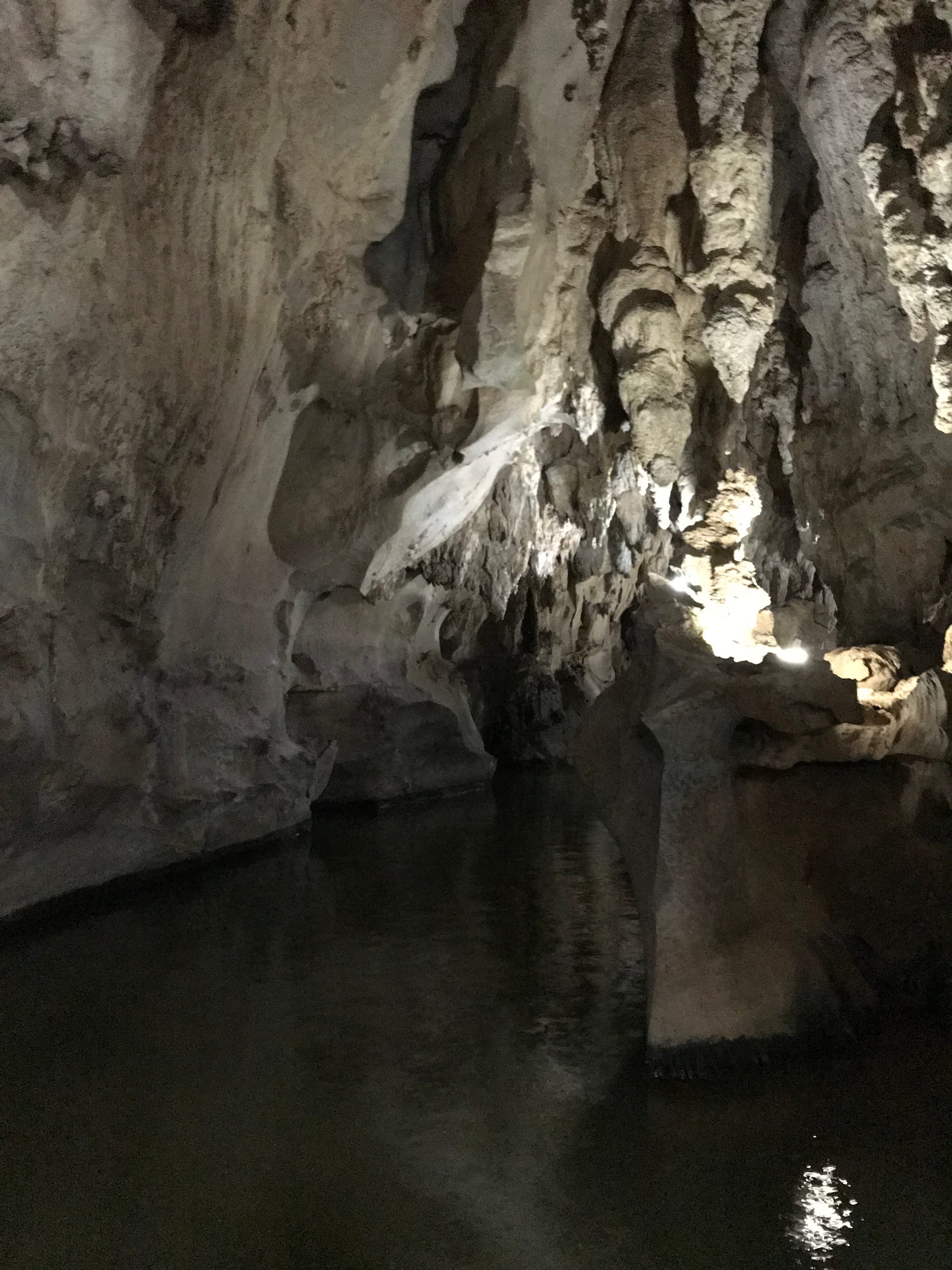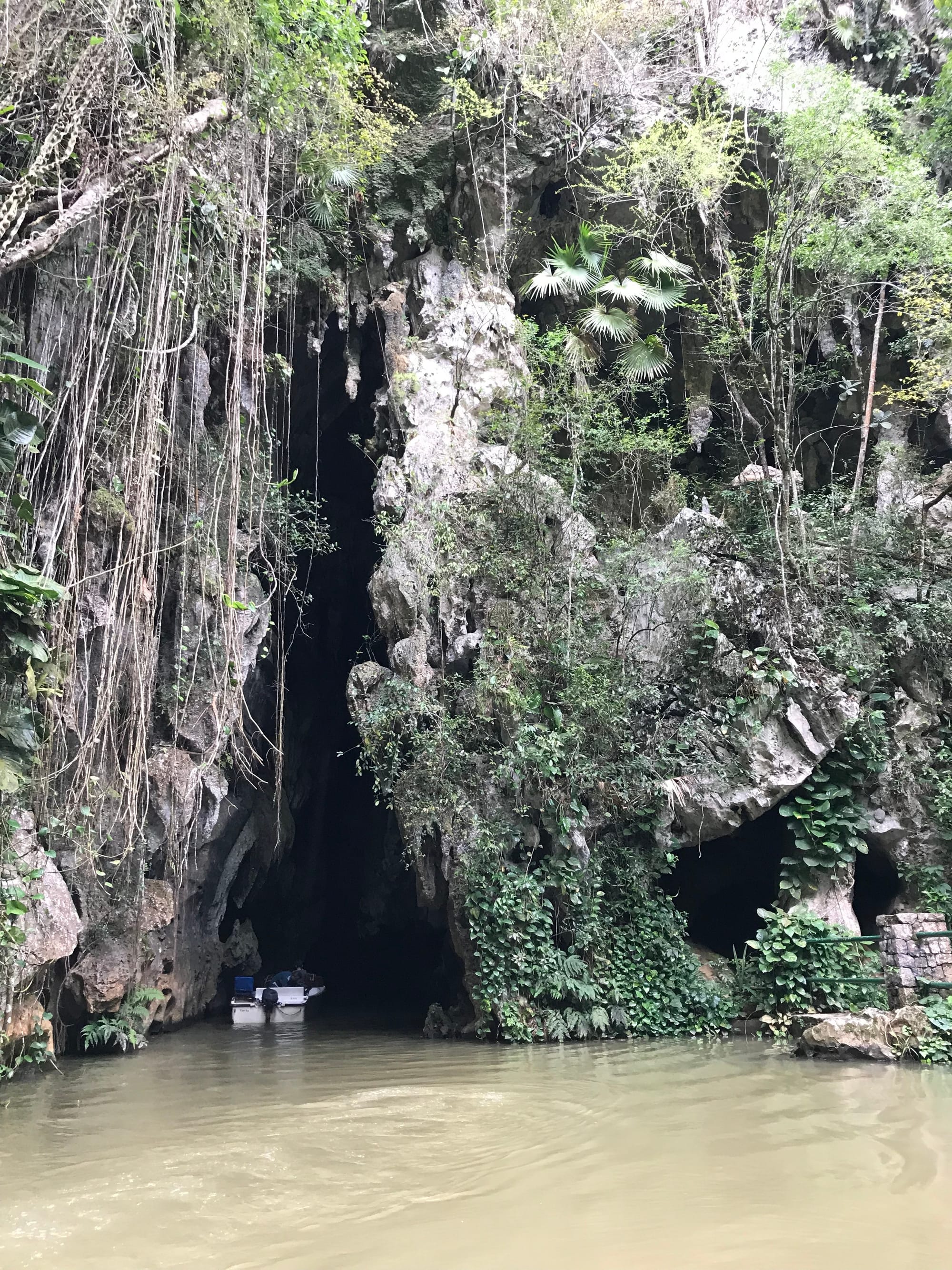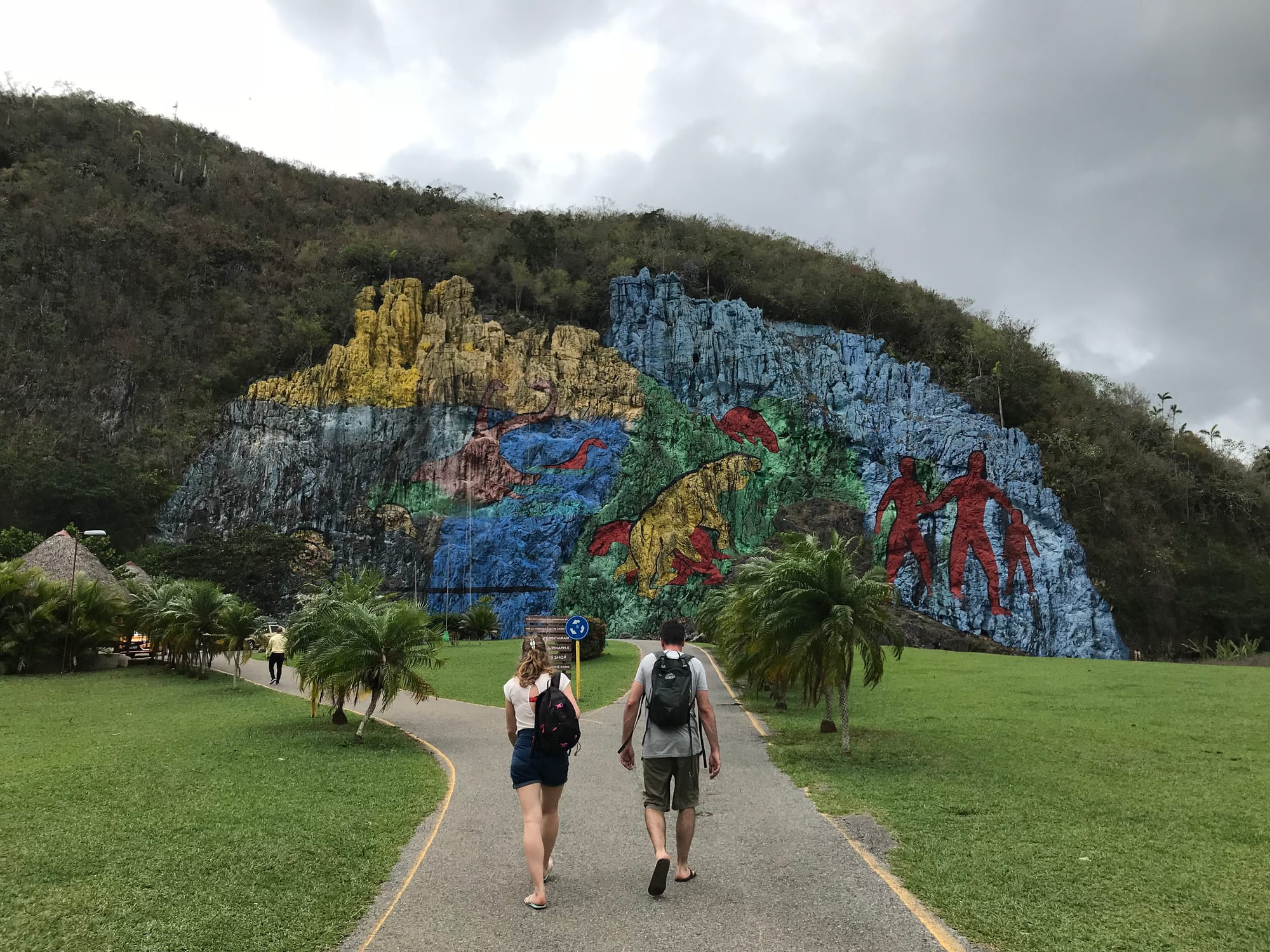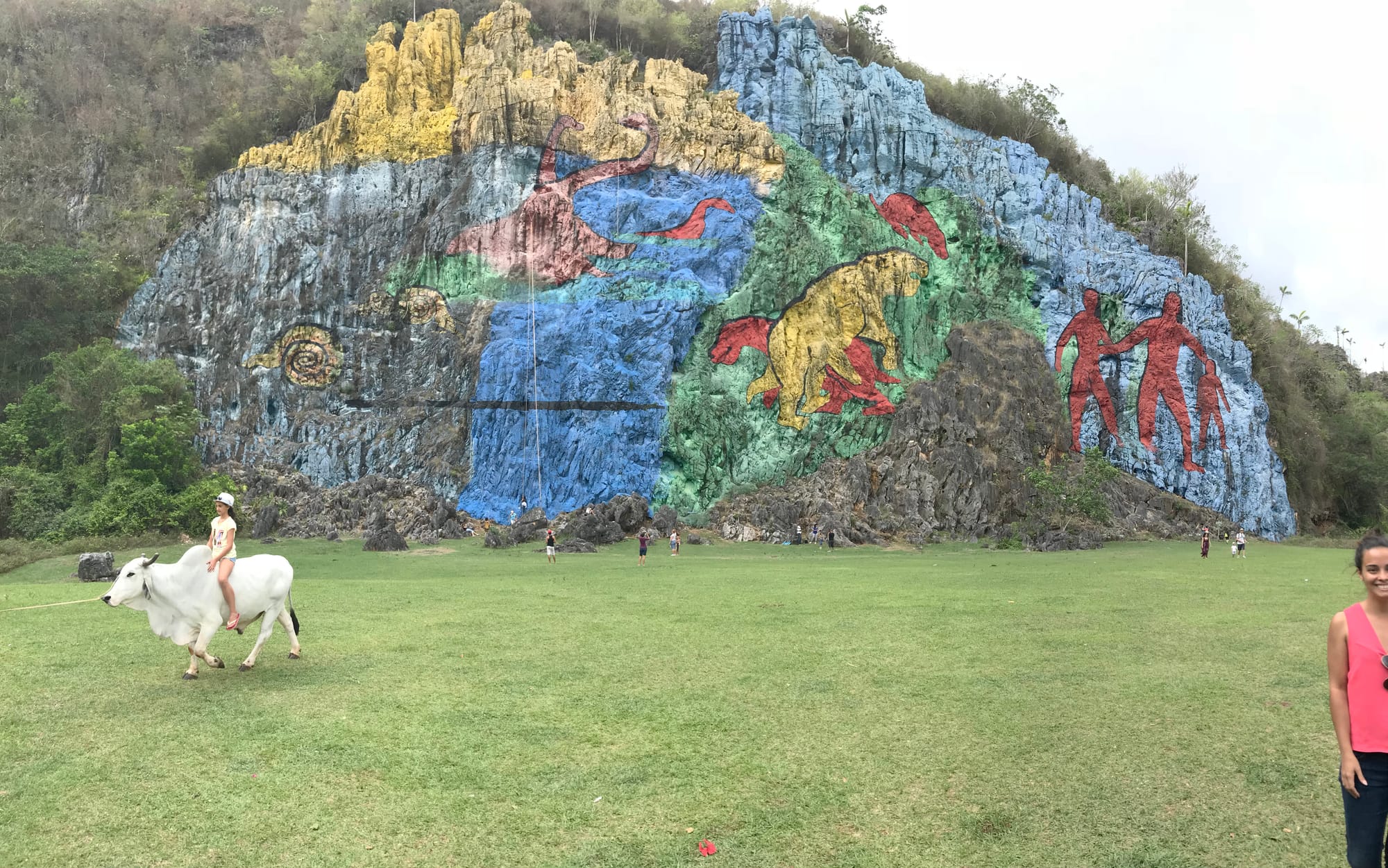 The local town was simple, few nice restaurants and businesses. The bank did not accept my bank card, so I needed to borrow money from Chris. Just be weary of this, the banks are odd like this!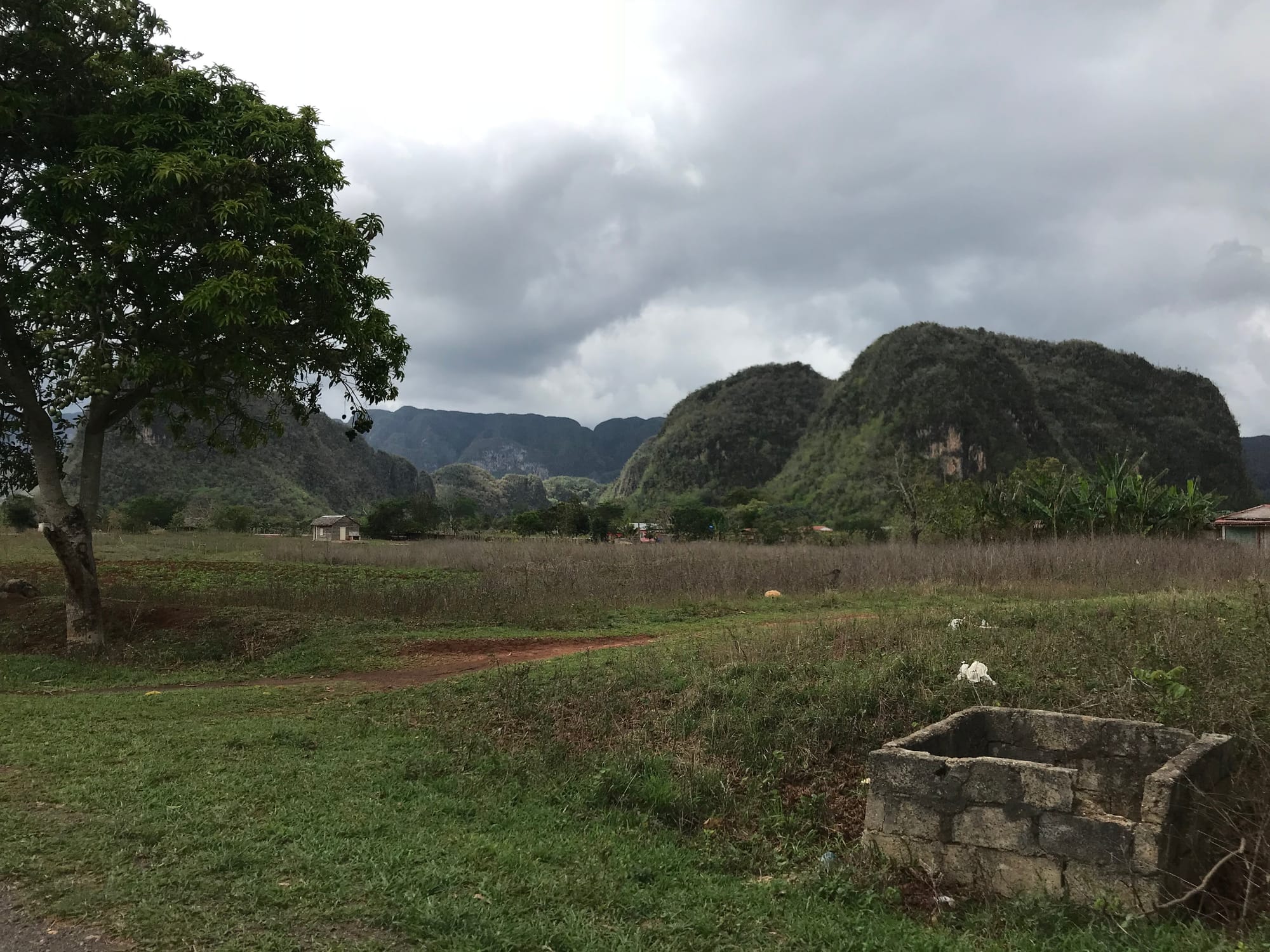 The next day we went for a walk through the countryside, it was beautiful. Mango trees everywhere so you can jump up and get some fresh mango if you are there in season. Our target destination was Guarapiron coffee, rum, and honey farm. It was a nice walk through the countryside to get there and some great local tastings. Highly recommend. Here they made rum from guava fruit which was delicious. They mixed it with fresh sugarcane juice was just soooo nice!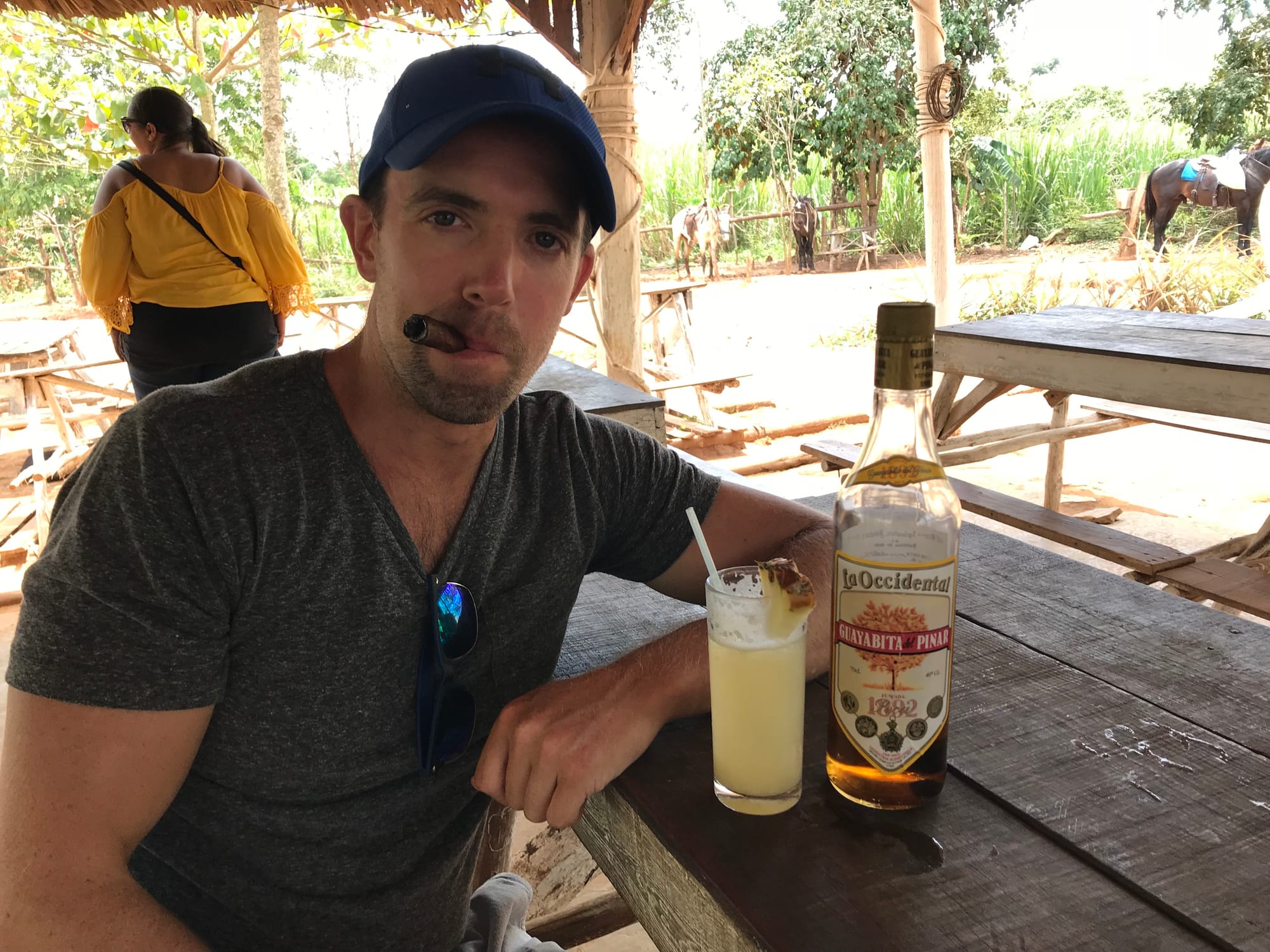 Perfect way to relax after a nice hike.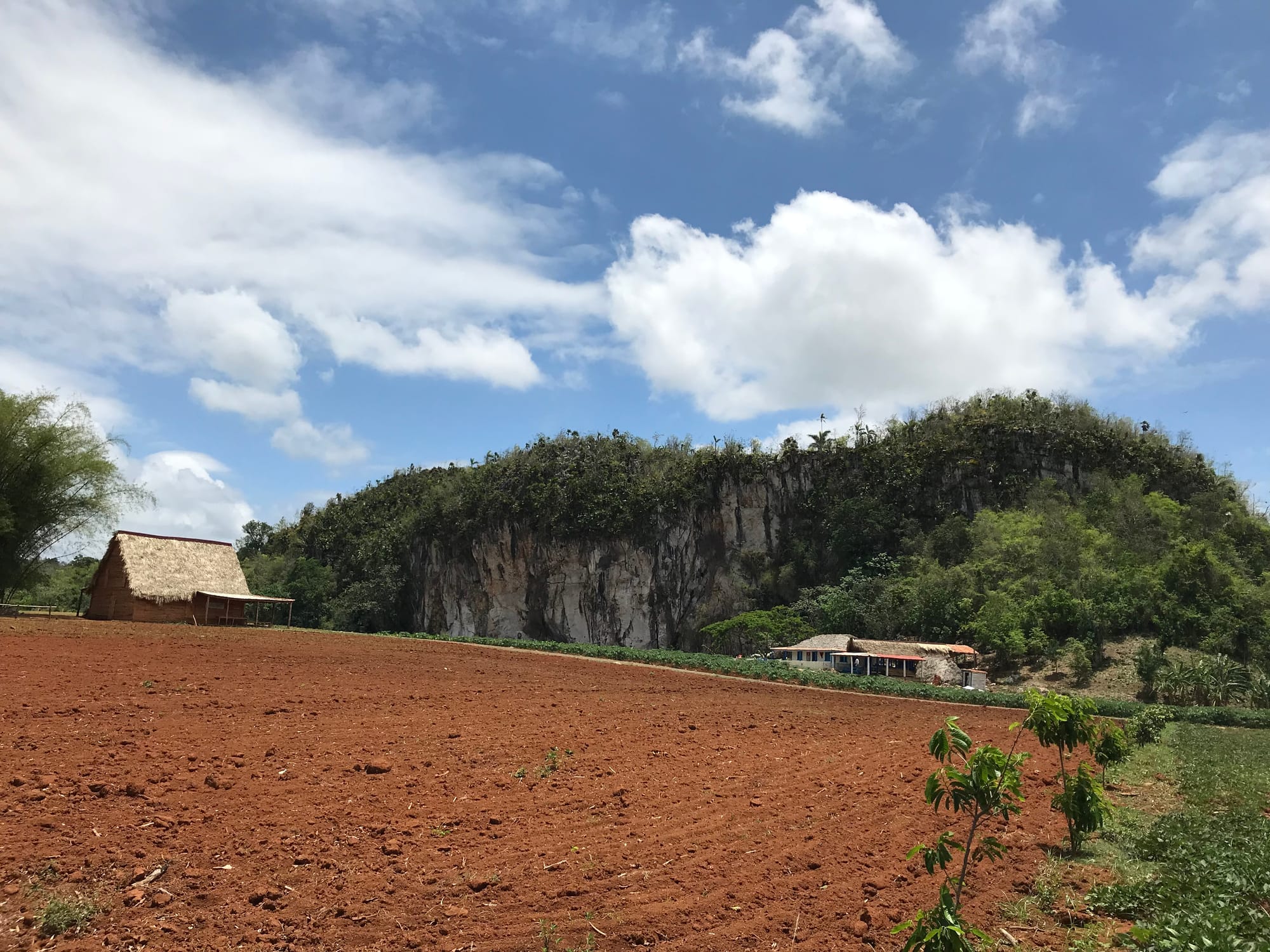 We wondered back after a fun afternoon of tasting rum. Olga wanted to get to the salsa classes in the main square. Chris and I were happy to have a few drinks at the local bars.
Trinidad:
After a few days in Vinales we headed to Trinidad. It was a full day drive and again our accommodation was organised by our Casa in Vinales. Trinidad is an older town that is close to the beach, Playa Ancon, and again surrounded by forests. Our accommodation was nice, and the owner gave us good tips on what to do and see in and around Trinidad. I was lucky that Chris spoke Spanish and Olga new some Spanish which allowed us to talk to locals and our hosts.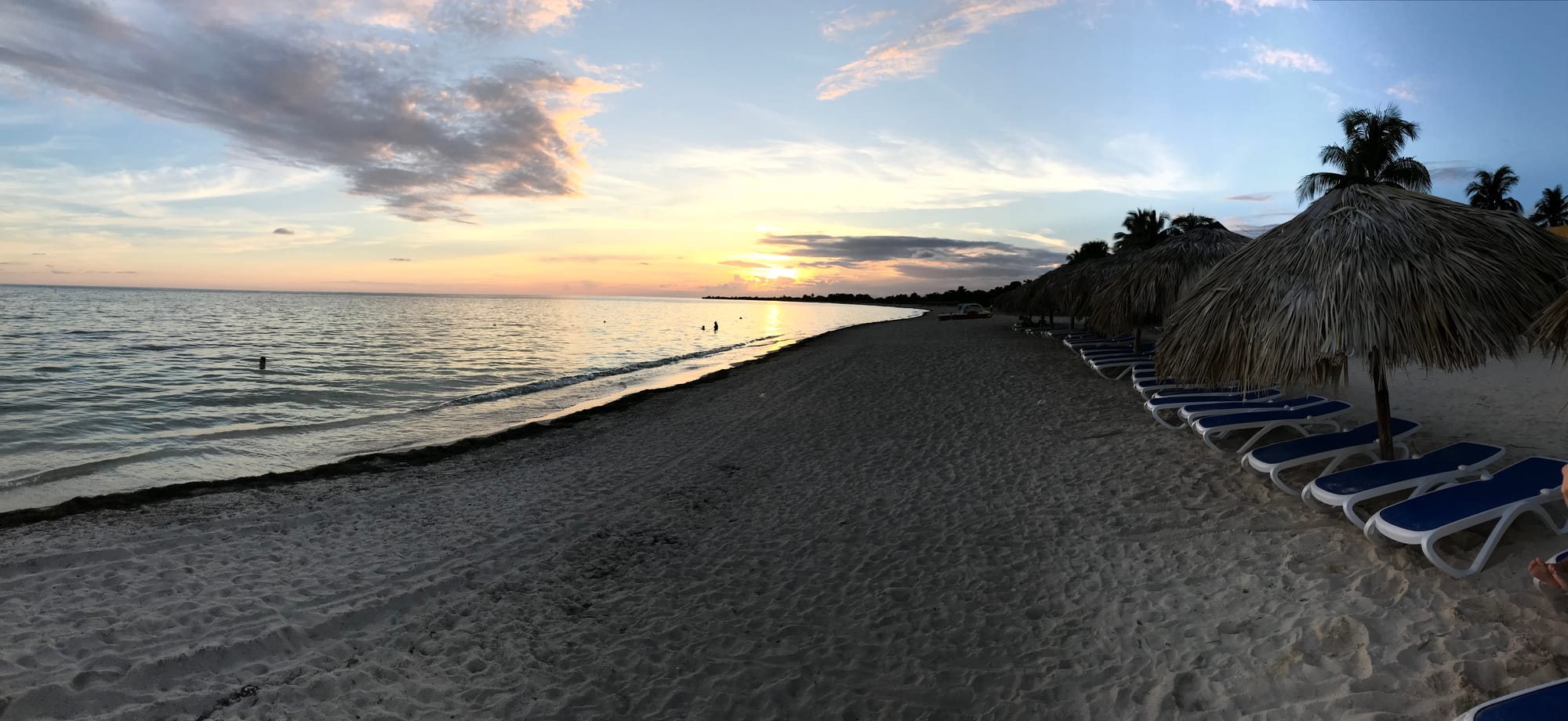 Unfortunately, I ate something that did not sit well with me and I was sick for 24-30 hours so my time in Trinidad was not great. We did get down to the local beach (15 min drive) which was nice for a swim. The hotels were like a 1960s Cold War movie based in Russia. It was so interesting to see the Russian influence.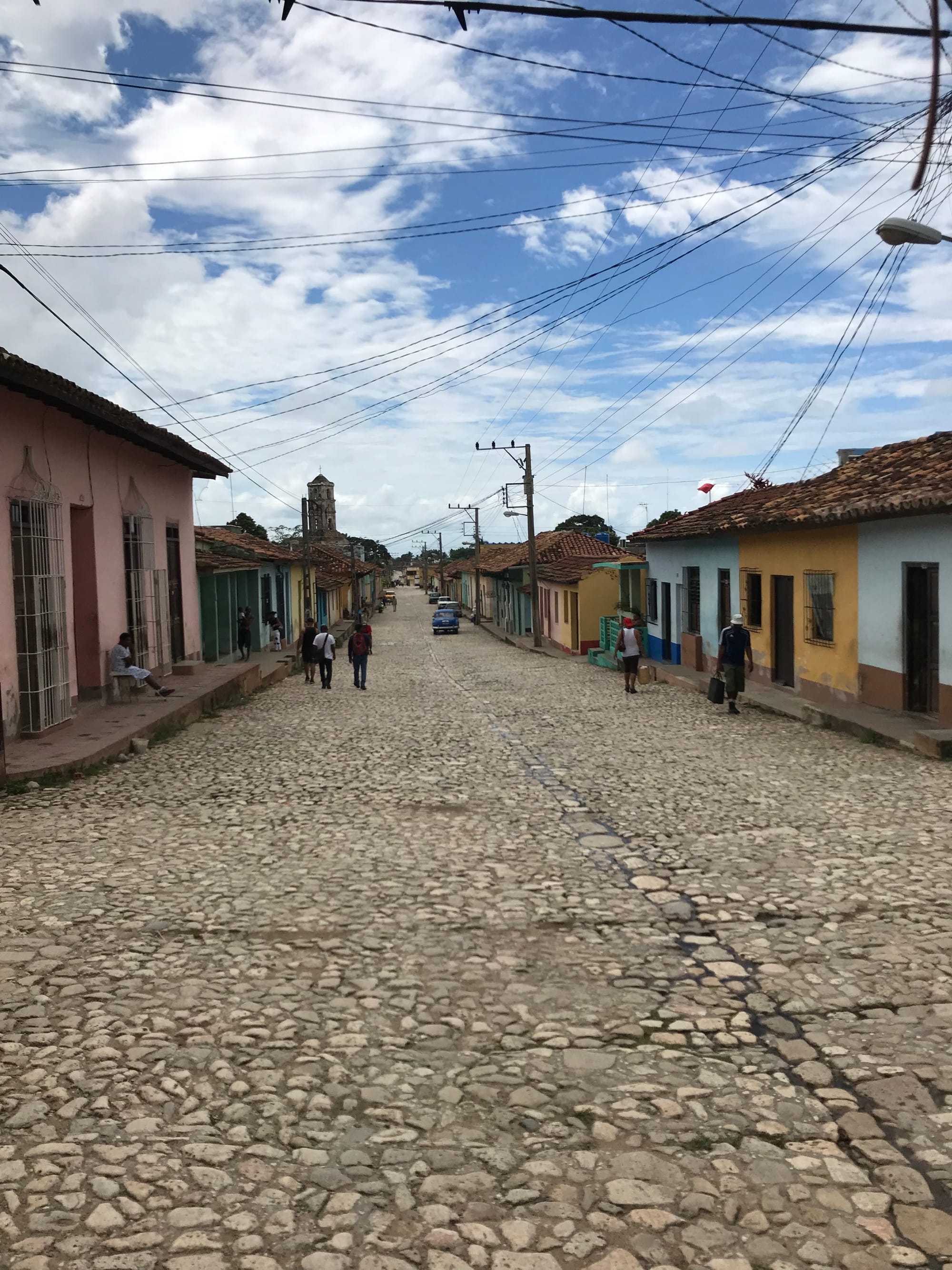 We went out horseback riding the next day through the countryside and to some nice waterfalls, Javira Waterfall (El Cubano). On the way back, we stopped at some locals houses who distilled their own rum, so we stopped for a few drinks and sugarcane juice.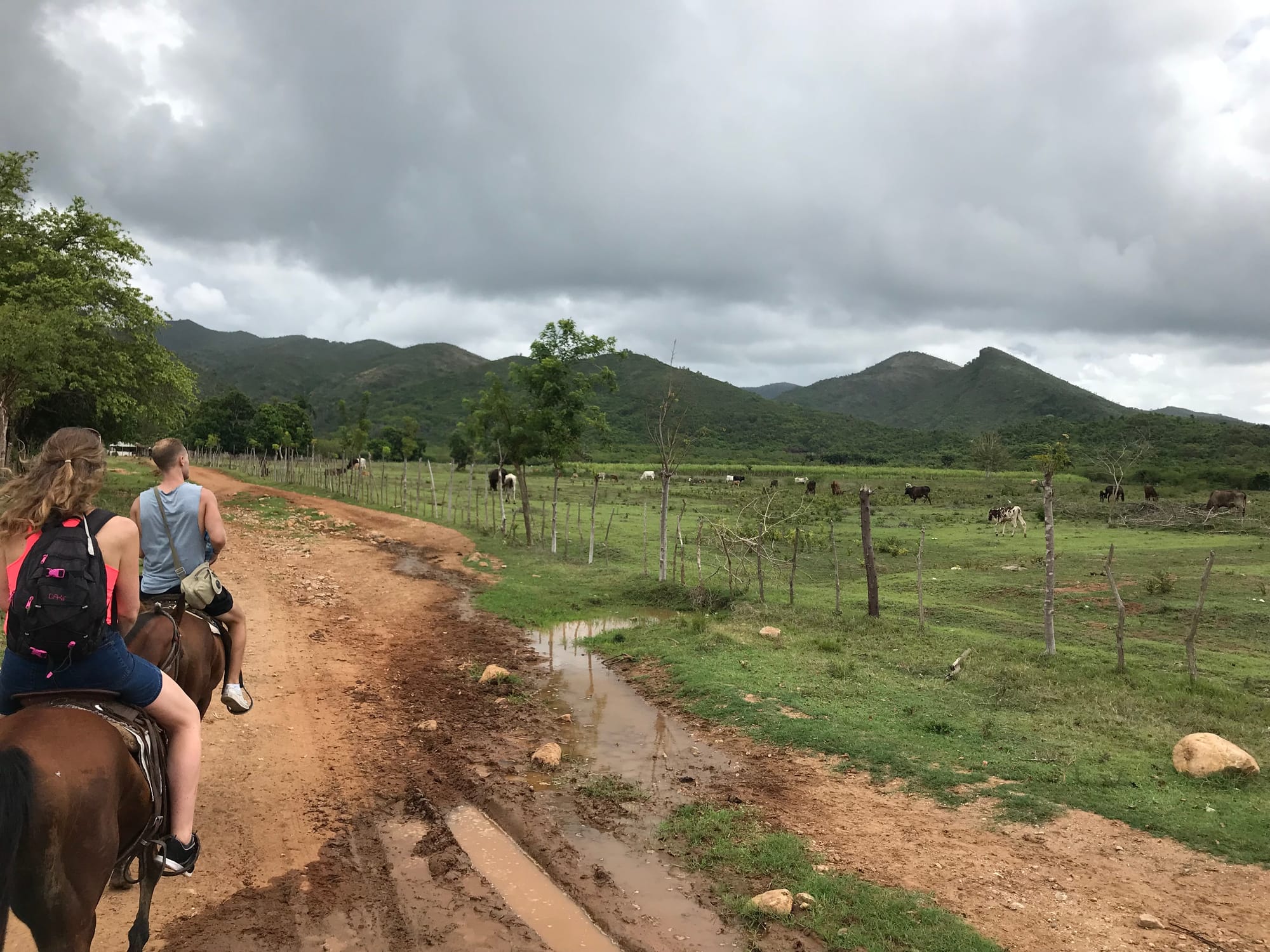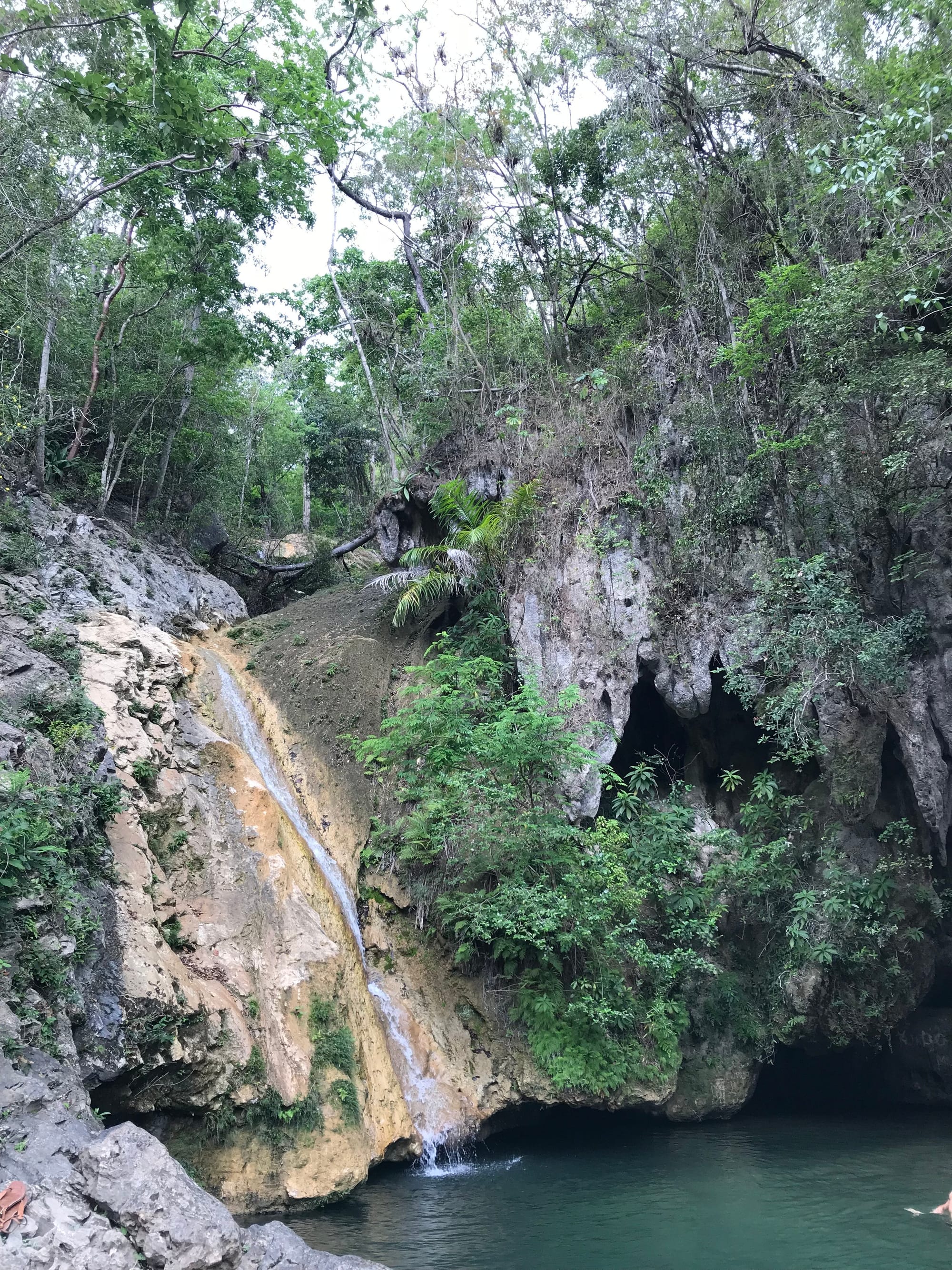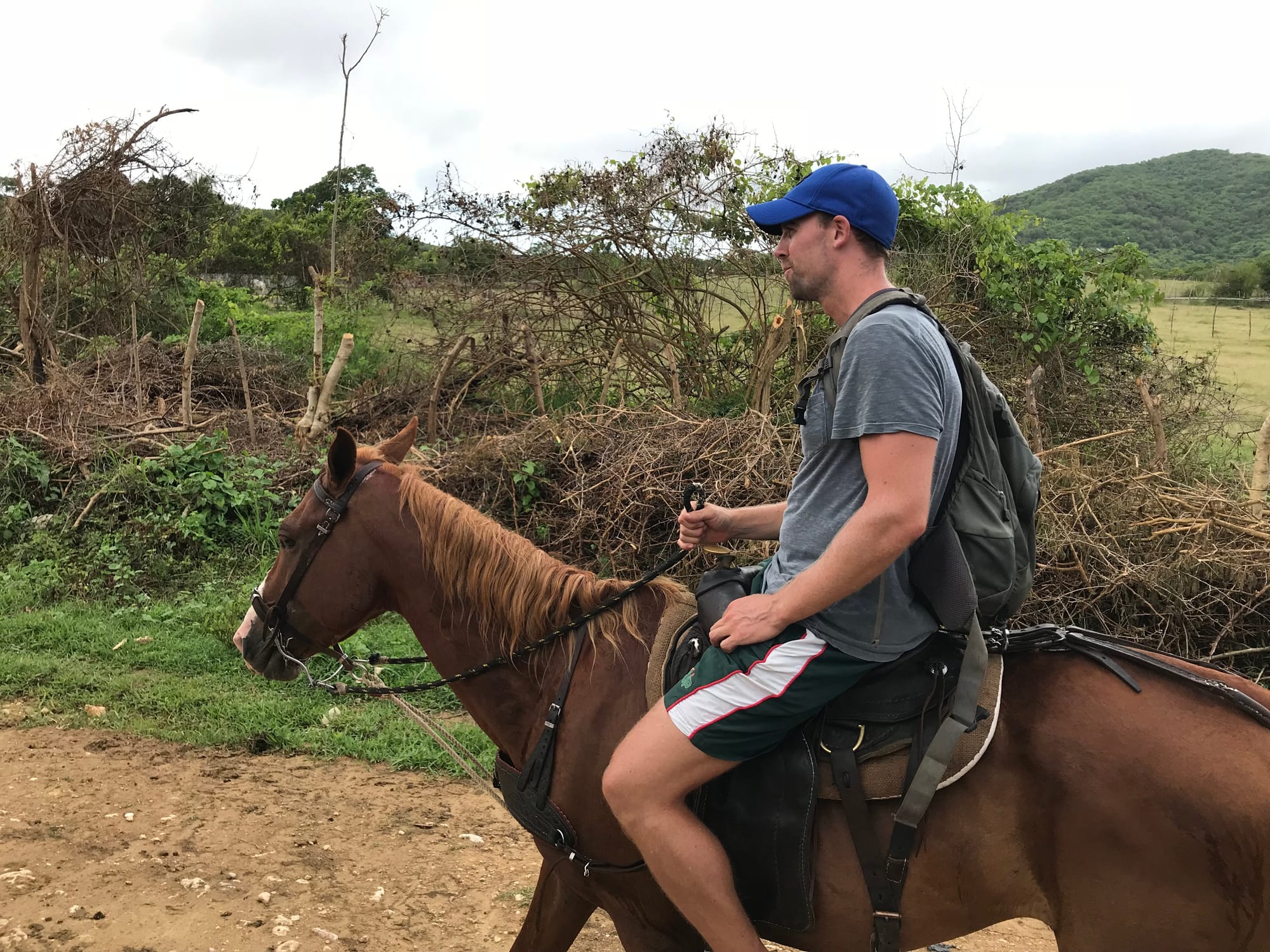 Trinidad is known for its salsa street parties and fun clubs. We went out with our host who was an amazing dancer, she explained it was all they could afford to do growing up, dance was free and for everyone. I loved how no matter the age everyone just danced with each other. Really fun to watch and get involved despite my minimal skills.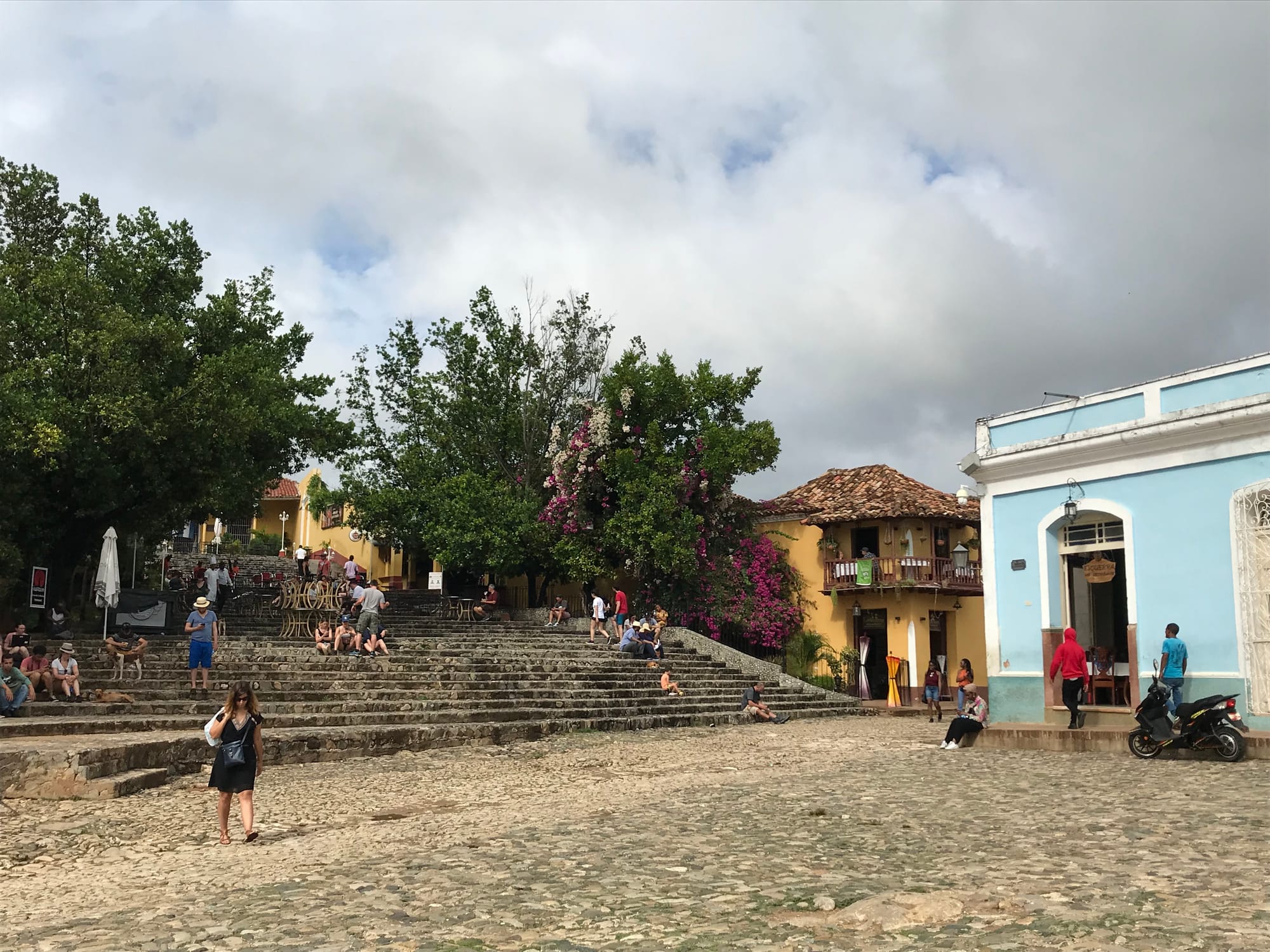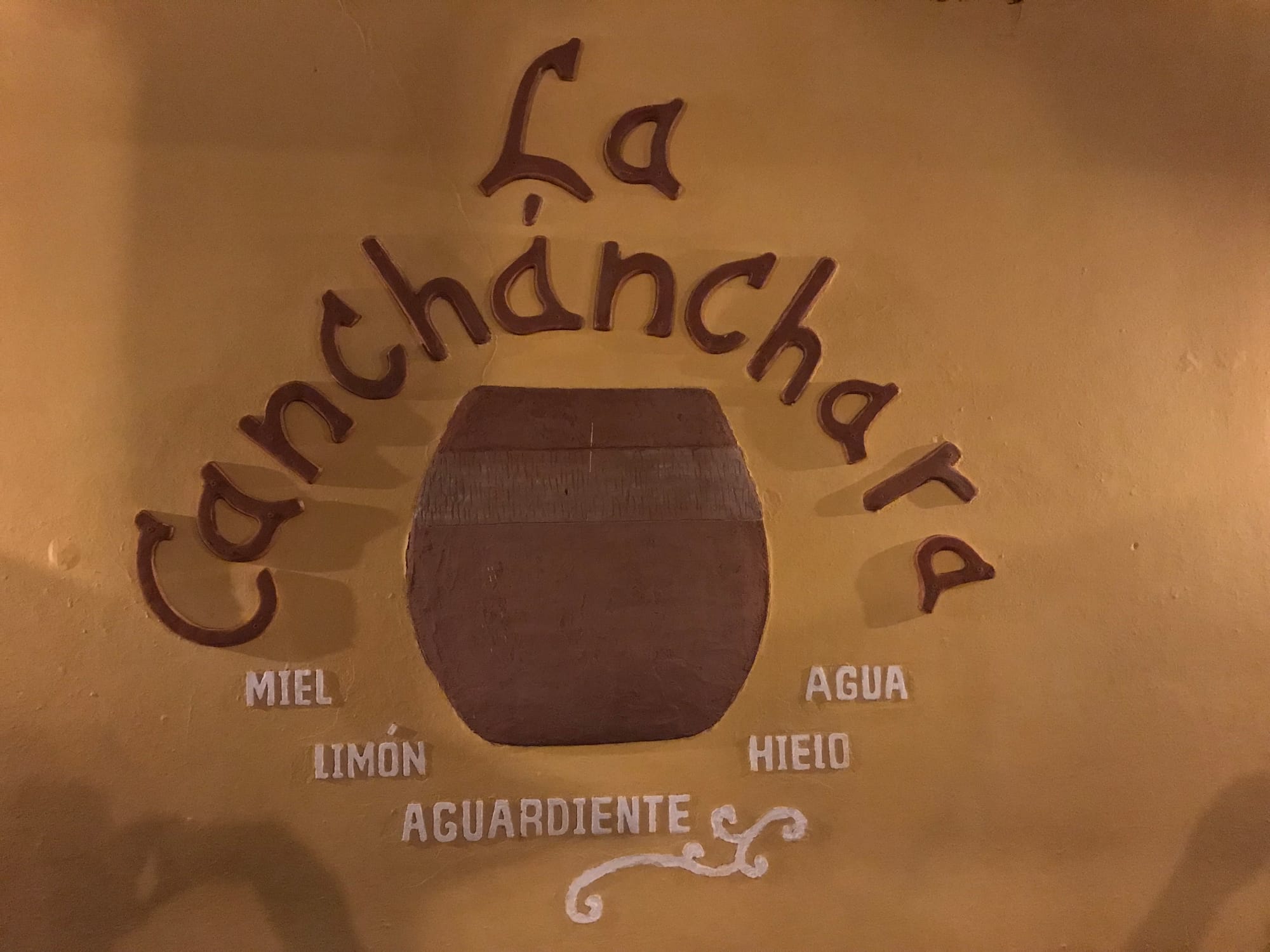 La Canchanchara is a local drink that is Miel, Limon, Aruardiente, Hieio, and Agua mixed together. Was an different taste though we enjoyed a few together with our host!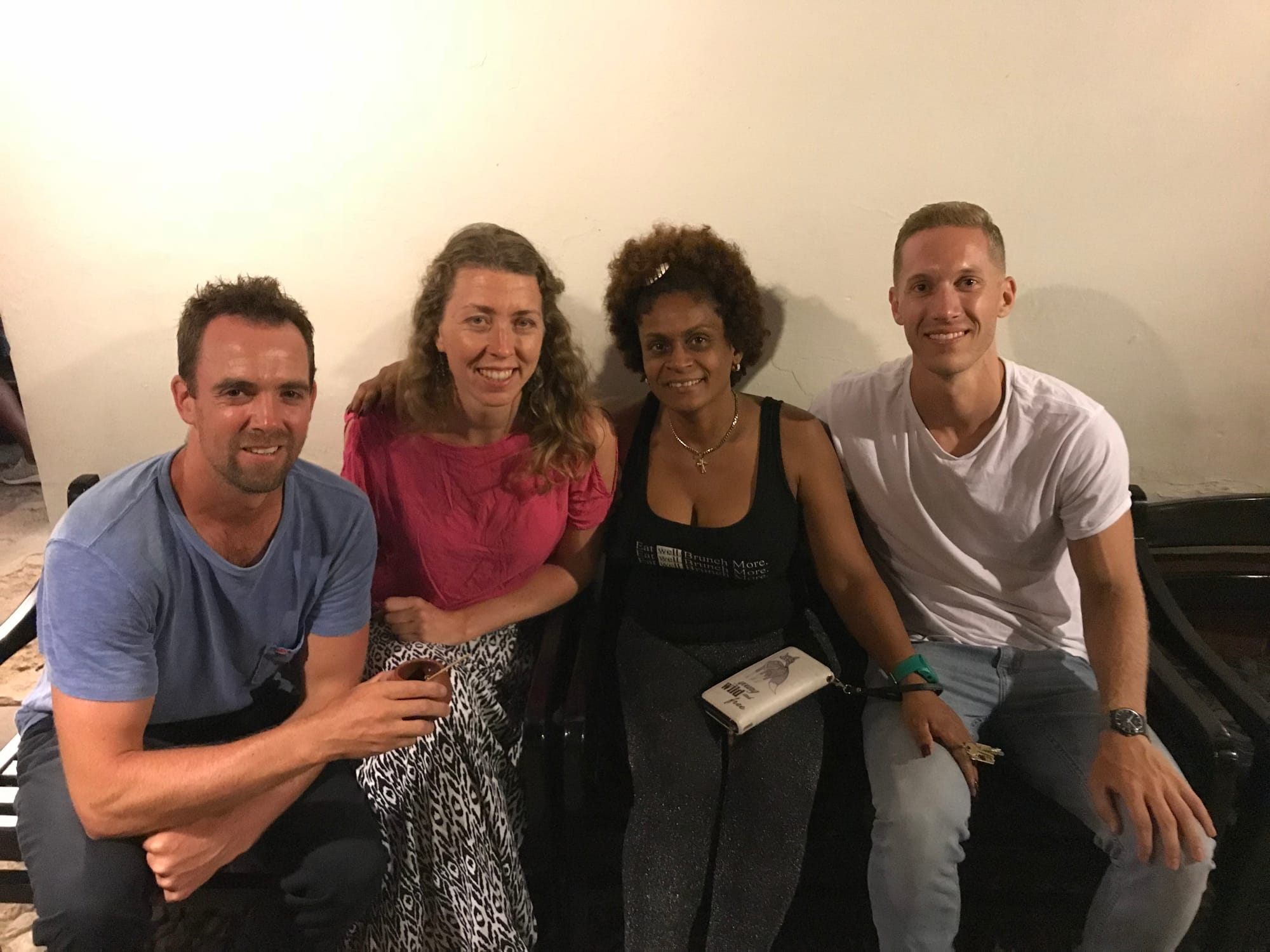 Olga needed to head back to Havana for her flight and Chris and I were heading to Varadero for some beach time. Again, our host in Trinidad organised our accommodation in Varadero.
Varadero:
Known as beach party town, we hoped to have some fun at the clubs and enjoy a few days on the beach. Unfortunately, we didn't like it that much. Bit more western / American but just not much to do. The bars and clubs were more expensive and resembled a 1980s beach resort. Chris and I enjoyed just relaxing at small bars with our cigars and a glass of rum or cold beer. Just wasn't our scene.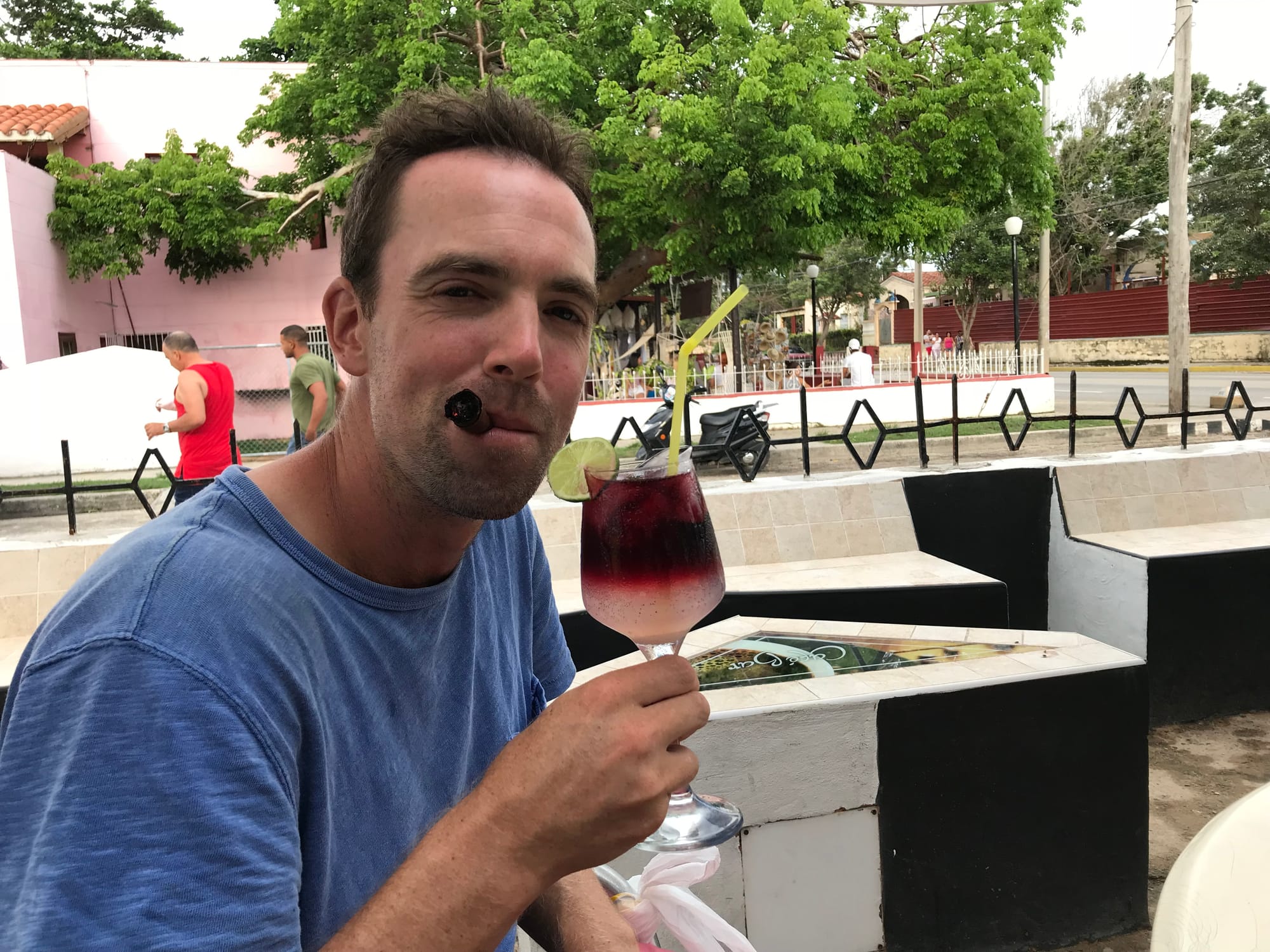 We went out clubbing one night, it was like a school hall or PCYC had been converted into a nightclub. Tunes were good fun, very reggaeton and RnB which we loved.
We cut our time short in Varadero as it wasn't our scene and headed back to Havana for a few more days.
Back in Havana
We stayed at Cuba 58 Hostel which was much nicer and better to be with backpackers than someone's house. We just enjoyed catching up with people we had met when we were in Havana initially and exploring the city a little more. I got my hair cut at the oldest barber in Cuba where I met an Australian musician who spends 6 months in Cuba each year learning to play traditional Cuba guitars. Was a really fun experience and great hair cut!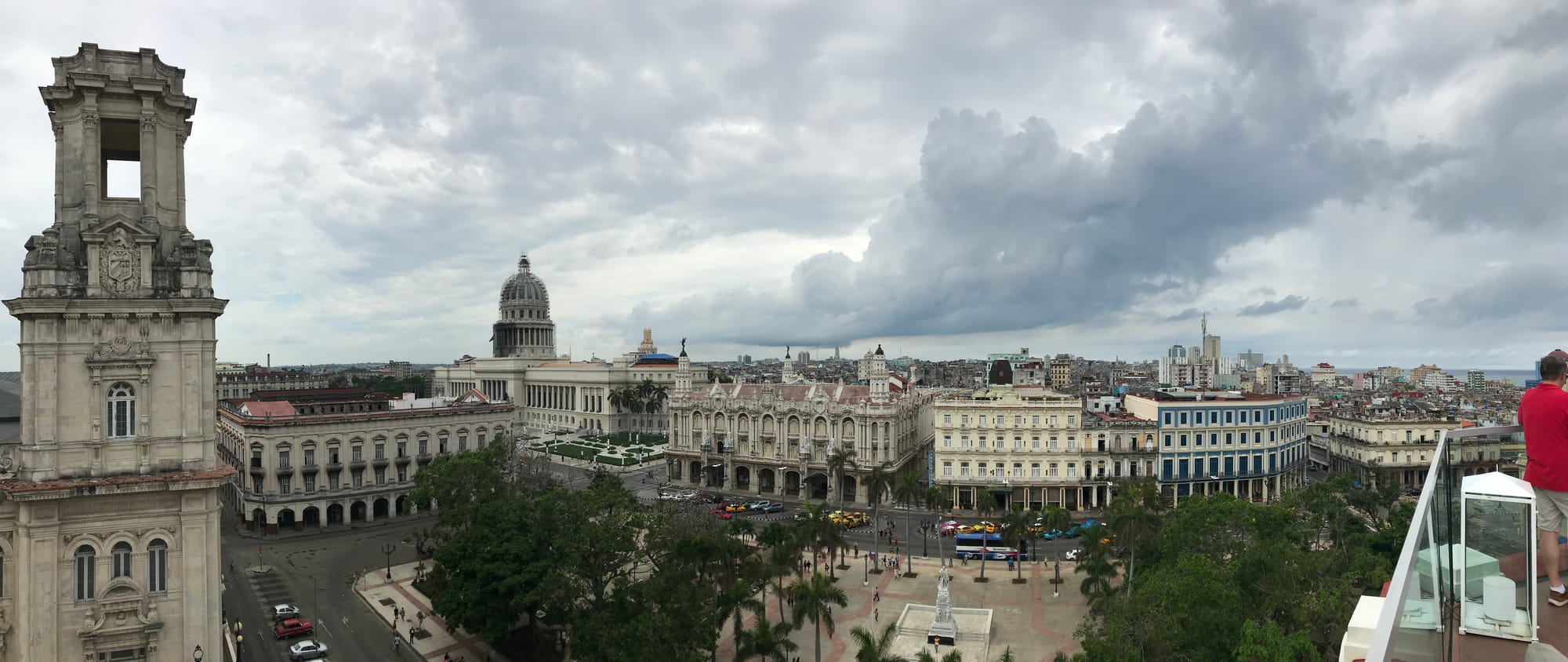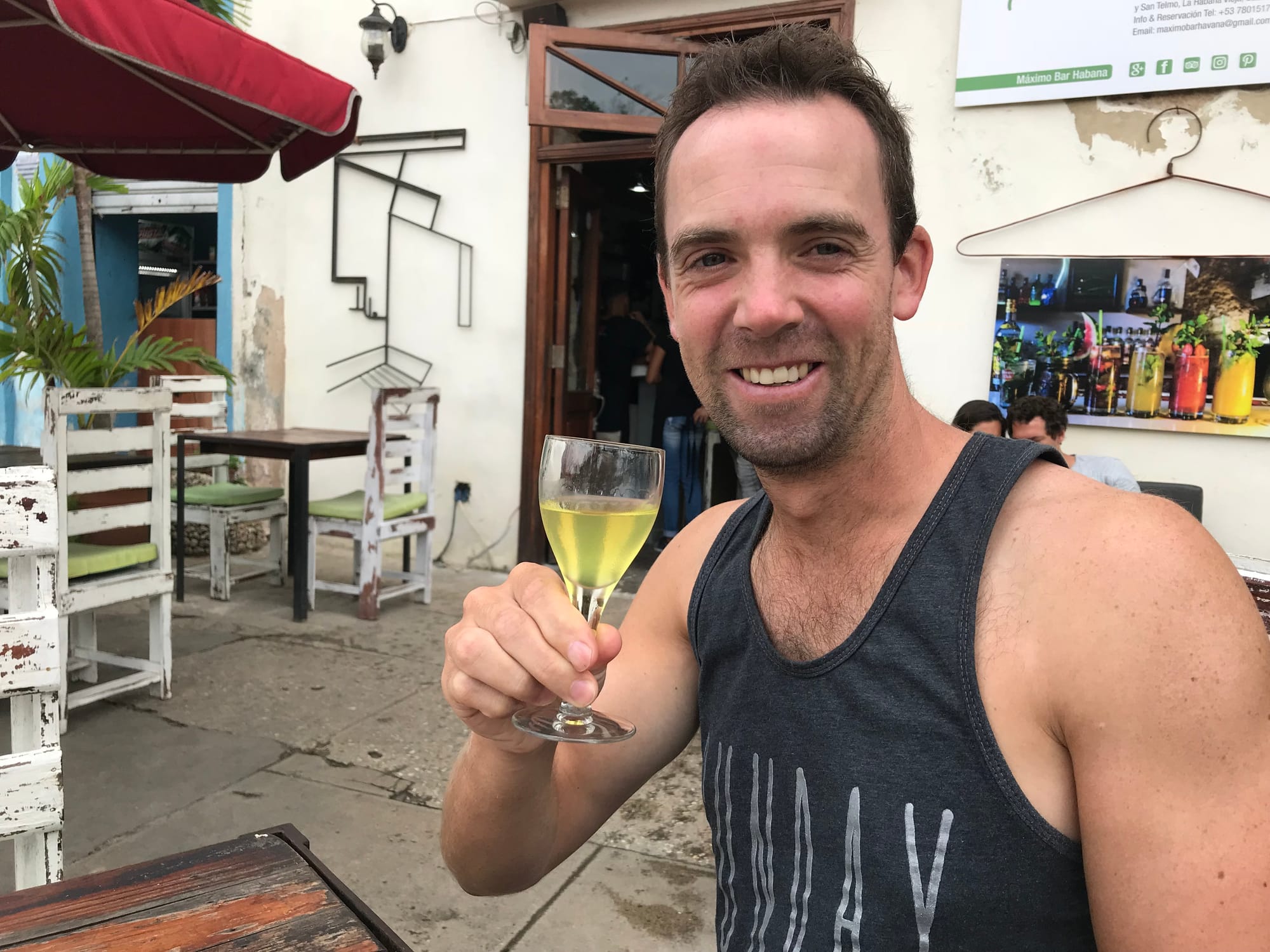 Fair to say I embraced the rum and cigar culture of Cuba!!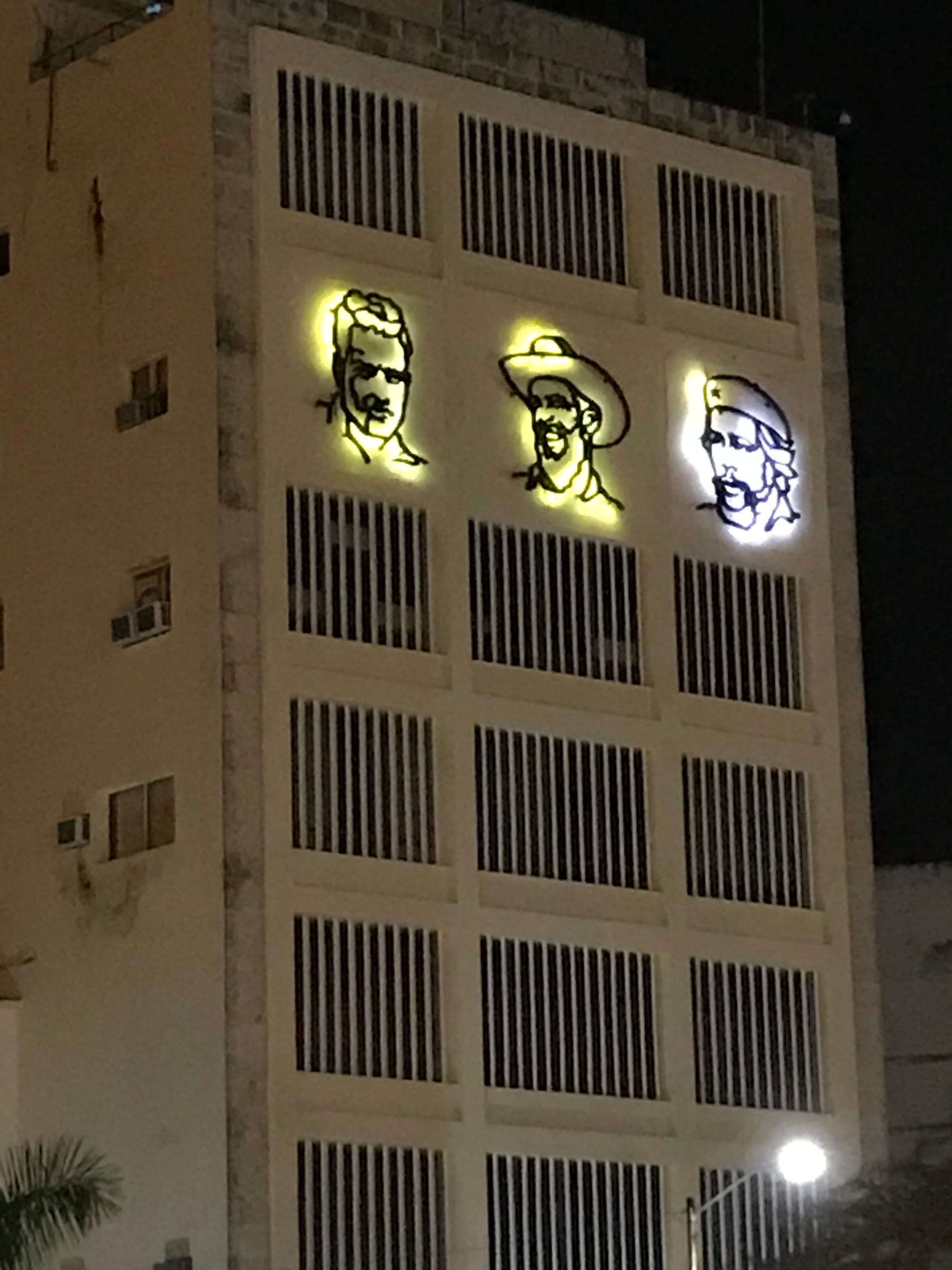 Holguin: Heard nice things but didn't get down there. I heard it is more touristy with beach style resorts close by so just depends on what you are looking for.
It was time to end my time in Cuba and Central America. Chris had left the day before me and let me know about the 50 grams of cigars not 50 cigars limit. My 40-hour journey home was just about to begin. Havana to Cancun, Cancun, to Dallas, Dallas to Sydney, then Sydney to Hobart. Despite the length of time it was a nice 40 hours of sleep, movies, and food. Much needed after 3.5 months away living a simple backpacker's life. Nice to turn the head off and just relax. There were issues with our connecting flight in Dallas as we arrived late so there was a lot of confusion for about 8 of us trying to get that flight. Luckily our flight waited for us and I made some friends with the Aussies delayed as we ran through the airport. Meg was one of them, great fun uni lecturer who lived down the great ocean road in Victoria!
Departing Cuba and flying over to Cancun.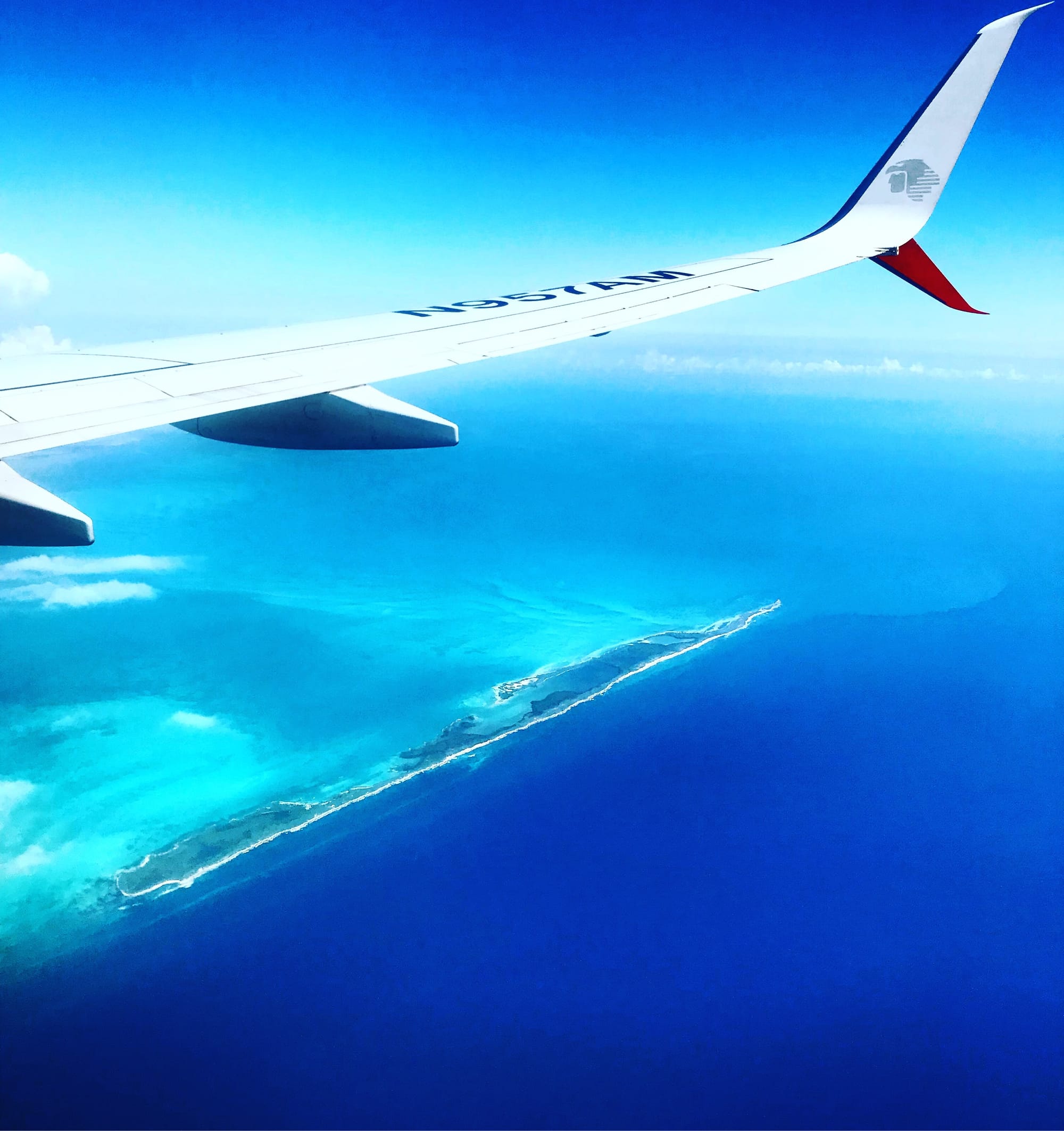 Flying over Mexico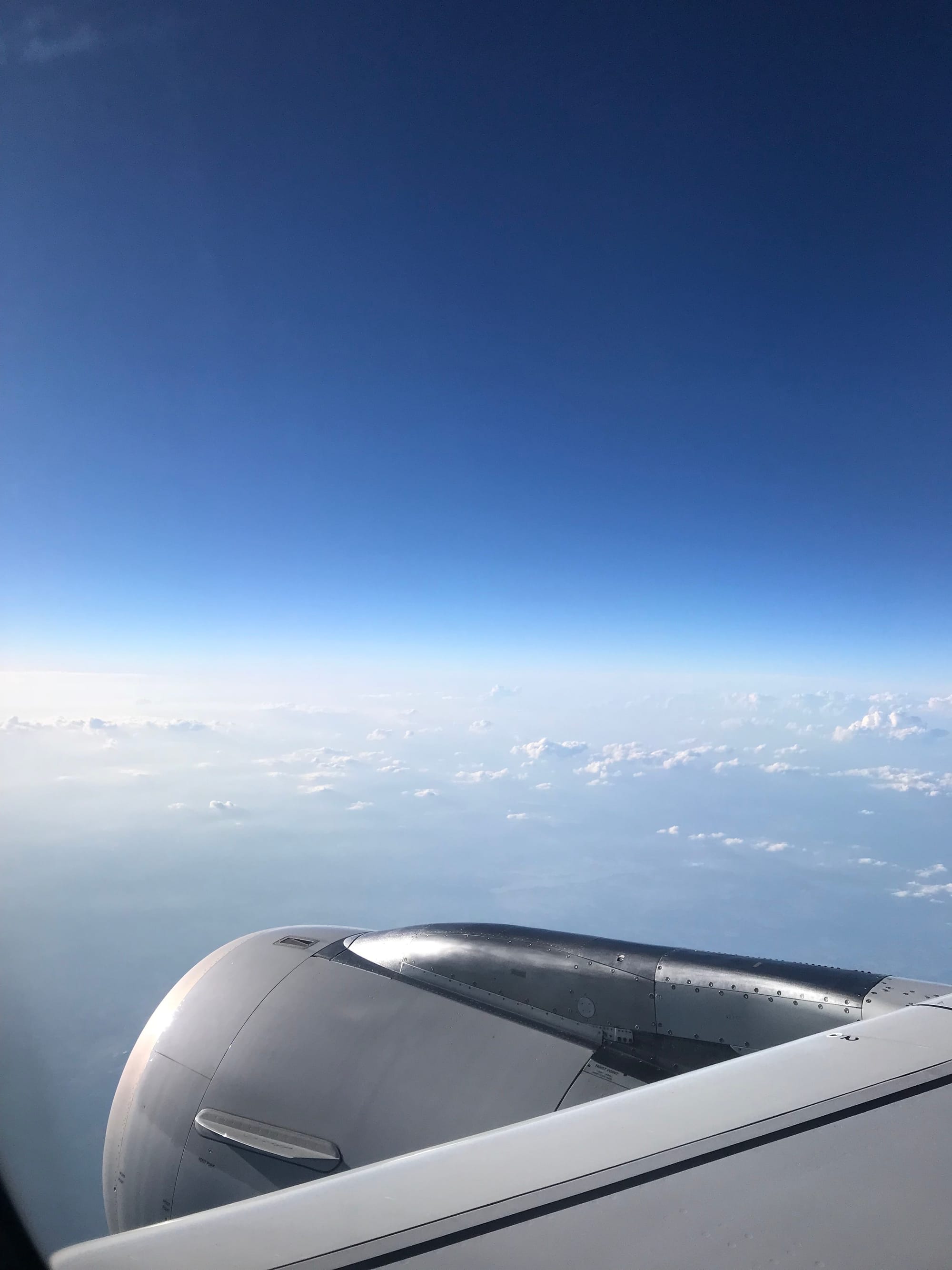 Flying into Dallas.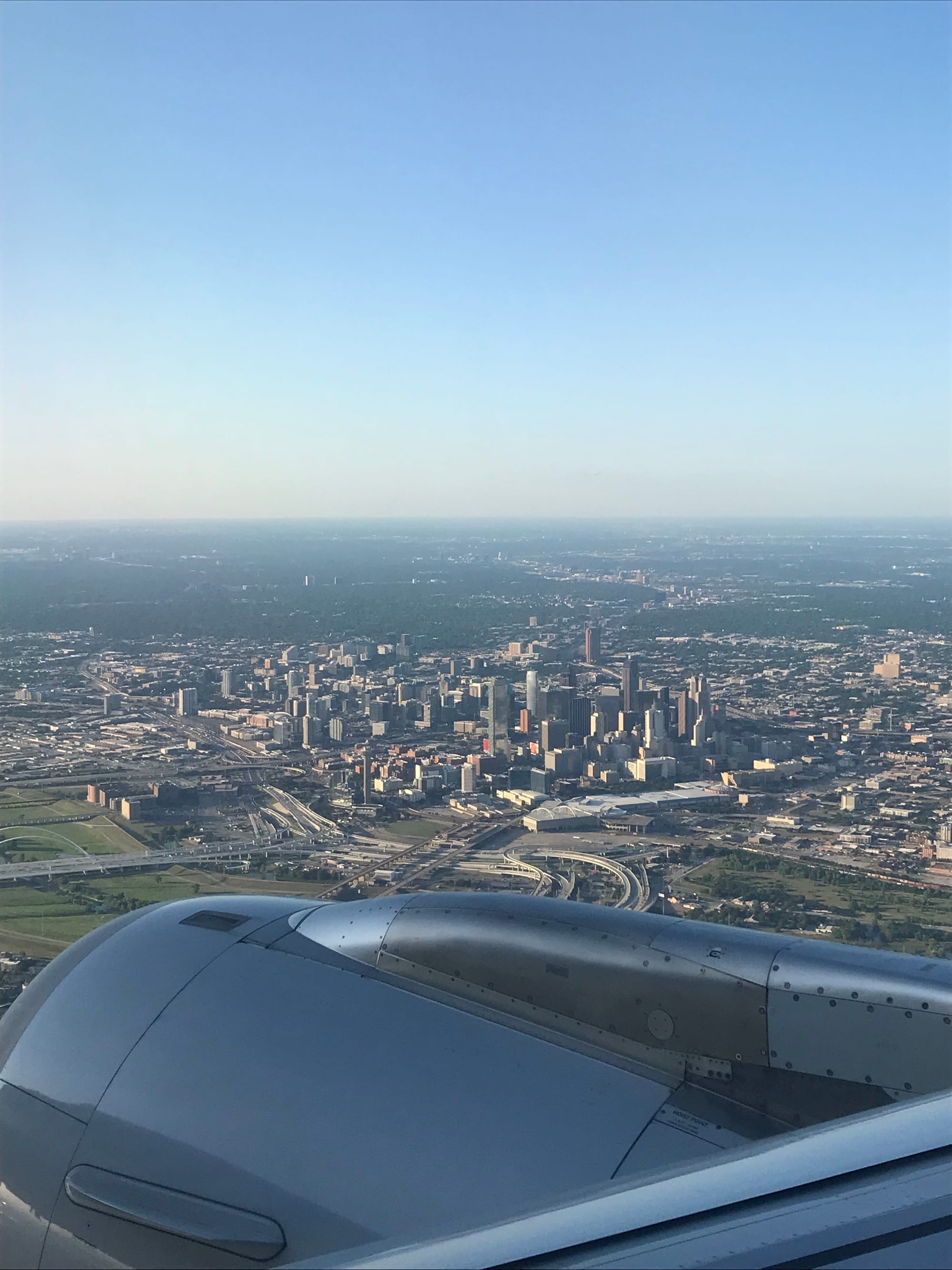 So good to be on a Qantas flight after so many years and heading home after 5 years in London. Just 20 odd hours of flying to go.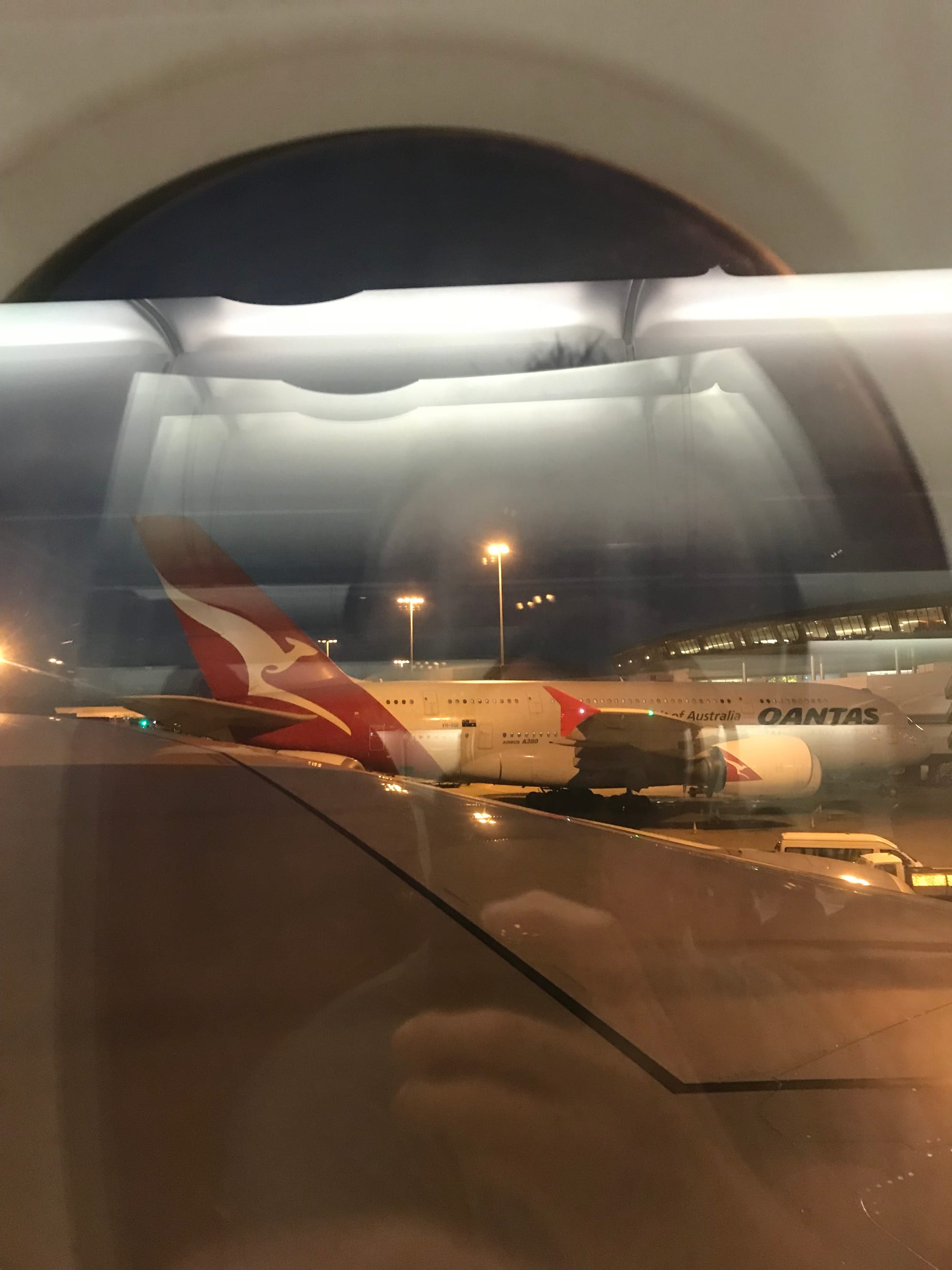 To enjoy a top Aussie beer was just class!
When I arrived in Sydney I declared my cigars at customs, I was expecting them to be removed from me or a massive fine though the agent was so nice. She understood my mistake and charged me a small fee due to my honesty and off I went with my 33 remaining cigars. Thoroughly enjoyed smoking them with my family and friends over the next 6-12 months!
Having a cold beer and reading the morning news at 9am was a perfect way to wait for my final flight home.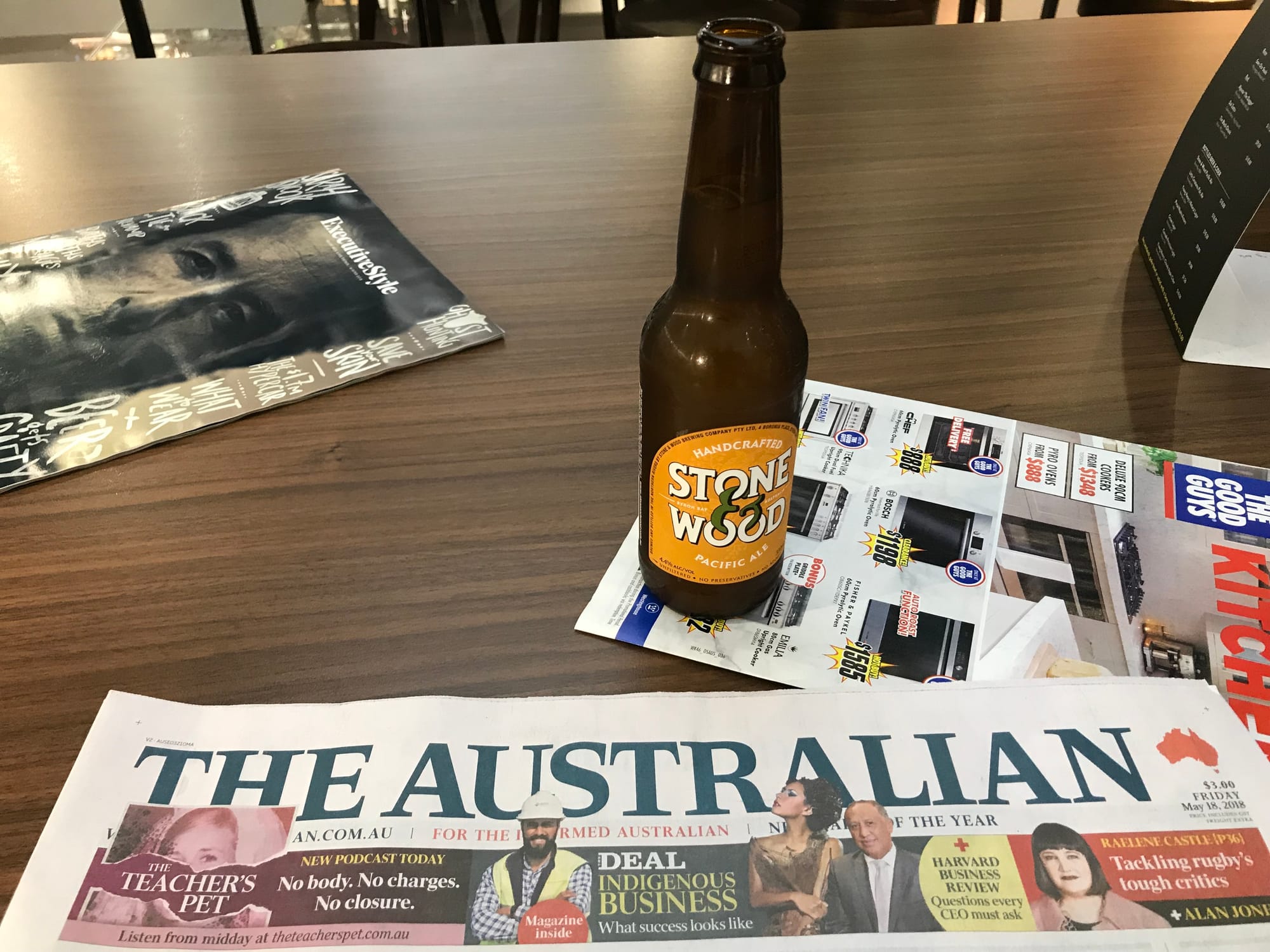 I enjoyed Cuba…. honestly no real desire to go back. Was interesting to see a socialist country and how it operated. I learnt a lot about the history, rum, cigars, and met some fun travellers. Though it just wasn't a country that blew me away. It's worth the experience but I think Nicaragua, Guatemala, Belize are far more fun and will provide a great traveller experience.