15 – 17 July 2016
In the first week of Dan arriving in London in January 2016 he was quick on to the dating apps as he didn't have anything else to do until he found a job. He was fortunate enough to land a lucky date with Ro who worked between London and Dublin. Dan and I had planned a catch up for a beer on Friday night after work…I received a message on Friday morning from Dan saying that he had met an awesome girl from Dublin and he was off to Dublin for the weekend…whaaaaaaat! He had been in London less than a week and already flying to Dublin! Dis man crazy!
All jokes aside, I had the pleasure of meeting Ro a few weeks later and fair play she is worth a flight to Saturn for let alone a flight to Dublin. It was great to see one of my best mates so happy with an awesome girl! Especially when she plays golf and invited us for many weekends up to Dublin! This blog will focus on the first trip up.
Dan, Ro, Maddy, and I flew up a Friday night after work. Our flight was delayed due to bad weather, after a few years of living in London you just get used to delayed flights due to bad weather. We arrived late and taxied over to Ro's parents' house where we were crashing for the night. We were up early on Saturday to enjoy meeting Ro's parents and ducked into the city for a quick walk around. It was Maddy and my first time in Dublin. For this trip, we weren't spending too much time in Dublin so it was nice to just get a feel for the city.
We went to collect our hire car and drove to Kilkenny where we were staying for a night. Ro had organised our accommodation at the Kilkenny Golf Club (https://www.kilkennygolfclub.com/) where we would enjoy a sunset horse ride and also a round of golf the next morning.
We arrived and checked in to our cottage on the golf course. Kilkenny Gold Club was such a nice course, amazing lush green grounds and a nice country club. We walked over to the horse stables where we were to meet our horses before heading out on a sunset tour of the area on horseback. Fair to say we all looked rather awkward on horseback but it was so relaxing exploring the countryside while the sunset on horseback.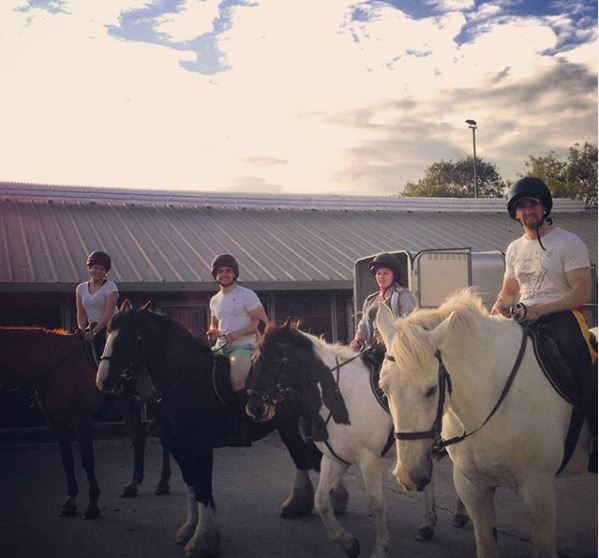 We dropped our horses off and said our goodbyes with a nice carrot for each of our horses before heading back to our cottage. We freshened up with a few drinks before heading over to the country club for dinner. The meal was brilliant with great wines and good friends.
We were up for a morning tee off. Maddy doesn't play golf so we just booked a round of 9 in so Maddy didn't get dragged around the course all morning. It was so nice to be out playing golf with Dan and Ro with Maddy's running commentary. Once we got away from the clubhouse Maddy had a few swings which was good fun.
That is one thing I do miss, as Ro and Dan live in Melbourne and I am based in Sydney now, wish we could play more golf together and have a few drinks. That is one bad thing about moving around so much, miss quality time with great friends.
We were in no rush after golf so we got a couple of buckets of golf balls to hit on the driving range. Was such a nice course and driving range. Ro definitely spoilt us! Love to play a full 18 and maybe have a weekend of back to back rounds at Kilkenny! Was so nice!
Just after midday, we started to head back to Dublin, it was a nice sunny day so Ro took us for a tour around Coliemore Harbour where there was a nice walk around the water and the beautiful coastal house. It was not what I expected from Dublin, it was so nice along the water full of amazing colours. The sun was out, and it was a beautiful sunny summer day. We drove back through Dublin before dropping our car off.
We ducked in to say goodbye to Ro's parents and we all looked forward to getting back to Dublin again soon! We got a nice feel for Dublin and I had so much fun with great friends!
It wasn't your traditional Guinness tour weekend of Dublin though it was great fun to just see a different side of Dublin, explore Kilkenny and relax before heading back to London. I have been back to Dublin since for a more Guinness filled weekend with Ro, Dan and her family which was also so much fun. The Irish are always so much fun and love the banter with Aussies.