Edinburgh 24-26 November 2017
The Autumn Internationals (rugby union) were back on and Rob, Phil, and I were keen to get up to Scotland to see the Scots taken on the Aussies. It was my last Autumn Internationals in the UK as I was due to head home in February 2018. Was a good little lads weekend away.
Our flights were short and sweet and in no time, we had arrived, checked into our Airbnb, and hit the streets for dinner. Rob (thinks he is Scottish) was in charge and luckily Phil had been up to Edinburgh a few times since he moved to London so actually knew where he was going! 😉
It was freezing! Being November, it was wet, icy, slightly snowing, and with the added wind chill, it was bloody freezing! The wind just cut through us like shards of glass.
With the match on tomorrow, the pubs and restaurants were packed with Aussies and Scots looking forward to a fun weekend. We managed to find a nice steak house for dinner. We thought we'd finish the night with a couple of pints at the local pub and then head home for an early night with the big game tomorrow. What fools we were to think practically when in Scotland! A few pints turned into a few pints too many…we found a great pub that had a great live band and duke box playing and the night took over! Not before long, it was well into the early hours of the morning and we were stumbling home.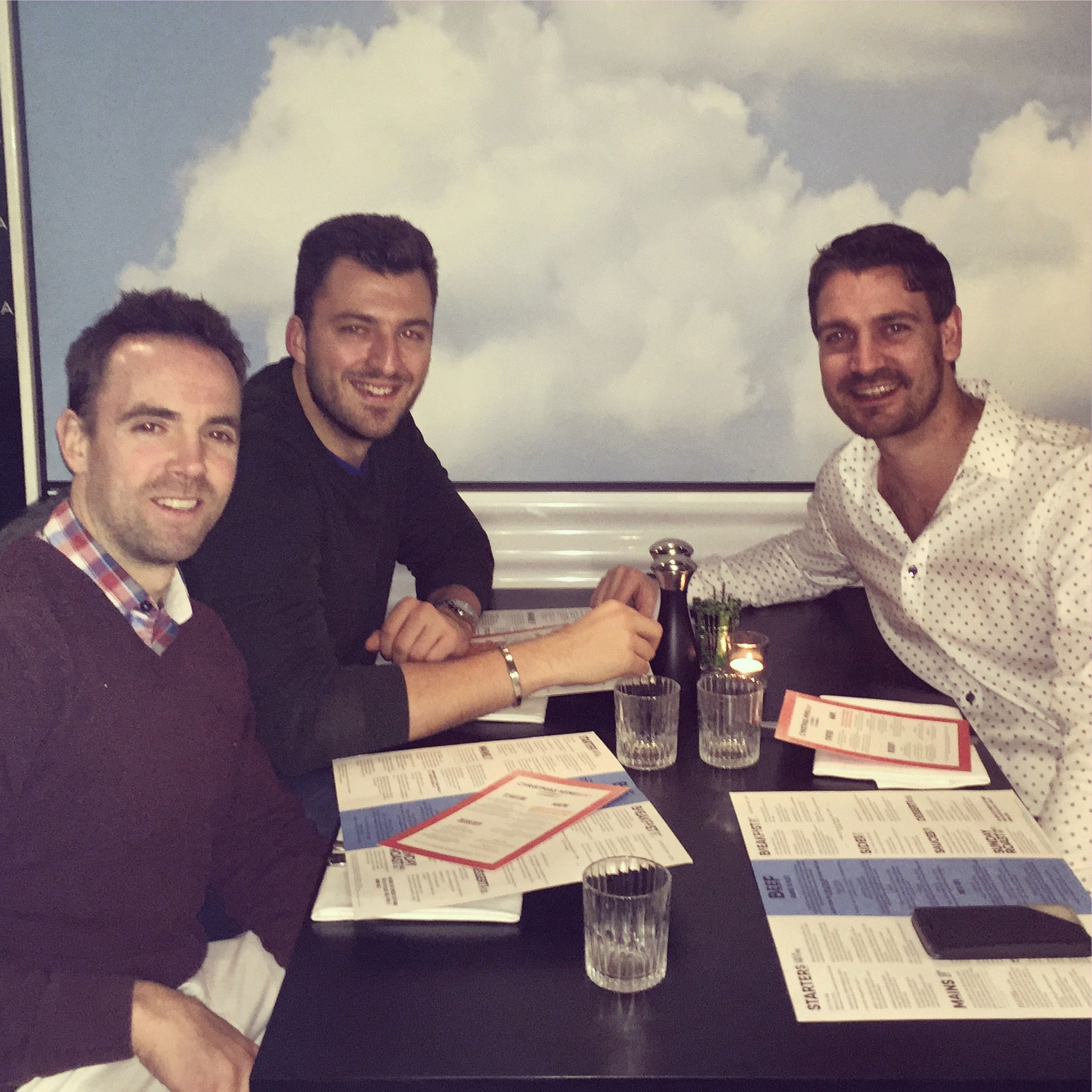 Rob had been more composed in his approach to Friday night so Phil and I woke up a little worse for wear. We showered, freshened up and headed out for brunch. The streets were buzzing with the excitement of the big game, pubs were already full and people were sprawling out onto the streets. With food in us, we found a new wave of life and were looking forward to the rest of the afternoon. It was one of those deceptive winter days that I have finally come to terms with….blue skies and sunny…meaning bloody cold, windy, and icy conditions!
Rugged up, we wondered around Edinburgh taking in the sites and atmosphere. We met some of Rob's family friends for a beer then started the walk down to Murrayfield. The roads were blocked off and police escorted the thousands of supporters to the field. We stopped in at another pub to meet some more of Rob's mates and then carried on. The beers were not going down well for me...so disappointed in myself.
We arrived and found our seats in time for the national anthems. It was beautiful to hear 60,000 Scots singing their national anthem, it is just a shame Rob had to google the words…
Phil and I did our best to keep the Aussie spirits high with Advance Australia Fair only to just cop more fun abuse from the locals around us.
We quickly realised that Murrayfield was a cash-only stadium and none of us had cash…this was rather devastating and Rob ducked off to get some cash out for all of us. Phil and I had some banter with the locals around us which was great fun. Do love the competitive fun banter at sports matches when all the supporters are mixed in together! There is never a need to hurt someone just because they support a different team.
It was a tight first half with the Aussies slightly ahead until…Wallabies prop Sekope Kepu was dismissed for a shoulder charge to the head of Hamish Watson. His shoulder charge was a little late and just clipped Watson's chin. To be honest, and the Scots around us agreed (except for Rob, remember he is English, not a Scot), a red card was given and we were a man down...a little over the top. A yellow card would have been suitable! The video replay in live time didn't look too bad, just a half a second too late though when the ref requested it to be slowed down it just looked horrible. It was a late hit, but not red card worthy. Surprising Australia was able to get a late try in the 1st half and we lead at the half time break. Could we actually win this game with 14 men, we had held the Scots try-less in the first half.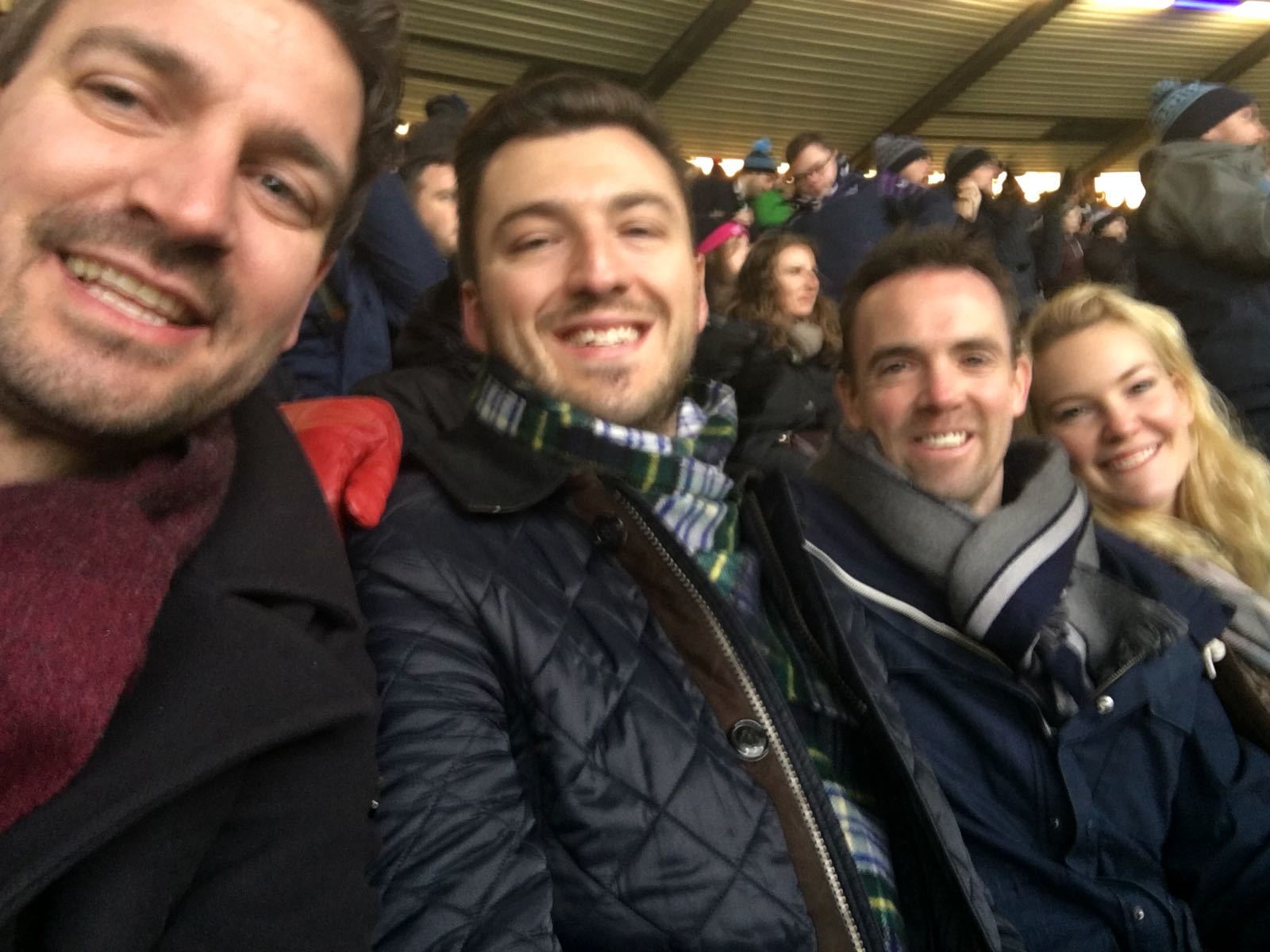 The second half started and the Wallabies were present on the field, and that's about as much as they did for the second half…the Scots ran in try after try after try for the rest of the match, eight to be precise. The Wallabies took an all-out attack approach to win the match knowing playing defensively they would not hold off the Scots for an entire half with a man down. It made some exciting play and free-flowing high scoring rugby as the Wallabies did keep up with the Scots for the first 10-15 minutes offering us a glimmer of hope. Though we were exhausted and the Scots broke our lines as we just didn't have the manpower to go with them…it was a brutal try-scoring fest by the Scots! Phil and I conceded defeat after the Scots took a three (3) true lead and just enjoyed the banter that we copped by all the Scots around us. Rob was loving life with his fellow compatriots and was happy to let us know all about it. It was great fun!
The game ended with the Wallabies scored a late try but the game was well and truly over a long time before this. Scotland secured a record 29 point win over the Wallabies. It was a sour end to the Autumn internationals for the Wallabies and not the result we were expecting. None the less Murrayfield was an amazing stadium to watch rugby and we just loved the atmosphere and experience with two of my best mates.
They just need to allow card payments for beers please!
We slowly made our way back up to the city centre to enjoy some beers (still going down like a prickly pair) and soak up the post-match atmosphere. Phil and I were a little sore from the evening before which sucked as it killed the Saturday night. Sorry Rob!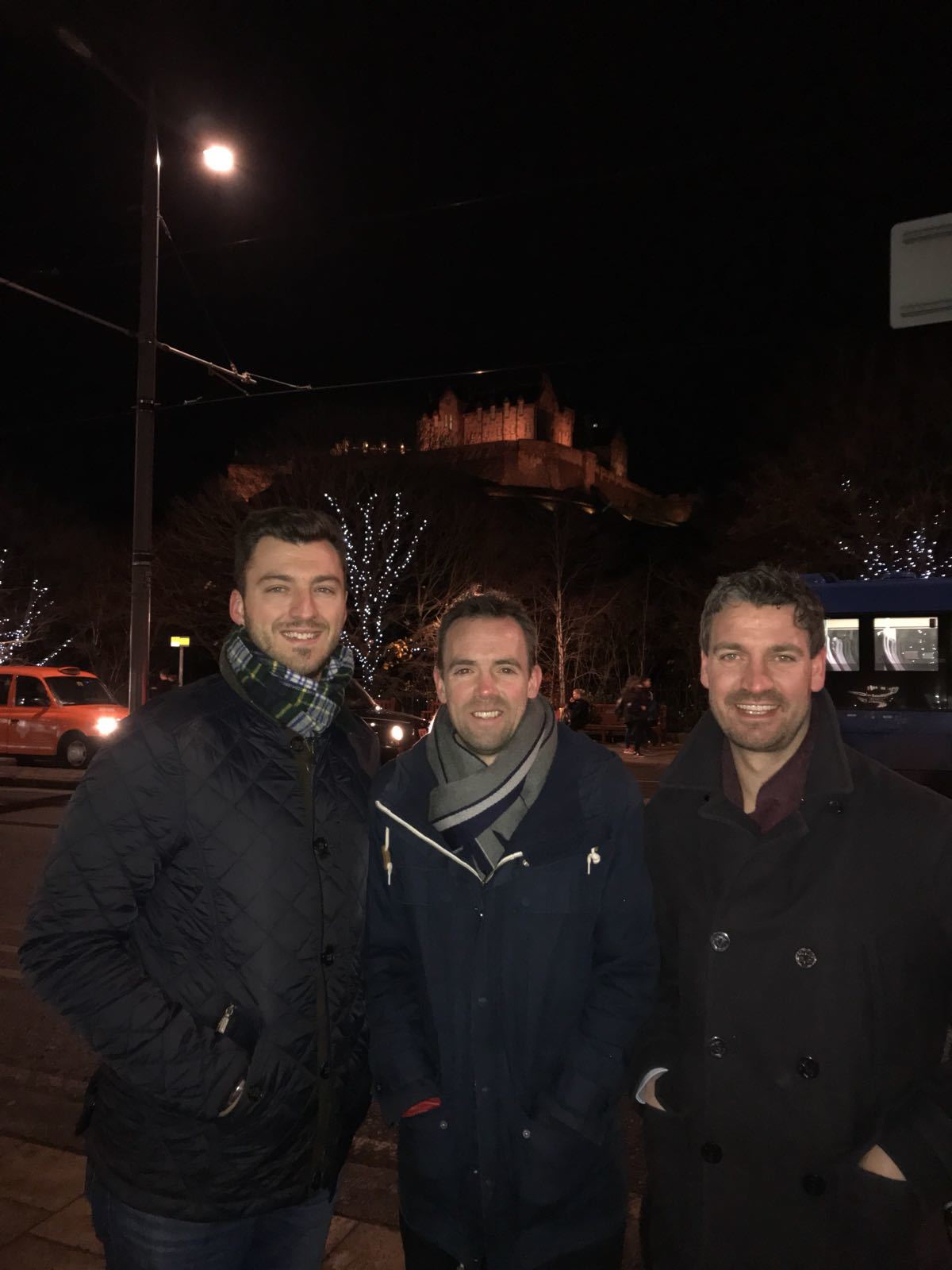 Rob found a very nice restaurant with this amazing malbec cabernet blend from Margret River in WA. I think it was South by South West but not 100% sure, definitely awoken our taste-buds with the great steaks!
We made it out to one more bar and tried a few shots to get us going again but I was shattered, classic don't go too hard the first-night failure.
The next morning we woke to the papers reading:


Least we woke up fresh on Sunday morning, it was just a shame that it was time to fly home back to London.
Was a great weekend away with two of my best mates. The Wallabies got cleaned up but the atmosphere, experience, and banter with the locals was so much fun at Murrayfield. Once again, another sporting stadium to add to the list for any sports nut out there.
Edinburgh is such a beautiful city, amazing castle, churches, hidden alleyways, and history where ever you walk. High recommend even if not for a rugby weekend. Such a fun city and the Scottish are so much fun!