Estonia 4 October – 7 October 2015
I finished up a maternity leave contract at a bank and was due to start a new role in two weeks, so I took some time off to travel through the Baltics. Being October it was low season and starting to get cold though the flights were so cheap. None of my friends had a real interest in the Baltics so I thought this was a good time to do some solo travel to a few countries I wanted to see. I had a one-way flight into Tallin, Estonia and then a return flight from Kaunas, Lithuania for under 50€. The Baltics was an area of Europe I had always wanted to explore, due to being recently independent countries with beautiful cities and countrysides. This blog will just cover the Estonia element of my trip.
I flew out from London Stanstead airport to Tallinn on Sunday morning. One of the things I miss most about living in London is the ability to just hop on a plane and be in a new country in under two (2) hours. The flight was quick and easy and I arrived at my backpackers with no dramas. I checked in to my backpackers which close to Freedom Square. Being low season I had a dorm to myself which was awesome. The dorms were large, good security, and showers/toilets were clean.
I grabbed a local map and some tips from the staff before heading out for the day. The old town was beautiful and Christmas decorations had even started to be put up. I explore the old town to see the Freedom square, St John's Church, St Catherine's Passage (Katariina Kaik), Alexander Nevsky Cathedral, Tallinn Town Hall, Town Hall Square (Raekoja Plats), Viru Gate (Viru Varavad), Tall Hermann (Pikk Hermann) and Tallin Castle (Toompea Castle). There was a walking tour in the afternoon so I grabbed some lunch in Old Town Square before joining the walking tour.
The walking tour was really good however it did go longer than it needed. The old town is quite small so didn't need two (2) hours. It was interesting to hear about the history of Estonia and that it had only had its independence in 1991 and that for many 100s of years it had been invaded and occupied by various European powerhouses. I enjoyed learning about the I thought it must be weird walking to work every day and seeing Freedom Square and the monument knowing your country has been free since 1991. Even I found it weird each time I walked through Freedom Square. Tallinn is supposedly the first place that ever had a Christmas tree and decorated, erected in 1441 in the Old Town square.
It was also interesting to learn more about Black Ribbon Day / The Chain of Freedom. The Chain of Freedom was a peaceful political demonstration that occurred on 23 August 1989. Approximately two million people joined their hands to form a human chain spanning 675.5 kilometres (419.7 mi) across the three Baltic states – Estonia, Latvia, and Lithuania, which were considered at the time to be constituent republics of the Soviet Union. In February 1990, the first free democratic elections to the Supreme Soviets took place in all three Baltic states and pro-independence candidates won majorities. On 11 March 1990, within seven months of the Baltic Way, Lithuania became the first Soviet state to declare independence. The independence of all three Baltic states was recognised by most western countries by the end of 1991.
It was a nice tour and as it was early evening now and the sunset was so early I headed back to the backpackers to keep warm. A few other backpackers had come back after their day trips and all the staff were relaxing with a few drinks. They hosted a party every Sunday night so a few of their friends from other backpackers came over to. It was nice to meet more travellers and people from around the world. I ducked out to grab a quick feed for dinner in Town Hall Square before heading back for a few more drinks. The restaurants in Town Hall Square were nice, though typical touristy restaurants in a tourist area overcharged and not great food. I should have made more of an effort to find a nice local restaurant down one of the side streets.
The backpackers did jager bomb specials on Sunday nights including a jager grenade (two jager bombs with a shot of vodka in each as well) and a jager nuclear bomb (three jager bombs with additional vodka shots) It was great fun, a good way to keep warm and to get the party kicked off. I met some nice English people who were from Essex living and working at the backpackers who were fun to hang out with.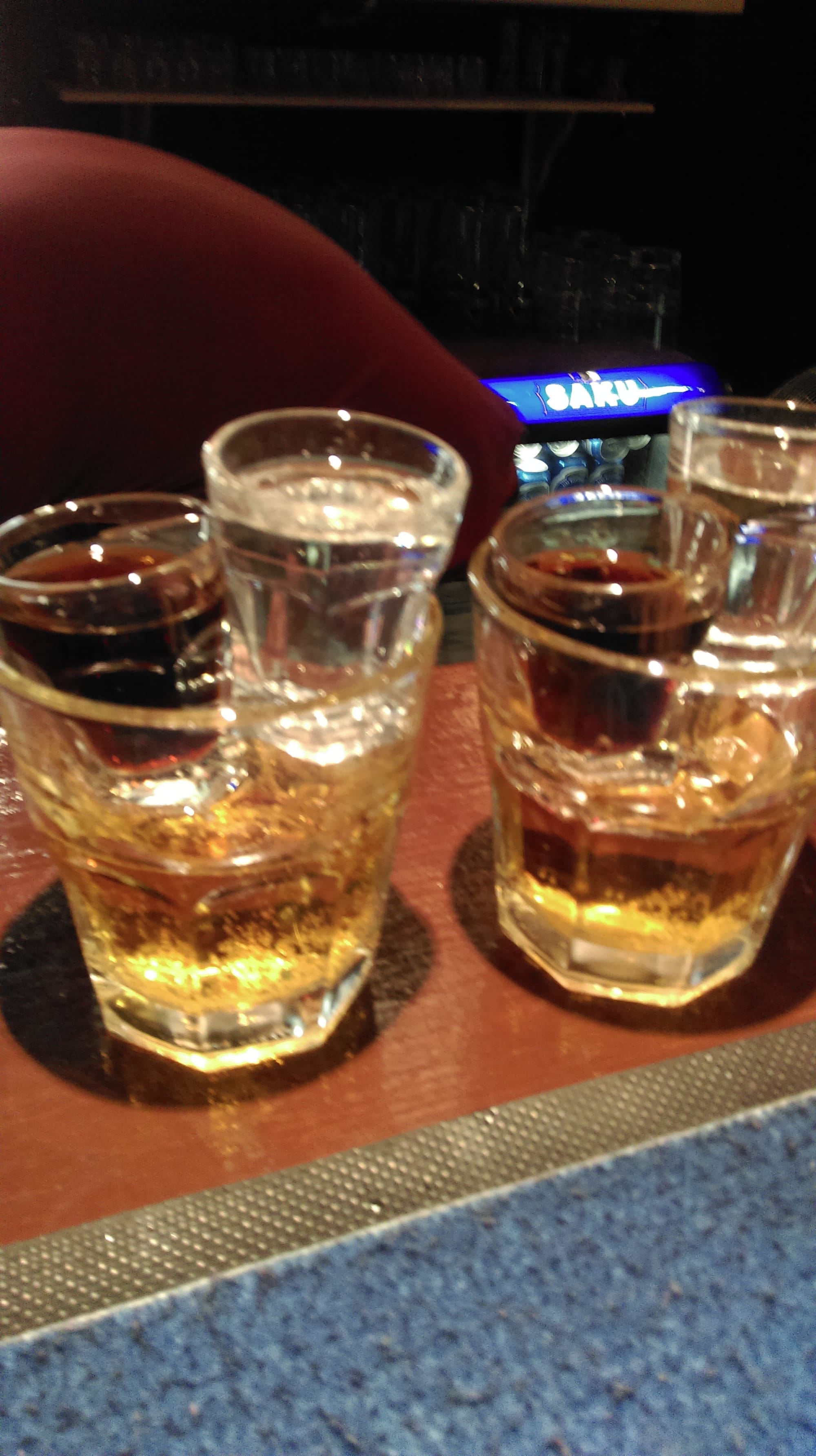 With a slightly sore head, I woke up and head back out to explore some other parts of Tallinn. Having done the old town I headed to the Old Town Hall and a walk along the harbour which were just outside the main city area. There wasn't much to see so I headed back to the Old town for lunch. I found a nice underground beerhouse called the Beer House (http://www.beerhouse.ee/) where I had some beer tastings and local meal of stew and potatoes.
There wasn't much else for me to see/do in Tallinn and being a Monday the nightlife was pretty dead. The backpackers was fun though it was pretty empty when I got back as people had left after the weekend. I thought maybe I should get out to Tartu sooner as I had heard it was a fun university town with lots to see any do. There was an afternoon bus so I packed up and headed off a day early.
I arrived late into Tartu and was staying in a guesthouse where the owner was a professional extra in TV shows and movies. So most of the year he was travelling around Europe from set to set. He had been a lead extra in Game of Thrones for many seasons so spent much of his summers in Croatia. Was cool hearing about his stories with the cast and crew and what they got up too when the camera was off.
The next morning I went for a walk through the university as it is one of the oldest universities, founded in 1630. It was a beautiful campus with lots of tradition. Though like Tallinn there was not much to do/see during October and especially on a Tuesday.
I had heard there was a famous nuclear bomb shelter in Tartu that was turned into a pub, deTolly õllebaar, that was a popular place to hang out. It was a fun beer house with hundreds of beers and local food. I enjoyed doing a beer tasting and having some local dishes.
Wednesday arrived, I went out for a walk around the small town though with not much to do I decided to pack up early again to get a train to Latvia that afternoon.
Looking back I should have stayed in Tallinn to hire a car and done some day trips to the smaller towns on the coast like Parnu, Silamae, Haapsalu, Virtsu, and the islands in the west. This would have been far more enjoyable. However, being October and mid-week there was never going to be much to do other than some walks around the old towns. If I had come in summer there were some great hikes and national parks to explore and during winter the Christmas markets open up. I was just there at the wrong time.
Estonia is a beautiful country and I am glad I got there to see parts of it while learning more about is history.