It was my 30th birthday and time to plan some celebrations with friends. Living in London the tradition is to jump over to Europe for a weekend trip with friends. I have the pleasure of sharing my birthday with one of my closest friends, Dan. It was my cousin Danni's birthday in June, so the three of us were able to celebrate together.
Earlier in the year, we had settled on Turin in Italy as our destination. Nice wine region, good weather, and reasonably close to the beach. We would use the second long weekend in May as our weekend to escape for the celebrations. This fell on Phil's birthday so it gave us one more reason to travel. There was a fun crew travelling, 12 of us all together.
Tess, Dan, Ro, Maddy, Phil, Johhny, and I travelled together and the others had different flights coming in at different times. We met at the airport for a few morning beers before boarding our flight. It was a quick flight over to Turin and we arrived with no dramas. I always love flying from London across northern Italy as you get so close to the Southern Alps for some amazing pictures from your seat. We caught a taxi to our Airbnb which was, Villa Cappuccino, Corso Giovanni Lanza, 52, Torino, Piemonte 10131, Italy. It was a great location on a nice hill overlooking the city with a 10-minute walk into the town centre. We dropped our bags off and headed back into town to wait for everyone.
We found a nice restaurant in one of the local piazzas with outdoor seating in the sun. It was such nice weather so we needed to soak it in with a cold drink. A few people had since arrived and the others were taxiing over from the airport. It was a great way to start the long weekend just enjoying fresh Italian food, wine, and prosecco under the Italian sun. Slowly everyone arrived throughout the day.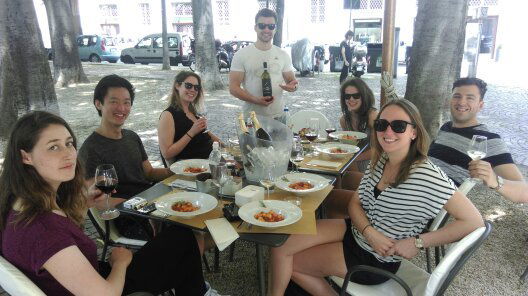 Once everyone arrived we headed back towards our villa for everyone to drop off their bags and for us to buy some food & drinks for the house. The villa had two large balconies and a rooftop that we could enjoy. We dropped our bags off and then went for a walk around the city to take in some of the sites of Turin.

Turin is the capital city of Piedmont in northern Italy, known for its refined architecture and cuisine. The Alps rise to the northwest of the city. Stately baroque buildings and old cafes line Turin's boulevards and grand squares such as Piazza Castello and Piazza San Carlo. Turin was the first Italian capital from 1861 to 1865. The city is located mainly on the western bank of the Po River, in front of Susa Valley, and is surrounded by the western Alpine arch and Superga Hill.
There was a walking tour in the afternoon so a few of us joined the walking tour and others just enjoyed relaxing. It was nice to learn about the history of Turin and some nice local spots for food and drinks. We learnt that the Shroud of Turin was kept at the Cathedral of Turin. The Shroud of Turin is supposedly the cloth that Jesus was wrapped in after his crucifixion. Many thousands of Christians come to Turin each year to see it. There has been carbon dating that shows the cloth is only a 1,000-1,300 years old and the existence of the shroud was first securely attested in 1389 or 1390 when a local bishop wrote that an unnamed artist had confessed that it was a forgery.
That night we booked a table at one of the popular pizzerias for dinner. It was such a fun night getting out with everyone and just soaking up the atmosphere of Turin.
We woke up to a beautiful sunny day on Saturday and decided to catch the train for an hour to Finale Ligure on the Mediterranean. Despite being an hour on the train, it was so worth it! Such a beautiful coastal town with amazing beaches. We were all a little dusty from the night before though the sun was shining and cool saltwater woke us all up!
We found a great spot on the beach and settled in for the day. Around mid-afternoon, we found a nice bar for a few refreshing drinks and lunch in the sun before we started to head back to Turin. It was such a great day just relaxing in the sun at the beach together.
It was Phil's birthday and I had planned the day before for a cake to be made for him from a local bakery. When we arrived back in Turin the others headed back to the villa while I went to pick up the cake. Dan and Ro had stayed back in Turin for the day to enjoy some time together. They had started cooking dinner and Ro had mixed up a great tropical punch which definitely had an Irish kick to it to wake us up after relaxing at the beach all day.
We had an awesome dinner on the balcony just chatting away and relaxing in the summer night. We all dressed up again and headed out to town to the summer club at the botanical gardens. During the summer months, the botanical gardens hosted an open night club which was so much fun. It was great to be dancing under the stars and enjoying the fresh air with friends. We did feel a little old there, as many of the garden party revellers looked around 21 years old though we had a great night!
As the club closed for the night we made our way home together which made for some great laughs and impromptu photo shoot at the local roundabout near our villa was definitely one of them.
Waking up with a sore head but plenty of banter we had a fresh breakfast on the balcony before wondering up to the rooftop of our villa to watch the final day of the Giro d'Italia. It was the 99th edition of the Giro d'Italia and the final day of racing was in Turin. The final stage in Turin was a sprint day of racing circling the city, the total distance was 163km and from memory it was 10 or 11 laps of the Turin circuit.
We really enjoyed just relaxing on the rooftop watching the race, entertainment, music trucks, and spectators on the streets below us. Nikias Arndt from Germany won the final stage and Vincenzo Nibali from Italy took out the Giro d'Italia 2016. It was great to see a local win.
It was the first time for many of us to watch a live cycling race, I had never thought much of it but it was good fun. Plenty of people out on the streets and very much a festive feel.
We were all pretty tired from a fun few days so took it easy that night. We all enjoyed another night just relaxing on the balcony playing cards and board games. It was just so nice to relax together before heading back to the craziness of London.
Turin is a fun city though very old. I wouldn't rush there if you are a younger traveller, stay closer to the beaches or visit other cities in Italy. We had a great time and it will always be the city I enjoyed my 30th with close friends.