Hamburg 27 – 29 June 2017
For anyone who knows me, I am a massive hip-hop head and I love the Hilltop Hoods. The Hilltop Hoods are an Australian hip-hop trio from the Adelaide hills.
My parents were coming over to Europe for a work trip and added on some additional travel on while they were over so we had planned for me to meet them in Vienna for a weekend. This weekend trip, unfortunately, fell on the weekend that Hilltop were coming to London… the dilemma begun.
Being a massive Hoods fan I couldn't miss them when they came to Europe. I have seen the Hoods in Australia a number of times, they are a household name who sell out stadiums, headline festivals, and have an epic backing support, it is a big show. Though I really enjoyed seeing them in London as they had a smaller fan base and played at smaller venues 300-400 ppl max usually with no backing support. It was a purest experience to see them in small venues. I loved that small venue experience that the Hoods gave as it was so much more personal, especially with their energetic show that they bring! I looked up their European tour and saw they were performing in Hamburg on Wednesday 28 June and tickets were only €15. I had never been to Hamburg and had heard some great stories from friends who had been. Perfect, a new city to explore and I get to experience one of my favourite bangs in a foreign city!
I looked at flights and found some cheap flights, a backpackers close to the venue booked, my manager approved my leave and boom I was off! Dilemma solved!
I flew out Tuesday evening after work, checked into my backpackers, being a Tuesday night it was pretty dead. I was staying in the university district which was really cool and creative. Hamburg was hosting the G20 summit in early July so there was plenty of street art, posters, and gatherings protesting the G20 and old mate D Trump coming to Hamburg. I really enjoyed going to one of the local uni bars, it had that German grimy feeling, the beers were fresh and the food was hearty.
The next morning I woke up to a sunny summer day in Hamburg. I wondered down to the port as it is the largest port in Europe. Was just immense! I wondered through the city and old town to just take it all in and pick up some breaky.
The downtown is pretty basic but nice to wonder around with some nice parks. Though my main goal for today was going to Hamburg Miniatur Wunderland (https://www.miniatur-wunderland.com/), Hamburg Miniature Wonderland. It is this epic three (3) stories miniature world, it was massive and just so cool. I was back being a kid for a few hours. They had a miniature Hamburg, many famous European cities, global cities, and sites from around the world. The attention to detail and little stories that were built into the miniature cities representing daily lives in each city was so amazing. Some trains went across whole continents, planes took off, flew around, landed and taxied to their gate. The sun rose in some cities while others had night-time experiences which continually changed as if the sun was rising and setting around the world.
They provided me with a little piece of paper when I entered that was 10-12 scenarios that I needed to find built into the wonderland such as a couple having sex on the beach in Hawaii, it was like a Where's Wally 3D experience finding all the hidden characters across the 3 floors. Was so much fun.
It is fair to say that I spent a few hours in there just getting lost in the detail and amazing creativity. I loved it! Highly recommend you get along to check this out when you are in Hamburg!
It was mid-afternoon and I was definitely hungry and thirsty. There was a local German pub/brewery Groninger Privatbrauere (https://www.groeninger-hamburg.de/) just around the corner and it was a perfect pit stop for some traditional German food and local beer.
After a great meal and doing some beer tastings, it was time to catch the sunset before heading back to the backpackers to freshen up for the gig.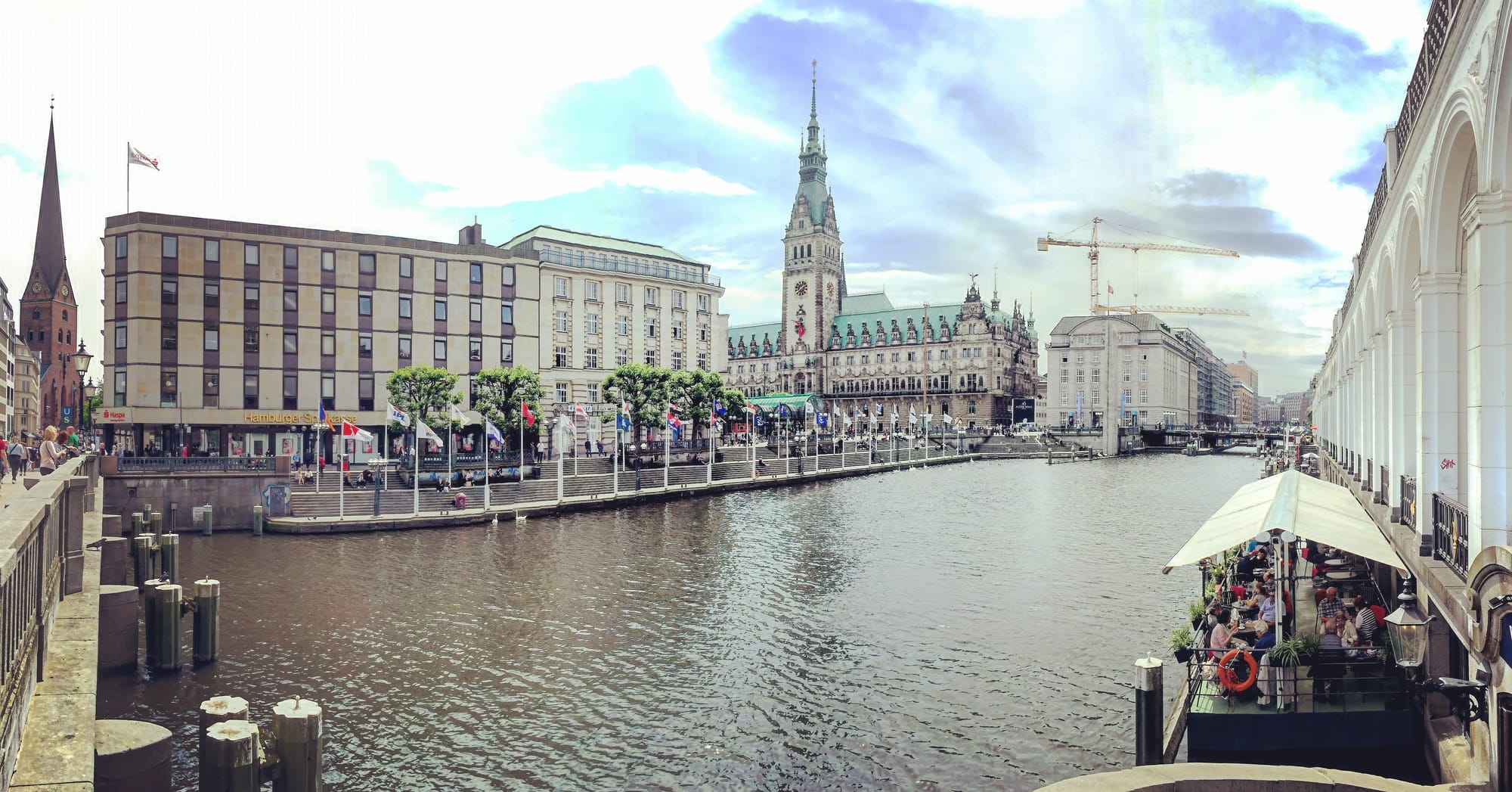 Hilltop Hoods were playing at Mojo Club on Reeperbahn 1, 20359 in the St Pauli district. The St Pauli district is known as one of the best nightlife/party districts in Europe. I went down early to have a few beers and explore the pubs before the concert started. It definitely had that German grimy but cool feel, even for a Wednesday night it was busy. Everyone was really welcoming and chatted to me which was fun to meet some locals. None of them had heard of the Hilltop Hoods or Australian hip-hop.
I wondered over to Mojo Club and made my way to the front of the stage on the bottom floor. It was standing only and getting busy. Was great to see a full club in Hamburg to experience an Australian hip-hop group! I met a middle-aged German couple in their mid-50s who had come across the Hilltop Hoods at a festival in Australia when they travelled there and fell for them. It was awesome to hear our some of the locals had come across the Hoods and their experience. For some, this was just their first time experiencing the Hilltop Hoods and they just wanted to check out some live music.
It was such a weird experience being in a foreign language country and hearing the German crowd sing along to all the Hoods songs and getting involved. Again it was only 300-400 people in the venue though was just so awesome see how music brought us all together. I loved the concert and it will go down as one of my favourite music experiences due to the uniqueness of seeing an Australian hip-hop group connecting with people from Germany in Hamburg. Such an awesome experience! For Cosby Sweater supporters ran up on stage topless singing with them!
Unfortunately it was all over but so much fun! I ducked out for one more beer to finish the night though I had an early flight and was going straight into work the next morning.
Typical…raining in London on a summers day so we were delayed departing from sunny Hamburg. I got in an hour late though survived the day of work before crashing early that night!
I had such a great time in Hamburg. I didn't get to see all that it has to offer though really enjoyed what I did experience. Anyone who is going to Europe definitely add it to your list as a fun small German city to check out for a few days. The nightlife was awesome and so many cool experiences to have during the day!
I am so glad I made it to Hamburg for a mid-week escape to see the Hilltop Hoods in Hamburg!