Honduras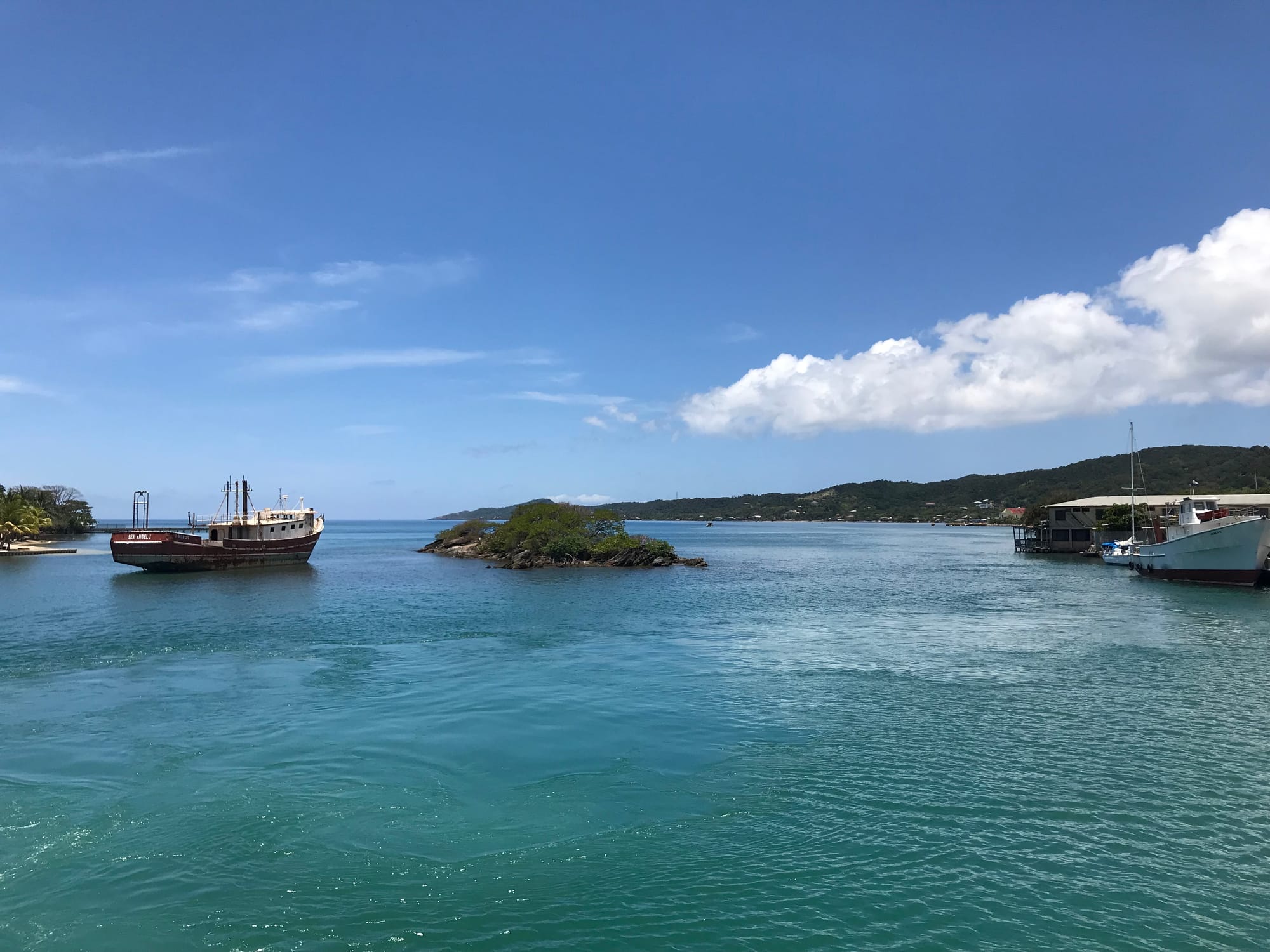 Waking up early for a long day of travel ahead. Firstly, I caught the ferry from Livingston (Guatemala) to Puerto Barrios (Guatemala) where I was picked up by a shuttle bus booked through my backpackers. From there we drove to La Ceiba on the border of Guatemala and Honduras. When at border control you will need to have Honduras currency to pay for the visa check point. Do not use the locals trying to give you an exchange as they will rip you off.
It took a little longer than expected however just a process you need to go through.
We arrived in Ceiba in the afternoon and made our way to the harbour to catch the ferry over to Utila. I didn't have accommodation booked and after two long days of travelling and one bad night wrapped around the toilet seat after being sick I decided to treat myself to a hotel for a night. I stayed at Coral View Beach Resort, it was a simple room which was cool and had WIFI. The owner was incredibly kind and understanding that I was not in my best form after 48 hours travelling and being sick.
I wish I had stayed in Livingston for an extra day or two, to back up two days of travel on small cramped busses was tough. I had met some nice backpackers there as well which would have been fun to spend some time with. Though sometimes in these parts of the world it just needs to be done. However, I should have check the weather before I left…the next few days were heavy storms.
After an early night and great sleep I was up early for my complimentary breakfast and checkout. I met some fellow scuba divers on the ferry to Utila and they were staying at Parrots Dive Centre (http://www.parrotsdivecenter.com/). It was a nice set up with lots of tourists doing their dive courses or studying to become a dive master. Many of the dive centres have accommodation and you stay for free if you dive each day. Otherwise it is still pretty cheap, $10-$15 (USD) a night.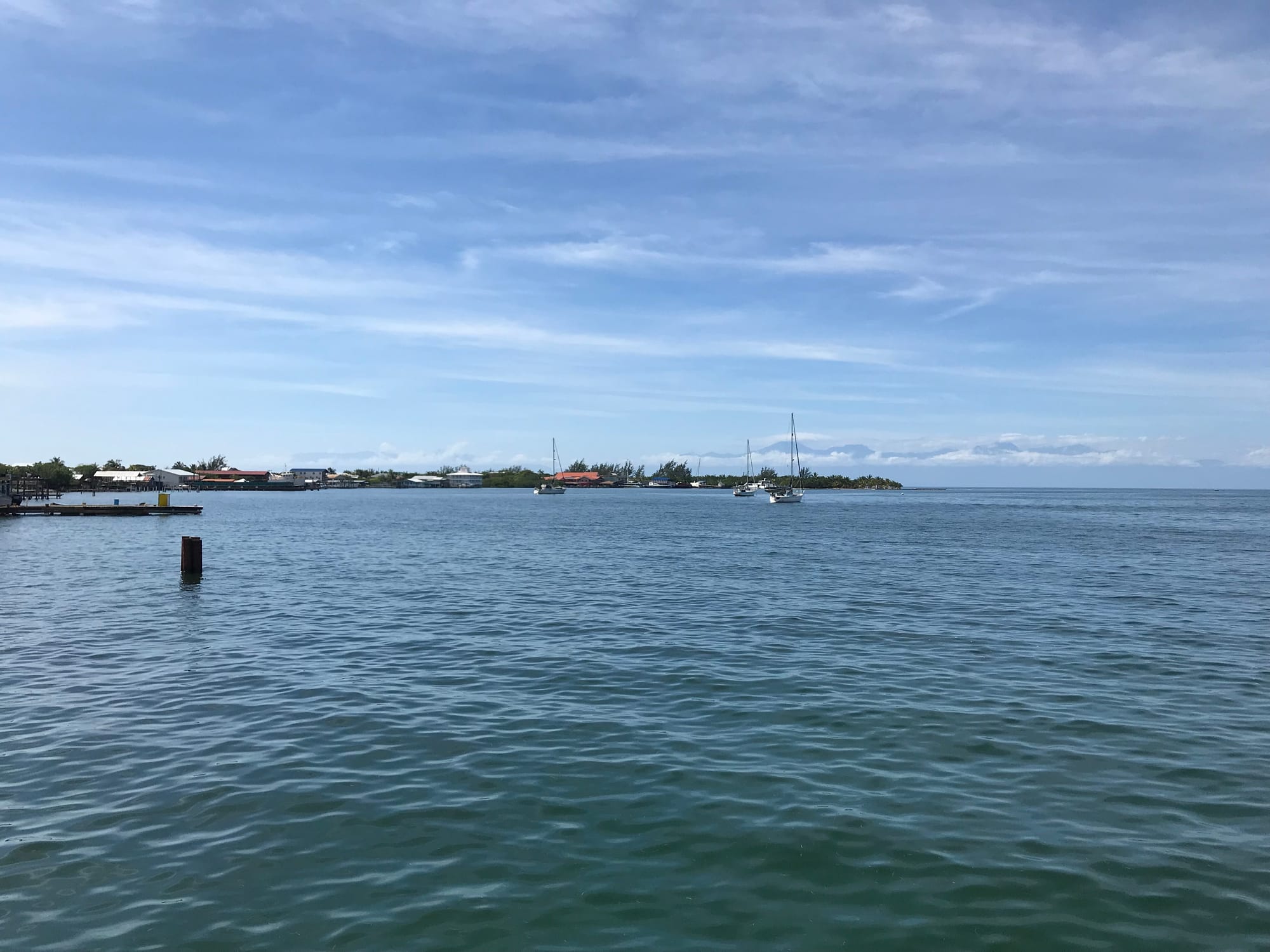 I was rooming with two English girls who were learning to dive for their first time which was nice. Unfortunately, the weather started to take a turn for the worse with overcast and windy conditions arriving on the second day. I went out for one dive in the morning however the conditions were not great for diving, the current was strong and with the strong winds the water was choppy and murky, not making for a pleasant dive. The afternoon dives were cancelled as a big storm rolled in.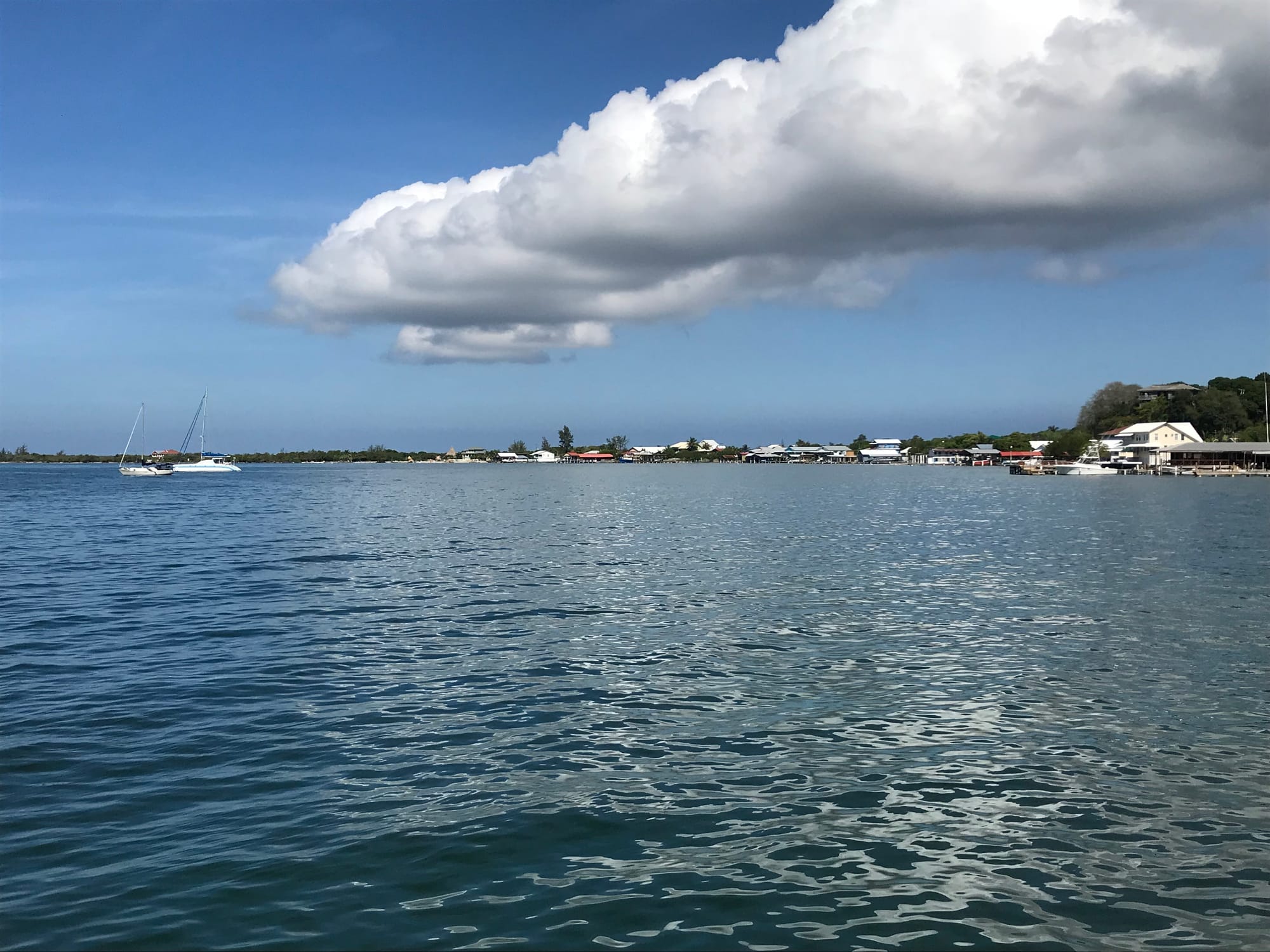 The rain was so heavy the streets were flooding, and no one could go outside. The drinking and card games begun, and it was a fun way to catch up with all the divers. With all the rain the insects started coming inside which included all the sand flies. Not even the strongest insect repellent would keep them away. If you left your bedroom door open it resulted in a frustrating night ahead! The rain did not ease off for a few days and being concealed to an indoor life did get tiring for all. A few dives were organised when the rain stopped however I didn't want to waste money on diving in the poor conditions. I was a bit annoyed as the dive instructors tried to pressure people into diving but we all knew the conditions were not worth our money. We did manage to make it out to some beach parties which had fun live music and dancing however were cut short when the rain poured down. One morning I was able to do a lap of the island by foot, which I wouldn't recommend, there isn't much to see outside of the town centre. It is sad to see such a beautiful island covered in rubbish away from where all the tourist stay.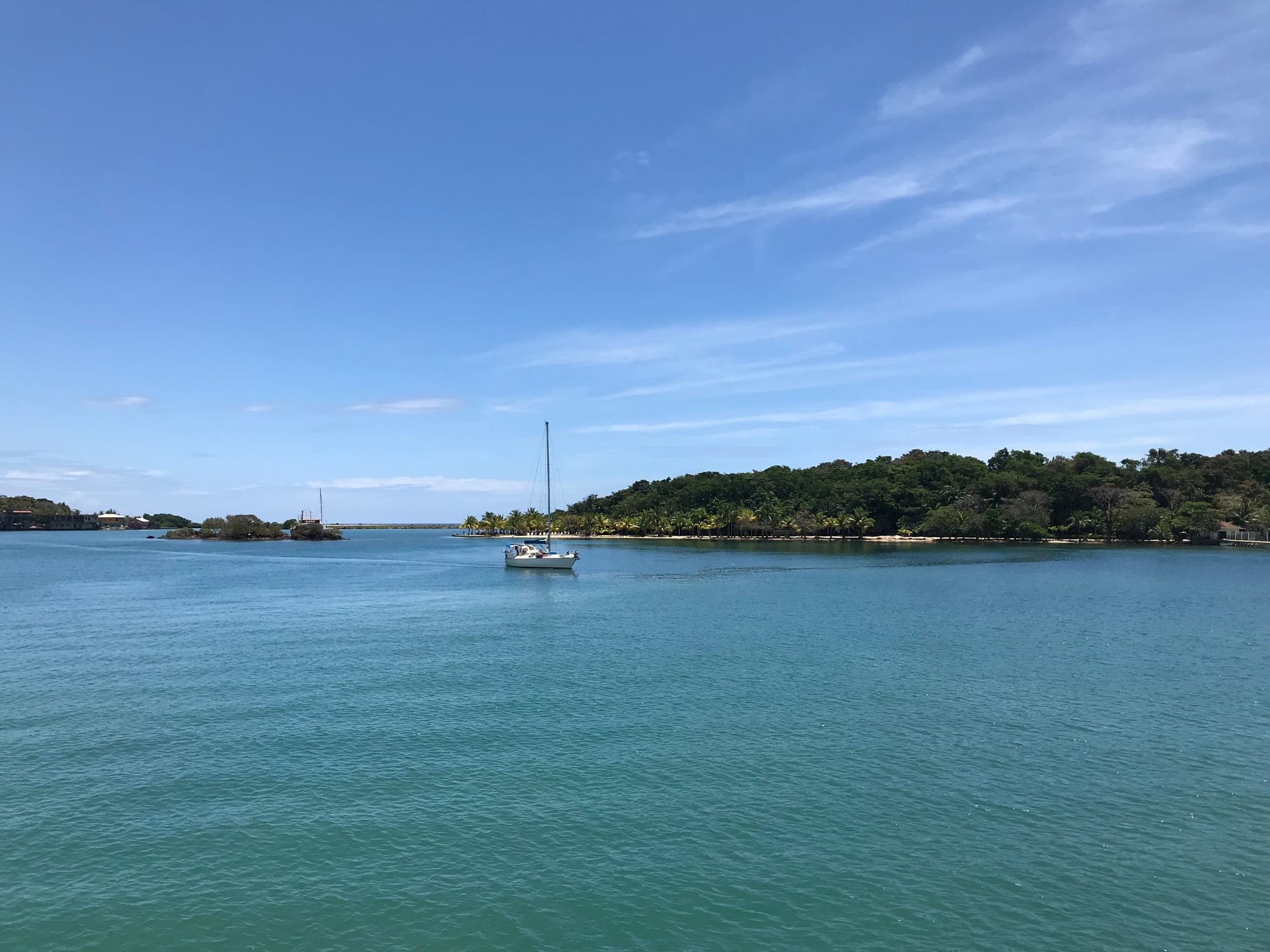 A friend of mine, Nikki, who I met in Guatemala was staying in Roatan Island and the weather was better out there. Roatan Island is about a 45-minute ferry from Utila. I was getting a little tired of the sand flies and rain, so I decided to get the next ferry from Utila to Roatan. The ferry and all flights had all been grounded until the storm cleared so I needed to wait. On my last day I met a couple who had suffered mercury poisoning when they ate barracuda fish in Utila 8 months earlier. They were unable to travel for 8 months and had to be grounded in Utila with regular medical check-ups and support until they were safe to travel. This just reminded me that you really need to be careful when eating in this part of the world. You can't always trust the local restaurants to cook/prepare food (especially) seafood correctly. Barracuda is known for mercury poisoning and should only be eaten certain times of the year and when prepared correctly. The couple mentioned that the restaurant was selling barracuda fish fillets under a different fish name to sell the fillets to mislead customers. They discovered other patrons of the restaurant suffered mercury poisoning from the same restaurant from that time.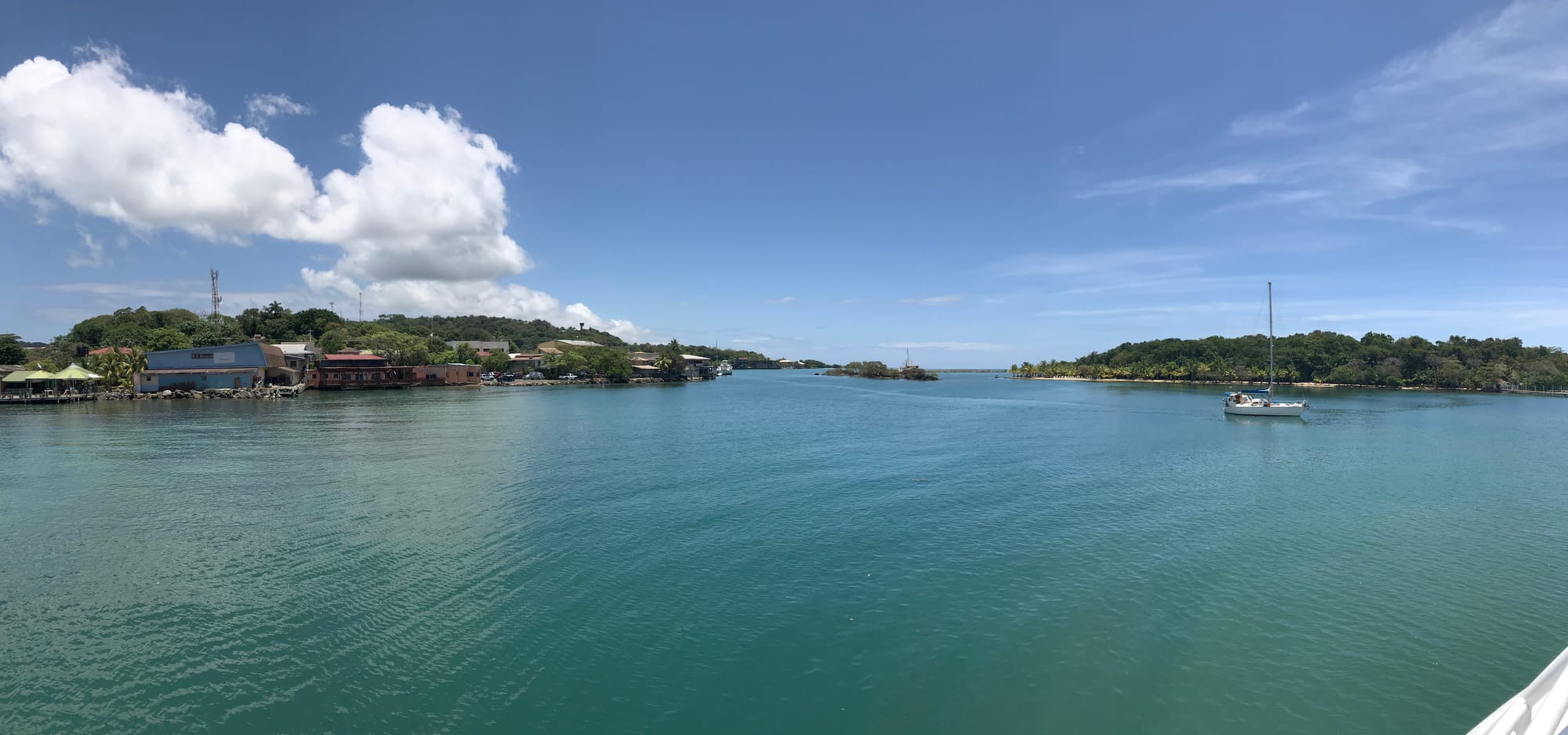 As the weather cleared I was quick to jump on to the next ferry out of Utila. I felt bad as the sun was shining and it looked like a beautiful week ahead though the storm and flies impacted my experience at Utila as five days of rain and not being able to do anything just didn't really allow me to enjoy what the island offered. I just wanted to get off the island.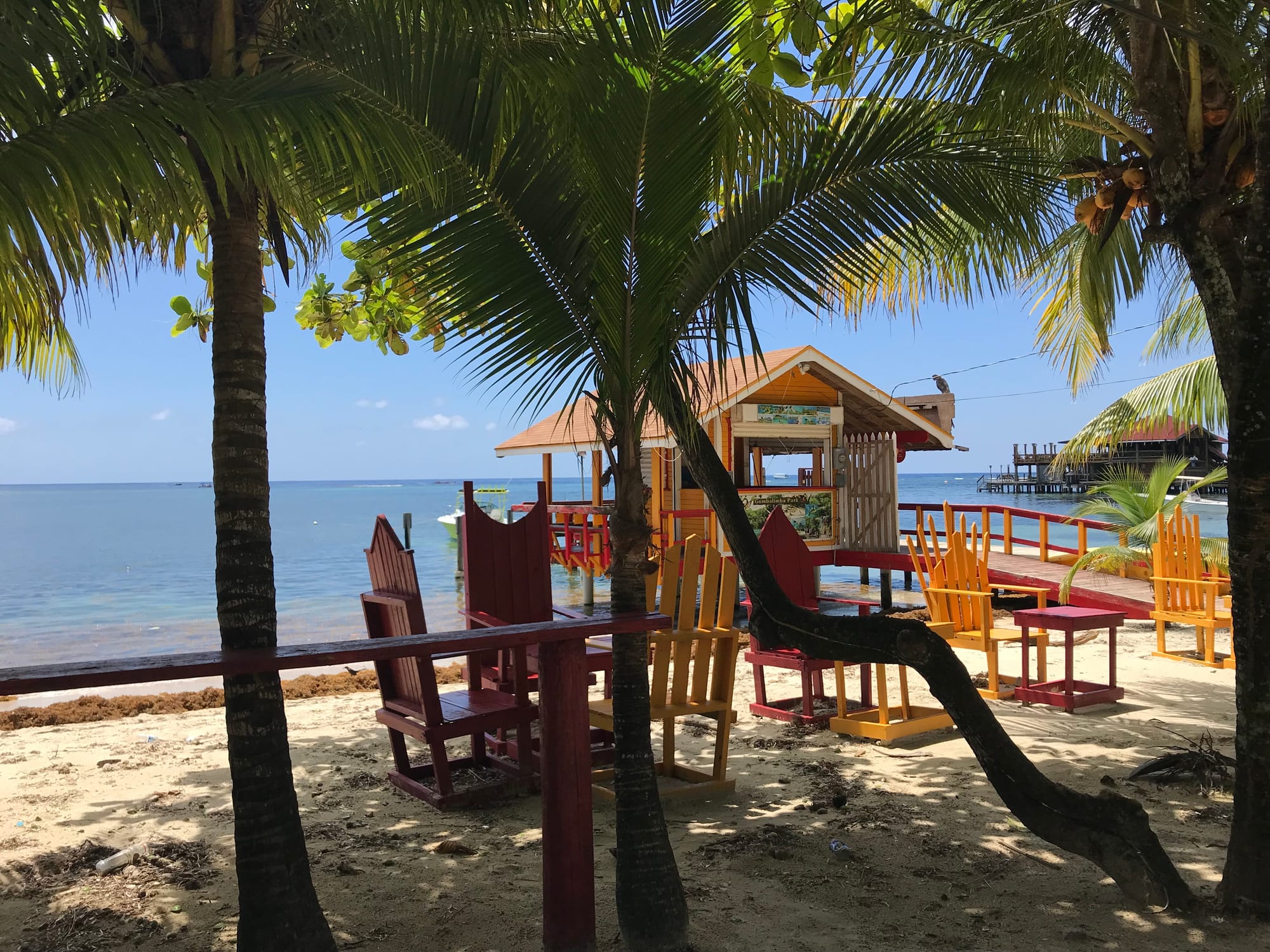 The ferry over to Roatan was fine though the sea was still a little choppy. Though arriving into Mahogany Bay, I needed to get over to the other side of the island to where I had booked a place to stay. I ended up walking for a little to find a taxi. The taxi was not cheap! Roatan is a much nicer more developed island compared to Utila. The dive centres, restaurants and hotels were much nicer if that is what you are looking for. I'd say Utila is more for the backpackers and younger travellers. Roatan was much welcomed by me after a rough few days with sand flies everywhere.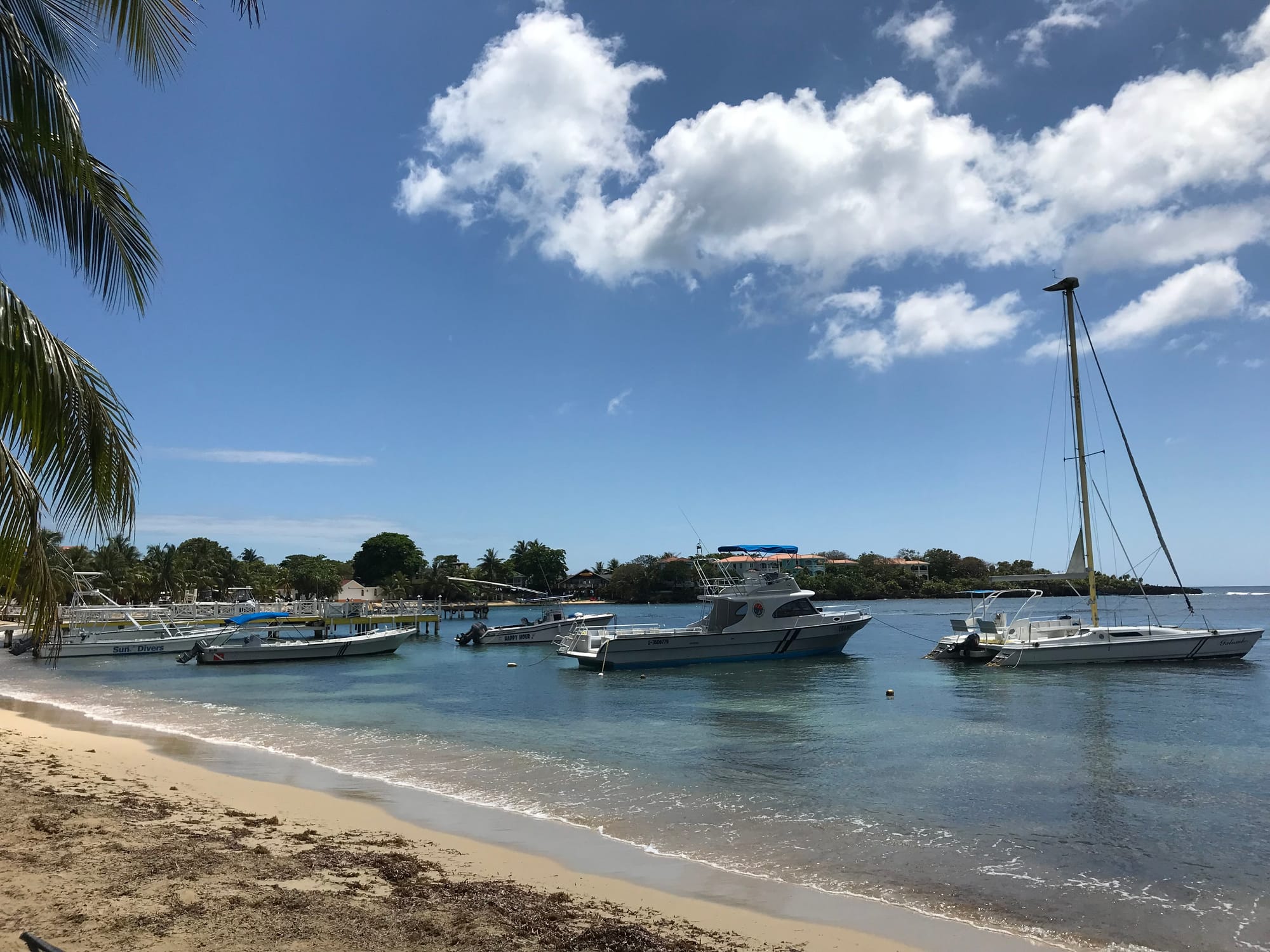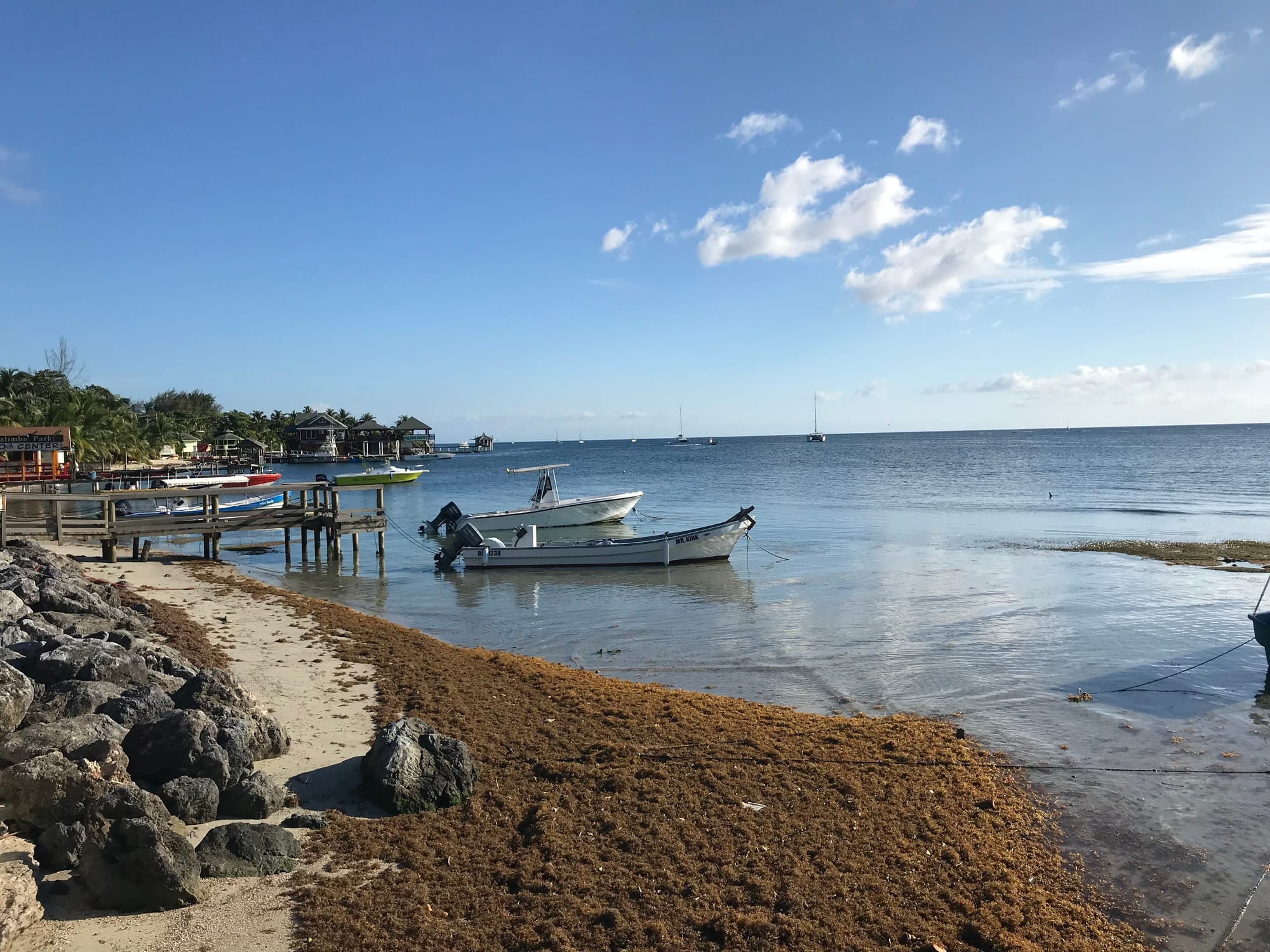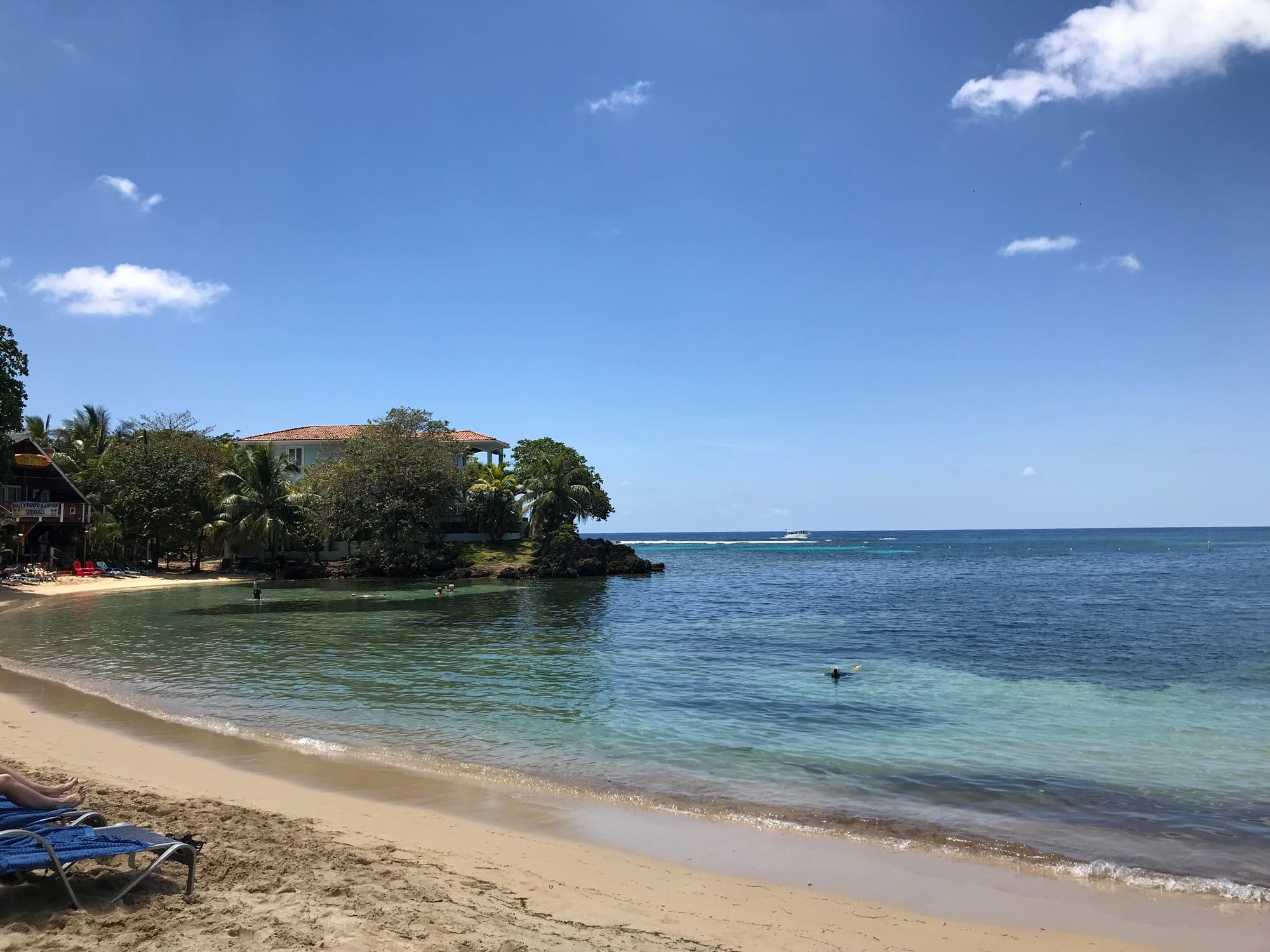 Nikki was out diving so I was able to explore some areas of Roatan during the day before she returned in the afternoon. I had booked a flight from Roatan to Belize City the next day, it was a little expensive, though I was tried and not ready for another 24 hours on ferries and buses. It was great to catch up with Nikki, she is such a fun outgoing American who always makes me laugh. I wish I had stayed longer in Roatan to go diving and fishing though I think mentally I was just done with Honduras and needed an escape plan.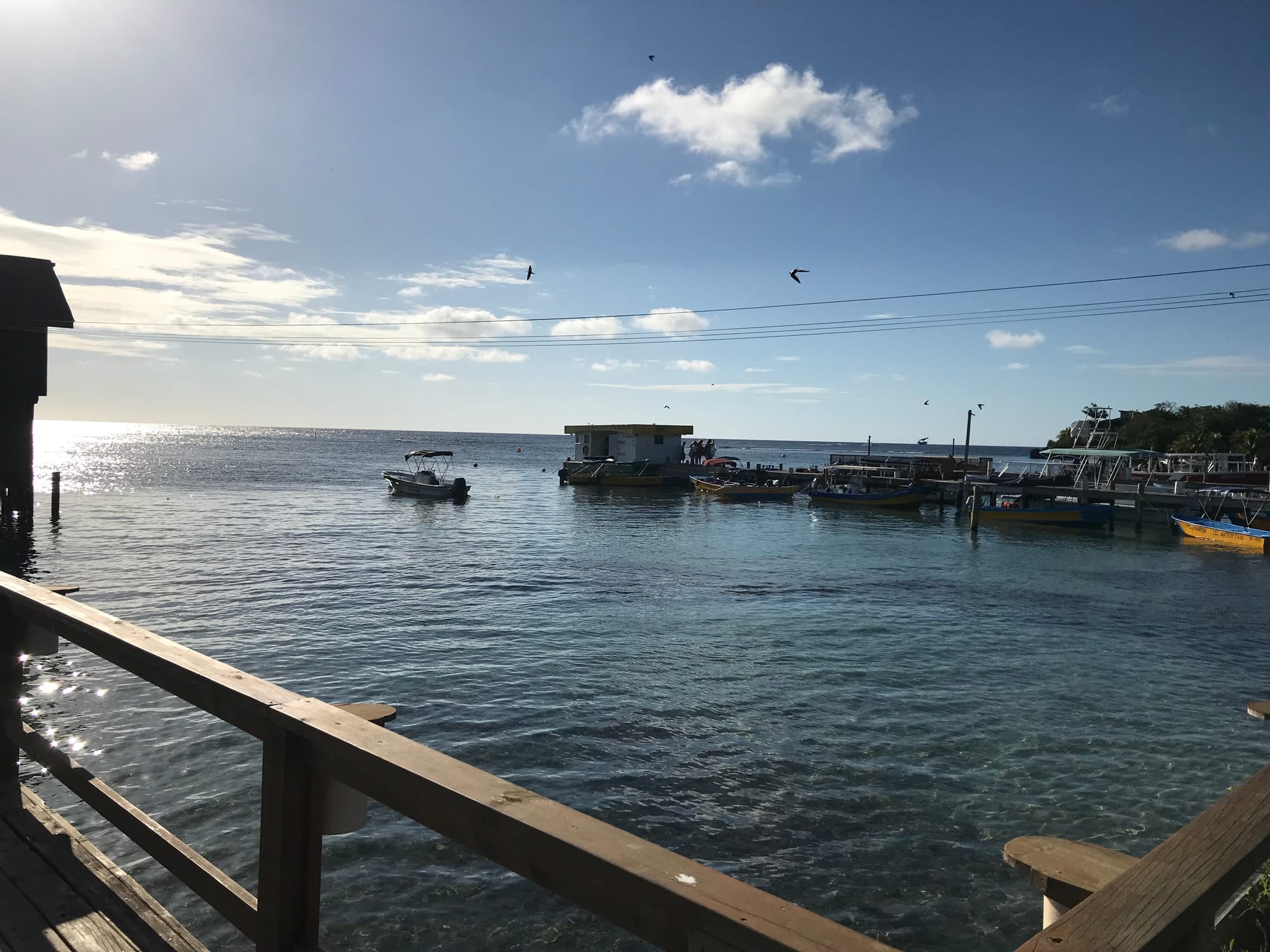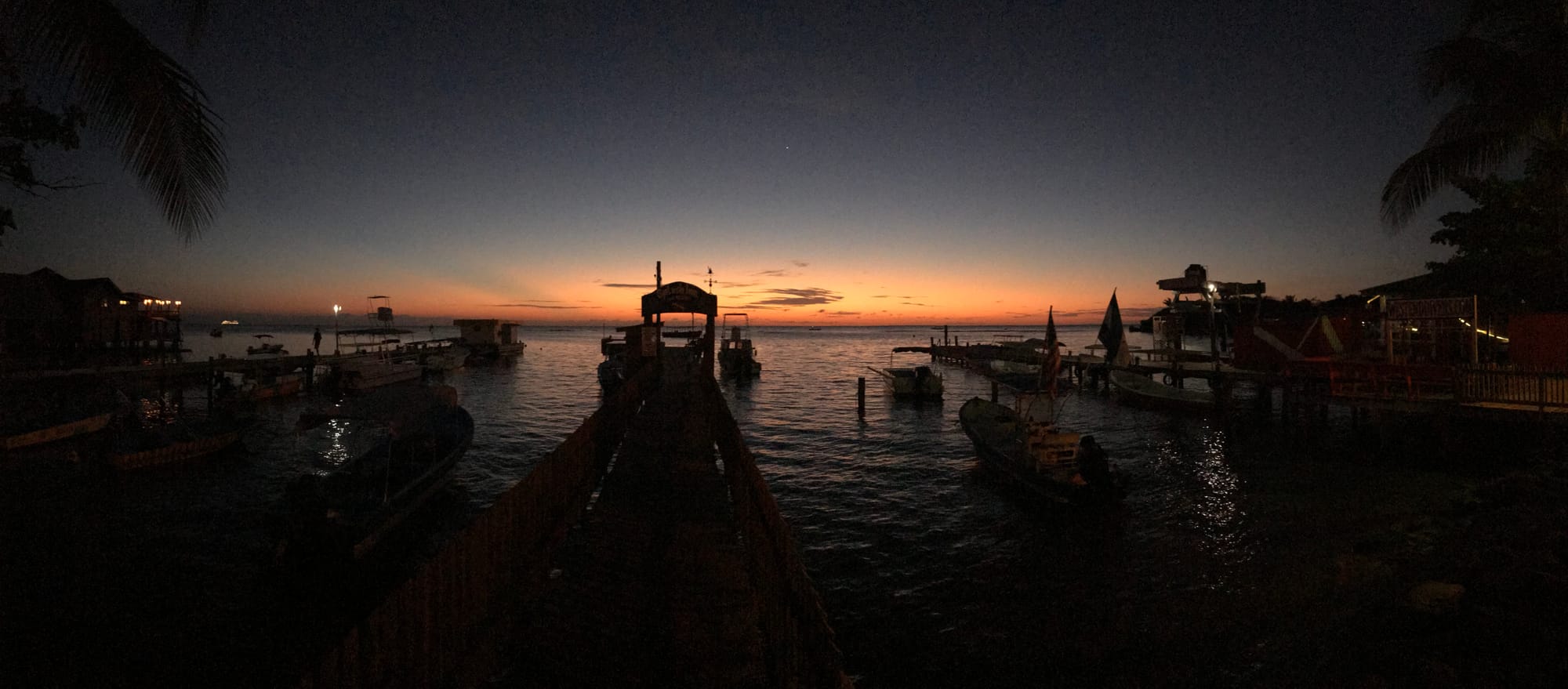 I boarded my twin propeller sea plane early in the morning and had a magical flight over Roatan across the Belize Barrier Reef and into Belize City. The views were just incredible. Beautiful blue skies and the colour of the tropical water was just amazing. I would highly recommend the flight to everyone despite the cost, it was one of the best 45 minutes of flying I have experience.