While living in London I had some house viewings in 2015 when my old housemates were moving back down to Taunton. I met a really nice girl, Kasia, at a house viewing in South Hampstead. Kas was moving to London with her the boyfriend (now married) from Canada for work. We ended up chatting away and not really paying much attention to the house viewing. Despite our not so best efforts Kasia ended up getting the room over me…I still say it was because she bribed the other tenants with flowers! Regardless we became good friends and still are today.
Kasia and Marty (her bf, now husband) are big skiers and each year they had a ski trip with their friends from Canada as an annual reunion. Phil and I had become good friends with Kasia and Marty and were invited along for the 2016 Ski trip to Tignes le Lac in the French Alps. All we knew was that there was a group of around 20-25 people in total with about 15 flying in from Canada and we were meeting them in Tignes le Lac where we had a massive mountain lodge booked for everyone. Kasia organised the London people travelling over to catch the overnight Euro star to Tignes and then we would catch a bus from Tignes up the mountain to Tignes le Lac. Phil and I were happy to just go with the flow as Kasia had done such an awesome job organising everything. Kasia had also organised for us to have a night at Les Arcs 1800 after the ski trip and on the way back to London to break up the trip.
We were added to the Facebook group where we learnt of the 'Dictator'. Each year the group appoints a Dictator to organise and run the ski trip. The Dictator chooses a location and organises the key elements of the trip. We all pay the Dictator a sum of money for the costs of accommodation and the excess money is used to buy food and drinks during the ski trip. Any excess money at the end of the trip is passed back to everyone. It was so well organised and run! Marty was the Dictator for this year's ski trip.
We all voted on locations and lodges with the majority vote winning. Phil and I kept pretty quiet as we didn't know many people on the trip and were just excited to be involved. Let the experts do their thing!
Friday 5 February 2016 rolled around and the London contingent were meeting at Kings Cross Station after work to catch our train. Marty, Kasia, Michelle, Marty, Phil, Sarah, and Breanna all had their own ski/snowboarding gear so catching the train made it easy for them to bring everything along. The train was pretty full of people heading to the slopes so there was ski and snowboarding gear all over the train. We found a cabin that was pretty empty and locked in for the long overnight train ride ahead. We enjoyed a few drinks and snacks before trying to get some sleep. A few cabin parties were going on in different cabins and the train chairs did not recline or allow you to move the armrests, so it didn't make it conducive to getting a good night sleep. I think I barely managed a few hours for the 10-12 hour trip.
We arrived in Tignes in the morning and gave some ugly stares to the people in the cabin next to us who had been partying all night with the music raving. Once we got our stares out of the system the excitement of being in the French Alps took over. It was so beautiful in Tignes with the snow-covered peaks above us and the beautiful countryside surrounding the train station. We cleared customs and headed over to a café for breakfast and to wait for our bus. The wait wasn't too long, and we were happy to start heading up the mountain.
We arrived up at Tignes le Lac and caught the local shuttle bus that dropped you off at your lodge. I think we were the first people there from memory as the Canadian contingent were all driving in from Lyon, Paris or Geneva. We dropped our bags off and went back to the town area to get a feel of the mountain, restaurants, get our ski passes, and for me to book into some ski lessons and rent ski gear. We stopped off for some beers and lunch in town which was so nice to just relax and take it all in while we waited for the rest of the Canadians to arrive.
So at the point in time, I had never skied before. I had always wanted to learn how to ski though my mates in AU would always go during the AU summer to Japan and I couldn't go as I was always playing cricket. Before the trip to Tignes, I went and did a 3-hour lesson at an indoor ski centre just on the outskirts of London to just get a feel for what it was like to be on skis. For any new skiers out there, I didn't take much away from this 3 hours class other than just the feel of sliding around on the snow and how slippery it is in skis on the snow. We practised on a 15-20m ski run which didn't really give you much chance to get a feel for skiing as once you started you had only a few seconds before trying to figure out how to stop or just crash into the net at the bottom. However least I had learnt how to put my skis on and had a feeling for being on the snow.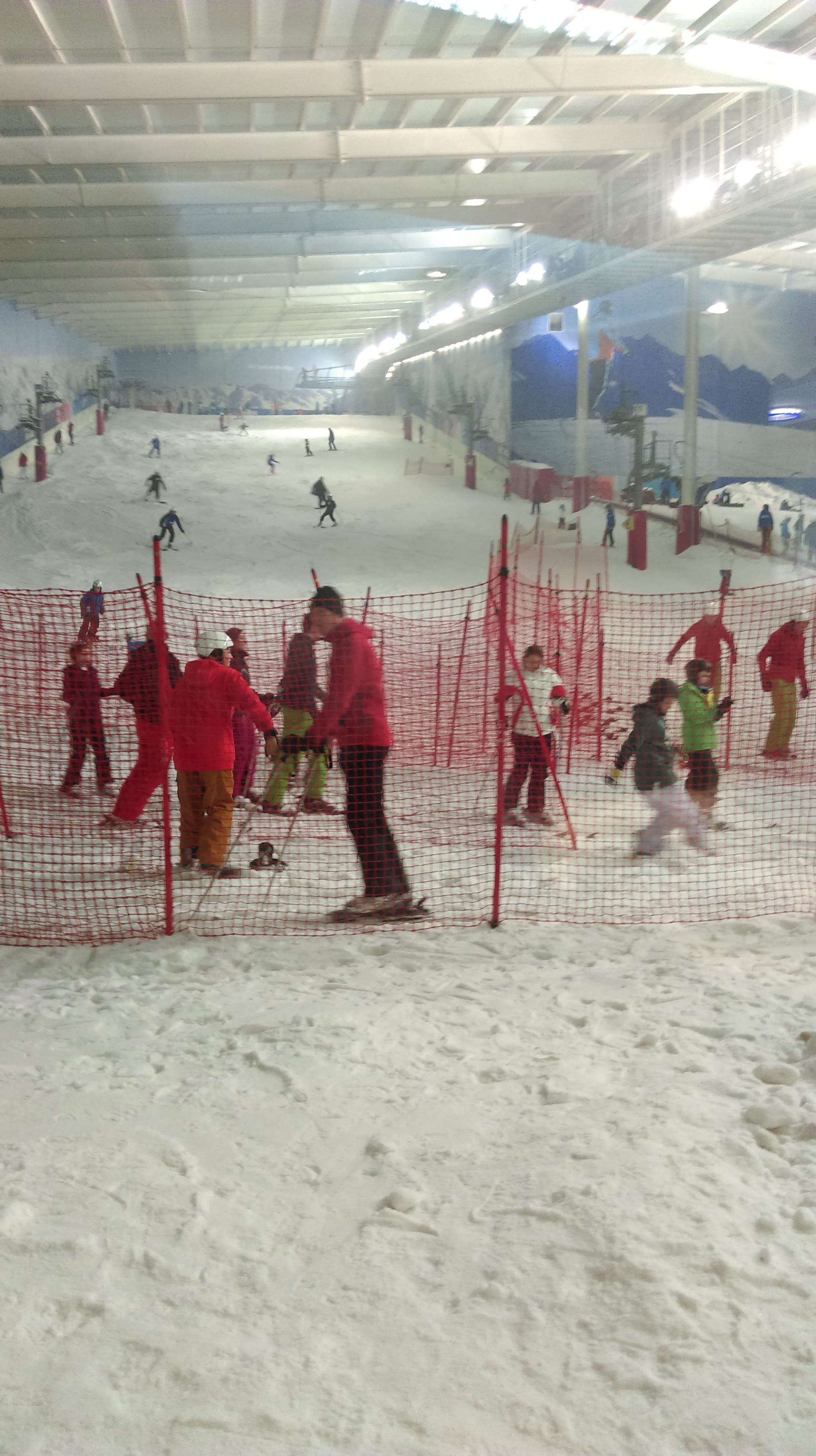 I booked five 3 hour group lessons for beginners in Tignes le Lac, they were each morning from Sunday from 9am – 12pm each day. I got my rental skis, poles, ski boots, helmet and ski pass sorted with everyone else before we headed back to the lodge. By this time more people had arrived with tales of their road trip up the mountains and how the rental cars had not provided them with tyre chains to survive the icy roads. Being an Aussie this was just so foreign for me, we are more worried about having enough water in your car when you cross deserts rather than tyre chains for icy roads.
It was great to meet the rest of the crew as we had all been chatting on FB for months. Phil and I being newbies just waited for everyone to take their rooms/beds. We ended up being downstairs in our own area on some fold-out couches, this was fine for me, though Phil being 6 foot 5 there are not many couches that are best suited for him but with the amount of wine and vodka to be consumed over the next week, sleeping was never going to be an issue.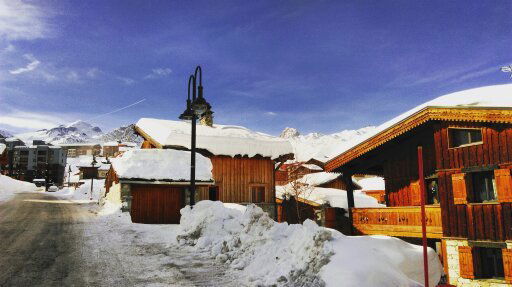 The Dictator organised for a house meeting, we were still waiting on one car to arrive though they were going to be late with tyre chain issues. We all got to know each other and the drinks flowed.
Some ground rules were explained which was good for us newbies. Each day two people were appointed to cook dinner that night, they needed to write a list of food to be purchased for dinner before 9am of the day they were cooking and be back at the lodge at 4pm to start cooking for a 7pm dinner. Phil and I were rostered on for Wednesday night which gave us a few days to plan what we wanted to cook. Not everyone was going to be skiing and we learnt that Mike (crazy adventurer) had been knocked out playing ultimate frisbee a few weeks earlier so he was unable to ski though wanted to come on the trip regardless, a couple of the girlfriends of the guys didn't ski/snowboard though just loved coming on the trip to catch up with everyone as well. So they would do the shopping each day and buy enough drinks each day for the evening celebrations.
The first morning arrived and despite a late night the sun was shining and alpine fresh air woke you up instantly. We had croissants delivered each day for breakfast so after a quick pastry snack we were ready to go. Within the 20-25 of us, it was clear that some that were keen to be up early and out the door skiing every day and others that wanted to sleep in, relax and ski when they wanted at their own pace. That was the joy of such a large group. We all were able to do our own thing and just enjoy being on the mountain in our own way.
The Canadians were all experienced skiers and Phil had skied a fair bit growing up. I went off to my ski lesson while a few different groups formed and went their ways. Phil, Michelle and I agreed to meet for lunch at 1pm at one of the local restaurants on the mountain other than that we just went our own ways for the morning.
My first lesson was pretty painful, to be honest, I was pretty horrible…Once I got a feel for the snow and being on skis I got more confident and just enjoyed the long gentle slopes to practice pizza fries and stopping, the practice slope was a good 200m long which was so much nicer than the short 15m run in the indoor centre. Once we had a good feel within our group and our confidence started to grow we headed over to a short green run at the back of the village. This was a bit more daunting and watching all the little kids flying past us with ease didn't help me feel any better. It was good to get a feel for a steeper slope (despite just being a green run) and what it felt like to fall over (this was vital for my early training). The session was over and I was slowly getting it! I headed back into town to meet Phil and Michelle which was great to catch up for lunch.
Phil and Michelle had a fun start to the day skiing and I was so jealous hearing of their ski runs! The views up there on the slopes was just awesome, the sun shining over the snow-capped mountains was just stunning and so nice to have an ice-cold beer! Phil and Michelle were heading back out to some blue/red runs for the afternoon and invited me along though I knew I just wasn't ready. I had planned to catch one of the ski lifts over to the other side of the mountain to just go up and down a green run for the rest of the afternoon, I wanted to just nail my skills and get my confidence up. Practice practice practice!!
We headed off our separate ways. I had to go over a blue run to get to the ski lift…being just after lunch the runs were soo busy and I was so nervous just keeping to the side of the blue run. At this stage in my skiing career blue runs were scary as fuck!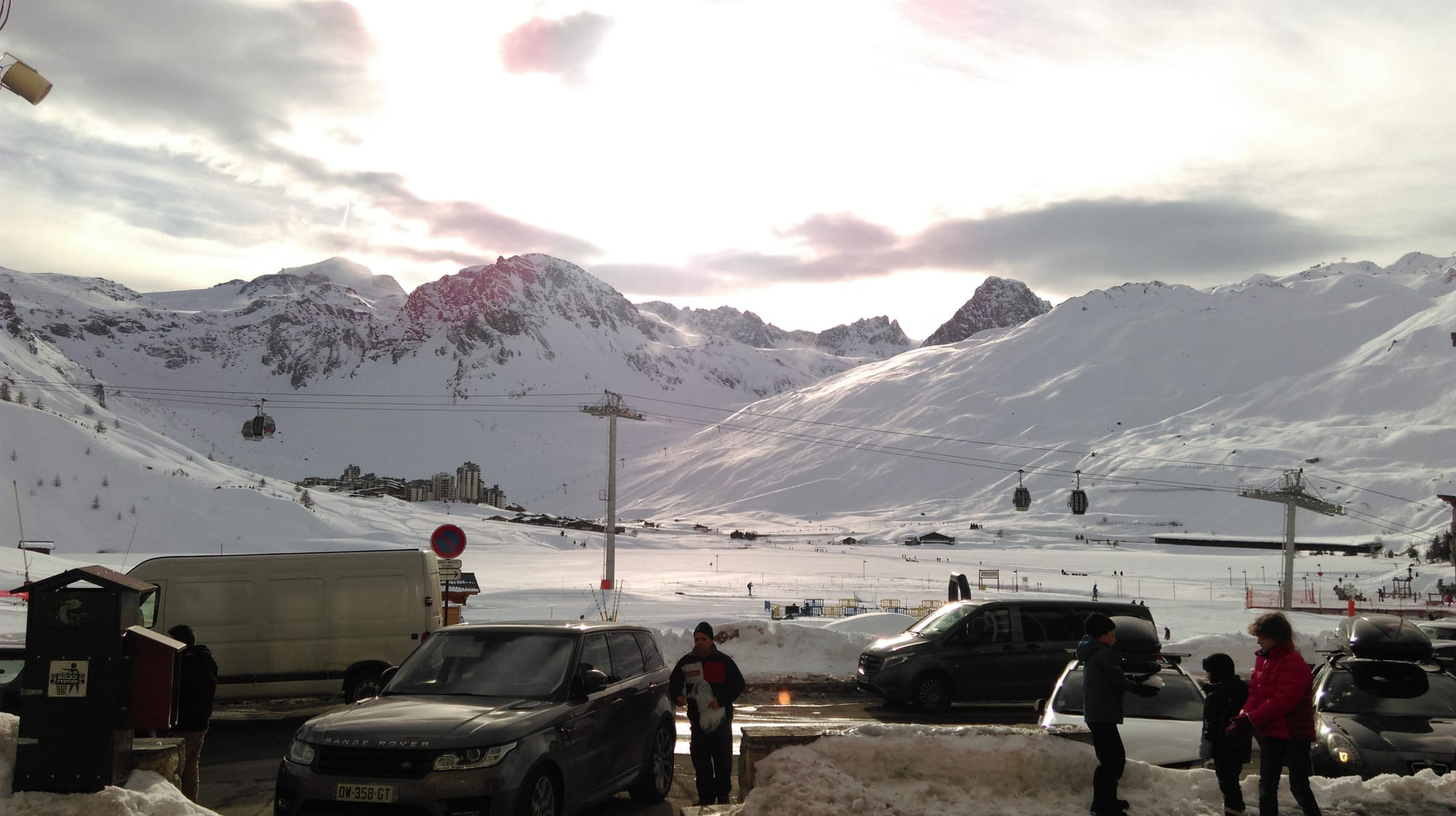 I finally made it to the green run after a few tumbles and frustrating moments. I commenced an afternoon of about 15-20 runs down this green run. For me, it was so much fun! Just having a pretty wide open run with very few people on the run to just practice and tumble without worrying about other skiers. I was definitely getting a feel for being on the snow and getting more confident. The sun was starting to set and I started my journey back home…the bloody blue run stood in my way but I survived and got home safely.
That night I was so jealous of hearing everyone's ski stories and GoPro videos. Grabby, Bret, Cebu, Leonard, Jerry, Mowgli, and Bruski all had epic days out on the slopes and were definitely the keen skiers in the group. Marty, Kas and the other couples got out for a fun day of skiing after a nice lunch. Then here was me who butchered the same green run 20 times! Hahaha, my internal competitive juices were pumping.
It's fair to say every night was a fun night with great food and plenty of drinks. I don't remember each meal that was cooked however some stood out which I will discuss later.
That night Grabby, Phil and I went for a walk into the village to see what was happening and if there were any nice pubs about. Some bars were playing live music however pretty limited options. There was another village a few kms away though the bus didn't run too frequently so we decided to head back home after a couple of cold beers in town. We were walking across the green run near our lodge when Phil decided to jump attack me from behind, a fun snow fight broke out which was awesome fun while a few skiers came past down from the mountain. The big man Grabby broke us up like Goku breaking up Goten and Trunks (yes that is a Dragon Ball Z reference – massive fan) and we kept walking on home to be back in time for dinner. There was a deep hole in the snow near a bridge and we peered down all agreeing that it was a big hole, you know that classic bloke thing:
Me: That's a big hole
Phil: Yeh big hole mate
Grabby: Yeh she's big alright
Little did I know Grabby and Phil had not finished the snow fight and with Phil saying to Grabby:
Phil: be shit if someone fell down aye Grabby
Which Grabby quickly smirked
Completely oblivious Phil's comments I felt a hand was on my back and suddenly I was falling 10 foot down into the snow at the bottom of the "big hole". A mixture of tears from laughing and me inhaling snow erupted as we all burst into laughter.
Grabby helped me out and we all agreed a truce for the final 50m walk back home.
I was up early again and the usual early keen skiers were up as well to hit the slopes. The second lesson was much better and I was feeling far more confident on the slopes, we went back to the same green run where we continued to practice our basic skills. Once again in the afternoon I headed back to my favourite green run and commenced my afternoon of tearing up the mountain (by falling and tumbling).
I continued to have plenty of falls but was getting more confident and had better control. I found the more speed I had the more control I had on my skis across the snow. Some clouds started to roll in and it was quickly becoming dark so I started my journey back to the village. The ski lift I had used to come over was now closed due to the bad weather…I begged with the operator to let me over as I now need to go down part of a black run then into a blue run that would lead to Val-d'Isère which was another ski village on the other side of the mountain. Despite my pleas and outlining I was so new to skiing I could not survive a black into blue run she had no care for it and just sent me down to my almost certain death.
An English family came over to use the ski lift and offered to help me down though I think they didn't understand my skills were pretty poor and within a few minutes they were well down the black run and gone….as the ski lift had closed and everyone on the mountain was now coming down this black to blue run I had skiers flying past me and not caring of the pace I was going. I gave up on the black run, took my skis off and just slid down the side of the run on my arse to until the blue run flattened out enough for me to put my skis on.
The blue run was much nicer however with soo many skiers on the run the snow was melting with icy moguls popping up everywhere. My old enemy, moguls… The blue run had a very narrow passage for about 800m which was just horrible, so icy and nowhere for me to turn slowly…and widely, hey I was still a beginner. After about 15 falls/tumbles and nearly being taken out by other skiers, I gave up. I had my little internal hissy fit, took my skis off and started to walk/slide down the side of the blue run. This still didn't stop other skiers almost crashing into me the whole way down.
I finally got out of the narrow section of the run and it opened up to a nice green run down to Val-d'Isère. I stopped on the side of the run and just took a few breaths to calm myself. A fellow skier pulled up to next to me to check if I was ok which was so nice. I really appreciated it. Skis were on and I was flying down into Val-d'Isère…now it was about 5pm and the storm had arrived, I had no reception on my phone and needed to get back to Tignes le Lac…I found out there was a free shuttle bus service that ran once an hour so the waiting began. I felt bad as I knew everyone back at the house would be wondering where I was being the novice skier of the group and a storm rolling in.
I waited at the bus station with a fellow English guy similar age to me who also had been stuck this side of the mountain. He was a regular skier and gave me some good tips to improve my skiing which was so nice. He also played cricket so we had plenty to banter about while we waited for the bus. I was quickly learning to be a skier or snowboarder you needed a hip flask, a vital piece of ski equipment. Depending what you filled your hip flask with defined you as a skier. It was nice to have a few swigs of his hip flask to keep the spirits up!
The bus was late and due to the storm, the journey around to Tignes le Lac was longer than expected. I finally got home around 7pm with everyone being very grateful that I was back and not injured. A cold beer soothed the soul and plenty of great bants and laughs once everyone heard my afternoon of pain. My thumbs were so swollen from falling forwards and being crushed by my poles so I spent the next few hours with my hands in an ice bucket icing my hands while drinking my beer through a straw…
No matter, I was back up again the next morning and off to my lesson. My thumbs were still a little tender but all good! Our group was split into two groups with the slightly stronger skiers going up to a blue run and the rest practising on the green. I think surviving the events of yesterday afternoon had infuriated me but I had learnt so much as well. By just going up and down the green run over and over the past few days I had started to get more confident with my speeds and having more control when stopping. I got to go with the stronger group and we hit up a blue run. There were four English lads who in the same group which was great as we had all been getting on well together. We were all getting better and enjoying fine-tuning our skills on the blue run. The weather was pretty overcast and cloudy but was still nice to be out skiing.
That afternoon I joined the English lads to explore some blue runs on the other side of the mountains. This was awesome to get away from the green runs and challenge myself on some new runs. It was great to ski with mates that were all at a similar level and I started to get what it was like for everyone else skiing with mates. It was a great afternoon and no bruised thumbs to worry about!
That afternoon we met up with Kasia, Michelle, Sarah, Breanna, and Phil for a few drinks and a late lunch in the sunshine! It was great to catch up and that icy beer never tasted better! Was so much fun to just hang out with friends on top of the world! Unfortunately, the person taking the picture just had to get her finger in the way! Lucky Phil has long arms to get the best selfies!
Wednesday morning rolled in and I was off again to my ski lesson. This time we went out on some different blue runs higher up the mountain. It was really good and we were all just enjoying skiing. The blue run was broken into three sections a steep run down, a long plateau, then steep run down to the village. Many skiers would rest on the plateau section before continuing the run down. A skier coming down the first section lost control and crashed into another group of skiers. We were about 50m away though saw it all. The original skier was hurt badly and medics were called on snowmobiles to get her off the mountain. It didn't look good and there was a fair bit of blood on the white snow… This was a good reminder that it is so easy to have an accident on the slopes.
We finished our final run down and I told the instructor that would be my last day as I wanted to enjoy the next two days with my friends, he was fine with that and wished me all the best. I said my goodbyes to the English lads and headed off home. I got home and Cebu was still at home as he was taking is easy after a big night. We had lunch together then we went out to hit up some blue runs before I needed to be back to cook dinner with Phil. It was so awesome to just be out skiing with Cebu. He is one of those guys who you are just like how do you always get yourself in that situation….he is one of the funniest blokes I have met and a great skier but somehow crazy shit happens when you are with him. He would be flying down the mountain with no issues then out of nowhere just get his left foot and right foot mixed up and bang he is covered in snow laughing with you. I learnt so much from just watching him and him giving me some tips. He would ski behind me and then show me what I looked like, so I could see what I was doing wrong. I am very much a monkey see monkey do kind of learner. If I can visualise it then I can learn it. As he was a little hungover we both had some epic falls along the way!
We got home early as it was Phil and my turn to cook for the night. We were doing rump steaks and veggies. When we got home and all the food was there, Cebu gave us a hand and we got straight into it. After a few hours, we were running a little late as the oven wasn't the best when it came to cooking the veggies. Everyone was arriving home and the drinks were flowing.
We finally had the tables set and food ready, with 22 people flooding the kitchen the food was snapped up with a few leftovers for people who wanted seconds. It wasn't the best meal Phil and I had prepared though it got the job done for a hearty meal on the slopes. To be honest, after a day of skiing any warm hearty food goes down so well. Phil and I were starting to feel more a part of the group as everyone had been so welcoming. I had been jealous of all the ski stories from everyone over the past few days and I was so happy to say I was coming with them for the next two days. Grabby, Bruski, Mowgli, Bret, Michelle, Sarah, Kas, Marty, Jerry, Breanna, Cebu and Phil all got around me which was awesome to finally be able to join them. Like the new kid at school with no friends, the popular kids had got around me. I couldn't wait to kick it with the big kids!
We were up early and with a belly full of French pastry and our hip flasks filled up we headed off (yes I had purchased a hip flask). There was a nice green run to start the day to the ski lift, then from there, we were heading up to the peak of Tignes le Lac – Grand Motte, Tignes Glacier where we would be on top of the mountain. It was just stunning views over the whole ski fields. It was such a beautiful sunny day and perfect for skiing. It was a really nice long red run down and to this day is still my favourite run I have done. We all took in the views before heading off down. Mowgli and a few others headed off-piste and would meet us back on the run where it wrapped around. I brought up the rear just going at my own pace and managed to perfectly face plant into the snow at our first little pit stop…then once I got up I was straight back down. Hahaha it was good fun and just great to be out watching these guys all ski. They were just effortless on the snow. They all had their own techniques and styles on skiing/snowboarding which worked for them. I was learning so much from just monkey see monkey do tactics. I loved watching Mowgli ski, he constantly jumps in and out of his turns, his knees are so mobile and fluid in their movement. Grabby is powerful and effortless he bends from the hips and pushes with his legs while his hands are wrapped around his back. Bruski and Bret were a mix of both. They all were awesome skiers and they kept telling me, wait till you see Mike ski, wait till you see Mike! It was a shame that he suffered his concussion before the trip!
Despite my skills not being great they all got around me and waited every time they stopped. It was nice that we would all ski/board a few hundred metres then stop chat, banter, have a drink, then keep going. No rush at all! Bret, Sarah, Breanna, Grabby, Buski, Phil, and Mowgli helped me out heaps which was so nice! It was an awesome day out skiing. Phil filmed me which helped so much as well, even despite him laughing at all my falls! It was great to just be out skiing with one of my best mates!
We stopped in to have lunch at one of the mountain restaurants. Kas, Marty and a few others were there to which was nice to catch up. This is what skiing is all about. The last few days of lessons and smashing green runs over and over allowed me to really just start to enjoy a ski trip with mates. Skiing, banter, hip flasks, lunch stops, drinks, taking in the views, and just exploring the mountains.
In the afternoon we headed over to a side of the mountain which had some off-piste skiing. I had never been off-piste and to be honest, at the time I had no idea what it actually meant.
Leonard did some snowboarding jumps on the circuit on the way over which was cool to watch and we kept heading over to the off-piste runs. We got to a section that was just left of a blue run that was full of fresh powder. I had never skied in powder before so I was about to get a quick lesson in what not to do. With the big man Grabby saying "you'll be fine" i melt somewhat more confident....Everyone went down and snow was just flying everywhere as they cruised through the powder. I got into one jump turn then a second and then bang straight down…hahaha I popped up from about 4-5 foot of snow to see everyone laughing and dropping into the snow. They all knew it was going to take me at least 20 minutes to walk out of there. The powder was so soft so I had no chance of trying to get my skis back on.
We hit up another off-piste run down to the blue run, learning from my first mistakes I just lent back and went for it down the power, no turning just straight down! I managed to get most of the way down but once again collapsed into the powder after I lost control. Least I wasn't too far from the blue run this time. Phil came flying down and tried to jump onto the blue run only to have an epic landing on his back and sliding across the blue run. It was so much fun though the day was coming to an end and we had to head back home.
That night there was discussion of hiring snowmobiles and going up to a restaurant up in the mountain for dinner. It was pretty cloudy and snowing so we decided to stay in. Kasia and Karine were cooking and did a French onion soup (warmed the soul nicely) and then an epic cheese raclette with cold meats for main…it was a night of french indulgence. French wine, champagne, was served with our feast and we all agreed it was far better to stay in for the night!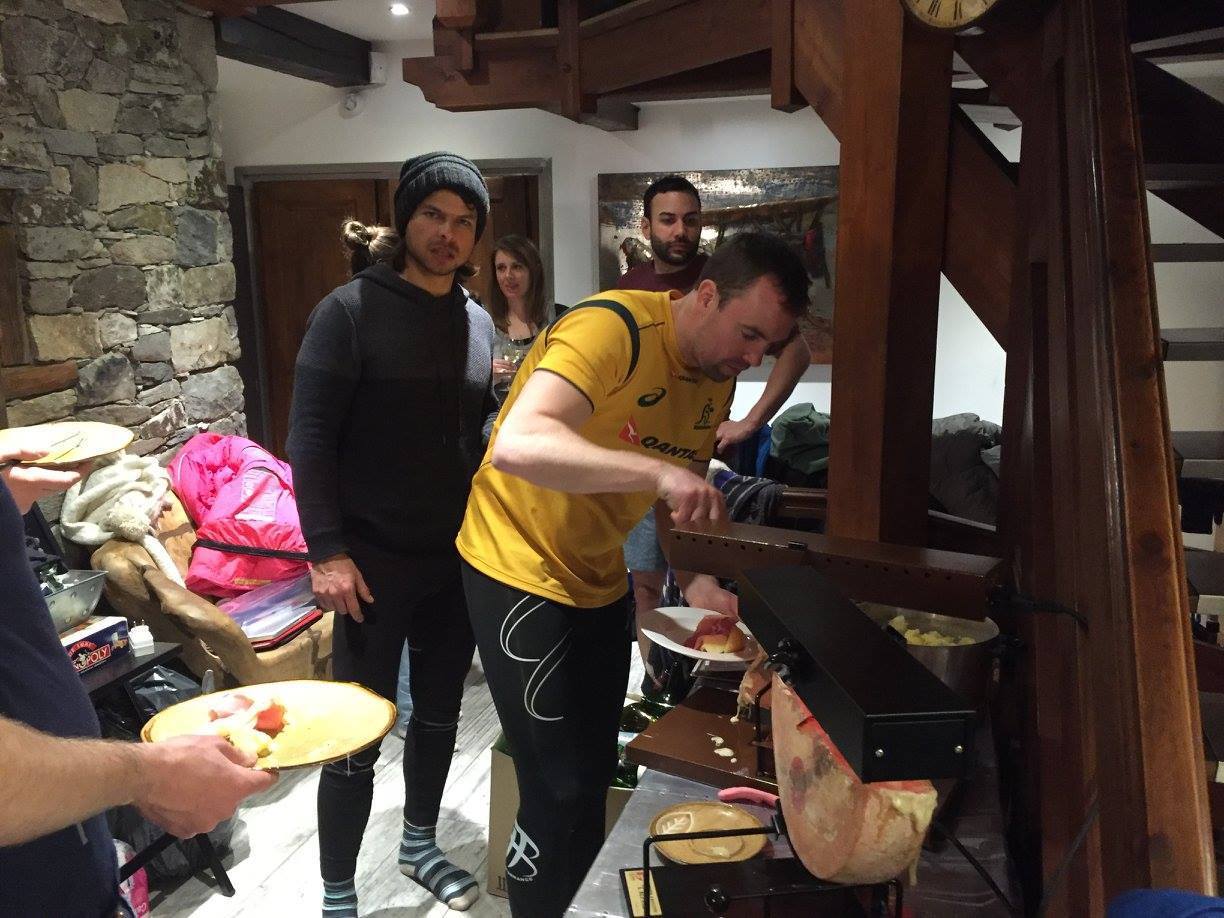 Michelle, Phil, and I headed out to explore the pubs. We bar hopped around though like we did with Grabby earlier in the week though we decided to head back to the lodge for the night.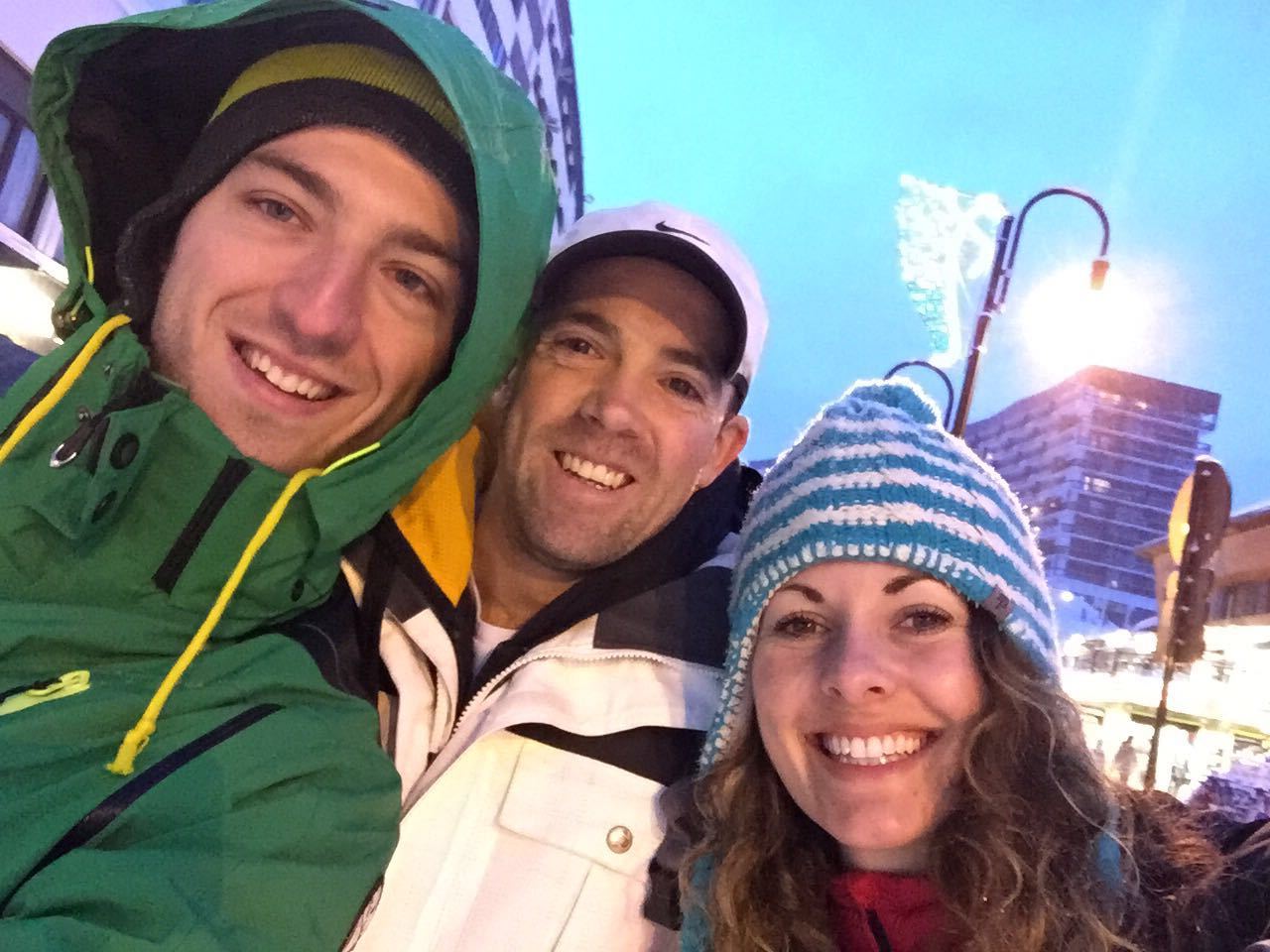 The next day was a little overcast from the snowstorm the night before however, the fresh powder on the ski runs was so nice. We were heading to the La Folie Duce in Val-d'Isère for a fun day of partying on the slopes. La Folie Duce is the name of a bar/club that was well known as the apres-ski party bar across Europe, they have multiple bars scattered around the European Alps. After a massive week of skiing today was all about just relaxing, having fun, and having a party together!
We had some nice runs, a mix of blue and red, on our way over to Val-d'Isère and the La Folie Duce. We arrived around midday for lunch and a cold beer. There was dancing on tables and singing inside before the party moved outside to party. We got a table and settled in for a fun afternoon. The snow was falling though nothing too crazy. With the DJ pumping great tunes and singers and dancers performing we were all having so much fun. It was a great way to finish the week. The beers and shots continued to flow along with some sensational ski boot dance moves. Oblivious to the snowstorm getting heavier.
There was a group of Zimbos on the table near us with champagne who had taken their ski clothes off and spraying the crowd with champagne. With pink flares going off above the bar the party just kept getting better. I am not sure if you have tried to dance with ski boots on however it is not easy. Bruski was an experienced man on the dance floor and rose to a new level…literally…he was on the tables 6ft above everyone dancing away in his ski boots and owning the beats and lyrics! That man is a human jukebox with no fears when the beat drops! The main singer was a very friendly gay man eloquently dressed who took a fancy to the big man (Grabby) for one of his songs. Like any great man, Grabby was only too sure to accept his dance proposal and got right involved with a few booty twerks and hip thrusts! Grabby never misses legs day!
Come about 4 pm an announcement was made for everyone to get off the mountain as the storm was now rolling in. By this time we could barely see more than 5-10m in front of us due to the snow and clouds settling in around us. Our ski skills were not at the peak of our abilities after all the drinks and shots. Grabby and Bruski took control of the situation, personally, I was shitting myself…fairly intoxicated and needing to go down a 2km red run to Val-d'Isère…Grabby would lead the group and we would all stay in single file following the person in front of us. Bruski would be last and pretty much became my baby sitter on the way down. He would make sure no one was skiing behind him.
We started the run down and it was so difficult with the poor visibility and the body not 100% agreeing to what my brain was telling it to do. Bruski kept shouting out to me and singing 90s pop classics which was great to know he was just behind me. I had a couple falls and Bruski was right there to pick up my skis and give me some shit. It was bloody wild but just so much fun too!
We got underneath the clouds and that beautiful open green run into Val-d'Isère was right there to enjoy. It was so nice to just relax and cruise straight into the village! If you were in the village you would not have had any understanding of the complete chaos above the clouds in the mountains.
Luckily I had some experience of being stuck in Val-d'Isère so we wondered over to the bus stop with all the other revellers. The party continued with a few pile on's and songs sung on the side of the road before the bus arrived. One of the Zimbos was quite the emcee and was able to rap the whole Blackalicious Alphabet song on the bus! That was awesome!! If you don't know it…google it! Epic song!
We got home still feeling very jolly and the beer continued to flow. That night Mike was to cook his famous beef burgers. There was talk of these famous beef burgers from the day we arrived in Tignes le Lac. They had become somewhat legendary on the ski trips!
When Phil and I saw the size of the beef paddy we understood what was coming our way! Hahaha they were an epic Canadian burger with the lot! Vegetarians were not welcome!
It was such an awesome last night drinking and partying together. We had a vote for who the dictator would be for the next ski trip and Mowgli was voted in! I was already looking forward to the next ski trip!!
The next morning we woke to up so much snow! Was kinda sad to be leaving after the fresh dump of snow but what a week we had! I went to drop off my ski gear off that I had hired and to said our goodbyes before we all went our separate ways. We were exhausted but what an epic week of skiing. One of the cars was snowed in and was having tyre chain troubles again to get out of the drive way. The snow storm had really hit had last night. Luckily the bus was still running down to Tignes le Lac. We said our goodbyes and cya next year with many hugs. It was just one of the best weeks of my life. Such great people and life long friends formed from this trip in the French Alps.
We caught the bus down to Ignes le Lac and then a bus to Les Arc 1800. Kas had organised for the London crew to have one night at Les Arcs 1800 as to relax and recover before we made our way back to London on Sunday. Les Arcs 1800 (https://en.lesarcs.com/arc-1800.html) is such a beautiful hotel and was stunning with all the snow and ice capped lodges across the mountain. Every view over looking the mountains and forest was just amazing. We looked at skiing for the afternoon though we were all so exhausted and just were happy to relax. We gymed, swam in heated pool, and watched a movie to relaxed. It was such a great way to end the week of skiing.
The next morning we were up and caught our final bus down to Tignes le Lac for our train ride home! It was a long journey but least our bodies were exhausted and no matter how uncomfortable the seats were we managed to all get a good sleep back to Kings Cross in London!
Stay tuned for the 2017 ski trip coming soon!