Lake District – Easter 2016
The Lake District in England is a cluster of lakes and national park in Cumbria in northwest England. It is usually a four (4) – five (5) hour drive from London though as we were going over Easter is took us six (6) – seven (7) hours. We were driving up in three cars, two left at the same time however a third, the boys, were picking up their car from the airport so departed a little later. The roads were pretty hectic with all the Easter Holiday travels though plenty of good tunes and banter got us up there.
We had a beautiful cottage on Lake Windermere which is one of the larger lakes in the Lake District. The cottage to this day is still one of my favourite Airbnb places that I have stayed in. It was just perfect for a countryside escape! Being Easter it was still bloody cold and pretty wet too. As we were all arriving in the evening one car did a big shop for the weekend so we had food and drinks once everyone arrived. We were pretty isolated which was great, allowed us to cook, party, and enjoy our time without bothering anyone.
The first picture below is still one of my favourite pictures of all time. Just brings back so many great memories! Gotta shout out Danni for her photo skills!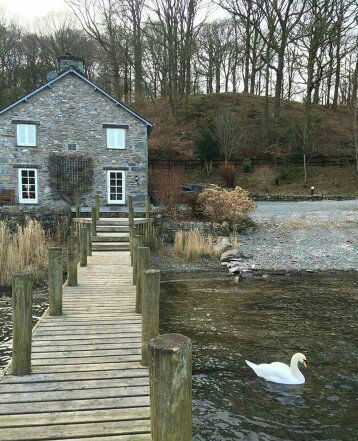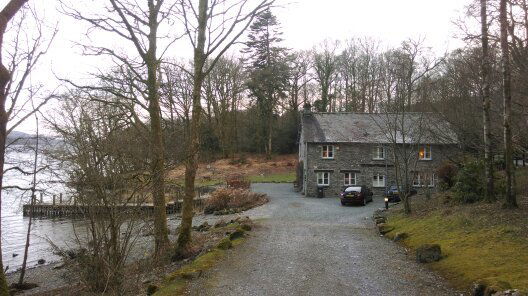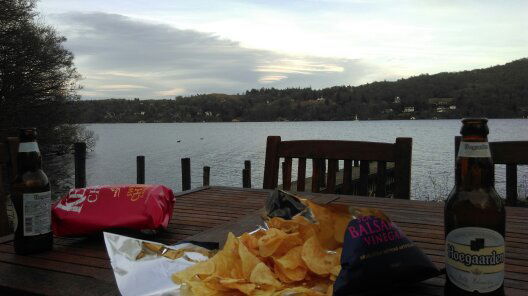 Beers and snacks waiting for everyone to arrive after a long day in the car.
The first night the card games rolled out and we were up till late joking and partying. It was just great to escape London and be in the fresh air!
Our first full day we decided to embark on a few hikes. The weather was not great and funnily enough most of the crew thought shorts, and a light jumper with converse shoes was suitable for hiking…. Clearly, they were all wrong. Woody and I were the only ones with hiking shoes and warmer clothes. The garbage bags came out and people without rain jackets were allocated a garbage bag to wear to keep their clothes dry. We must have looked like the biggest muppets on the hikes.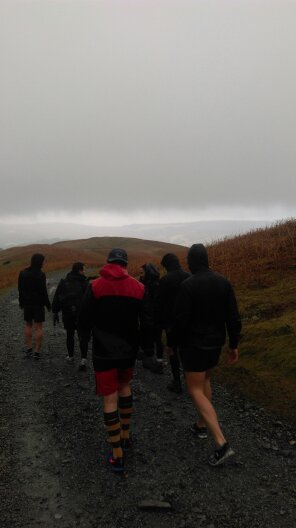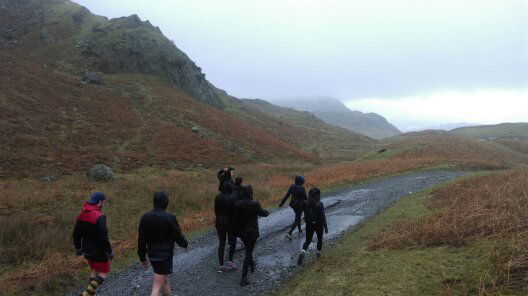 Off we set and plenty of hikers were coming down and telling us not to bother…. The clouds had set in and we were now hiking in the clouds, rain, and blustering wind. We soldiered on until we could barely see as the clouds were so thick and not even shouting allowed us to communicate between us. With minimal proper hiking gear, we gladly agreed that vodka was needed to warm the soul. We started to venture down and quickly made our way home.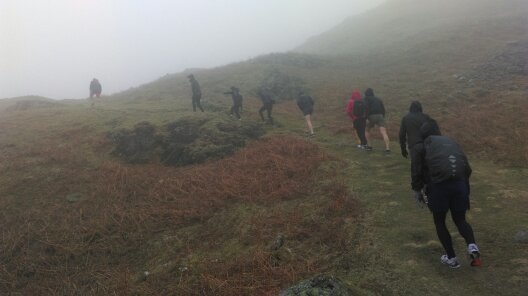 We set off into the clouds, Captain Wood already 30m ahead despite only just starting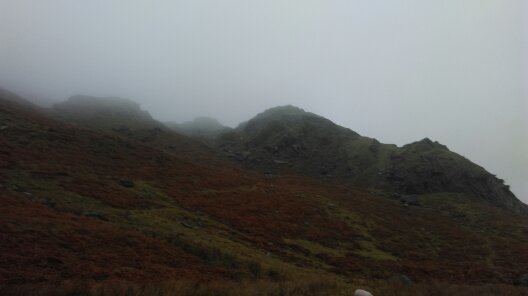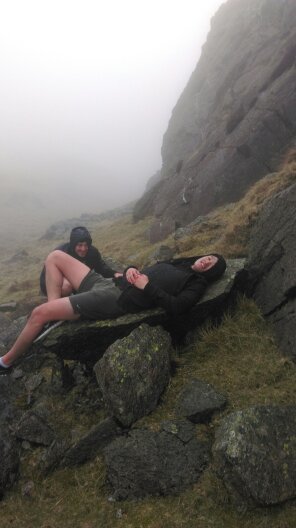 Asian model of the year 2016 - Johnny taking a break with BA lurking in the heavy mist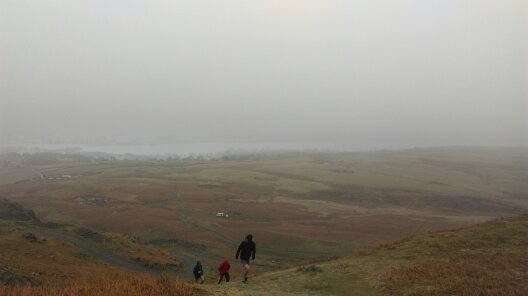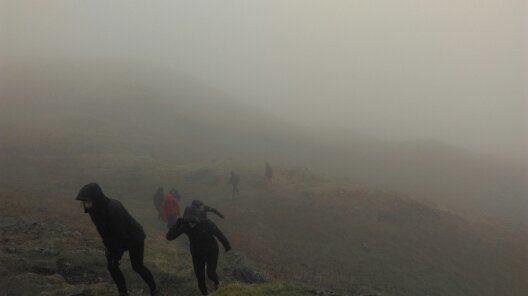 We soldiered on up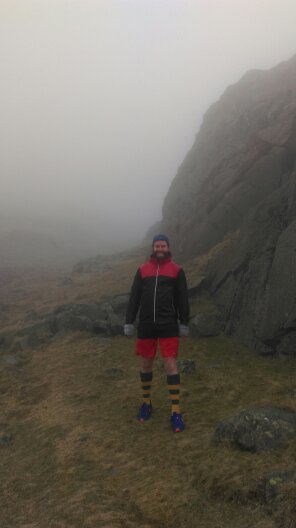 Woody not willing to be beaten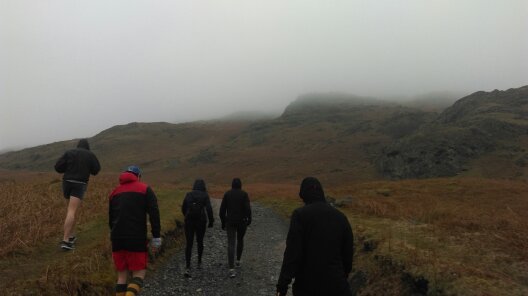 Common sense prevailed but excited for the afternoon that lay ahead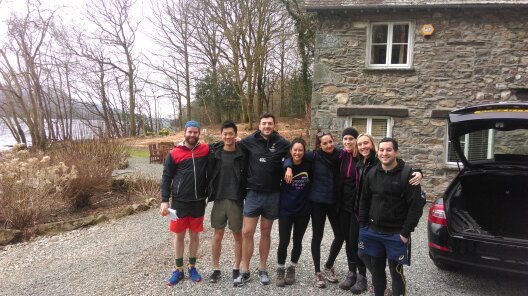 As the warm showers ran the food was cooked and the drinks were poured. Kings cup was the first game of choice and after a few intense games, we started to make our own Lake District Cottage rules. Some included swapping clothes with the person on your right, running out in your underwear to jump off the jetty, and so on. I hope Danni still has the rules written down. The sunset and the drinks kept flowing (warmth was our priority) games of hacky sack began and not before truth and dare arrived. Always a great way to get to deepen a friendship after a few cartons of beer and bottles of wine. I think my cousin Danni may have all learnt some unwanted information about about me that night though it is always days like this that are so much fun. The London family was brewing!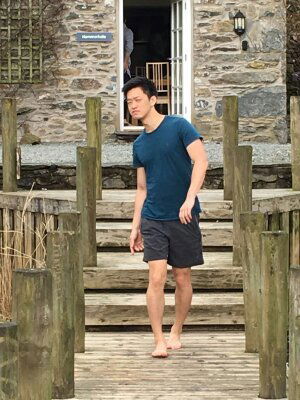 Johnny doing his finest work
We slowly made our way to bed, couples hogging the showers and stealing all the hot water while us singles had to wait. Does anyone else have these friends dilemmas?
The next morning wasn't much better weather-wise though least the wind had died down. Dan "Slot" Alcock was the appointed chef and again put together an amazing breakfast spread. His dedication to slow cooking scrambled eggs fused with Tesco's sweet chill chutney will always last in my mind! Arguably still one the best hangover cures despite taking over an hour. With an amazing breakfast spread devoured that included all the English breakfast classics, cleaning complete, and everyone dressed, it was time to take on the Lake District again.
Woody, our personal 1600s adventure took the reins of navigation and hiking prowess. The rain had eased though the wind was still bursting through. The garbage bags did not last long though we were having an amazing time out in the hills along the muddy paths. This is one of my favourite days of hiking. The slips and slides, jokes, pranks, and just utter beautiful scenery made it such a special day with great friends! We had carted some beers up in our backpacks the whole way so was an absolute pleasure to enjoy a (warm) beer together once we had reached the peak. We hiked up to Lake Grasmere in the Lake District. The pictures really do not do the colours of the countryside justice!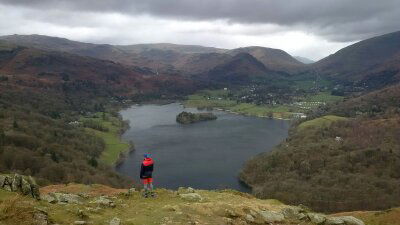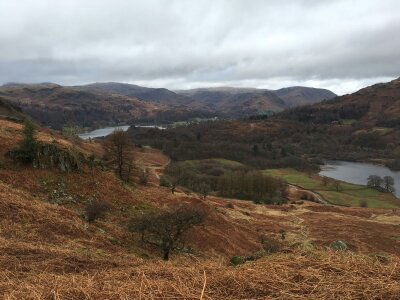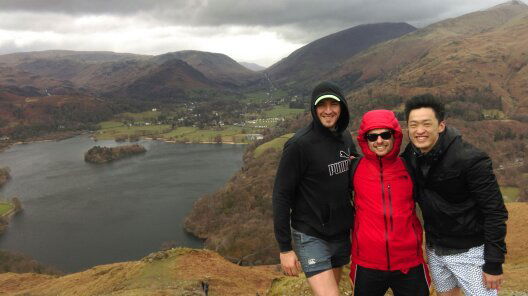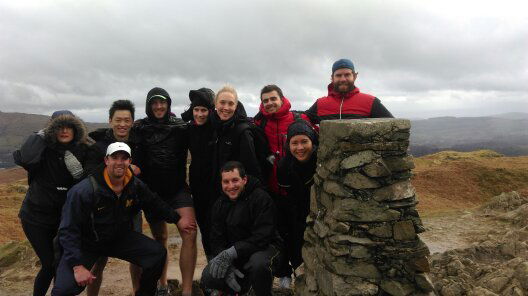 The crew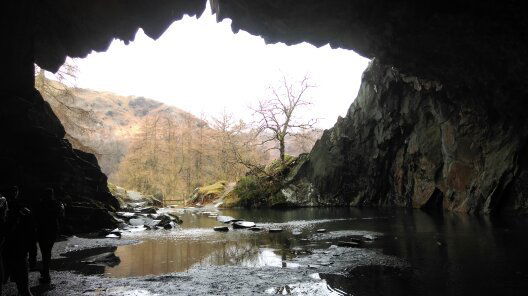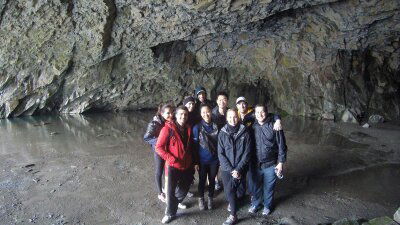 Being spring the colours of the countryside were coming alive, rushing rivers, and the sounds of chick-lings in the trees made the hike that much more amazing.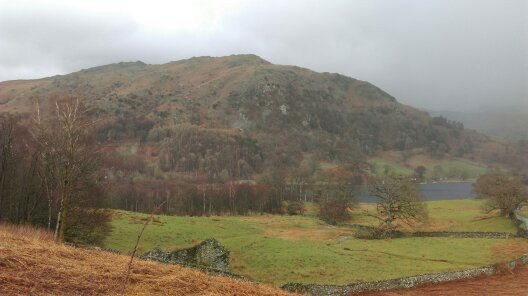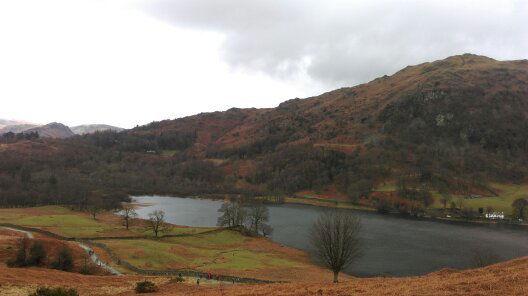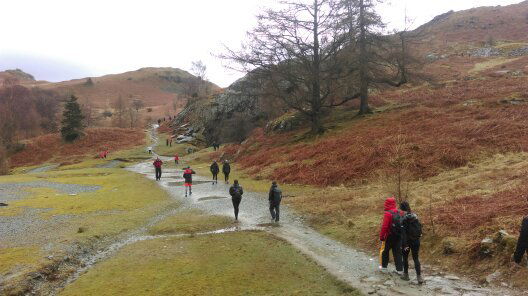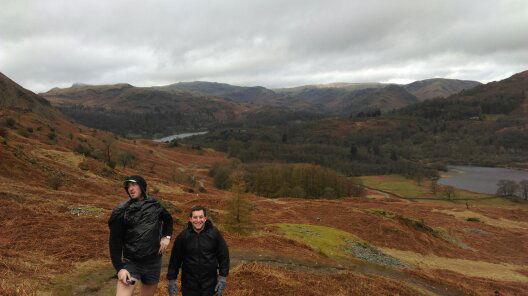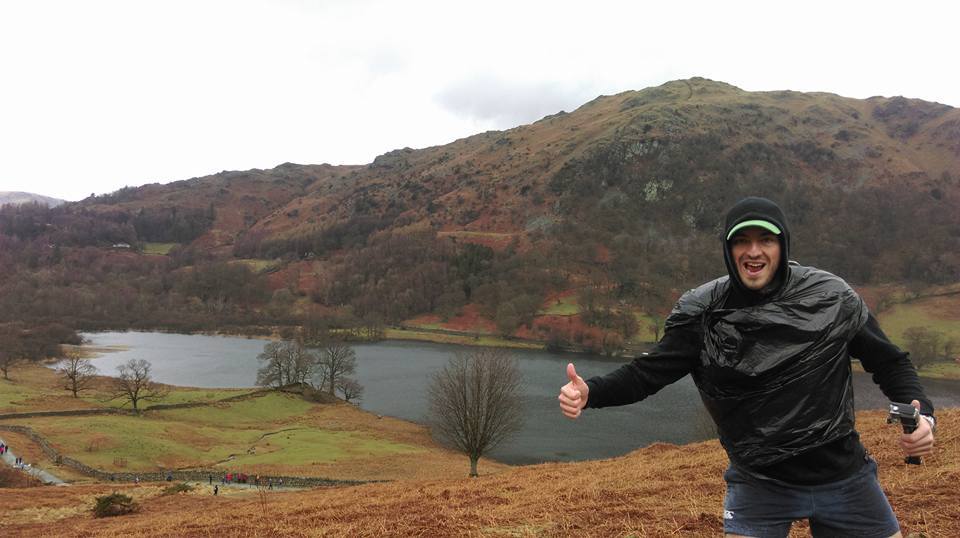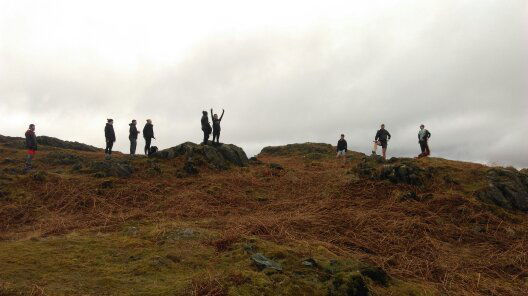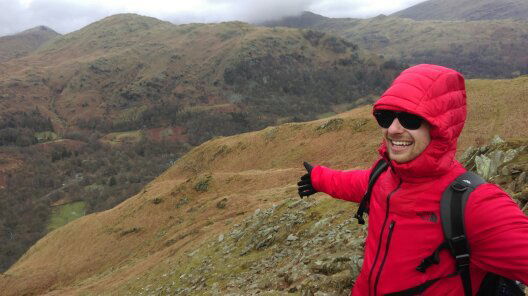 Captain Slot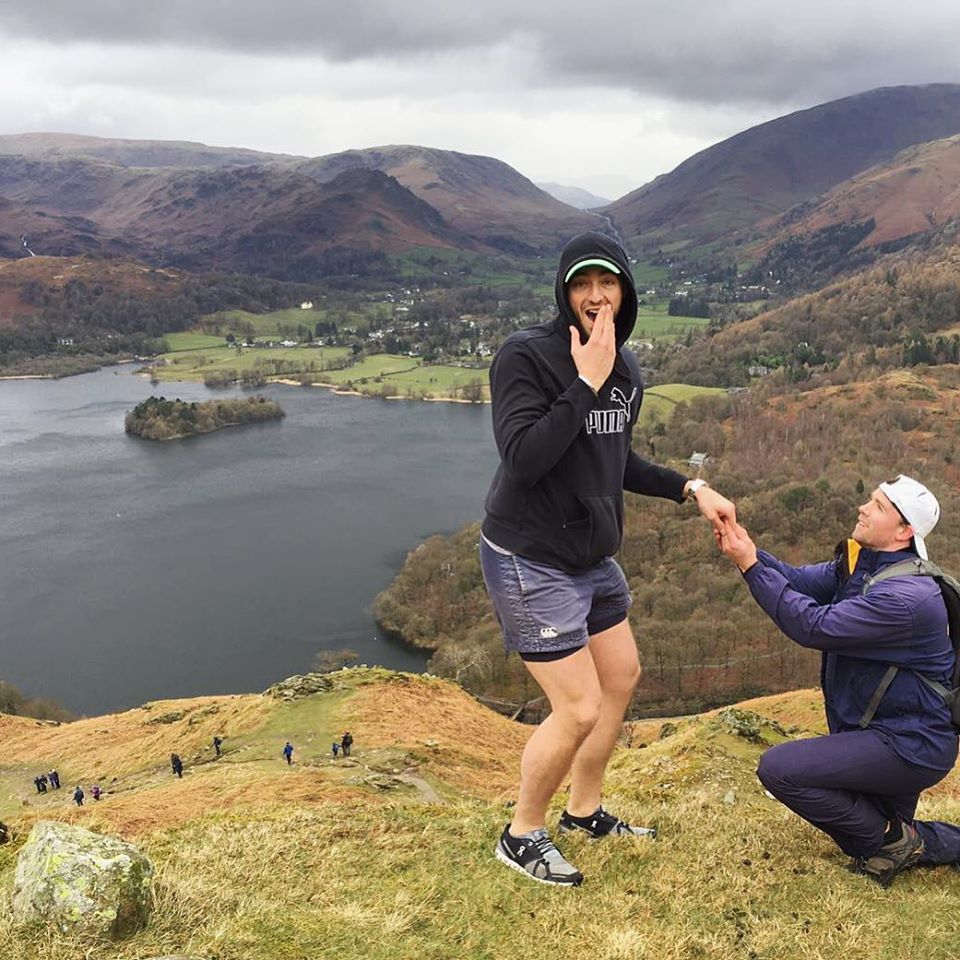 The scenic proposal
Woody successfully lead us well, most of the time being 500m to a 1km well ahead of all of us galloping from hill to hill urging us to catch up while we lagged behind. Our hangovers were cured and the sun was setting. It was that time again.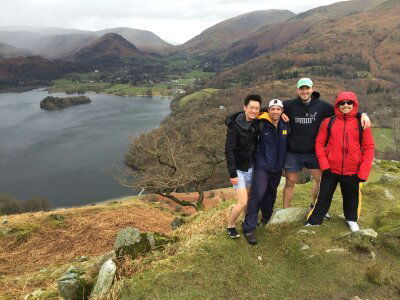 We stopped in at a local pub for an hour to warm up by the fire, bought some food and drinks for the night ahead and to meet some of the locals. I love getting to a local countryside pub, the people, the smell, and the local atmosphere is always great!
Slot was back in the kitchen cooking us up a feast and the beers were served chilled to a crisp. Some friends staying across the lake had also made their way over for a fun night and a huge roast feast was enjoyed by all before the card games started. Johnny had brought some vodka made from milk and it was perfectly chilled for 48 hours which made for ideal consumption.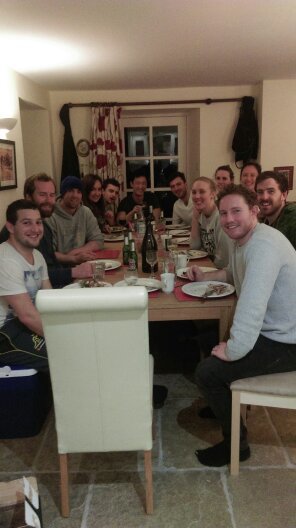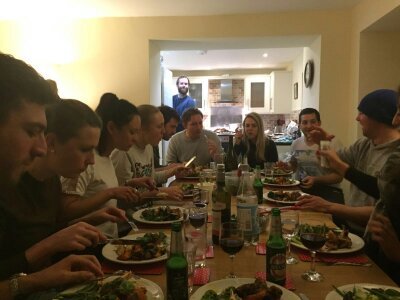 Another Slot special in the kitchen was brewed and it was our last breakfast at Lake Windermere before we had to start our journey back to London. It was a short four (4) day trip (two (2) days of driving really) though just a perfect weekend escape to the Lake District with great friends. Despite the weather, we soldiered on two epic hikes, ate like kings, and drank like pirates. The Lake District is such a beautiful place and I wish those few days could have lasted a week (not sure my liver would have survived).
Highly recommend anyone to get away to the Lake District for some crisp fresh air, stunning hikes, and beautiful scenery.