Lake Macquarie 6-8 June 2020
After being confined to our homes for the most of March and April it was nice that life in NSW was starting to ease up and that the Covid-19 restrictions had been slightly lifted so we could travel around NSW. Dave, my housemate, and his friends had booked a weekend away to Lake Macquarie, which is around 3 hours drive north of Sydney. They had an awesome lake house that was fully set up for a large group for a weekend escape.
Dave and I organised the car though with soo many people looking to escape Sydney for the long weekend our booking was lost by the car rental company and we were forced to scramble around to book another car. Luckily we were able to book a car from the airport and quickly we rushed off.
After getting home, we packed the car before heading to pick up Lucy and Emily on the way. It was a full car ride up with Dave, Harriet, Lucy, Emily, and myself. The rest of the crew was driving up as well though getting in a little later so we decided to stop off at Watagans National Park for a hike and fresh air on the way up to break up the driver and enjoy the winter sunshine.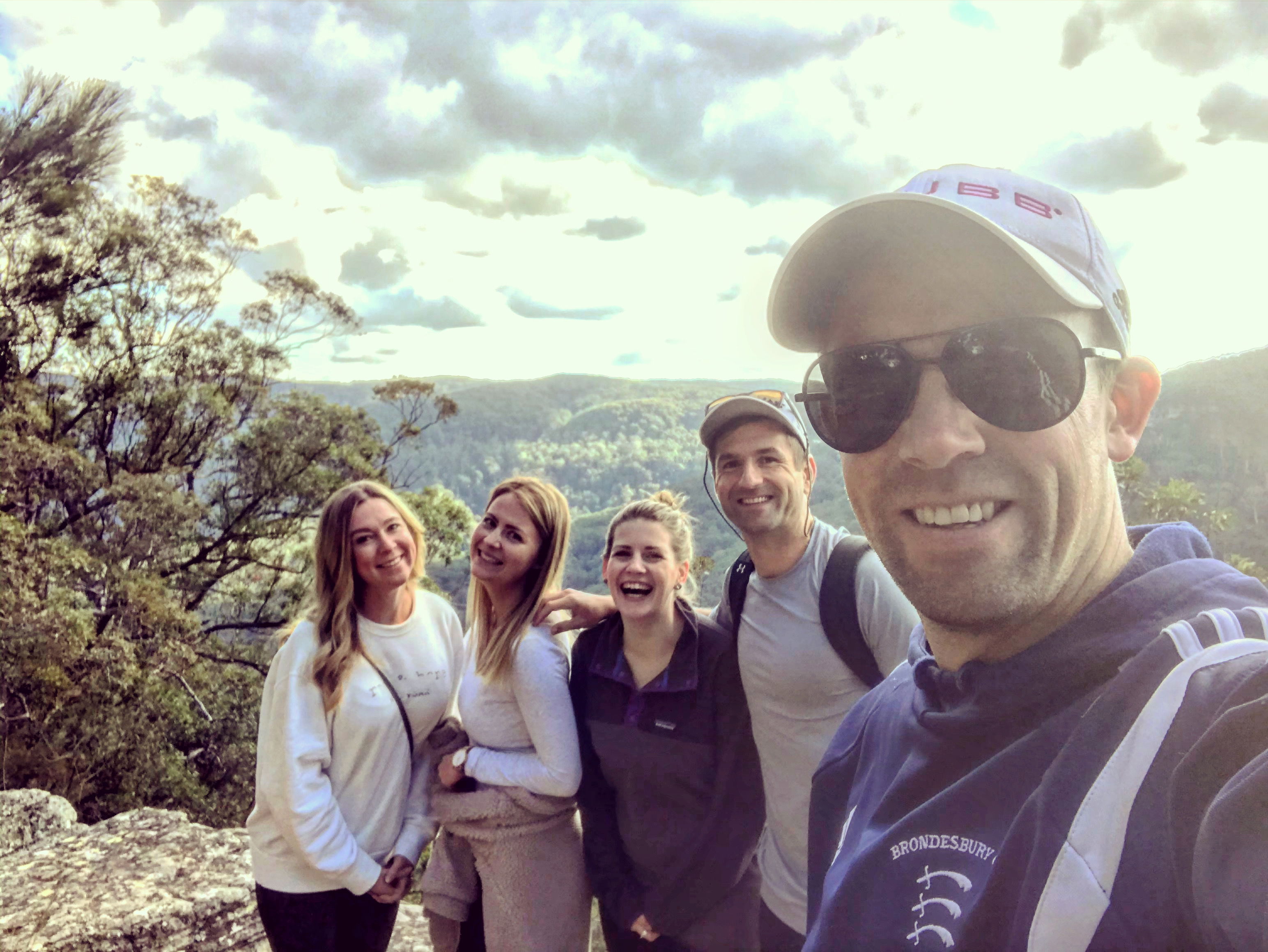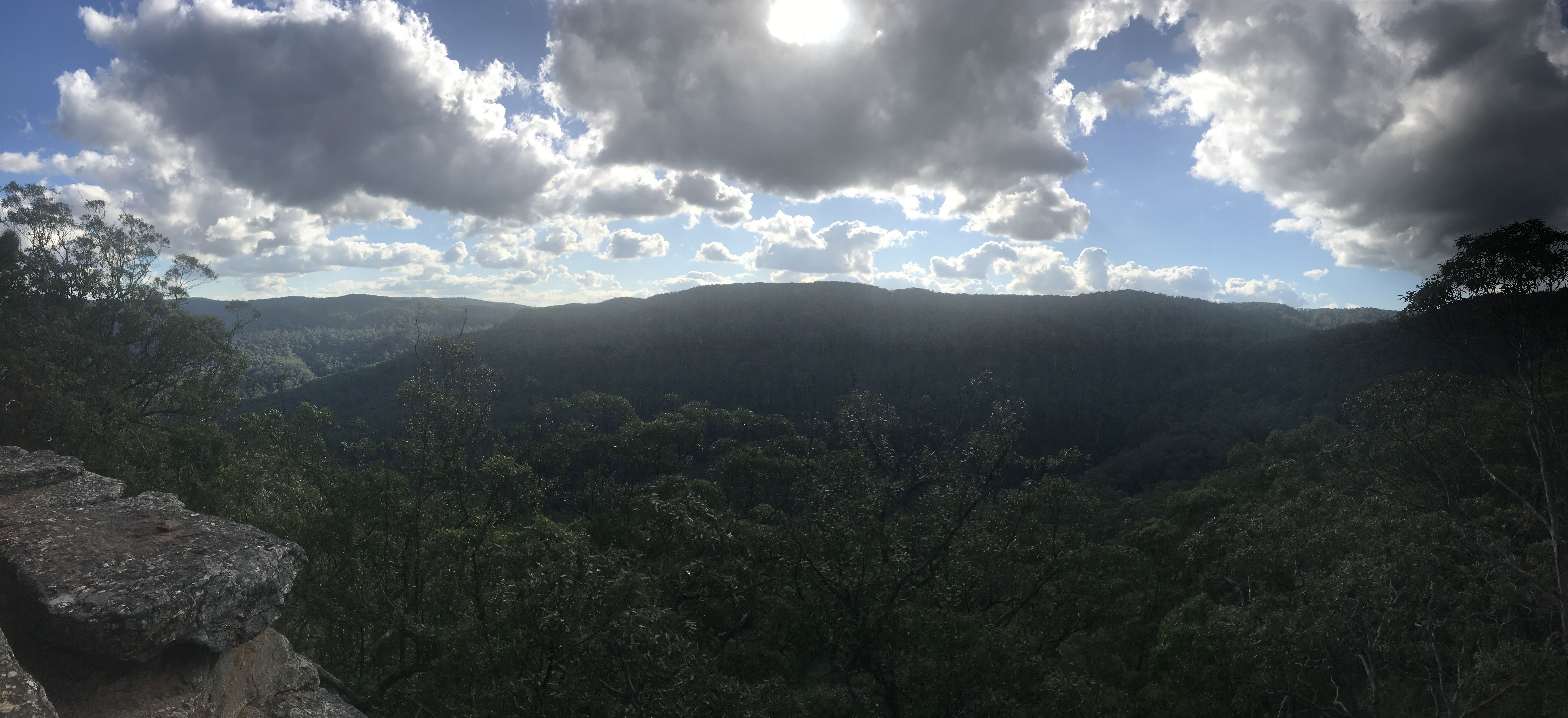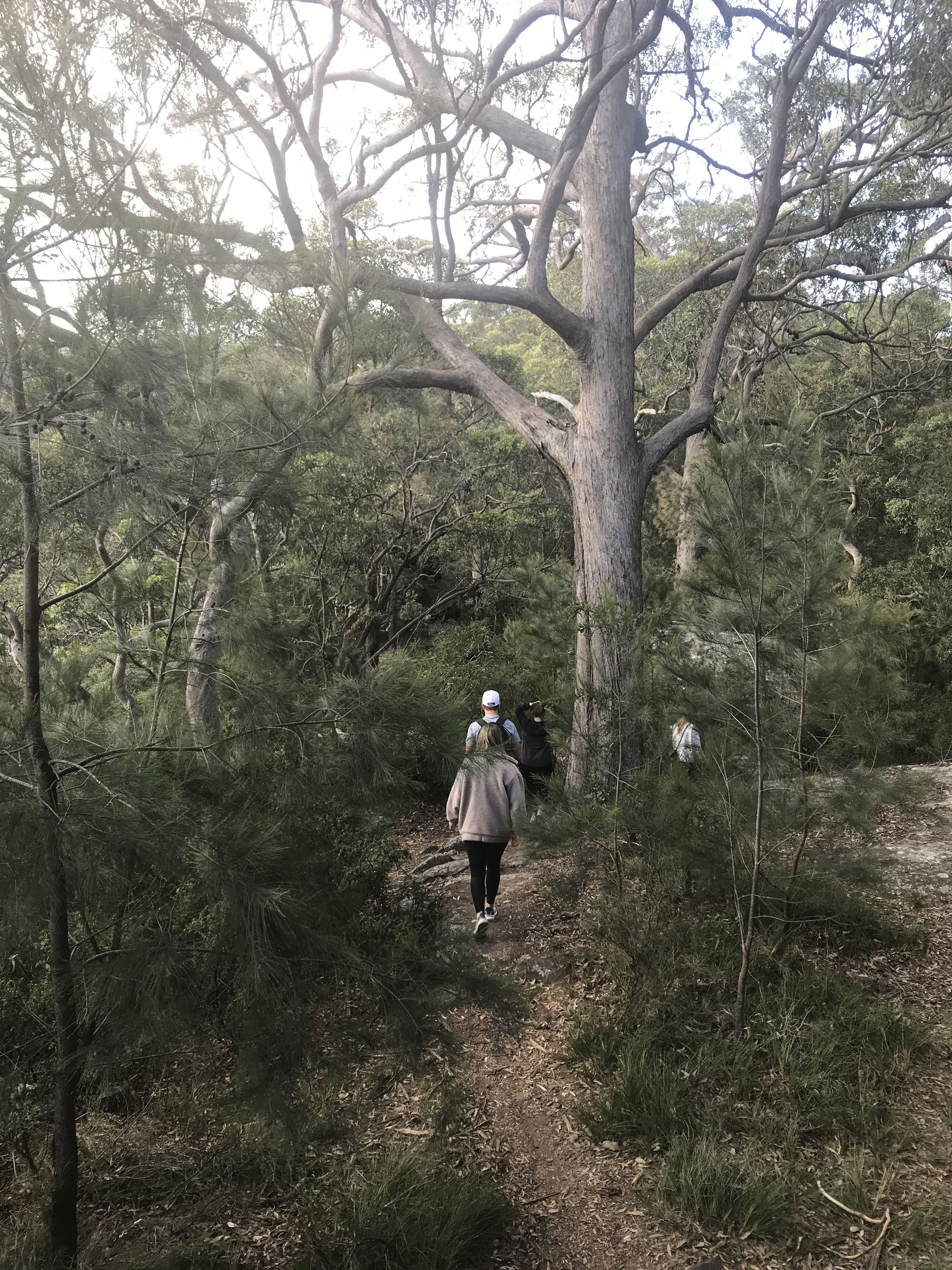 We pulled into Monkey Face Lookout for a stunning view over the national park. I love those expansive views of just open forest expanding for kilometres in every direction. There were various cliff faces and rock formations scattered across the forest which added to the views. We had taken a slightly wrong turn so we were on the wrong side of the cliff face to hike down to the waterfall. We tried to take a short cut through the forest and down a steep section as we could see the waterfall hiking path below us. Though we knew coming back up was never gonna work…We hoped back in the car and drove around to the main road and back to the correct turn off for safe measure!
The walk to the waterfalls was pretty simple and we passed some families and other hikers along the way, it was nice to enjoy our chicken sandwiches to fill our bellies while we hiked. The hike definitely got steep in the last section of the hike down to the waterfalls but was worth it! Coming off summer the waterfalls were not full and were more of a trickle than a waterfall but it was still beautiful to see the river running at the bottom of the waterfall was beautiful.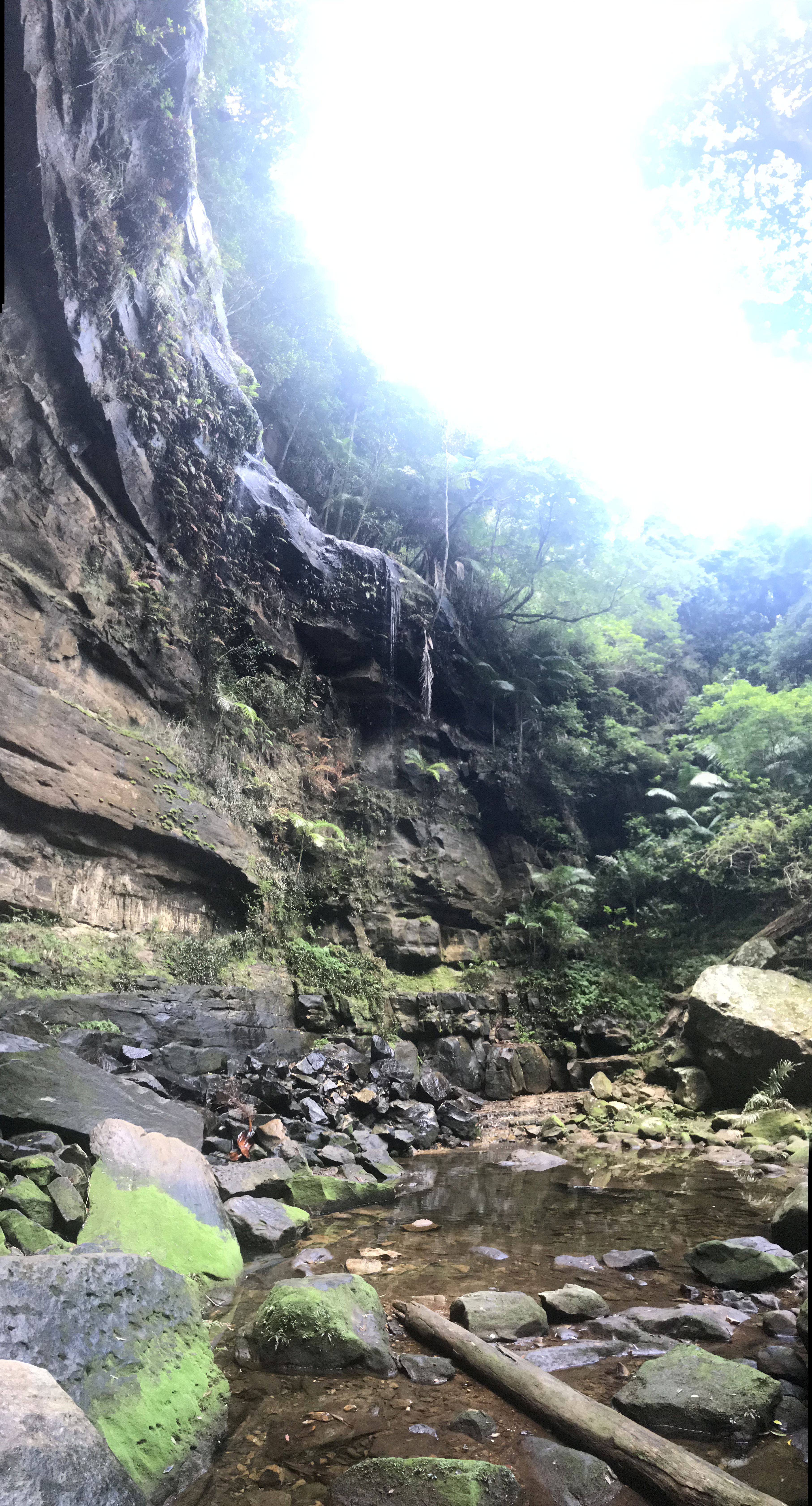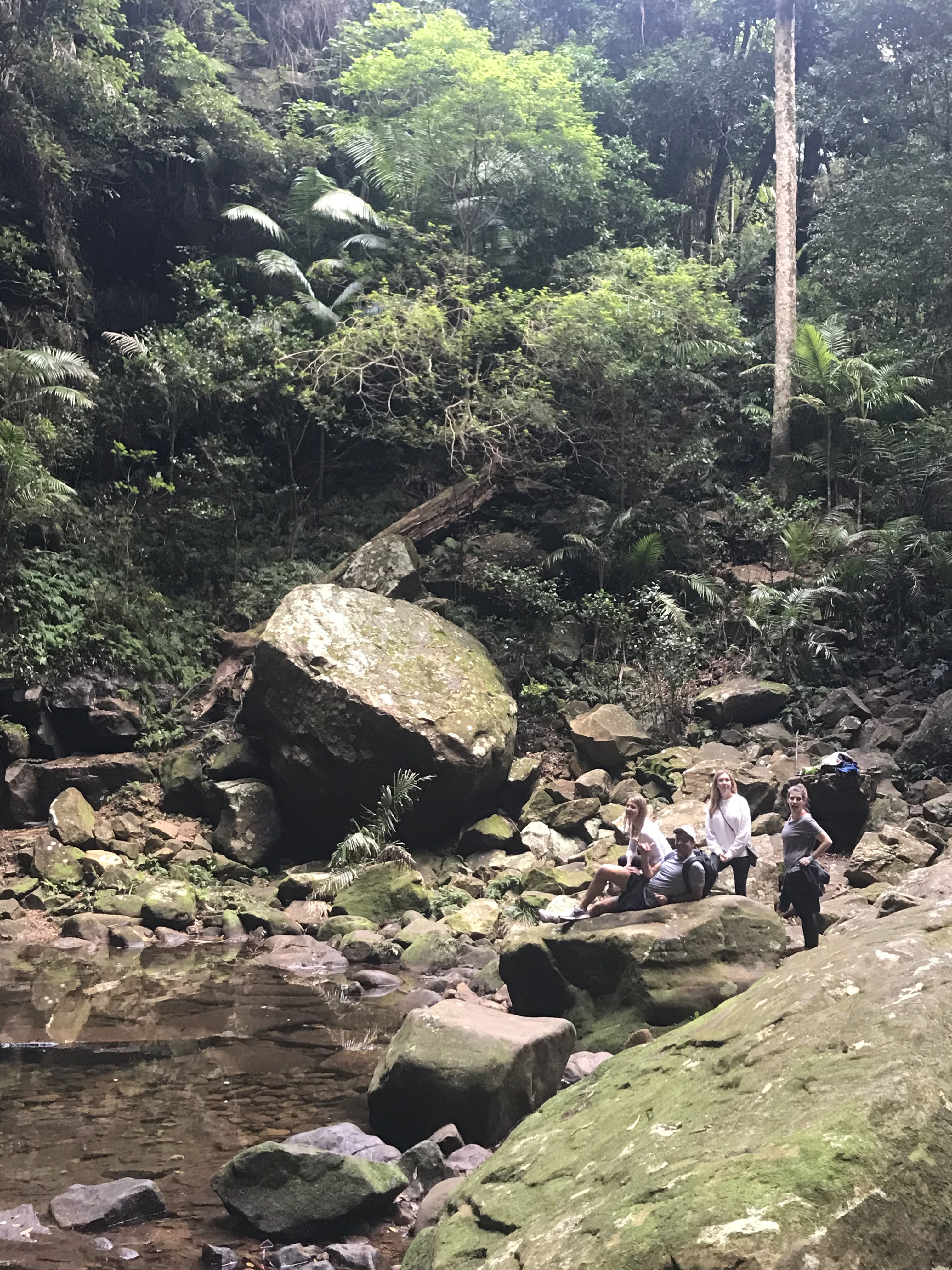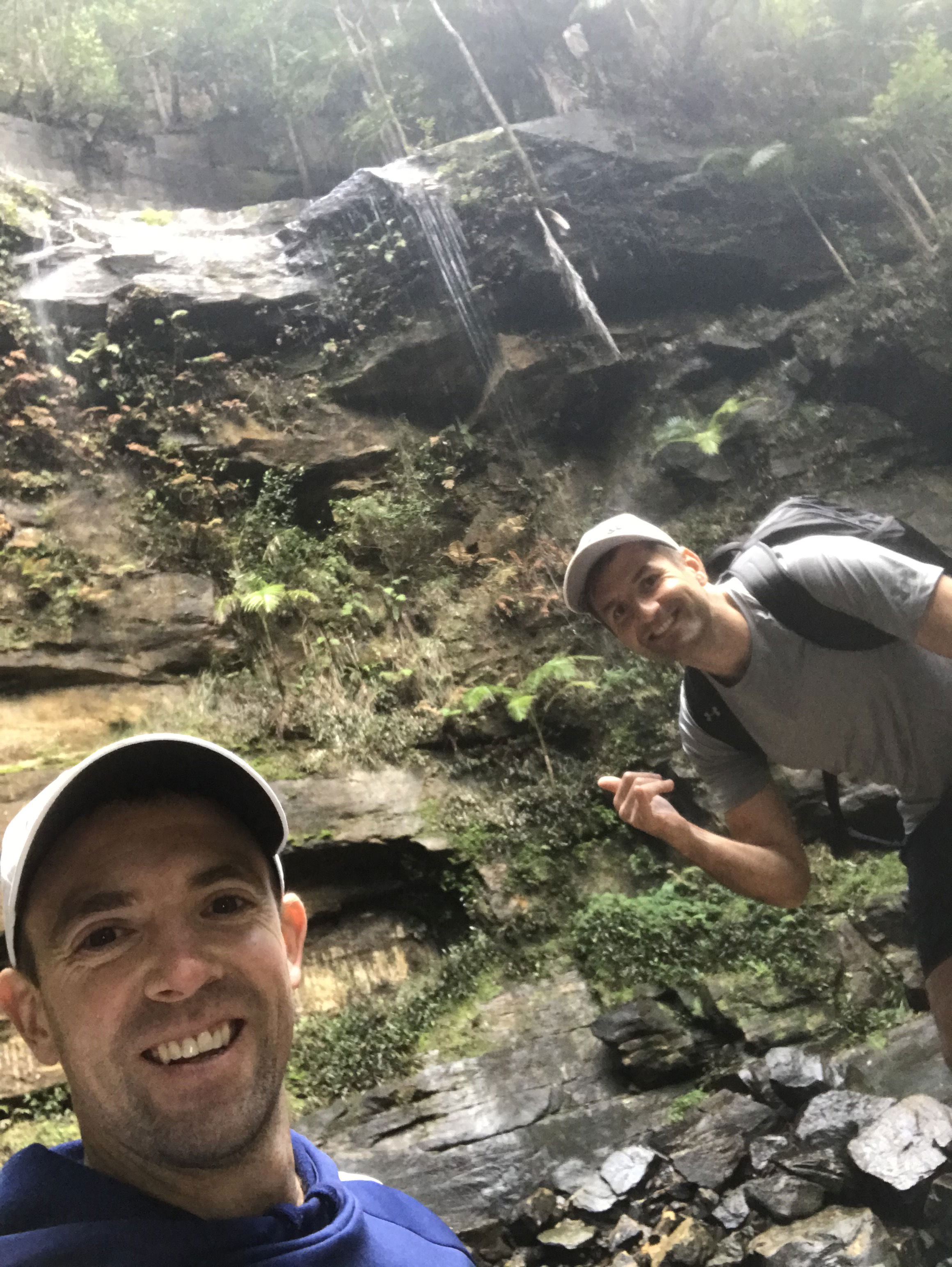 We relaxed and enjoyed some fun selfies before making our way back to the car. The hike back up the rocks was much harder…but we pushed through and made it back to the car with no dramas.
The others were starting to arrive at Lake Macquarie so we made sure we headed straight there post our hike.
We arrived just as the sun was setting over the lake, it was so nice to have a cold beer watching the sunset over the lake while the local birds flew home to nest and the local fishermen were coming in for the day.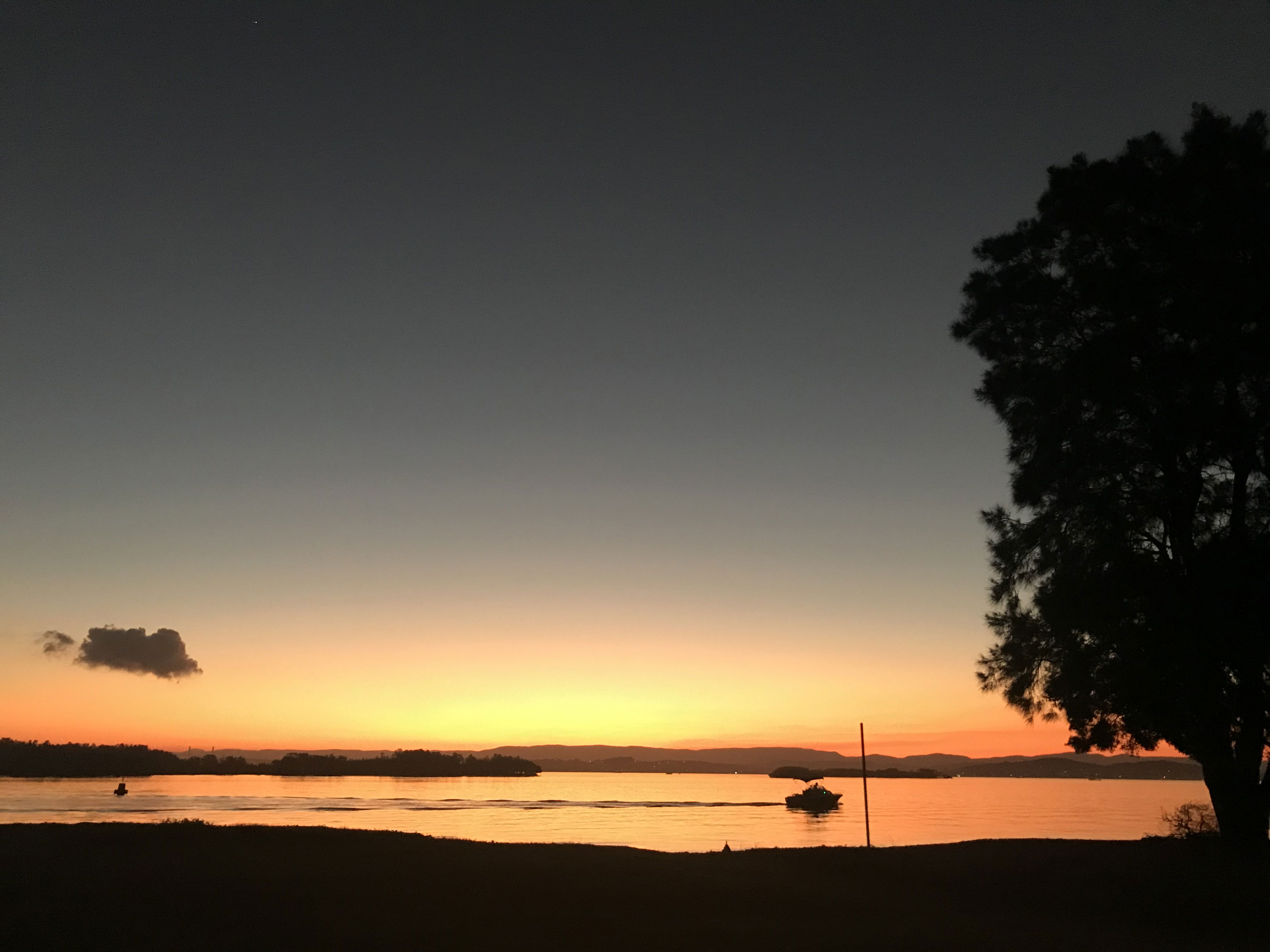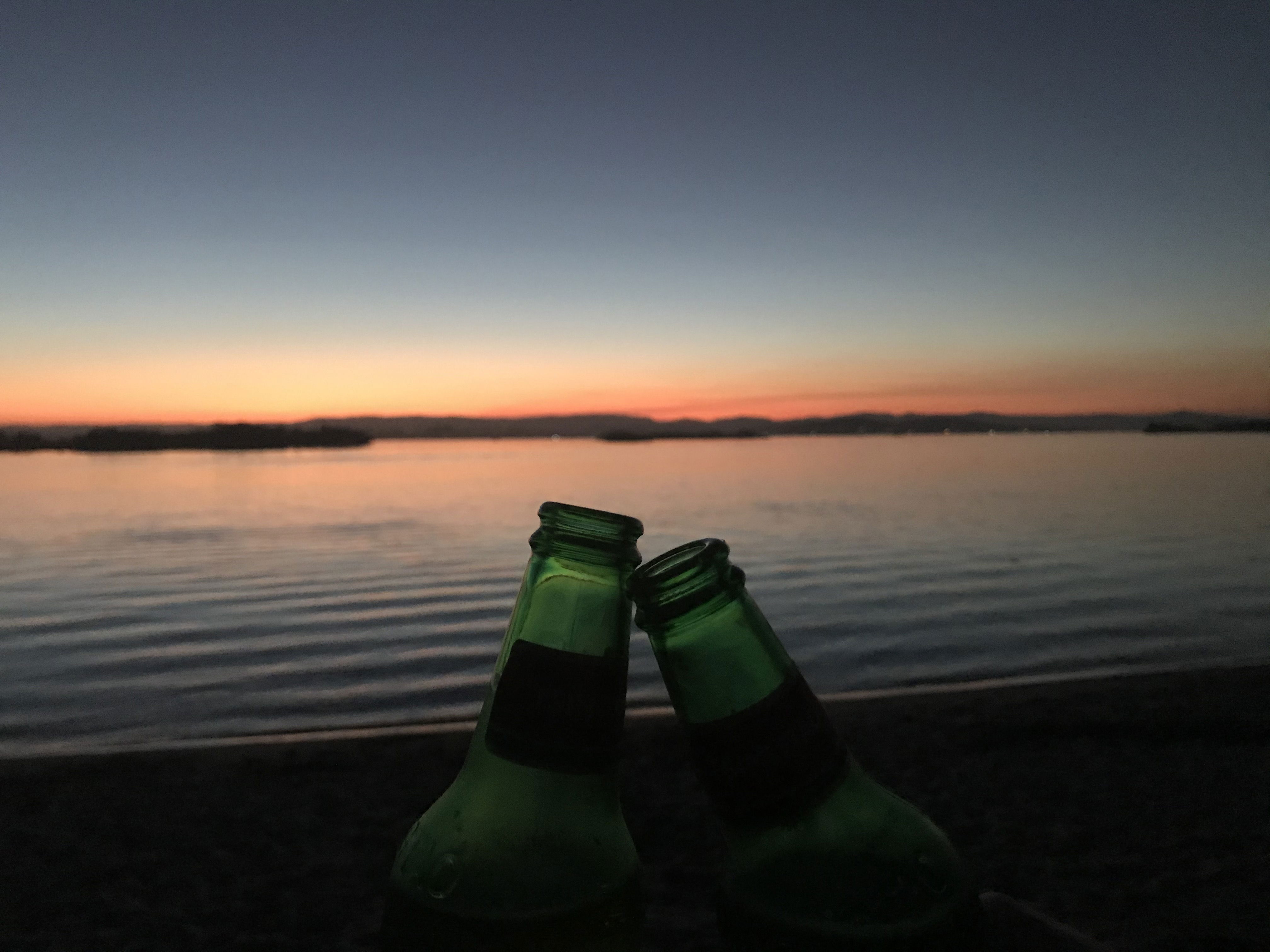 We picked up our bags and walked over the our lake house, it was a great set up, plenty of rooms, large kitchen/living room and a great bbq set up. We were staying in Pelican on the east coast of the lake. We had everything we needed. The beers were cold and the blokes were tossed outside to get the BBQ sorted. Quickly the golf clubs were brought out and we were having little chipping challenges while we waited. Craig had brought some amazing boerewors from one of the local South African butches in St.Ives. Matt cooked it to perfection, and it was still one of the best boerewors that I have ever had. It was sooo tasty!
For those who don't know, Boerewors is a type of sausage which originated in South Africa, it is an important part of Namibian cuisine and South African cuisine and is popular across Southern Africa. The name is derived from the Afrikaans/Dutch words boer ("farmer") and wors ("sausage"). Boerewors must contain at least 90 per cent meat, and always contain beef, as well as lamb, pork, or a mixture of lamb and pork. The other 10% is made up of spices and other ingredients. Not more than 30% of the meat content may be fat.
Boerewors is most traditionally braaied (grilled over charcoal), but is often cooked under an electric grill, or baked in an oven, or fried in a pan. When cooking Boerewors, pricking the casing should be avoided at all cost, as doing this will lead to the "wors" drying out during preparation. A local variant of the hotdog is the boerewors roll, or "boerie", which is a piece of boerewors in a hotdog bun, often served with a tomato, chilli and onion relish.
Steak, chicken, etc were all included on the bbq while the girls prepped the salads and Kelly cooked up an awesome American mac & cheese.
The feast began and it was great to get to know some of the other people up on the weekend adventure. After dinner, we split up into teams to play board games before the cards and drinking games began. I was partnered with Amanda for Scategories and despite not winning we were happy to be finishing mid-table. We were sceptical of some of the leaders use of words and despite plenty of banter and some veto of words a few drinks were allocated to the winners the next game rolled on. Matt and Dave wanted to get up for a run and I was keen for a morning swim so I was pretty happy to call it a night.
In the morning I walked over to Blacksmith's beach, it was a nice walk over some sand dunes to the beach. It was a long open sandy beach that was pretty much empty. A few fishermen to the right, a couple doing a morning yoga session, and a group of surfers to the north side of the beach. I did some beach sprints and exercises to work up a nice morning sweat before jumping in. The water was surprisingly warm for early June, no wettie required! The waves were really nice and picking up in size which made them great for bodyboarding. The guy doing yoga joined me and was great to have a chat with him, he did some intense exercises with great core strength. After about 30 min it was time to head back to have breaky with the crew and get ready for golf.
Craig, Dave, Matt, and I had booked in for a round of golf at Merewether golf club (https://www.merewethergolf.com.au/). Craig and I teamed up against Matt and Dave for a lil team comp. We started on the 9th tee so we would finish on the 8th which was close to the clubhouse, it was a weird set up but either way we were playing 18 holes. It was pretty slow going on the course with some very amateur golfers on the course…potentially some first-timers to be honest… We were getting a little frustrated by the fourth hole as it had taken us over an hour to play four holes… We managed to get ahead of a couple groups by the 10th and the course started to open up again. Craig and I were playing well and the team scores were pretty level. Some rain started to fall around the 4th which was the 14th for us, a nice long par five. Matt finally decided to play on the right fairway and clinched an important hole. Matt was finally finding some form after 14 holes…A tricky par 3 (the 5th) on the 15th saw Craig and I stumble at the last hurdle. With me slicing my tee shot just to the right of the green in some thick grass on a steep hill. Unfortunately Craig didn't do much better and Matt again hit the green. Dave finally found a partner!
After a disastrous tee shot from Dave and I on the (6th) 16th, Dave and I were down to the left on an adjacent fairway. My second shot scattered through some trees but wasn't looking pretty. However, stepping up with my 6 iron I even amazing myself with one of my best 6 iron shots I have ever played which brought the hole to life and I was able to two-putt to par and take the hole leaving us equal going into the last two (2) holes. Matt wasn't done finding some late form and played an amazing (7th) 17th par 4 to par and take a 1 point lead going into the last hole.
By now the sun had fully set and it was pretty dark and cold to finish the last hole. Least the rain had stopped but we could hardly see the flag on the (8th) 18th par three which was a difficult 184m up the hill hole to finish. We all tee'ed off not knowing where our balls landed. Craig managed to hit the green with the rest of us littered around the rough of the green. Matt played an amazing approach and one putt to seal the team David/Matt victory.
It was an awesome afternoon of golf with good mates. Despite the slow start, rain, and finishing in the dark we just loved being out there on a new course. The banter and beers flowed for the rest of the night.
We ordered pizzas from the local pizzeria and there were plenty of leftovers from the bbq feast the night before. The girls had hired a boat and went out fishing for the afternoon, it was awesome to hear their adventures.
The girls caught a few nice bream (catch and release responsibility) and had so much fun out on the water! A few more drinking and card games wrapped up a fun Sunday.
We needed to be out of the house early so unfortunately no beach swim though with the whole day to get back to Sydney we stopped in at Tuggerah Lake to hire a boat and get out fishing for a few hours. We hired a boat and rods after a fish n chip lunch. While we waited to wondered down to the lake's entrance where there were a lot of people gathering to watch the pelicans be fed. They were huge! It was amazing to see how big pelicans can get to, they are amazing birds!
Once we got on to our boat, we took a little bit of it time to get going. The boat had all the power sucked out of the motor and we needed to stay in certain sections of the lake. Regardless it was fun to be out on the water. We caught a few nice lil bream which was good fun.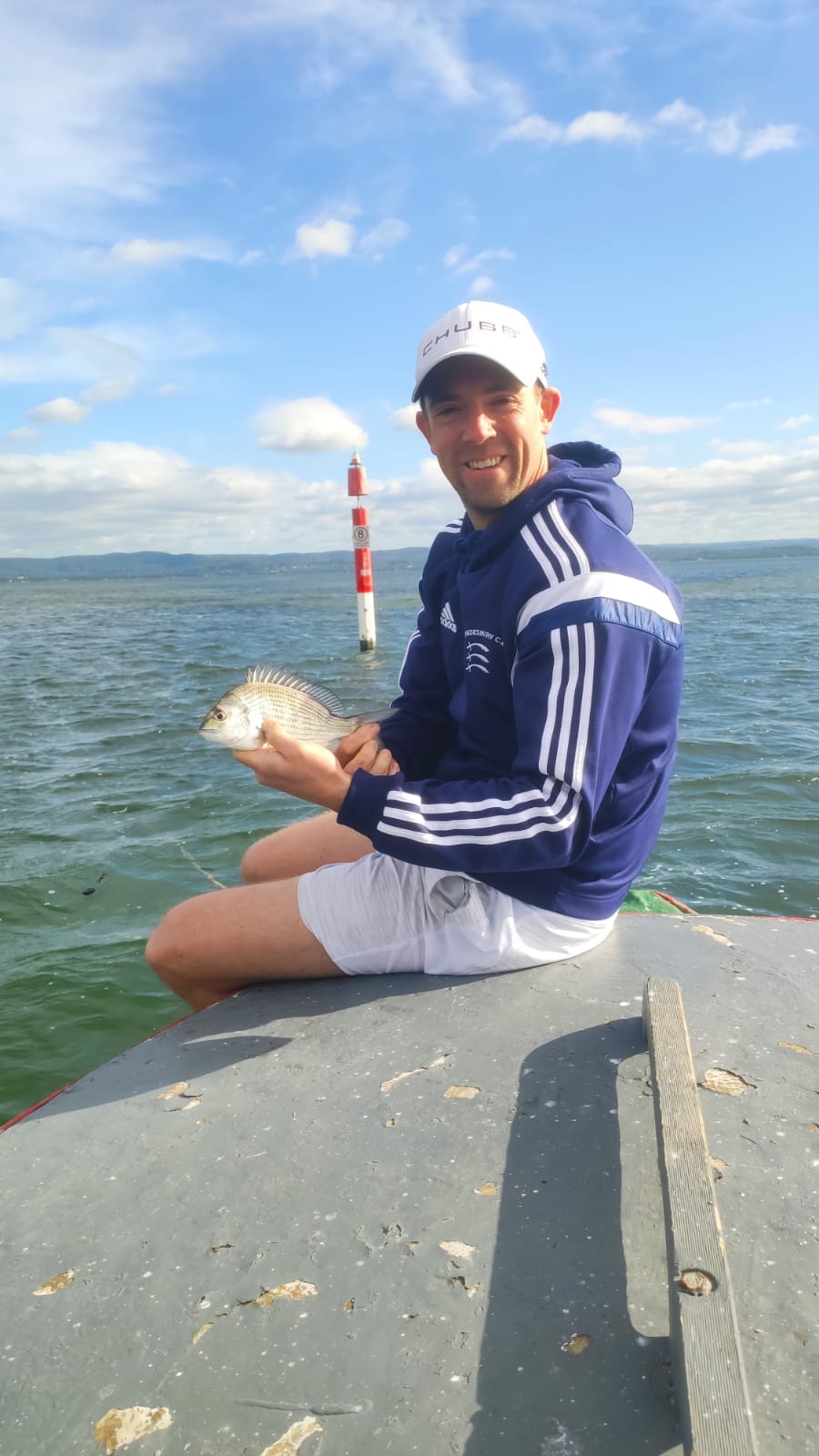 The wind was picking up and time to start heading back in so we could get back to Sydney in time. Once last purchase of hot chips to warm our souls by the beach and to check out the pelican feeding before heading home.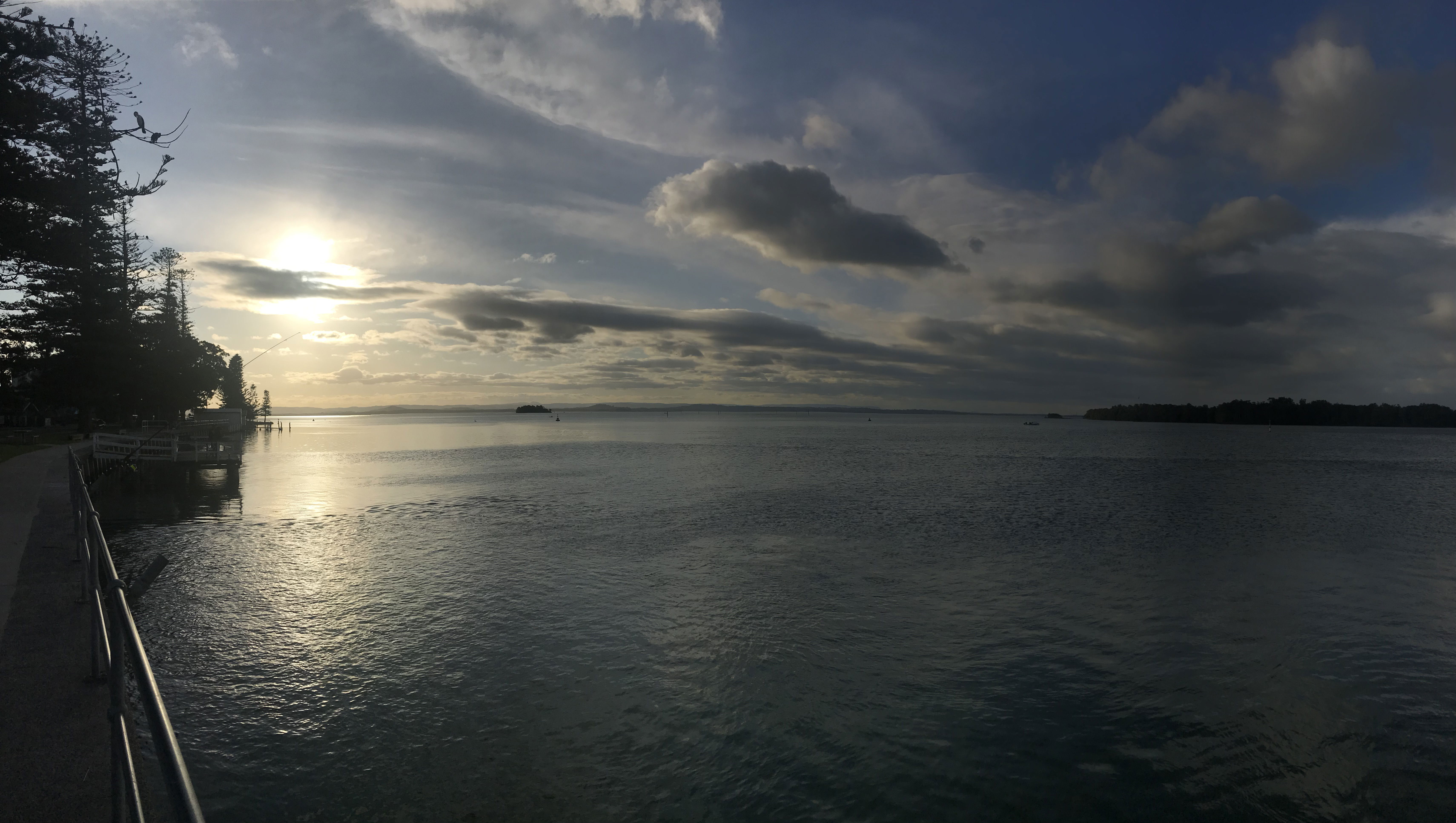 I'd love to explore more of Lake Macquarie more as there are some nice hikes, beaches and great fishing. Hopefully as COVID-19 drags on I will get to do more local NSW travel as there is so much I want to explore.
It was great to get to know Dave and his friends better, great banter, drinking games, fun times on the golf course, and just great people. Definitely plenty more adventures to be had in Sydney and NSW!