Thursday 16 November to Sunday 20 November
I had some leave to take however my mates had already used theirs up for the year. I am not usually one to join group tours as I find I like to go a little harder and further than they do. Though I found a four (4) day tour of Lapland that included a snowmobile trip to see the northern lights, husky sledding, reindeer sledding, a few hikes, learning about local Lapland culture, and swimming in a frozen lake. I thought to myself that this is mind kind of adventure. (https://www.flashpack.com/adventure-trips/finland-digital-detox/)
I booked my trip with the tour group Flash Pack (https://www.flashpack.com/adventure-trips/ ). It was around 1,000 pound from memory which includes all meals, drinks, accommodation, activities, and winter clothes. I needed to book my flights. It would be a small group around 15 people of adults between 25-35 which was great.
Day 1:
My flights with Finnair were really good, we flew from London to Helsinki where I then changed to a flight that does a circular flight stopping at of Ivalo---Kittila---Helsinki. Was kinda weird being in a place that stops at different airports where people hop on hop off like a bus then we keep going and you just hop off where you need to.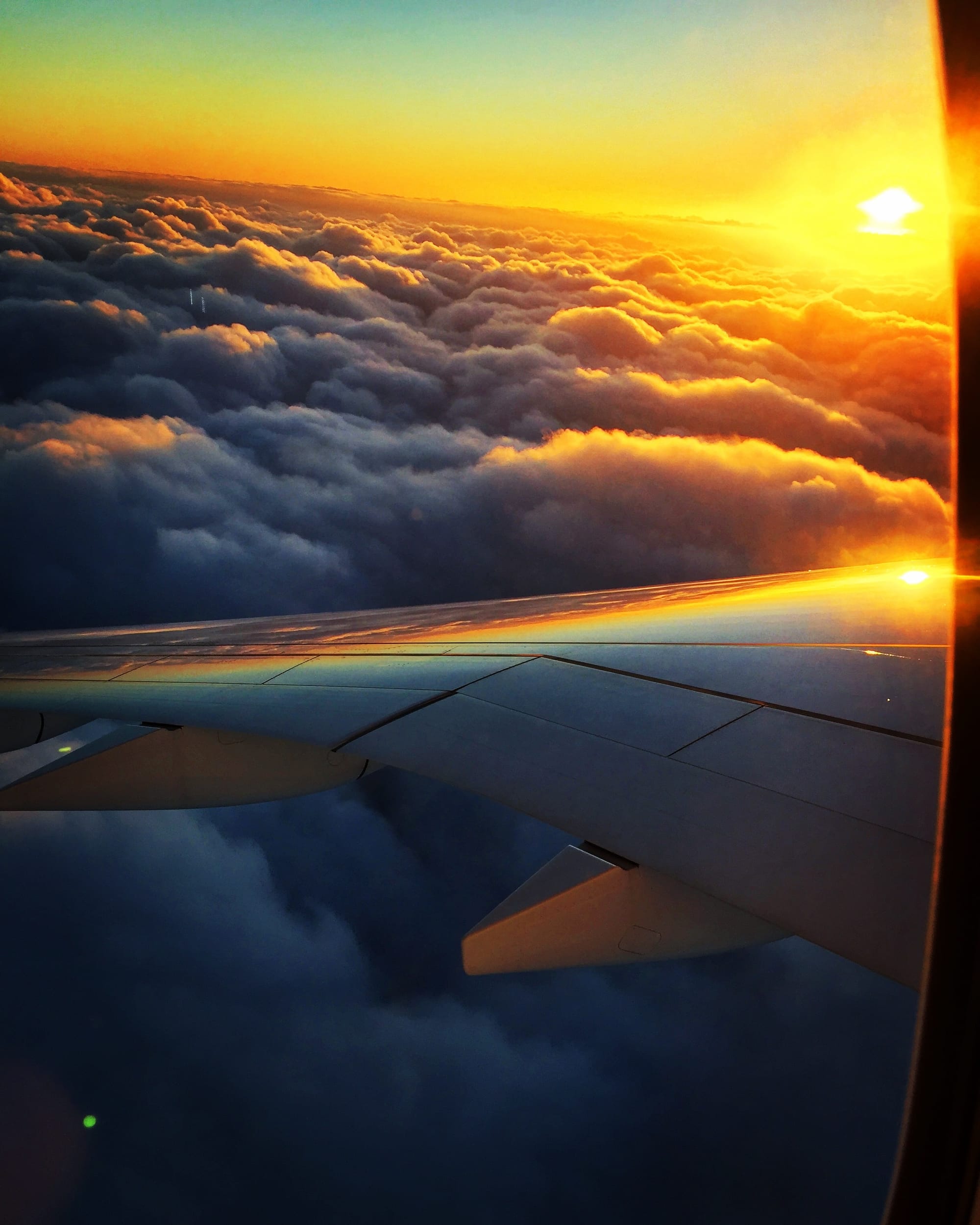 I arrived in Kittila to ice and snow. Not 100% clear where our bus was though saw some other ladies that also looked as lost as I did. I asked them if they were on the same tour and luckily enough they were. We waited around until our guide met us and we headed off north to Torassieppi where we would be based for four (4) days. More of the group arrived throughout the night and by 7 pm everyone had arrived. We were given an introduction over dinner, a safety talk and background on the activities for the next few days. Afterwards we were shown to our rooms and before we were able to have a few drinks together.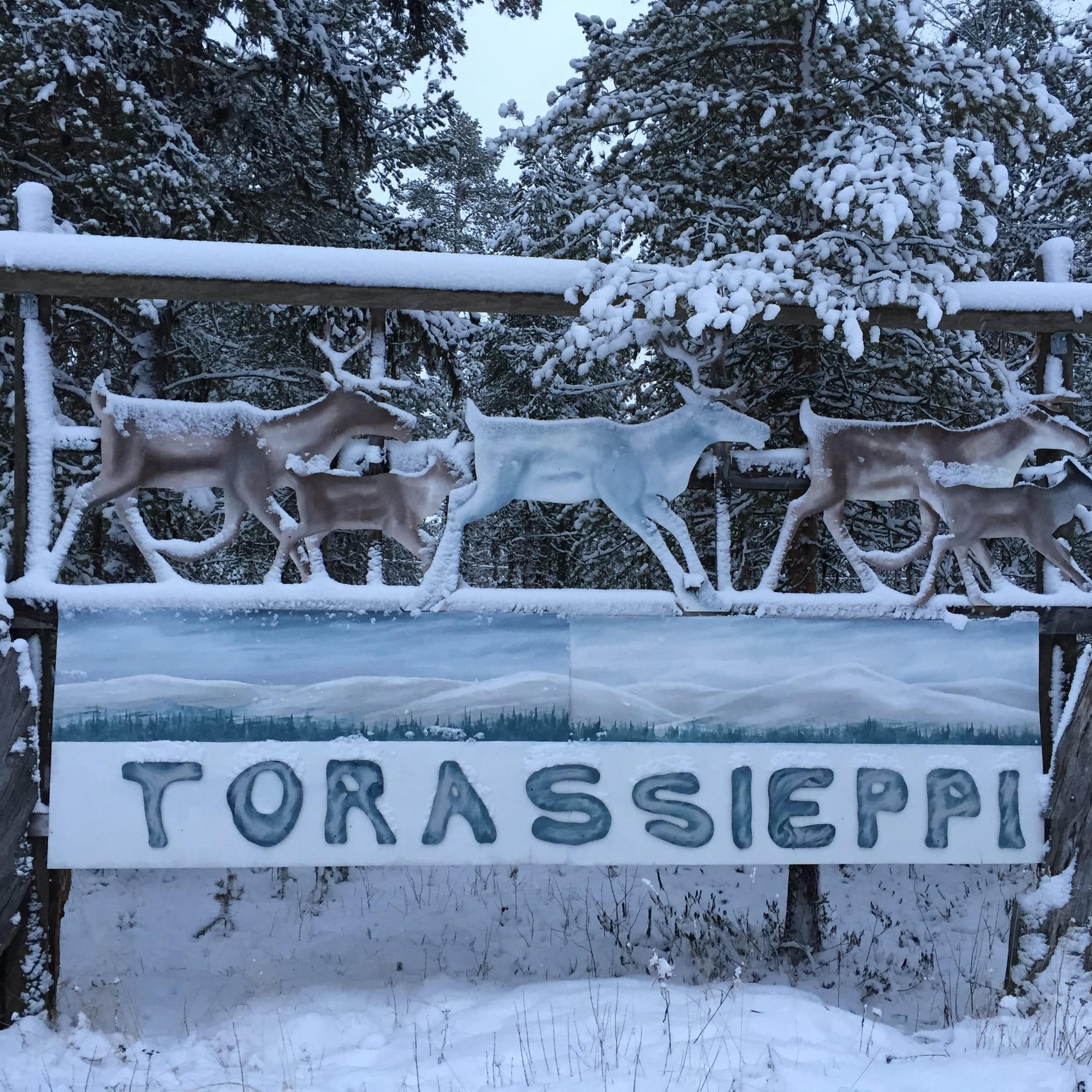 Day 2:
The bedrooms were warm and we all had a good night sleep. We met for breakfast before being allocated our winter clothes to wear while we were out on the hikes and activities. Our first activity was going to be reindeer sledding through the forest. We went out to a reindeer farm in the area run by a local family for many generations. We were provided some background on their family history and about the local ancestor traditions. We then paired up and were strapped into a slay with a reindeer and guide and took off around the property. Unfortunately, there had not been a large dump of snow yet so we were limited to where we could go. It was fun though nothing too crazy, more of a child's horse ride around the fair.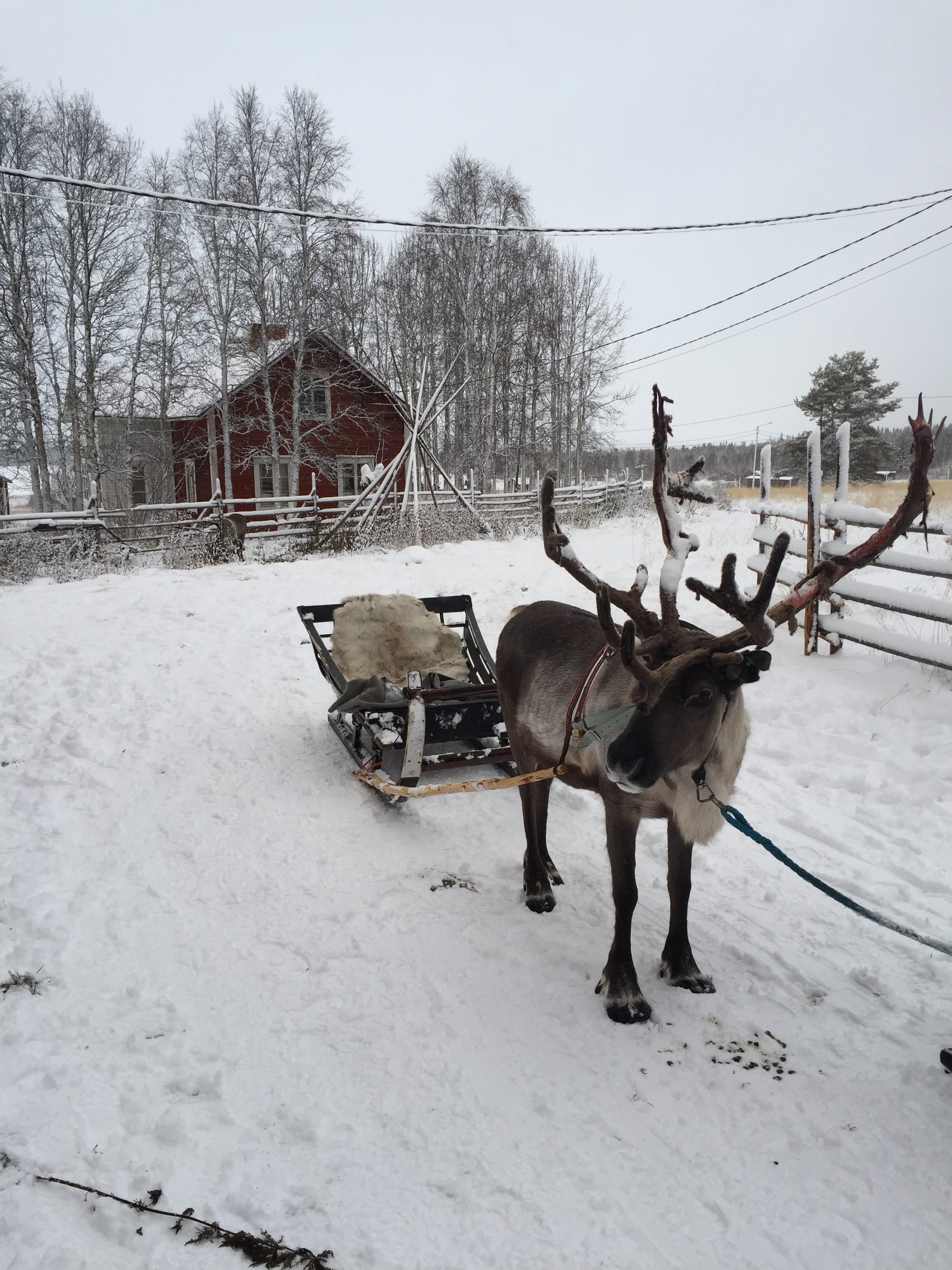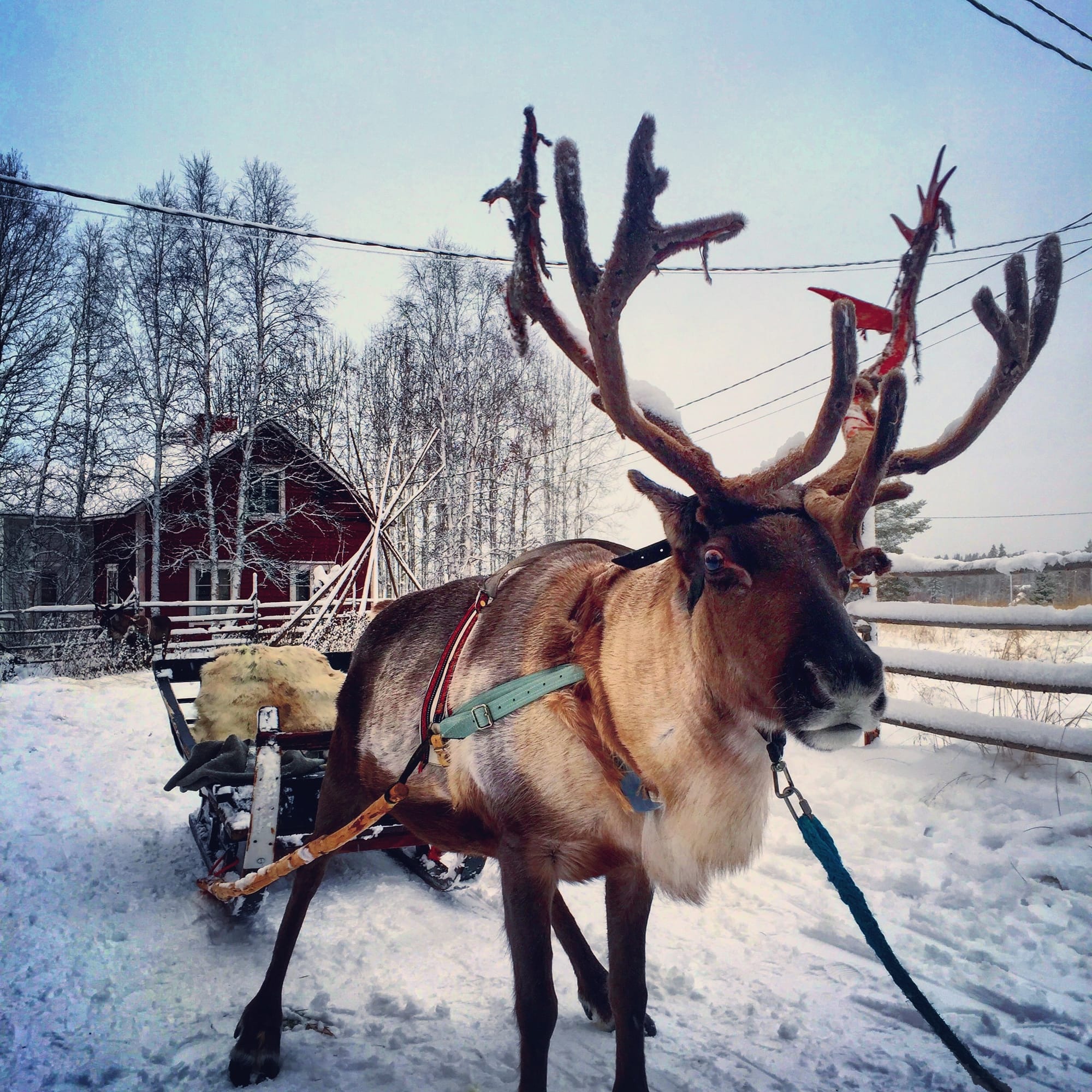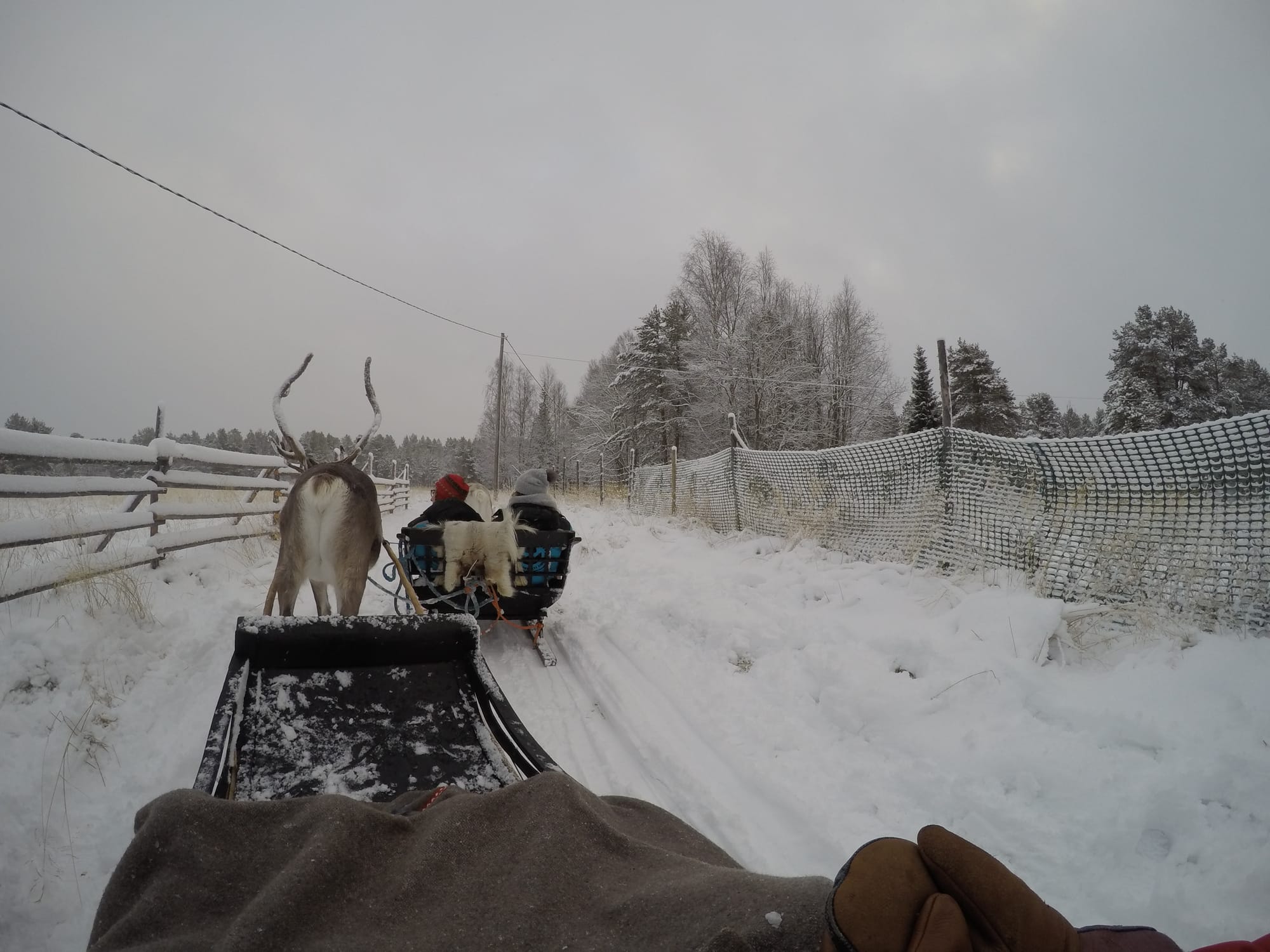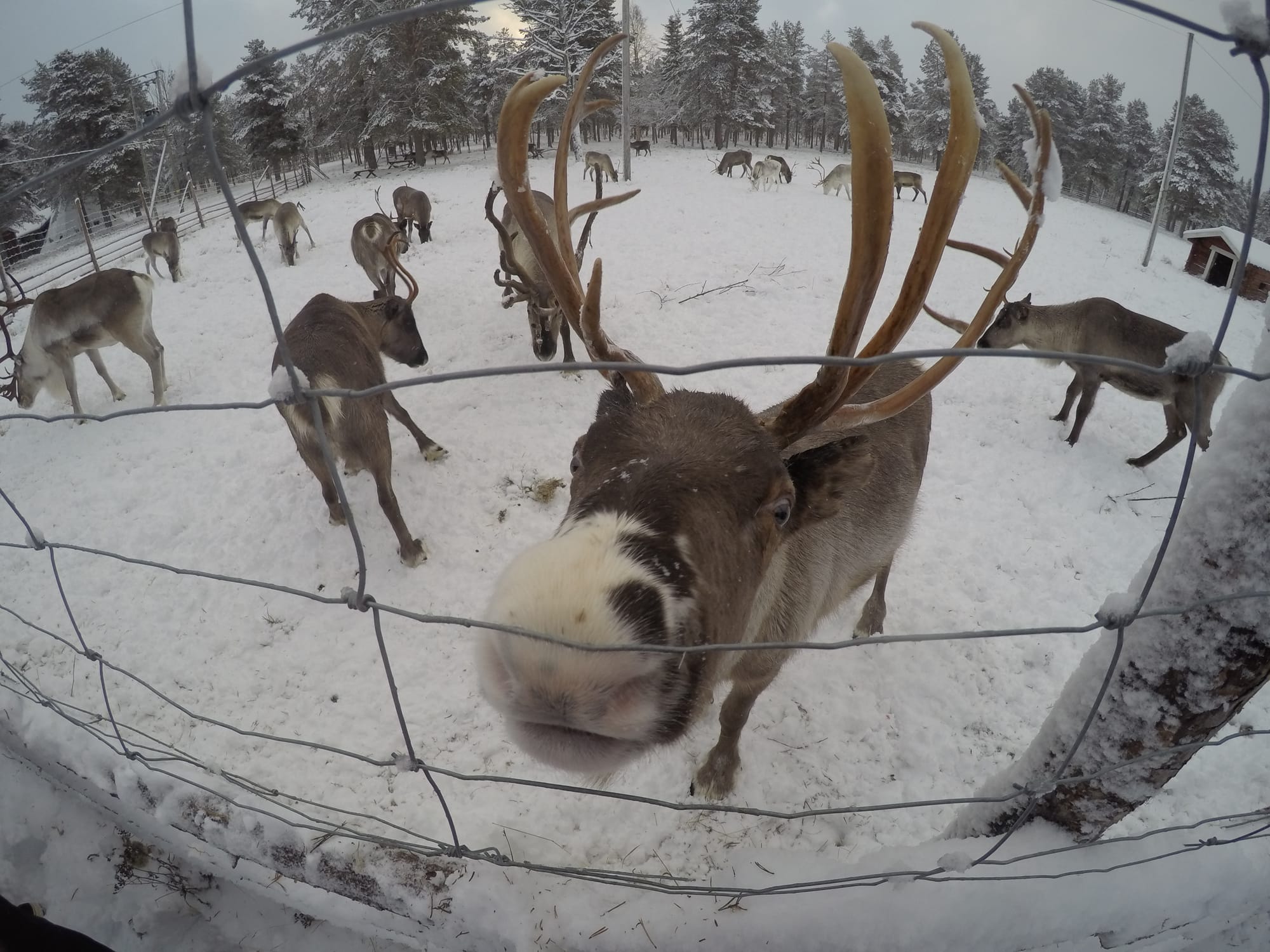 We then went on a nice hike around the farm and into the forest where they were building the ice hotels that would be used over winter. It was awesome to see these hotels being built out of ice and wonder through them. It was also beautiful to see the forest covered in snow, very much like a Disney Christmas movie. For someone like me having grown up in Australia where we have very little snow and winters are pretty mild to warm I really enjoyed this experience.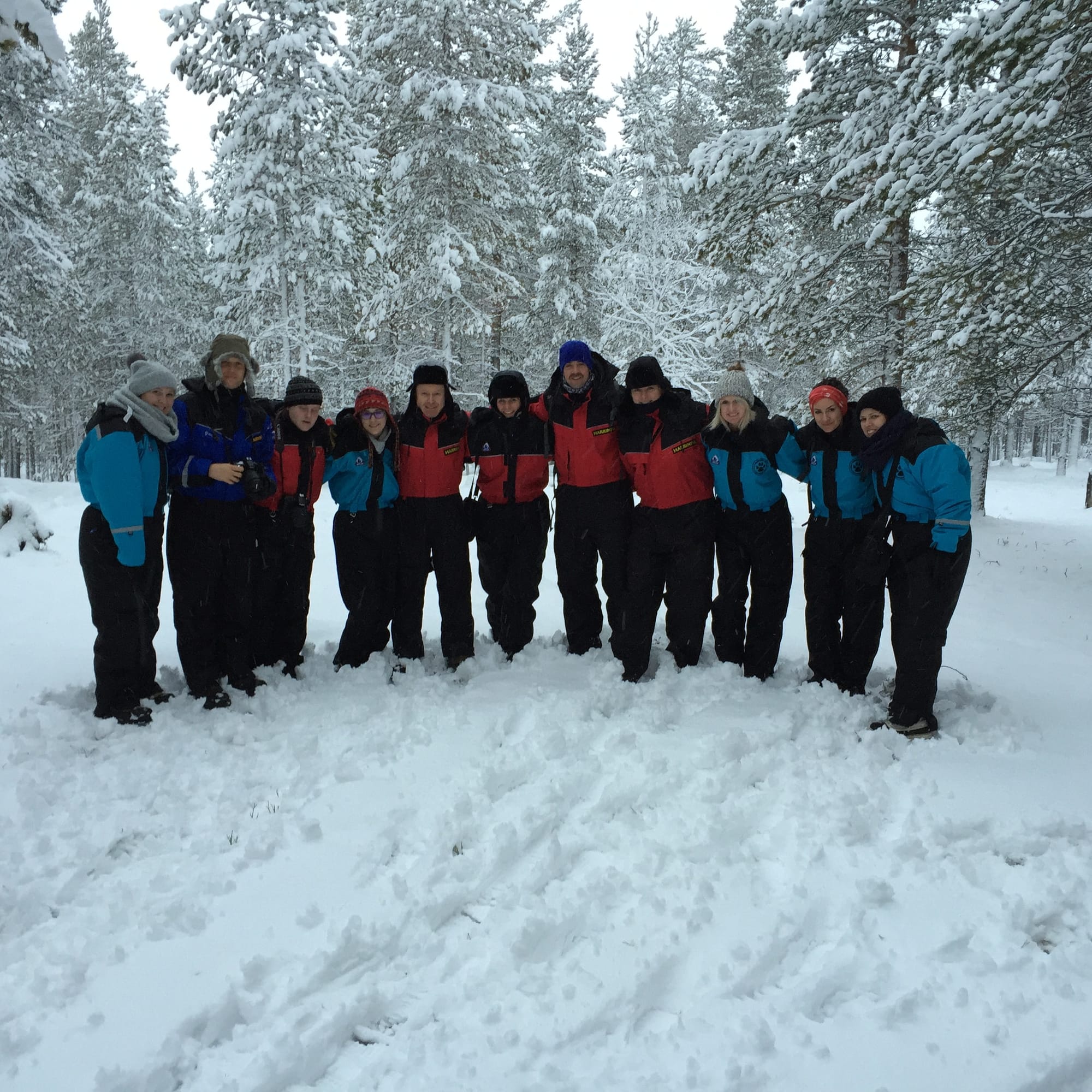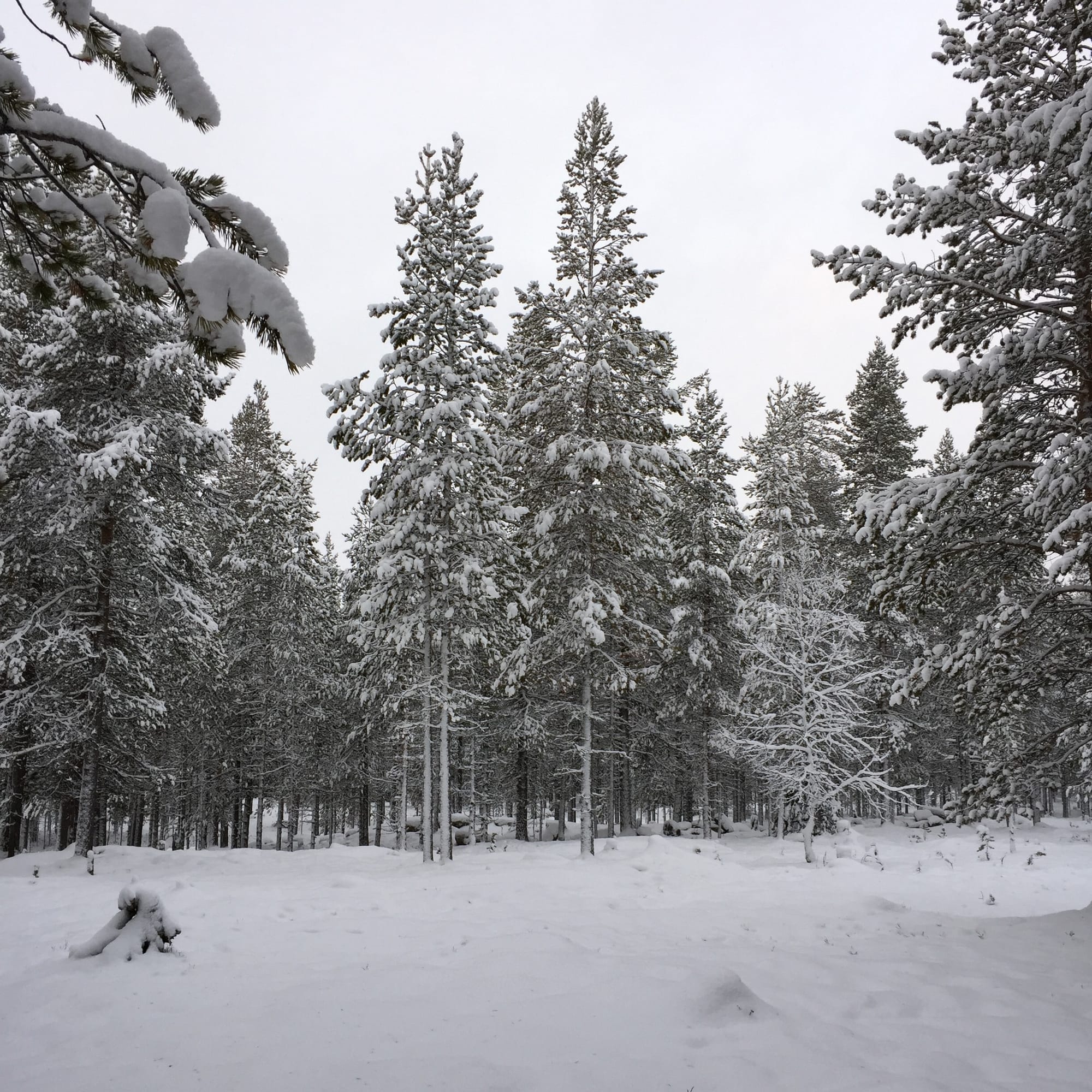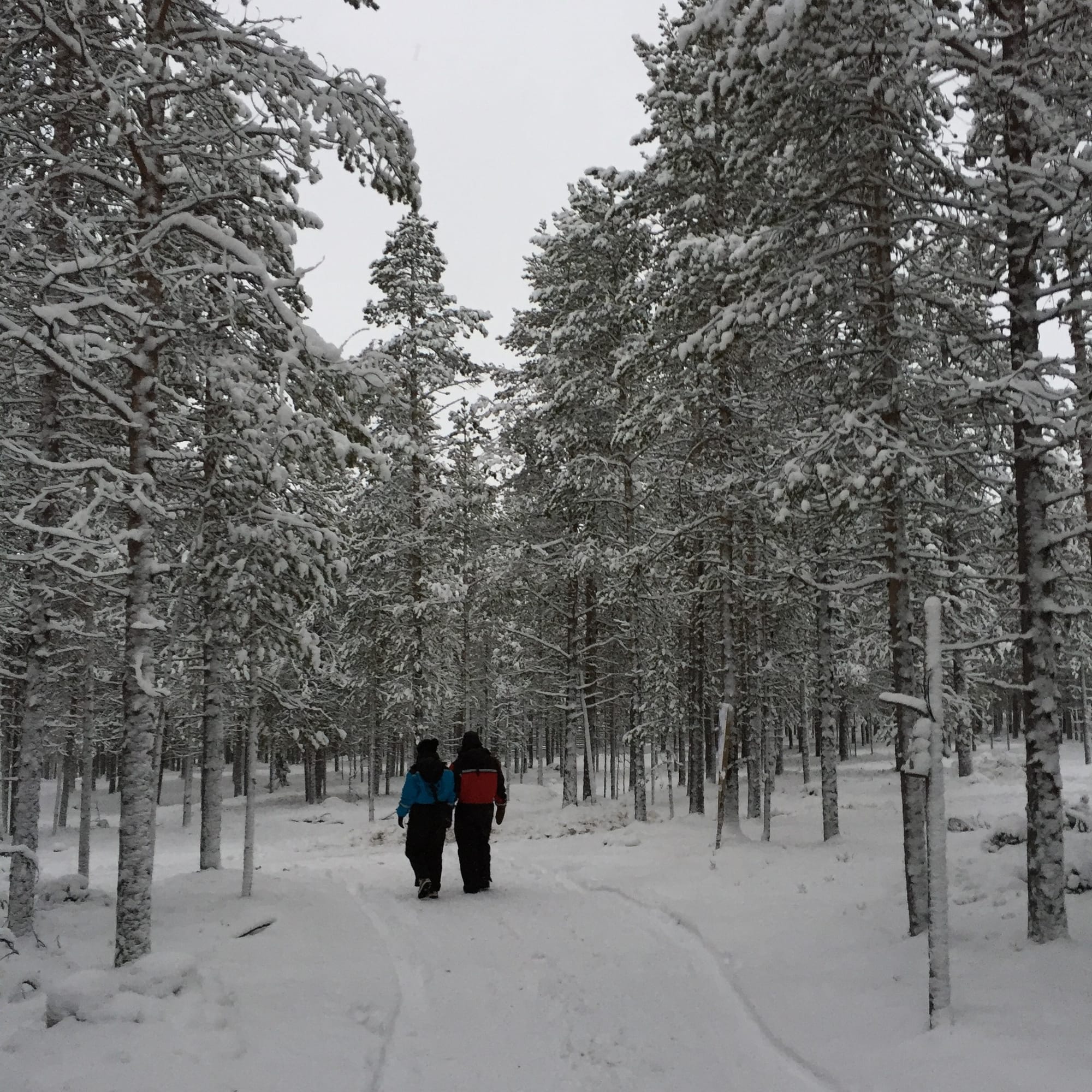 We had a late lunch in a local forest cabin where the local tribe cooked up an amazing stew using local meats such as deer and moose. We got to try some of the local homemade brew as well.
Our bellies were warm and we were ready to finish our winter hike. It was great hiking through the snow as it gave us more time to get to know one another and take some fun pictures in the snow.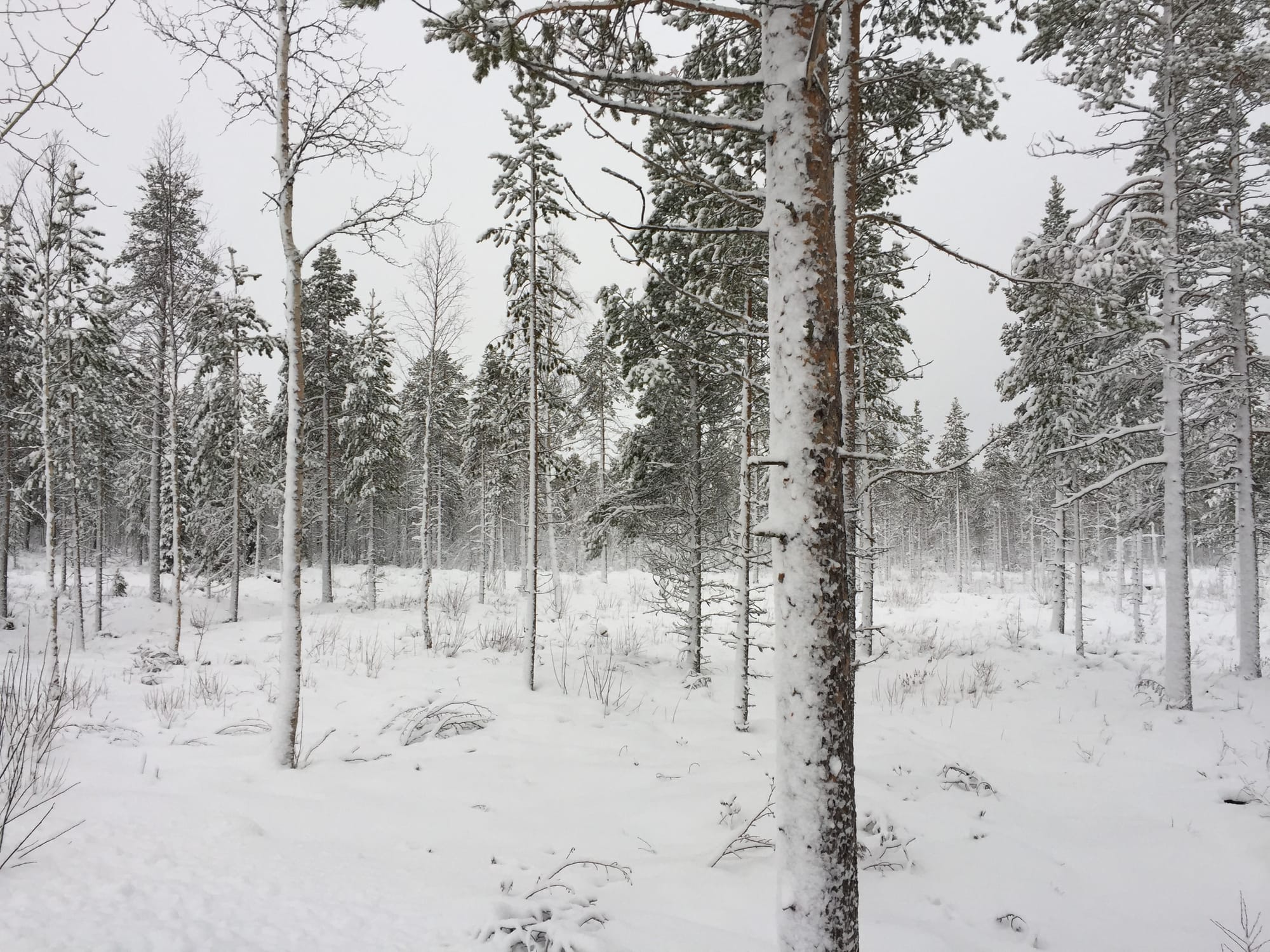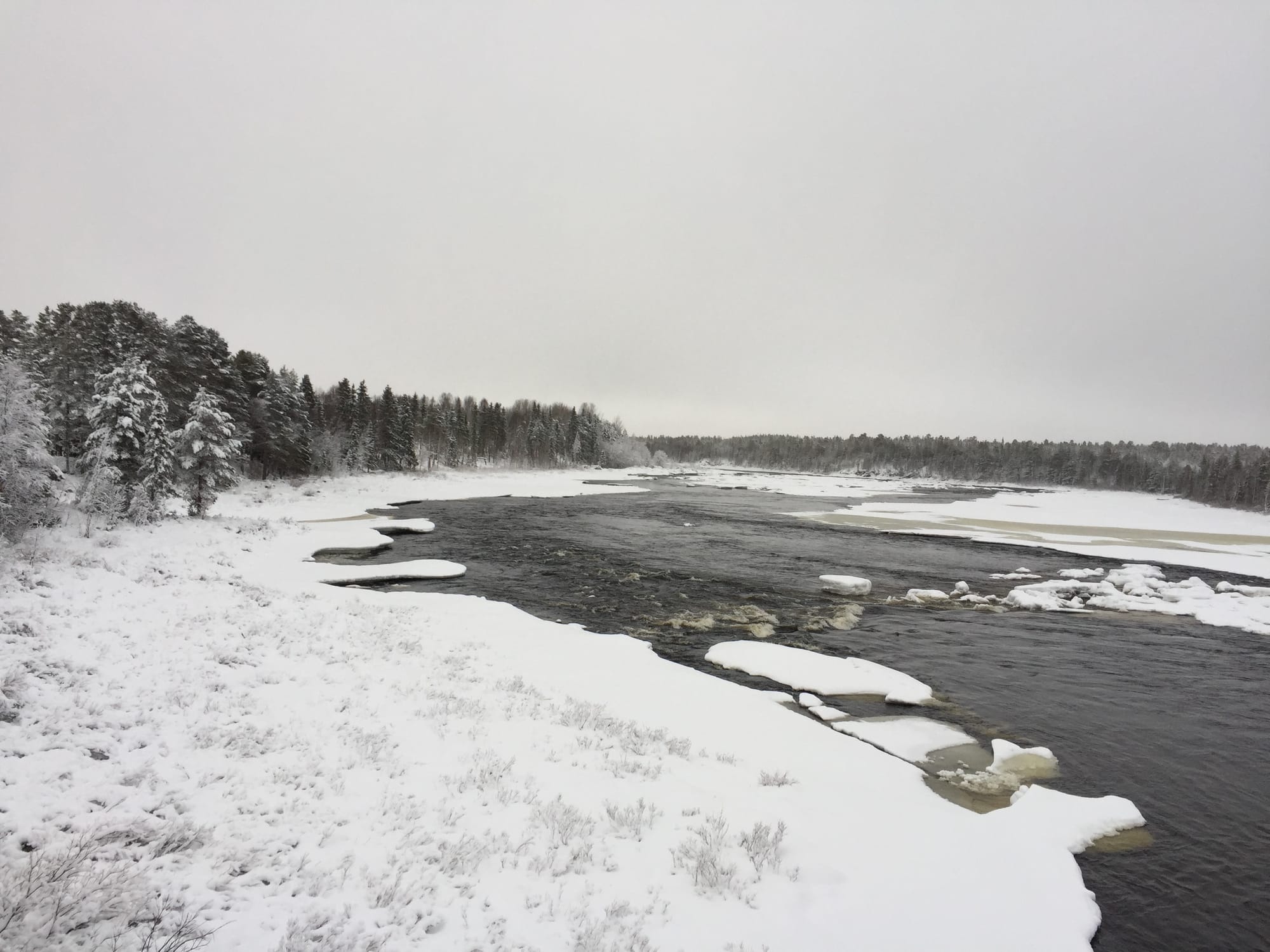 That night people who had booked a special night in an outdoor cabin with an open ceiling were taken out to their cabins. These were pretty awesome and if I was with a special someone I definitely would have booked a night together in one of the cabins. We dropped those off staying at the cabins and the rest of us headed back to the lodge.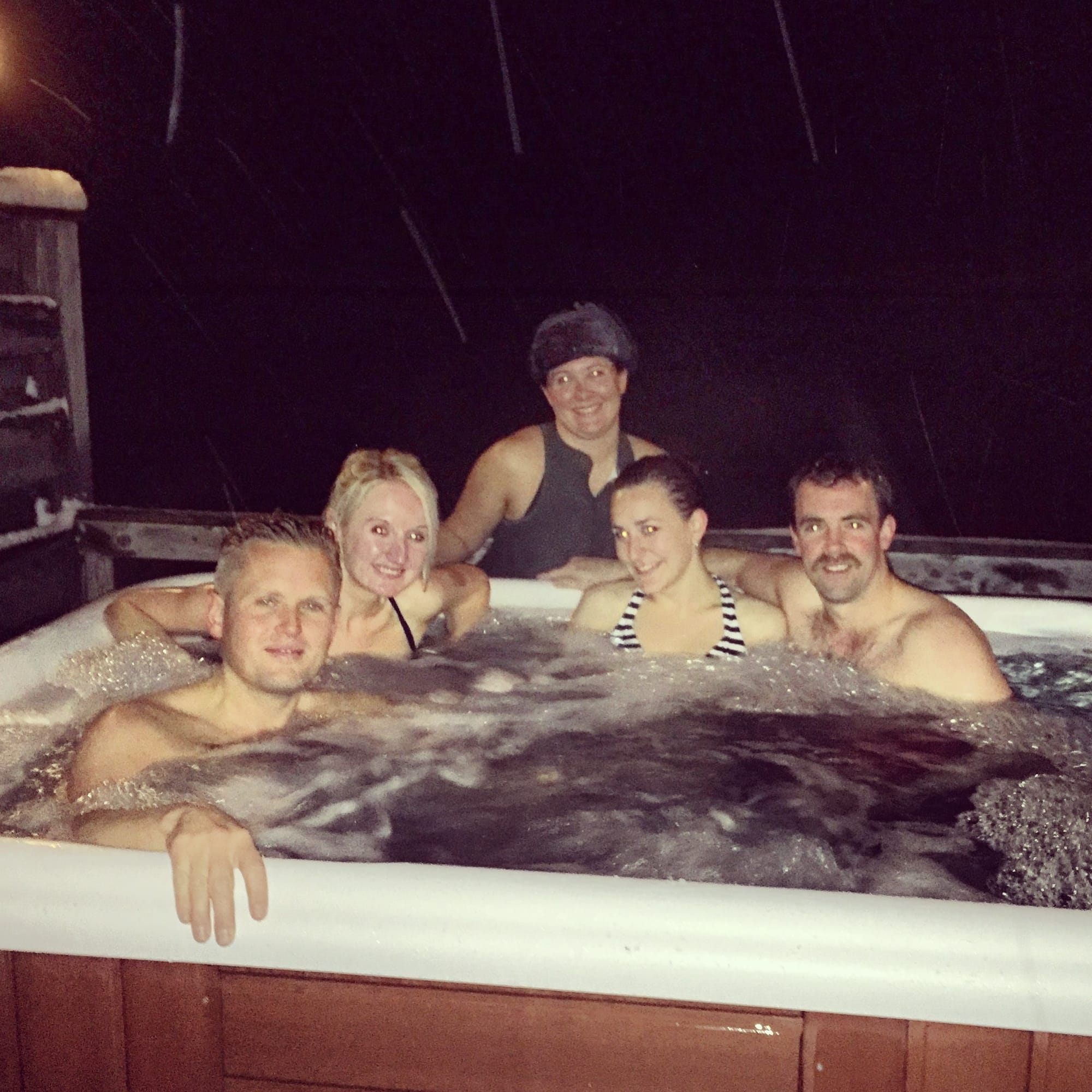 We made it back to our lodge for dinner and a few cold beers. The drinking games began and we had a great time. There was a hot tub near the lake that we were able to use and after a few drinks, we were all in the hot tub having a great time!
Day 3:
Saturday morning was here and this was the day I was most looking forward to. We suited up again and headed down to the dog kennels where all the huskies were kept. We got to play with some of the huskies before we were given a quick guide to how to operate our husky sleds! Yep, we got to do this on our own with no guides! Finally some fun and adventure! I was partnered up with three (3) to four (4) awesome huskies per sled that were pretty energetic and ready to go. We fed them and then they just took off! It was so much fun getting used to driving a sled driven by huskies and cruising through the countryside we picked up some great pace! I really enjoyed it and just loved being out in the open air despite the -6 degree weather + wind chill.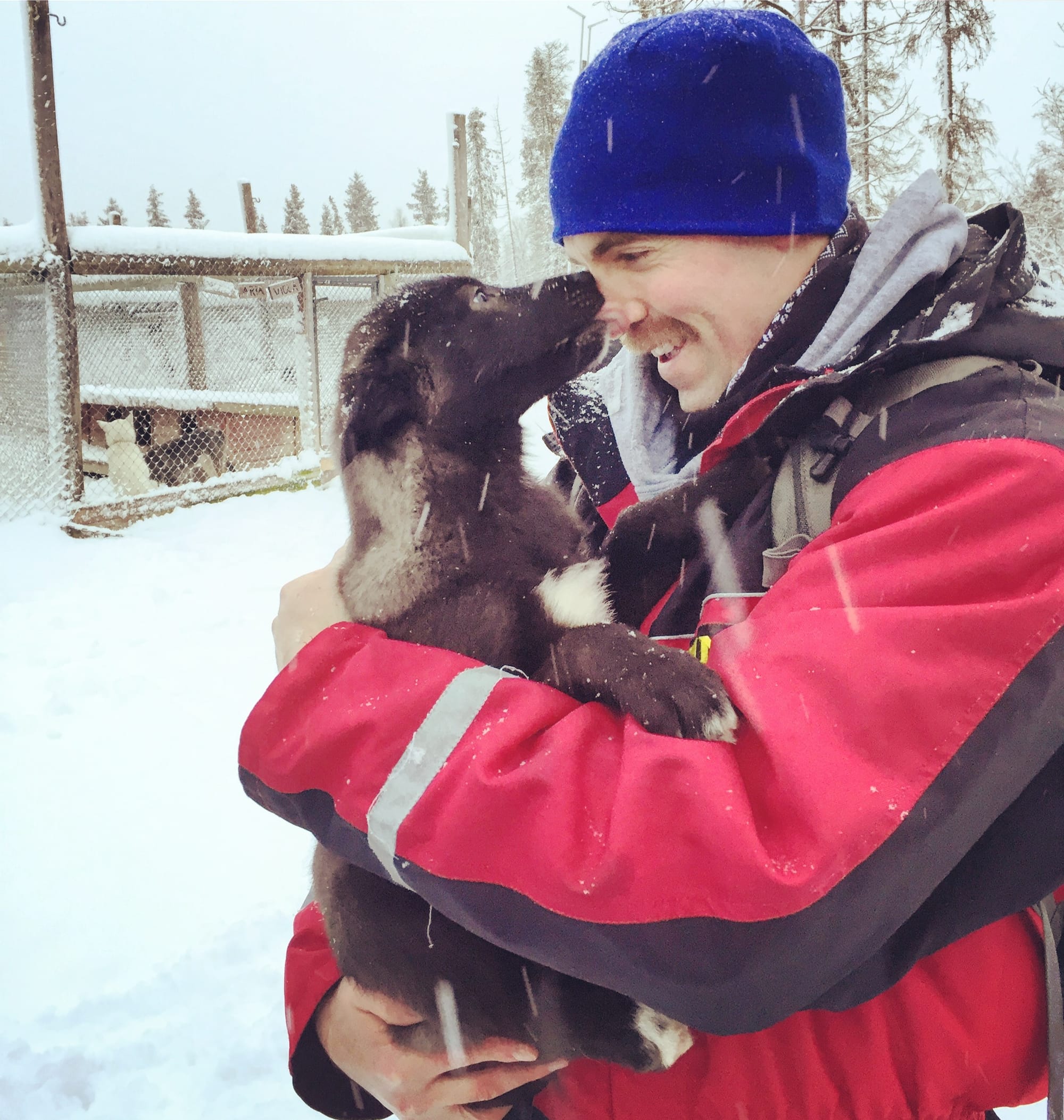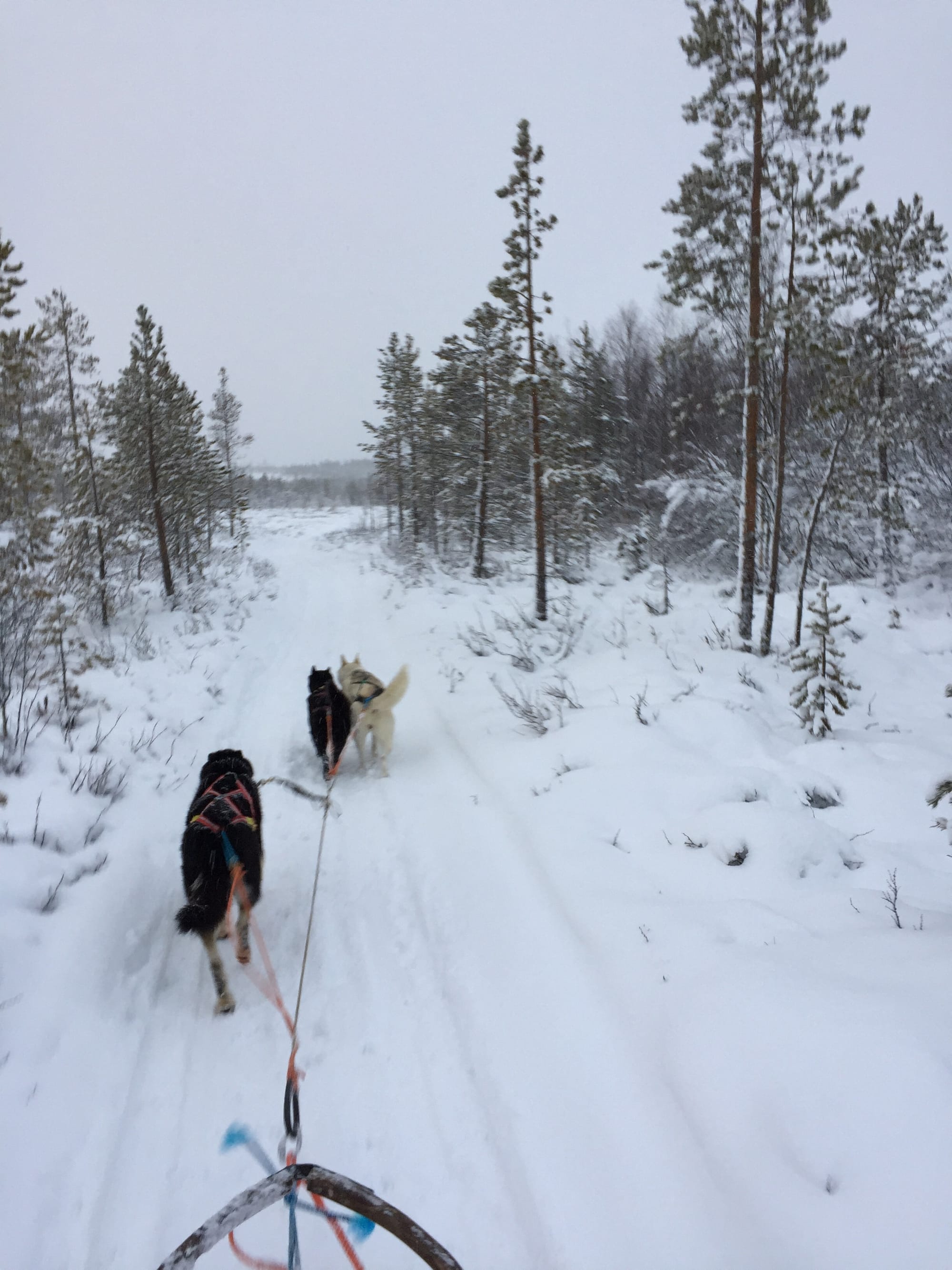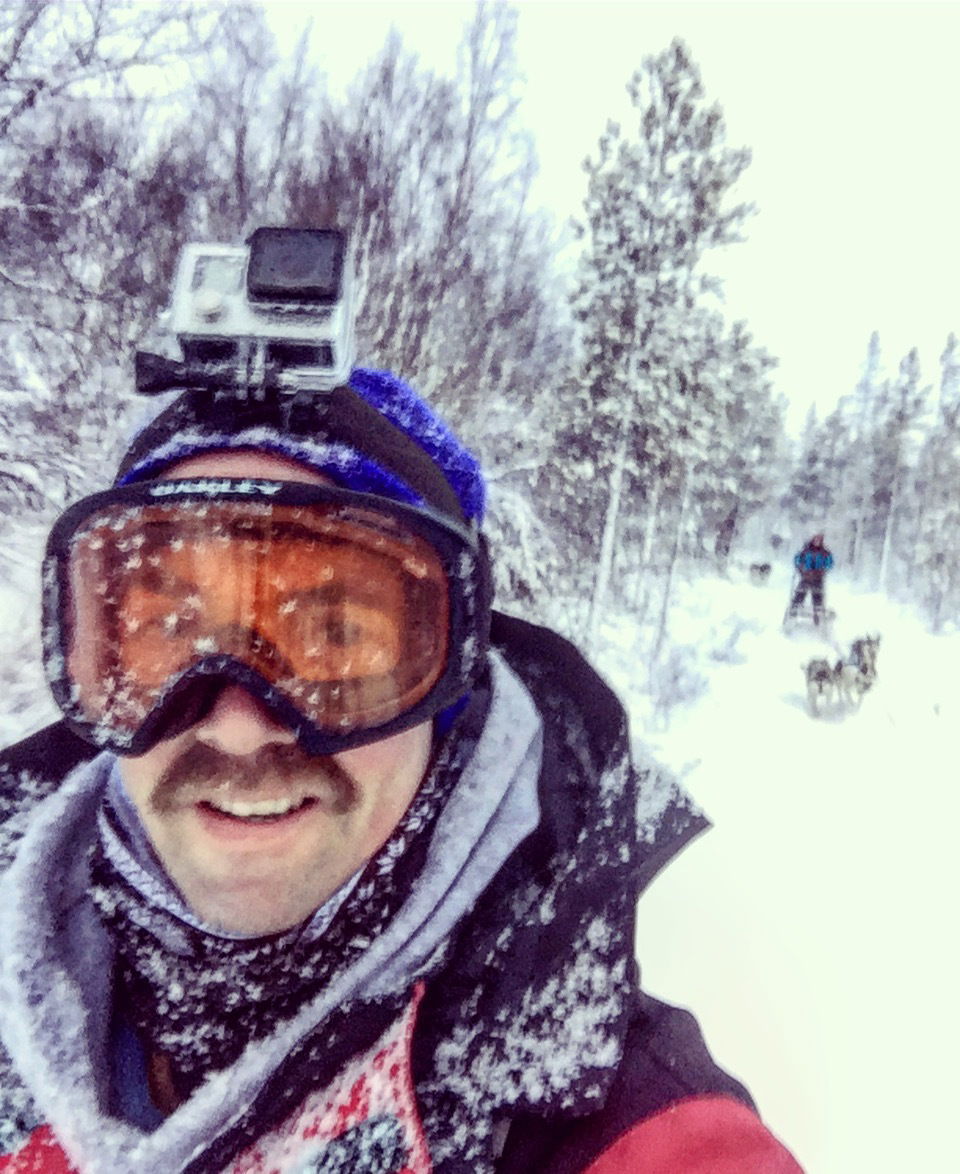 A few group members had some pretty epic crashes and near run-ins with each other though the snow was soft and the spirits were full of laughter. We had to make sure the dogs didn't get too close otherwise fights could easily break out. Luckily no flights and just plenty of wagging tails and smiles all around. We finally made our way back to the kennels after about an hour or so. I really wish we went all day, it was just awesome fun! I found out you can do a 5-7 day husky sledding trip through Lapland which is something I may look into in the future.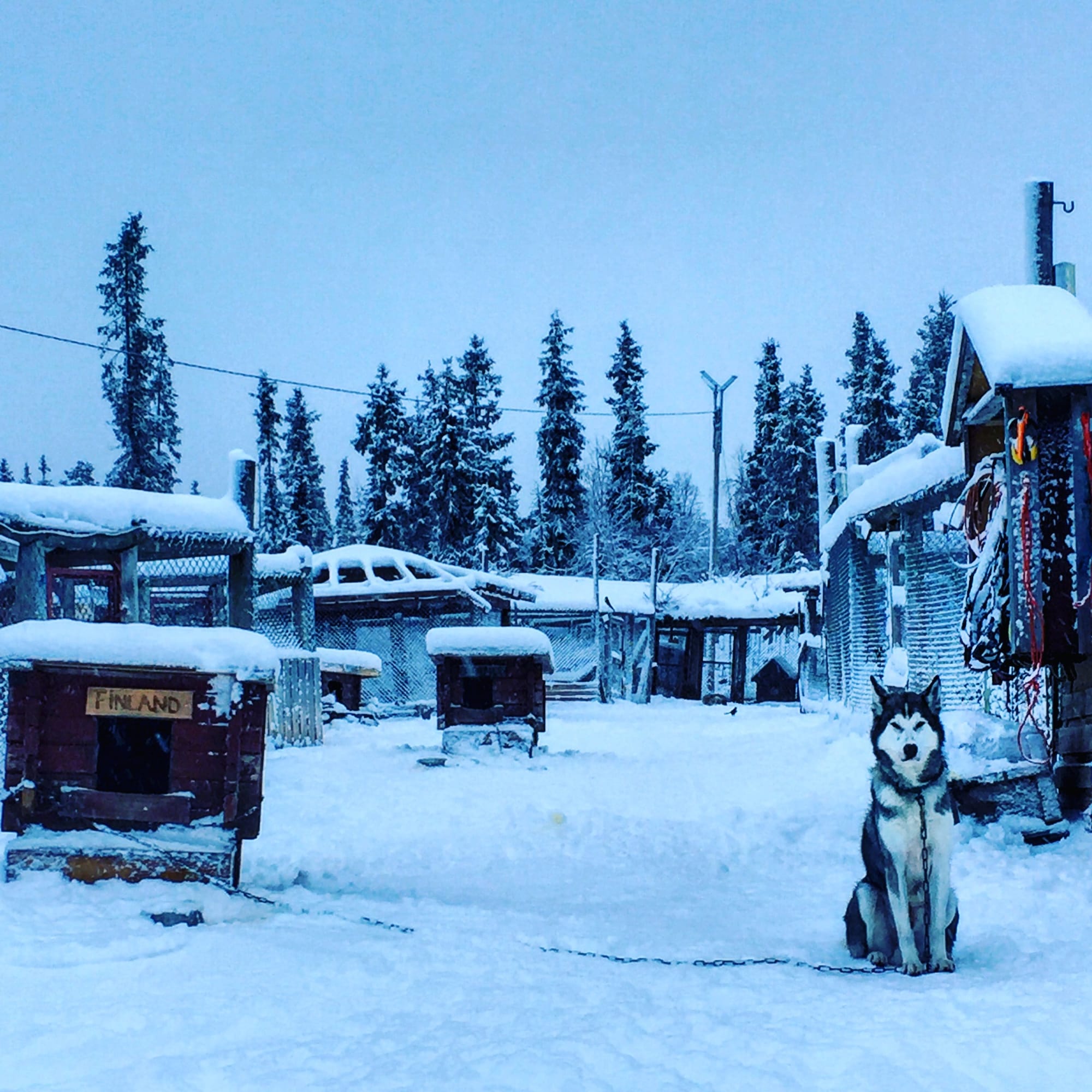 We got to feed our huskies again then meet all the pups who had recently been born. Was sooo much fun and they are just adorable!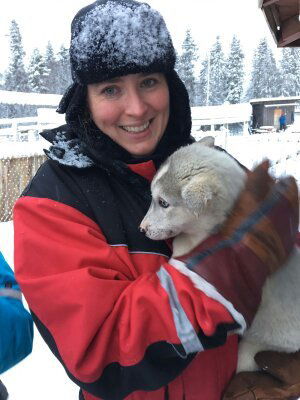 The next activity was cross country skiing. This was taught by an ex Finish cross country skier and she was amazing, her legs were so strong! I thought with my background in sport I would be pretty good, though it was so much harder than I expected and so different to regular skiing. The skis were so skinny and you had to keep moving to keep the blades warm otherwise the snow and ice would stick to the blades and you down. We had a lot of fun and there were some sore legs by the time we got back.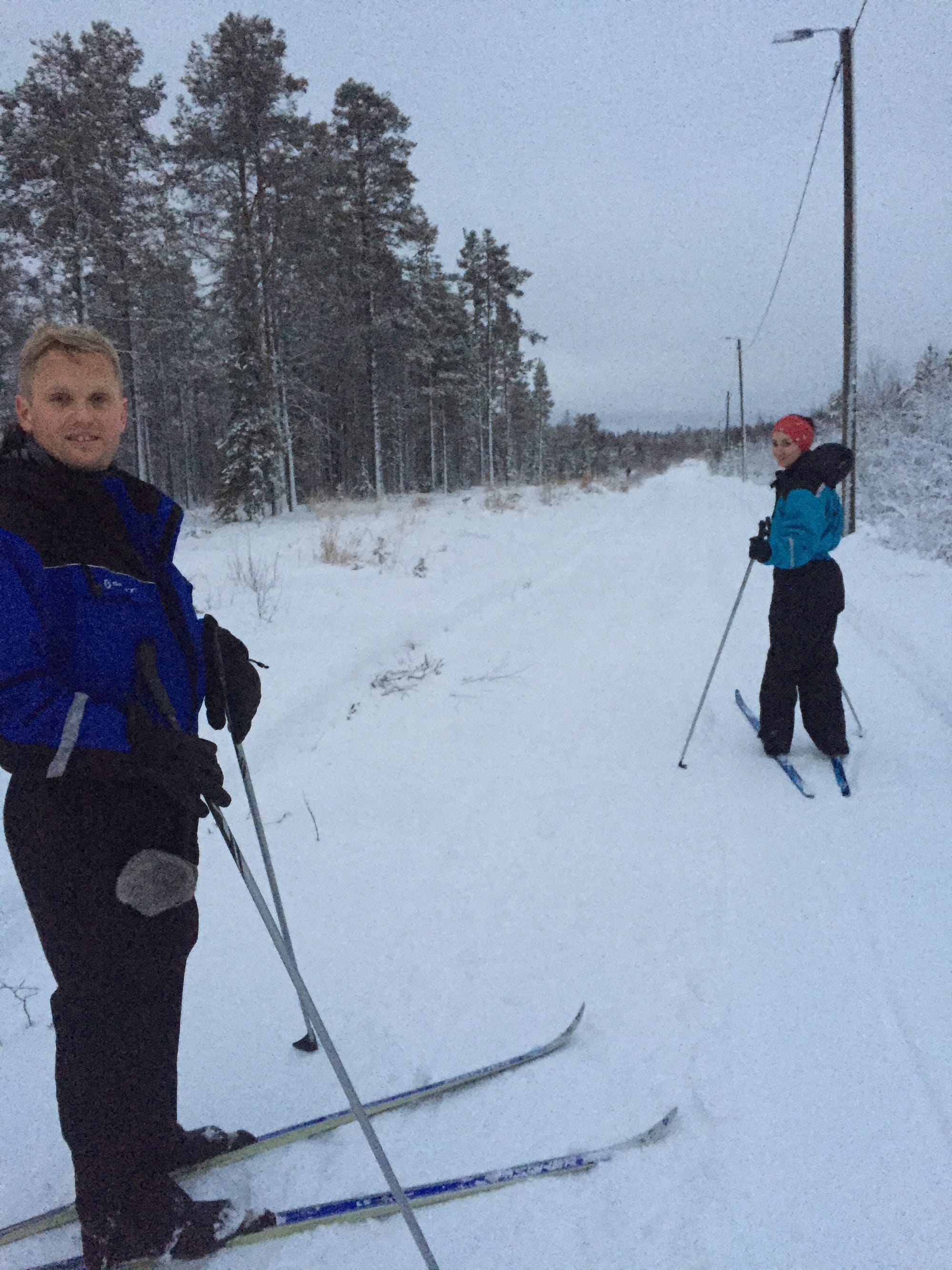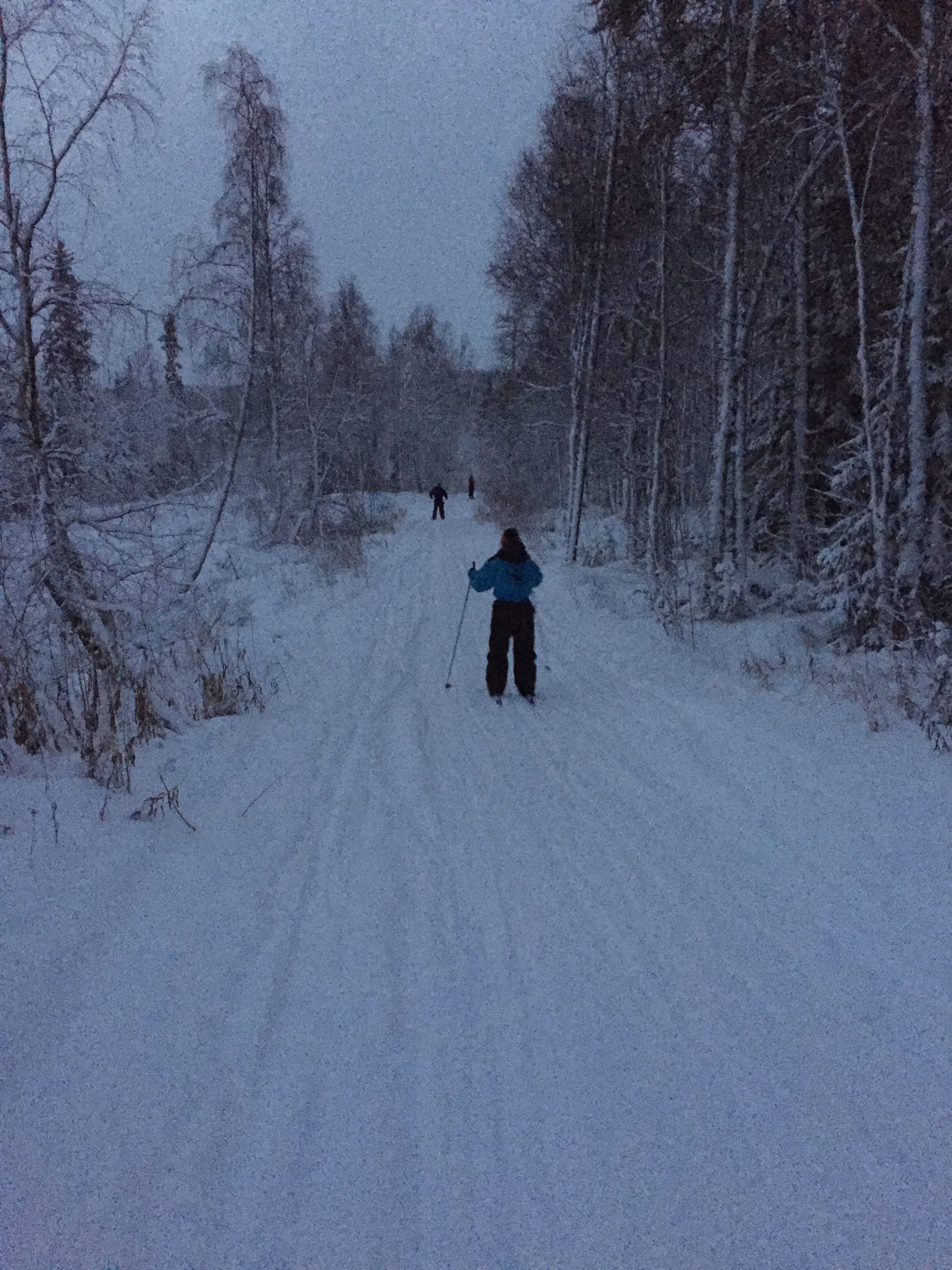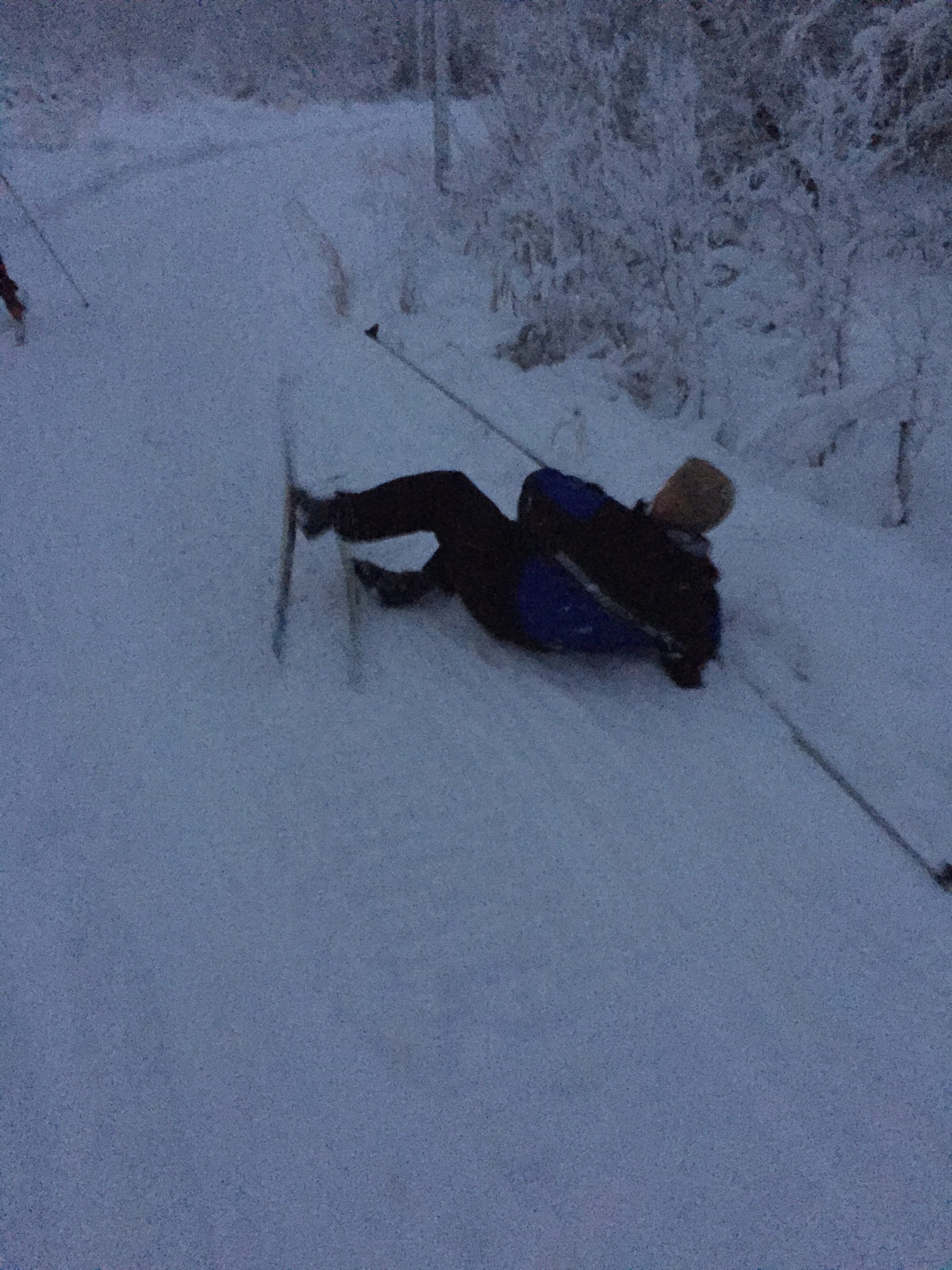 We had some time between activities so a few of us went for a hike through the local forest and around the lake which was cool. Naturally, a snow fight broke out which was great fun.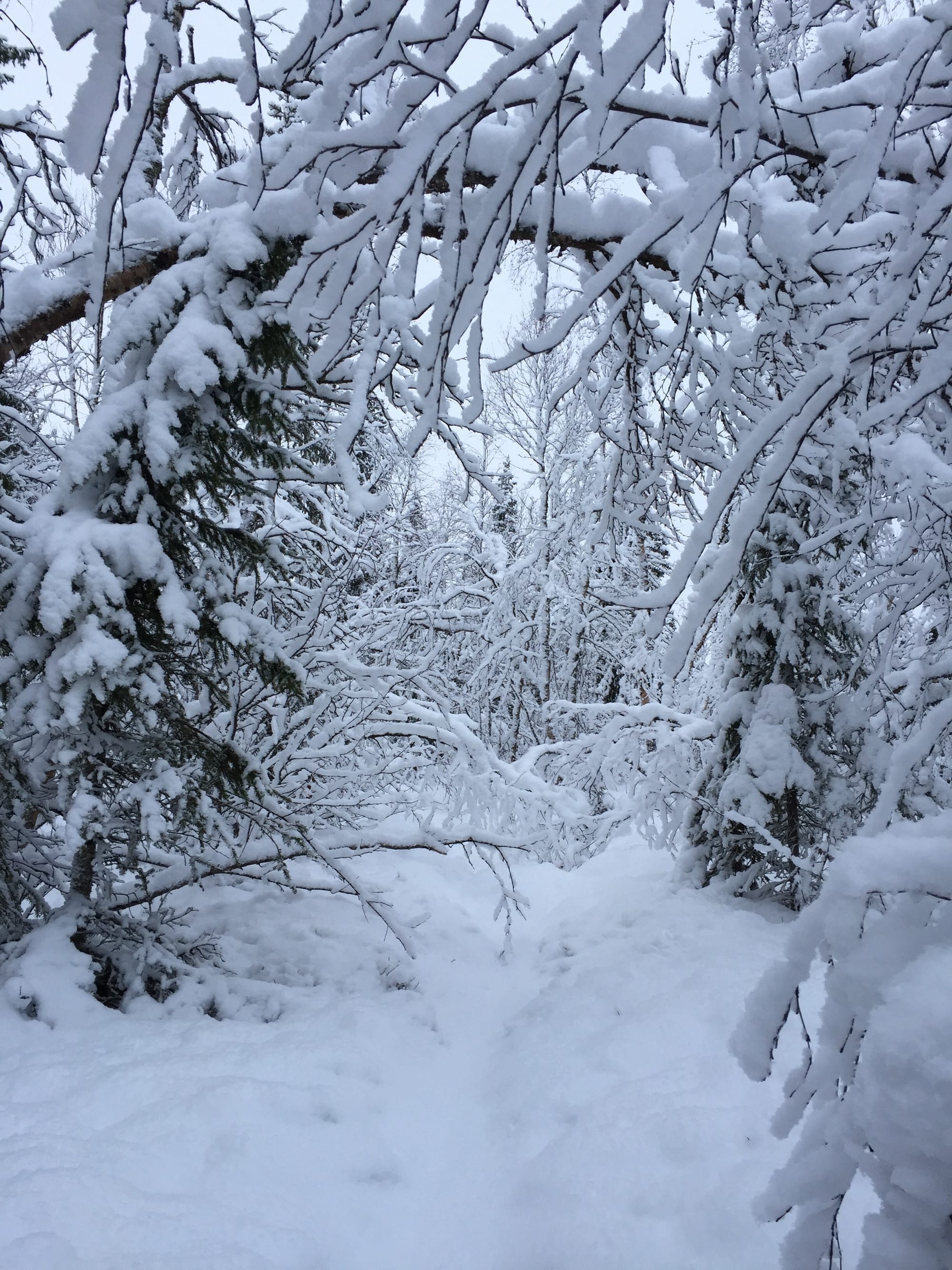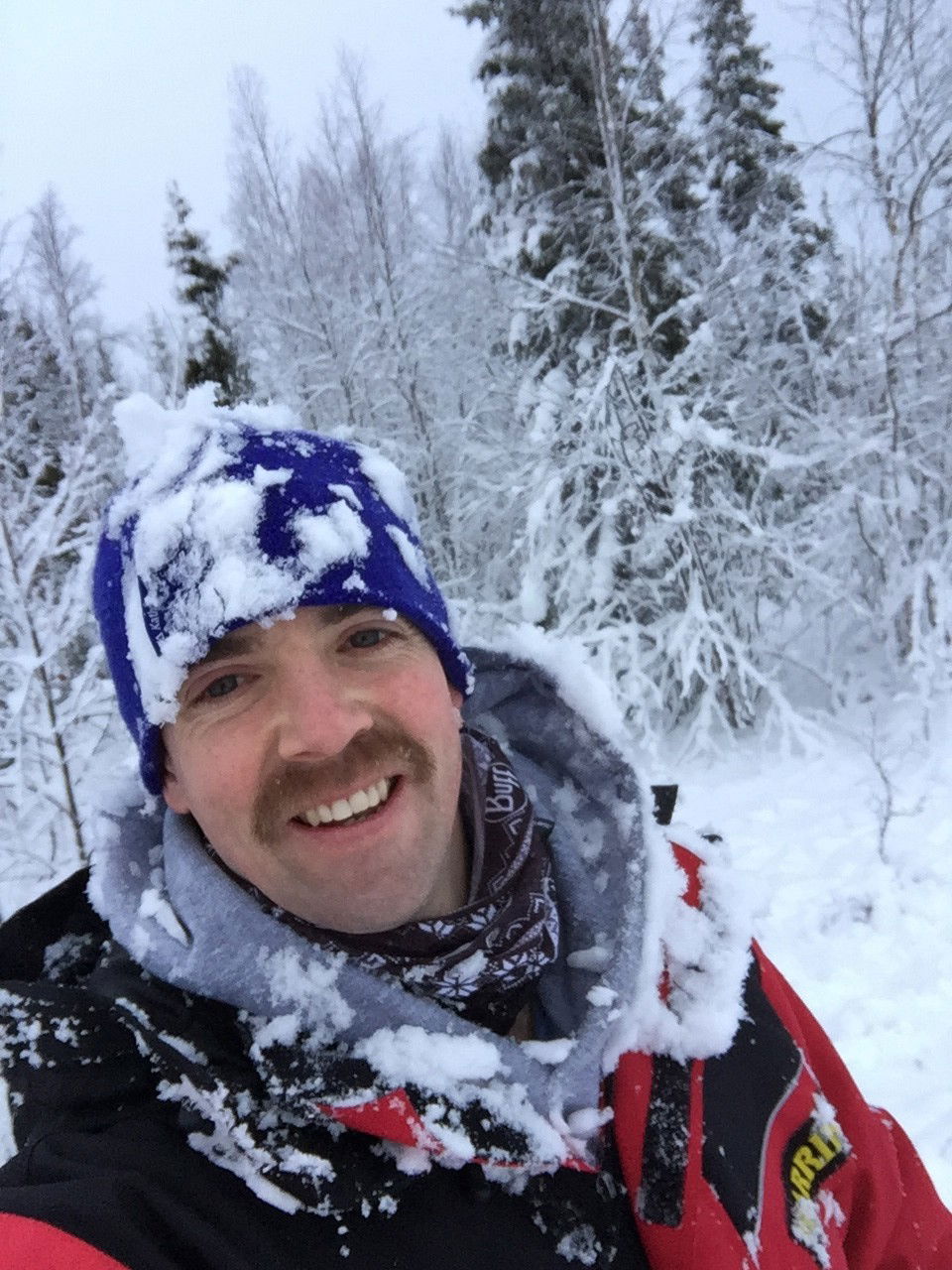 That evening as the sunset we were partnered with our very own snowmobile to head off into the night in search of the northern lights! We were all so excited and a Lil nervous but once we got the feel and hang of the snowmobiles. We got some serious pace up when we cruised over the frozen lakes and it was soo much fun dashing through the forest between and around trees as the snow poured down under the moonlight! It was sooo much fun! Unfortunately it was snowing so there was not great visibility. We saw some hints of the northern lights through the clouds but nothing too much really. We stopped off at a winter cabin for a fire, roast marsh mellows and some hot chocolate.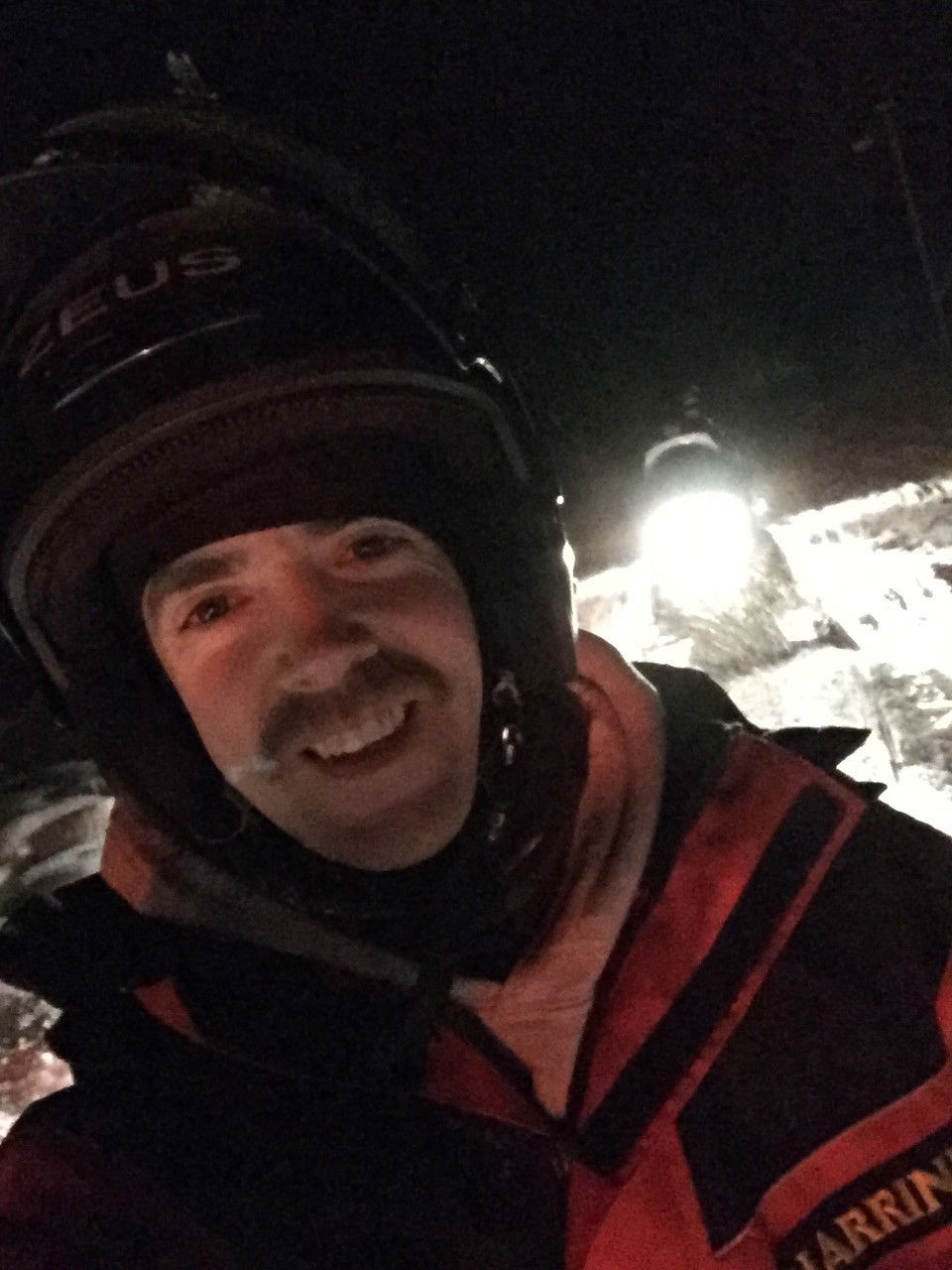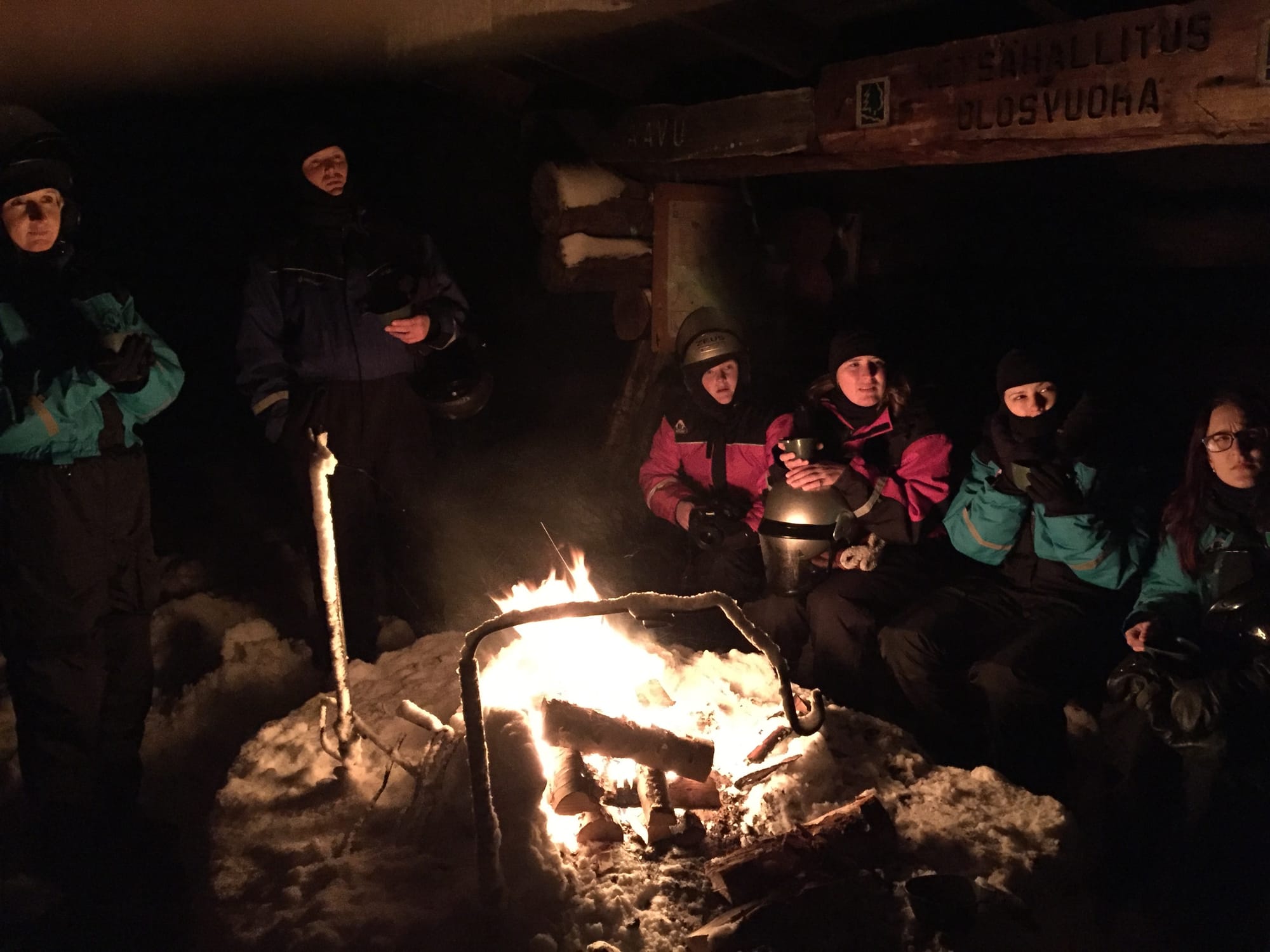 It was time to head back ☹
As the snow had been falling the path we came in on was a little softer than before, there was a small up down up section which you just needed to hit the accelerator to get back up the little hill. Our guide showed us the way through a couple of girls weren't too confident with the accelerator and only got halfway up the hill before they started going backwards into the snowmobile behind them, two of the girls leapt off as they crash on their side. We were all in shock for a second until we heard laughter erupting from under the snowmobiles. We all got out and got the two snowmobiles off the girls and back in the right position and off we went again cruising through the forest and hitting the accelerator across the frozen lakes. Like with the huskies we just didn't want the experience to end.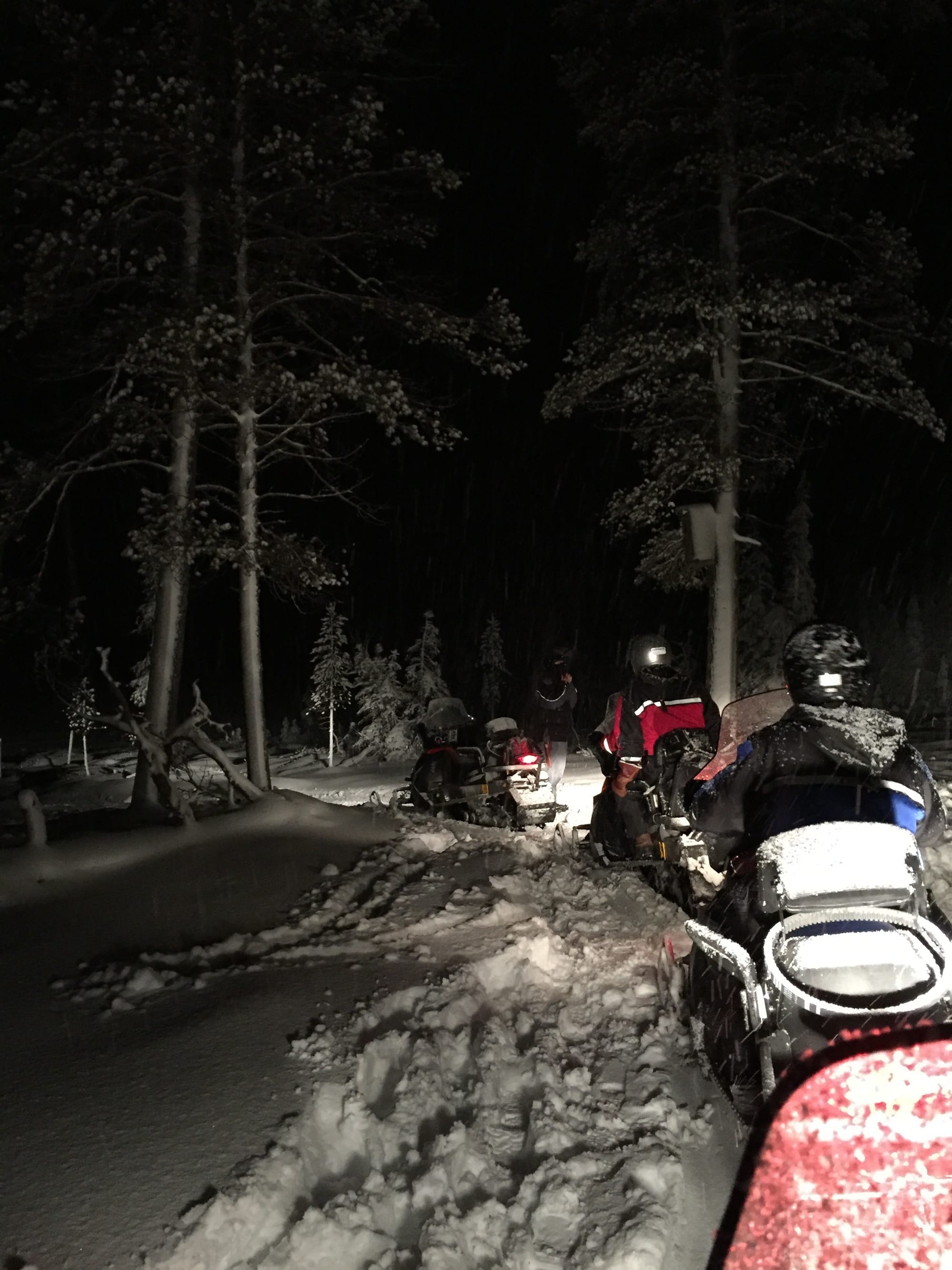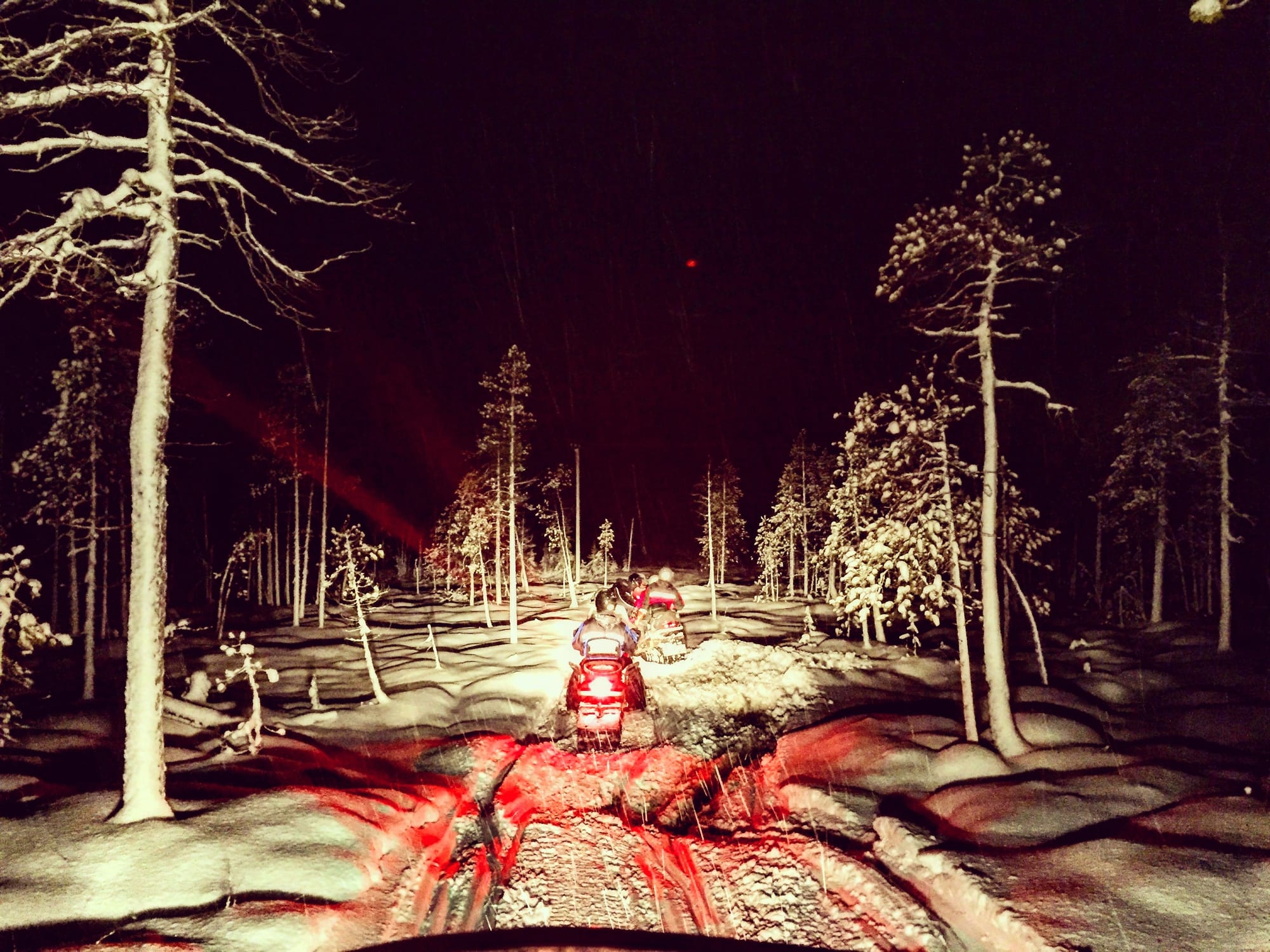 We got back to the lodge and the drinks flowed for our last night together.
Day 4:
Unfortunately, our time had come to an end. It was time to check out, say our goodbyes and head to the airport.
It was a great trip and like a Contiki tour just gave you a taste of different activities. The huskies and snowmobile were proper experiences and ones that I will cherish forever. I'd love to do a longer trip on huskies and snowmobiles now as they were just so much fun! Like I said above I wish the tour went a litter harder and further though I know it was a group tour so gotta cater for all.