Port Stephen's / Nelson Bay
19 – 21 June 2020
2020 has been a weird year, to say the least. Unprecedented, unexpected, extraordinary, are common words that are continually being thrown around. Having moved to Sydney two years ago the lockdown despite been tough at times the closed borders has given me a reason to travel more locally in New South Wales. Getting up to Port Stephen's / Nelson Bay has been on my list for a while now. Port Stephen's is known to have a nurse shark sanctuary just off the coast and has a variety of sea life (whales, seals, dolphins, etc) that live or migrate past. Combined with a stunning coastline, beautiful hikes, and crystal clear water, it was a perfect beach getaway.
Mat, Wei, Phil, Fran, and I took a long weekend to escape Sydney for a few days. With Covid-19 restrictions slowly being lifted we thought it would be great to get away from Sydney and just relax for a few days. Port Stephen's was an ideal location.
Leading up to the long weekend I reached out to the scuba diving centre in Nelson Bay, Let's Go Adventures (https://www.letsgoadventures.com.au/), to see if they were going out to any dives on Friday 19 June. I really wanted to get out to Broughton Island to the nurse shark sanctuary for a dive. It had been highly recommended to me and is a popular dive spot. We needed at least 4 divers to go out, Phil, Fran, and I were three so just one more. Let's Go Adventures and I reached out to various Sydney diving forums to find any additional divers, shortly after we had eight divers and we were locked in!
Fran booked a nice Airbnb for us all and come Thursday 18 June I was heading north to crash at Phil and Fran's to get up for an early drive to Nelson Bay on Friday morning. Our dive was at 9.30 am however we needed to be there an hour early to sign in and check our gear. I caught up with Steve and Carel from work for dinner and Carel's birthday in Chatswood before heading up to Phil and Fran's place on the Thursday night.
It was great to catch up with Phil and Fran. Phil had just bought a new computer which he was setting up. We crashed early and come 5.30 am we were awake and on the road! The drive up was so nice, just flew along the highways with little traffic! The benefits of an early departure.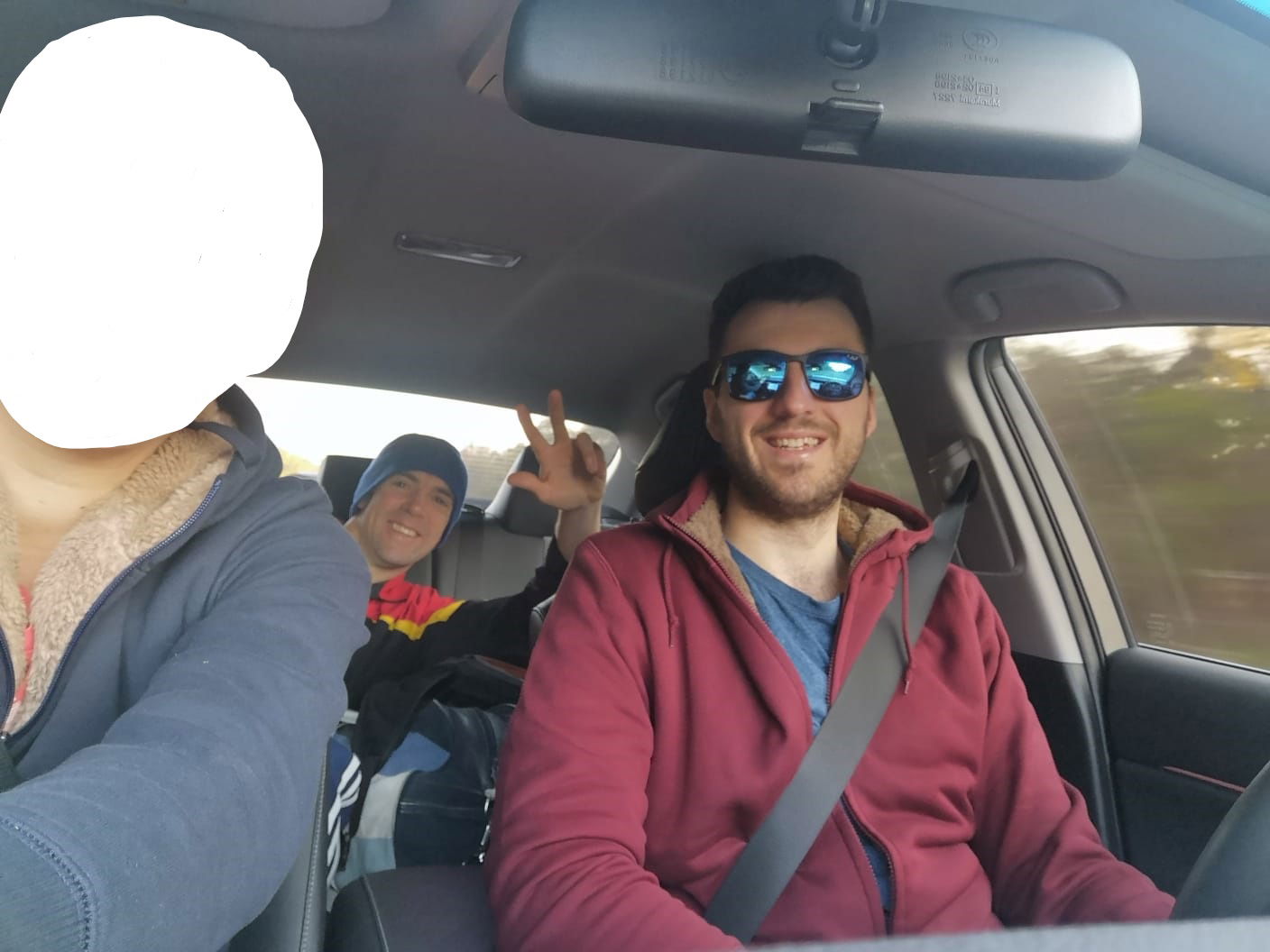 We arrived at the dive shop and started getting our gear and checking in. The other divers had brought their own gear and we were those three idiots trying on our wetties, BCD, and getting our tank sorted in all the wrong order…haha. We hadn't dived for over a year since we were in Cairns and were a little rusty putting our BCD together. All good, Jason from the dive shop had some fun with us and we were quick to remember what to do.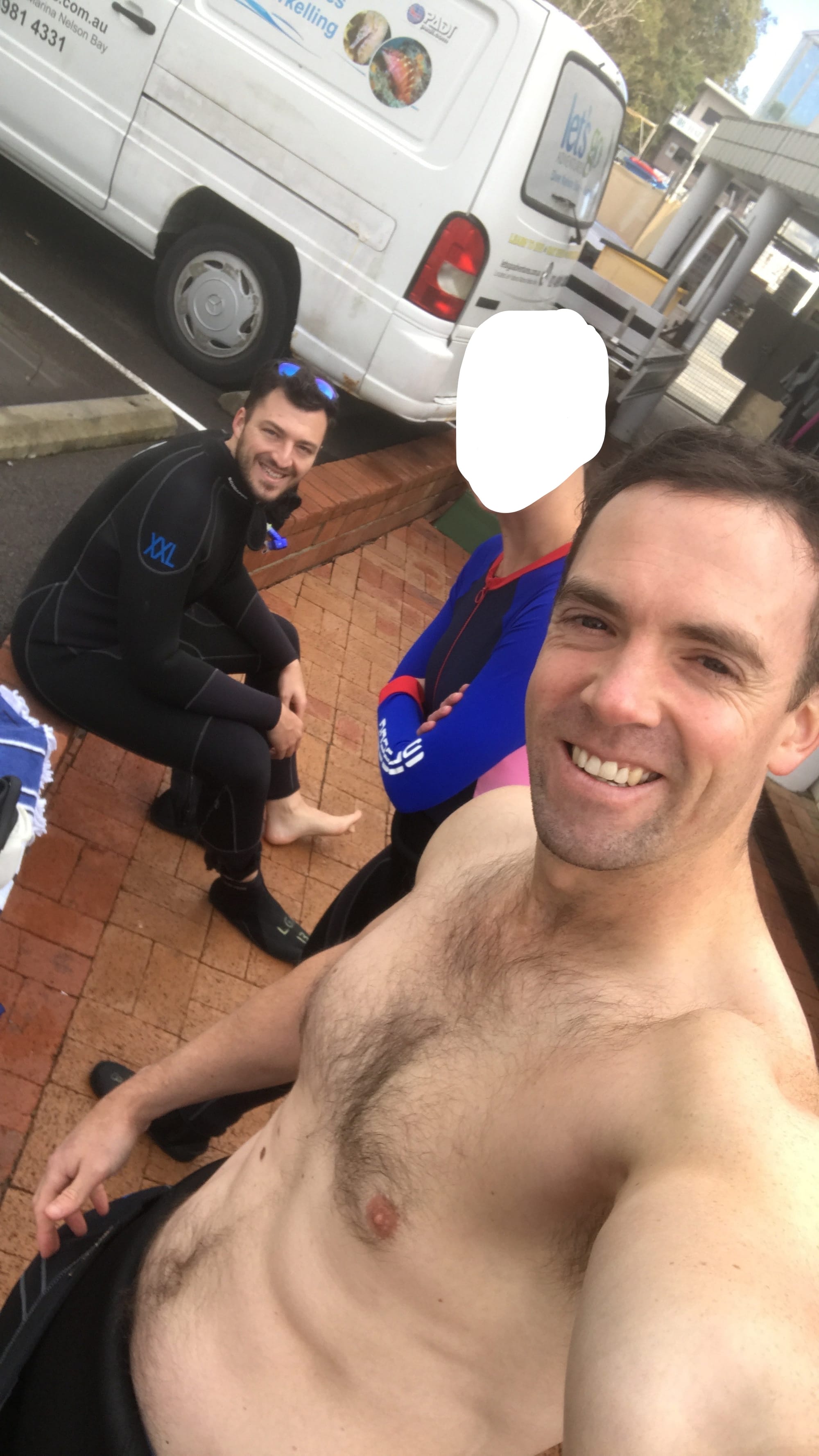 It was such a beautiful morning, we were in shorts and shirts and it was the middle of winter. There was no wind and just a perfect sunny winter day. We packed the boat and headed out. It was going to be about an hour ride out to the dive sites. It was nice to meet the other divers, there was a couple from Melbourne who were driving up the east coast for a few months, Don a local who loved diving, a Dutch lady living in Sydney who was also away for the weekend as well and another local lady who enjoyed her diving.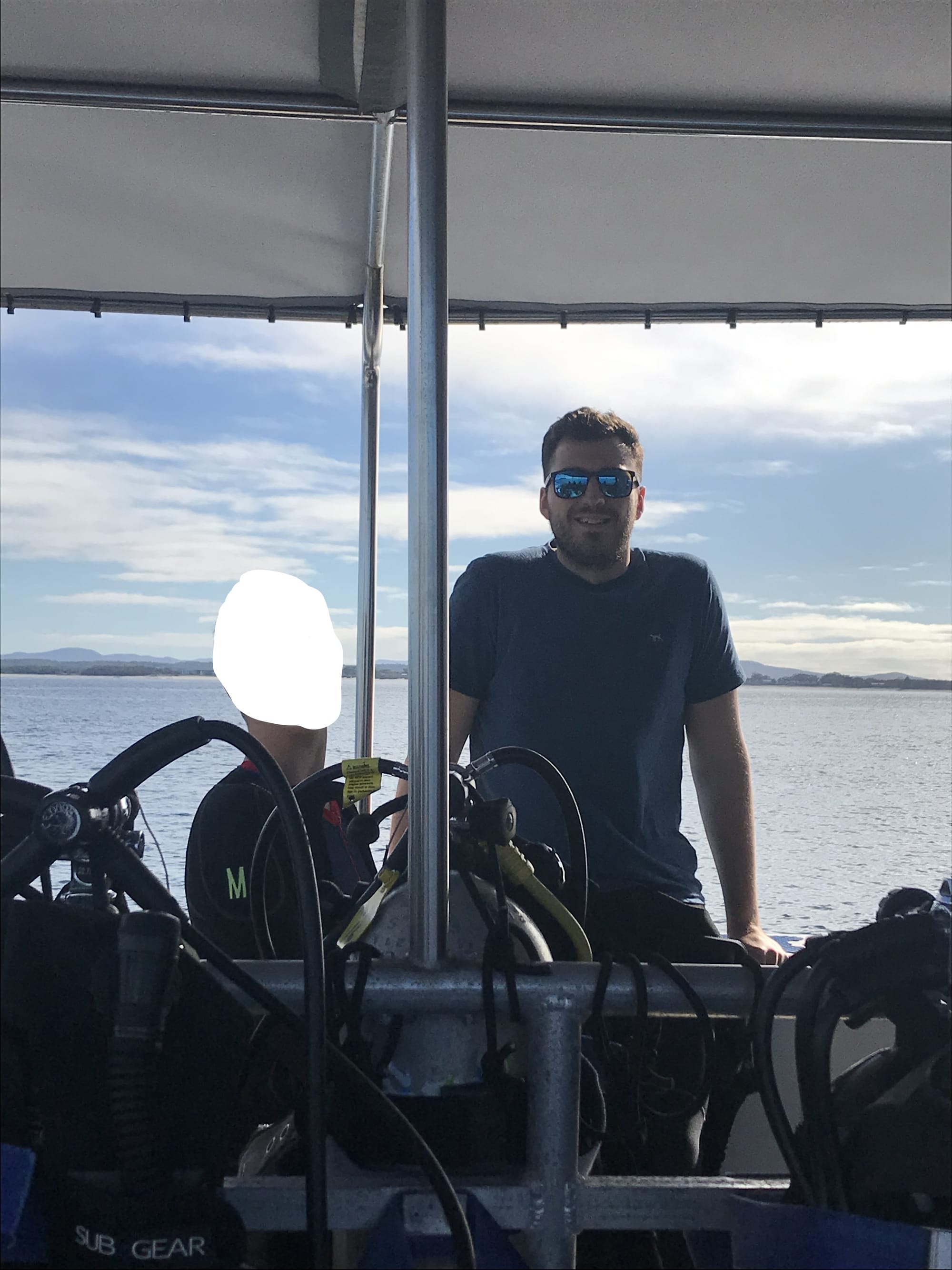 During the ride out we saw whales breaching and some even waving their fins at us, we saw dolphins playing in the waves made by the motors and some amazing sea birds. When we arrived we were in about 30m of depth and could see perfectly down to the ocean floor. You could see the sharks gracing the water below. It was gonna be awesome!!
We geared up and took that chilly plunge into the water! Ohhh it was chilly as the water crept into out wetties. We descended and headed down to the dive. Jason was going to be our divemaster for the dives and had advised us for this dive we were going to be going very slowly and just keeping in a straight line along the shelf of the valley as the sharks generally just went up and down the valley all day.
As we descended we could see the sharks and huge schools of fish below. We dipped over the shelf and into the valley, the water was sooo clear and visibility would have been at least 30 metres. It was a perfect day for diving. As we went into the valley we felt the current was a little stronger and pushed us onto the rocks which made it difficult to keep in a straight line. Once we got used to the current we were fine. The schools of fish swarmed us from above and the school of fish continued to wrap around the valley. The nurse sharks just kept to themselves and slowly went up and down the valley not concerned with anything. We often just stayed in the same place watching the sharks just go up and back, sometimes coming in towards us for a closer look otherwise not concerned that we were there at all.
We continued the dive out of the valley and around the rocks to an open section of the seafloor where we saw a stingray and wobbegong sharks resting on rocks. One of them I didn't even see and nearly put my hand on its back…lucky I just noticed it before my hand got too close. They are so well camouflaged!
We finished the dive by going back through the valley to watch the sharks again before completing our three-minute safety stop and finishing our dive.
It was awesome!! I was definitely pretty cold by the end of the dive but just what a great dive! The adrenaline and clarity of the water was just amazing.
We got our gear off and dried down as much as possible to keep warm. The dive chat began with all of us passionately describing the dive and some of our experiences. We headed over to our next dive site which was back towards Nelson bay on the other side of Broughton Island, I think it was called Looking Glass dive. We anchored and Jason pulled out the tea, coffee, soup, and biscuits. It was a perfect mix for us to warm up, just holding a hot cup of soup was so nice. The water was around 16 degrees and it was about 23 degrees out of the water. We were so lucky there was no wind otherwise it would have been just so cold after the dive standing around in a wet wetsuit.
We warmed up and it was time to jump back in for our last dive. The current was stronger here and Jason outlined what we needed to do and just let the current pull and push you forward, maintain your buoyancy and only paddle when you are being pushed forwards, do not try swim against the current. We were going to go through a narrow section of the island where the two segments of the island met however underwater there was a long narrow gap. There were huge schools of fish right below us and once we had all descended we all kept in a line and entered the narrow passage. The sun shone through from above which was beautiful to see the rays of sunshine coming through the water.
It was crazy how strong the current was and this was a calm day! We would be thrashed 5-8 metres forward with all the fish being flung alongside you then a second or so later water was sucked out of the passage so you were dragged back 5-8 metres. It was funny watching the fish flying back and forth in the current and I often thought I am going to crash into another diver though as we were all going back and forth with the current we kept a nice distance.
Jason saw a small underwater spider amongst the purple coral which was cool to see. Once we reached the end of the passage we turned around and headed back out. Once we were out the current the water was much calmer and we were able to enjoy a relaxing dive with the huge schools of fish. We went through some small caves and saw some more wobbegong sharks. I was definitely much colder on this dive and had the jittery teeth and white hands. We finished our dive and started our slow ascent and safety stop.
Another amazing dive was over. Visibility was a little less though that is understandable as the current was stronger. We got all our gear safety put away and enjoyed starting to get some warmth back into our bodies. We cruised past some more whales in the distance and headed to where some seals were resting on some rocks soaking in the sunshine before heading back to the marina.
It was such a great day out on the water and so much fun to be back diving with Phil and Fran again.
We got back to a few warm showers and got changed out of our diving gear. Fran dropped Phil and I off at the Nelson Bay golf course (https://www.nelsonbaygolf.com/) for a cheeky round of 9 holes while the sunset. Fran headed over to the local grocery store to pick up some food and drinks for the weekend. Mat and Wei were still driving up and would meet Fran at the Airbnb.
Phil and I played the back nine at the Nelson Bay golf course. It is a top 50 course in Australia and a course I really wanted to play while up there. It was a shame not to fit in 18 though I just really enjoyed being out there for 9 holes with Phil. We hadn't had much one on one time with all the COVID-19 restrictions so it was nice to just catch up. I had a great nine holes shooting 5 over and really should have been 3-4 over max with a couple of loose shots on the first and seventh holes.
Phil and I had a few beers to finish the round which was great to just have a beer with one of my best mates. The first went down so well we just had to get a second., maybe the second turned into a third…it was Covid-19 this behaviour with great mates is encouraged! Running a little late we finished our last beer and head to the Airbnb which was only a few hundred metres. Fran, Mat, and Wei had all arrived and were all well into the long weekend celebrations with the bubbles flowing and cheese platter out!
Mat and Wei prepared dinner for us which was so nice! An amazing tomato and bacon pasta bake. It was so fresh and full of flavour! It was great to catch up between the five of us just enjoying bubbles and cheese while Wei and Mat mastered their skills in the kitchen. After an amazing dinner, the cards rolled out and the banter continued all night.
We enjoyed a little sleep in on Saturday before heading down to the beach for a swim. Wei drove down while the rest of us enjoyed a nice run to the beach. Wei, Fran and I were quick to get into the water for a swim. The water was bloody freezing though such a perfect hangover cure and within minutes we were just loving swimming out to the various swimming buoys. It was such a refreshing way to start the day in the morning sun.
The sun kept belting down and it was getting warmer and warmer. Wei and I drove back and the rest ran back again. Wei and I started prepping breakfast, classic bacon and eggs on a beach long weekend is always a winner.
With bellies full, we enjoyed just relaxing in the sun to warm up after our swim. It was an amazing winter day and around 25 degrees. We decided it was time to make a move and to head off to the Tomaree Mountain hike. It was a nice 800m hike up an extinct volcano to look over the coastline and Nelson Bay. Being such a warm day everyone was out enjoying the sunshine. The bay was just pristine, that glassy water with the suns rays sparkling off the water, it was heavenly!
Mat and Wei had their car top-down and it was just awesome sitting in the sunshine driving along the bay. We parked up and walked over to meet Phil and Fran at the beginning of the walk. I walked past a man and women getting out of their can and noticed it was Mark Waugh! Boom! He was nice enough to say hello and it was great to have a photo with him. Despite being 33, he is still a childhood legend!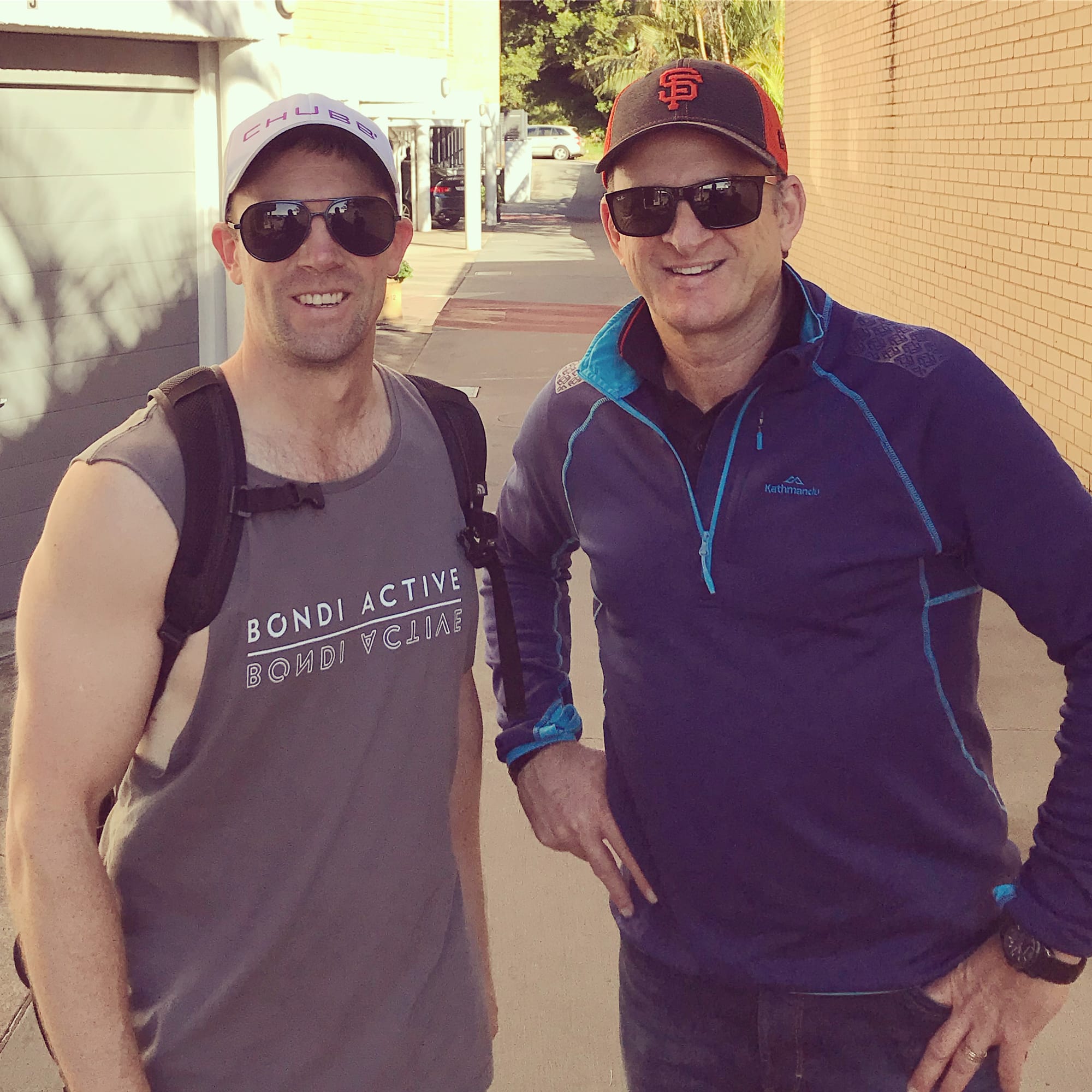 Meeting a childhood hero, out in Nelson Bay with some of my best mates, and soaking in the sunshine, this was turning into an awesome day!
We headed up the walk to the peak of Tomaree Mountain, the path was quite busy but still really nice. Every few meters we took up the mountain the view just kept getting better and better! We got to the top and did a lap before finding a little lookout with some space free for us to enjoy the view. I had brought a 6 pack of beer and we cracked them open. There was a couple of sisters who offered to take a photo of us which was nice so we offered them our last beer which they were really appreciative of. We just loved the view out across the Pacific with various islands (old extinct volcanos) scattered in the distance. You could see whales breaching in the distance and boats out in the water chasing the whale sprays. Shoal Bay and Zenith Beach below just looked magical with that amazing white sand and clear aqua colour water. We decided to head down for a swim at Zenith Beach to finish the day.
Zenith Beach was just amazing! The water was a little chilly at first though once we were in it was just phenomenal. The waves picked up and we were all bodyboarding in with the odd occasion that we would be dumped. I loved being dumped, just that feeling of the wave tossing you around, I let my body go and just let the wave toss me around. After a good 30-40 minutes in the water, it was time to make a move. Phil showed his aquatic skills riding in on some epic waves. Fran got dumped one last time and with a scream of 'oh no' she had me concerned, her swimming googles had been tossed off when she was underwater. We searched the whitewash though we all knew it would have been a miracle to find them. We gave up the search and wondered up the beach. Mat started a fun photoshoot on the beach which we all embraced, long arms Phil lead the selfies and the beach banter was so much fun as we dried off. We warmed up in the sunshine before making a move back to the house.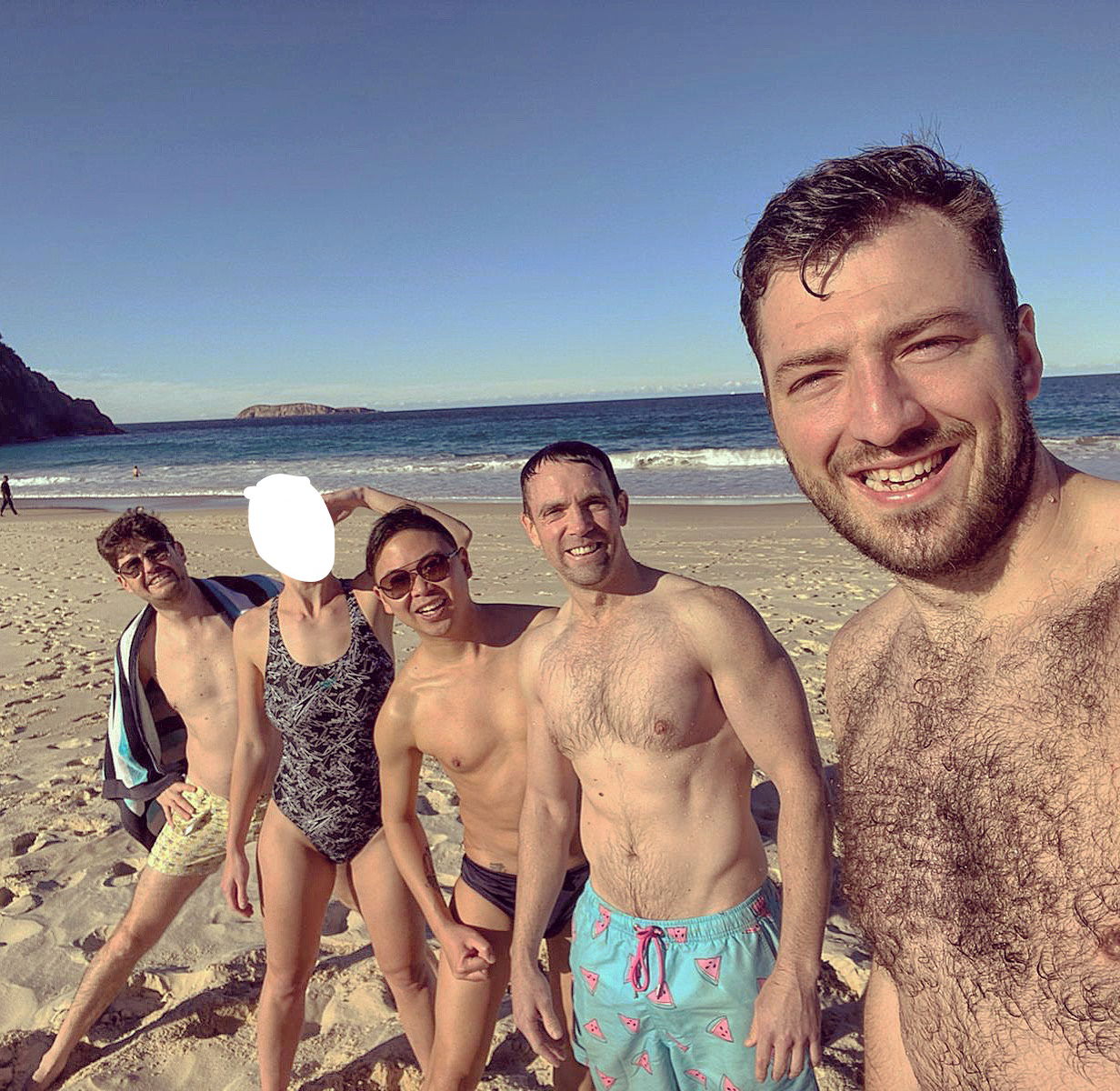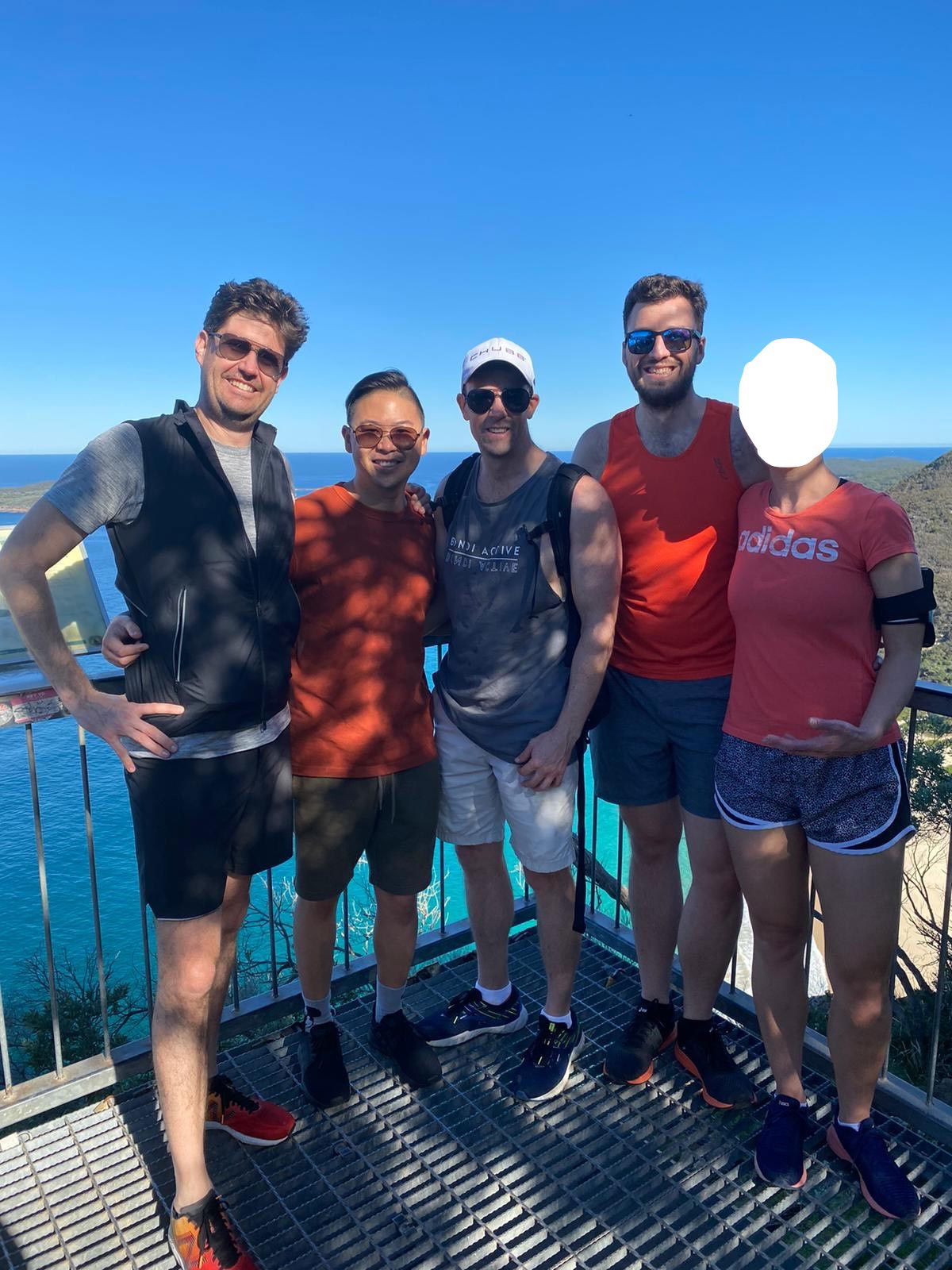 Fran had booked a nice dinner at a restaurant around the other side of the bay which was renowned for its seafood. We looked at taxi and Uber to make a booking, it was going to coast us $550-600 for a return trip….no thanks!
We called up to cancel our booking and found a nice local pub, the Shoal Bay Country Club (https://www.shoalbaycountryclub.com.au/). They didn't take reservations however they had a free shuttle bus and said we should be fine to get a table. Anthony was the shuttle bus driver and was a top bloke! He picked us up and had great bants down to the Country Club (5min drive). There was already a line though Anthony assured us it wouldn't be long, I wasn't convinced but I was proven wrong as within 15-20 min we were at a table with a cold drink.
We order some fresh oysters and prawns to share and then some hearty country pub grub (food). We didn't realise that when you ordered everything comes once which was a little annoying as we had to race to eat our prawns and oysters before our mains got cold. It was a minor inconvenience for which was otherwise a fun night out. We picked up some drinks on the way home and Anthony was back again to give us a lift home.
The cards came out and some competitive presidents and arseholes commenced. After a few games we the banter kicked up a little and it was time to just dance and relax for our last night in Nelson Bay.
We woke to an overcast drizzly day on Sunday. We still had some leftovers and bacon/eggs so just cooked up everything we had left for a final cook up. We were planning on going for a hike or lunch down the coast to break up the drive though as the weather wasn't the best and we had already had such a fun weekend we decided to get back to Sydney a little earlier.
Phil and Fran lead the Disney singing all the way home, which was nice for me to just zone out and turn the mind off for a few hours. It had been such a fun weekend and was nice for me to just reflect on the dives, golf, the hike, and just a great few days with some of the best people in my life.
Nelson Bay is easily one of my favourite beach escapes now in Australia though I am sure to find plenty more as I explore more of NSW and the east coast. Highly recommend that you get up there for at least four (4) days. We all agreed three (3) days was just a little too short as there was so much to do and explore in the area.