After a weird few days in Puerto Viejo in Costa Rica, a two-day bus ride awaited for me to arrive in Managua, Nicaragua. 10 hours back up to San Jose then a 14 hour bus ride to Managua, the capital of Nicaragua, I was looking forward to a new adventure. Julie, a French girl, I met in Puerto Jimenez and Puerto Viejo had given me some great travel tips for Nicaragua and places to explore. She had such a a great time there so I couldn't wait to head north.
I bussed from Puerto Viejo to San Jose (Capital of Costa Rica) where I stayed a night at Selina's again for a night before an early morning wake up to catch the bus to Managua. The border crossing was pretty straight forward, a few nervous moments as it takes time to wait in the line and not speaking any Spanish I didn't really know what was going on. Lots of people were crossing the border so you have just stand around and wait while families and cargo trucks go through. Many people just push in and take advantage that you are not a local so be careful. The bus waited patiently on the other side of the border and the driver checked on us all once we had made it over.
I arrived in Managua late in the evening and got a taxi to the backpackers I was staying at. I booked one night at La Bicicleta Hostal. As I was arriving late they had left a key out for me with a detailed note of where everything was and connecting to the WiFi. I had a nice shower after a long day on the bus and it was great to get a good night sleep. I wasn't in any rush the next morning and it was nice to just take my time. I planned to catch a bus to Leon for a few days. There was a local bus terminal not far from La Bicicleta Hostal and the staff outlined what I needed to do when I go there. I packed my bags and started the 1km walk over to the bus terminal. Like all capital cities in Central America just use them as a hub to get in and out, they are pretty dangerous and not the nicest places to explore.
The bus terminals are not like we expect in the west, by bus terminal it is a dusty car park with food markets and people driving small shuttle buses around the country, as soon as a shuttle bus is full they depart so you are not always sure when you will be able to leave. There is usually just a constant stream of shuttle buses coming in and out. You just gotta trust they are taking you to the right place. I bought some fruit for breakfast and asked around the bus terminal buses going to Leon. There was a small sign for Leon, luckily it is a popular route so there was a continual flow of buses departing to Leon. I hoped on, paid my $15, again I am sure that I paid more than the locals but sometimes you just gotta know which arguments to fight. The driver wanted to charge me double for my bag, which was pushing it. I took back my $15 and started to walk away, knowing he would come back, which he did. $15 all in and my bag was tossed on the roof. They will try charge you a seat for your bag, they all have space on the roof or in the back for your bag so don't let them charge you double.
We all cramped in an off we went, you get pretty personal with the other passengers in these shuttle buses. Just from seeing Nicaragua during the day, you could see that it was a poorer nation than Costa Rica, so many more people just sitting around in the streets, more shantytowns, and dirt roads rather than paved roads and housing. The bus ride would be a couple hours and it was nice to just be seeing a different landscape.
We arrived in Leon again to a pretty hectic and crazy bus terminal where everyone is trying to sell or barter with you. Be really careful of pickpockets or people offering to carry your bag. Smile say thank you and just keep walking. I had downloaded the app – Maps.me I think I have highlighted it in some of my other blogs. Such a great maps app that works offline. Just download the country map that you need and then you can use it whenever you need. I booked two days at Serendipity Hostel which was a short walk from the bus terminal.
Leon had a really nice feel to it. Really nice colourful buildings and cobble streets. I felt safe walking down the streets with my bags and it was easy to get around. My hostel was nice and cool with a good atmosphere. I met a few travellers from the UK, Germany, and Sweden. Most of the other guests' had gone out for the day so it was pretty quiet. Once checked in I took this as an opportunity to go for a walk around the town and get some lunch. I found this really nice lunch bar, I think it was in someone's home and they just opened up their kitchen for people. The food was so nice and literally $1.50 for a feast! She had a football match playing and despite being in Spanish it was nice to relax with a cold bottle of coke and watch some sport with her and her son.
It was mid-afternoon and the heat had really picked up. I wanted to do the volcano tour so I headed over to Bigfoot backpackers to book my tour. Bigfoot backpackers is a chain of backpackers in Central America and are known as the party backpackers. A few people I had met along the way said to stay clear of them as they are not the cleanest and attract a younger party crowd where often thefts occur. However, as they are a big chain they run good tours and I had heard their volcano tour was really good. I wondered over to book a tour and was able to get on the tour the next day. I think it was around $35 for the volcano and volcano boarding trip. I had heard a lot about the volcano boarding and that it is the second most dangerous backpacker activity in the world. Where you sand board down an active volcano for 800m in pretty minimal protective gear. Sounded awesome to me!
I got my booking sorted and was given a free singlet, that we had to wear for the tour, before heading back to the backpackers to relax in the afternoon. I found a local gym around the corner so I thought that would be a nice way to get out of the backpackers especially as most people were still out for the afternoon. The gym was pretty low key and reminded me of an old 80s boxing gym.
It was great to get a sweat on and a little workout. Being a boxing gym there were some really fit fighters training, it was awesome to watch them train. I know most travellers/backpackers wouldn't seek out gyms or do morning runs while travelling though it is something I really enjoy to keep fit and just have some time to myself.
I headed back to the backpackers and met some of the travellers from my dorm. Two German girls, Lydia and Eyleen, were travelling for a few months as well so we hit it off with sharing some good travel stories. They and a few others were heading out for dinner to a local restaurant with some others. I jumped on board and we headed off. It was a great lil diner that had local dishes and just went along and selected each item that you wanted. It was nice to just enjoy a nice meal with good people from around the world, I was so glad I had left Puerto Viejo early and started my time in Nicaragua. There was just something so special about Nicaragua, so raw but beautiful
A few of the others at the backpackers had booked the Volcano day with Bigfoot the next nice day which was great to do the tour together. A few others had already done it as well so gave us all the tips on how to survive the volcano boarding and what best to do if you wanted to go fast.
We bought some beers for the night then headed back to enjoy some pool and music for the night. The heat had not eased off and we were all still sweating late into the night. The hostel didn't have air con so it was either leave the door open to keep cool and be eaten by mosquitoes or close the door and sweat out the night. I wish more backpackers invested in mosquito nets for the beds!! By this time I had got used to the cold showers only (I had not had a hot water tap in any shower since I left London nearly 4 weeks ago). In this heat, you don't really need a hot or even warm shower so I was loving the cold showers to freshen up!
Despite waking up with a few mosquito bites, we needed to be at Bigfoot by 9 am to try to beat the heat of the afternoon. We all got our Bigfoot singlets on and headed over together. We, about 30 of us, were all herded into the back of a large truck before driving off into the countryside. Everyone was excited for the day and chatting about the dangers of the volcano boarding. It was a really beautiful countryside with undulating hills covered in scatted trees and tall grass. The paved roads quickly became dirt tracks and the dust was kicking up everywhere. As we got closer to the volcano, Cerro Negro (meaning black hill), the countryside changed dramatically. Now it was just black rocks and black sand with no vegetation or life in the area. It was just crazy, almost space / moon like with the back dirt and rocks spread across a huge area where there was no life. We were given a little background on Cerro Negro and that it was one of the youngest and one of the most active volcanoes in Central America. Its last eruption was in 1999 which lasted for two (2) days after a few small earthquakes triggered the eruption which whipped out all the surrounding forest and nothing had grown back.
The daily heat was picking up and we needed to wear our full protective gear which was bright orange overalls, gloves, hat and goggles. The volcano board was a creative piece of craftsmanship where it was a similar shape to a snowboard with a wooden block at the end the an orange rope looped through. Instead of standing, you sat down with your feet resting on the wooden block and your hands holding the rope to try steer the board.
The hike up the volcano takes about 30 minutes as you circle your way around the peak. You can pay extra for one of the guides to carry your board though let;s be honest, you can do it. We had three pity stops on the way so plenty of time to rest and relax. You could smell the sulphur in the air and if you placed your hand on the ground you could feel the heat of the volcano below you. At one point, closest to the crater the ground was over 60 degrees centigrade.
We circled our way up and then took in some views over the countryside. We had a photo jumping competition which was a bit of a laugh before making our final ascent to the peak.
Once reaching the peak we were given a 3-minute safety check and guide how to steer the board, break, and how not to crash. Our guides would be waiting halfway down the volcano to take photos and the other at the bottom taking our speeds. There were two speeds, fast or slow, so pretty much, feet up to go faster & feet down for brakes…it wasn't the most technical of mechanisms to operate. The two guides then just turned and ran down the volcano, it was crazy! No safety or red tape, just have fun!
We went down in pairs about 5m apart, which didn't help to encourage a safe trip to the bottom. Staring down you realise how steep the volcano is and that going straight down 800m with a bit of cloth and googles for your safety equipment with the nearest hospital being many kms away safety was not in the forefront of the tour operators. I took my seat on my board and checked the steering worked, wriggled my butt to get a lil more comfortable and with a pull of my feet I was off.
The ride lasts about 20-30 seconds though feels like it is all over in 5 seconds. You try to slow down for a picture pose halfway down though with sand, dust, and pebbles flying into your face sometimes it is easier to focus on survival!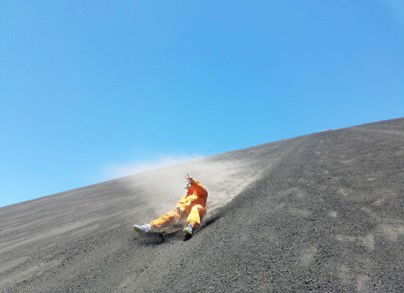 I made it to the bottom with a gentle end of the ride as the volcano tapers out. With a few hugs and high fives, it was great to get the sweaty overalls off and have a bottle of cold water! So who was the winner and took out the speed challenge…definitely not me!
An Aussie girl lost control about halfway down her descent and instead of feet down she had her legs in the air and screamed the whole way down cracking 86km/h. She did have a crash landing and luckily it was on the smaller gradient on the volcano when it started to tape out so only a few cuts and bruises. She was up and laughing but it could have been a lot more serious!
With the adrenaline pumping we all headed back into the truck and headed back to Leon. By this time the sun was at its highest and we were all sweating being crammed into the back of the truck.
Getting back to Leon was nice, great to go get a bite to eat with the crew before going back for a shower. That afternoon Bigfoot was taking the volcano boarders to the beach for a swim, they have a partnership with a backpackers out there so we were all back into the truck and heading out to the beach, Las Penitas, for the afternoon. The drive out was much more relaxing as not everyone from the morning trip was coming so there was enough room for us to sit down. It was so nice to get out to the beach for a swim, play beach volleyball and enjoy a few cold drinks in the sun. It was beautiful to watch the sunset over the Pacific as well. We did contemplate to stay at the beach for the night though the hostel was pretty empty and most people were heading back to Leon.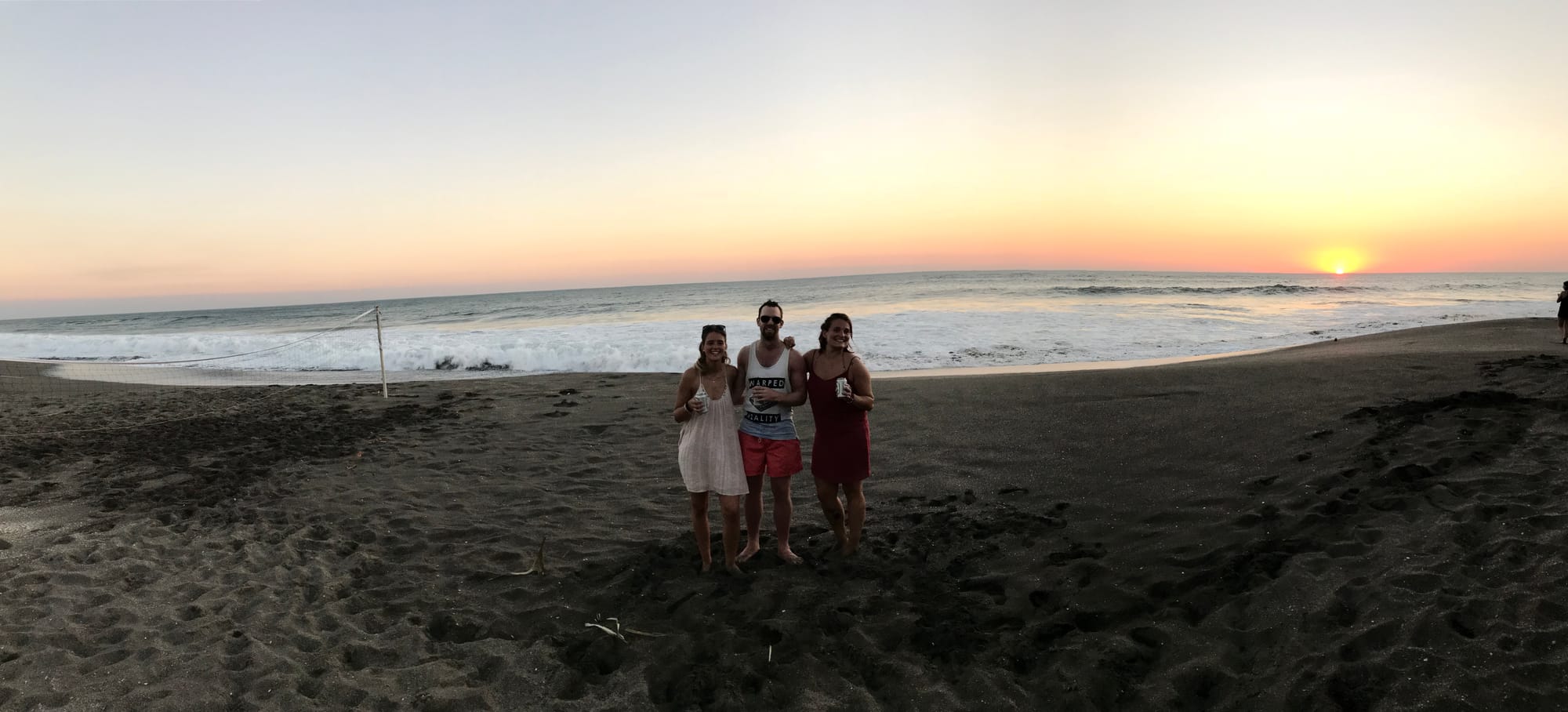 That night we had a party at the backpackers which was good fun. Plenty of drinking games and pool involved. One of the local tattoo artists came by, as always a few people were more confident after a few drinks to get some ink to remember their time in Nicaragua. Lydia and Eyleen, two German girls in my dorm, were quick to jump in for some more ink.
Most people were heading off from Leon so I looked to head to Jiquilillo for a few days. Julie had told me it was a must experience as it is this tiny beach village with a jungle beach resort and amazing beaches and sunsets. To get there isn't the easiest and I needed to catch a bus to Chinandega then wait for another bus to Jiquilillo. The two buses didn't operate at the same terminal so I would need to find the second bus to Jiquilillo on my own. The buses in Nicaragua were always an experience, they were those classic Simpson's buses with everyone crammed on and at every stop people would get on to sell chickens, fruit, water, baby ducks, ice-cream, toys, anything and everything that they could. It was crazy! Hence the street name – chicken buses.
The people at the backpackers weren't 100% sure of which buses I was to catch to Jiquilillio so it was going to be an adventure.
I wasn't sure if I was going to see Lydia or Eyleen again so we had said our goodbyes and added each other on social media in case we didn't cross paths. Eyleen was actually in Australia in 2019 on a road trip so it was great to catch up in Sydney when she came through.
When I got to the bus terminal in Leon I asked around for the bus to Chinandega. Some men said their bus was going there but they were trying to get me into their car. They grabbed my bags and where trying to pack it in their boot and said they would give me a lift for $100. This is where I started to get nervous as they had my bags. I quickly said no and some other men could see what was happening an ran over to intervene. The other men distracted them and I was able to get my bags back and walk off. The men continually came over to me to offer a cheaper price but I was not going to trust getting into a car with random men. The men who helped me were apologetic and said they needed to help travellers otherwise it gives Nicaragua an unsafe name. They helped me get on the right bus and gave me the address of the terminal in Chinandega where I would need to catch the bus to Jiquilillio. It is amazing when you meet good people when travelling.
I got off in Chinandega and after talking with a few bus operators I found the right place for me to be to catch the bus to Jiquilillo and that it would be here around 1.15 pm. I went to buy some lunch from the markets and just relaxed in the local park while I waited. I didn't want to miss my bus so I wondered over around 12.30 to sit and wait. Fair play, a bus arrived with 'Jiquilillo' on it at 1 pm and I was able to hop on.
Earlier in the day, I had emailed the resort in Jiquilillo to see if there was accommodation. They don't have a website so you have to email them to see if they have any beds. I was able to get a bed at Rancho Esperanza. When I say resort, I mean accommodation near the beach.
The bus ride was longer than expected and that was due to the sandy and rocky roads that we were travelling on. We were going well into the north of Nicaragua near the border of El Salvador. There were three Germans on the bus with me all going to Rancho Esperanza which was nice to chat with them and feel more confident that we were all going in the right direction. Jiquilillo is a tiny beach town that had no shops or ATMs, so if you do head that way make sure you have sufficient cash in hand to last you for your trip. I took a few hundred dollars out in Chinandega just to make sure.
With the sun setting, I was getting a lil nervous though my maps.me app showed that we were getting closer and going in the right direction. We heard Rancho Esperanza called out and it was our stop! The bloke on the top of the bus threw our bags down and here we were. It was a nice open area with lots of wood huts scattered around. We all checked in and I had a shared dorm on my own for a few days until another guest arrived. It was a communal arrangement where everyone ate their meals together and then you just paid at the end of your stay. For drinks you just tick off each time you take a beer, water, or coke. This was a common strategy used in Central America as you are not paying you forget how much you drink or order until the end. It does make life easier but just be careful of other people putting drinks on your name.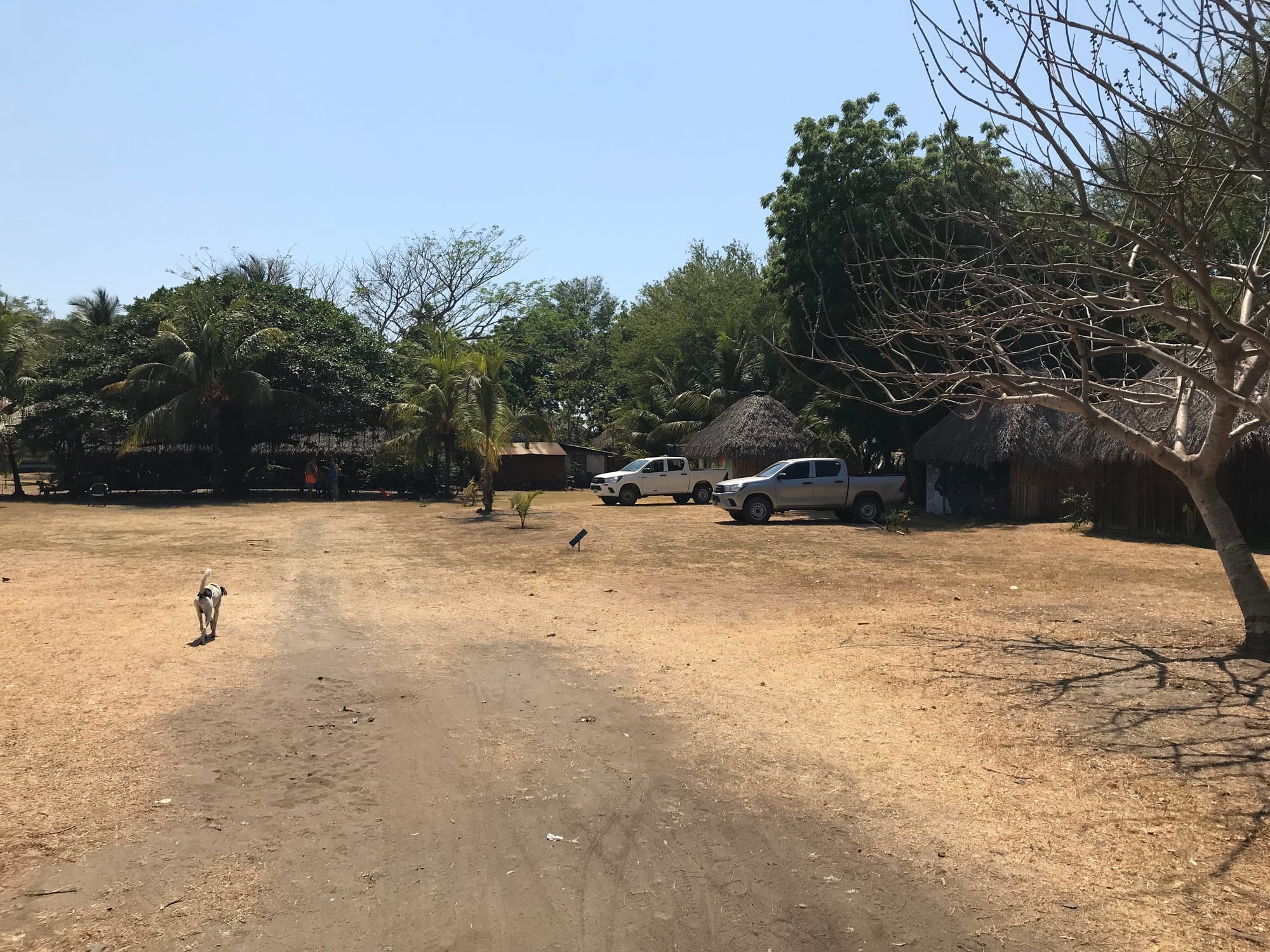 There were lots of activities you could sign up for, including surfing, fishing, hikes, turtle releasing etc. After checking in and dropping my bags off we went for an evening swim. The water was pretty murky with the dark volcanic sand but just so warm! Was great to be body boarding in the waves as the sunset after a long day sweating on the bus. All those nerves of am I going to arrive in the right location, is it going to be safe, all build up when travelling in these countries but just so great when you arrive and it all works out. Just to be in a new place for a few days knowing I could just relax and enjoy life without having to think for the next few days.
After a cool shower and heading into the main hut for dinner it was great to meet the other guests. All the newbies did little intros and there was a variety of guests from around the world. The meals were so nice, fresh fish or chicken with tropical fruits. I signed up for a traditional fishing lesson in the morning. My dorm was simple with three bunk beds and each bed had a mosquito net, that was so good that they provided a mosquito net, I wish more of the backpackers did through Central America as I was constantly been bitten ever night.
I was up early and ready to try traditional fishing with one of the local fishermen. We had a small wooden block with fishing line tied to it, we would then swing it like a lasso into the water. We practised on the sand until a got the technique, his son enjoyed laughing at my poor technique. My fisherman guide did not speak any English so we had lots of fun drawing pictures in the sand trying to communicate. Once I was ready we went out to chest high water where we cast into the waves. It was still pretty choppy in the waves so didn't make for easy fishing. After about an hour we had caught a few small fish each but tossed them back. The waves were getting worse so we decided to call it a day.
I saw some fishing boats on the beach and asked (drew in the sand) if I could go out fishing in one of the boats. My guide's friend owned a boat and he (using hand gestures and body language) outlined that he would see if he would take us out and how much it would cost.
In the afternoon I went for a run / walk up the beach. Jiquilillo was just so relaxing, the world moved a little slower and people were just so happy up there. As I ran up the beach you saw families just living in huts along the beach. They would all run out with their dogs to play soccer or greet you when you came past. It was just so peaceful. They were always smiling and just lived the simple life. Living off the land, no mobile phones, basic TVs and going fishing most days. It was often in the back of my mind, could I live a life like this…I think maybe for 6-12 months but id need that connection to the rest of the world. I don't think I could give up what I know my life is today.
The long sandy beaches just never ended. I am not sure if the locals realised they were living in one of the most beautiful places on the planet. They were always smiling and so kind whenever we interacted with them.
That night my fisherman guide came back to the resort to give me the good news. He outlined it would cost $100 in total to go out on the boat and that I could bring a couple of other people as well. At dinner I announced the fishing option to see if anyone else was interested to come out fishing the next day.
A Dutch couple had arrived earlier that day, Niels and Bernadette, they were great fun and were travelling Nicaragua on a surfing trip. It was amazing how many Dutch and Germans I met who loved to surf. Niels was really keen to come fishing though as they had booked a few days of surfing they couldn't make it. There was Candian couple who were a little older travelling around Nicaragua and the husband loved his fishing, he came over to introduce himself and offered to pay $50 each for the day of fishing. His name was Stuart and he lived in the Yukon in Northern Canada. He and his wife worked in the mining industry up there and he was a massive fisherman. It was great to chat with him and learn all about his fishing adventures in the Yukon.
I really loved the set up at Rancho Esperanza, that we all had meals together and there was no WiFi or TV so we just chatted together most days and nights. Some people were there to get out and do the activities others were just there to read a book and disconnect from the world. This is easily one of my favourite places that I stayed during my travels. I just felt so refreshed just being up there.
Stuart and I were up early and off down to the beach to meet our fishermen. We had to push the boat into the water and through the waves. This was not the easiest with an old wooden boat, we were often tossed back towards the beach when a big wave came threw. Stuart and I were a little nervous going out in such an old boat but we put our faith in the local fishermen!
After some dodgy moments and nearly having the boat flipped over we finally go out past the break. The motor was tired on with some string and fishing line (classic) and the captain need to hot wire the motor to get it started…Stuart promised me we would be fine! Hahaha
We had handlines and just dropped them over. It was so nice to just be out there on the water with a cold beer, Stuart was a top bloke and I loved just chatting life and travels with him. We didn't get catch much at the first few stops. Though the captain promised us 'lots of fish' at our last stop.
We dropped our lines and boom, fish on! Sometimes two or three fish on at the same time! With our little handlines, the fish gave us a good fight! I am not sure the exact type of fish we were catching though they looked like red snapper and rock cod. For about 40 minutes we caught about 50-60 fish for fun!! Most of the time the line was still on its way down when we hooked up a fish.
It was so much fun just constantly bringing nice 30-40 cm fish up. The eski (Chilli bin, cool box, big arse wooden box with ice in it) was full of fish and it was time to start heading back. Stuart and I cracked another beer to enjoy the success. We could see whales breaching in the distance and dolphins jumping out of the water playing in the waves made by our motor (still hanging on). It was truly beautiful! This place just kept getting better.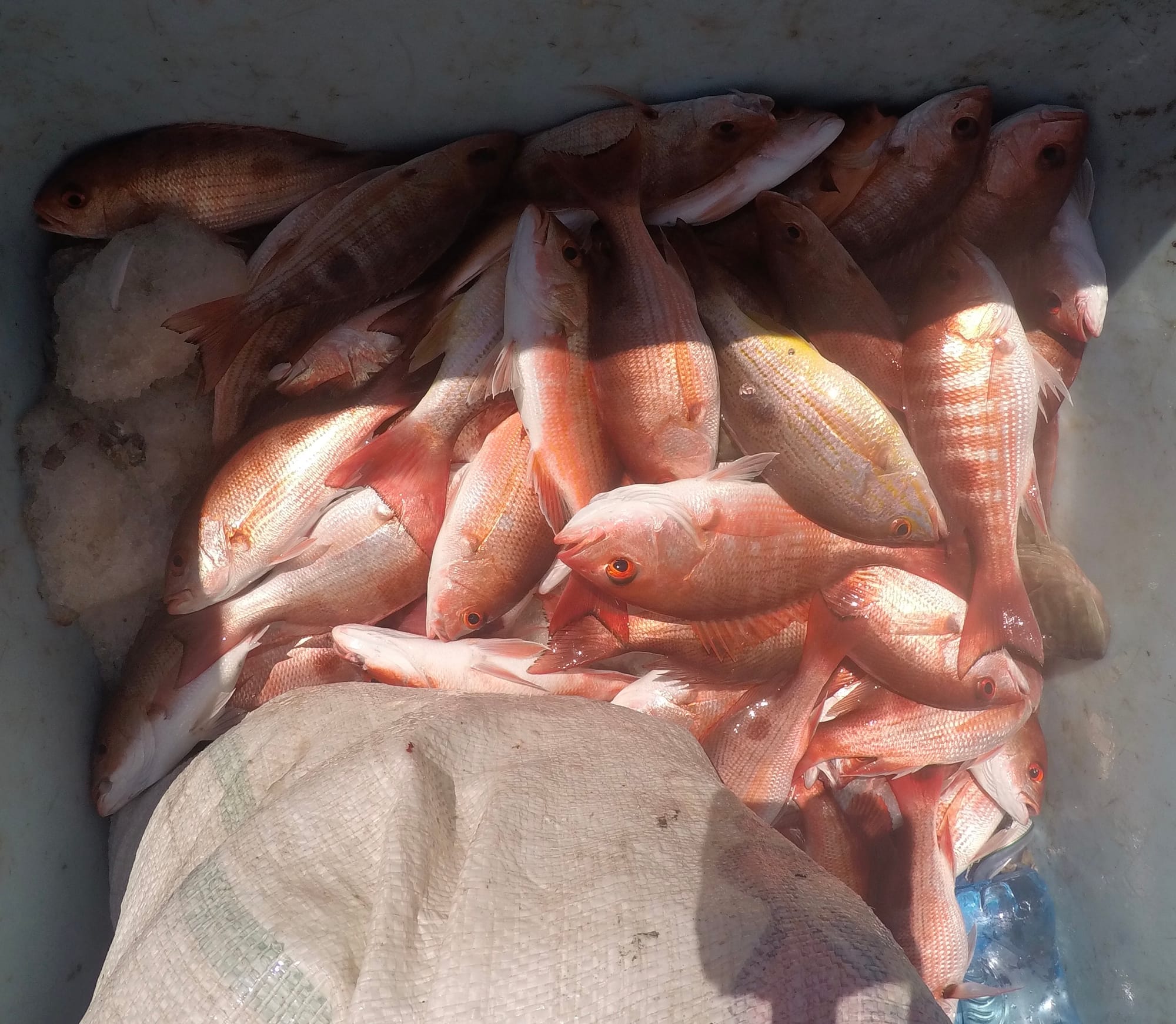 We got the boat on dry land (far easier than getting out). The local children ran to the boat as we arrived on the beach in excitement to see our catch. We took about 20 fish, about 10-12 to feed everyone for dinner tonight and to give the rest to the workers at the resort. The rest of the fish we gave to our fishermen's family and the kids. The kids were just so excited and happy running back to their families. With a high 5 and hug we thanked our fishermen for a great day out on the water. It was so much fun being out on the water and one of my favourite days of my whole Central America trip.
We gave the fish to the kitchen staff at Rancho Esperanza where they would prepare the fish for everyone tonight at dinner. The staff were also so happy with the fish for their families as well.
That evening there was a baby turtle release at one of the conservation reserves about 2-3km north of Rancho Esperanza. Niels and Bernadette had a successful day of surfing and 3 more Germans had arrived that day who were a similar age as us. At sunset, we all walked up the beach to help release the turtles. The American man who ran the turtle farm loved to talk about himself but was a good bloke and meant well. It was so cool to see the baby turtles and pick them up. Their shells were so soft still. After a few photos, we all lined up and emptied the bucket of baby turtles onto the beach. We all watched and walked with the turtles into the water and off into the pacific ocean. It was crazy to see them start their journey knowing many would not survive the next few days. The sea birds were already circling above us.
It was such a beautiful experience releasing the turtles with good friends at sunset! We wondered back along the beach while just taking in the beauty of the area. One of the local families who lived near the beach had a dog who had just had puppies so they called us over to meet the puppies and piglets. It was fun to play with the baby puppies though we were also conscious that the living conditions were not ideal so just be careful how close to we got to the piglets and puppies.

That night we had an awesome feast of fish and a few cold beers. I decided to stay one more day as I had made some good friends. The initial Germans that bussed up with me from Chinandega with were heading off so it was nice to have a beer with them and say our goodbyes.
Niels and the others all had surfing classes booked the next day so I took the opportunity to sleep in and then go for a mid-morning run. Stuart and his wife were also heading off, it was nice to wish them all the best. They had plans to buy a property in Nicaragua to retire in warmer weather, so off to look at a few more locations that may suit their retirement.
After a nice swim and relaxing afternoon, I enjoyed a long beach walk up the beach before everyone started making their way back for dinner. Some of the locals were having a party at the local bar that night and we were invited to join them. After dinner we headed over, you could hear the music playing through the jungle. The rum was flowing and the music was so much fun. We all danced under the Nicaraguan stars!
The next morning I said my goodbyes to everyone. Niels and Bernadette were planning to be on Little Corn Island in a week so we planned to meet up there. The other Germans were staying on the Pacific coast to keep surfing.
After a few hugs I caught my bus back to Chinandega and then back to down to Leon. I was going to miss Jiquilillo, it is truly one of the best beach villages I have ever been to. Just so nice to disconnect for 4 days and relax with great ppl.
Once arriving in Leon I walked over to the same backpackers I had stayed at previously to book a room for one night. Lydia had headed off to see some friends who were also in Nicaragua and Eyleen had headed off to start her trip home. I went back for a gym session at the boxing gym before a nice dinner with some other backpackers who were still in Leon.
The next morning I headed south to Granada where Lydia would meet me. We booked a backpackers there intending to explore Lake Nicaragua and then on to Ometepe Island in a couple of days.
Granada was pretty simple, similar to Leon with nice colourful buildings and cobbled streets. It just didn't have the same feel as Leon. We found out that there were some backpackers just outside Granada that were built into the treetops of the jungle, it was a shame that we had missed them as it would have been fun to stay there..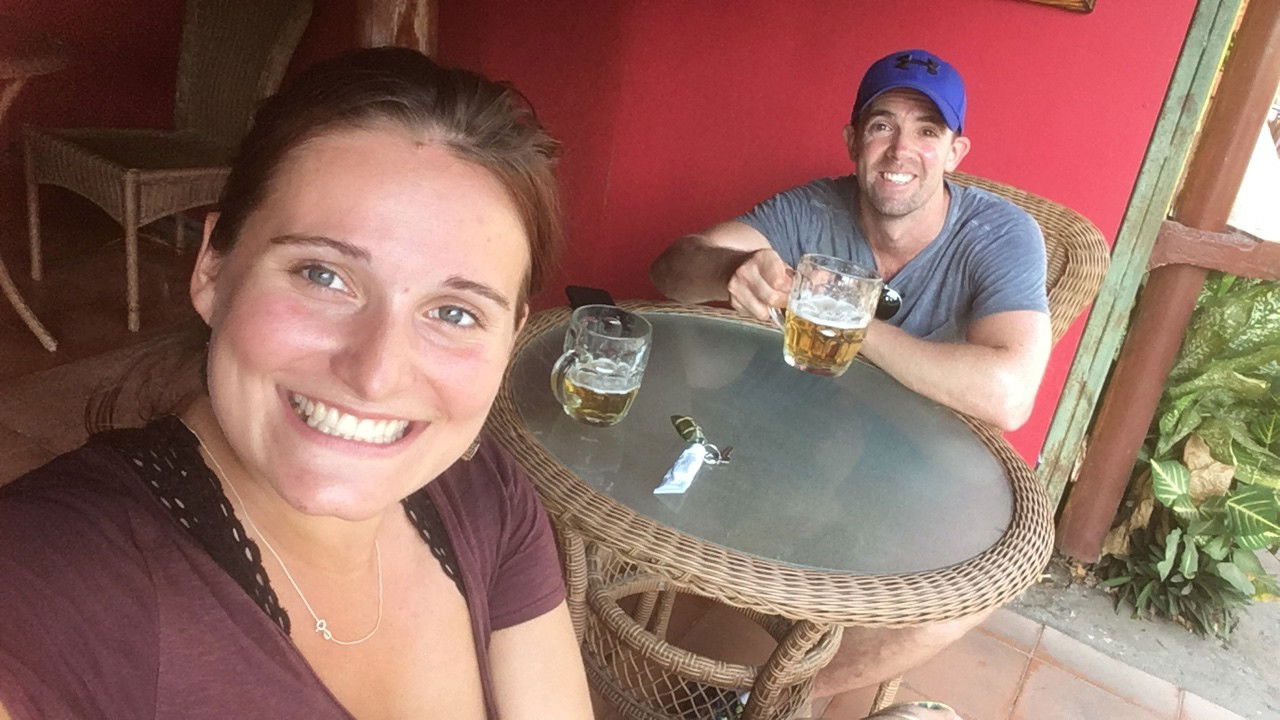 I enjoyed getting over to the food markets and enjoying some street food before Lydia and I did a walking tour in the afternoon. We also had booked a sunset boat cruise on Lake Nicaragua. The cruise was pretty simple and we just cruised around some of the small islands on the lake. There were some huge houses on the lake where successful Nicaraguan families had lake houses. One of the wealthiest families (rum producers) had one of their holiday homes on the lake which we went past. We stopped at a restaurant on the lake for a swim and to eat mangoes just growing on one of the islands. It was so nice, picking fresh mangoes and watching the sunset with a cocktail.

In the morning we headed south where we caught a ferry from San Jorge over to Moyogalpa on Ometepe Island. A lot of the better rated backpackers were on the other side of Ometepe island though they were very isolated and you would spend so much time on a bus or bike trying to get around the island so we decided to stay in the town closer to more activities and restaurants as we would only be there a few days. If you are staying longer then I suggest going to the backpackers on the other side of Ometepe. We met a Canadian couple who had never travelled before unless staying at resorts, they were loving trying different foods and immersing themselves in the Nicaraguan culture rather than just buffet breakfasts and cocktails. Was great to hear about their travels and that they were challenging themselves.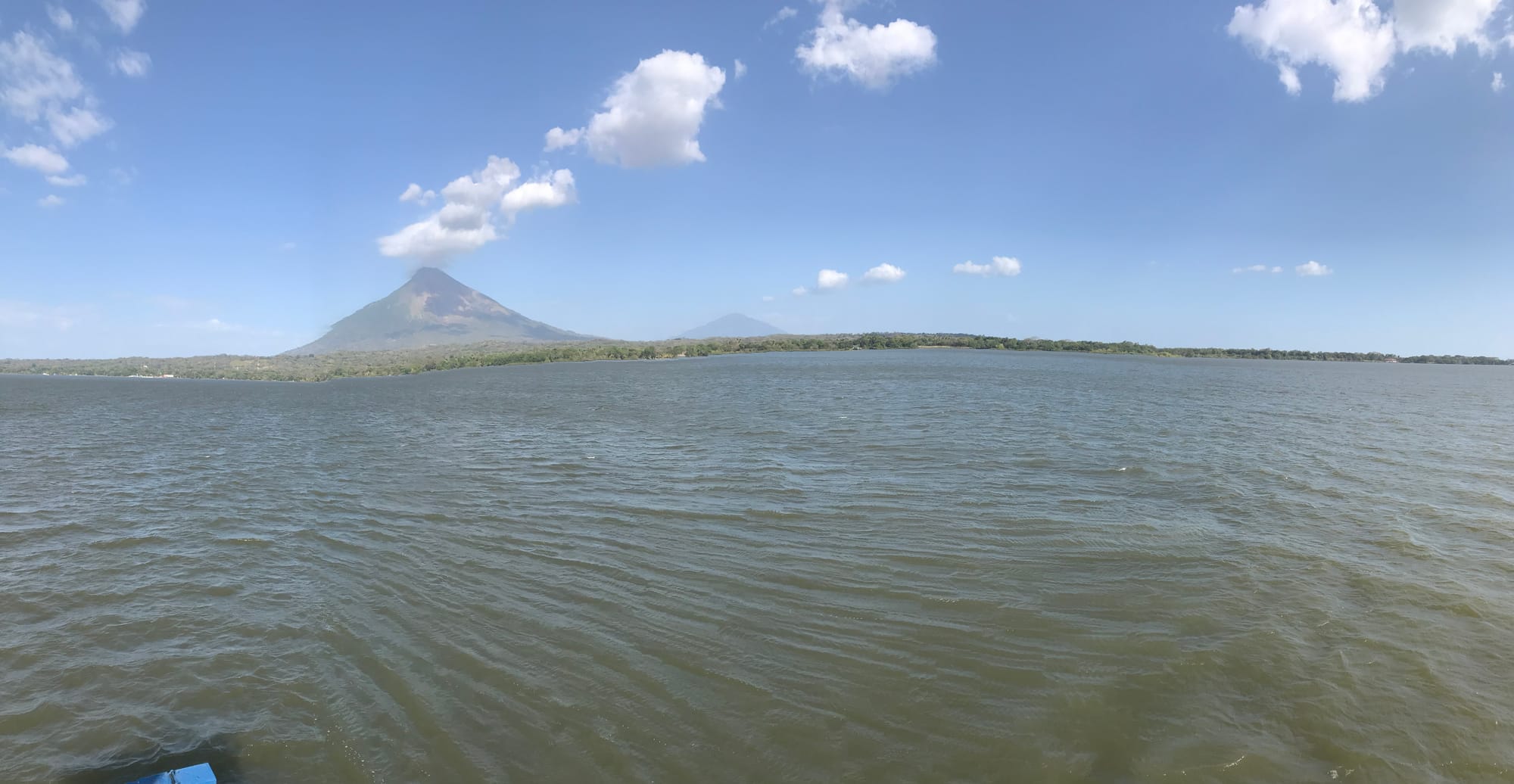 We had a dorm booked at backpackers, the Landing Hostel, which was nice and spacious. We decided to have a beer in the sun at the backpackers and some Americans came past to say g'day. They were some firemen and a New York banker. They were heading to watch the sunset at Punta Jesús María. It was a small beach that jutted out into the lake where most people on the island gathered for a few cold beers and to watch the sunset. We went to hire some bikes for the next few days and off we went. It was great to get out and meet some new people and enjoy a bike ride to the beach. Lots of people were gathering there, it was the 5pm ritual. We cracked open a few cold beers and just relaxed in the sun watching the sunset. It was so beautiful. With Concepcion volcano in the background and the sun setting over Lake Nicaragua, it was just stunning. It was a really nice moment that I still reflect on today.

Afterwards, we rode back to town with the Americans and others that we met at the sunset to one of the local restaurants that had great food and was dirt cheap. It was a fun night out!
There are two volcanoes on Omeptepe Concepcion and Maderas. Concepcion is an active volcano that is much higher and steeper with less vegetation. The peak is often surrounded by the clouds and due to its height is quite cold at the summit. Maderas is a lot wider and non longer active so the jungle has grown back around the volcano. As it is not as high you are not impacted by the clouds or the cold weather as much. We decided to hike Maderas as one of the guys in our backpackers hiked Concepcion and despite enjoying the hike he said it was ruined as once you get to the peak you can't enjoy any views as the clouds engulf you. You also need to take warmer clothes with you.
Lydia and I were up early and headed off. Lydia was still in some pain as she had got the tattoo on her hip when she was in Leon. We had a guide to take us up. You can do the hike without a guide though as the trails are not clearly marked it is good to have someone with you to ensure you have a safe hike. We took our time on the way up. As we went higher up the jungle got thicker and the humidity increased. It became increasingly difficult to hike through the mud and slippery track. Lydia was finding it tough with her tattoo though kept soldiering on despite being in immense pain. She was trying to hide it but I could see she was in a lot of pain. There was no rush and we enjoyed a slower pace for the last section of the hike. Our guide was just a freak on the track, in the worst hiking shoes and clothes, he flew up the volcano with ease, never out of breath or challenged. Just a water bottle light jumper.
We passed a few other groups hiking including one annoying group of Americans…nothing against Americans it was just this group of hikers were so annoying, taking up the who path and piss farting around to stop others from passing or just being able to enjoy the hike.
As we got higher we started to climb through the clouds, we were hoping they would clear once we got to the top so that we could enjoy the view. The clouds engulfed the jungle and it was such an spooky feeling hiking through jungle in the clouds.

We reached the summit and the clouds were still surrounding the peak though there was a beautiful lake at the top of the volcano surrounded by the jungle and wildlife. We wondered down to the lake for a walk around and to cool our feet. By the time we made our way back up to the peak the clouds had started to clear and we had some nice views of Ometepe! We managed to enjoy the view of the lake and the island which made all the hard work worth it. We thought we'd try to get ahead of the Americans before they started to hike down. Our guide took us on a different path down which gave us a different view of the island. I found the hike down more difficult than going up, my shoes were not gripping and I was sliding around a lot under my feet. Lydia could see I was getting a little frustrated and kept making fun of me. It was good to see her smiling again and enjoying the hike down. We had some beautiful lookouts over Concepcion and the lake.


We finally made it down and back to the toilets and freshwater! We managed our hike a little faster than expected so had to wait 40 minutes for our lift back to our hostel.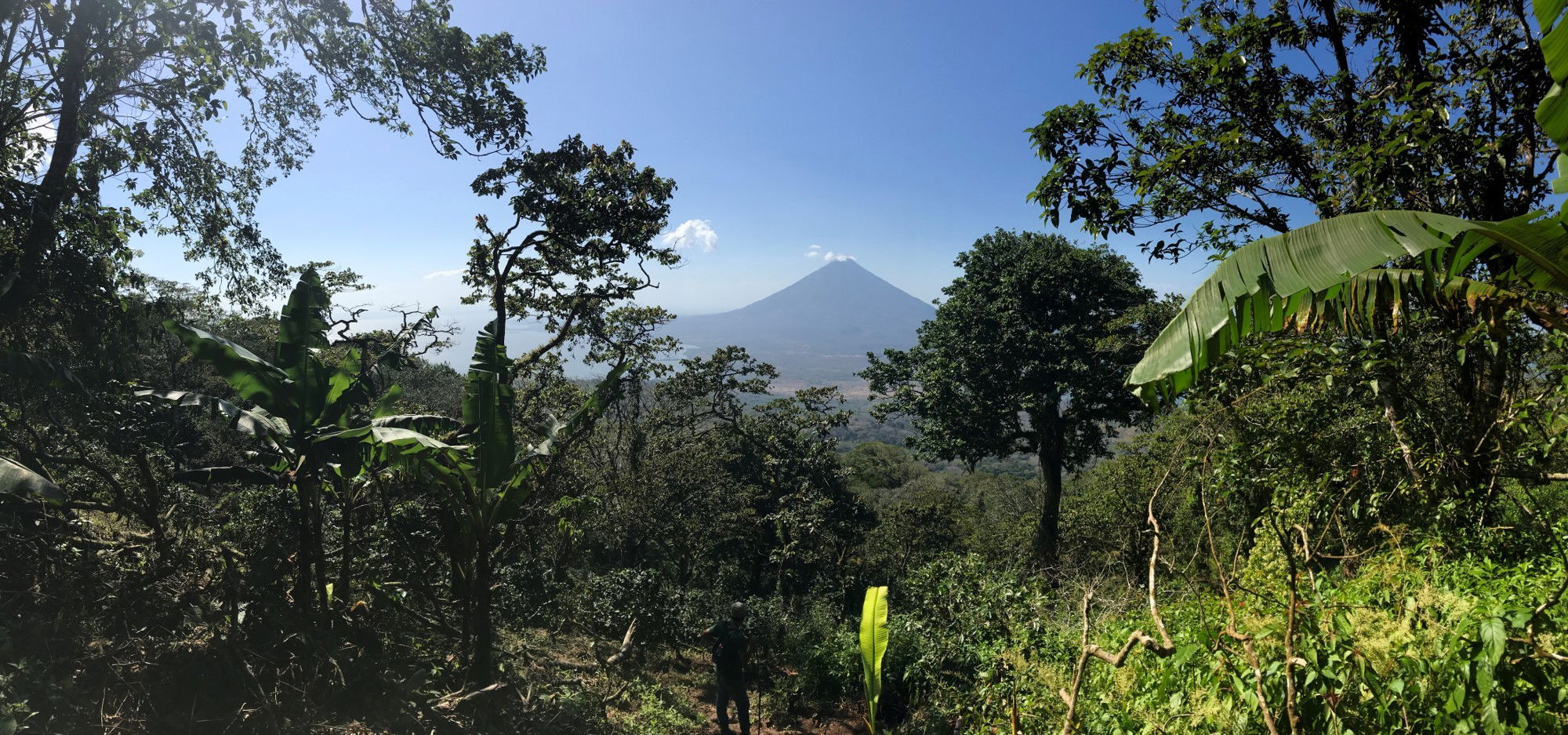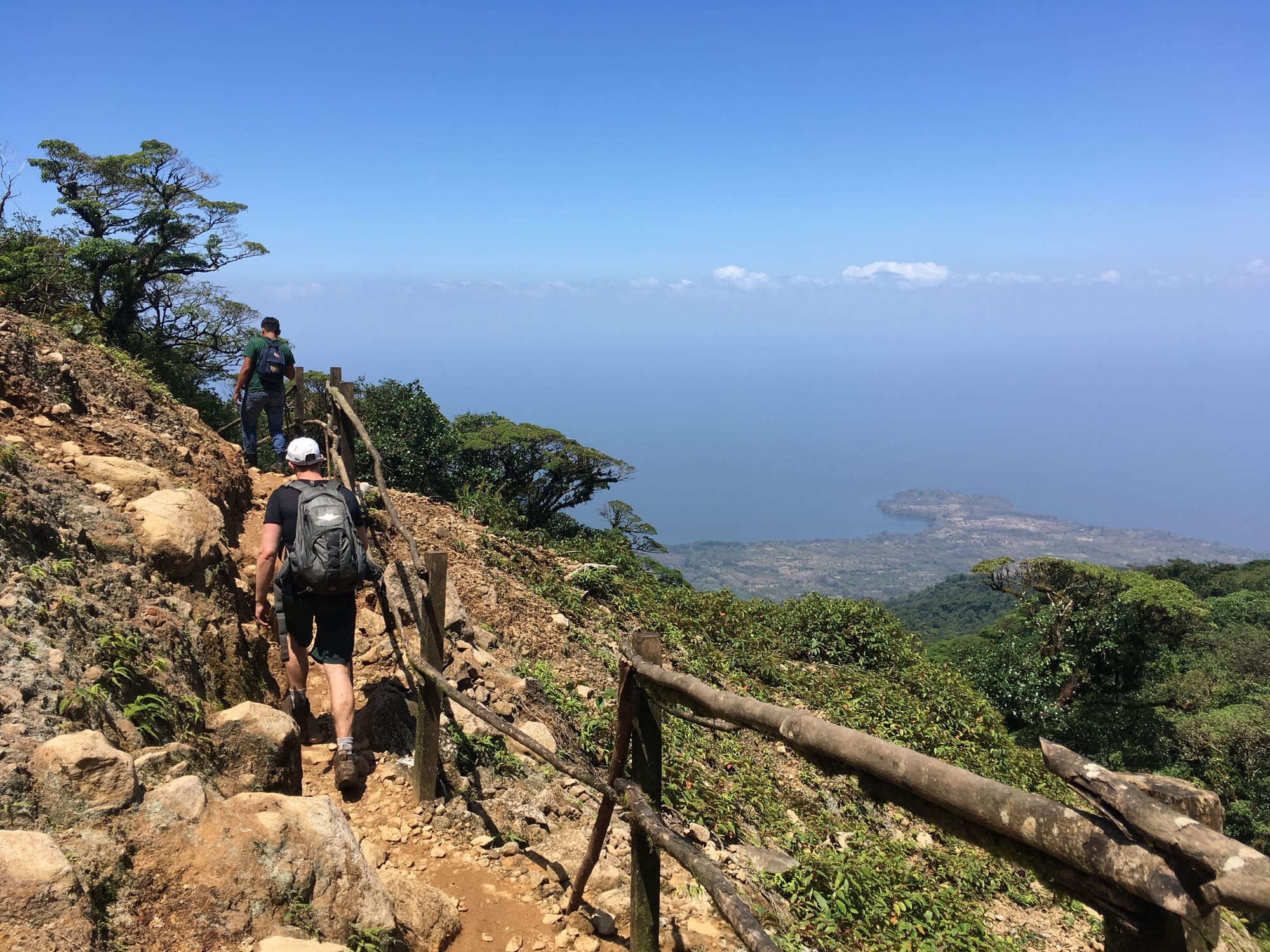 Once we got home we enjoyed a massive feast at our new favourite restaurant to replenish our bodies! There was a nice beach that we could ride to with our hire bikes after our feast to have a leisurely swim. The beach was close to Charco Verde. We rode past some mango trees and a local family's property. They were really kind and just loved that we were visiting their homeland.
On our way back to the hostel we went to La Galeria for dinner. It was a long day of hiking and biking so we had an early night.
Lydia was heading off to meet her friends in Costa Rica so we were up early to check her out and make sure she caught the ferry with no dramas. It had a been a fun few days travelling together, I was excited for the rest of her travel adventures with her friends.
I had one more day on Ometepe before I was heading to San Juan del Sur with some of the backpackers I met in Ometepe. One of the Americans was still around so we decided to go for a bike ride out over to some waterfalls with some other backpackers. Being summer there wasn't much rain about so the waterfalls were more a trickle but was a nice ride and good to get out to enjoy the sunny day.
I was pretty exhausted from the day before so had a chilled afternoon and early night.
The next day I was up and off to San Juan del Sur. San Juan del Sur is a beach party town on the pacific coast and is known for its Sunday Funday parties. Where four backpackers link up for a massive pool party every Sunday. The American I met in Ometepe had told us about them and was going back for a second weekend and invited me to join him. We bussed together with a few other backpackers we had met on Ometepe and had a room booked at Hostel Pachamama. Pachamama was the main party hostel, right near the beach, it had its own pool and massive bar area. I had a fun room with some Dutchies who were also travelling to learn how to surf. There were a few Sydney lads an Irish crew there too and one of the English girls that I met in Leon was also in for the weekend. It was a Friday so we went up to Tiger Tiger hostel for Friday night drinks and a pool party. Tiger Tiger was up the hills behind the beach and had stunning 180-degree views of the sunset. It was just beautiful having a pool party in the hills watching the sunset. Tiger Tiger was the last backpackers we would finish at on Sunday as well.
Saturday was March 17, St Patrick's day! England were playing Ireland in the 6 nations rugby and Ireland were going for the grand slam as they had not lost a single match yet. We all packed the local Irish bar at 7am to watch the rugby and for the beers flowed. We had a cracking morning especially with the Irish beating England to win the 6 Nations and completing the Grand Slam! I needed a lil snooze around midday before heading for a swim in the afternoon. That night there was a pub quiz at Pachamama, it was great fun as now the hostel was completely full with everyone arriving for Sunday Funday. We didn't go too hard that night in preparation for the next day.
I got up early and went for a swim and nice walk around the beach up to the lighthouse. There were some nice street markets in the city that I enjoyed wondering through and getting some street food for brunch. I bumped into the three Germans that I had met in Jiquilillio who were also in San Juan del Sur for some surfing. They weren't interested in the Sunday Funday. I went back for another beach swim and just relaxed for the rest of the morning.
Sunday Funday attracts a lot of pickpockets and many thefts occur so everyone is told to leave their wallets, mobiles, and valuables locked up for the night. The American guy from Ometepe had his mobile stolen the first weekend he was there and was having a terrible time trying to get his new phone posted to him in Nicaragua as his cell phone provider had sent it to his apartment in NYC though he could not collect it and the post office would only accept his signature for the parcel. He would constantly complain about it and how he wanted to find the pickpockets who stole his phone. We had been hanging out with the Irish lads and Sydney boys since Friday which was good fun.
It was such a nice summer day for a party. I was a little silly, I took my nice sunnies with me on the Sunday Funday pool party crawl, I just didn't think people would steel glasses and the sun was shining so you gotta have your sunnies on right!
We signed in, collected our wrist bands and where given the choice of 5 different styles of singlets to wear.
Backpackers rolled in and the the party was raving with beer kegs flowing and jelly shots out. There were so many locals with fake wrist bands that were being picked up by the organisers and kicked out. We bar hopped from backpacker to backpacker where there were pools and cold drinks where ever we went. It was so much fun and it was great to party with friends I had met across Nicaragua.
The sun had set and we were off to the last stop, Tiger Tiger. We hoped in the back of the trucks and made our way up to Tiger Tiger where we were straight onto the dance floor. The English girl from Leon, who I was a lil suspect of, was dancing ever closer to me, then her hand flung out and grabbed my sunnies from my singlet, I grabber her but her other arm broke free and she passed the glasses on to the Irish guys waiting behind her. We had found our pickpockets. I chased after them and I caught her though the Irish lads got away. She pleaded with me and said it wasn't me who stole my glasses which was just ridiculous as everyone we were dacing with saw it. I accepted the sunnies were gone though said to her it will be police or cash tomorrow morning. I told the American guy about my sunnies and that the Irish lads were the ones doing the stealing, he remembered they were at the party the last weekend when his phone got stolen. I found it weird that he didn't care too much or think that they would have stolen his phone…not sure if he was in on it or he was in denial as he had become friends with them now.
I kept partying and having fun with the Dutchies before calling it a night. I needed to catch a midday bus to Managua as I was flying to Little Corn Island the next day. I woke to see the English girl with the Irish lads, I walked over and just said is it gonna be the police or a trip to the ATM. The Irish lads weren't to happy with me and threatened to beat me up which was fine, that would only be more police involvement so they suddenly backed down. We jad handed over our passports to the hostel when we arrived so I mentioned I can get their details from the backpackers if needed. She quickly got up and came with me to the ATM, she withdrew $200 USD for me the apologised. We headed back to the backpackers and with a gentle nod to the Irish boys I packed up and left. Apart of me really wanted to go to the police though I had a bus to catch in an hour. I heard her say to the Irish lads that something like "guess we are 200 down from last night, you can take that off my share."
I wondered how much they had stolen over the past few weeks in Nicaragua. I bumped in the American again and he still didn't believe me as he had been partying with the Irish crew last last weekend and this weekend, he couldn't believe they would steal from him…oh well, I tried. It was a disappointing end San Juan del Sur and the weekend but least I got some cash from it. It has still sat in the back of mind today that I should have gone to the police. They were clearly travelling around Nicaragua stealing peoples phones, wallets, and other items.
I caught my bus to Managua and had one night booked at a backpackers there before my early flight to Big Corn Island. As discussed previously Managua is not the safest of cities so I made sure I got out for dinner and back before it got too late. I had a low key night and crashed early to be fresh in the morning. Volcan Masaya o Santiago is one of the volcanoes in the backdrop of Managua and it was crazy to see it spitting red lava into the air all night. Beautiful but a scary reminder of the landscape that surrounded the area.
I was up early and at the airport for my flight. It was quite expensive to catch the flight to Big Corn Island however talking to some friends who took the bus from Managua to Bluefields (10 hours) then a further 10-15 hour ferry ride to Big Corn Island to save money said that the trip was horrible and better to just book the flight. We would fly from Managua to Bluefields to drop people off and pick people up then continue to Big Corn Island, from there we would catch a ferry to Little Corn Island.
It was a small plane and we just had our luggage at our feet. It was beautiful flying over the water into Big Corn Island. We all got off and then walked over to the port to catch the ferry. Don't make the mistake that I did and not have enough cash on you. I checked my luggage on the ferry then found out there were no ATMs on Little Corn Island. They wouldn't let me get my luggage off so I had to run to an ATM and back before the ferry left, the captain said he would wait for me though I literally was coming around the corner and he was leaving then just saw me running before he stopped…bloody arsehole! But that is this part of the world!
I got on and found my seat. If you don't like getting wet then this won't be an enjoyed ferry ride over. It is a giant open speed boat and again safety is not their priority, fitting as many people on to the ferry to make as much money is the priority. We had some pretty horrible life jackets and all our luggage was tossed under the front of the boat. They want to go as quick as possible to get as many boat trips in for the day. Despite the shambles at the beginning, I enjoyed the ride over. I saw heaps of flying fish and a few dolphins which was just amazing! I had never seen flying fish in real life before and it was just amazing to see how far they could fly out of the waves!
We arrived and just as politely as they packed our bags they were all thrown on to the jetty. I collected my bag and headed over to my backpackers. I was staying at the Greenhouse Hostel from the 20th to 26th of March. The Greenhouse did not have the best ratings but was close to everything and I think was the only backpackers with a bed available. So if you are going to Little Corn Island book in advance, I definitely left my booking too late. Niels and Bernadette were staying in a backpackers close by as well though arrived in two days. There were some nice Germans at my backpackers and I had a nice dorm with good people.
Little Corn Island, as its name suggests it is little and easy to get around. There are all the restaurants, cafes, shops, dive shops, and backpackers on the west coast along the only walking path on the island (no roads, no cars), the north coast has a resort and the northeast and east coast also has some resorts as well. The rest is jungle and beach. It was paradise! To this day still the most beautiful island I have been to and one of the best 6 days of travel.
We headed to La Cantina for a few beers and dinner. There was only two bars which was good as they were always busy and had fun events. La Cantina was more relaxed and had a fun vibe. I think we spent most nights here.
I didn't want to drink too much as I wanted to get out and dive the next day. There are two dive shops on the island – Dolphin Dive and Oliver's Dive Little Corn. I dove with Oliver's Dive as they were a little cheaper. Oliver's dive staff were really nice and relaxed, by picking one dive shop you get to know the dive staff really well. The owner was from Switzerland and had a very dry sense of humour. They were great fun, had good quality gear, and took care of you. The dive staff were from around the world and often travelling through for 3-6 months to work at the dive shop. It was a fun set up!
There are over 20 dive sites located around Little Corn Island. The vibrant, healthy reef eco-systems are located just minutes from the island beaches. You literally just walk into coral reef from the beaches. Some of the dive sites you don't need a boat at all. You can view sharks, rays, dolphins, turtles and numerous fish in their natural habitat while diving the surrounding reef. The easy accessibility of the reefs and their extensive flora and fauna make diving Little Corn Island a truly special experience. Even if you are just snorkelling you will see an abundance of marine life. Just walking out into the water you are surrounded by sea life. Most of the dive sites are quite shallow 8-15m deep and the water is soo warm. I only dived once in a rashie and that was my night dive. The rest of my dives I was just in my boardies, it made diving so nice without a wet suit. The water was around 26-28 degrees which was just perfect to dive in.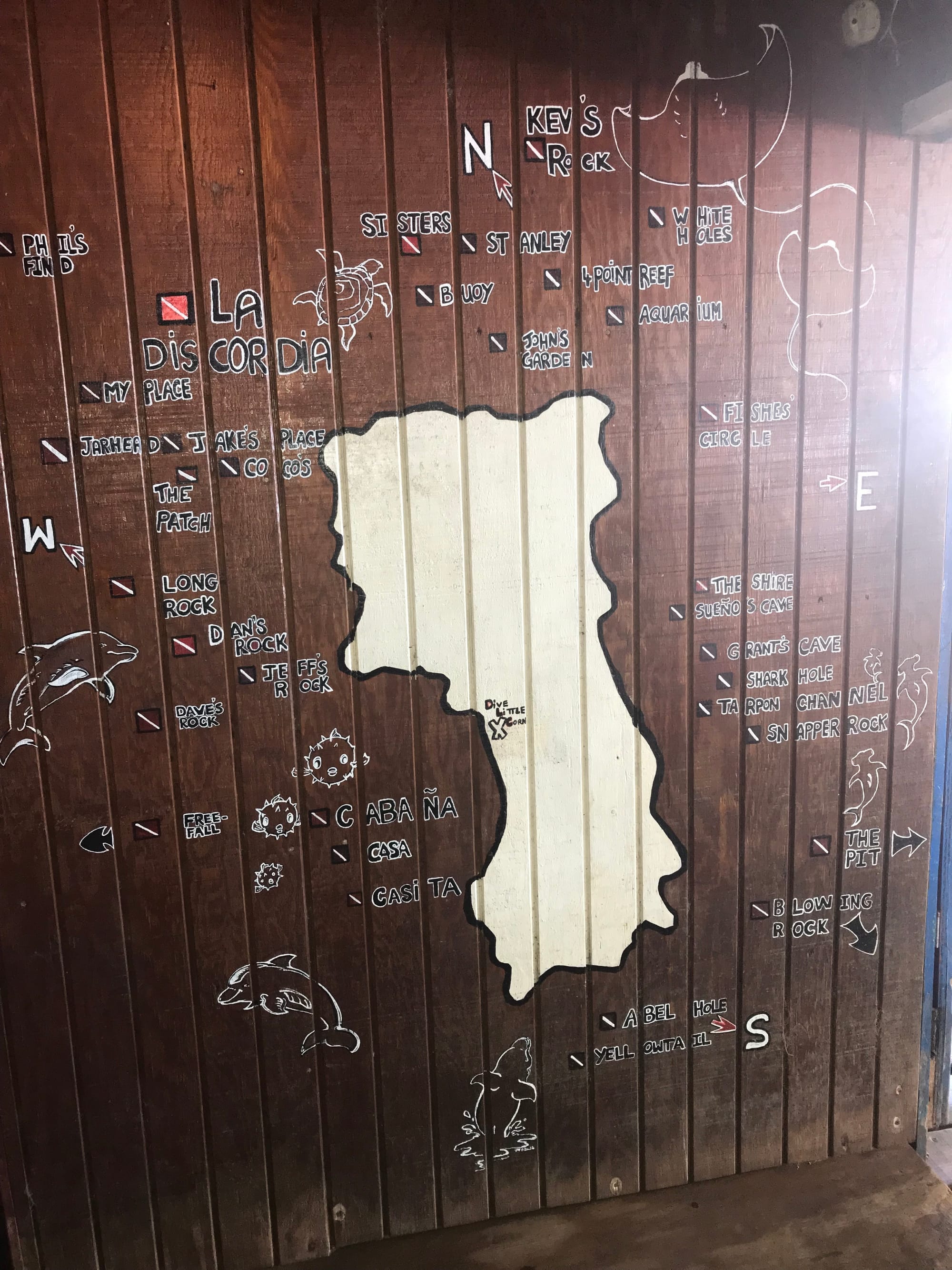 I cannot stress how beautiful these beaches are. Just that perfect yellow/white sand with palm trees scattered along the beaches which were surrounded by warm troprical aqua water. The natural colours of the beach, water, and reef are just one of the most beautiful experiences of my life.
The dive sites off Little Corn Island have been compared with Great Barrier Reef, the Indian Ocean, Belize, Bonaire, Fiji, Hawaii, the Caribbean, Thailand, the Sea of Cortez, the Mediterranean and more. There was one dive site that was a little further out near Big Corn Island is an underground volcano which attracts a huge variety of marine life and larger sea life.
Easy access, clear water, minimal currents and vibrant, interesting and healthy flora and fauna make Little Corn Island an ideal dive destination and a great place to become dive certified or advance your dive certification. I was so excited to be getting back in the water for some diving.
The more you dove the cheaper the dives became so it is best to choose one dive shop and stick with it. I was looking forward to doing plenty of diving. Your first dive was $35 and then got cheaper after that. You just needed to book your dives in one day in advance. I also was looking forward to trying some night dives.
My first dive was White Holes then I did a night day that night on Buoy. It was my first-night dive so didn't know what to expect. As so as we descended I saw a large octopus on the seafloor, it spread out its body to look bigger and just watched us. It was so beautiful. We headed off to the reef, the noises were so clear and the fish out hunting at night would follow us with our torches. We saw a large turtle with it's a baby turtle swimming together, it was so beautiful.
There were two professional underwater filmographers diving at Oliver's for a few weeks so I often dove with them Their equipment was insane and their pictures really captured the beauty of the reef.
The next morning Niels and Bernadette were arriving so I did a morning dive at Dave's Rock before meeting them later. Bernadette and Niels were getting their dive certificates so they had booked their training for the next few days. We also booked in a day of fishing. Alex, one of the German's in my dorm was also keen to come out fishing.
In the afternoons we would go on pub crawls around the island, walking to all the different beaches and having a beer at the local beach bar.
My daily routine became 8am morning breakfast of a banana and mango on the beach, morning dive, afternoon fishing and swimming then beers with Niels, Bernadette and other backpackers. I was in complete paradise. We also met some other fun Dutchies – Mayane, Femke, Jeffrey and Sjefke.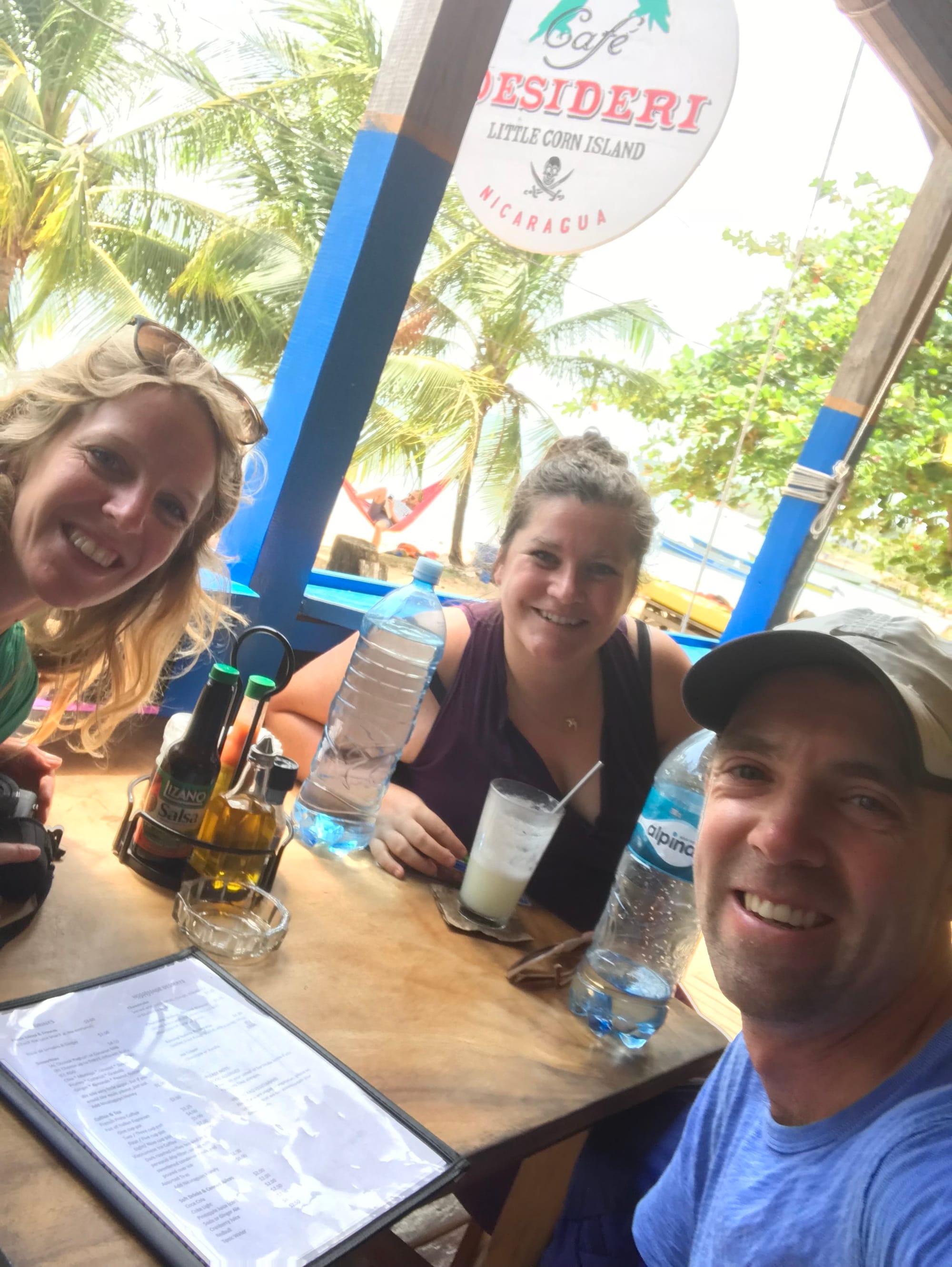 Being such a small island and only a few bars and restaurants we were always bumping into each other for meals and drinks.
Our first-afternoon fishing trip was so much fun. We went with one of the locals who took us out on the north side of the island. We caught Spanish mackerel and what looked like trevally but I am not sure. Niels also caught a small shark which we tossed back. It was such a fun afternoon with friends being out on the water and seeing the island from a different perspective. We gave some of the fish to our skipper for his family and kept the rest for dinner.
That night Alex cooked up a feast of fish! He was amazing in the kitchen even with the limited food and cooking resources he whipped us up a great meal. We all enjoyed our catch and trying the different fish we had caught. We had leftovers for days which was fine for me as it was so good!
My daily routines continued and I dived at La Discordia and Yellowtail of the next few days. The local fisherman that we had been out fishing with had to go on a longer 3-day fishing trip with his dad so we booked with another local. Unfortunately we didn't catch much else the next two fishing trips but was great fun out on the water. I met a great lad from Liverpool who was motorbiking around central America. He was a keen fisher to joined us to.
There was a mid-week pub quiz at La Cantina which we all joined in for. I love that everyone on the island knew each other and it felt so safe. We kicked on to the local nightclub, Happy Hut. It was a little run-down but a perfect tropical beach house that was open till late with Caribbean style music. The rum kept flowing and was such a fun night.
The next day we had a day off diving and fishing and decided to explore the island more. Niels, Bernadette, and I headed up to the north coast where there was beautiful beaches and a small restaurant on the beach, Fish Fry Bar. We brought snorkelling gear with us and just settled in for the day. We just swam, ate, snorkelled, slept, and relaxed in the sun. Mid-afternoon Niels and I started a nice walk around the island having a beer at the different resorts on the east coast of the island. We found a large plot of land for sale ($30,000 USD), we would have loved to buy the land and build our own backpackers, we could have done something special with that land. Just did not have the guts to do it right now.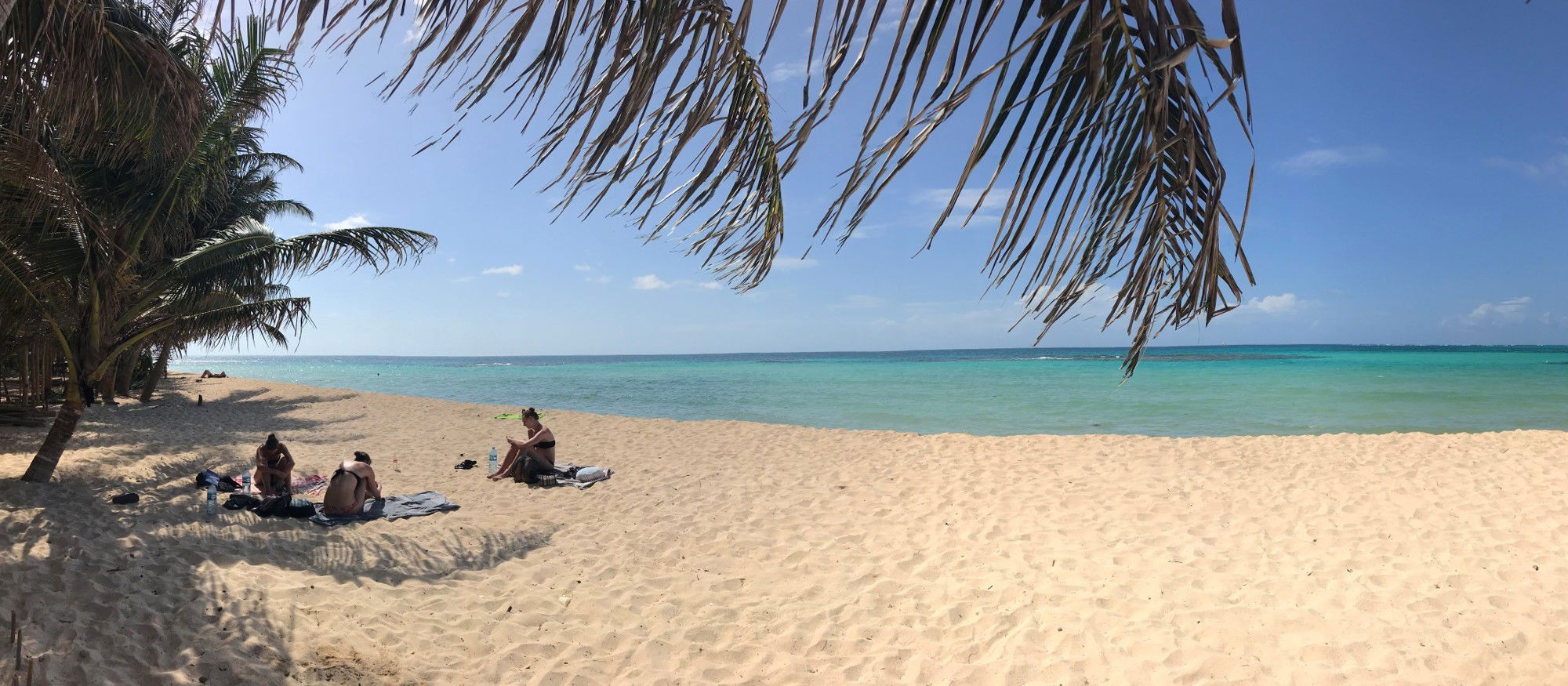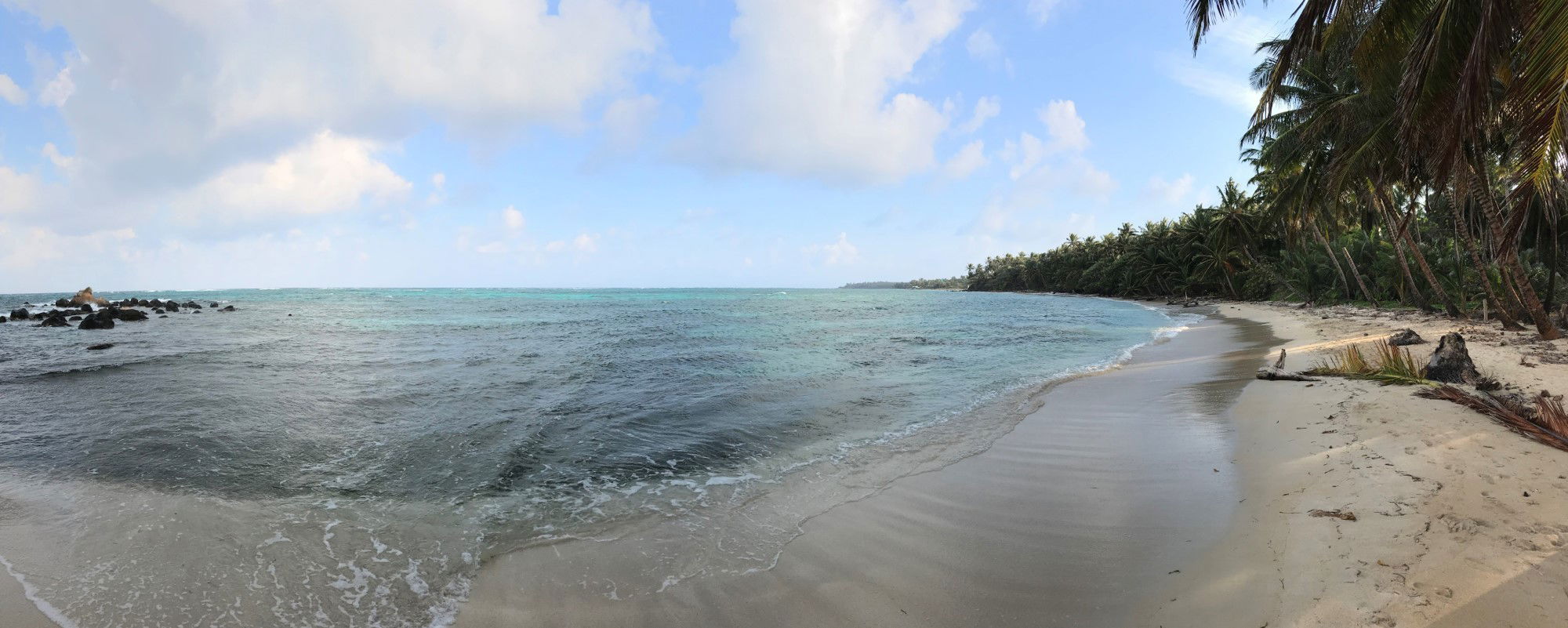 The weather was getting a little windy so we started to head back, lucky it was only a 10 min walk across the island to the west coast. That night we went out to Rosa's Place which was a well know local restaurant for great local island food. It was such a good meal with good friends.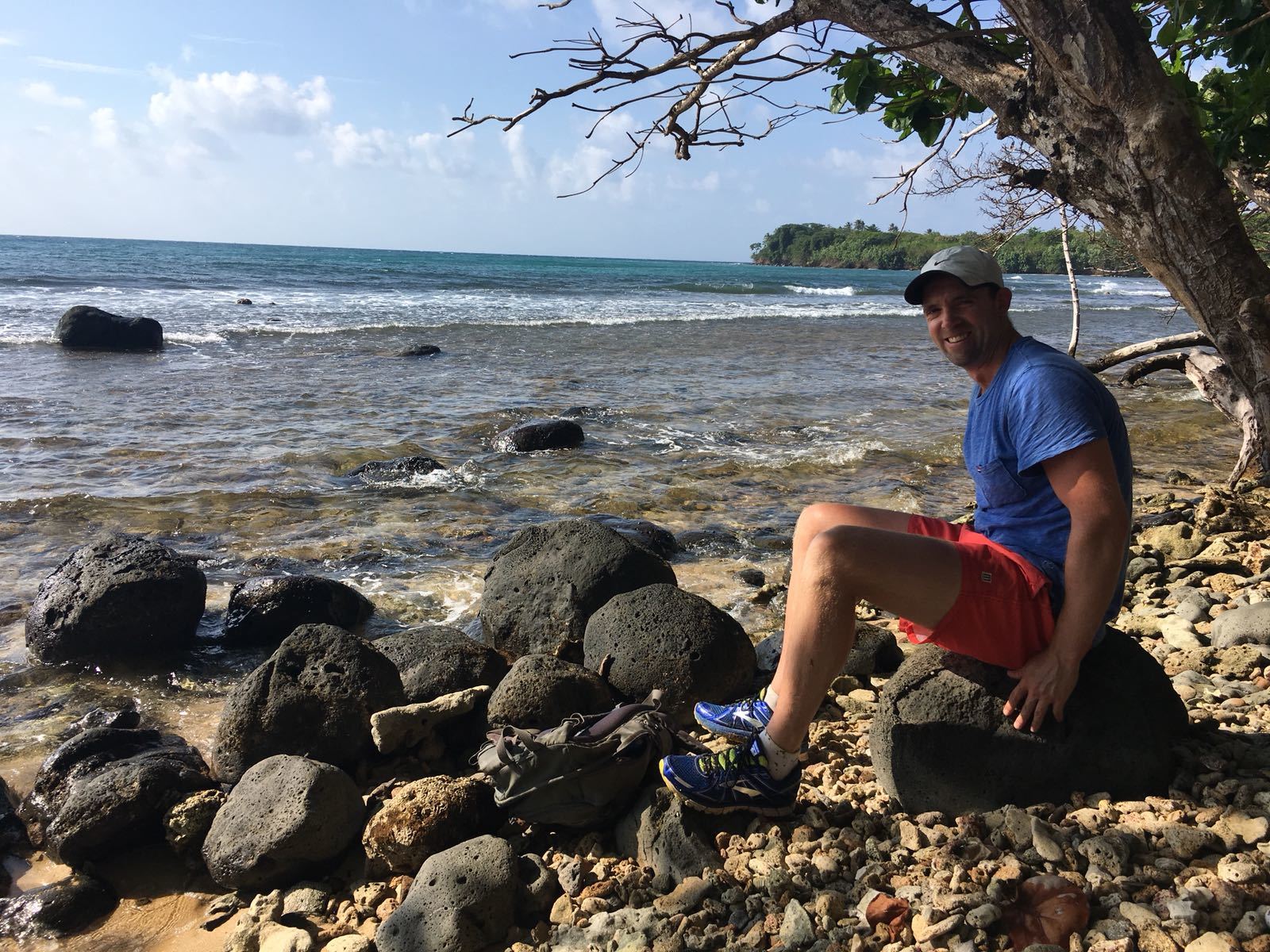 It was coming to the end of our time on Little Corn Island. There was a bomb fire on the beach one night with fireworks which was so much fun. Most of the island was out on the beach drinking, playing music, and dancing together with the fire in the background the stars above us.
It was so great meeting Niels and Bernadette, we have kept in touch and I caught up with Niels twice when he was in Australia for work! Looking forward to plenty more adventures together!
Again, every night everyone is just down at the beach relaxing with a cold drink. It was so much fun just chilling and having a few cold drinks with good people. I met so many great people and really wanted to just stay there for the rest of my trip but I needed to keep moving north to Guatemala in the coming days.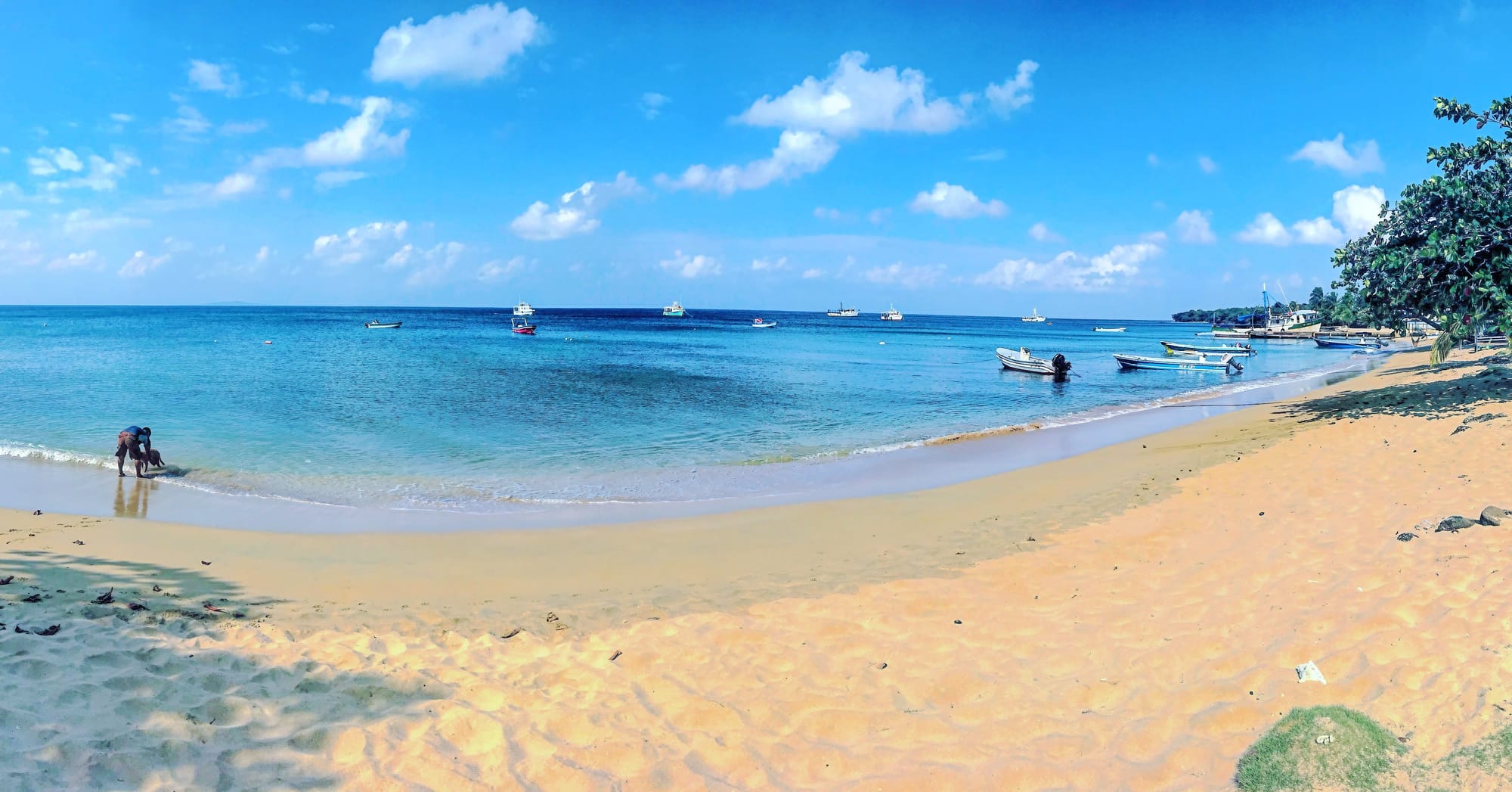 There was an issue of bed bugs at the Green House, they didn't get into our dorm as we were separated from the main house though the two dorms in the main house were affected by them. I know bed bugs are horrible but it happens, with so many people coming from all around central America to Little Corn Island it is going to happen. The owners tried to deny it and made up stories though once word got out it is such a small island so everyone knew. People at our backpackers were posting online about and telling people not to stay there…I felt bad as it wasn't the owners fault, a backpacker had some with them from a previous hostel and then spread them here.
As I mentioned above this blog just does not do Little Corn Island justice. It was just a tropical paradise. Words are not strong enough to describe my time and experience there. I just loved it. Amazing diving in the warmest water full of sea life and beautiful coral reef, catching up with Niels and Bernadette again while meeting other great travellers. There were no dickheads, everyone on the island respected each other and enjoyed the most of the island. I just loved it!
I was up early and on the ferry back to Big Corn Island before boarding my flight back to Managua. The ferry operates on a first come first serve basis so I needed to be there early to catch the first ferry in order to catch my flight in time. Being up early did give me an opportunity to take this stunning sunrise picture over Little Corn Island! It really captured everything I had just experienced!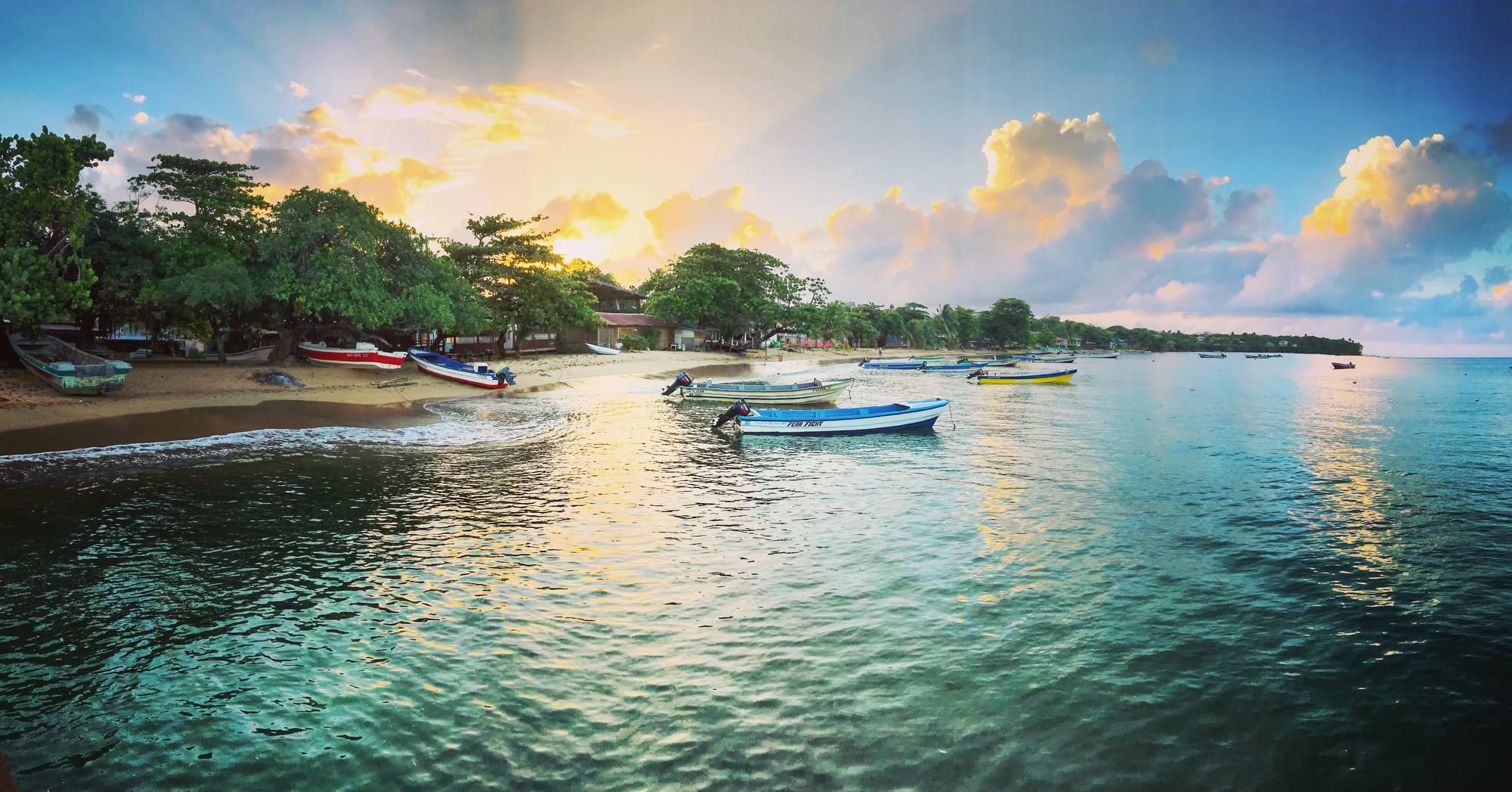 I had looked at bussing across Nicaragua and El Salvador to Guatemala though it was going to take 20-30 hours and I had heard some intense travel stories from ppl bussing across El Salvador so I decided to just pay the $400 USD for a flight that afternoon to Guatemala City and be done with it. It was easy, quick and allowed me to keep moving.
It was easy to check into my flight and it was a good flight with in-service entertainment and food, I wasn't expecting that! I was pretty shattered and tired from the night before so was nice to get some sleep on the hour flight.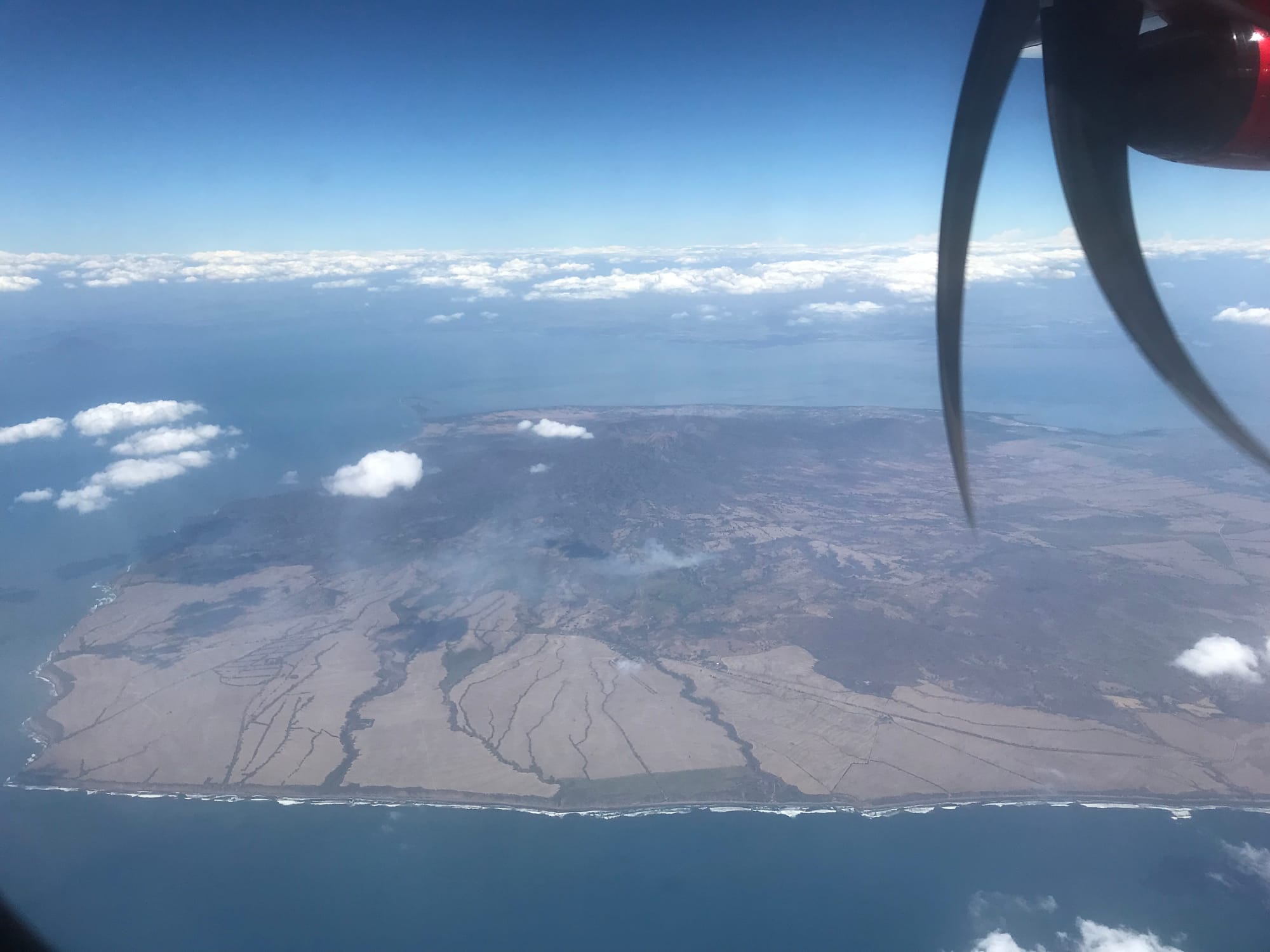 Nicaragua is one of my favourite countries that I have been to. So raw, untouched, and beautiful. From the pristine Pacific beaches littered with volcanoes and the setting sun to the tropical Caribbean east scattered with the warm water tropical reefs. I just loved it! I met such amazing people and loved my experiences. Having my sunnies stolen sucked, but I got $200 cash and I had moved on. It was a reminder to be careful when travelling at backpackers as some people are not always what you think. Learning about the food, history, landscape and meeting some beautiful local people along the way. Seeing the way the locals live, it wasn't always pretty but it just gave me such an appreciation of my life and made me want to push myself harder when it came to travelling to new countries. It really felt like a life experience. I honestly hope you get there, take those chicken buses and explore the dusty roads that lead to stunning beaches and tropical getaways, hike the volcanoes and challenge yourself to see something incredible!
I was so so lucky as a couple weeks into my trip in Guatemala Nicaragua went into civil unrest when the Government increased the retirement age. There were riots and the army was deployed. So of my friends that I met in Nicaragua had to get out of the country quickly and most of the travellers I met in Guatemala and further north who were heading south to Nicaragua had to cancel or change their travel plans. It was such a shame as they didn't get to experience the country I had just loved. I know there are still issues in Nicaragua, so hopefully tensions settle so it is safer for travellers to return!