Ibiza 12 – 16 July 2017
I was out in Newport, California in May 2017 visiting my good friend Sarah and her daughter who I am Godfather too. During my trip for five (5) days out in Newport, I met a few of Sarah's friends, two being Lance and LuLu who were a really fun couple who came out to Ibiza each year for a few weeks to relax and have some fun under the Spanish sun. They invited Sarah and I along to join them this year. We were both keen and when I got back to London I booked my flights.
I was not sure of Ibiza, I had heard of all the crazy night clubbing, partying, drugs, prostitutes, and upper elite on yachts which wasn't really me. Lance and LuLu had been going for years and therefore had a great knowledge of the island, knew some fun locals, and what to do while we were there. It was going to be a mix of relaxing, local restaurants, fine dining, a few clubbing nights and a day on a yacht out to Formentera. I was happy to just leave them in charge as they had if all sorted.
Sarah and I booked an apartment at Patio Blanco Eivissa (http://www.patioblancoibiza.com/) where Lance and LuLu were staying so we would be close by. The apartments were in a really nice area close to the beach, lots of amazing restaurants, a few fun bars and the main harbour. The Ibiza Old Town was a short walk around the bay.
Sarah has a young child and was unable to find someone to look after Bella for a week so unfortunately had to cancel her trip to Ibiza. It is so difficult to get time off when are a single mum. It sucked that Sarah could not make it out to Ibiza as it would have been so much fun to hang out together for a five (5) days in the sun! She is such a good friend.
I flew out from the Essex airport as it had an afternoon flight that would get me into Ibiza around 8pm. Getting out there from my office in central London was easy enough. Being a small airport, checking in was easy and once I was through security you could tell which groups were going to Ibiza. There was a group of 8-10 blokes all having a rowdy time at the airport bar who were away on a bucks/stag party weekend. Our flight got called and the lads were straight on to the Ibiza flight. Luckily they were not in the best of form after a few beers and refused to follow instructions from the air host. There was one too many below the belt jokes towards her and after she had enough of their banter they were all thrown off the flight to the cheers of the rest of the passengers, they were just being dicks!
After that little delay, we were off and everyone was very well behaved on the flight. I arrived in Ibiza around 8pm. I was heading straight to a house party in the hills to meet up with Lance and LuLu. The address Lance and LuLu had provided me was a little vague though the taxi driver at the airport said he knew where he was going so hoped in with all my bags. It was about 30-40 min taxi ride up into the hills.
I wasn't really sure what to expect from the house party in the Ibiza hills so was just open to go with the flow and see what happens. It was an amazing house with 3 levels built on top of the hills. There was a huge amount of food and drinks for the hundred or so guests. I told security I was with Lance and LuLu and I was let in. The DJ was on the second level outside deck playing over the whole party. I found a quiet room and dropped my bags off before trying to look for Lance and LuLu. I grabbed a cold beer from the bar and went for a wonder. Lance and LuLu were easy to find, it was great to catch up again. They had met some Londoners (Laura and Clarissa) living in Ibiza at a yoga retreat and also a couple from northern England who were also on holiday in Ibiza for a few weeks (Nigel and Amanda). The host was a former DJ and known party lad from the 70s and 80s and now lived in Ibiza full time. He had his own night club built into the bottom level of the house which was awesome! Clearly where the after-party would kick on too.
I was starving so filled my boots with some great food while the vodka kept flowing. It was fun to meet some crazy Ibiza locals who had lived and partied in Ibiza for years. There was an infinity pool on the side of the house that looked over the coast with a model dressed as a mermaid entertaining us with fire tricks and swimming in the pool. Pretty awesome way to start my time in Ibiza!
The party kicked on and it was just great to catch up with Lance and LuLu while meeting some fun new people. It was getting late so we wrapped up for the night when the party started to head indoors to the nightclub downstairs.
We got my bags and taxied home. The apartment owner had left for the day so my key was left with security, they had my key and I was able to check-in with no dramas. The apartment complex was amazing, so beautiful with pools scattered around the whole ground floor. The apartment was huge and well decked out. Despite being late at night it was still warm so the aircon was a welcome relief to get some sleep.
The next morning we didn't have too many plans so I took the opportunity to go for a morning walk and explore the area. I walked around to Punta Grossa while jumping in for a swim from time to time along the bay. There were so many nice beach side cafes and restaurants all along the beach. I stopped in for brunch at one overlooking the bay which was so nice!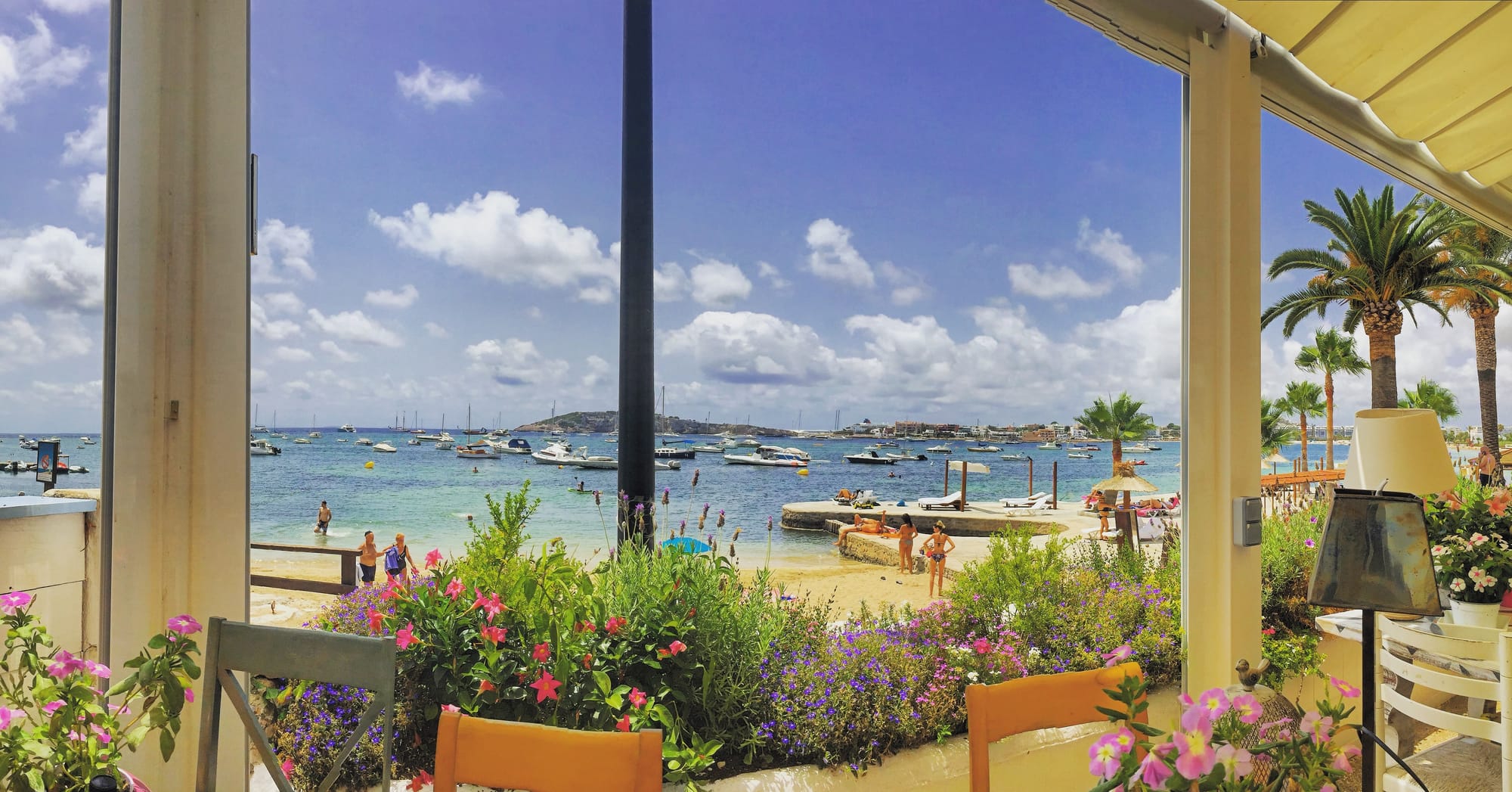 I knew this five (5) days in Ibiza was going to be an expensive trip so I had put aside some cash and just said this is for Ibiza, enjoy it and do it properly with no regrets! The area we were staying was very upmarket and expensive. The apartment cost me €1,500 for 4 days. Knowing that we would be going to nice restaurants, having table service at the clubs and getting out on a boat for a day it was going to be a proper Ibiza trip! I couldn't wait!
I wondered back to the apartments to catch up with Lance and LuLu. They had been up early as well and been to the gym already. They were massive fitness nuts which were great, as they were all about keeping healthy despite being on holiday which suited me perfectly!
Lance had a calendar of the DJ sets and restaurants that were should go to while I was here. I was happy to take his lead as he knew Ibiza far better than me. We worked out a plan for the next few days.
First stop was late lunch at their friend Boris's restaurant – Ibiza Food Studio (http://www.ibzfoodstudio.com/) however we were going out to his house in the countryside instead of the restaurant in the Old Town. He often hosted people at his house for meals. The house was a beautiful Spanish cottage surrounded by fruit and vegetable gardens with live stick (chickens, lambs, and a few cows). They were hosting a wedding the next day at the property so very busy getting the house ready. We were able to relax by the pool for lunch. Boris's girlfriend made sure we were all fine before Boris came out to meet us. He was a crazy guy though you could tell he knew his food so well. There was no menu, Boris would just bring us what he had in his kitchen and said he would cook us an amazing steak with fresh salads and vegetables. Sounded perfect to us!
We enjoyed drinking wine down in the shade by the pool and just taking in the sounds of the countryside. The scenery was just beautiful. It was such an amazing experience to be at his house and have a world-class chef cook for you. He had worked at Nobu before setting up his own restaurant. It was great to just have some one on one time with Lance and LuLu as well to catch up and hear how Sarah and Bella were + catch up on some Newport gossip. It was so nice that Sarah had such good friends that looked out for her.
Boris brought down this amazing fresh mussel tomato soup as our entrée. It was a local Spanish tomato soup that was just phenomenal. It was served cold (with ice cubes in the soup) seeing as it was 35 degrees outside I had no issues with a chilled soup. I have never had tomato soup that tasted like that! It was so fresh and tangy with a hint of spice. Who would have thought…cold soup was perfect for a hot summers day!
The main arrived, Boris was not lying, an epic steak with amazing fresh salads and roast vegetables with all the trimmings followed. The wine kept flowing and we all agreed the steak was just melting in our mouth. It is still to this day one of the best meals I have had. I think the scenery and people involved added to it, as it was so serene to be at Boris's house and have him privately cook for us down by his pool with the sounds of the countryside entertain us. I was really enjoying getting know Lance and LuLu better the more I spent time with them!
Dessert arrived and the meal just kept getting better as we finished off our meal with a few more drinks. We thanked Boris for an amazing afternoon and such a treat that I will never forget. We headed back to our apartment for a lil siesta and to relax before the night festivities.
It was nice to just cool down in the apartment and get out of the mid-afternoon heat. I went for an afternoon swim before getting ready to go out later. I met Lance and LuLu at the apartment in the evening. Being Spain, everyone went out a little later so we were in no rush. Lance and I headed down to Keeper Ibiza which was a popular bar on the harbour for a beer while LuLu got ready. It was an open bar with a fun beach atmosphere. There were a lot of beautiful ladies there which Lance quickly pointed out there was a cash transaction required. Lance took me over the front of the bar where there was a small park with lots of ladies waiting by the fence, they would walk into the bar for a lap to try to pick up a guy otherwise just wait outside for a few drunk men to wonder out. It was the crazy world of Ibiza. We went for a walk along the main harbour strip where all the millionaires and billionaires had they yachts. Cristiano Ronaldo had his yacht moored in the old town harbour which was cool to see. They were all just exquisite! It was scary to think how much they cost and how much they cost to run each day. Full 10-15 staff, some with helipads, others with two helipads. Just to moor your yacht in the harbour on the main harbour strip cost €30,000 a day. That is craaaaazy! That is someone's annual salary spend in a day just to moor your yacht…wild. But they were just so beautiful!
We were heading over to an Asian fusion restaurant for dinner around the next bay, Ginger Sa Punta (https://www.sapuntaibiza.com/ginger-eng). We were meant to be meeting some friends there however they had to cancel. So we got stuck into some cocktails for a fun evening before our food arrived. We thought about calling in at Keeper Ibiza for a nightcap though I was happy to call it a night, wasn't really my scene.
The next day I found out that a friend of mone Lauren, from the USA but lived in London, was also in Ibiza. She invited me out to meet some of her friends at Pacha nightclub that night as Faithless was performing. I was all in! Lance and LuLu were happy to have a quiet night instead. We had a pretty cruisy day planned with just lunch at a nice restaurant in the country then dinner with Nige and Amanda booked in the Old Town.
What I really liked about Lance and LuLu was that yes they could happily afford 5 star dining each meal though they loved going to the local restaurants and recognised that there was just as good food there as some of the finer dining venues. We drove out to one of Lance and LuLu's favourite restaurants in the countryside for a relaxing afternoon overlooking the countryside. It was a pretty basic set up though the views were stunning. The food was fresh and we all just enjoyed another cheap local meal. LuLu loves her tequila and one tequila in particular. She would use empty sunscreen tubes (thoroughly cleaned) to fill them with her favourite tequila then ask for a glass, another glass with ice and some slices of lime. She would make up her own tequila on the rocks to enjoy. It was such a nice afternoon with great local food away from all the craziness of the Ibiza harbour. I wish I could remember the name of where we went!
We headed back late in the afternoon again for a siesta before heading out for dinner. We met up with Nige, Amanda, and Boris to head over to the Old Town. The Old Town was really beautiful with lots of small streets with people selling jewellery, hand made crafts, etc. There was a buzz with lots of small restaurants, bars and cafes scattered throughout the streets and side alleys. We managed to get a table at a small local restaurant recommended by Boris. Again, just a really nice local restaurant with great food and wine. The atmosphere was crazy in there as it was the peak of summer. The limoncello started to flow which always means a great night!
I headed home to get changed and then head over to Pacha nightclub, Lauren and her friends were already inside though my name was on the door for the table they had reserved. It was epic. Lucky they had a table reserved as inside was just mental! It was huge and just thousands of partiers! The reserved area was really nice with vodka and mixed drinks continually flowing. Faithless was coming on around 2am to it was going to be a long night partying!
Lauren's friends were mainly from the USA though all lived in London. We had an awesome night partying and dancing away to the DJs and then Faithless was just epic! I was going out on the yacht tomorrow so I wanted to be somewhat fresh so I think I called it a night around 3.30/4am after the Faithless set.
I got as much sleep as possible to be ready for the day out on the water ahead.
One of LuLu's friends from Holland, Angela, was arriving today as well. It was really nice to meet her. Two of their other friends were meant to have flown out from the USA at a similar time to me however got delayed due to some issues at the airport though they were now flying out shortly. It was a shame I was to miss them, they sounded great fun!
Lance and LuLu had hired a boat from Talamanca which was a couple of bays north of where we were staying. The skipper was a top bloke from northern England, real dry sense of humour. Nigel, Amanda, Laura, and Clarissa all joined us. It was so beautiful out on the water in the 35-degree sunshine with not a cloud on sight. We headed out towards Es Vedra, a magnetic island towards on the south coast. There are many legends and myths about Es Vedra and many spiritual people come to Ibiza to feel its magnetic energy, hence why there are so many yoga retreats on the south side of Ibiza facing Es Vedra. It was really beautiful to see.
We stopped in a few of the bays, one being near Blue Marlin (https://www.bluemarlinibiza.com/), which is a famous beach club in Ibiza. It was quite funny as Lance and LuLu were like, yeh that's where all the English people go to party…haha, it did look pretty awesome!
The bay was stunning and we just loved being in the warm water. The tunes were pumping while drinks and snacks kept flowing. We started to head over towards Formentera, another Spanish island where we would have lunch. We were going to Beso Beach, a casual beach restaurant from looking at it from the outside, though it was very nice and amazing food. A little dingy came to pick us up from our boat and drop food off for our skipper to enjoy while we were having lunch. We cruised into shore on the dingy before walking up the beach to Beso Beach. The Aperol spritz were flowing and we ordered paella for the table before everyone got stuck into some amazing seafood.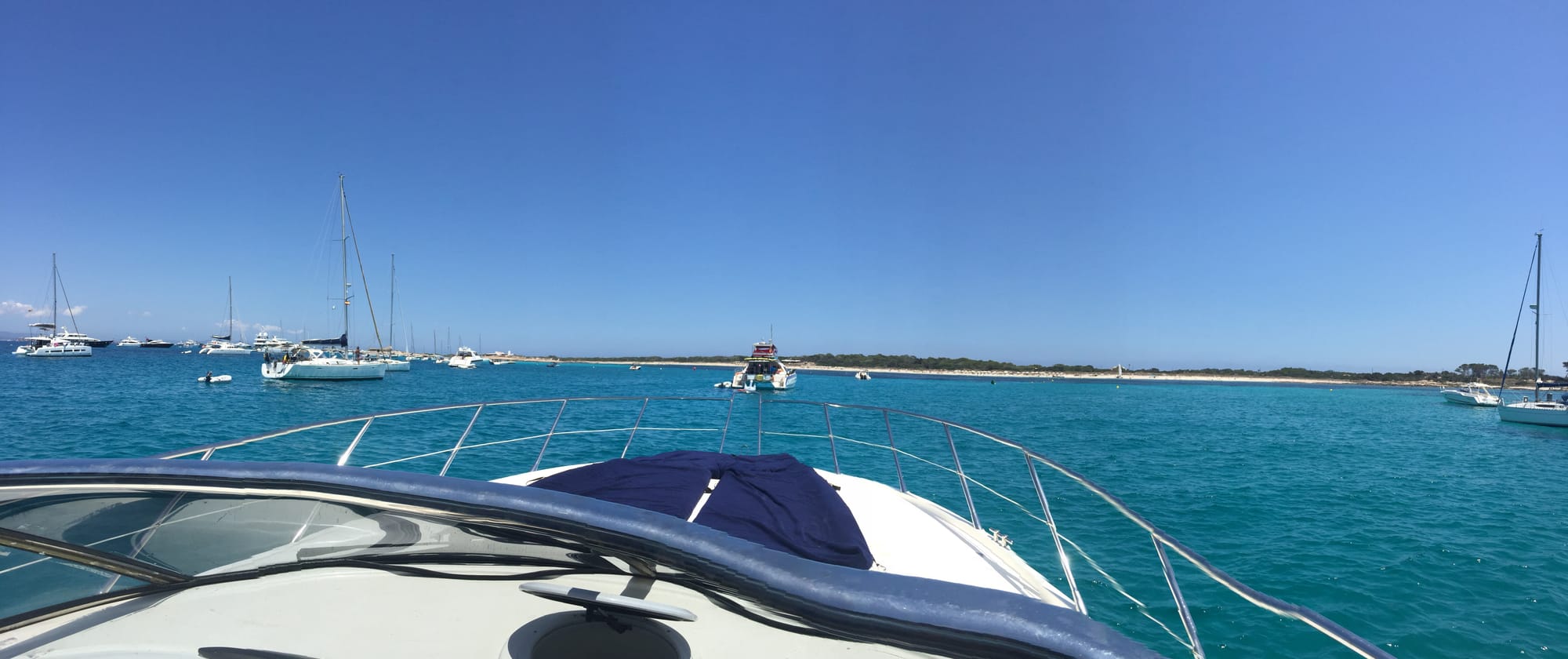 The views over the beach were stunning, that amazing aqua into deep blue colours with perfect white sand. So many kids and family were playing at the beach which was so nice to see. Our dingy was ready and we headed back out to our boat after an absolute feast. The plan was to head over to one of the protected bays as the swell picked up for the afternoon. There were several other yachts and boats in the same bay all having awesome boat parties together. We got out on the small kayaks and blow up doughnuts which was awesome to just be in the water. The boat next to us had a heap of 25-30-year-olds partying hard and the tunes were going crazy!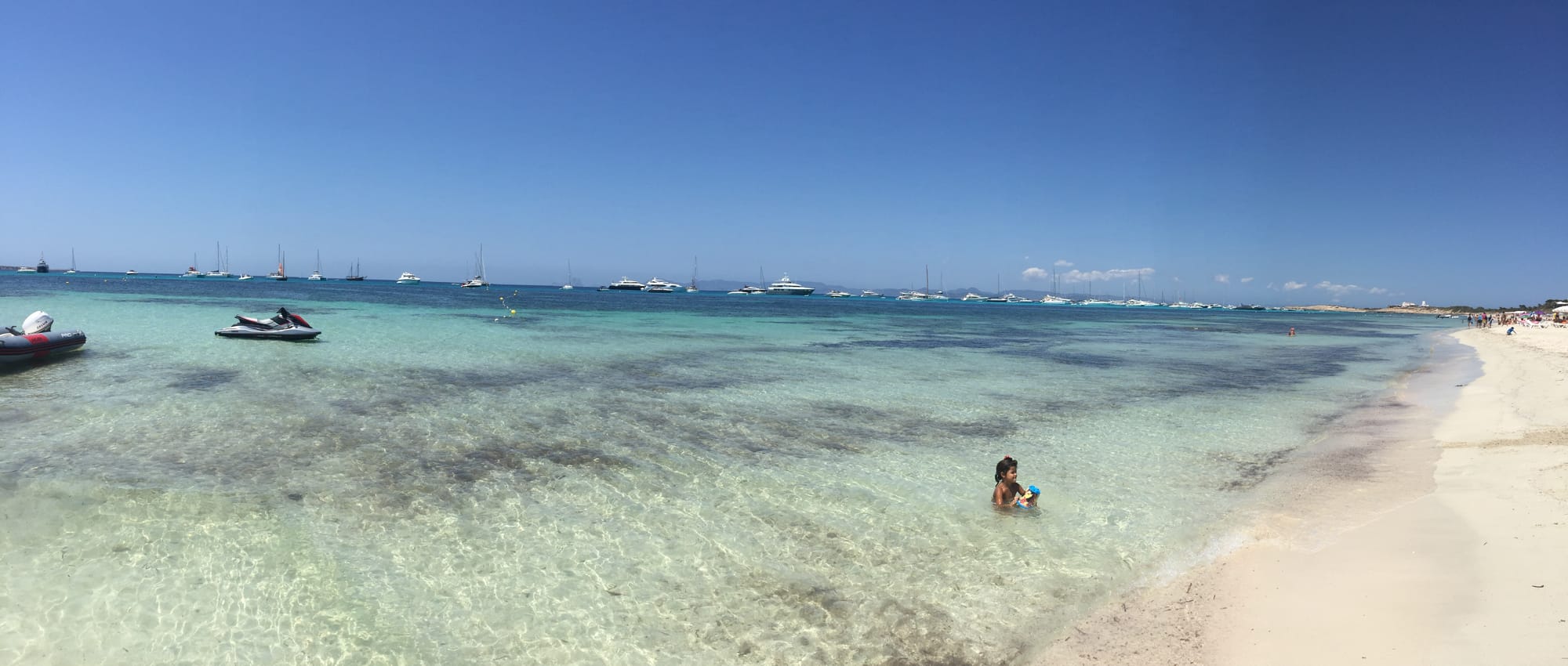 They had one of the blow-up swans that had been caught in the current and drifting out to sea. One of the guys had jumped in after it, he was having trouble swimming against the swell back into their boat. I quickly hopped in our kayak and headed out to get him, he was really struggling to keep afloat by the time I got to him. We tired the blow-up swan to the kayak and he hopped on it so we could paddle back. All his friends were clapping and cheering as we arrived back at their yacht. It was brilliant! As we arrived he gave me a massive hug and in his broken English thanked me! His friends all ran to get us beers and we had to neck a couple beers together. They invited me and everyone on our boat to come over to join them, Laura and Clarissa swam over. A plate….more like a mountain of coke on a plate, was brought out and I could see why the party was raging over here! Coke is not my thing so I politely declined but the beer was cold so I was happy. They were all Italians living and working in Ibiza, some as VIP reps at the big clubs, Mattia (the guy I saved) was a DJ rep and toured the world with DJs, Luca was a real estate agent in Ibiza and the others studied in London though lived in Ibiza over summer. They were all just awesome fun and welcomed us in so much. We had an awesome couple of hours partying with them.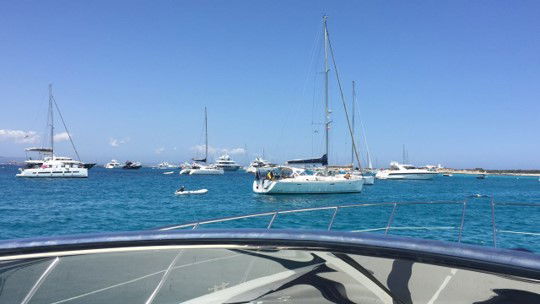 Lance and LuLu called us over as it was time to head back. We said our goodbyes and Clarissa, Laura and I swam back over to our boat to head home. Mattia, Genny, Luca, Alberto and I still keep in touch today which has been so nice! I hope we get to party again!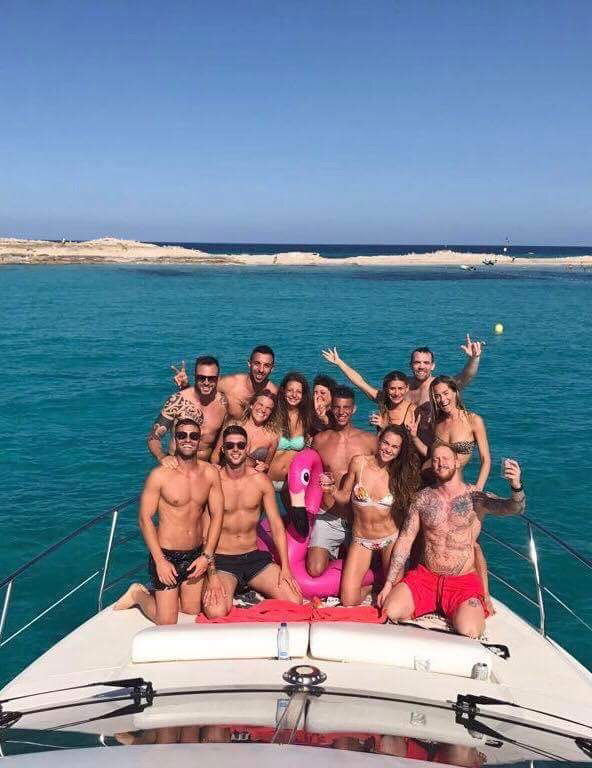 We cruised back into Old Town harbour revelling in what an amazing day we had just had. The sunset was just so stunning cover the water. We enjoyed just relaxing on the boat watching the sunset We stopped into the local fish and chip restaurant for an easy meal before calling it a night. It had been a massive few days for me so I took the opportunity to have a quiet night and crash early.
It was my last day in this Mediterranean paradise, I packed my bags and dropped them off at Lance and LuLu's apartment, I went for a morning walk and swim before meeting them back at the apartment to head out for lunch.
I have forgotten where we went to though it may have been The Habour Club or Rehab Beach Club. It was so relaxing, really nice beach clubs with great food. It was nice to to have a glass of wine, swim between meals, and just take it easy. Today was a relaxing day!
That evening LuLu and Lance had a booking at Cappuccino Marina Ibiza, (https://www.cappuccino.com/) which was an amazing restaurant/cocktail bar in the main harbour strip. They had live performers and music playing, almost like a cabaret throughout the evening then every hour the main show would go off. I was gutted that I would miss the evening as it was going to be so much fun. I ducked in for a few drinks to enjoy the start of the night though headed off to the airport around 7pm for my flight.
My body was pretty wrecked by it was full of amazing fresh food and vodka. I wish I could have stayed longer in Ibiza but work called. I don't usually travel staying at high-end apartments and out partying on yachts or getting table service at nightclubs though this was an absolute treat. I had so much fun with Lance and LuLu! I cannot thank them enough for an amazing five (5) days together. It was such a shame that Sarah couldn't make it over as I know she would have loved it and it would have been soo memorable to share the trip with her! Lance and LuLu were awesome Ibiza travel guides and I loved the mix of restaurants and activities that we did. I met some great people who I have kept in touch with since 2017 and I hope to catch up them for some vodka filled fun one day again!!
I'll definitely be going back to Ibiza!!
Unfortunately, owner of the Patio Blanco Eivissa apartments refused to return my bond as he did not collect bond for the guests who arrived after me who then damaged the apartment. For weeks I tried to have my bond returned to me and finally I had to ask Lance to step in. Once Lance sent an email to him my bond was returned straight away. It was a shame as I am not sure I'll trust him again if I ever go back though plenty of other great places to stay.