South Korea 2012
For years South Korea has always been a country I wanted to explore after reading a few travel articles and Lonely Planet Guides. Modern fast-paced country that held on to its traditional culture. The more I researched the more I wanted to explore this small country. The excitement of Seoul with amazing history, nightlife, and culture compared to the southern beach lifestyle of Busan and everything in between made it an exciting country to explore. It wasn't a popular tourist destination with many of my friends going to south-east Asia or Japan though for me Korea was first on the list to see.
To add to my backstory…I discovered the world of break dancing in 1999 when one of my best friends, Eddy aka Bboy Edit, started to go to dance classes and wasn't allowed to go alone so I would go with him. A German bboy, bboy Simba, was in Perth doing some showcase classes and we went along together. I was instantly hooked into the break dancing culture and met some amazing people at bboy Simba's classes. From there I discovered 'Floor Wars' and Expression Crew which only increased my love of break dancing. The Korean bboys have always excited me after watching Expression Crew from 2000-2005. I had my first global experience of a break dancing competition when I lived in Holland in 2004 where I watched the top Dutch crews and Pokémon (French) vs Expression in a showcase battle. A re-battle from the 2003 world championships.
R16 (Respect 16) is an annual international b-boy tournament and urban arts cultural festival hosted in Korea. The main event features sixteen B-Boy crews representing fifteen countries competing in a two-day tournament for world championship titles in two categories: best crew performance and best crew battle. The festival features graffiti artists, streetwear designers, musical performers and dancers who specialise in hip-hop, popping, locking and other urban arts subcultures from South Korea and other countries.
With my excitement to explore Korea and desire to watch R16 live I thought it would be a great opportunity to combine the two. R16 was in July so was a nice trip to look forward to and break up the Melbourne winter for two (2) weeks.
I flew over with Singapore Airlines via Singapore. It was far cheaper and only add a few extra hours of travel time than a direct flight. I had an emergency exit row and looked like I had all 3 seats to myself, the final call came out and this giant of a man came walking down the aisle, there was no doubt he would be sitting next to me. Daniel was a top bloke with some crazy stories and loved a beer. He was a miner who had a Korean girlfriend (Jesse) and was flying over to see her and visit her family. He was a top bloke and great to sit next to him the whole way through to Korea. Funnily enough, when we started our descent into Seoul he asked where I was staying in Seoul and it turned out we were both staying at the same backpackers.
During the stopover in Singapore, I was able to catch up with a good friend of mine from boarding school, JC, he was an engineer at the airport so met me for lunch. Was great to catch up with JC, he became a very close friend of mine while at boarding school. If you have not been to Singapore Airport before, it is a massive airport with so much to do. A free movie theatre and butterfly sanctuary are just two great additions to make any stopover enjoyable. Though most people just use the cinema to sleep and that is where I found Daniel enjoying some shuteye before our next flight to Seoul.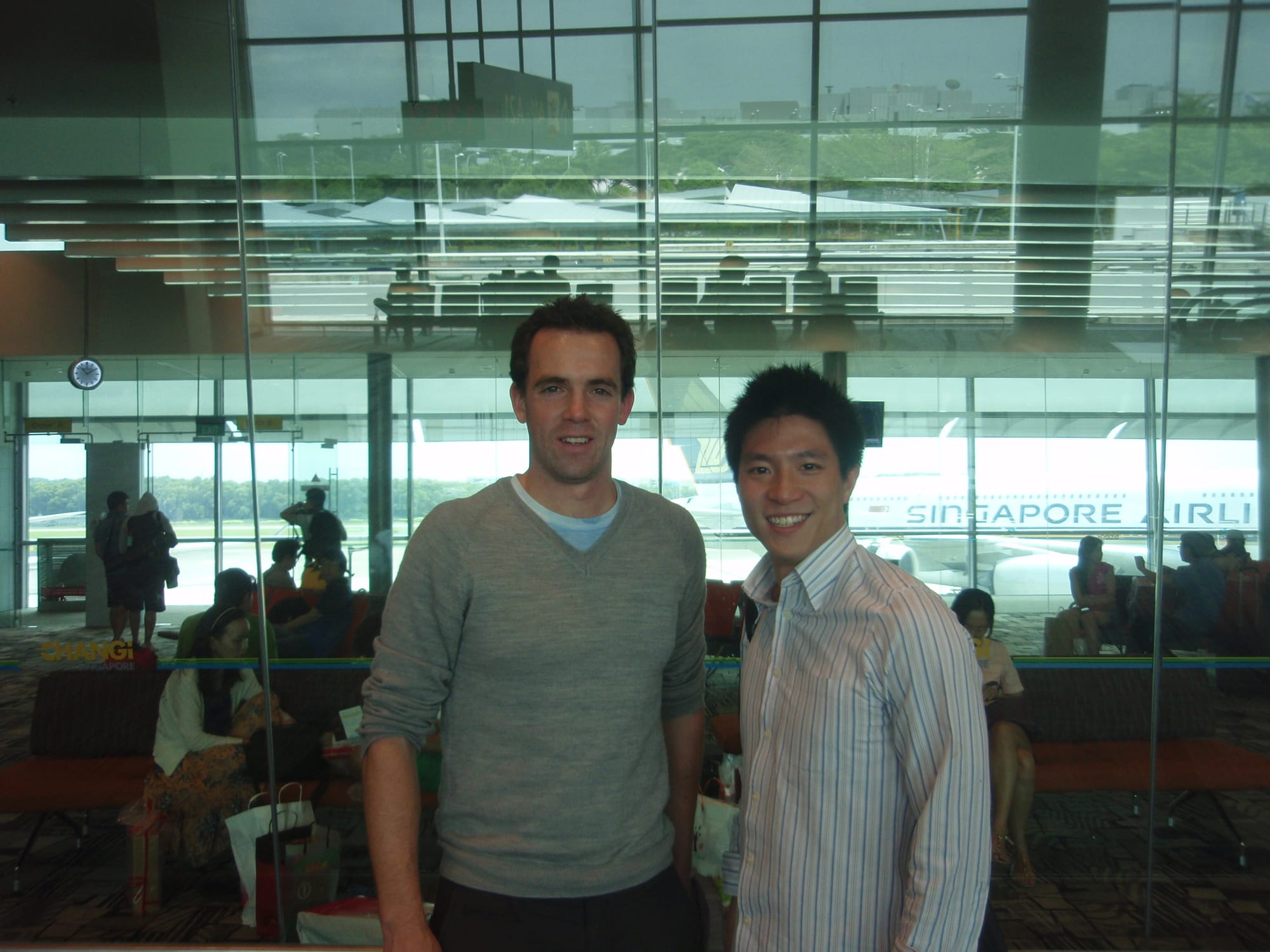 We arrived in Seoul and his girlfriend met us at the airport, it was so lucky as I had been lazy not to plan in advance how the catch the train at 11 pm to the backpackers. She had it all mapped out and lead us to the backpackers. The trains were so clean, ran so smoothly, and were so cheap. One thing I did find weird was the many gas masks on the trains and at each station. There were various TVs on each train that show adverts and Gov announcements, a couple ads caught my eye which was cartoons of an attack on the train, it ran a scenario where a bomb or gas attack on the train occurred with people running away from the explosion. A big cross came across this cartoon and the behaviour of running away. It was then replayed with people stopping to help each other, handing our gas masks, and putting out the fire. A big tick came across the screen, it was crazy and something I just didn't expect to see. It only clicked then…ah yeah we are only 40km from North Korea. It was crazy how this impacted daily life in Korea.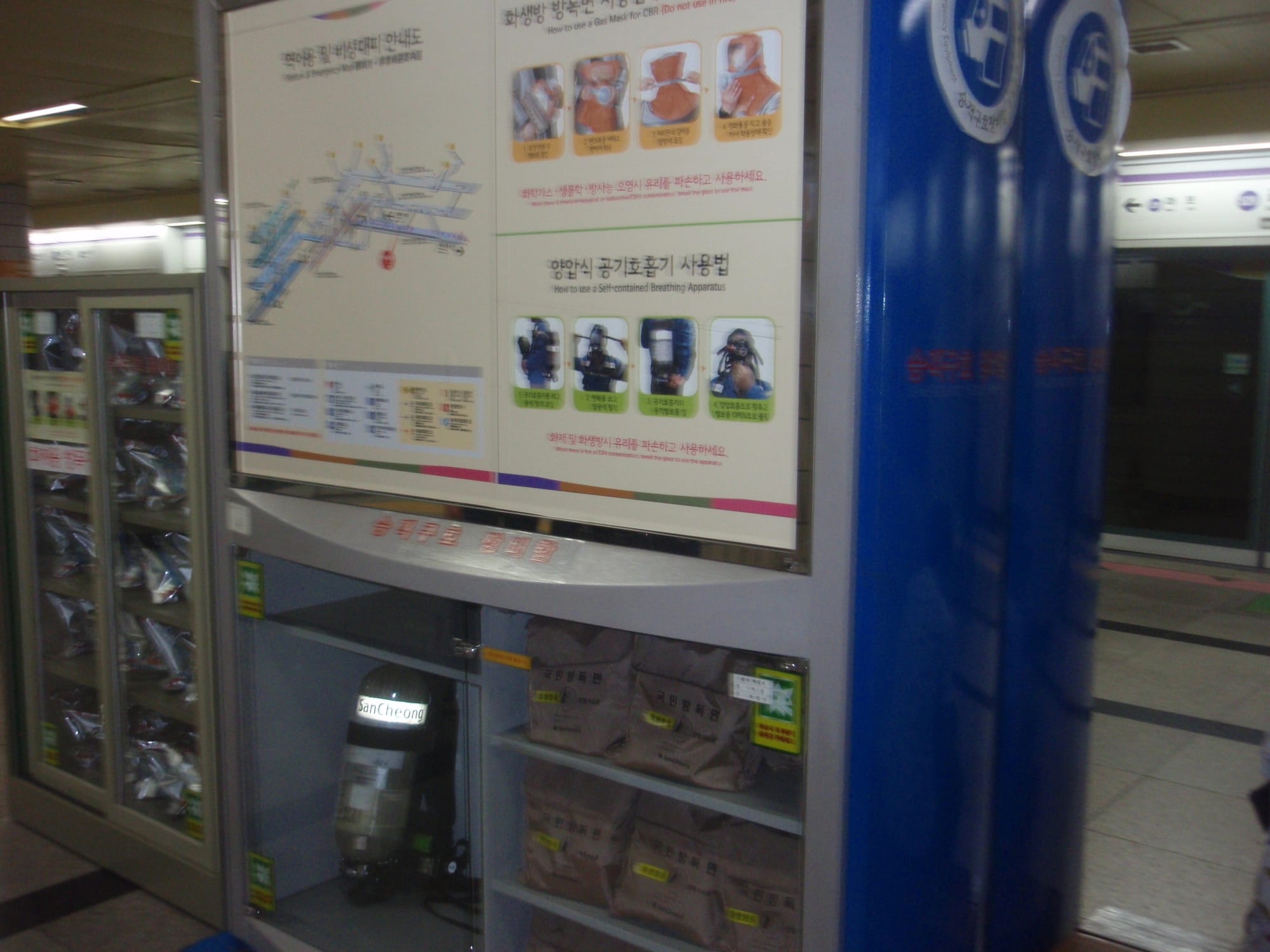 We got to our backpackers and checked it. It was really nice, clean, spacious and had all the essentials.
The next morning I had a day to explore Seoul and get a feel of the city before R16 kicked off on the Saturday. I wanted to explore Gyeongbokgung Palace, Cheonggyecheon, Deoksugung, Gwanghwamun, Changgyeonggung Palace, Fortress Wall of Seoul, Olympic Park, Namdaemun Market, Bukchon Hanok Village, Myeong-dong and so many other places. I caught the train to Gyeongbokgung train station where the Gyeongbokgung Palace was and many of the other sites were close by.
It was my first time travelling to a city the size of Seoul, it was immense, just everywhere I looked buildings expanded up into the surrounding hills. The city just worked so effectively. It was an amazing city to explore on the trains and on foot. The mix of modern skyscrapers that shone in the summer sun over the city compared to the traditional temples and buildings that were intertwined throughout the city. Seoul had got the balance of tradition and modern expansion right. People were so polite and kind when I needed assistance and were just happy to meet someone from another country.
I train hopped around and tried to walk as much as possible to take the city in. From Gyeongbokgung Palace I walked to Sinmuni to see Gyeonghuigung and from there I walked to City Hall to see Deoksugung and Seoul Plaza. After a long day exploring the city, I made my way back to my backpackers. It was interesting to see so many people and families seeking support on the streets for their lost families isolated in North Korea. There was a regular military presence on the streets which also was continually in the back of my mind.
Saturday arrived and I was off to R16. I arrived at the venue full of excitement and anticipation for the event. The event was being held at the old Olympic Park. The first battles didn't start for an hour or so, so I enjoyed exploring the street art and watching the various crews and bboys battle/warm-up outside the venue. The bboying talent in Korea is so amazing and the depth of bboys showed why.
I was hoping for a more standing in-formal approach to watching the battles and showcases however we call has designated seats. I was lucky enough to be sitting next to a really nice Korean girl called Bomi, she loved her breakdancing and was great to have someone to chat to and translate any announcements for me. There were also some Americans close by so we all hung out.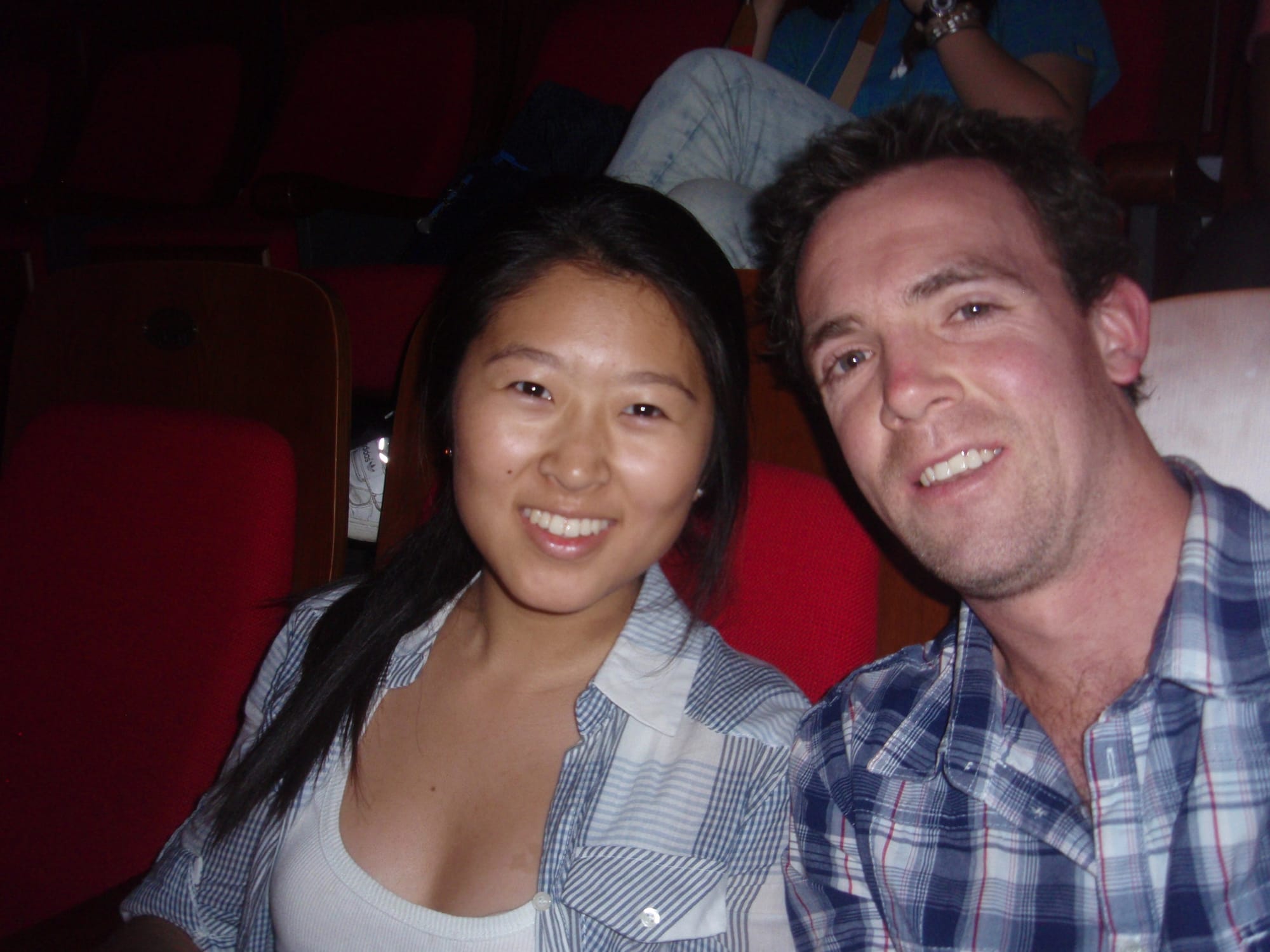 The atmosphere was hyped and there were great battles. The big battle most people were looking forward to was Issei (Japan) v Hong 10 (Korean). Hong 10 being a world champion and one of the elite bboys in the world up against Japan's new superstar Bboy Issei. It was a close battle with Issei taking the win to the disappointment of the crowd, it was amazing to see this 15-year-old kid take on a giant of the break dancing world and battle with no fear. Jinjo Crew from Korea featured some of my favourite Korean bboys, killed their showcase and did well in their opening battles. Massive Monkee's from Seatle were not messing around and dominated their early battles. It was great to see Jeromeski and Iron Monkey battling live, two of the best American bboys and two bboys I had been following since watching Floor Wars back in 2002. The day of battles were coming to an end and it had been so much fun already! I was looking forward to the semis and finals tomorrow.
I was on the train back to the city and overhead some guys speaking in English about R16, I introduced myself and turned out they were four (4) Koreas who studied university in Texas, they had been at R16 and heading out for dinner and invited me along. They, Ruyi, Jonny and Joono, took me out in Gangnam for Korean BBQ, introduced me to Soju and some Korean drinking games before we headed out in Gangnam to find some nightclubs. It was such an epic night. It was the university area of the city with two large universities, plenty of restaurants, street markets, clubs, nightclubs, and high rise buildings. It was K-Pop in real life. The Korean fashion was so cool and loved seeing what people we wearing out to go clubbing. I was surprised at how tall Koreans were and how much they loved fried chicken and partying.
Soju is an alcoholic rice wine that is shot on its own or with beer. One of the drinking games was when you take the cap off you flick the bit of metal that is cracked off around the bottle cap like you flick a coin. You go around in a circle taking turns and the person who flicks it off doesn't have to have a shot while everyone else does have a shot. Simple game but just so much fun as well!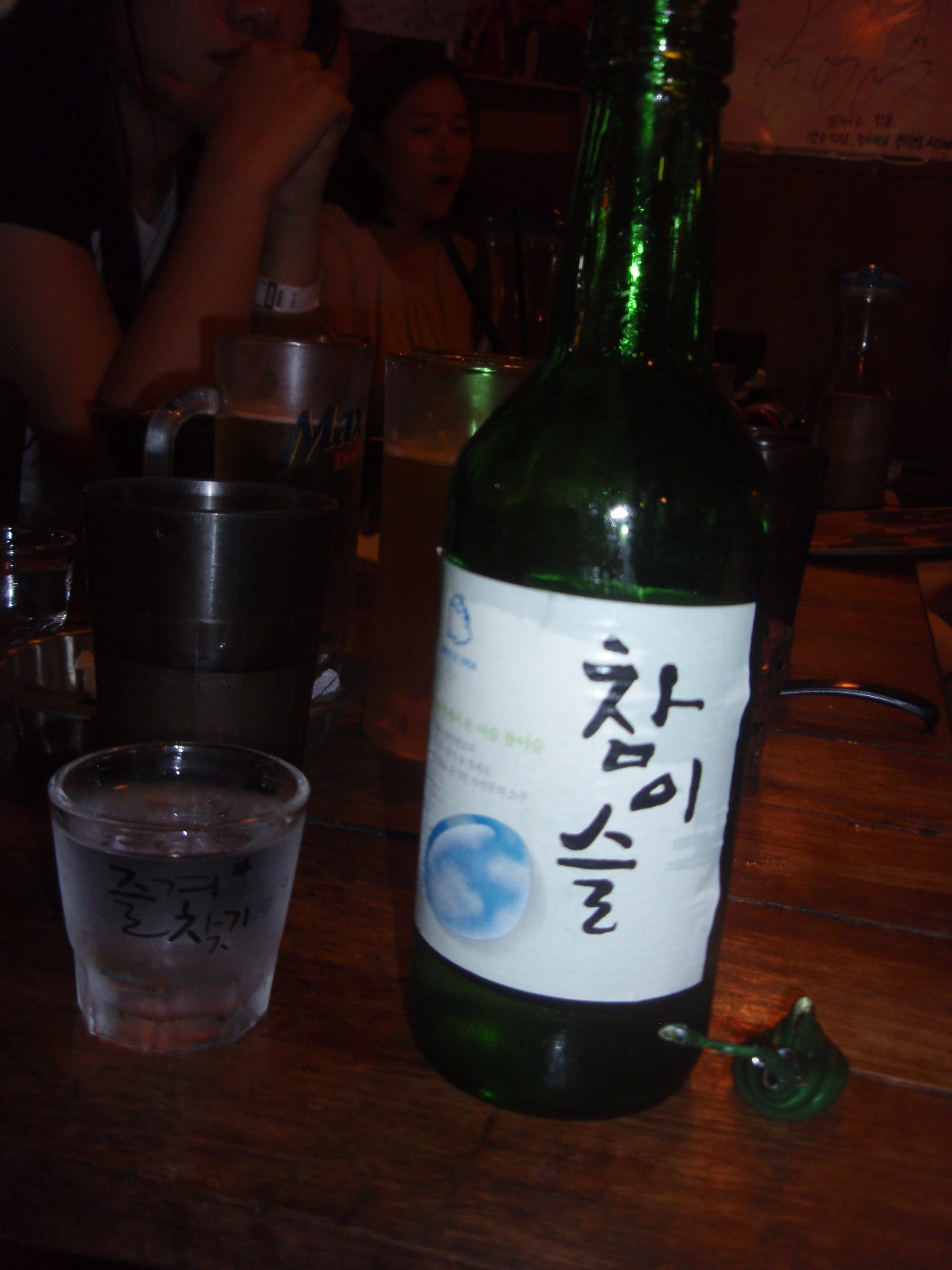 The nightclubs were packed! The party was insane and went all night. I think we walked out of the club around 4.30/5 am in the morning. I got a taxi home and crashed for a few hours before making it back to the final's day of R16.
Unfortunately, Ruyi, Jonny and Joono were only there on the Saturday and not coming on the Sunday. They were also heading back to their home towns to see their families, so we weren't going to get a chance to catch up again. I never got their numbers or contact details which was a shame, but it was such a fun night with them and I always remember the epic night partying with them in Seoul. It was a great way to start my time in Korea.
Lucky the finals were starting in the afternoon so I had time to sleep in and not rush. The finals day was so much fun and I had closer seats to the stage this time. It was awesome to see Issei continue his winning ways at such a young age taking on and beating some to of the best bboys in the world. Roxrite, a USA bboy known as one of the top bboys in the world at the time was in Issie's way to winning the championship. The 15-year-old didn't hold back down and came up victorious! It was amazing to see a 15-year-old taking on some giants of the hip-hop world and winning. No wonder he has continued to be one of the most dominant bboys in the world and joining the elite Red Bull BC One crew.
The battle of the event was Jinjo v Massive Monkees (Korea vs USA) in the semi-final of the crew battles. It was a shame to be the semi as everyone wanted them to meet in the final however this really was the final! The battle was hyped the whole way through with both crews bringing a huge amount of flavour, crazy routines, and style to the dance floor. Iron Monkey just killed this battle, I just remember him being a beast on the dance floor and every time he entered the battle he busted out killer set after killer set. He was the difference between the two crews and ultimately Massive Monkeys took the win. Sad to see the local Korean crew Jinjo knocked out as they are one of my favourite crews but Massive Monkeys were just too good on the day. Massive Monkeys went on the win the crew battle competition and Jinjo took out the best crew showcase!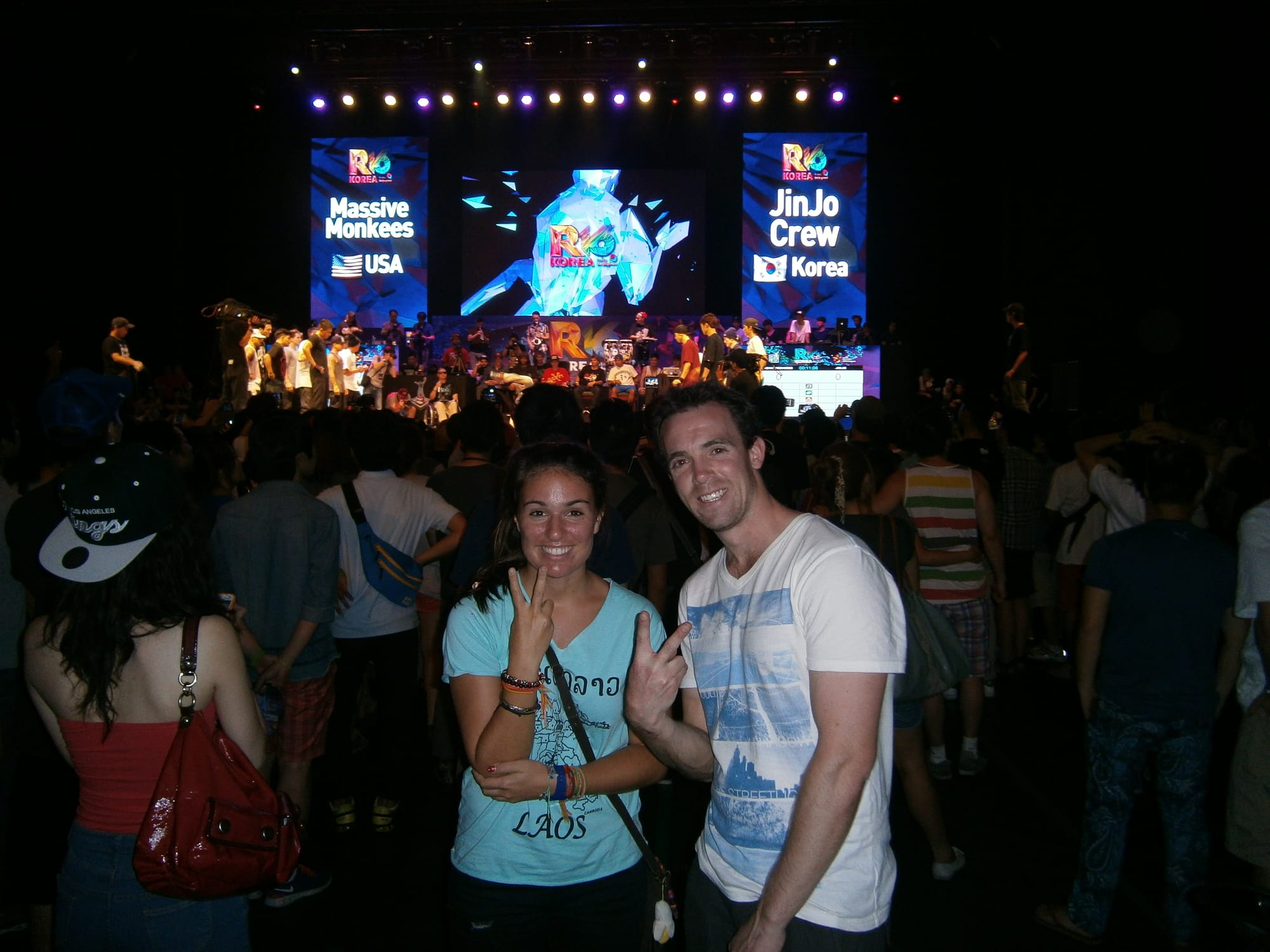 The event was over and I was shattered, running on low battery after a big night I headed back to my backpackers for a nice dinner at the local chicken and beer restaurant (they are everywhere) and crashed.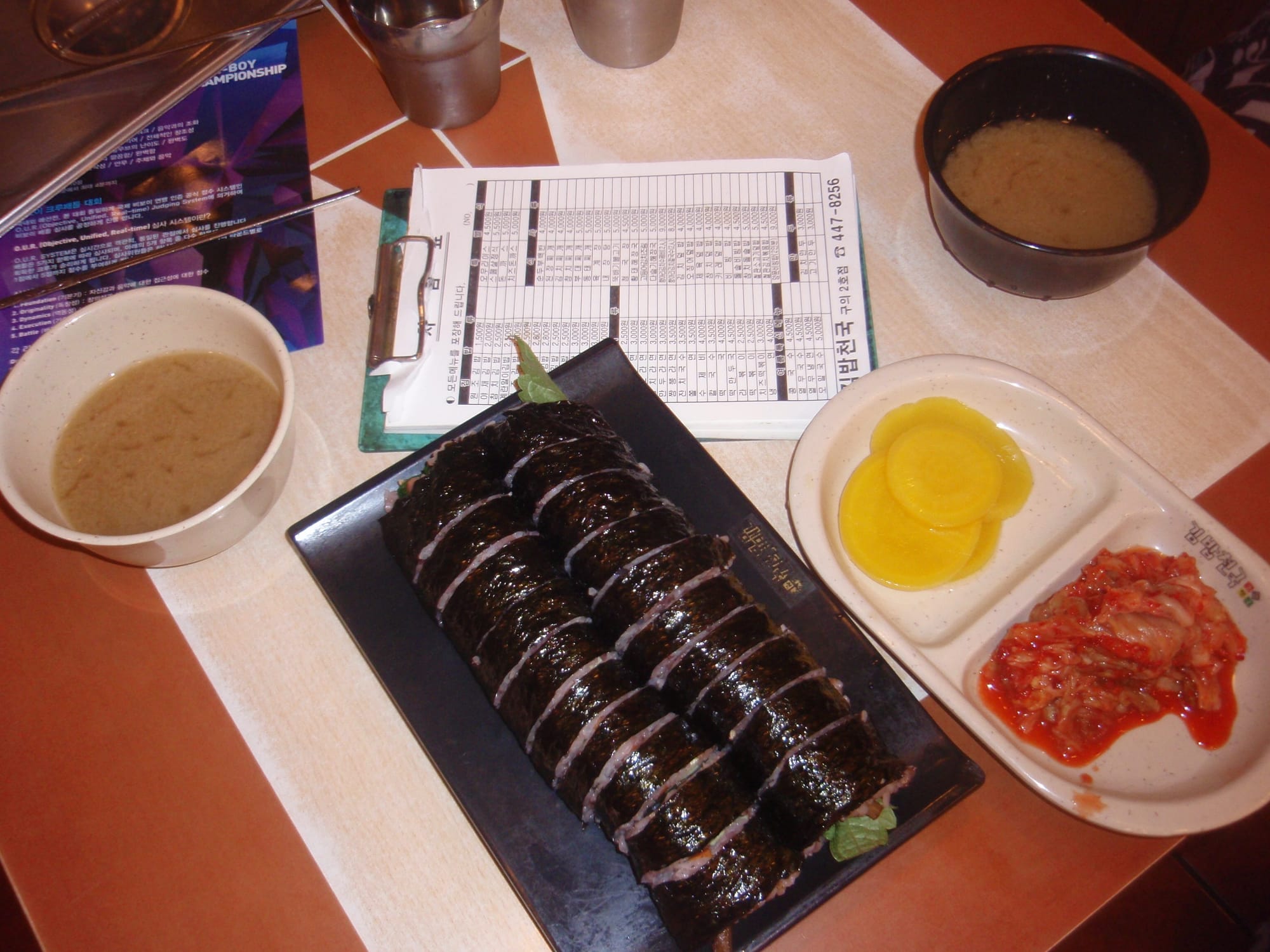 I was up and ready to catch my bus to Gyeongju which is one of the oldest towns in Korea and where many of the emperors were buried. It is a very traditional and sacred town in Korean. Catching the bus was interesting however with some support from some locals I made sure I was on the right bus and on my way. The Korean countryside was just stunning, so green with vast mountain ranges. I was surprised at the dramatic landscape. It also seemed that the Korean engineers just loved building high rise highways and train line tunnels either through the mountains or around them. It was crazy watching the high-speed trains effortlessly flying through mountain after mountain while we were cruising along the highway.
The bus trip was a few hours and I arrived in the early evening. I had booked accommodation at a guesthouse, Sa Rang Chae in Gyeongju which was a traditional Korean house. It was really cool and fun to experience. The house set up was very similar to Japanese style houses with wooden doors and most of the furniture is on the ground. Glad it was summer and not winter!!
I saw that Daniel and Jesse were also in the area. I messaged them and they mentioned they had a dinner table booked that night at a local meze restaurant and invited me to join them. It was crazy that we had flow together, booked the same backpackers, and now ended up in Gyeongju together. Jesse looked after ordering the food and it was amazing, lots of small plates of food which was great to try a variety of Korean food. Some of the seafood was a bit too much for me though everything else was amazing.
Kimchi, a staple in Korean cuisine, is a famous traditional side dish of salted and fermented vegetables, such as napa cabbage and Korean radish, made with a widely varying selection of seasonings including gochugaru, spring onions, garlic, ginger, and jeotgal, etc. Kimchi hadn't won me over yet, and you are usually served a side of kimchi at every restaurant. It still hasn't won me over…
We walked over to Gyeongju Donggung Palace and Wolji Pond which was so beautiful to see at night. Built-in the 900s it has stood the test of time and is still so beautiful. There have been several restorations to maintain its beauty. It was so amazing to see at night time and explore the Palace around the pond. The traditional Korean buildings were so amazing.
The next morning I woke up early to hike up the mountains in surrounding Gyeongju to the UNESCO World heritage sites:
Seokguram, located on Tohamsan Mountain, is the representative stone temple of Korea. The official name of Seokguram, National Treasure No. 24, is Seokguram Seokgul. Designated as a World Cultural Heritage Site by UNESCO in 1995, it is an artificial stone temple made of granite. The construction was started by Kim Dae-Seong (700-774) in 751 during the reign of King Gyeong-Deok (742-765) of the Silla Kingdom (57 BC - AD 935) and it was finished twenty-four years later in 774, during the reign of King Hye-Gong (765-780).
Bulguk Temple is the representative relic of Gyeongju and was designated as a World Cultural Asset by UNESCO in 1995. The beauty of the temple itself and the artistic touch of the stone relics are known throughout the world. Bulguk Temple was built in 528 during the Silla Kingdom, in the 15th year of King Beop-Heung's reign (514-540). The temple was originally called 'Hwaeom Bulguksa Temple' or 'Beopryusa Temple' and was rebuilt by Kim Dae-Seong (700-774), who started rebuilding the temple in 751 during the reign of King Gyeong-Deok (r. 742-765) and completed it in 774 during the reign of King Hye-Gong (r. 765-780).
Royal Tomb of King Taejong Muyeol, Geumgwanchong Tomb, and Cheomseongdae Observatory.
It was an awesome day hiking through the mountains up to the various sites and then back to down to the tombs. Having seen European history before it was amazing to see the Korean historical sites and how they treated their emperors after death. It was so interesting to learn more about the Korea history and culture.
After a long day of hiking, I made it out for dinner and a cold beer before heading back to my guesthouse for a good night sleep before an early bus trip to Busan.
I was back on the greyhound and Busan bound. The family at the guesthouse were nice and supported me to make sure I got on the right bus. I had a backpackers booked in Busan which was close to walk to from the bus depot and near the beach. Checking in was easy and the manager spoke great English. The backpackers was huge, clean, well kitted out with kitchen supplies, TVs, pool tables, etc. I was really impressed. Clearly, they were planning on tourism growth in the future so build a top backpackers set up for 2012.
There were only two other guests at the backpackers however they had headed out for the day when I checked in. I had a large dorm to myself which was nice. I dropped my bags off, secured my essential items and headed out for the day.
Despite being the 2nd largest city in Korea, Busan was much more relaxed than Seoul, there was much more of a coastal/beach vibe around the city with lots of parks. I walked along Haeundae Beach to Gwangalli Beach which are the two more popular beaches in Busan. The atmosphere was crazy and reminded me of the Gold Coast in Australia. Very built-up residential area with plenty of popular restaurants and bars all along the coast. It was fun to explore the beach and jump in for a swim as I worked up a sweat from the walk. The Busan summer sun was so nice! I didn't expect Korea to have such nice beaches and summer weather!
After a late lunch, I made my way back to the backpackers where the two other backpackers were having a few drinks in the living room. I introduced myself, however, I had trouble understanding their English. We tried drawing pictures of where we were from and finally I started to understand their broken English, they were from Istanbul, Turkey. They had a bottle of jager in the freezer and were sipping it straight. They offered me a glass and that's where the night began! Apo and Fatih had found a famous night club in Busan, Club Fix, and wanted to head there for the night. I had nothing better to do on so was all in. We kept drinking our jager at the backpackers and ordered some food. They were both hilarious, not that we understood a lot of each other though we all had a similar sense of humour and made a lot of fun of each for not understanding one another.
We got in a taxi and headed to the other side of the Busan to Seomyeon. Seonmyeon is in the vibrant downtown area of Busan which is known for its nightlife. Club Fix is a lounge bar during the day and then turns into an electronic club in the evenings. It is open 24/7. I was fast learning how much the Koreans love to party. We arrived and not knowing any Korean we were able to get through security and reception to finally enjoy a beer. Being the only 3 non-Koreans at the bar we stood out, a group of men came over to say hello and find out what we were doing there. I was a little nervous as some of them had 'scream' masks on and the other lead guys were dressed with heavy jewellery. They said they were gang members of a local gang in Busan…we introduced ourselves and I think once they understood we were not American military/navy they were far more welcoming. They bought us some beers and shots to welcome us, the night was in full swing. They invited us to join them. I was still a little nervous though they were just interested in who we were and wanted to party with us. They were so much fun and I think they loved/respected us for buying them drinks in return. Not sure if they were used to the 'rounds' rule.
We had such an epic night partying at Club Fix. The music/DJ was crazy, the club was packed all night, and the gang in their scream masks were so much fun to party with. Despite my initial nerves, this was such an awesome night. I met two amazing blokes (Apo and Fatih) who have now become such close friends, see my Turkey blogs, and met these crazy Korean gangsters who just wanted to party with us. Experiences like this continue to be the reason I love travelling to new places. Gotta be weary and cautious though when you meet good people you just have such an amazing experience. It was close to 4am and time to crash. Apo, Fatih and I headed back to our backpackers to crash! We picked up some food on the way home though didn't take long to pass out.
We woke up to a rainy 30-degree day. It was humid and thunderstorms. Slight headaches but we needed some fresh air. Apo and Fatih wanted to visit the Korean War memorial / UN Memorial Cemetery in Busan, this was one of their main reasons for coming to Korea. I didn't know, though Turkey had a large influence in the Korean War and therefore all Turkish citizens did not require a visa to visit Korea. We bought some umbrellas and headed out for the day.
The Korean War Memorial and UN Memorial Cemetery was amazing, very well kept and respected those who had given the ultimate sacrifice to protect Korea. Despite the summer thunderstorms it was a really interesting day and learnt so much about the Korean War from the memorial itself and also Apo and Fatih providing the Turkish background. Apo and Fatih were very proud Turks and I learnt so much about Turkey from them as well.
We caught a taxi over to Jagalchi Market. This is considered to be the largest fish market in Korea. It is located in the neighbourhood of Nampo-dong in Jung-gu, and Chungmu-dong, Seo-gu, Busan, South Korea. The market is located on the edge of Nampo Port. It was crazy! There was so of the weirdest sealife I had ever seen. Rows and rows of fishermen selling their catch. The markets were huge and just kept going like a never ending maze with so many different warehouses and lanes linked together full of fresh produce and seafood. It was amazing to see and the smells still hit just thinking of it.
The rain was still pouring down and after an hour or so of exploring we decided to head back to the backpackers.
We were pretty exhausted and thought let's just get out for a beer and burger at the local bar before an early night. We went to the local bar and after a burger and beer, we thought 'one more beer' at the bar across the street. They only ha Carlisle beer on tap…not the best beer though it was cold. We thought, 'one more' finish the round right. One of the tables at the bar was a beer pong table so we asked if we could have some cups to play. It was $10 for your beers and to play, done! After a fun game we thought 'one more game', this was soon to become the theme of the night 'just one more'. A group of Korean girls were watching us play and we invited them over to join us. There English was worse than Apo and Fatih's hahaha so trying to chat was not easy. They had never played beer pong before so we tried to explain the basics by showing examples of how to play. They just kept giggling at us… We all paired up and introduced them to the world of beer pong. Ssu, Hee and Tannah weren't the best and didn't enjoy drinking beer so we had to help them out. 'Just one more' continued and all of a sudden it was early AM and time to find some food again.
We picked up some beers at the local store and had a few beers at the beach. Hee had to head home though we met some more Koreans enjoying a beer at the beach before calling it a night. We organised to meet up at the beach the next day.
I was up and needed some fresh air. Apo and Fatih were still sleeping so I left them a message to meet them at the beach later. After breakfast, I walked along Haeundae Beach and around the local park which had several traditional buildings and observation decks overlooking the city and beach. There were some lingering clouds from the storm the day before and some mist over the city which cleared as the day went on. I met a lovely lady who hadn't met an Australian before so we had to have a picture which was a bit of fun to. Apo text to let me know that they had made it to the beach so I headed back down to meet them. The beach was very controlled. There were various buoys every 10m in the water out to about 30 metres, then there were heaps of surf lifeguards on jet skis out of the water close to the 30m buoys. Anytime that a swimmer went too deep the surf lifeguards would cruise in on their jet ski to pick up the swimmer and take them into the beach even if the swimmer was perfectly fine. It was also clear that many Koreans didn't know how to swim well or didn't understand rips like we had been taught in Australia so many swan with donuts or floaties. If a teenager or adult swam with floaties in Australia i don;t think they would ever be seen in public again...The Korean women on the beach wore beautiful/sexy bikinis however then wore a netting mesh over their body to cover up. It was interesting to see the cultural clash of wanting to be like the west however keeping their traditional routes. This started to become more and more of theme that I noticed for the rest of my trip.
Ssu, Tannah, and their friend Yoong, met us at the beach later that afternoon. It was so nice to just relax at the beach in the sun. It was a beautiful summer day.
The beach closed at 5 pm …like I mentioned above it was quite controlling how the beach operated. The sun was still high in the sky and it was still 30+ degrees. Though that was the law. We packed up and headed back to our backpackers. Fatih and Apo wanted to cook us a Turkish meal for dinner which was really nice of them. We all headed back to the backpackers where the manager also joined us. The tequila and beers came out while the girls prepared dinner. Hee joined us and our friends from the beach that we met the night before also came along. It was great that we had made some fun friends in Busan. Ssu was telling us that Koreans rarely make friends with other Koreans that are older than them. Gina who we met on the beach had finished university however Ssu and the other girls were still studying at Uni so it was not normal for them to be friends. Little cultural traditions I am sure are breaking down more and more as time passes though it was interesting how Ssu and Gina explained this. The dinner was spot on and fixed the food hunger and the girls offered to clean up after the boys which was incredibly kind.
We headed out for a couple of drinks and met some Aussies at the local bar. They were teaching English at one of the local schools and enjoying the summer holidays. It was great to meet some fellow Aussies. We dragged them out with us and a fun crew built up. We thought the night was over however Ssu, Yoong and Tannah invited us to go to a karaoke bar. We headed with them. The Aussies and Hee had to head off though was great fun. Despite not being able to speak much English the girls could sing English songs perfectly! They sang Britney, Cristina, Pink, Lady Gaga all night knowing every word. Tannah was amazing! Though as soon as the mic was out of their hand they couldn't speak much English…it was crazy. It was such a fun night!
Apo and Fatih headed back to Seoul in the morning for their last few days in Korea. I still had one day left in Busan. It was nice to have a chilled day at the beach. That night I went out for a nice dinner and checked out the Busan casino. It wasn't as lively a casinos as I had been to before so headed to a cocktail bar close by. It was here I was told I wasn't allowed in as it was a Korean only bar. A bit shocked by this but I respected it. There was another Irish bar close by so I headed there on the way home. It was packed with American navy/military personnel. I realised now why the previous bar had said 'only Koreans allowed'. I got the feeling that when any navy or military personnel are off base they enjoy a drink and want to party, this was definitely the case here. They were fun, but just took over the bar, shouting at bar staff when they didn't speak English to them or demanded more drinks even when they were told no more. I understand they were off base and just having fun though it did come across as loud and obnoxious. I met a couple of them and they meant well but were off base and having a big night. I respect that just no need to be rude to the locals or staff.
The next morning I was up and back on the bus to Seoul. The countryside was so beautiful and a part of me regretted heading straight back to Seoul, I wish I had more time to explore some of the smaller coastal towns. I was looking forward to meeting back up with Apo and Fatih. We had booked different backpackers though were close together. I got back, checked in, and met up with Apo and Fatih, they took me out in a popular nightspot in the area that was packed. It was the first time It was really cool to see all the K-Pop and crazy Korean fashion again. It was such a vibrant and colourful area of Seoul. I also learnt the difference between a club and night club. A club was the traditional night club, dancing, DJs, partying type experience that I knew of. However, a night club was where you pay a waiter X amount of money to go talk to girls on the street and bring them back to you at the night club to talk and hopefully... Kinda like a private date organiser. The more money you pay the waiter the better looking women he will bring back for you. It was a little weird but every culture has their differences. I also noticed the hotels Daniel and Jesse told me about where you can book rooms by the hour. We looked inside one and there were all the different types of sex rooms you could book. I learnt that many children do not move out of home until they are married for traditional reasons and sex before marriage was not the norm. Therefore these rooms offered young couples a way to love each other without their parents knowing. These little cultural differences reinforced what I had been told, Korea is a modern culture however still has strong traditions. This was the next generation finding a way to be traditional but still wanting to be western at the same time.
Apo and Fatih were flying home the next day. It was sad to say goodbye as we had just had an amazing five (5) days together. They have both become such great friends and I have attended their weddings, met their families, and travelled together in Turkey. Truly life friends!
The next day I explored more areas of Seoul that I had not been to yet. I saw some more of the traditional temples around the city and went to a musuem. It was my last full day in Seoul. I really enjoyed getting lost just taking the small side alleys that weaved between the main roads, there were so many nice little alley ways full of cafes, restaurants and bars that were so nice. It was nice to just explore the city and soak in the culture / feeling of the city. I had booked tickets to a national baseball match for that evening. I got to the match and there was rain and clouds about. I hoped it would clear though i only saw one pitch before the rain poured down. It was a shame to have the game cancelled as it would have been fun to see a baseball match in Korea. I got back to the backpackers and met a group of American English teachers that were on summer break They taught English in a town outside of Seoul and were in Seoul for a few days. They had been to the demilitarized zone for the day. I had heard mixed experiences before I went to Korea and when I was there so I didn't go. They enjoyed it but said you just go to a building and look over at some fields. There are some South Korean and North Korean troops but that it is. I don't think I missed out by not going.
They were heading out for the night and invited me to join them. It was really fun chatting with them about their time in Korea. They reinforced the Korean culture of wanting to be modern yet want to be like the west while keeping their traditions. They also told me the crazy stories of young girls having extensive elective surgery. It was common for teenage girls to finish the year and over the summer break have facial reconstructions, skin bleaching, eyes widening, etc to look more western and beautiful. The girls would often come back for the next year and look completely different. I learnt more about the culture of looking beautiful and having white skin proves your wealth (less time in the sun working in the fields). It was crazy to learn more about the Korean culture and hang out with some fun travellers. One the guys sisters, Tre Rodriguez, lived in Seoul and was setting up her own business. She was from New Mexico and had a Mexican background. Was interesting chatting to her and why she came to Korea to set up her business as a life coach and designing her own fashion on the side.
It was a fun last night in Korea with some fun travellers.
Unfortunately Sunday had arrived and I needed to make my way to the airport to head home. It had been an amazing 12 days in Korea and I had met so many great people that ensured I loved my time in Korea. If it wasn't for the people I met I definitely would not have enjoyed my time in Korea as much. Apo and Fatih have become life friends and that crazy night with the Busan gangsters was so much fun. It is a shame I have lost touch with the others I met along the way, though they will always be ingrained in my memories from the times we partied together in Korea. I really hope they are all well and happy where ever they are in the world!
I would highly recommend Korea. It is an amazing country to explore. Traditional Korean culture, history, food, music, nightlife, fashion, and how this all clashes with western culture. The countryside is beautiful and so much more dramatic than I expected. The transport system was easy to use and affordable for all travellers. I nearly went back to Korea to watch the Winter Olympics in 2018. Maybe another time! I hope you get there an have an experience like I did!