Spain 2016 Trip
Malaga, Granada, Valencia, Madrid
Spain is one of my favourite countries to explore. The food, people, culture, history, music, beaches, beautiful wine regions, and stunning countryside. Spain has it all. I have also made some great friends from travelling and when I was at Uni in Ottawa from Spain. So it is always great to reconnect with them when I am coming through. For this blog I will cover a trip I did with some of my best friends from Malaga up to Valencia, then up to Madrid to finish a two (2) week getaway in late August and early September of 2016.
Malaga
We flew into Malaga from London. Malaga is a beautiful coastal town in southern Spain. Amazing amount of history, beautiful beaches and great food. We stayed in the old town near Plaza Carbon. This was a lively area with plenty of restaurants, cafes, bars, and a short walk to the beach.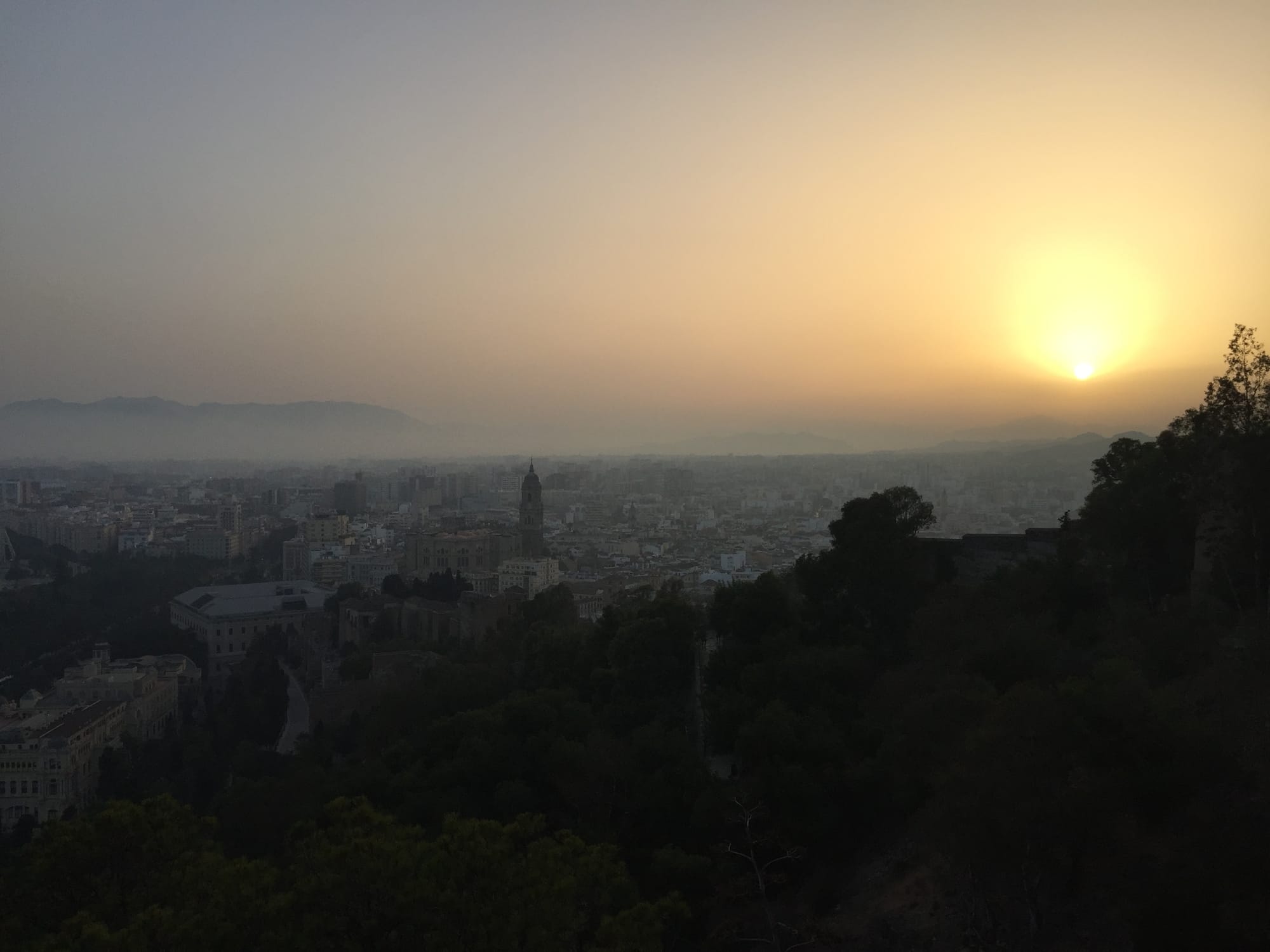 To do:
It was beautiful to walk up to Alcazaba to watch the sunset over Malaga with the coast and mountains in the backdrop. The Alcazaba is a palatial fortification built by the Hammudid dynasty in the early 11th century. It is amazing to explore are learn about its history. Where ever you go in Malaga you always seem to have sight of the Alcazaba, it almost surrounds the city. It is a nice walk up to the top and very popular at sunset!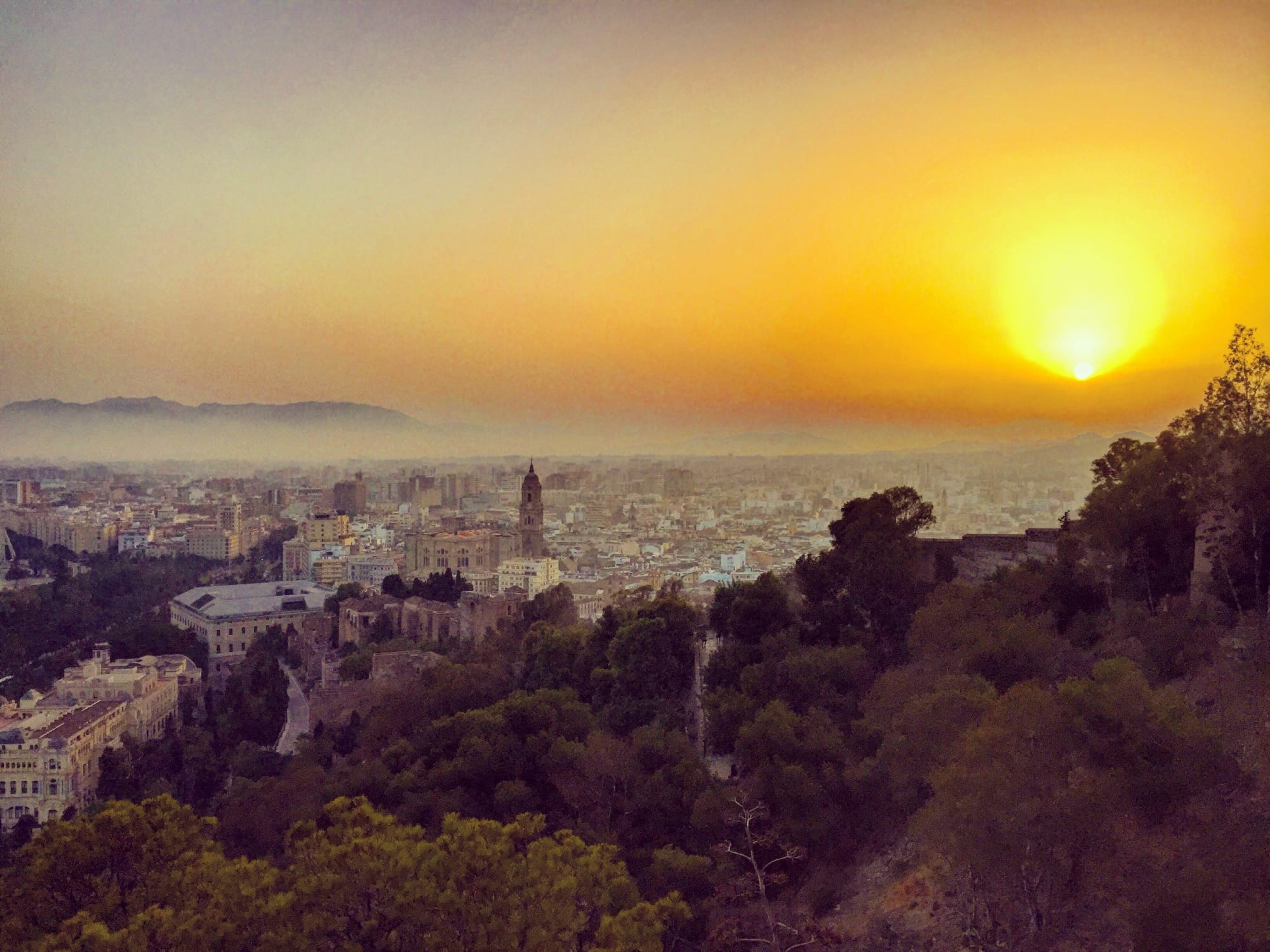 Old Town: The old town is really small and full of beautiful churches and history. It is a great way to spend a day just getting lost down the old cobbled streets and alleyways exploring the shops, restaurants, and bars. There are so many fun plazas with live music and performers. The food is just amazing and dangerous to just stop in for some tapas and glass of sangria or beer to keep cool under the Spanish sun.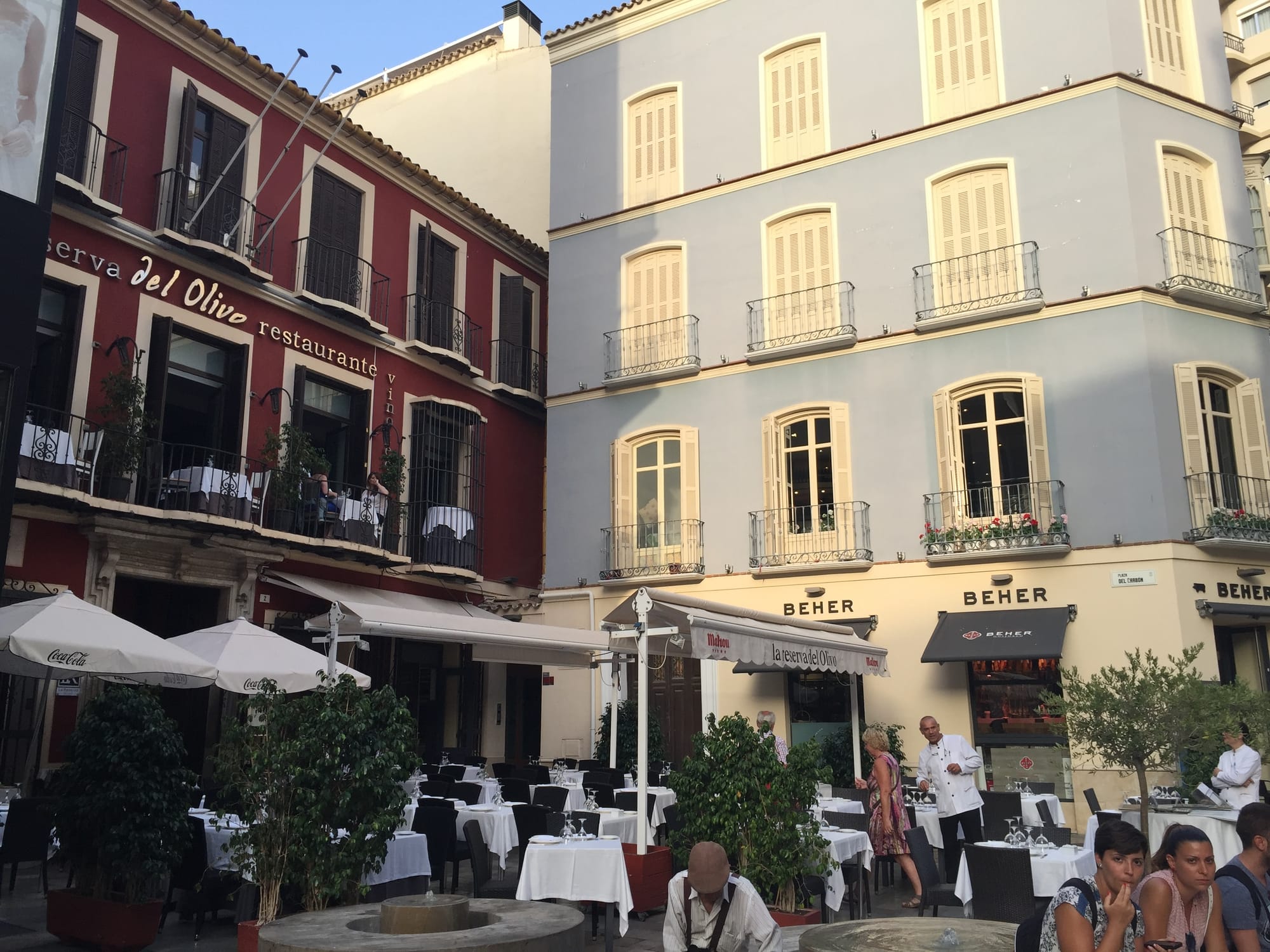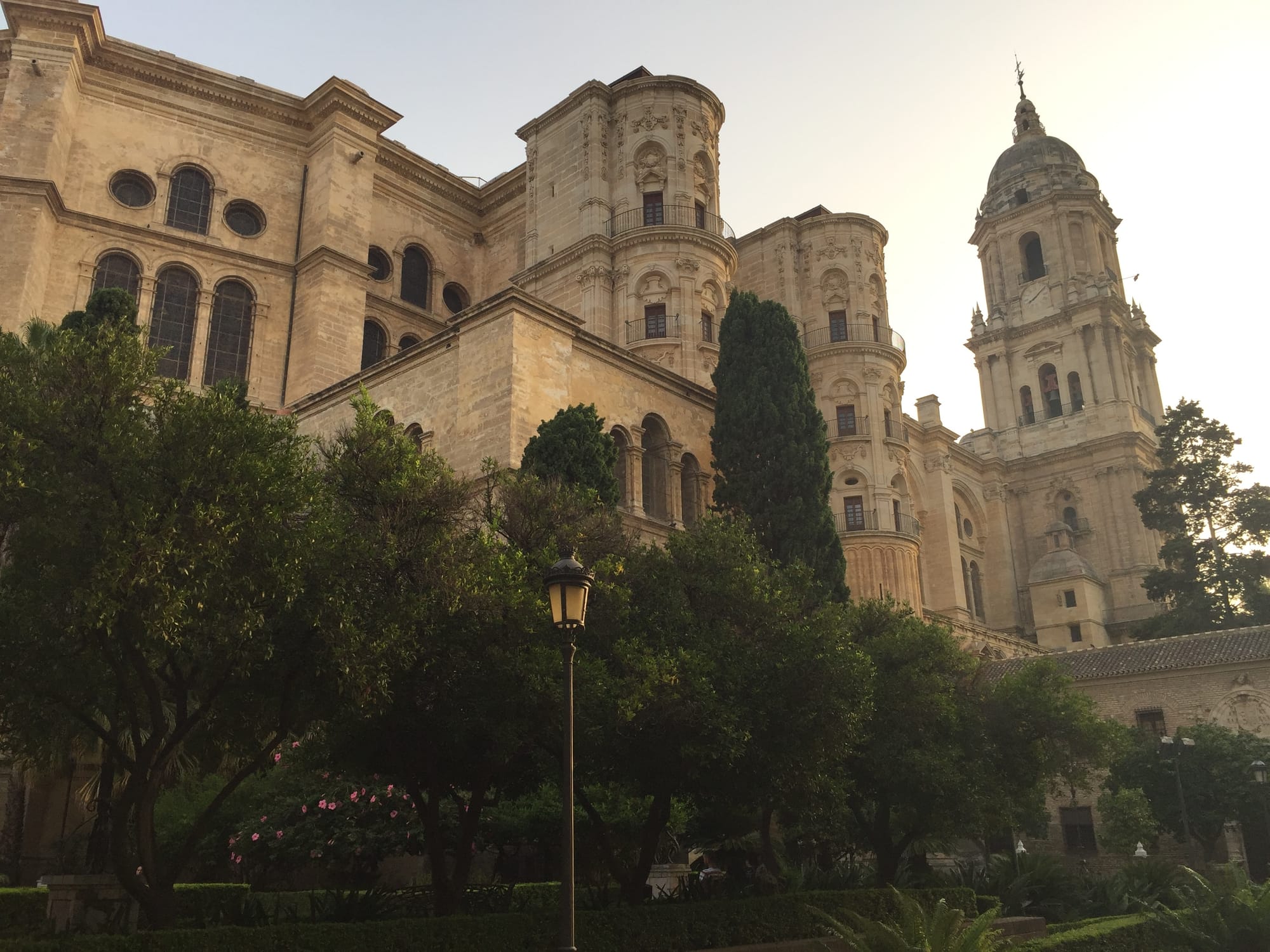 Picasso museum: Was great to wonder through and enjoy some of Picasso's finest work and learn more about the artist. https://www.museopicassomalaga.org/en
To eat: The most typical thing is espetos, sardines on the grill, wonderful and super fresh. Best places to have it: Pedregalejo and Palos beaches.
Good bars: In Malaga, fish/seafood tapas are very popular. Our favourite were favourites bars: El Cortijo de Pepe and el Pimpi, in the centre.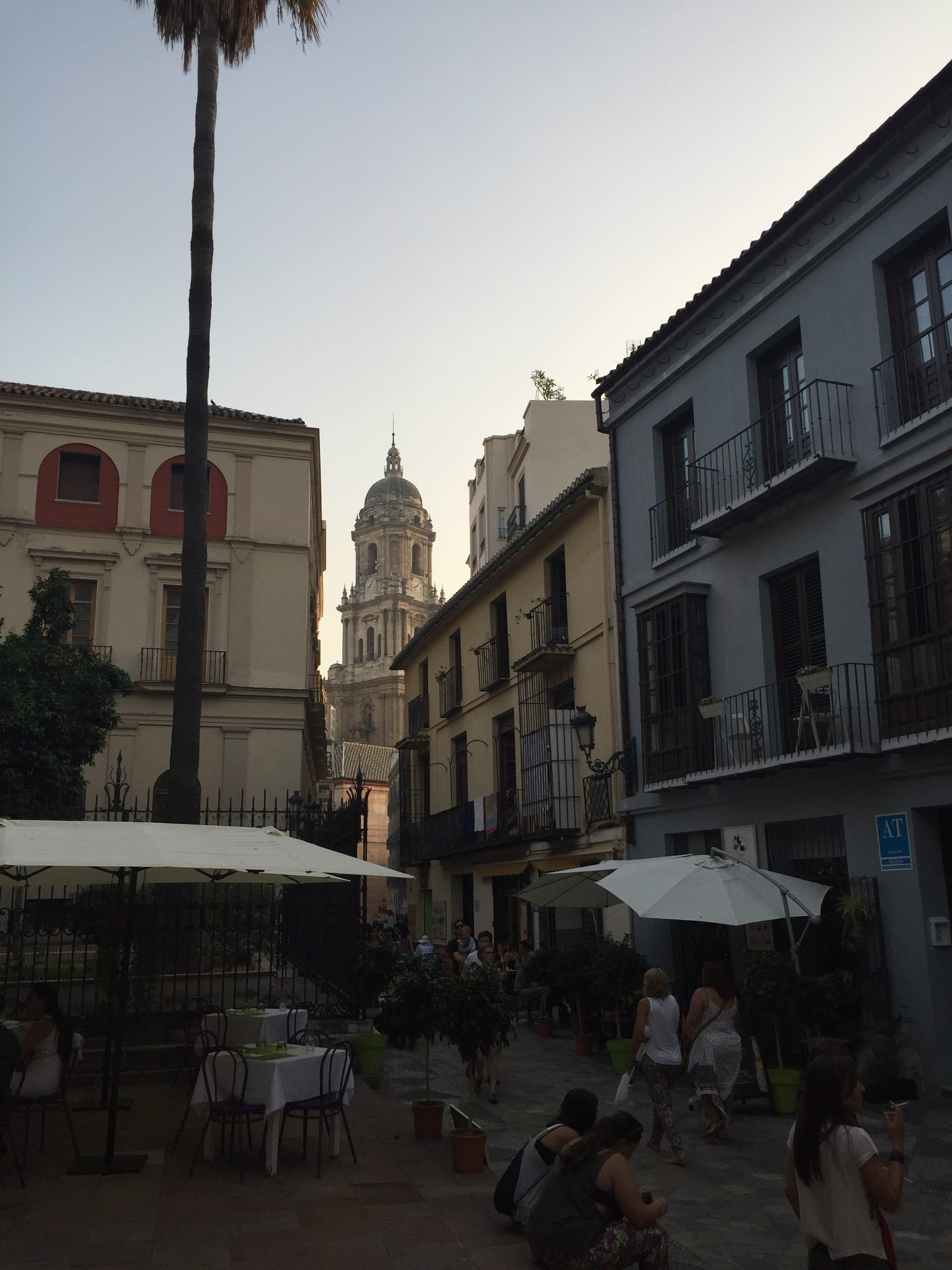 Going out:
Dining out: We never made a booking, there are so many plazas and small alleys that are full of great restaurants in the old town. Being on holiday we were just happy to cruise with the sunshine and didn't want to lock ourselves into any bookings. We had no trouble finding a table and if we needed to wait for 30-40 minutes we were always happy to get a drink with some free tapas while we waited.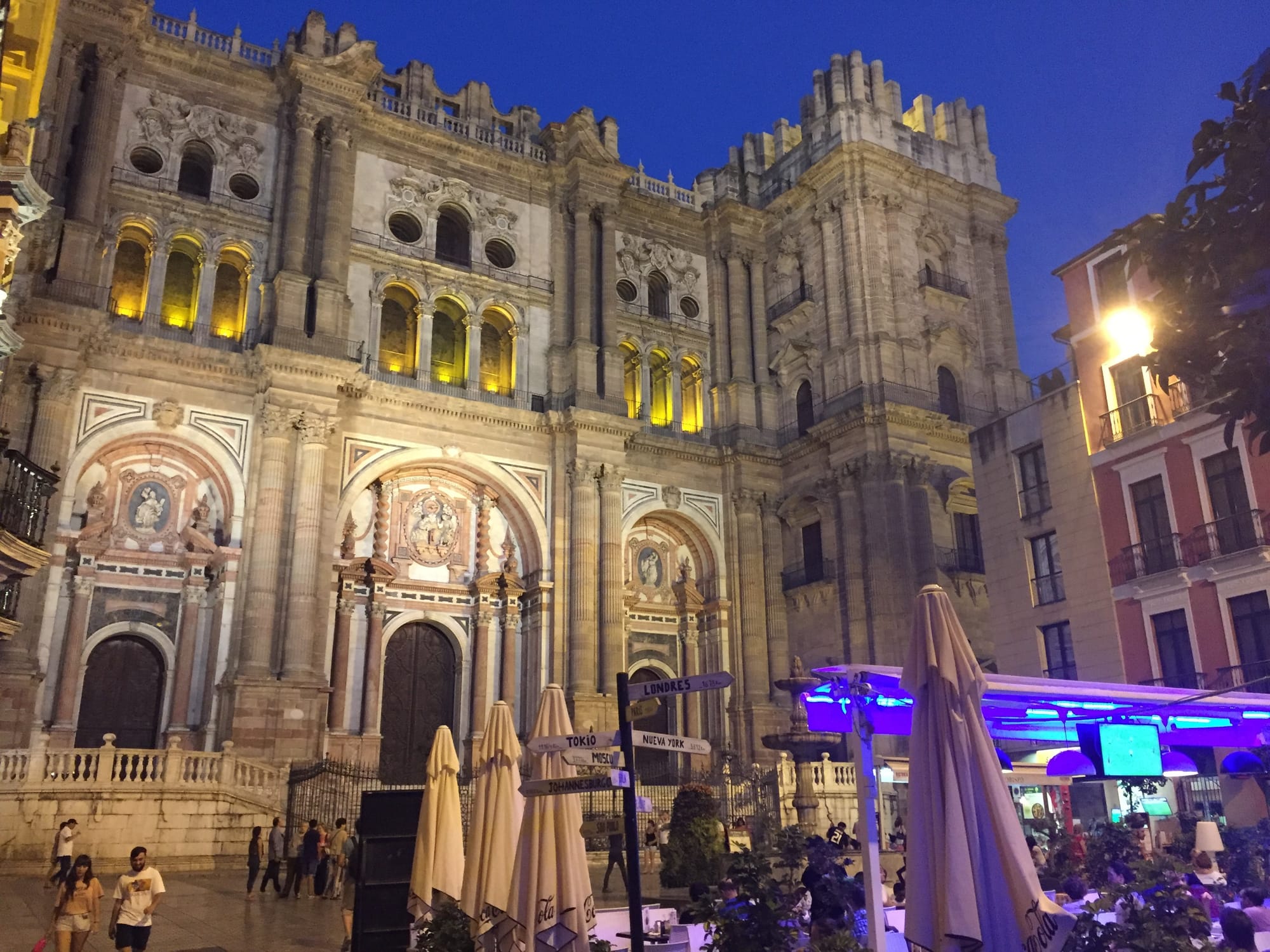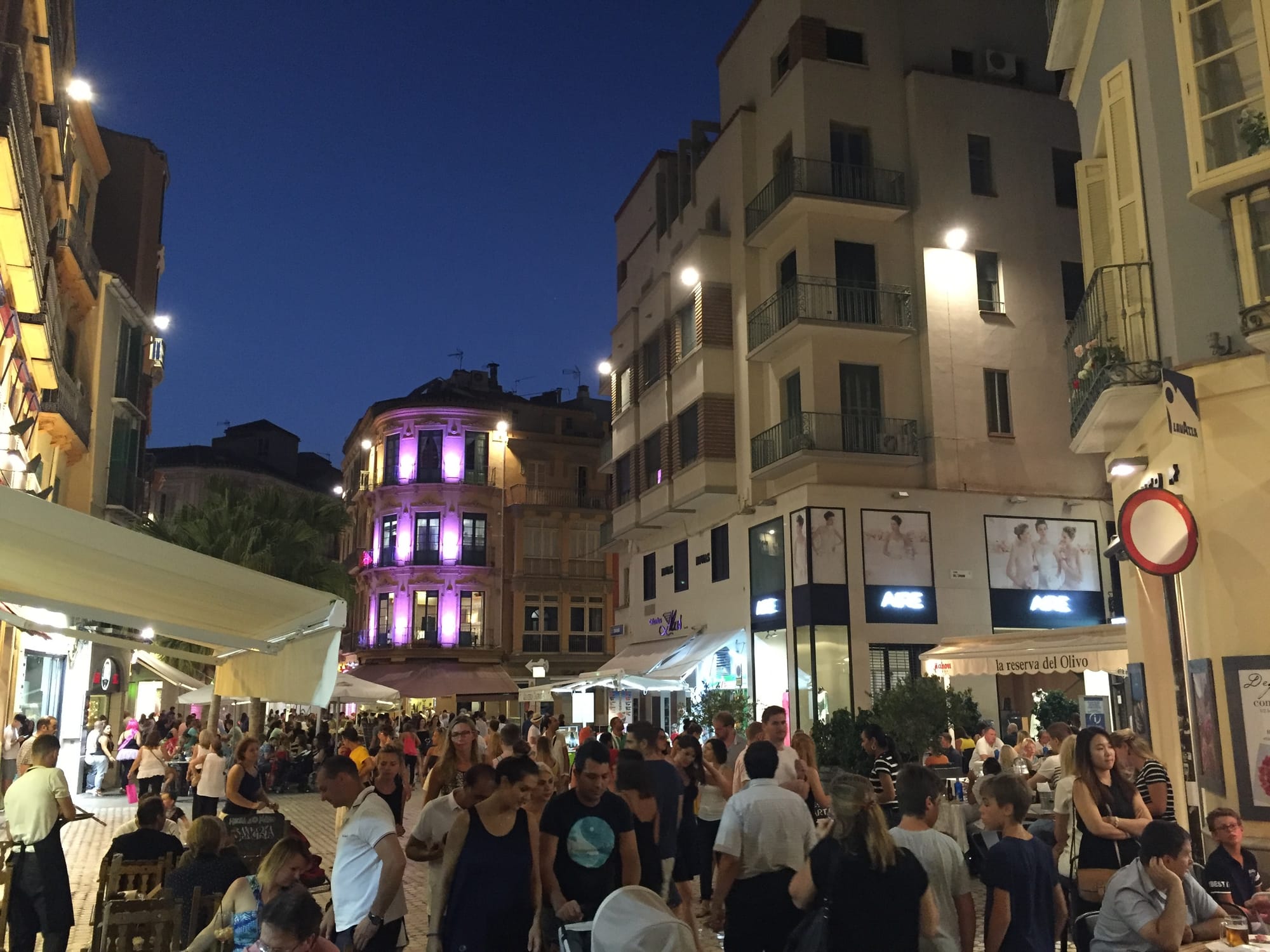 Malaga has some great rooftop bars and we thoroughly enjoyed Terraza Chinitas for a few cocktails while looking over the city. https://www.chinitashostel.com/sv-se/terraza-club-chinitas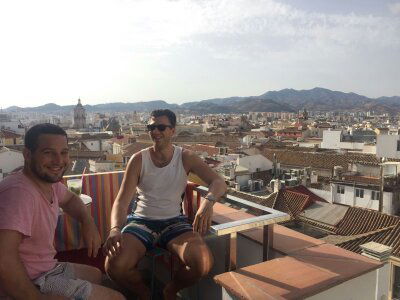 Like with dining we just bounced around different bars and cocktail bars to keep a cool drink in our hand in the evenings. The plazas often are open to late and you can street drink which makes life so much easier. There is so much on offer and just fun to explore small bars with local musicians playing.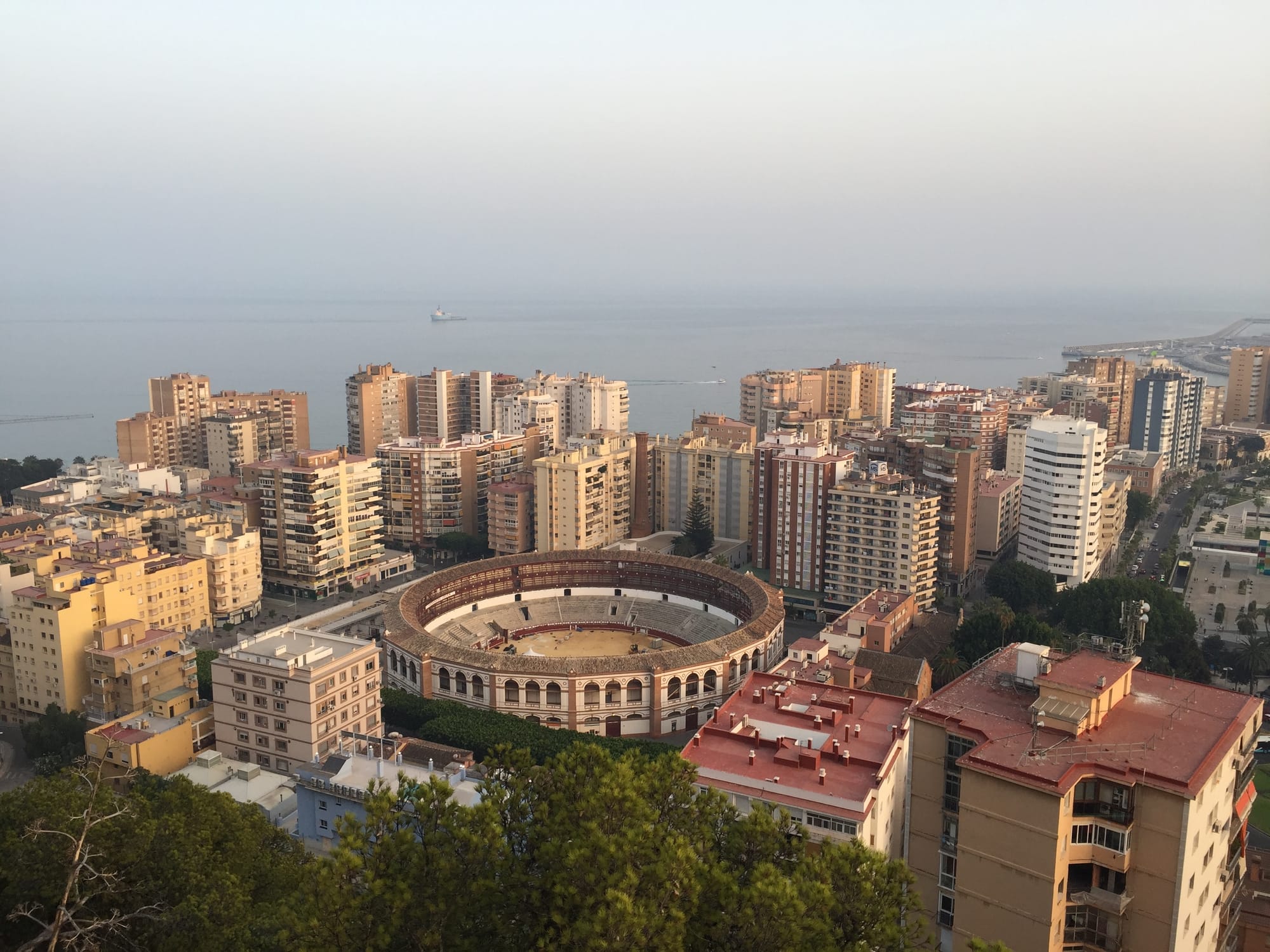 Beaches:
The beaches around the harbour are not the cleanest but they are easy to get to. If you have time, try to hire some bikes and ride either side of the harbour to get away from the masses to enjoy swimming and relaxing at some nice beaches.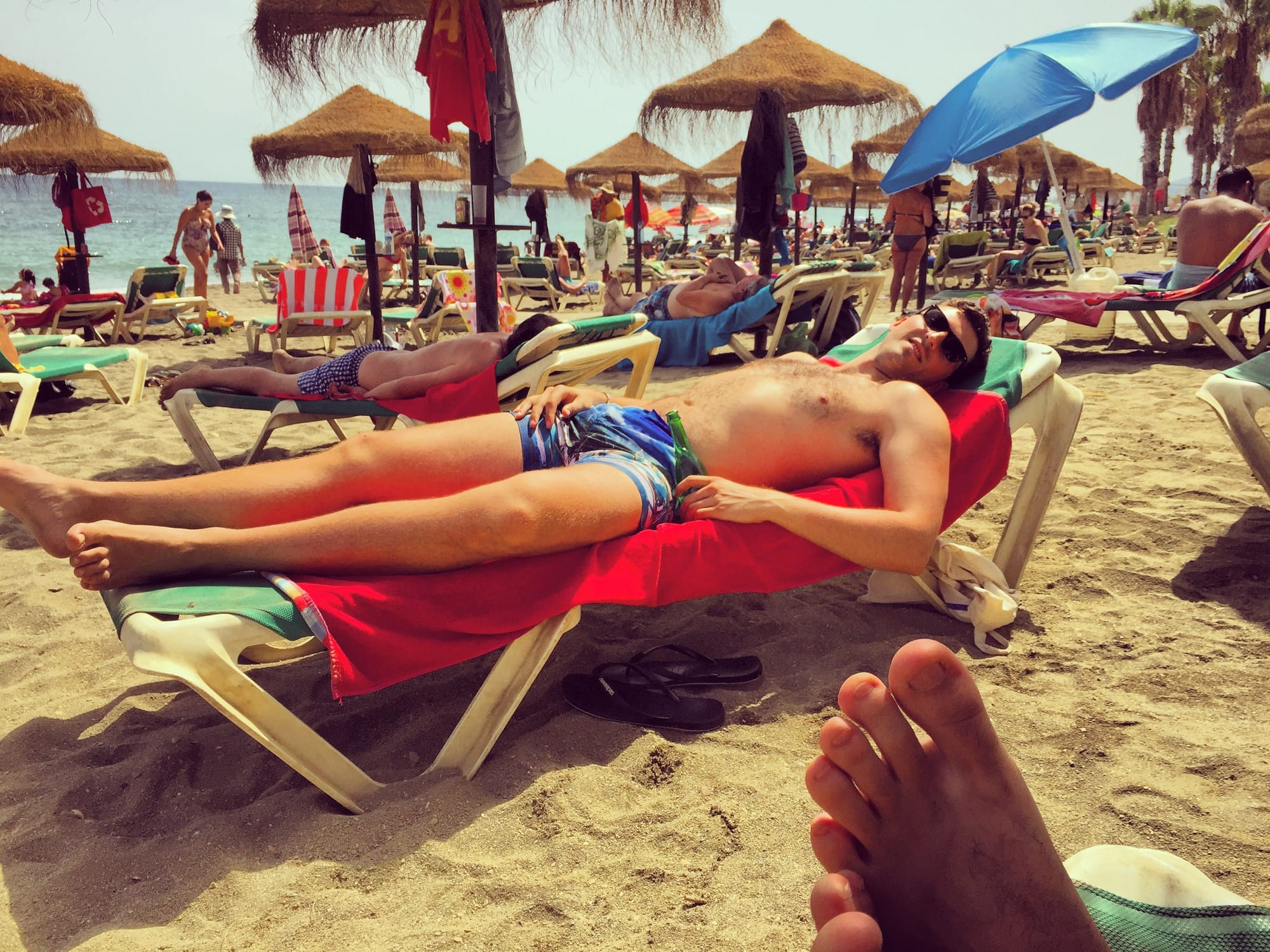 Malagueta and Pedregalejo, the ones in the city, quite nice. Nerja is a beautiful village on the way to Granada. In the same way, el Cañuelo, beautiful beach with Chiringuito (beach bar)
The more central / busier beaches did have beach parties too. There was a large event that Coke Cola was hosting which looked great fun. Lots of live music, water/form slides, and fun activities for all ages.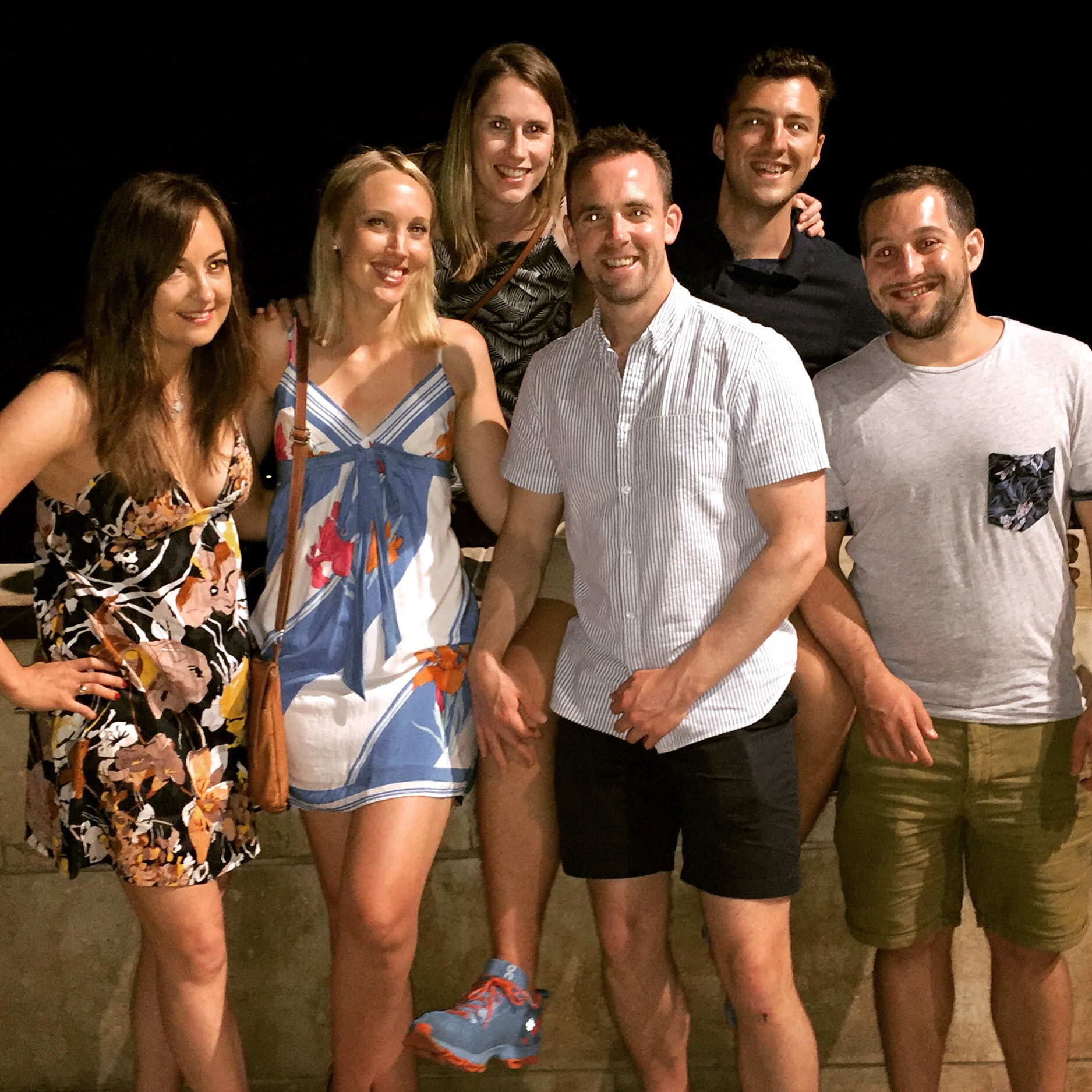 Granada
Lauren, Phil and I wanted to get to Granada to see the Alhambra in Granada. The Alhambra is a palace and fortress constructed as a small fortress in AD 889 on the remains of Roman fortifications, and then largely ignored until its ruins were renovated and rebuilt in the mid-13th century by the Nasrid emir Mohammed ben Al-Ahmar of the Emirate of Granada, who built its current palace and walls. It was converted into a royal palace in 1333 by Yusuf I, Sultan of Granada.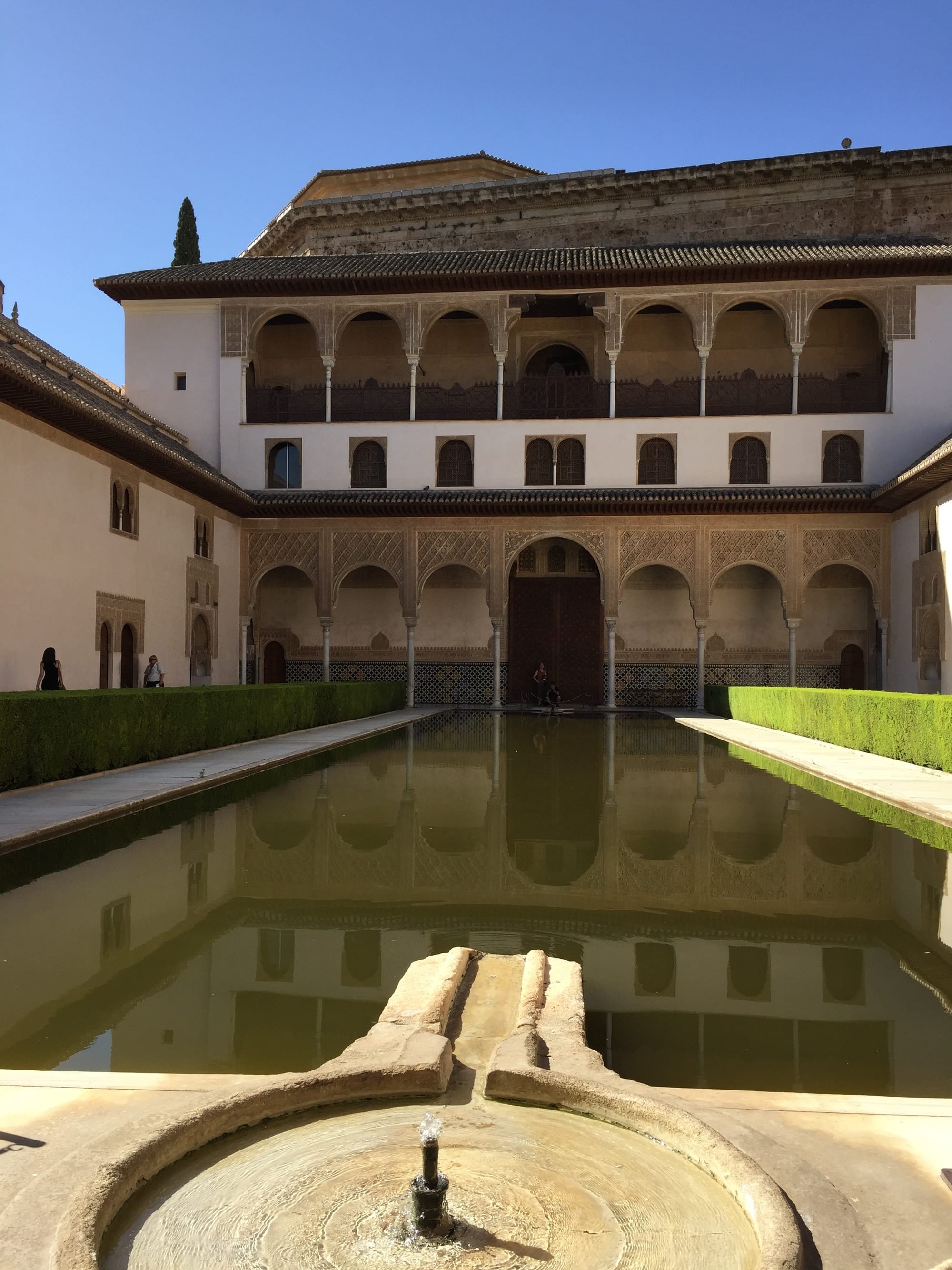 Alhambra's last flowering of Islamic palaces was built for the last Muslim emirs in Spain during the decline of the Nasrid dynasty, who were increasingly subject to the Christian Kings of Castile. After being allowed to fall into disrepair for centuries, the buildings occupied by squatters, Alhambra was rediscovered following the defeat of Napoleon, who had conducted retaliatory destruction of the site. The rediscoverers were first British intellectuals and then other north European Romantic travellers. It is now one of Spain's major tourist attractions, exhibiting the country's most significant and well-known Islamic architecture, together with 16th-century and later Christian building and garden interventions. The Alhambra is a UNESCO World Heritage Site.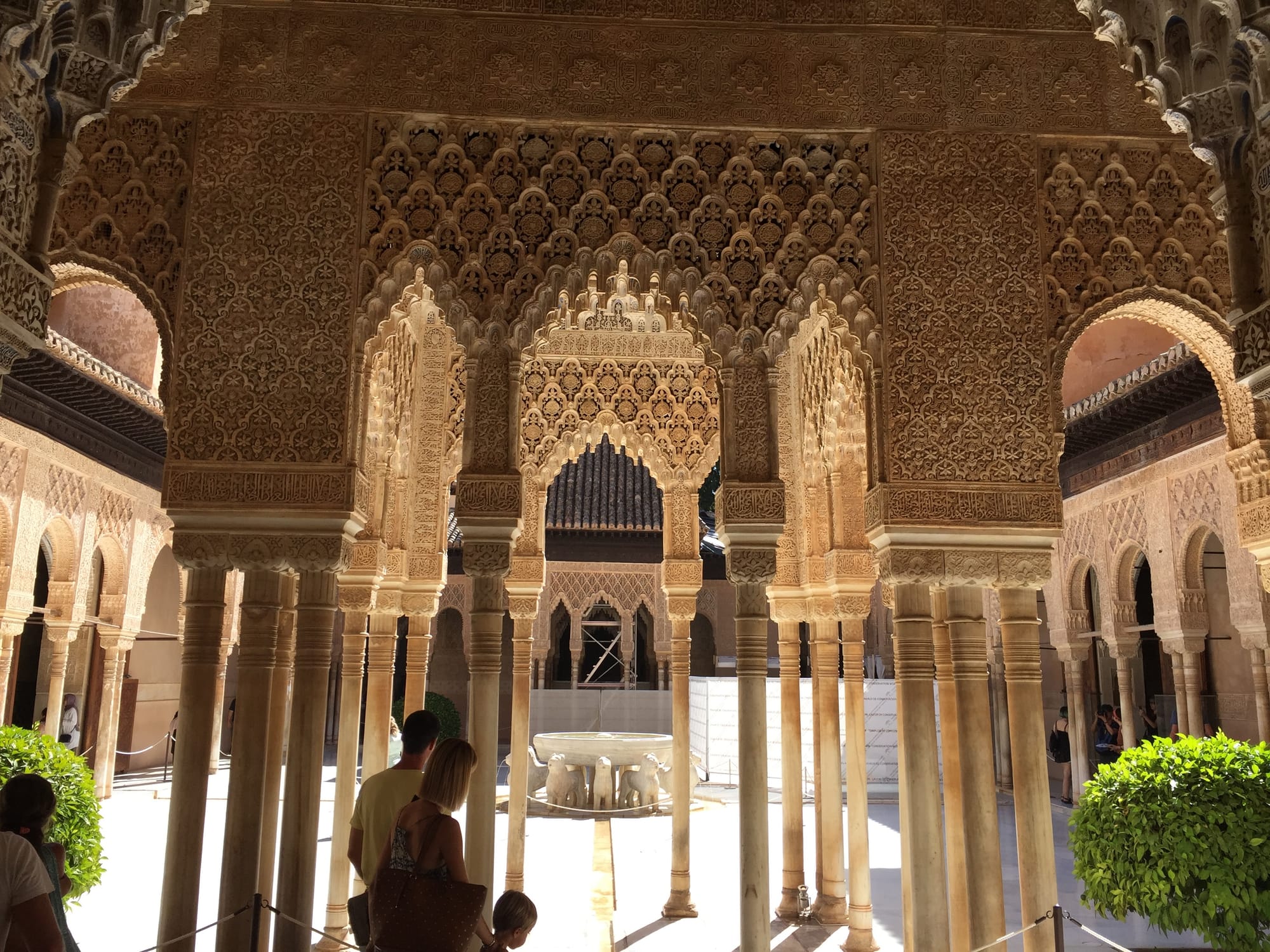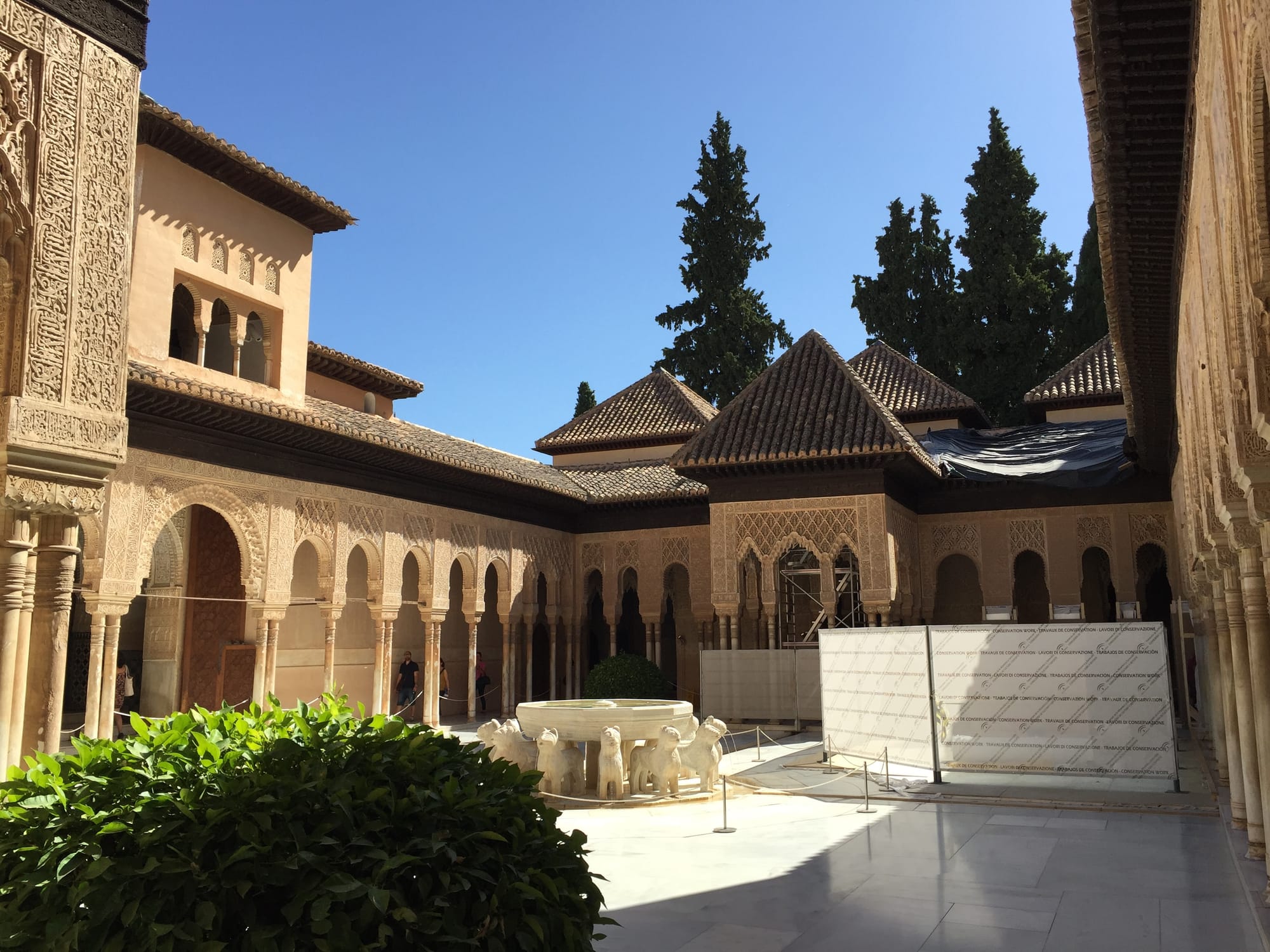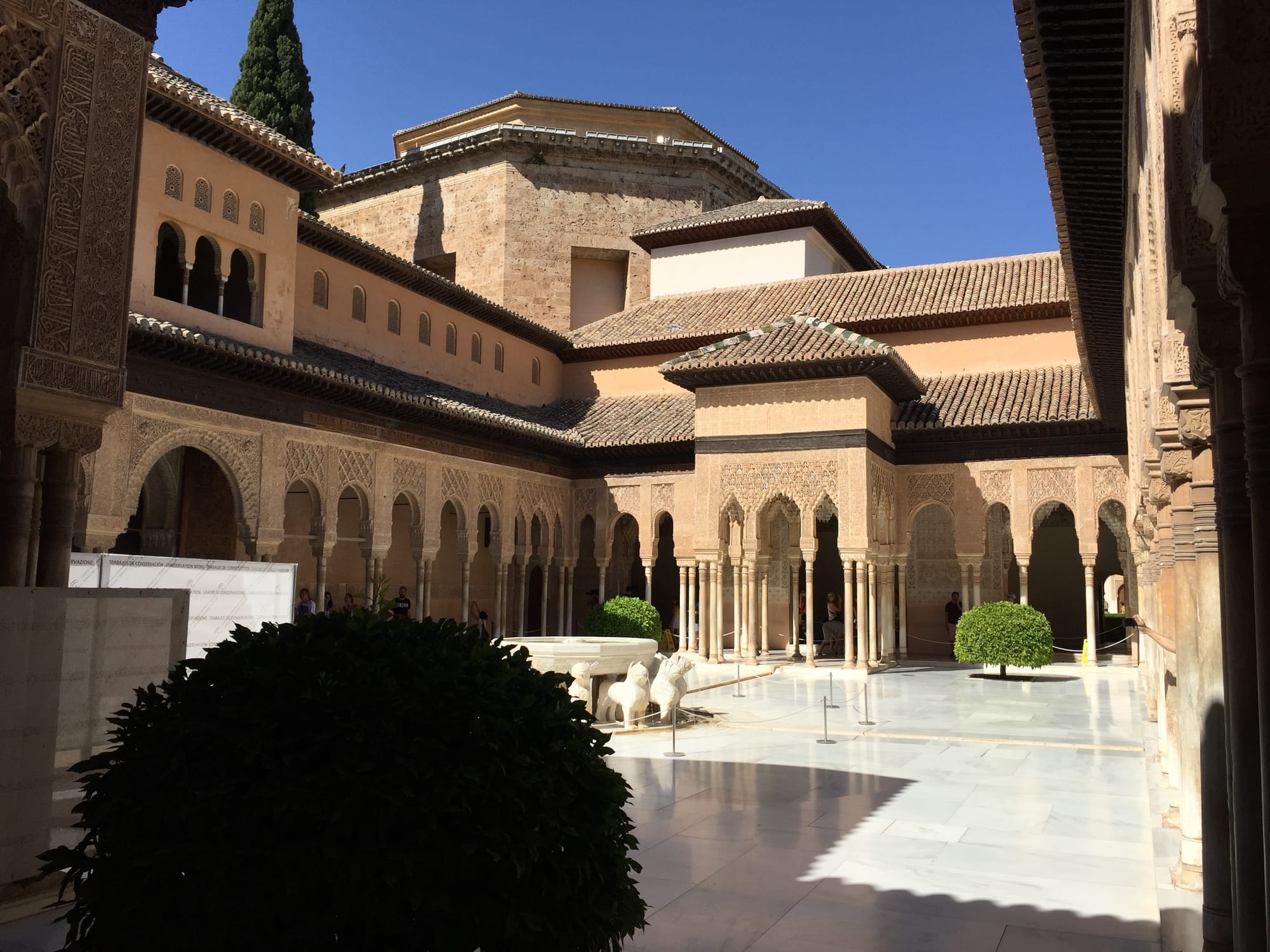 We booked a tour through Get Your Guide for the Granada 3 hour skip the line Alhambra tour. You will need to book at least a month in advance as it is such a popular tourist destination. They picked us up from our Airbnb in Malaga and the bus took us to Granada for our tour. They also returned us to Malaga at the end of the day.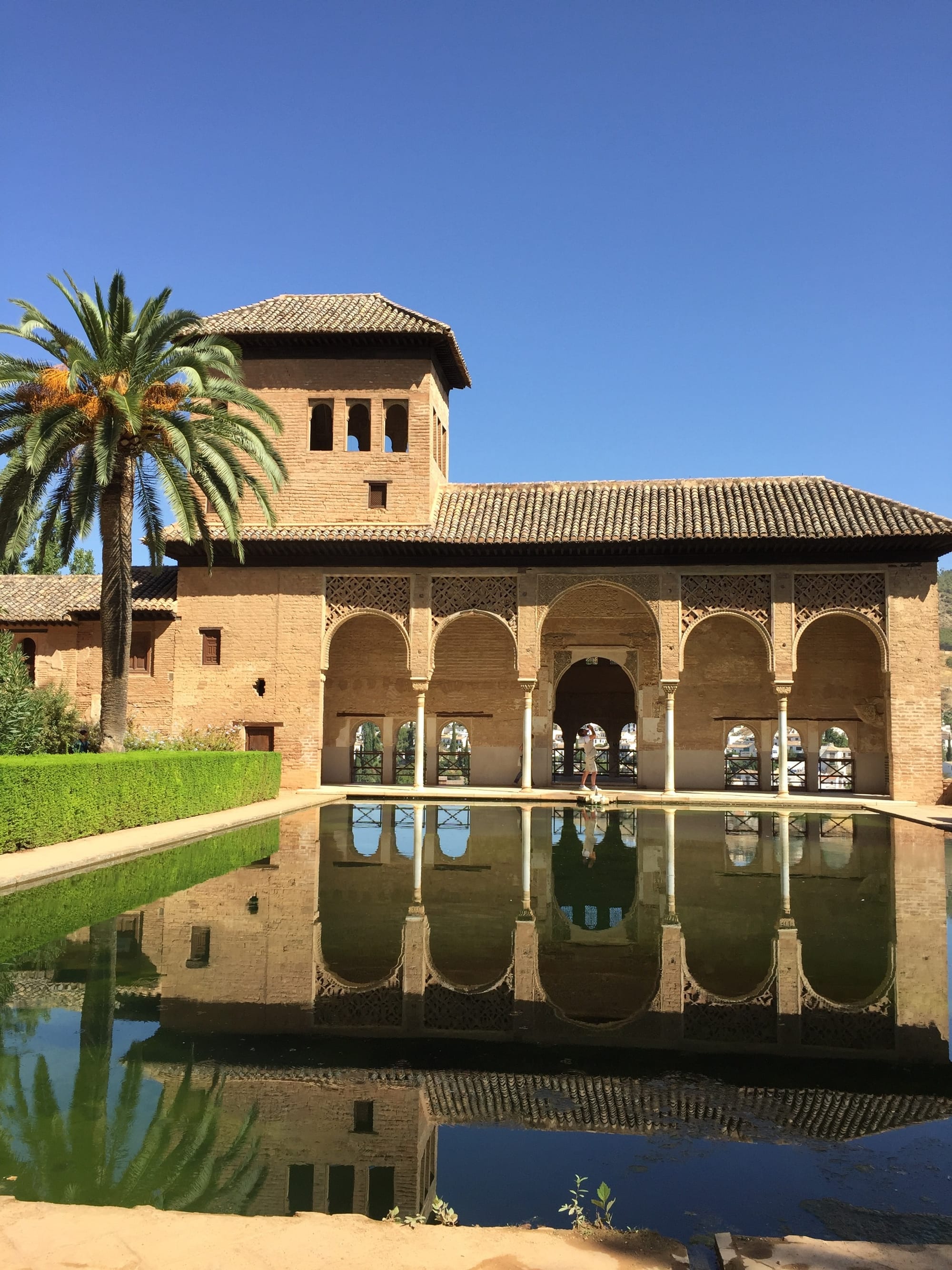 It was a 42-degree day and bloody hell it was hot! I found European cities are not always built for the heat and the old towns just sweat in the heat. Though with sunnies, shorts, sun cream and a singlet on we were fine!
The Alhambra tour was amazing. We loved it and was definitely one of the highlights of all my European trips. The history and the construction of the Alhambra was just amazing. The Roman and Muslim influence in design was incredible. Highly recommended!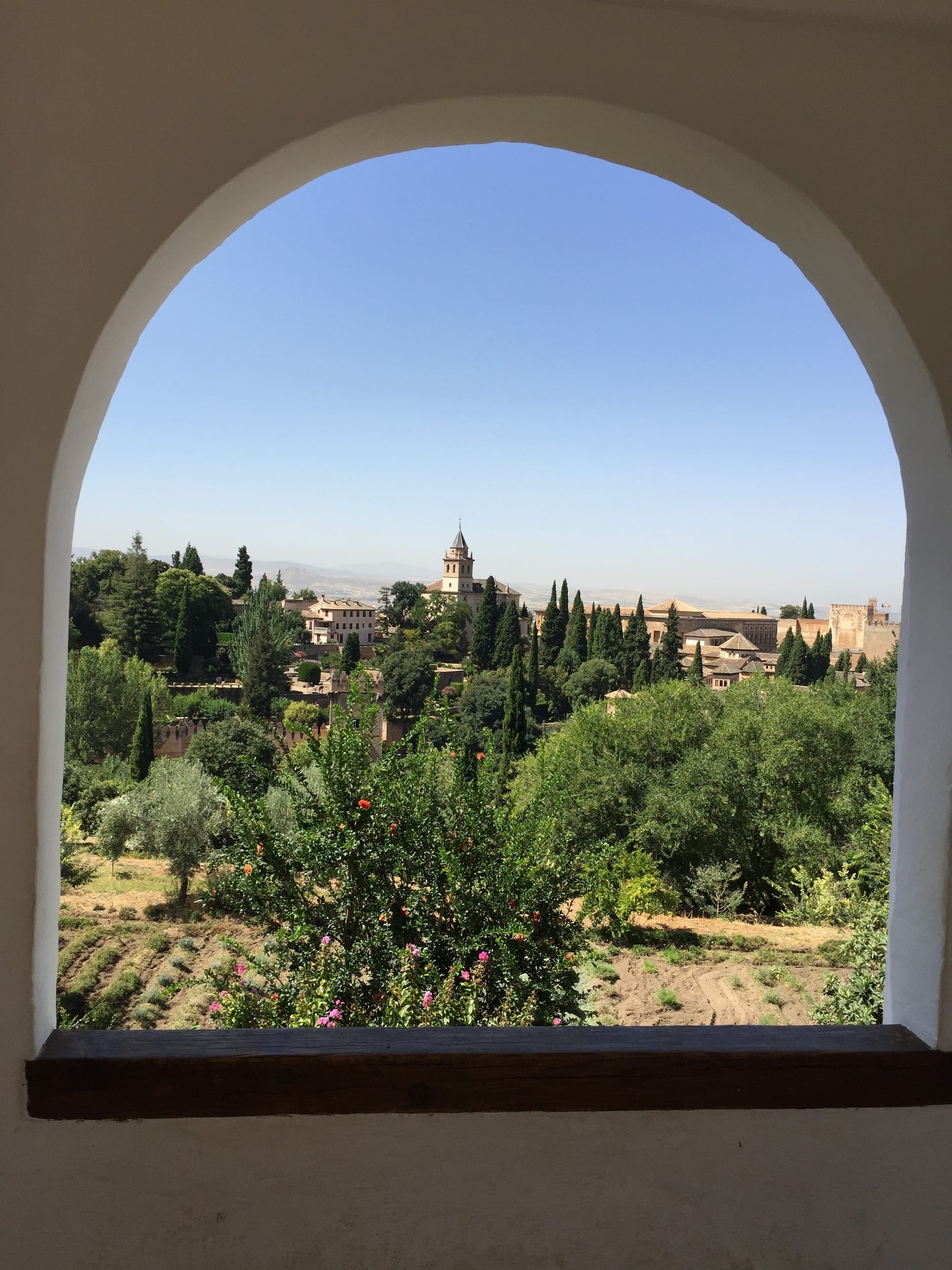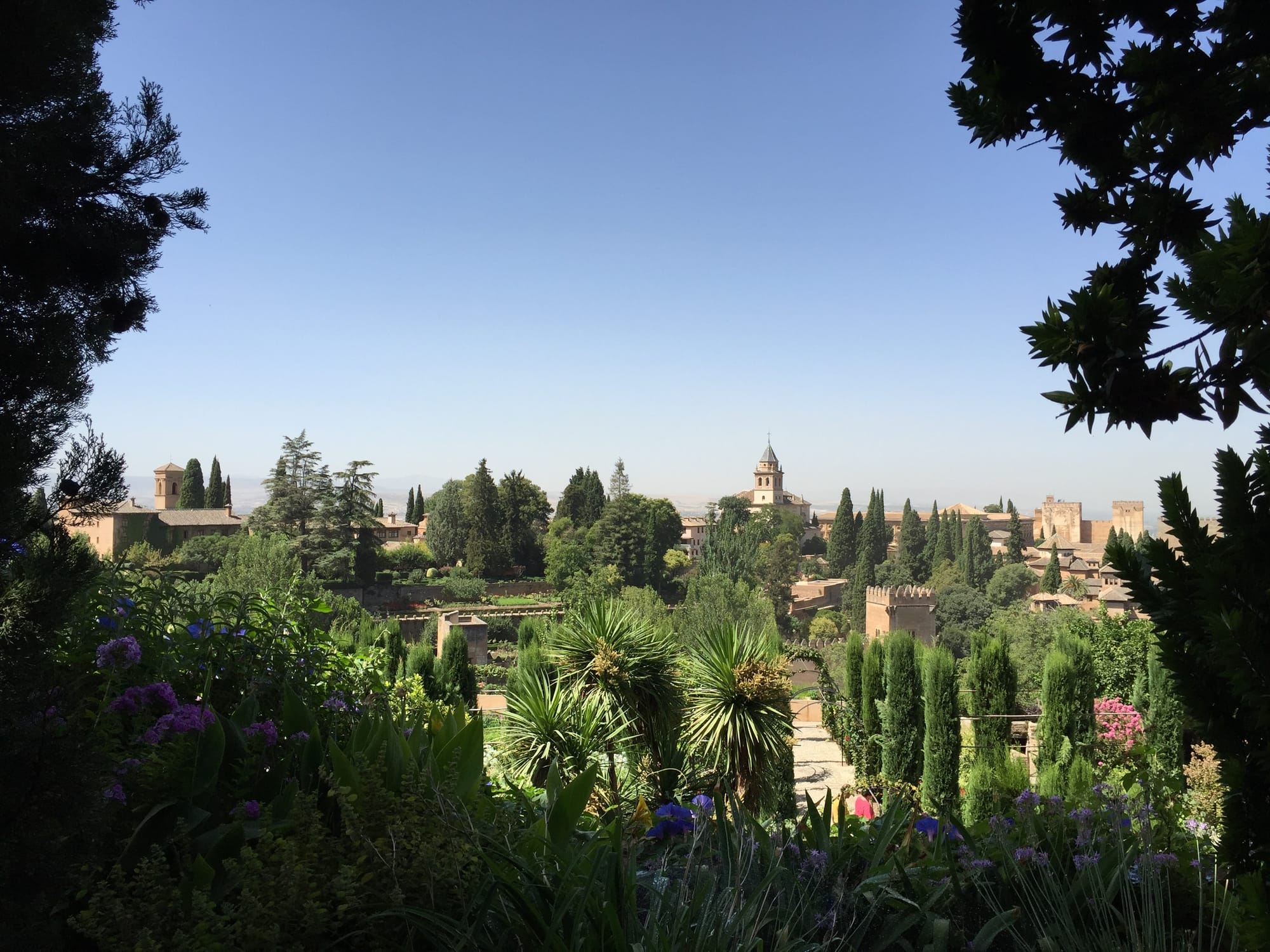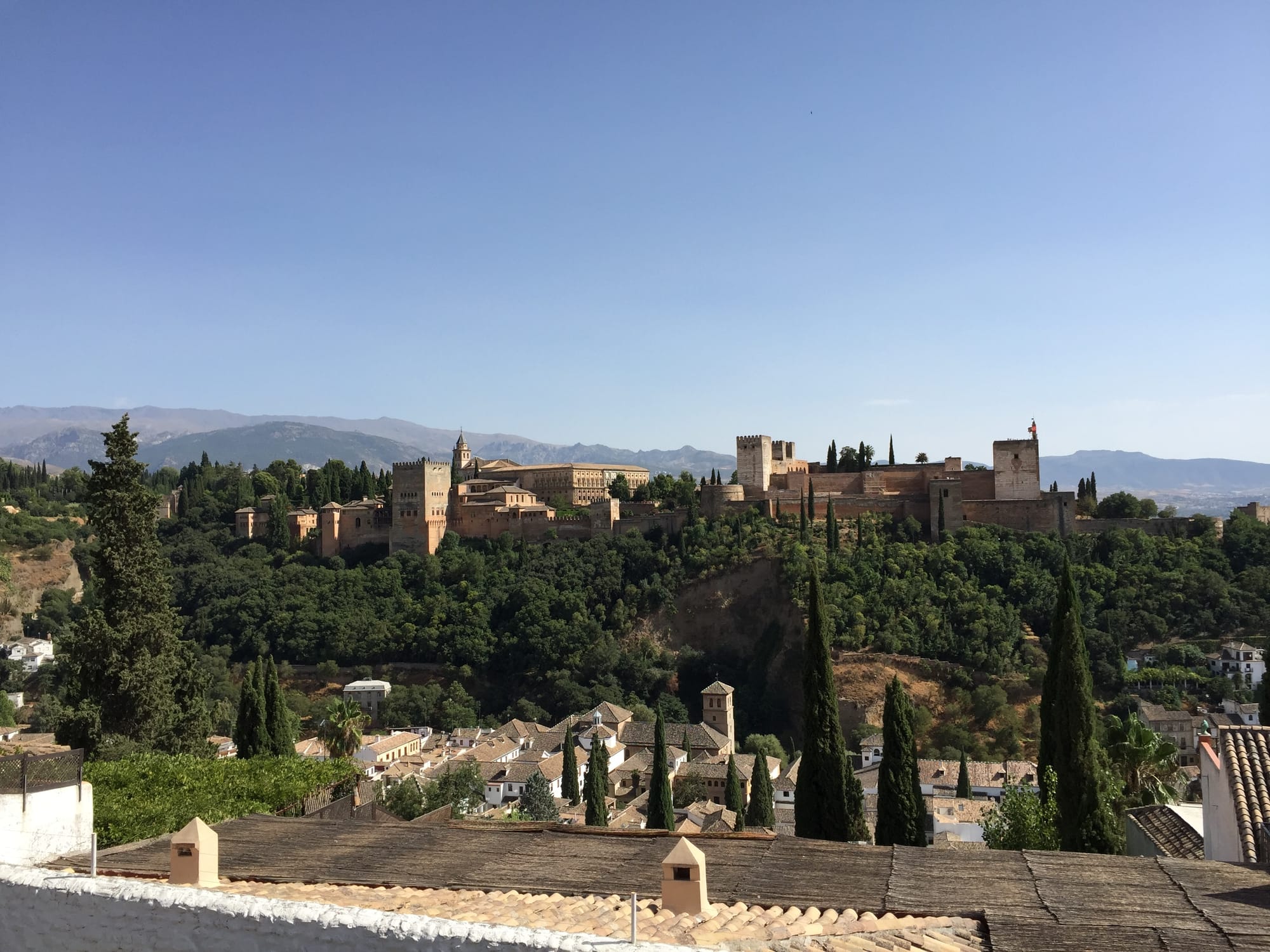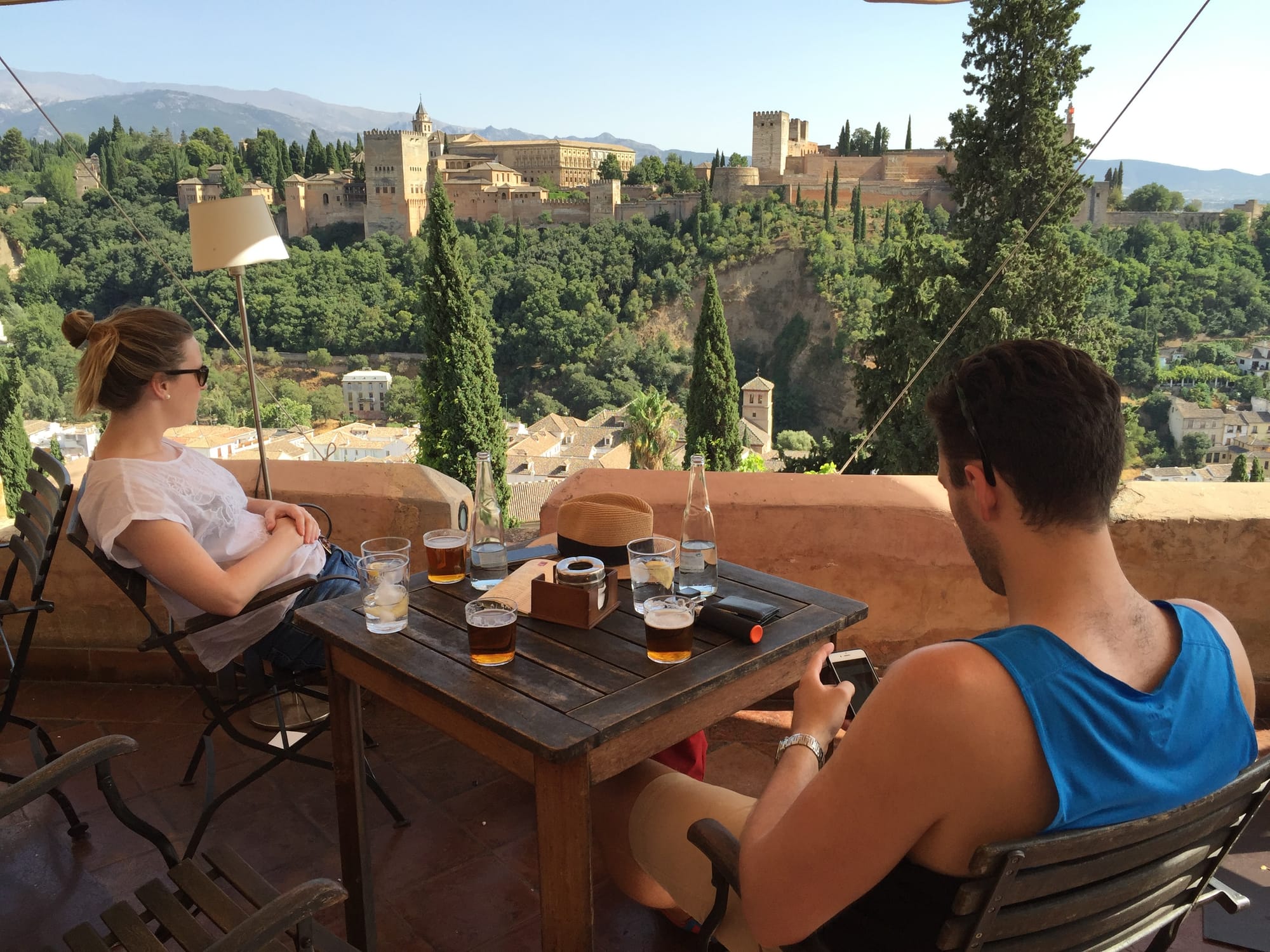 After the morning tour that started at 9 am we had the afternoon to explore Granada. Granada is known as one of the most beautiful old towns in Spain. Granada city centre is small and beautiful. La Catedral, Capilla real, Madraza, Plaza Reyes Católicos, Plaza Bib Rambla, la Alcaiceria, Paseo de Los tristes are popular streets and plazas to explore and you can't miss to see the Alhambra from la Carrera del Darro in the night or have the view of the city from the Albaycin. The old White quarter, it is a maze of narrow and stone streets. When you climb it and arrive at the Mirador of San Nicolás, the best view of the sunset, a square with people playing flamenco usually. Going down from there, calle Caldereria, is full of tea shops, looks more like a Moroccan street rather than Spanish, it is really beautiful. Shows the northern African / Muslim influences in Spain.
To eat: At the end of Calle Caldereria you'll find Calle Elvira, good places for tapas and nightlife. Bodegas Castaneda.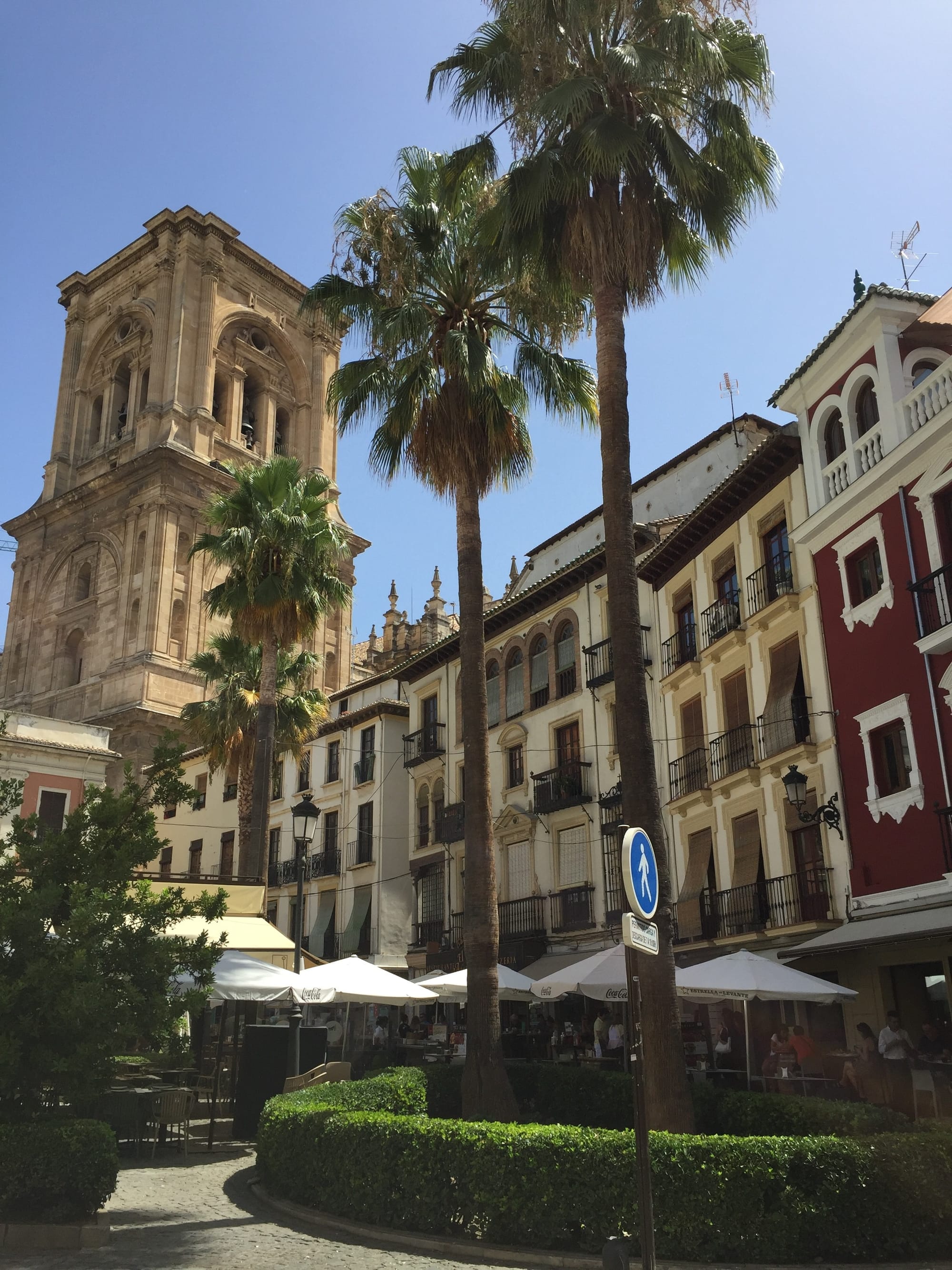 Calle Mesones: Full of bars, the best Diamantes Chiquito, close to the theatre. A legend, wonderful tapas. Typical sweet, piononos, you'll find it in the bakeries or coffee shops which is typical to eat in Granada.
Berenjenas con miel (honey aubergines) are delicious.
Rabo de Toro (Bull tail), I don't know how it sounds to you but it is a delicacy.
Salmorejo (kind of gazpacho, but thicker and with ham).
Plato alpujarreño (a very light dish with a fried egg, chorizo, Spanish ham, sausage, bacon, green pepper) – delicious
Carne en salsa, all kind of Moorish shops are very good there too.
Beer to drink in Granada: Alhambra, the best, you find it in all Spain, but it is better there.
The best thing in Granada, tapas are free!!! You go to a bar, order a drink and they give you something for free, normally they choose, sometimes they have some things to choose from. It is usually simple tapas and the nice tapas you need to pay for. You order something else and they give one more thing. It makes it fun to have a pub crawl to try a variety of tapas from different bars depending on the kind of place will determine the type of food that is served. It is a wonderful practice because, in the end, you don't need to pay for dinner, but there is always the risk of one too many drinks, but it is worth it!
Being a small town in the hills it was so easy to walk around the city in the afternoon. Due to the heat, there were very few people out in the streets and many restaurants were closed. After a leisurely walk through the old town, we found a bar overlooking the Alhambra and hills that served sangria so put the feet up until our bus picked us up later that evening.
We head back to Malaga after an amazing day to meet the crew for a final dinner in Malaga before flying to Valencia.
Valencia:
After 4 days in Malaga, we fly up to Valencia. Internal flights are very cheap and there are so many budget airlines that fly throughout the day. It was a 45 min flight and we checked into our Airbnb apartment in the Plaza De Lope de Vega.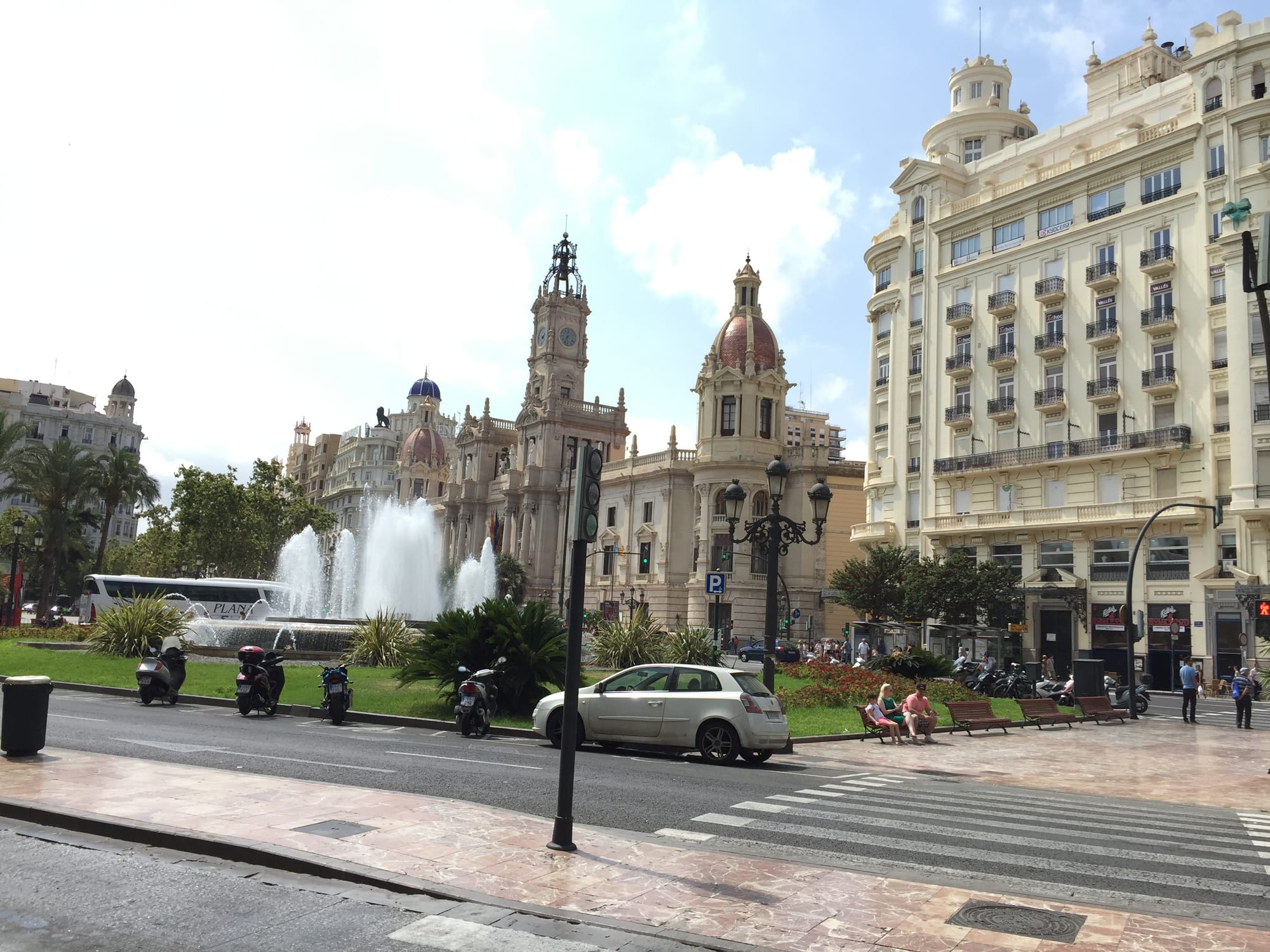 Plaza De Vega is known for having the thinnest apartment in the world. It is crazy, the width of this 5-story apartment is no more than the width of a regular household door all the way up. Our apartment was next door and was also pretty thin though catered for us fine. It was spread over 4 floors with bedrooms and bathrooms on each floor. Was a perfect location being in the centre of the old town and had an awesome café Tasquita La Estrecha below our apartment. We had brunch at café Tasquita La Estrecha each morning & got to know the owners really well. Fair to say that we between 7 of us we ordered the whole menu of tapas twice every morning to start our day.
Valencia is my favourite city in Spain so far. It is a small version of Barcelona however it has kept more of a Spanish feel. The beautiful streets, buildings and plazas are cleaner and better maintained and doesn't have the rush and craziness of Barcelona. The Valencia beaches are clean, the food and drinks were amazing, and just a beautiful city to explore. Fair to say we had a great time here.
Bel and Dani went off for a paella cooking course one day as Valencia is the home of paella. We definitely enjoy all the varieties of paella at various restaurants. All have their own slight twists and family traditions which made it fun to experiment with the different styles and flavours of paella. Some of them are more famous than others, Monkili is good price and quality. The best-known paella on the beach is fish one called Arros del senyoret (seafood without shells) and Arros Negre (black rice with squid ink) are the best. For meat paella Paella Valenciana I recommend the city centre, in the old quarter El Rall (we loved it here at El Rall) and El bodego de la Sarrieta.
Beaches: the ones of the city are Las Arenas and la Malvarrosa. They are just city beaches close to the port, but nice atmosphere and full of restaurants. A nicer beach is el Saler, you can arrive by bus, 20 min. Like Malaga, the nicer beaches were a little further out away from the port and tourists. If you can hire bikes, get a bus or uber then do it!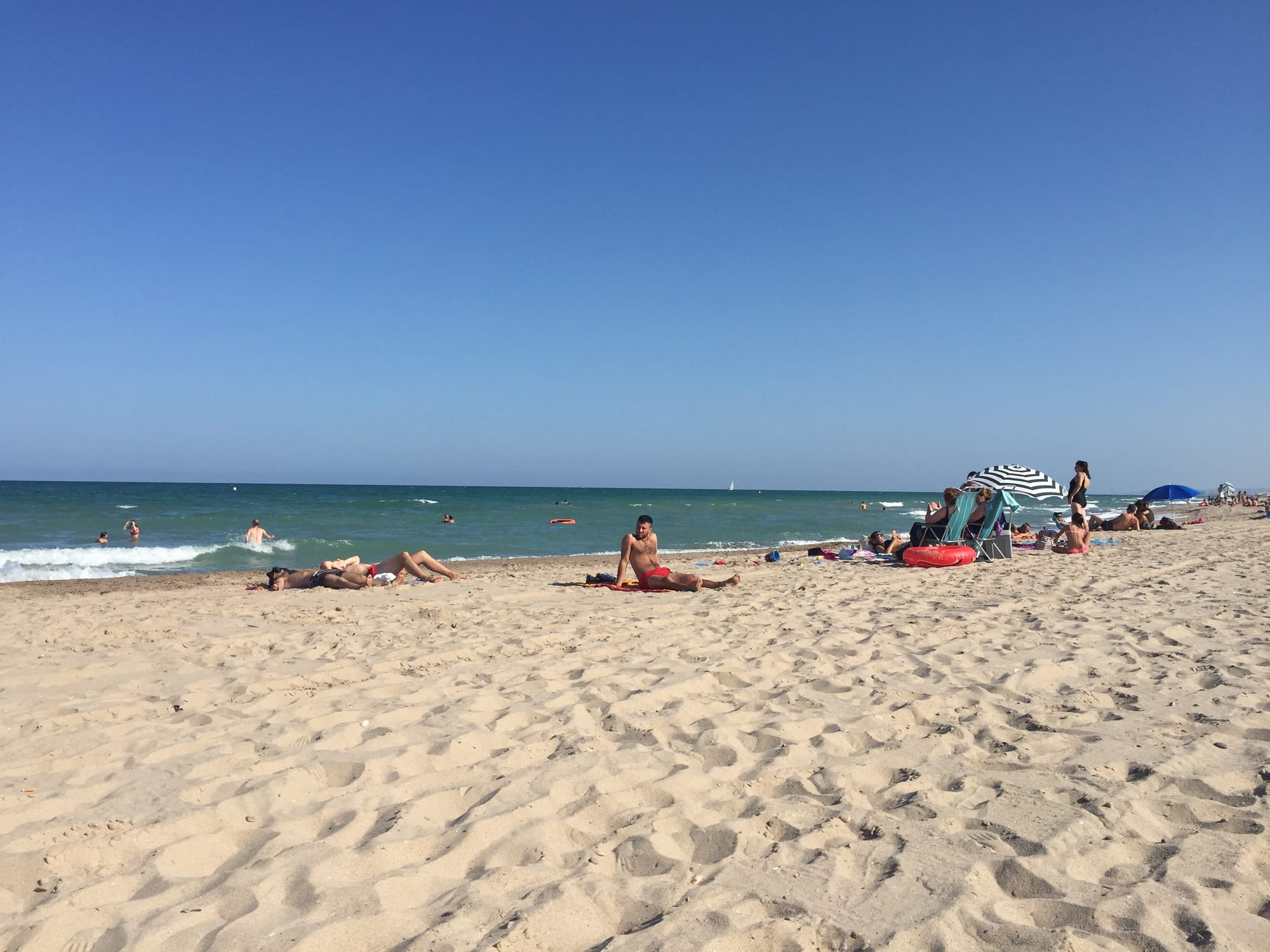 Things to see: The city centre and the medieval quarter el Carmen (you can walk it all), Mercat de Colon and Gran Via, La Ciutat de les Ciencias i les Arts (the futurist museum complex, interesting to see). If you want to visit something there, the Aquarius is pretty cool. If you want to go a little further out of the city centre there is a 25 min by bus that goes to El Palmar, la Albufera, it is the rice field on the water, you can take a boat at the sunset, it is beautiful, but you need time.
If you like walking, there is a 12km park with a river where you find people practising sports, walking, bars to have a drink, it is one of the best parts of the city.
Shopping: The new part of the centre, Calle Colon, full of shops and the Corte Ingles (kind of Harrods Spanish change where you can find everything from clothes to technology or food; if you want to buy food to bring home, use this supermarket, they have very quality products).
Going out: el Carmen and Russafa, both quarters are full of bars and restaurants and terraces.
To eat: If you like food, don't miss Mercat Central, in El Carmen. It is super big and beautiful building full of food fresh to buy and to eat, amazing even to take pictures.
For tapas, in front of the market, there is a place called Tasca Angel, very small with the best traditional Spanish tapas. (Calamares, croquetas, sepia, gambas, boquerones, champiñones). It is all about just being there at the bar ask for a beer and try something new, that's the best way to experience these styles of bars. These areas are very touristic, but still good, to sit down and order tapas, La Bodeguilla del Gato (Carmen) Flamenquines there are the best. The typical thing in Valencia is the rice, inside of tapas I'd say the best are clochinas (mussels), albóndigas o mandongullas de bacalao (cod croquetas) and bravas (garlic sauce potatoes).
There is one new restaurant in el Carmen called Karak, the cuisine really good price, fix menu of elaborated food.
Good tapas La Carme and from north Spain in Valencia, Carmen, Molinon, typical cider from Asturias. If you want to spend a little more a good restaurant in Russafa is Rodamon, elegant and modern, a new way to do classic dishes from different parts of the world, good price.
There are a lot of modern places, you'll see, the above is to help you avoid the touristic places. Though the old town is easy to get around and has amazing restaurants in all the plazas and alleyways. We preferred to just wonder, explore and focused on the local places above however if they were busy we would find another place close by.
A good option for quick food in Valencia is the traditional bakeries, where you find a part of bread (really good) savoury (empanadillas, cocas) and sweet things, you can find amazing ones in the centre, Santa Catalina o Calle Caballeros. Typical summer sweet drink Ortxata (horchata) con fartons, traditional place to have it (is normal in the early evening around 6) Santa Catalina, which is in the old quarter. Valencian Water (Agua di Valencia) is also a very popular drink which we thoroughly enjoyed. Cava (sparkling wine), orange juice, and vodka/gin. Gets the job done on those hot summer days, so refreshing!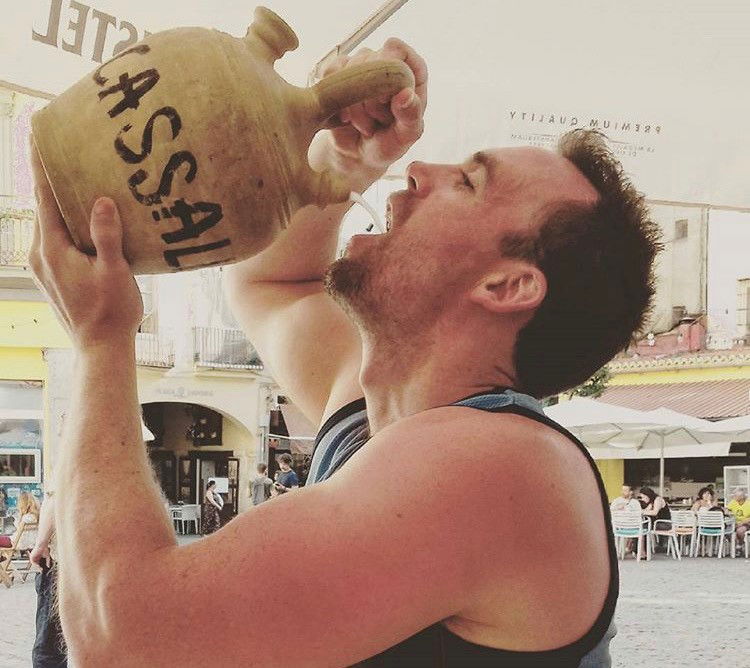 The science museum, Ciudad de las Artes y las Ciencias: Fran, Phil and I spent an afternoon at the science museum. It was so much fun and buildings are just awesome! Great feel like a big kid again!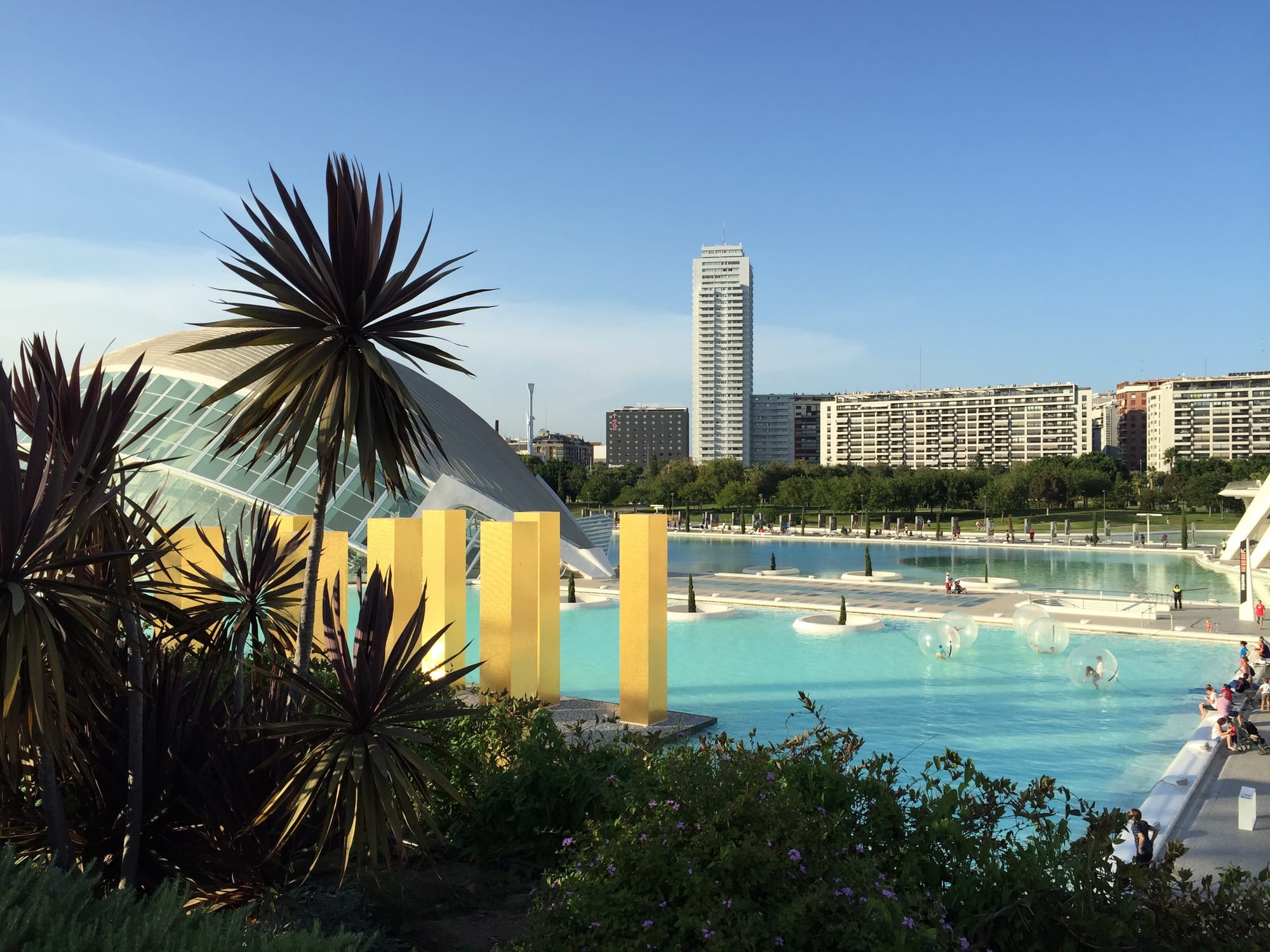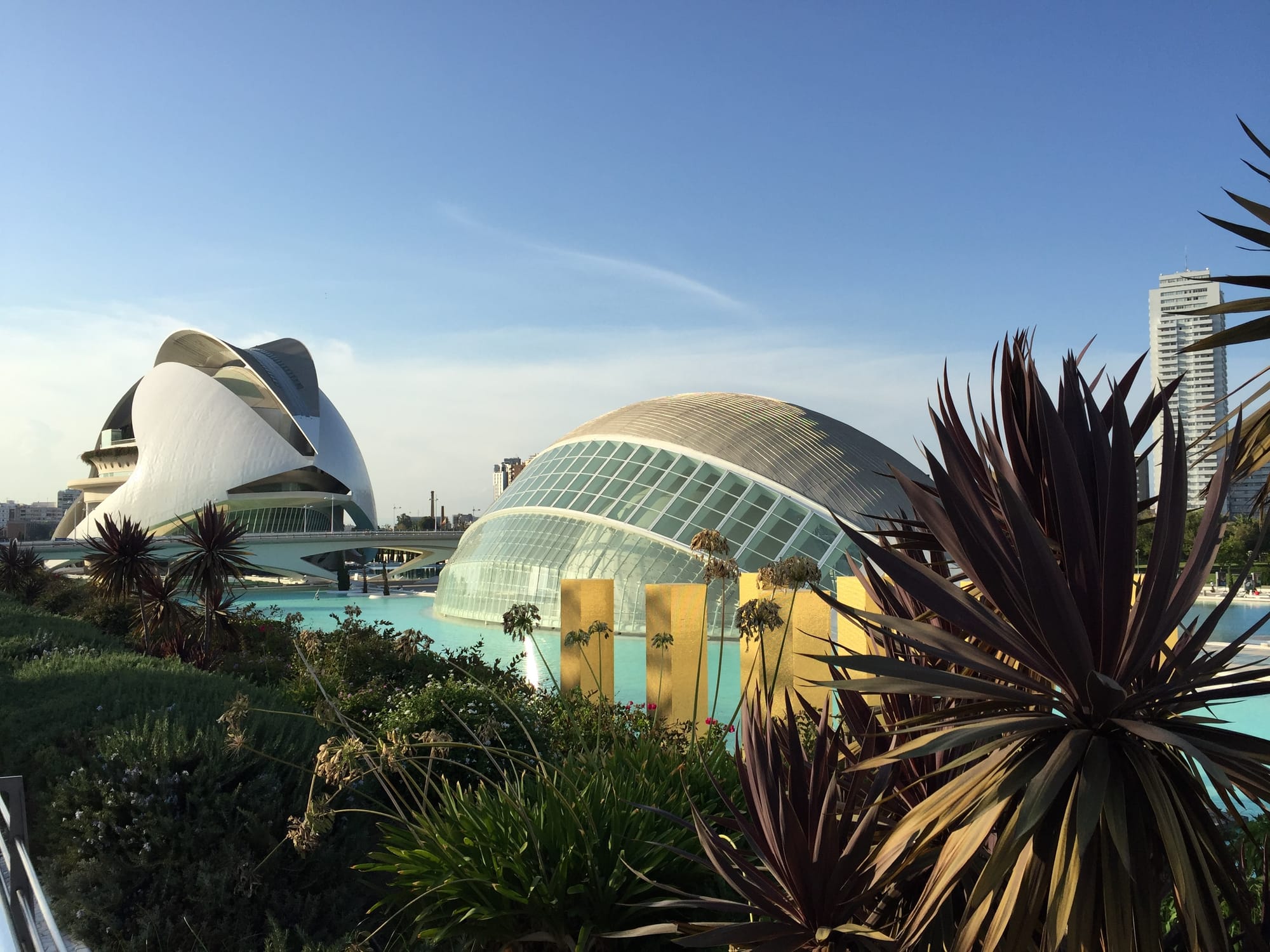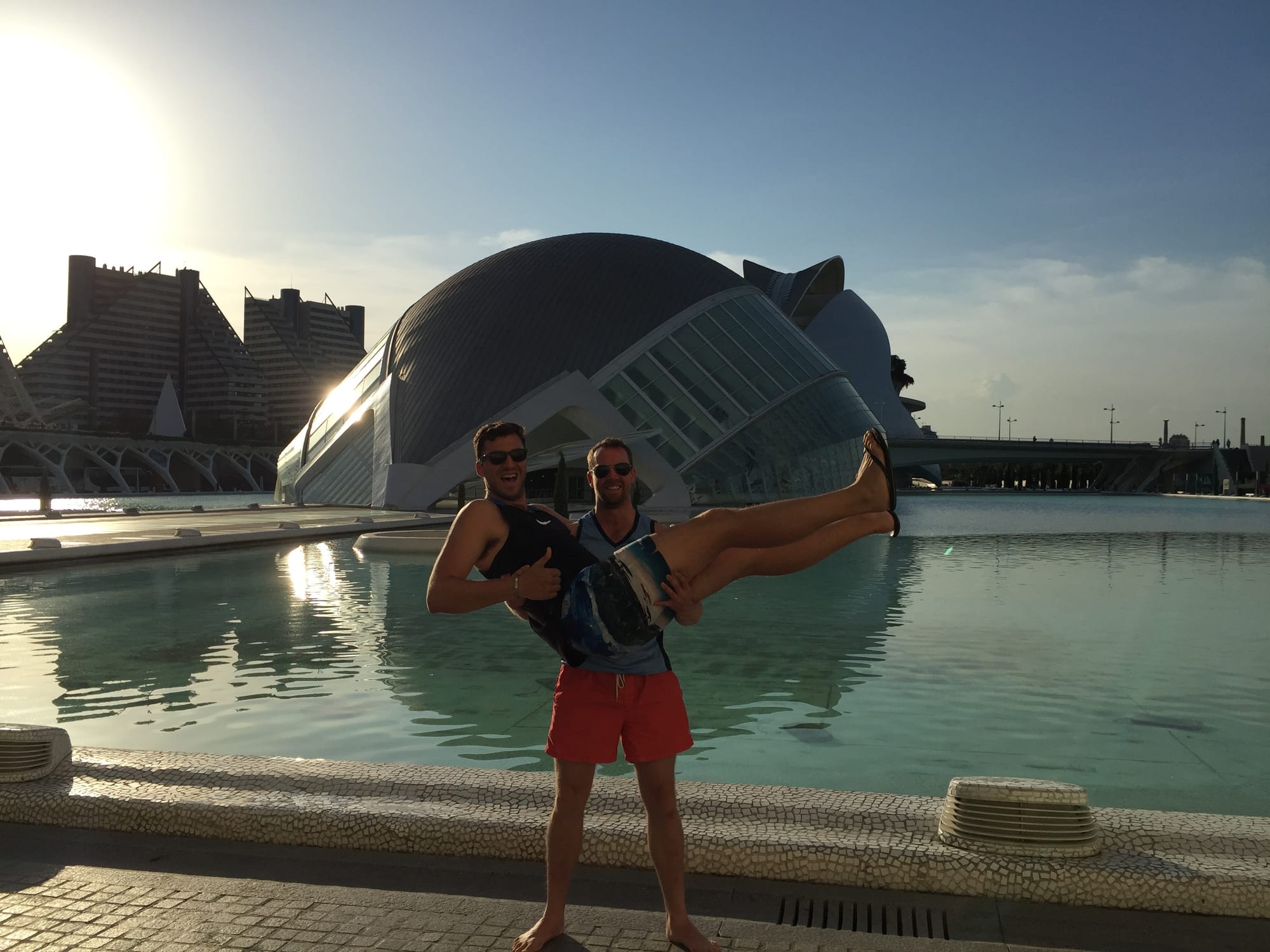 La Tomatina
This was just AWESOME!!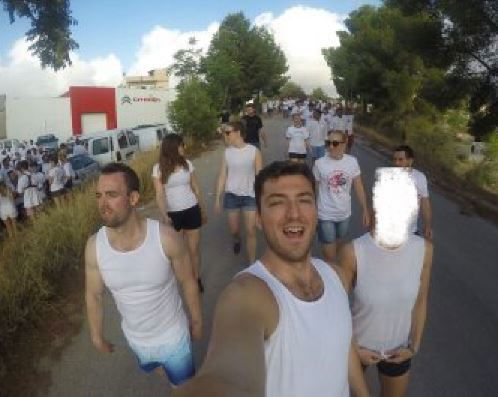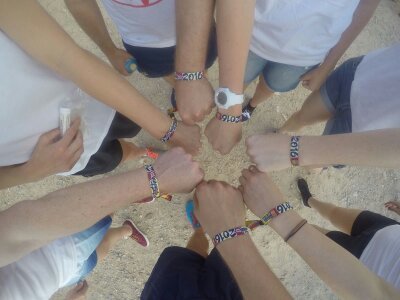 La Tomatina is held in Bunol, Spain each year. It is about a 45-60min bus ride outside of Valencia. Phil booked us the tickets and we were up early ready to go. We booked about a month in advance.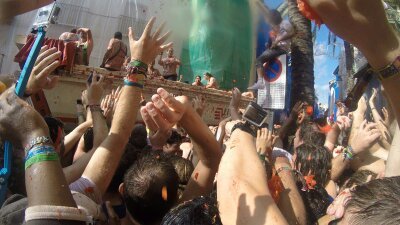 Take spare clothes, towel and water. You leave it all on the bus and wear your all-white clothes. If you have a GoPro or similar style camera bring it! Lots of people had mobile phones in zip-lock bags though I think that is a Lil dodgey, they fogged up so useless anyways, easy for people to steal or drop when you are surrounded by thousands of people, don't risk it. Other people wore goggles which again, they fogged up and when you get hit by a tomato in the face they dug into your face even harder. Up to you, I would say leave mobiles and goggles behind.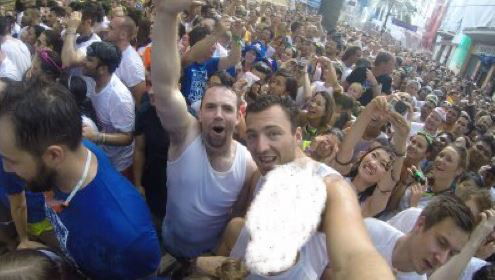 I was expecting a large square however it was more along a narrow road, not much room when there are 1000s of people crammed in. We got there around 9.30 am and made our way to the main area where people are trying to climb a 20m oiled wooden stake with a leg of ham at the top. Everyone is trying to climb up to get the ham. Unfortunately, no one made it our year…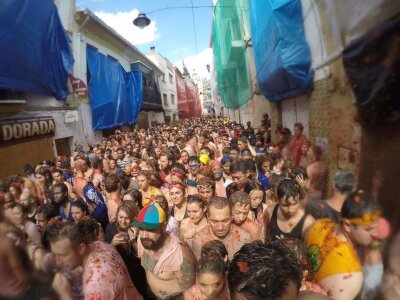 The trucks of tomatoes start coming through the streets which make it even more cramped. If you don't like being squished and getting really personal with strangers then keep to the outskirts. It was tight in there!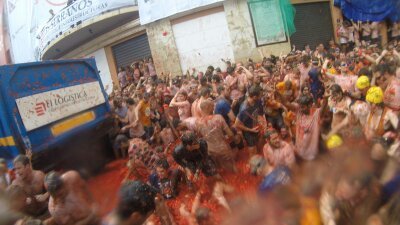 Event Staff in the trucks are hurling tomatoes at everyone and dumping tomatoes everywhere in the street. It is a free for all! Tomatoes are flying everywhere, people just slam them in your face or hurl them across the street. It was hilarious. Every now and then a large water truck will come through with a massive powerful water hose to hose everyone down. It is much needed though just makes these tomato ponds on the ground! Unfortunately no Dolmio grin here, just savage tomato warfare.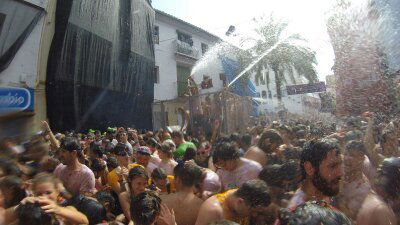 Was so much fun and we got peppered with tomatoes in ways you could not explain. We certainly smashed a few people with tomatoes to be fair as well. After what feels like a lifetime of an epic sibling game of paintball it is all over and everyone is chanting and singing in the streets while swimming in the tomato sauce lakes flooding the streets. It is so much fun, dirty, and painful. But just awesome!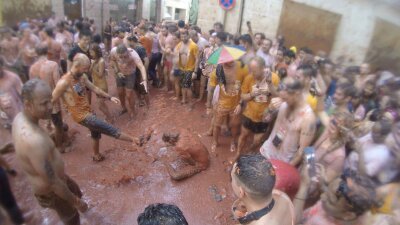 We loved it, I know it is not for everyone.
So why do they do it…legend says that two brothers started a tomato fight in the Bunol plaza and their parents couldn't stop them so they just joined in. It then became an annual event in Bunol that has grown ever since. Brotherly love at its finest!
Once you get out of the area the locals hose you down and you'll be finding tomato pips in places and parts of your body you never could have imagined! Brings out for some great laughs! Unfortunately, a few days later my left eye was still pretty sore I rubbed it and a tomato pip covered in yellow gunk popped out of my eye duct…hahaha! All worth it!
We finally got cleaned up, hosed down, and fresh clothes on before heading back to Valencia.
On our last night, we went out to Carrer de Generoso Hernandez plaza for dinner. We dined at El Rall restaurant. We had an amazing mix of paellas, tapas, and local wine. One of the highlights was when the waiter tried to sell the last two crayfish, and which caught the baby's eye sitting next to us. Tears and screams but utter laughter by all in the small plaza.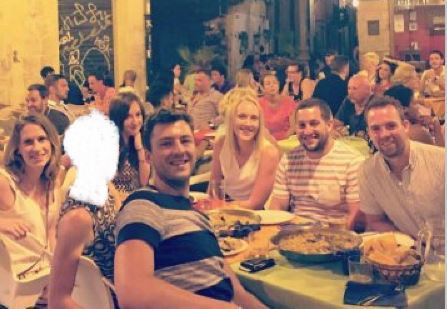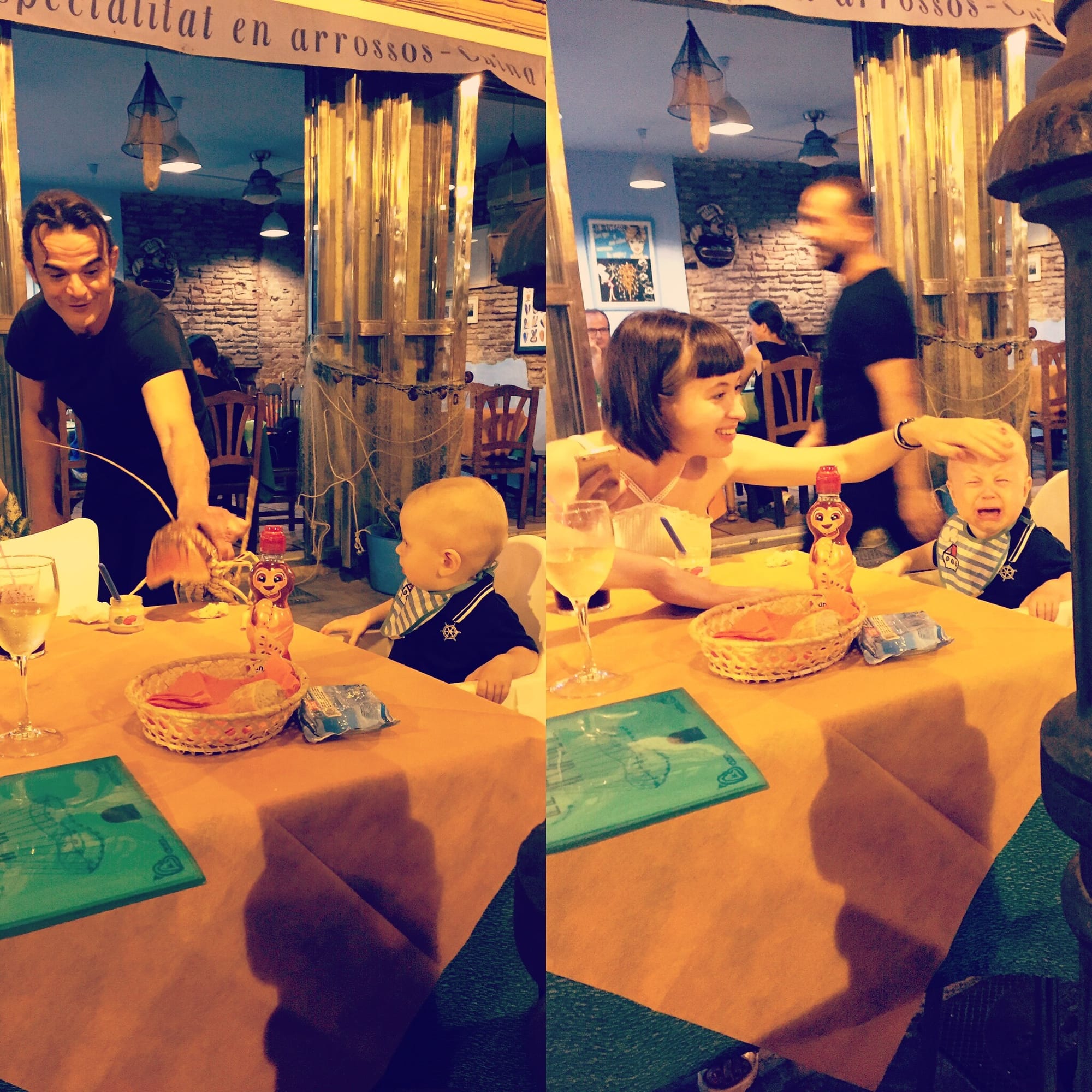 A great night with great friends!
A tradition we had each night in Valencia was to go to Veneta gelato for ice cream, such great gelato! Being the peak of summer it was a perfect way to cool down each night and just enjoy an evening stroll. It was a shame our time in Valencia was coming to an end!
Madrid
Bel organised our train tickets to Madrid, it was a four (4) hour train ride and the business class tickets were only an extra 10€! It was a fun train ride across Spain and beautiful to see more of the Spanish countryside in luxury. The train was one of the modern fast trains which was cool to experience.
In Madrid, we had another Airbnb near Plaza de Santa Ana. Great location in central Madrid that allowed us to walk around the city easily. By this time, we were a little tired of churches and history, so we just enjoyed relaxing in the food markets and finding rooftop bars to enjoy a cold drink as it was still 35-40 degrees each day. A few of the crew had a fell unwell so were happy to take it easy to.
We still did the key things in Madrid like exploring the Gran Via – one of the main streets in Madrid. Lots of beautiful buildings/great Spanish architecture, local restaurants and bars.
Explored Plaza Mayor.
Dined and bought plenty of food from Mercado San Miguel, this became a morning ritual. Mercado San Miguel is an amazing nouveau market place that dates back to 1916. Less of a food market and more of a gastronomic destination to purchase the best that Spain has to offer, like cava, pimenton (paprika) and saffron. We definitely ate too much but it was soo good!
Morning, afternoon and evening churros at Churros San Gines. Home of the Churro and a fun experience. We enjoyed plenty of beers at terrace bars and in the plazas around Madrid.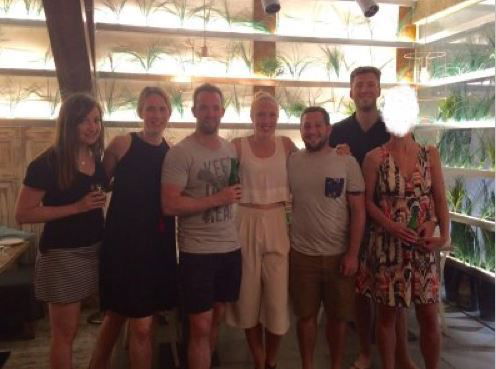 I know there are many great parks like Retiro Park and museums to explore in Madrid though we were just a little tired by this time and wanted to relax. Two weeks of 35-42 degree days will do that to you.
Madrid is a beautiful city and full of amazing architecture though being landlocked we found it a little too much concrete. We enjoyed relaxing and exploring the city though being Australians we preferred the cities on the Mediterranean coast where we could escape to the beach when needed.
One of my colleagues Isabel works in our Madrid office and took me out for drinks one evening which was great fun to catch up and spend time in her home city together. She took us to some local restaurants and bars which was great to explore Madrid with a local.
One afternoon Phil, Fran and I made our way to the 360 Rooftop Bar at Riu Plaza Espana where we just lay on the beds under cover drinking Aperol spritz's all afternoon. Little lazy but was much needed. https://www.riu.com/en/hotel/spain/madrid/hotel-riu-plaza-espana/#skybar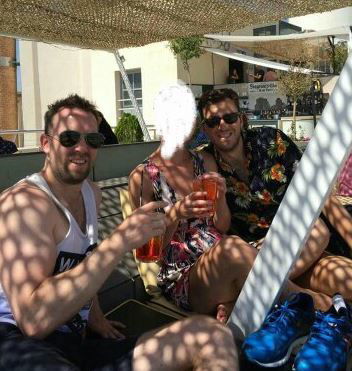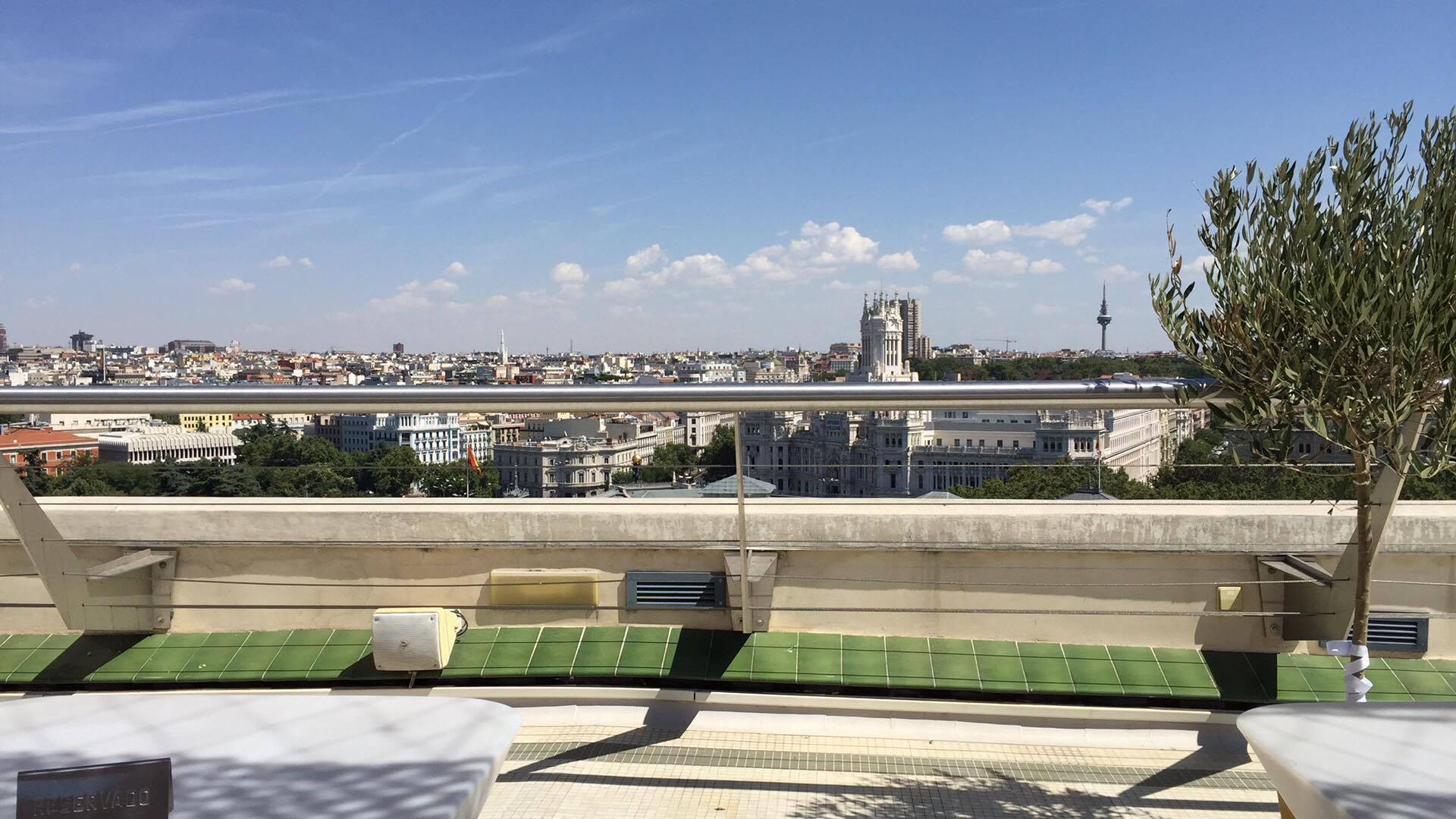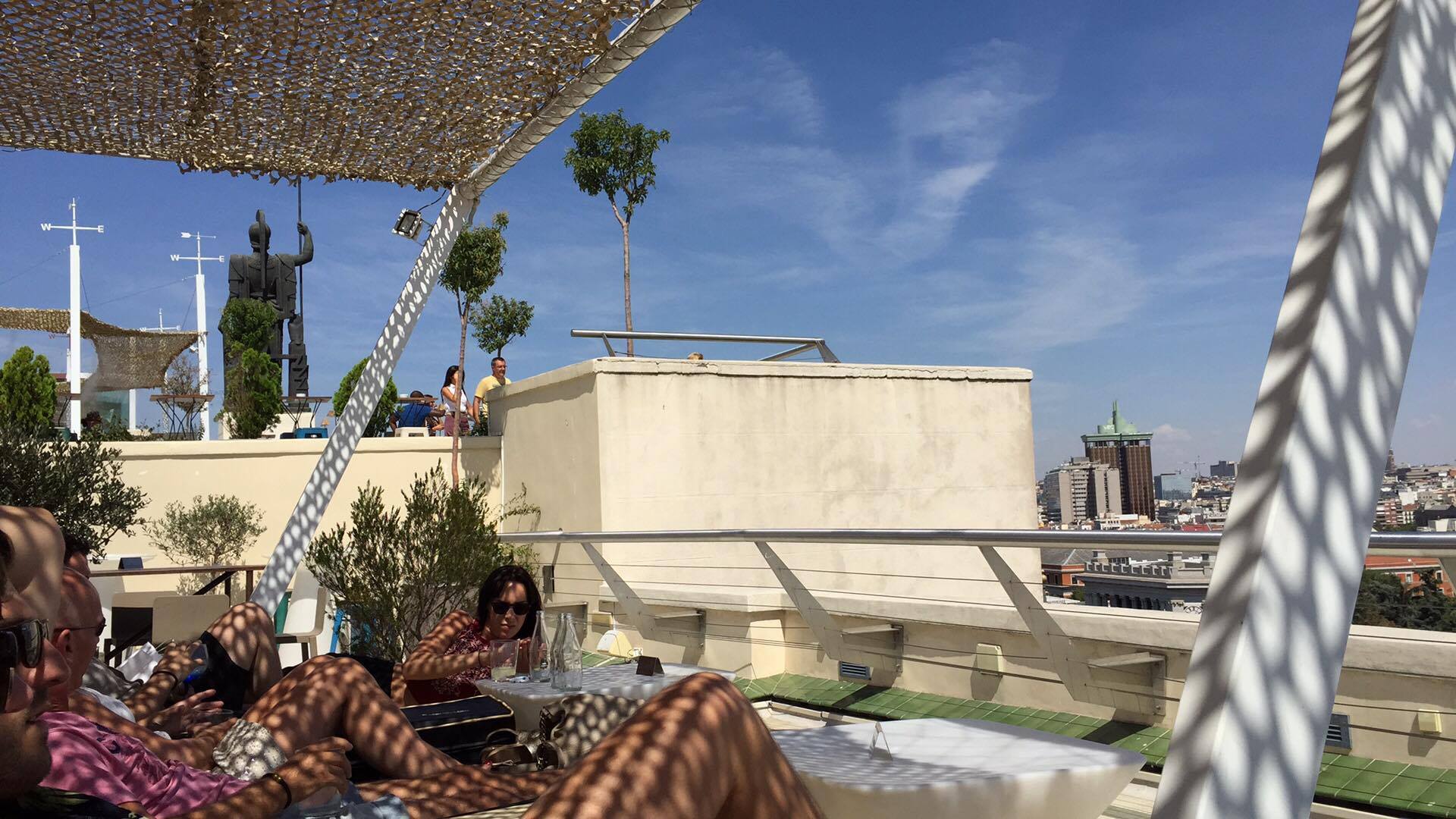 Our trip had come to an end and it was time to head back to London. It was an amazing couple of weeks with mates just soaking up some Spanish culture! We loved it. Highlights were definitely La Tomatina, Valencia, and the Alhambra. Though all in all just a great time with friends in Spain!