Northern Devon, England 24 – 26 July 2015
A good friend of mine Tess has family friends based down in Barnstable, in northern Devon, England. She was heading down for the weekend and invited a few friends and myself to come down for the weekend. We hired a car from Shepherd's Bush in west London. Note, it is always easier to hire a car from a little further out of central London so that you can get the tube there, collect the car and get straight on the highway rather than trying to navigate the inner-city traffic! Especially on a Friday night in summer.
We were off! The drive down to Barnstable was around 4 hours, with traffic on a Friday evening and a couple of pit stops along the way it took us a little longer. It was a rainy Friday evening which didn't help either driving on country roads that we were not used to. We arrived to a warm welcome with open arms at John and Fen's place, the cold beers and wine were out, the best kind of welcome!
John and Fen were just so nice with good bants about the rugby and cricket. Was so nice, and a great way to relax after the drive down before an early night.
Saturday morning, we were woken to the early sunrise and crowing of the roosters in the yard. Iconic British countryside! Tess, Bel, BA, and I all went out to pick the morning berries while Fen and Jon prepared breakfast. As always, we ate more berries than we brought in though they were just sooo good in the morning sunshine with a hint of morning dew. After a classic English country breakfast, Fen bought out something special…some local lemon custard. It was more of a yoghurt but was just so fresh, tangy and divine when mixed with the fresh berries! Fen quickly learned we were gonna need more for the rest of the weekend!!
I ducked out for a little morning walk around Barnstable as everyone else was getting ready, was such a nice countryside village nestled away by the coast.
The first adventure would be a morning walk from Berrynarbor to Watermouth then along the cliffs to Ilfracombe. Ilfracombe is a small Devon coastal town, I can't imagine that it has changed much over the past 100 or so years. Fen dropped us off at Berrynarbor and would pick us up in Ilfracombe later. The walk over the hills through the forest to the coast of Watermouth then along the coast cliffs down into Ilfracombe was beautiful in the midday sun. Walking through the thick forest along the coast with these stunning little bays and rock pools was just so beautiful. We made our way down to Ilfracombe into the beautiful little harbour. Fen had driven to Ilfracombe then walked along the trail back towards where we were coming from so met us just as we started walking down into Ilfracombe. It was fun to explore the fishing town and just take in the village life. It was just so nice. We stopped in at one of the local seafood restaurants for a nice platter of seafood together with Fen in the harbour.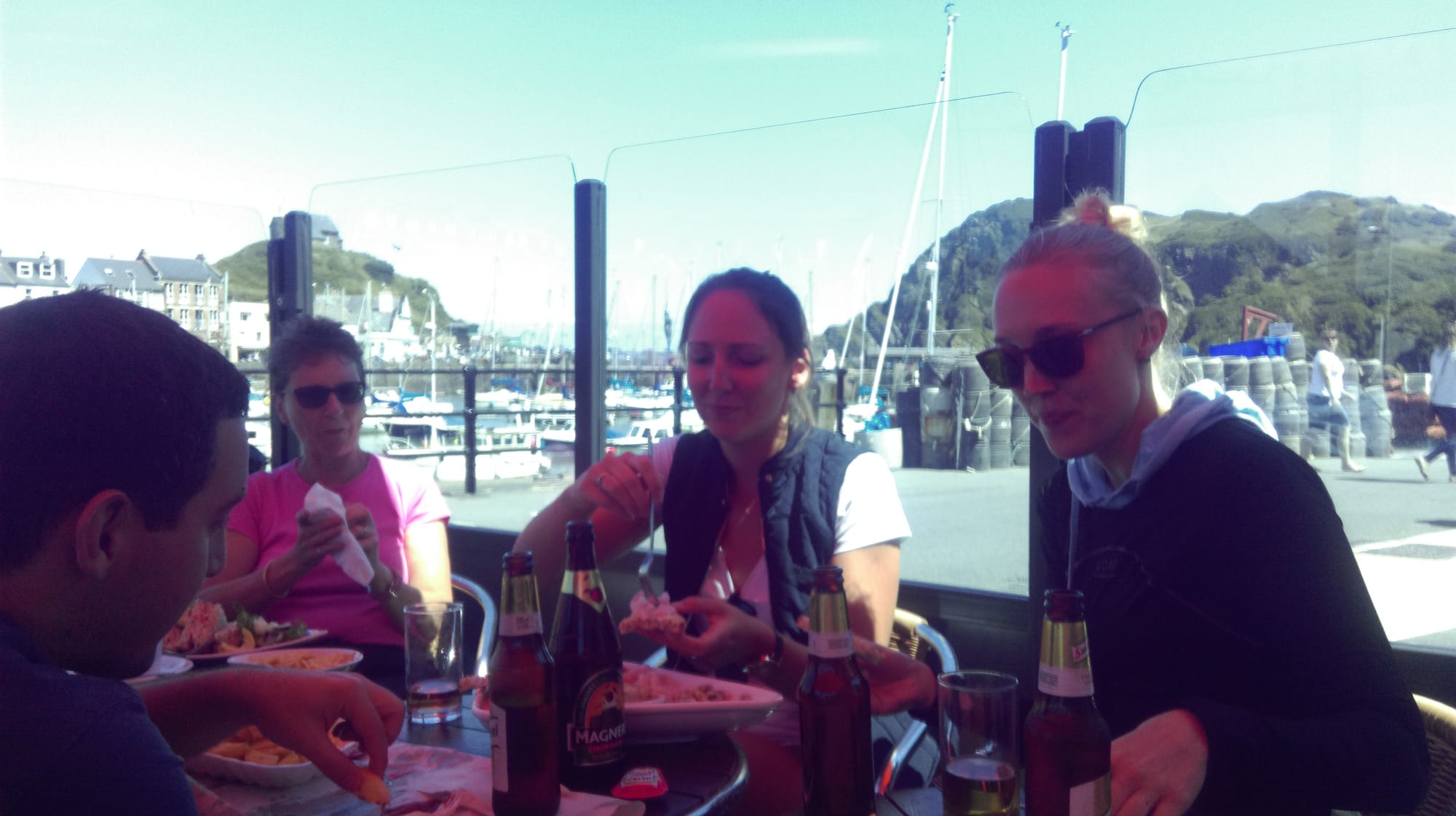 After a fresh seafood lunch we drove over to Woolacombe Beach, one of the most famous beaches in the area. For a group of Aussies, we love our beaches, we were excited to take in a famous English beach. The water was bloody freezing!! Though it was so nice to have sand between our toes and watch the surfers out on the waves. The beach was packed and so many families were out playing on the beach. The tide was out so it was a long walk out to the water and took a while to get some depth in the water to swim.
We ducked up to the local pub, The Beachcomber Cafe, overlooking the beach for a cold pint before it was time to head back to Barnstable where we were met by John with a bottle of red. John took us for a walk across their property to some of the hills where we could see the coast and watch the sunset over the Atlantic with a glass of red. There were plenty of berries scattered across the paddocks, so we enjoyed a fruity snack with our wine as we watched the sunset. It was so beautiful and just relaxation at its finest. It is amazing what an escape from the city smoke can do. Time moved a little slower and the coastal air just cleaned the lungs. Just sitting up the hills with good friends, good bants, the sunset and with a good bottle of red was such a nice experience. The simple things in life like this are often looked over.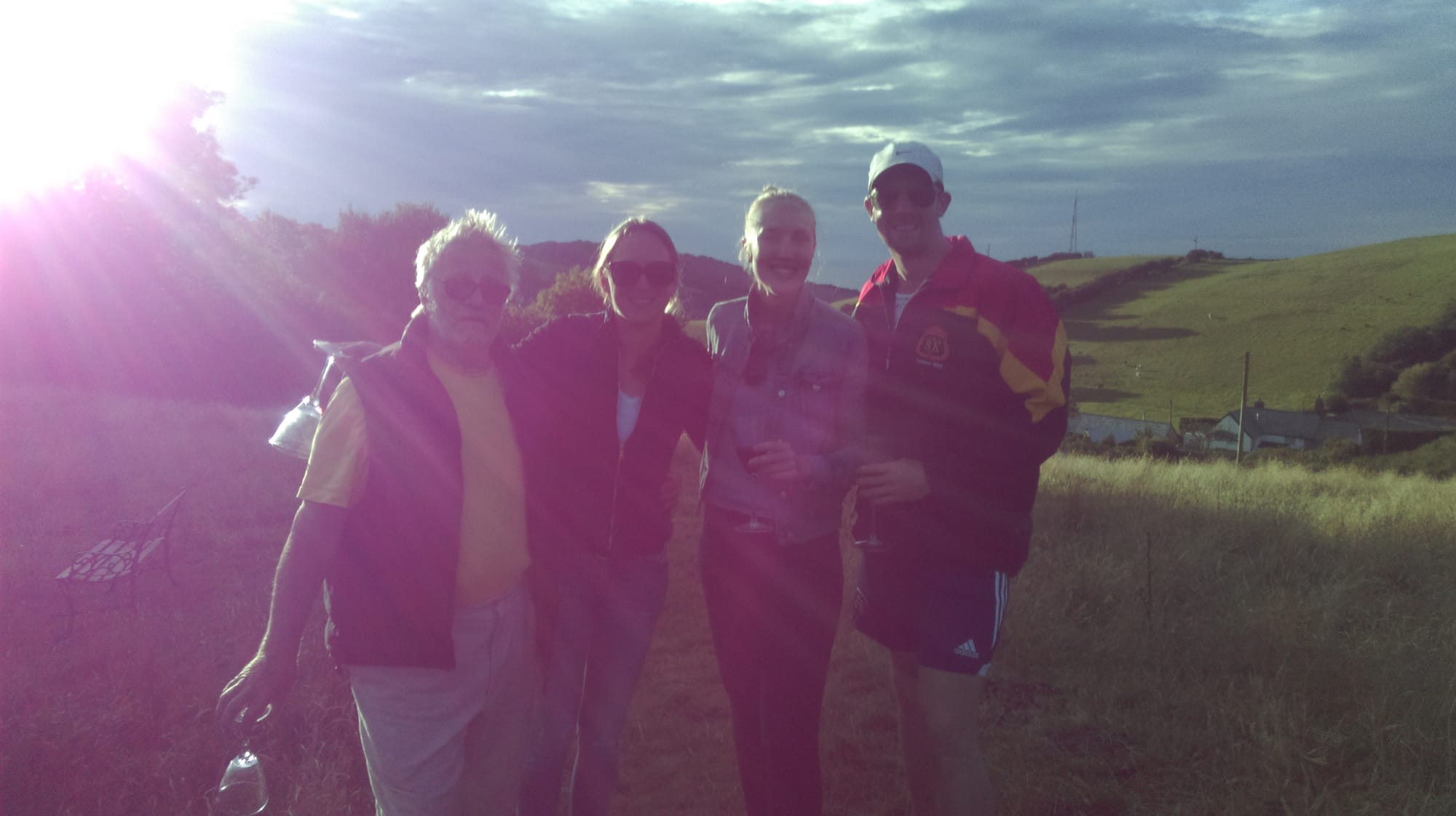 We headed back as that night there was the local Barnstable summer bomb fire night. Everyone in the village was gathering in one of the local paddock's for a bomb fire with live music, little food stalls, and gifts for sale. John made sure everyone knew that we were the local Aussies in town so we copped plenty of jokes from the locals. It was great fun and so much to just drink a few bottles of red with good friends with the sound of country music and the crackle of the bomb fire to keep us entertained. We danced and partied all night with the locals despite a little drizzle. Bed was calling so we began the short walk back up the hill.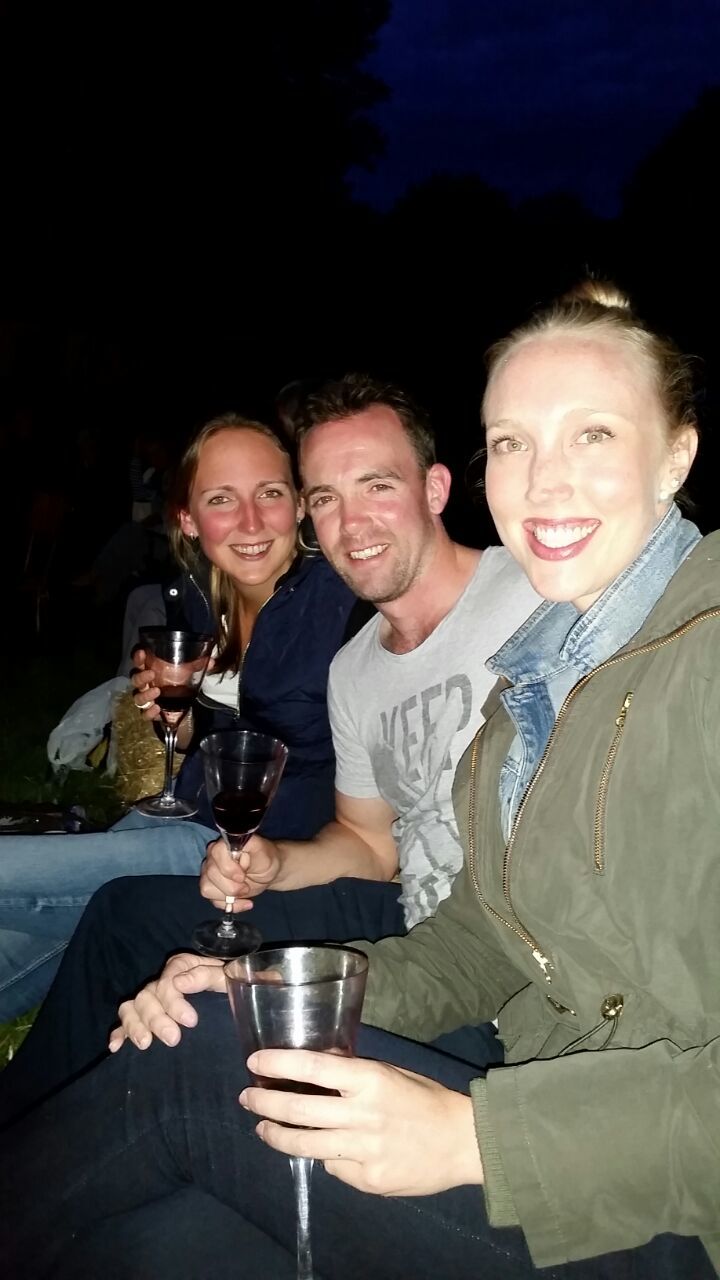 We woke to the roosters again and despite our heads being a little sore the fresh air was quick to have us feeling human again. After a quick breakfast we decided us kids needed to go for another coastal hike and Fen advised that the Lynton to the Valley of Rocks hike on the north coast would be perfect. This was a little further east from where we walked the day before and was in the Exmoor National Park. It was a little more rugged than the coast walk on Saturday. Some clouds were rolling in and rain was forecast, though it just added to the experience. Fen joined us for the walk which was so nice, she knew some of the locals and was a great tour guide.
The Valley of Rocks walk was just amazing, definitely one of my favourite hikes in the UK. It was just so lush and hiking along the cliffs with the waves crashing in below as the rain started to pour down, it was ruggedly beautiful. It reminded me of scenes from Lord of the Rings and other medieval movies, documentaries. The rain was getting a little harder and we decided to head back home to a warm fire.
John had been busy cooking one of his famous roasts and were we so surprised to get home with everyone prepared. John had been a busy man!
We quickly dashed out to pick some berries for dessert and to take home to London while John was making the finishing touches.
John's Sunday roast was somewhat of a legendary tradition and it did not disappoint!! It was a classic and made even better with the great company. We filled our bellies with a great afternoon with friends. Fen delivered on her promise with some more lemon custard which we managed to squeeze in with some berries to finish off the meal. What a meal!
It was later afternoon and we knew we needed to get back to the reality of London. We packed up our bags and were saying our thanks and goodbyes…. but the surprises were still to come! John and Fen, the brilliant John Fen, had bought us each some of the local lemon custard for each of us to take home with some fresh berries. Arrrrgh it was amazing!!
The drive home was fun and just so many great stories of the past 48 hours. From the hikes, beaches, amazing meals, bomb fire celebrations, and just the quality time with good friends and new friends it was a perfect English countryside escape for the weekend. I can't thank Tess, John and Fen enough for the weekend. Bel, BA, and I just loved it so much. John and Fen came up to London to visit Tess and her sisters every now over the next few years and it was so nice to always catch up with them!
I was nice enough to share some of the lemon custard and berries with my housemates when I got home though fair to say it did not last long!
Hope you can have a northern Devon summer escape as amazing as this! Just immerse yourself in the English countryside with good people and the rest will take care of itself!