This was my first trip to Turkey. It is not a country that I thought of travelling to, however, I had met Apo and Fatih (Turkish lads from Istanbul) in 2012 in Busan, South Korea. We became great friends and as we were the only three people at a huge backpackers we became great friends. In early 2013 I was offered an opportunity to move to the UK to play cricket in London so I thought it would be an awesome experience to fly through Turkey to explore the country and catch up with Apo and Fatih for two weeks. I was 26 years old and was about to start a 5 and a half year journey living abroad, the fears and excitement were exhilarating. I remember thinking to myself, who am I going to meet - there are people out there in the world who don't know me yet though we are going to cross paths and have some amazing adventures together, who are these people, I don't know but I couldn't wait to meet them!
Turkey was a perfect place to start this journey!
Apo had a spare room with his then-girlfriend Melek (now wife) close to Taksim square. It was a perfect location to explore Istanbul. I flew in from Melbourne via Dubai. The change over was a little tight however Emirates held my connecting flight and I just made it. This was my first time in a Muslim country, despite just being an airport, it was really different to see how people dressed and acted. I have learnt so much since this first trip and I am so grateful to have been able to travel and meet people from around the world. It has broadened my knowledge and understanding of cultures, religions and people. The preconceptions created by news and movies were very much wrong! Getting out an experiencing life in different countries and taking the time to understand their lifestyle/culture is the only true way to understand. You can read as many books or listen to as many podcasts as your want or attend talks or seminars though until you have done it yourself I don't think it really counts.
Before I left for Turkey a friend in Melbourne, Dari, who is from Israel introduced me to some local/traditional middle eastern food which I just loved. I couldn't wait to try the local food and taste the spices she had open my world too.
Arriving in Istanbul was a different experience, buying a visa with cash at the airport then exiting the terminal with numerous men heckling me for taxi service often grabbing at my bags. Apo and Fatih advised me to always catch a taxi from the taxi rank and do not trust the men in the airport offering a taxi service. It was good advice, you need to be aware of the risks when arriving in a new country especially when you stand out as the minority. I waited for my taxi in the rank. I was quick to learn that driving in Turkey was not a smooth relaxing experience. We flew down the high way, often going off the road to overtake cars in a traffic jam. It was as much a roller coaster ride as well as fearing for my life. Either way, I just had to trust my driver with limited English to get me to Apo's apartment. He delivered me perfectly to Apo's flat and it was great to catch up with an old friend!
The trip cost me around USD 50 which I am sure was a little bit of a rip off though it was fine, it is just part of the experience and was just good to arrive safely to meet Apo.
Apo and Melek both worked and it was late evening by the time I arrived. Melek had prepared a lovely meal and then it was time for bed. Apo pointed out some great food places for breakfast close by and how I could catch the trams to the old town to explore. Everything was so close!
After a good night's sleep, I wondered up to a local bakery which served borek which is a pastry with cheese and spinach or meat with mixed herbs. It is like a long pastry sausage and they slice it up into small bite sizes pieces. I order a box of both, it was soo cheap and delicious! Perfect to eat while on the go!
I headed down the road to Fındıklı Mimar Sinan Üniversitesi tram stop where I was catching the blue line over the bridge to the old town. Opposite the tram station is Kilic Ali Pasa Mosque, it is one of the most beautiful Mosques I have ever seen. I loved that I got to see it most mornings when I caught the tram!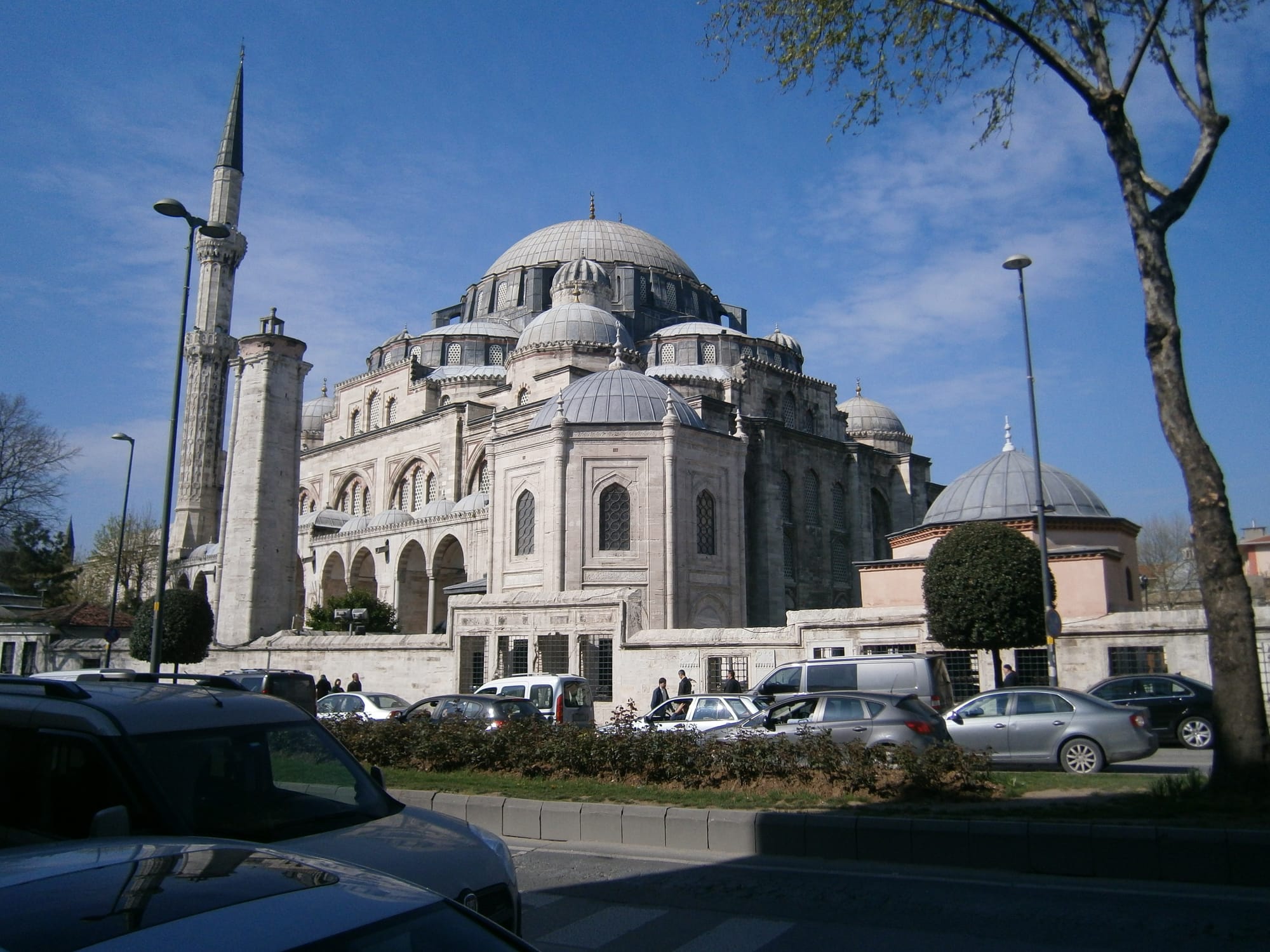 It was only a few stops to the old town and the ride gave me a great view of the along the Bosphorus, seeing the massive New Mosque looking down over Istanbul, and riding across the Galata Köprüsü (Galataca Bridge). I was just in love with this city after 5 minutes. The food, atmosphere on the streets, ease of catching the trams, seeing all the fishermen on the Galata Köprüsü, the buzz of the city and amazing historical sites. Istanbul is amazing!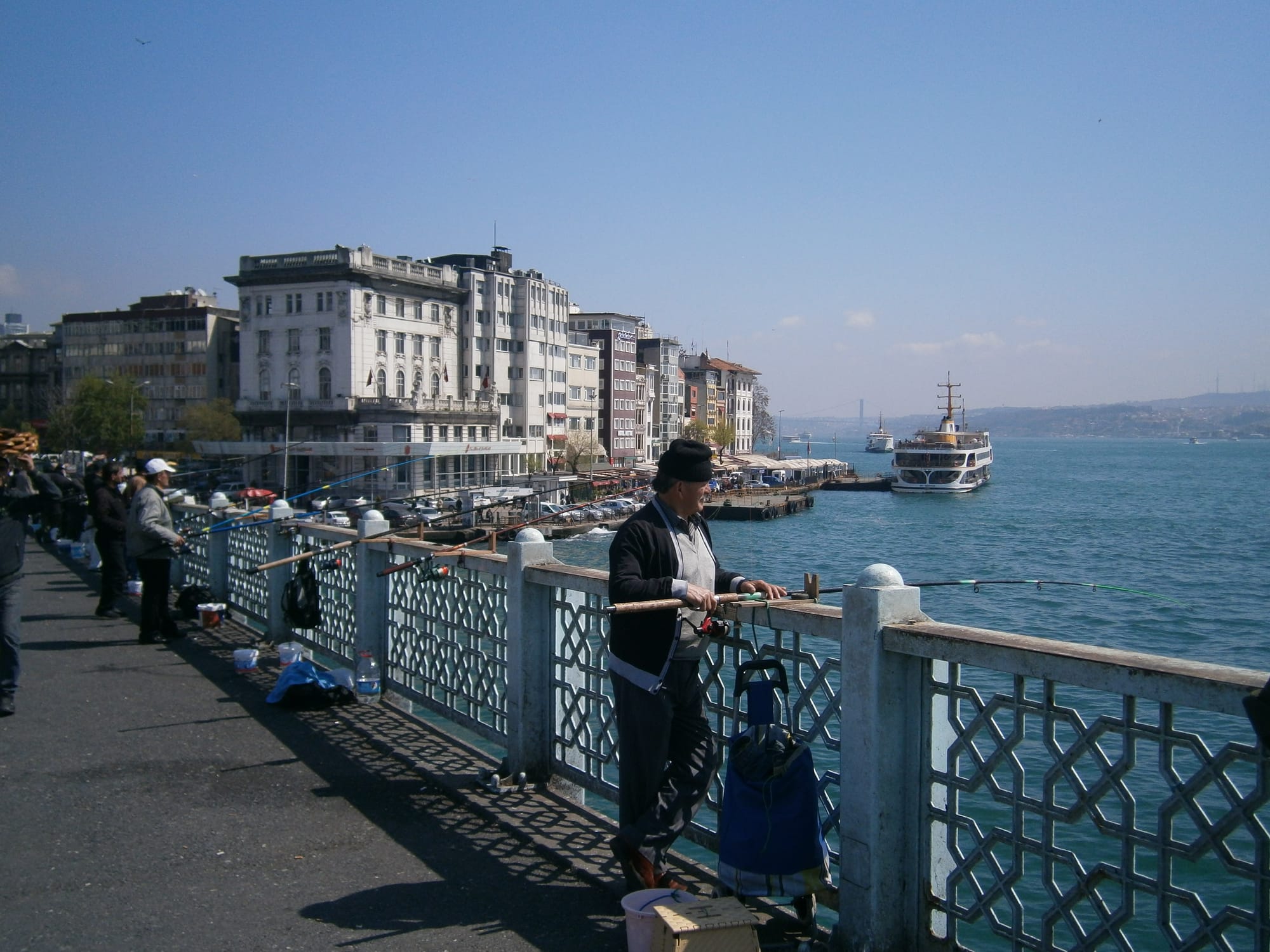 I arrived in the old town and it was just alive with people. I hopped off at the Cemberlitas tram stop. The Sultanahmet was so busy with tourists so I headed to Kapalı Çarşı (Grand Bazaar markets) to explore. It was insane! In all honesty i went to Turkey will little knowledge or understanding of the country so i wasn't really sure what to expect. I had such an open mind to the experience and was just blown away everywhere I went. I entered the Grand Bazaar from the top end near the university, I have never seen soo many people all together in once place. The lane-ways, streets, and markets were just flooded with people buying and selling products. I loved just watching the interactions between people, watching the old men and women enjoying their tea and coffee while they took in the craziness of the markets. The rugs, jewellery, spices, Turkish delight, exotic stones, clothes, watches, and everything else was just amazing. The smells of the spices and Turkish delight shops was just so fresh I just wanted to taste it all. It is guaranteed you will get lost in the Grand Bazaar so just roll with it. It feels like an ever lasting maze of madness. I came out at the bottom near the Galataca Bridge where Turkish delight stores were abundant, I filled a box for a mid-morning snack and off I went.
Just be careful of pickpockets in the Grand Bazaar as they are on the lookout for tourists.
It was coming up to lunchtime so I wondered up to Cemberlitas tram stop where I saw some nice local restaurants earlier in the day that didn't look too touristy. It was similar to a buffet style restaurant which was great as I could pick and choose what I wanted. I had little idea of what I was eating, it was full of eggplant (aubergine) tomatoes, spiced mincemeat, rice, a style of lamb stew, a lasagne / musaca style dish, and fresh salads. Delicious! I was definitely full!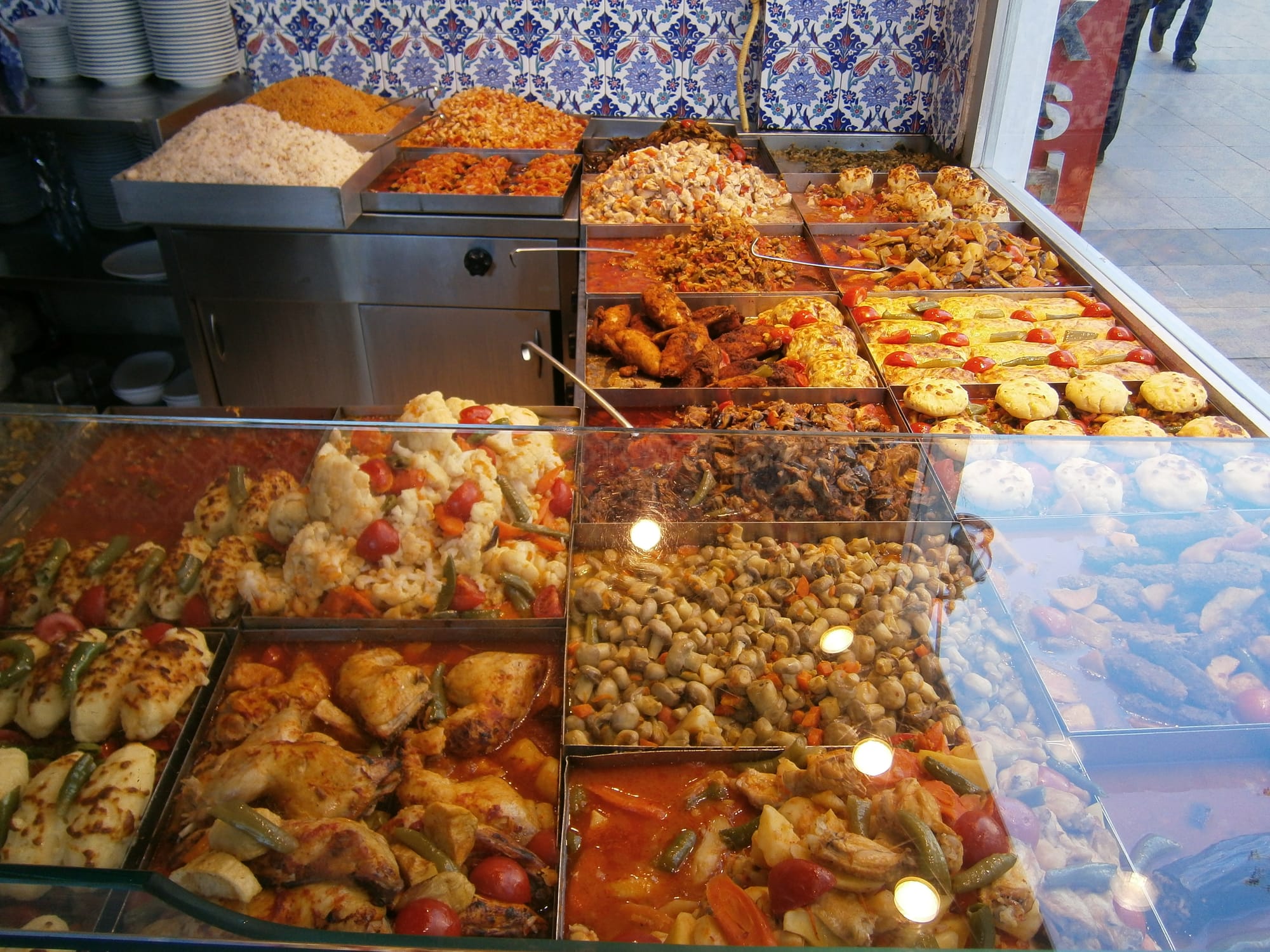 The lines had died down at the Sultan Ahmet Camii (the Blue Mosque) so I headed down to line up. I was in shorts so I was given a cloth to wrap around my legs and I needed to leave my shoes outside. Crazy how more shoes are not stolen or lost! Women need to have their body covered including with a headscarf before the can enter. It was just one of the most beautiful buildings I had been to. So peaceful and relaxing to watch the locals pray and go through their traditions while in the Mosque. It was a really beautiful experience. It was a spiritual experience.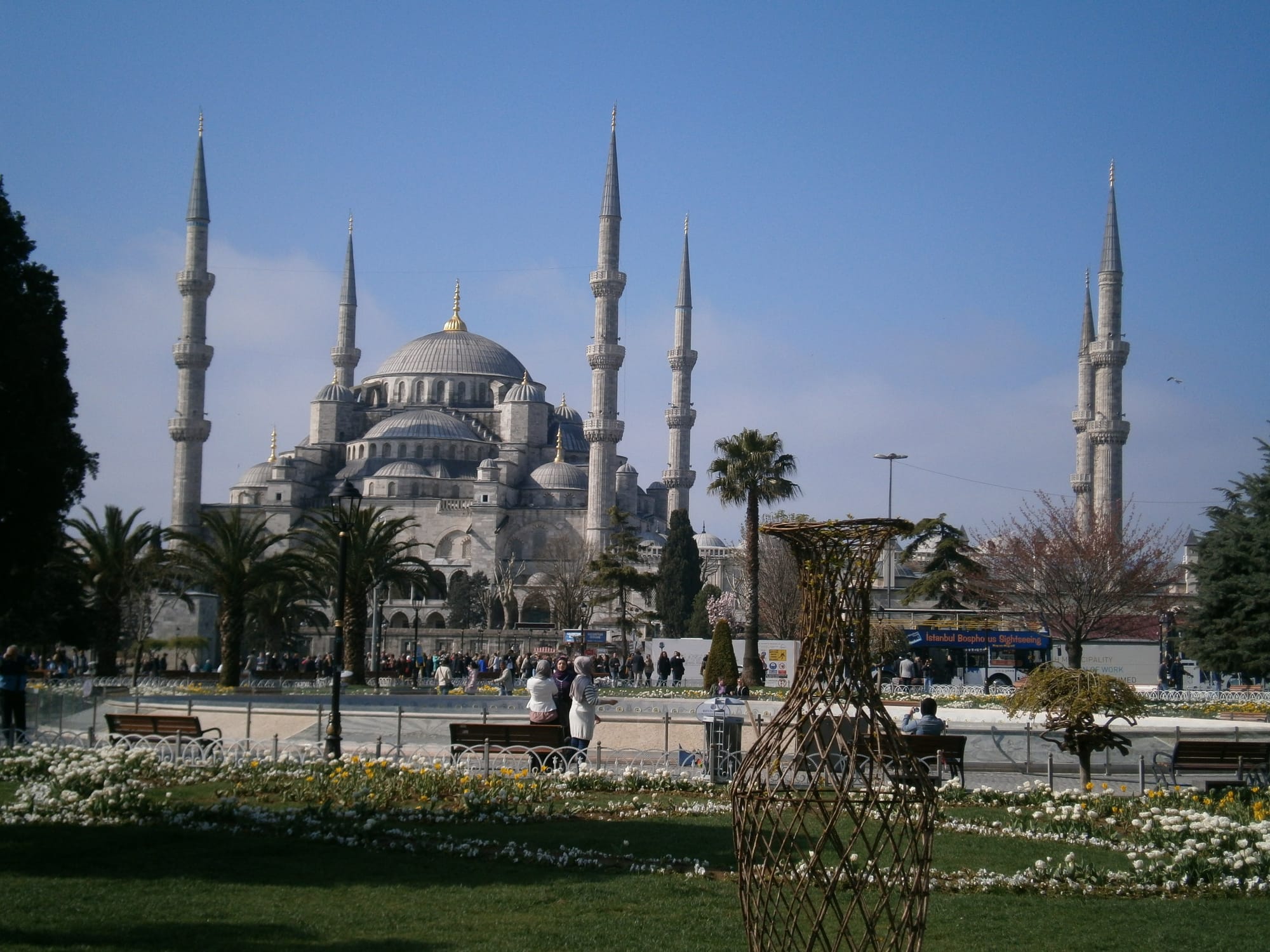 Opposite the Sultan Ahmet Camii stands the Sultanahmet and Hagia Sophia Museum. It is the clash of two religions – Christianity and Muslim. For the Sultanahmet, I took a 2 hour guided tour which was interesting and I am glad I did. I learnt so much about the two places of worship and what they represented to each other. The tour also gave me a great history and background on the Ottoman empire / Turkish history.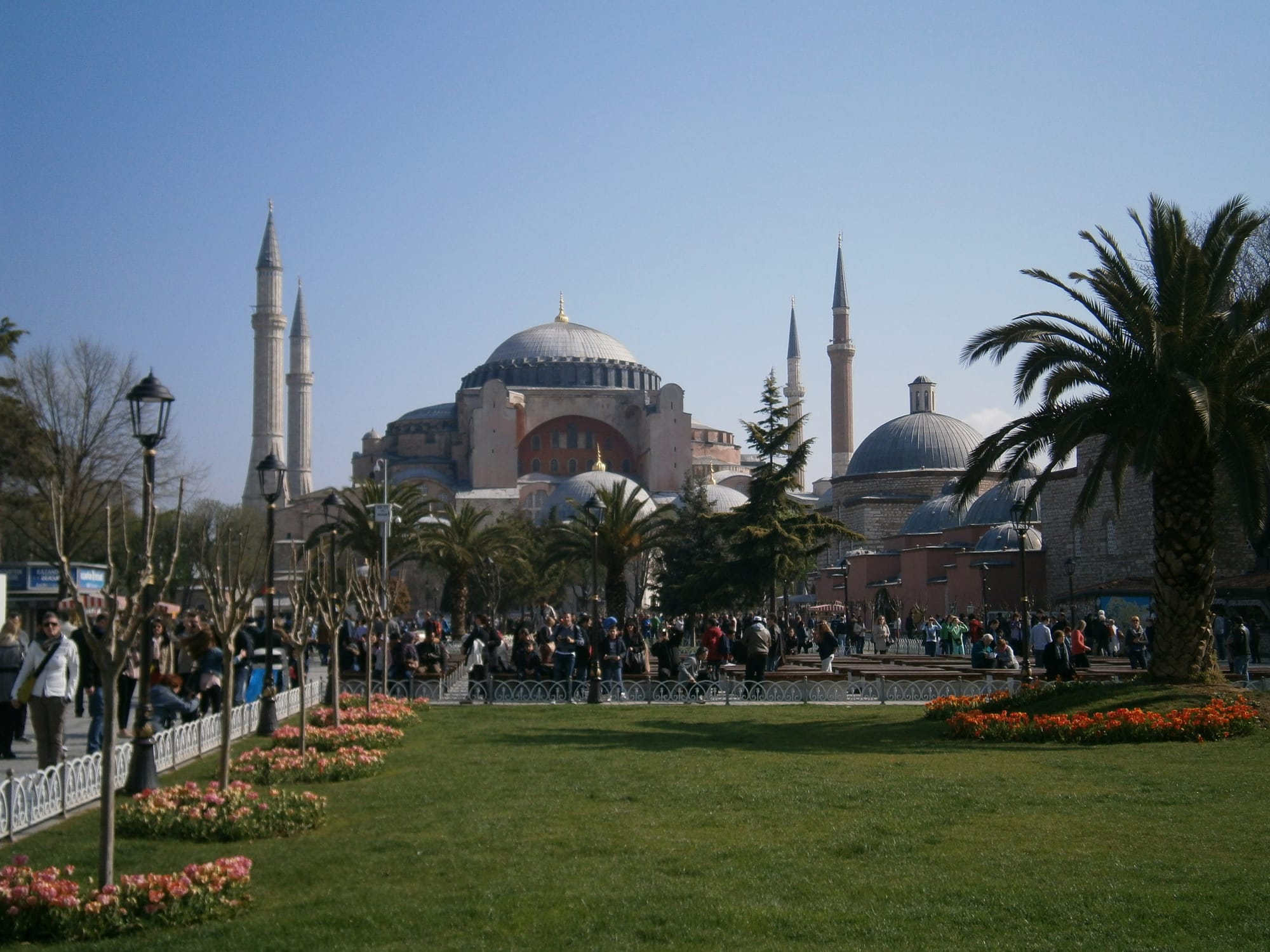 After the tour, I enjoyed wondering around the Sultanahmet grounds to see the 16th-century water fountains and statues that litter the grounds. It was amazing to see and take in. It was getting close to 4 pm and I decided to head back to Apo's house as Fatih was coming over to go out for dinner and a few drinks.
It was great to see Fatih and to share my day with the boys. Apo and Fatih told me many stories about living in Istanbul and the history of Turkey, the love and passion they have for Turkish culture was awesome. I just loved learning about it! We bar hopped around the bars and restaurants close to Taksim Square introducing me to different Turkish foods and drinks. Some of the raw fish and weird yogurt drinks were not for me though I did enjoy plenty of the clams with rice that you buy on the streets. The beer (Efes) was cold and we had a great night catching up. The boys introduced me to Raki…. Let's just say I am still not a fan. Raki is an anise seed flavour drink, it is clear spirit like vodka however when you add water it turns murky/milky. You sip it with your meal. I was more than happy to let Fatih enjoy the Raki!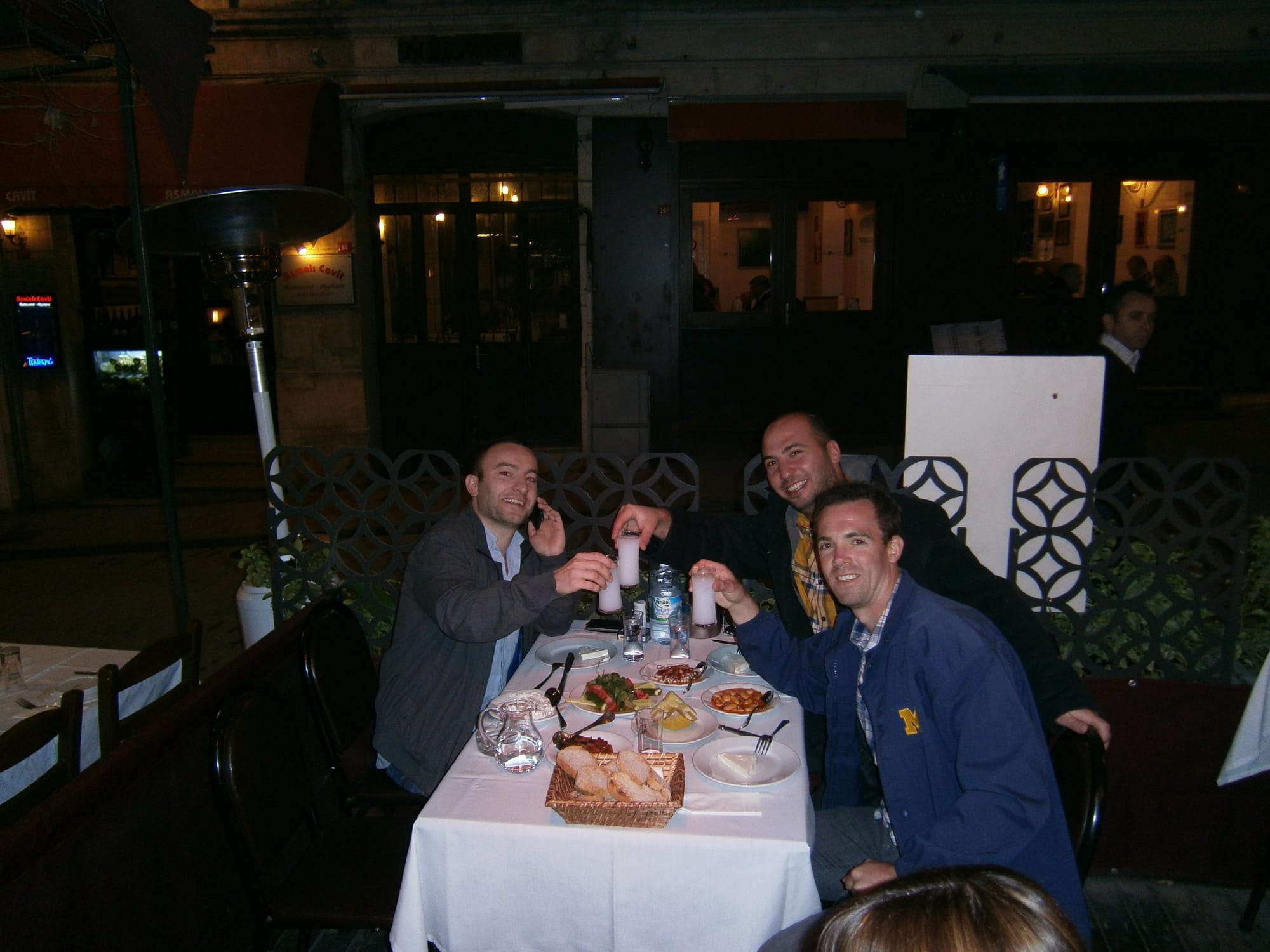 The next day Fatih took me on a driving tour of the east coast (Asia side of Istanbul) of Istanbul to where he lived and grew up. It was awesome to see the Dolmabahçe Palace, drive over the Martyrs Bridge. Meet his girlfriend (now wife) Begum, and go out for lunch together. Fatih is so proud of being Turkish and was so nice to spend a day with him showing me his life and city from a local perspective. The local restaurants, meals and people we met were so nice and I just loved having a day with Fatih!
The next morning I continued my morning ritual of borek then headed down to Fındıklı Mimar Sinan Üniversitesi tram stop. This time I was heading Kabatas Station to catch a ferry to The Maiden's Tower. I booked a 1-hour tour of the tower which was really interesting. The Tower was made famous by the 007 James Bond Movie 'The World is not Enough where they finish in Turkey with the famous line 'I have always wanted Christmas in Turkey'. The old tails about the tower were interesting and fun to learn about.
Once the tour was over I caught a ferry to the eastern side of Istanbul to explore. I got off at Harem where again I just explored the area on foot. There were great street markets and local restaurants along the Bosphorus where locals played card, board-games and drank tea. It was a much slower paced day and so nice to just take in the feeling of the city. I took time to detach from the craziness of the city to just sit in cafes under the sun on the Bosphorus with a cold drink just watching the ships and world go by with the sounds of the city in the background. Love these times when I am travelling to just take time to just sit back and soak in the feel of the city, relax and just enjoy it.
In the afternoon I headed back to Taksim square to explore. This is the main shopping district and again just utter craziness. The amount of people is just insane! Though never once did I feel threatened or under pressure. I just took every little lane and explored it. From local cafes and restaurants to food/seafood markets to high-end shopping it had it all. I loved the smells and excitement of the city. I learnt Istanbul has the 2nd oldest underground transport network after London and plenty of history about Ataturk (the first Turk) who was the first leader of Turkey after the collapse of the Ottoman empire.
We had a relaxing night with another amazing meal prepared by Melek. It was really nice to get to know her better!
The next morning I again headed to Kabatas Station where I was to catch a ferry to Büyükada, a small island off the coast of Istanbul for a day. It is a beautiful little island where no cars are allowed. You just take to the small streets on foot to explore the island. There were some interesting historical sites like the Büyükada Rum Yetimhanesi (Prinkipo Greek Orthodox Orphanage) and the İsa Rum Manastırı (Christ Greek Monastery). There were beautiful lookout points that looked back across Istanbul, it blew me away how big Istanbul was! It was a great day just exploring the island!
I headed back around 3 pm as again we were going out with Fatih. We had a few drinks at home then headed out. Apo and Fatih took me to some locals restaurants and bars, the beers and Raki flowed (I had to be a Turk tonight). We went to a few bars and one them their friend owned. There was a group of young ladies enjoying a 30th birthday. I got talking to one of them who was really fun, her English was not great but better than my Turkish. Her name was Gözde and she told me she was an actor who did some local theatre and TV work. It was a great night and little did I know who I had just met. We all got chatting and joined the birthday celebrations for a little. Was so much fun to meet some locals and have some fun. Before we left to let them enjoy the rest of the birthday celebrations we agreed to catch up again before I left, it was their first time meeting an Aussie and my first time in Turkey making some new friends with Apo and Fatih. I was heading to Cappadoccia and Antalya the next day though I would be back in a week so we agreed to catch up when I was back.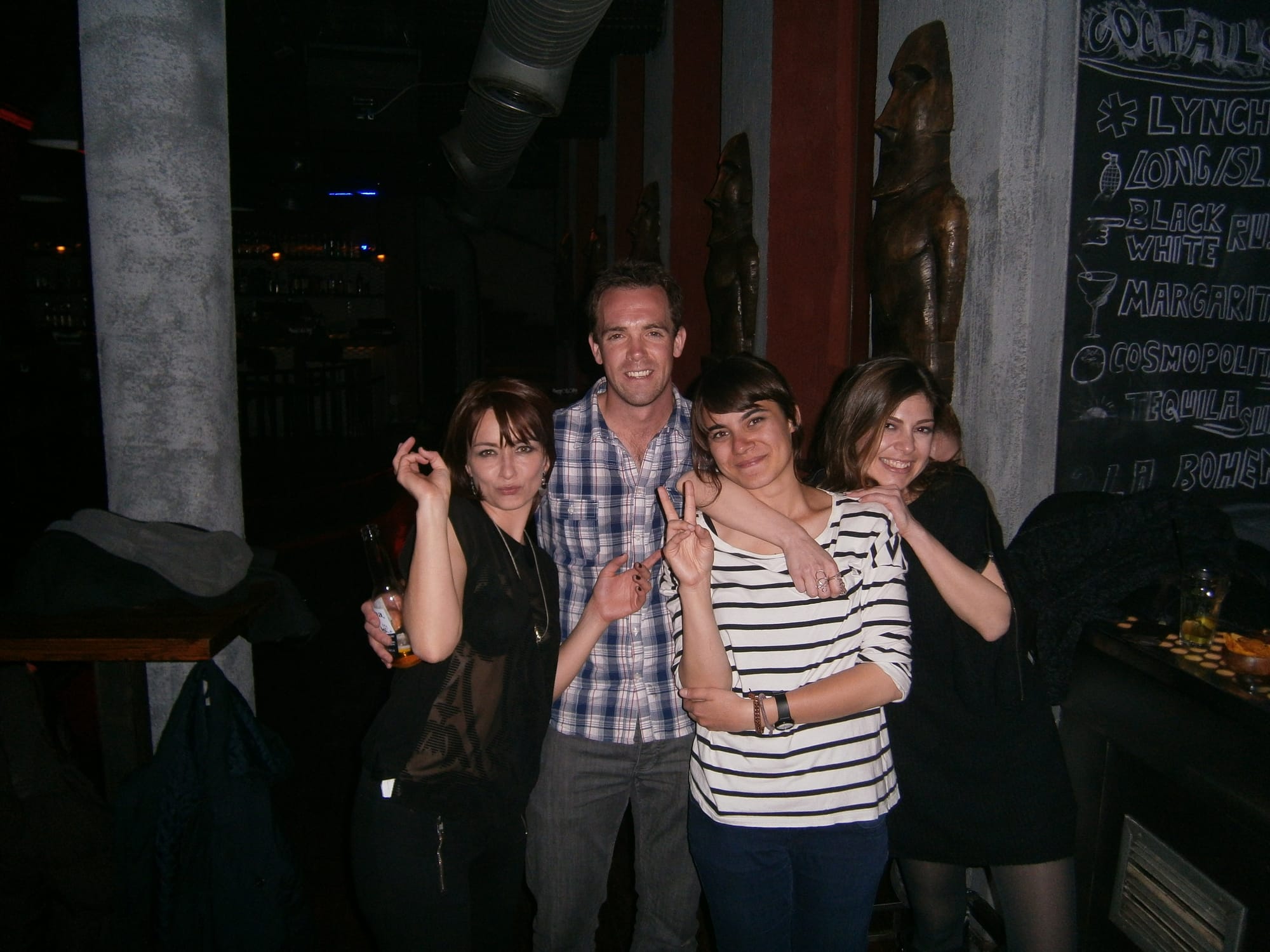 It was time to leave Istanbul for a week, I flew to Cappadocia for three (3) days. I didn't know much about Cappadocia other than the beautiful pictures I had seen online. I had a nice hotel booked which was built into the side of the hills. All the small villages were built into the sides of the hills and mountains and were designed like caves. It was incredible. It was low tourist season being March so the restaurants/bars were empty. I enjoyed exploring the village after I unpacked as I had never seen a village built into desert hills / cliffs before. It was like something out of a Star Wars movie. Being on my own I headed out for dinner and had a delicious lamb stew style meal with a few beers before crashing, I had a full-day tour booked the next day.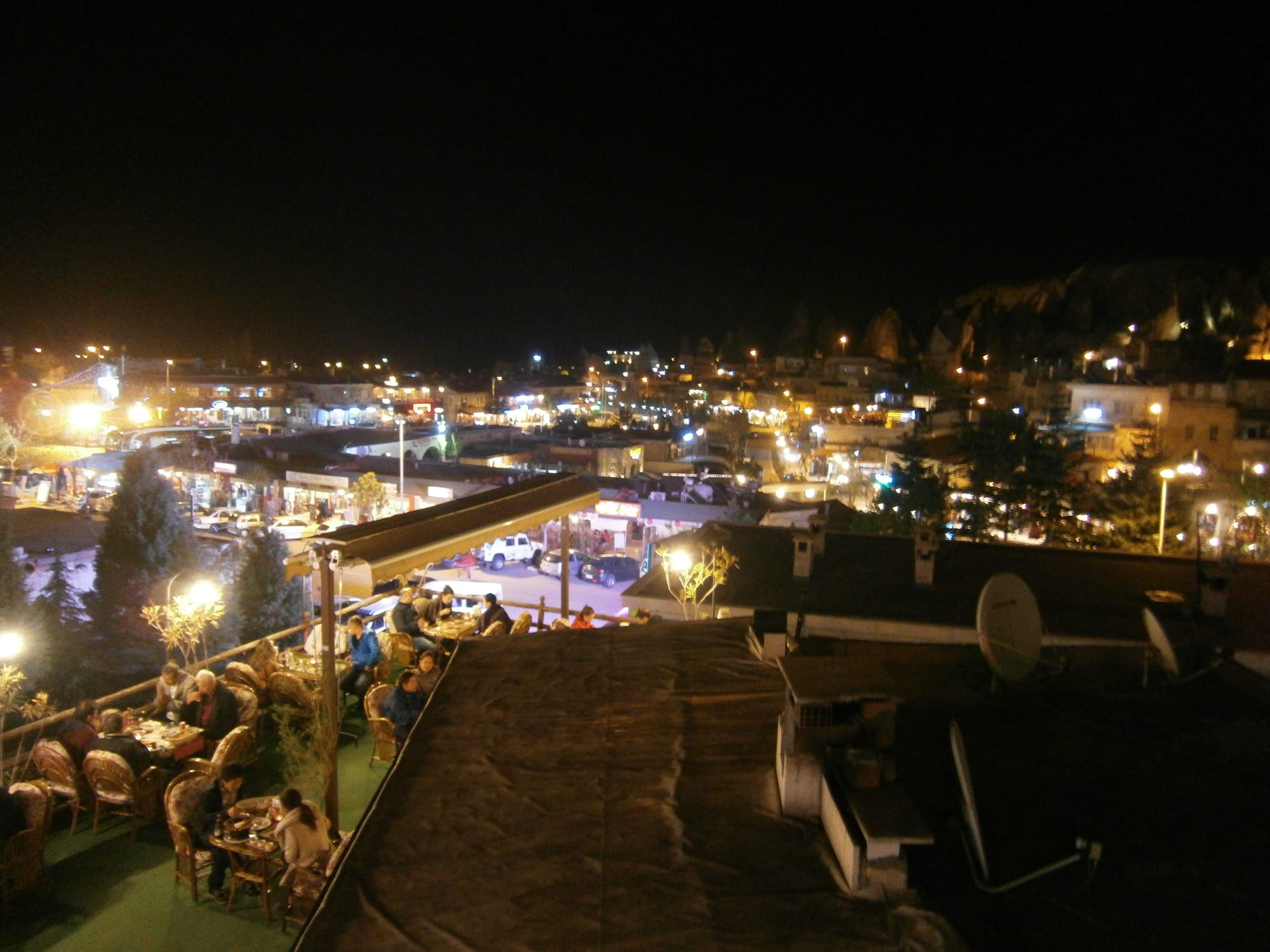 Cappadocia is famous for the hot air balloon rides in the morning at sunrise over the area. Hundreds go up every morning. Unfortunately, as it was low season not many were going up and the ones that were going up were booked out when I was in town so I missed out, I hope to get back there to experience it. My fault for not planning ahead.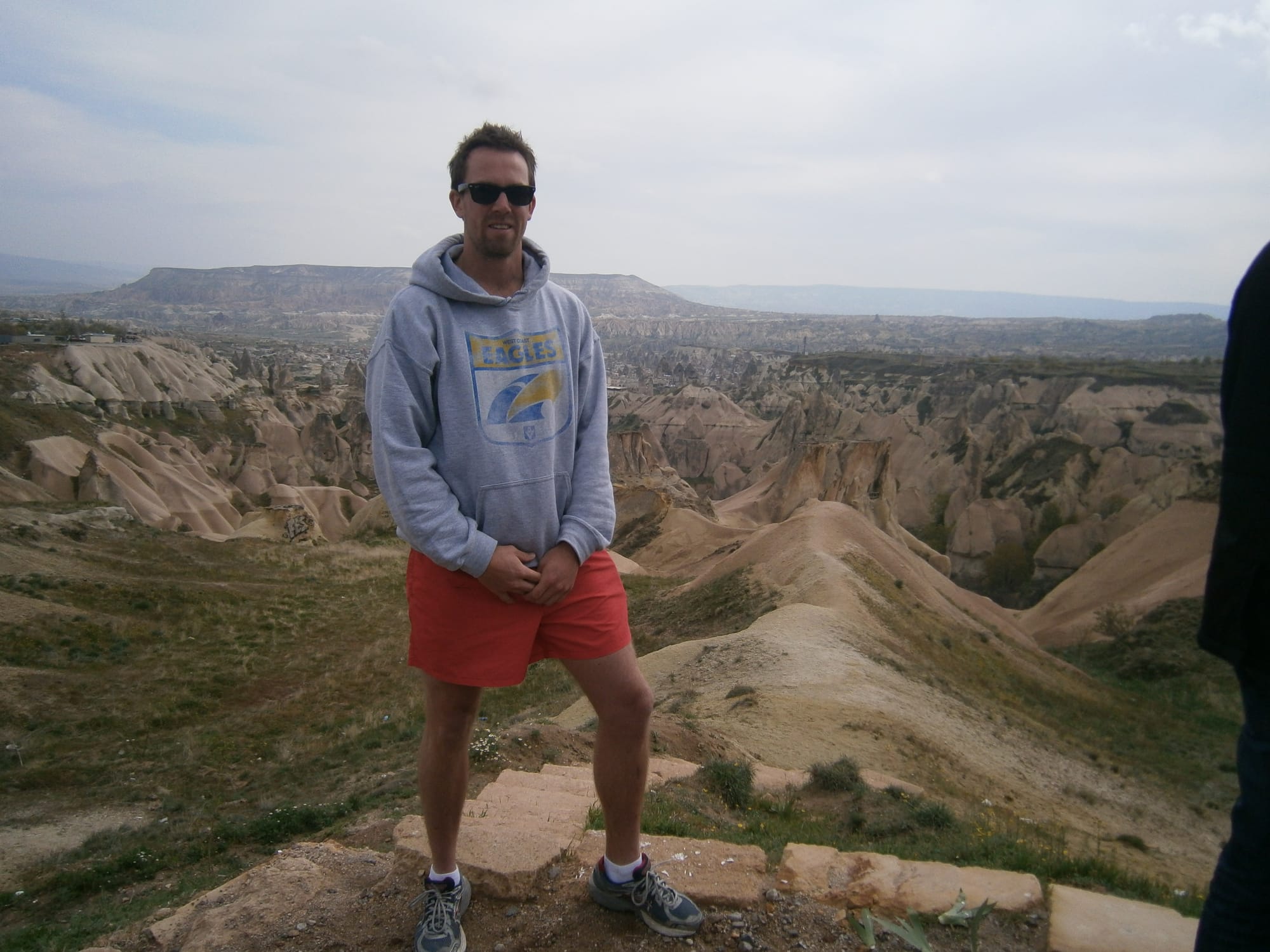 Our day bus tour was amazing. Our tour guide gave an amazing background of the area when it was ruled by the Romans when Constantinople was the capital of the Roman Empire. The Roman soldiers would come out to the desert to slaughter the Christians. The Christians found (may be taken from the locals) these caves built into the sides of the hills, cliffs, and mountains. Here they were able to hide and survive when the Roman armies came out to kill them. They extended the local caves and were able to connect the underground caves between the villages to create an underground network that the Romans did not know about. The designs, defence installations, survival tactics and living quarters were incredible especially to think that they were all built thousands of years ago. The caves go up to 100m underground however we were only allowed to go to 65m for safety reasons. Still 65m underground was incredible and the fact that they still operated perfectly safely today is crazy!
We continued our tour to explore the local churches and cathedrals built into the sides of the mountains and hills. Seeing the old stone carvings, paintings, and history carved into these caves was incredible. I am not a religious man though just the history and what the Christians did to survive in this area was amazing.
On our way back from the day tour we got to see Hasandağı (Mount Hasan) which is one of the volcanoes in Turkey which dominates the view of the countryside. It is a really beautiful countryside and just such an amazing day learning so much about the area. Most of the people on the tour bus were a little older (40+), we all chatted though parted ways at the end of the tour!
I was dropped off at my hotel after a long day. Bed was calling.
I had an afternoon flight so enjoyed just exploring more of the village I was staying in the morning before my flight. My next stop was Antalya.
Antalya is a beautiful coastal city on the south coast of Turkey. I had a backpackers booked here for a few days to just relax and enjoy the beach. It still was not that warm but nice to be by the water. I met a couple of Aussie backpackers which was nice. We enjoyed just exploring the town and the beach together. Being low tourist season the nightlife was a little quiet but was good to just have a few beers together and not worry about a huge amount of people around. We did book a traditional boat cruise around the coast which was really nice to be out on the water.
I took this time away from Istanbul and being close to the beach to go for morning runs and evening workouts on the beach. The beach was so quiet and so I often had it all to myself when I was running or working out. Sometimes the locals would come to join me for a little which was good fun. I always finished with a quick swim (still so bloody cold in the water) and a meal at one of the local restaurants which so satisfying! The water was so clear! The beaches were rock/pebble beaches which made the water just clear all the way down even when we were out deep.
It was a nice few days just relaxing in Antalya. It was sunny everyday with beautiful beaches and mountains in the backdrop, no wonder it is a tourist haven over summer. I did explore some of the cultural sites like Hıdırlık kulesi (Hidirklik Tower), Antalya Atatürk Evi Ve Müzesi (Ataturk House & Museum), Karaalioglu Park, and Düden Şelalesi (Düden Waterfalls) during my time there.
It was time to head back to Istanbul for a few more days before I was flying to Holland for 10 days then on to London to start the cricket season.
It was much nicer flying into Ataturk airport this time knowing what to expect. This time I took the trams to Apo's apartment. It was much longer 60-90 minutes though much cheaper. I was not in any rush and I knew my way around on the tram lines.
That night it was good to be back with Apo and Melek. We just relaxed and had a fun night.
I had kept in touch with Gözde while on my travels and we had agreed to catch up before my flight to Amsterdam. I had another day in the old town just exploring the historical sites on foot and enjoying plenty of Turkish food. This time I walked to Topkapi Park, the New Mosque (despite still being built in 1665), and the Valens Aqueduct which was built by the Romans in the 4th century. One thing I missed was the Basilica Cistern, I just couldn't find it. Though it was ok I was to come back in 2014, 2015, and 2018 where I got to enjoy it!
I got back home to get ready to meet Gözde. I was meeting her on the other side of Taksim Square in the suburb of Bebek for dinner. She took me around the area which was very high end and more western style architecture and shops which was different to what I had experienced in the rest of Istanbul. We went to a few bars then to a nice restaurant for dinner. It was amazing to hear about her career and acting in Turkey. She had grown up in Izmir before moving to Istanbul for work. It was so nice to spend time with her. It was a little weird having paparazzi take photos of us when we walked down the street. Gözde has become a good friend and we have caught up in London when she was visiting with friends and each time I have been back to Turkey we manage to catch up for a coffee. It has been great to see her career grow over the past few years since we met.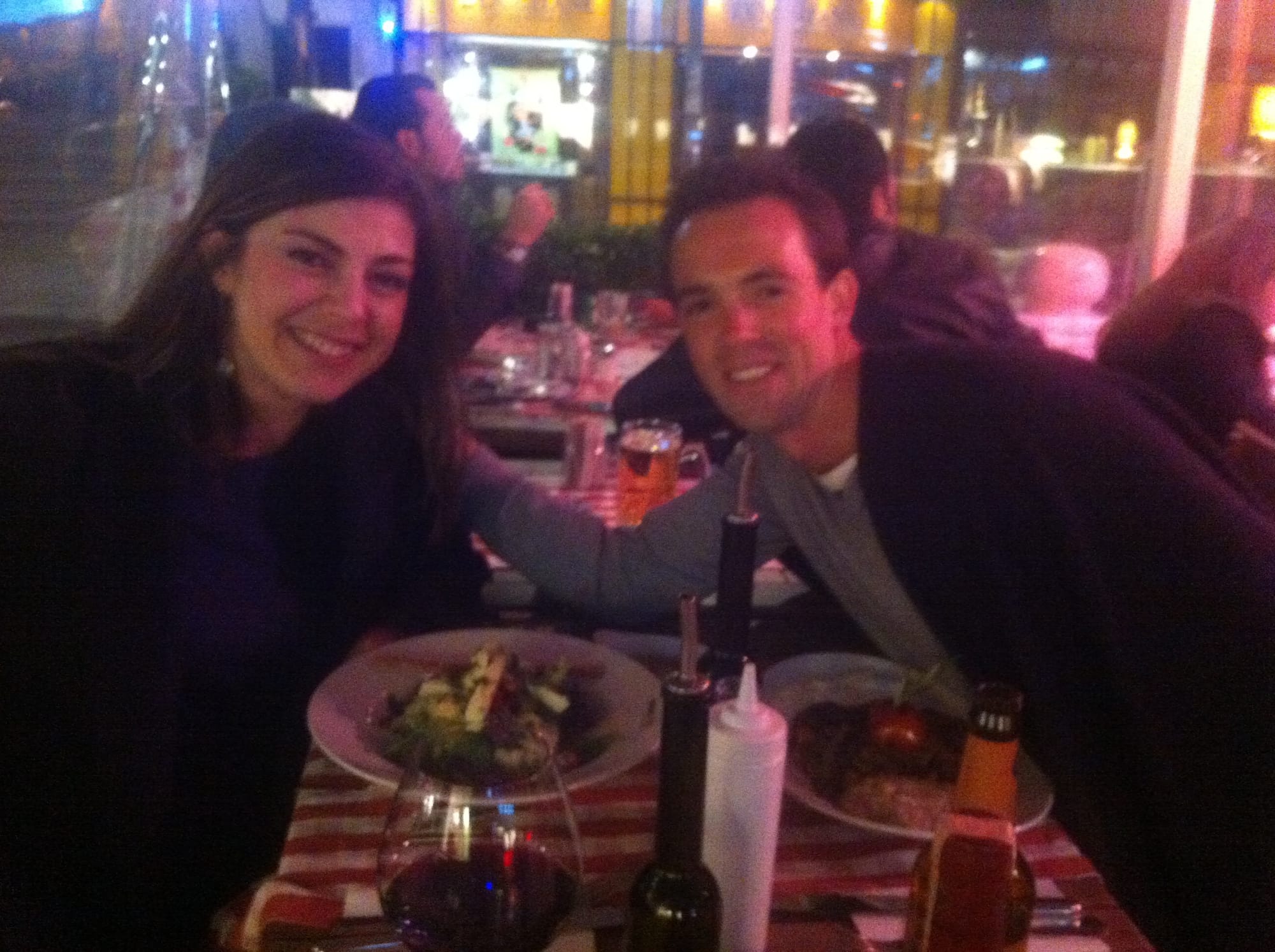 I got home that night to Apo, Fatih and Melek waiting for me to find out how my dinner was. It was hilarious, none of could believe I had gone out for dinner with Gözde. We had a call later that night with Gözde where we all spoke on the phone and we all just loved that had become friends. We stayed up drinking together and having a fun night.
The morning arrived and it was my last day in Istanbul. Apo, Melek, Fatih and Begum had organised for their friends to come over for a bbq on the rooftop of Apo's apartment building then to go out. It was so much fun. Apo's apartment building had an amazing rooftop that looked over the whole city, the views were just amazing. About 10 or so friends came over which was so much fun. Apo was phenomenal on the bbq and just such a fun night watching the sunset over Istanbul with amazing food and great people. A night I will not forget. We wondered down to Apo's apartment where we played local music and Begum taught me Turkish dancing. It was so much fun. The shots came out and it was time to head out to the bars and clubs. It was so much fun dancing and partying in a big group. I loved the small bars and music that we went to, just bouncing from bar to bar all night. The night was coming to an end and we all got some food before saying our goodbyes. My favourite end of night food is Kokorec (sounds horrible though is delicious) it is diced lamb and goat intestine into a fine mincemeat that is seasoned with A LOT (thankfully) of herbs and spices then added to a wrap with cucumber and yogurt. So niiiiiiiice!! Obviously plenty of kebabs were enjoyed as well!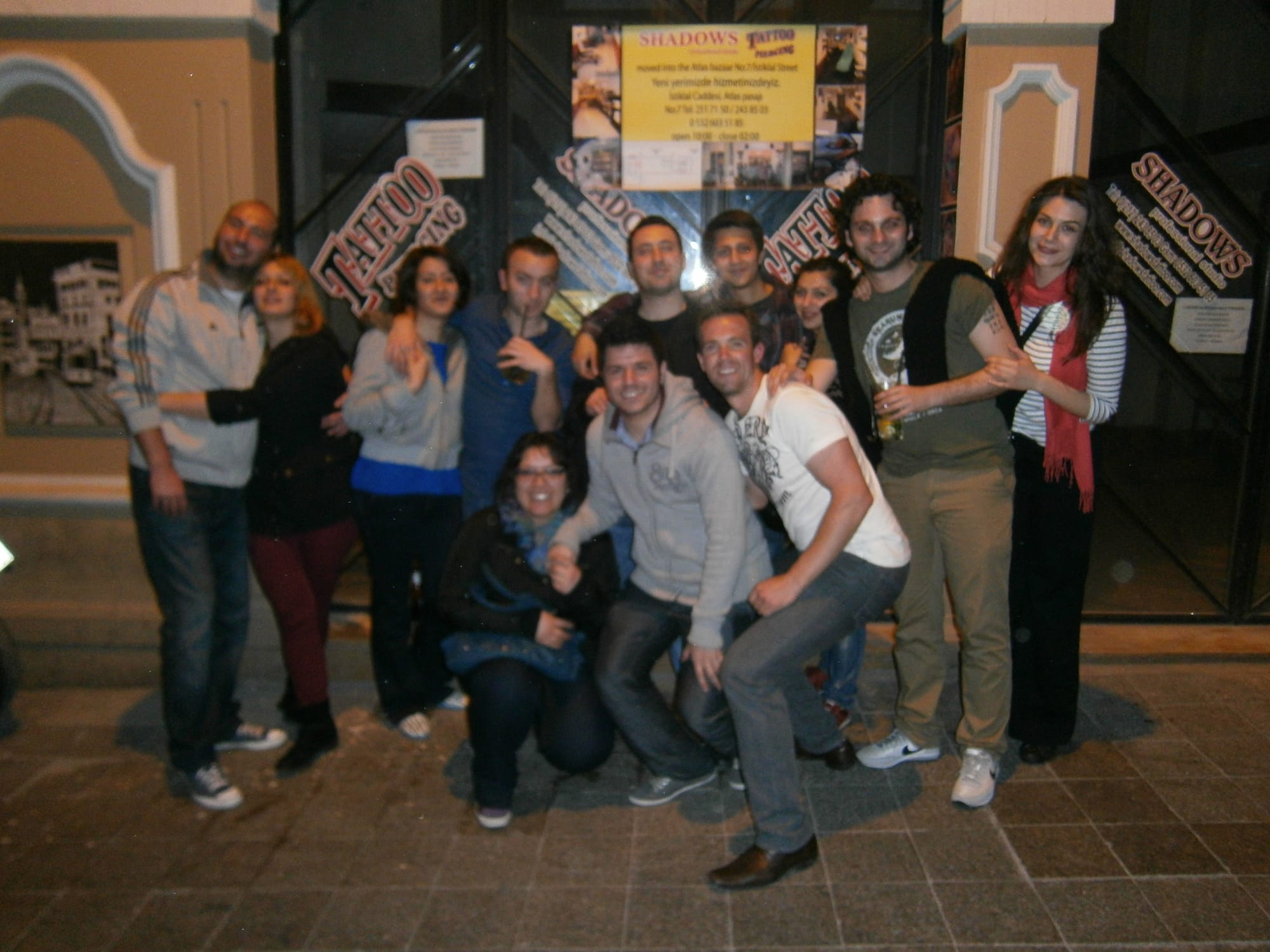 It was time to crash!
I had a midday flight, I said my goodbye to Apo, Melek, and Fatih the next morning as they had to go to work. I finished my final breakfast routine for the last time... well until 2014. I knew I would be back to enjoy this city and see my friends again! I just love this city and everything it throws at you. Apo, Fatih were just amazing hosts and have become my Turkish brothers. I learnt so much about the Turkish culture and history from them, i will be forever grateful for the time we have spent together, it is always just soo much fun. Melek and Begum were so kind and caring. I loved learning traditional dances with Begum and cooking with Melek. I cannot thank all of them for one of the best two weeks travelling I have ever had. Truly life long friends!
I had explore Istanbul, the south coast and the desert however there was just soo much more to see in Turkey! Tune in for 2014, 2015, and 2017 trips!