A good friend of mine, Kat, from France, wanted to do a festival together in 2015. We had met in Melbourne in 2013 and kept in touch. She had now moved back to Europe and we were looking to catch up. She suggested V-Fest in Essex (Hylands Park) as she was able to drive over from France and I could easily catch the train from London.
The line up looked great, with Kasabian, Sam Smith, Calvin Harris, The Script, Ellie Goulding, Tom Jones, Hilltop Hoods, and Pendulum playing. It was great to see a few Aussie acts making an appearance.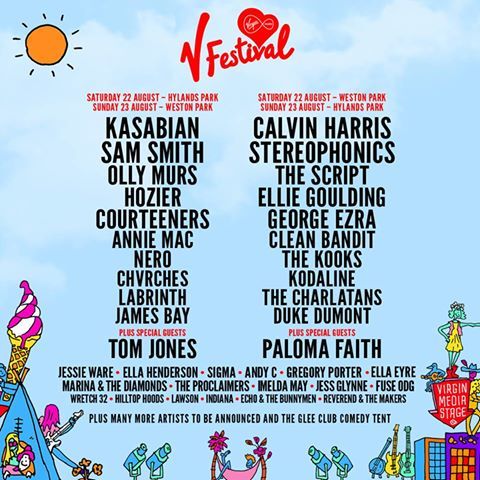 I finished work early on a Friday afternoon and caught the train out to Hylands Park. It was a little bit of a walk from the station though well signed on where to go. Kat was bringing all the tent gear and sleeping bags as she was driving so least I only had to carry my bag. Most people had arrived earlier in the day so there were limited camping sites available. Kat was arriving a little later than me so I explored the area for a place to set up. I found some space between a few tents where a group of uni students were set up. They seemed good fun and were fine for us to pitch our tent in the free space. Kat met me there and it was great to catch up and set up.
It had been a while since we had caught up, so it was just nice to spend some time together. The uni students were good fun, they were up from the south coast of England and just keen for a massive weekend. They got us involved with some drinks and food as they had all driven up with some much stuff for the weekend.
The Friday night was pretty quiet and there were just a few small acts and a silent disco party in one of the tents. We all decided to head to the silent disco party and wanted to jump on a few of the rides. We headed over to the main area and hopped on a few rides before heading to the silent disco party.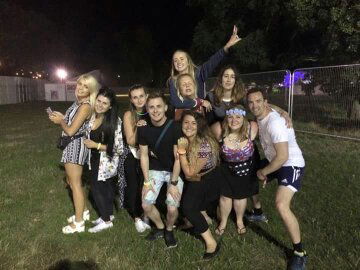 It was great fun and we all loved the dancing in the tent to the different tunes in our headphones. It was really weird to watch as an onlooker if you don't have the headphones on but we were just loving it!
We didn't go too hard on the first night with a big two days to come.
The sun was out and time to get up. The uni guys were all up and cooking sausages on their disposable Sainsbury's aluminium BBQs, if you are not English you will have no idea what these are. They are horrible and being an Aussie I just effuse to ever use them, if I am going to BBQ I am doing it properly! They are these lil aluminium tin trays that come with a small grill plate (like chicken wire) and some coals. You can probably cook 4-5 sausages on it before it just collapses from the burning coals. 70% of the time they just break and collapse while you are cooking…
Kat and I were happy to just head to the food caravans to pick up some breaky. We had a few drinks back a the tents and then headed off to enjoy the festival. It was great fun to just relax at the tents with some drinks and soak in the sun before the festival got started!
The afternoon acts were a good mix, I just wanted to see Pendulum otherwise was happy to just take in the main stage acts. Pendulum played a DJ set only though they had their MC with them. They were awesome!! I hadn't seen them live before, so it was epic to see them live and mix up their songs! The MC got the crowd jumping and kept the crowd alive, he was awesome!
Kat and I headed over to the MTV stage to check out Mark Ronson before heading over to the Virgin Media stage for James Blake, Annie Mac, The Courteeners, Hozier, Sam Smith and Kasabian. It was so nice to just relax on the afternoon on the main hill with the sounds of James Blake and Annie Mac while the sun shone.
We tossed up heading back to the MTV stage for Labrinth and Tom Jones though we had such a good spot and wanted to see Hozier, Sam Smith and Kasabian so we stayed where we were. Sam Smith was just beautiful, I am not a massive fan, but he sung so well and really lit up the crowd! Kasabian took it to another level!! They were awesome!! Just epic tune after tune and brought so much energy to the festival. They closed with "Fire" and there was one guy dressed up in a lego man with a flare, he was on someone's shoulders and lit it just in time for the chorus, it was awesome!! The crowd just erupted!!
The 1st night was over and time for us to slowly head back to our tent.
Those hot sweaty summer mornings in a tent made sure we were up early as the tent was a sauna. Hilltop Hoods only have a quick 25 min set to start the morning at 10am. I really wanted to see them despite the early start. I had mentioned to Kat and the uni students that they were awesome live, so a few of them joined me for the morning set despite being pretty hungover. The Hoods didn't disappoint despite only playing 5 tracks they got the morning crowd bouncing to start the day!
We headed back to the campsite for breakfast and to relax before starting the day again! We headed to the Virgin Media stage to watch the Proclaimers. Once again we got a good spot and were happy with the line up on the Virgin Media stage so we settled in for the day. It started to rain around 1pm though this just kept us spirring on for the day! We met a couple Aussies in the crowd which was great fun! Gregory Porter was amazing with such a powerful voice, Ella Henderson, The Kooks, and George Ezra got the adrenaline going for the afternoon before Ellie Goulding, The Script, and Calvin Harris lit up the night! We met up with all the uni students and the afternoon evening was just erupting with tunes and sensational dance moves!
The last three performances were amazing! So much fun with just classic tune and banging hit again and again. The live performances were epic and Calvin Harris's light show was next level!!
The night finished earlier than Saturday with a lot of people having to go back to work on Monday. I had stopped drinking earlier in the afternoon to make sure I wasn't too dusty for work on Monday. We all said our goodbyes at the end of the night as was going to be a bit of a rush in the morning. I was up early to help Kat pack up the tent and take things back to her car. It was great to catch up with Kat for a weekend, and I wish it had been longer.
We said our goodbyes and safe travels, it was going to be a long drive home for her. I headed to the train station for a long ride into London and direct to the office…it was going to be a painful day at work! But bloody oath it was gonna be worth it!!
It was an awesome weekend escape for V-Fest. It was a bit more pop-style music than other festivals I have been to previously but I really enjoyed seeing global artists who put on amazing performances! As always a fun weekend with Kat and just great to spend some time with a good friend!