Bonn / Cologne 12- 14 January 2018
In 2008 when Lems and I were roading tripping around the USA we met some Russians in Miami that were also travelling in the USA. We had kept in touch over the years via social media and hoped that we would cross paths again. With me living in London Xeni and I often chatted about catching up though it always seemed to be bad timing for one of us. Xeni was living in Bonn Germany which was an area I wanted to explore being so close to Cologne which I had heard was a beautiful city.
It was coming to an end of my time in London so we both made an effort to try to catch up before I moved back to Australia. We both had a free weekend in early January 2018 so I headed over to Bonn to catch up.
Xeni has a Russian background with her family moving out of Russia when she was a child however still kept a strong Russian family culture. The old Russian tradition is to celebrate Russian New Years on the 14th of January, so Xeni and some of her Russian friends in Bonn had planned to celebrate Russian New Years on Saturday 13 January.
I flew out from London after work on a cold wintery evening. I arrived in Bonn and it was already dark with some snow falling. Catching an uber to Xeni's house was easy as she was located in central Bonn. I didn't know much about Bonn and its history before I arrived. I discovered that Bonn was originally a Roman city and was the capital of West Germany from 1949-1990. Bonn was also the home of many logistics and telecommunication companies like DHL and Deutsche Telekom so was a big hub for employment. Xeni and her friends all worked for DHL so it all started to make sense now.
Xeni and I went out for a night walk around the old town in Bonn on Friday evening and to have a few beers at her local pub. It was great to catch up and just relax. We picked up some food at the local grocery before heading home for dinner. It had been so long since we have caught up, though we had always kept in touch via social media.
Saturday morning was another cool wintery day, it was pretty overcast though would clear later. Xeni wanted to take me for a hike through the hills along the Rhine river which had a nice lookout over the city and countryside. We were in no need for a rush so went for a nice walk around Bonn in the morning to get a feel for the city and see the old Government buildings and monuments. Being early January and the middle of winter not many people were out in the cold weather.
We headed over the to Siebengebirge national park. The Rhine River was overflowing and flooding the low lands along the river after soo much rain and snow during the winter. Despite the cold, it was clearing to be a nice day and many people were out for a hike through the national park to the lookout. Xeni pointed out that the CEO of DHL was also at the lookout which was nice to see him out with his family on a chilly winter day. The view was beautiful and it was great to see Cologne in the distance.
We stopped in at one of the local pubs for a beer that was along the Rhine before heading back home to start getting ready for the Russian new year celebrations.
Xeni's friends were coming over for dinner and all bringing different Russian dishes and drinks for the night. One of Xeni's friends worked in marketing for DHL so brought lots of DHL products for gifts, it was quite funny but very practical! I was given a large portable charger, which actually was soo good for my four (4) month trip through Central America, I used it the whole time as it lasted soo long!
It was so much fun drinking vodka, eating home-cooked Russian food, and playing Russian drinking games all night. Xeni's friends were so nice and just welcomed me into their Russian family for the night. Xeni is a great cook so the food was spot on and kept us full for the night!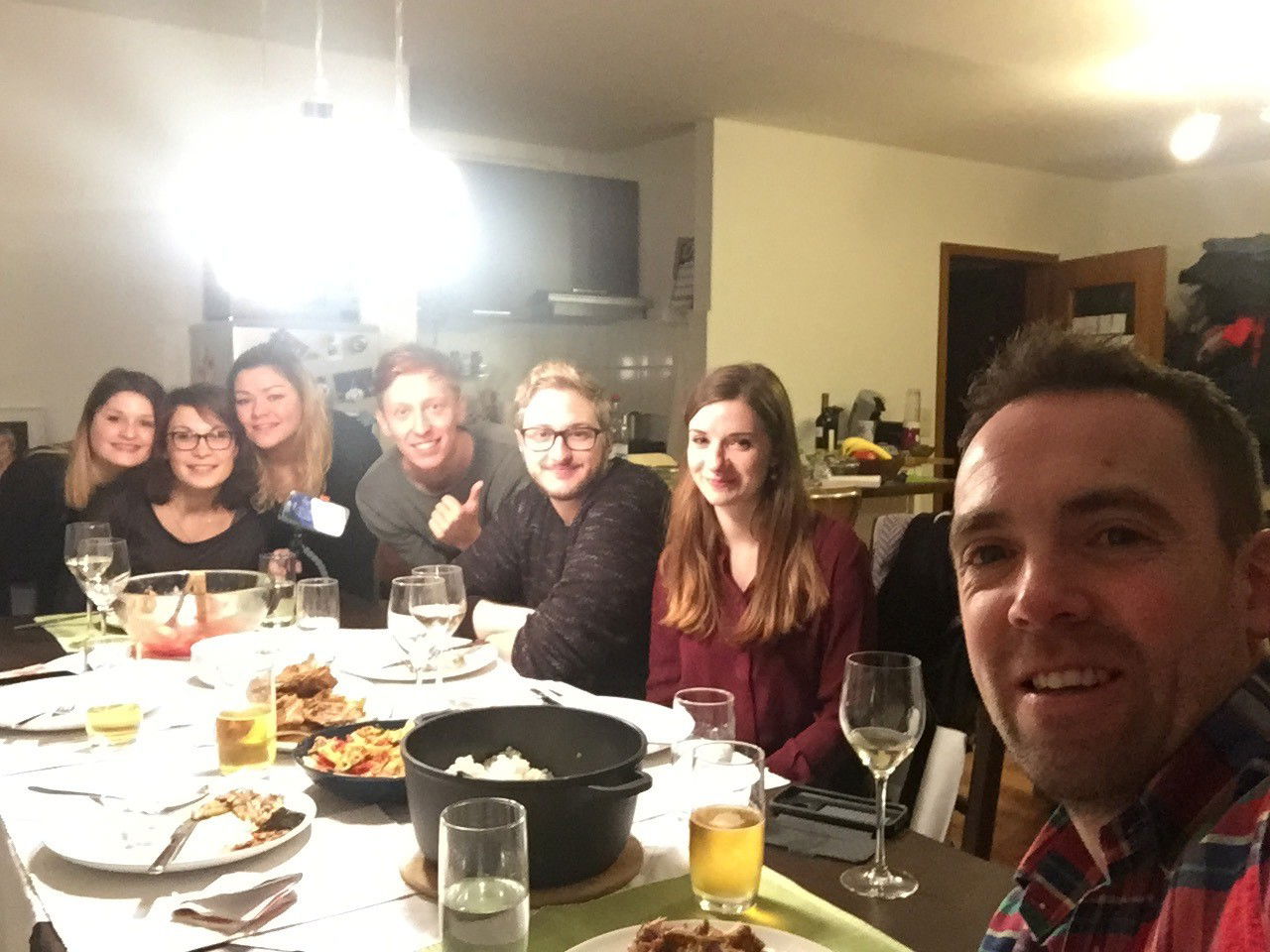 It was nice to have a sleep in on Sunday after a fun night. We weren't in too much of a rush on Sunday as I had a Sunday evening flight. We had planned to drive over to Cologne for the day for a walking tour and just explore the city.
Cologne is known for its best Christmas markets in Europe, being a German cultural hub and being a landmark of High Gothic architecture set amid reconstructed old town, the twin-spired Cologne Cathedral is also known for its gilded medieval reliquary and sweeping river views. The adjacent Museum Ludwig showcases 20th-century art, including many masterpieces by Picasso, and the Romano-Germanic Museum houses Roman antiquities.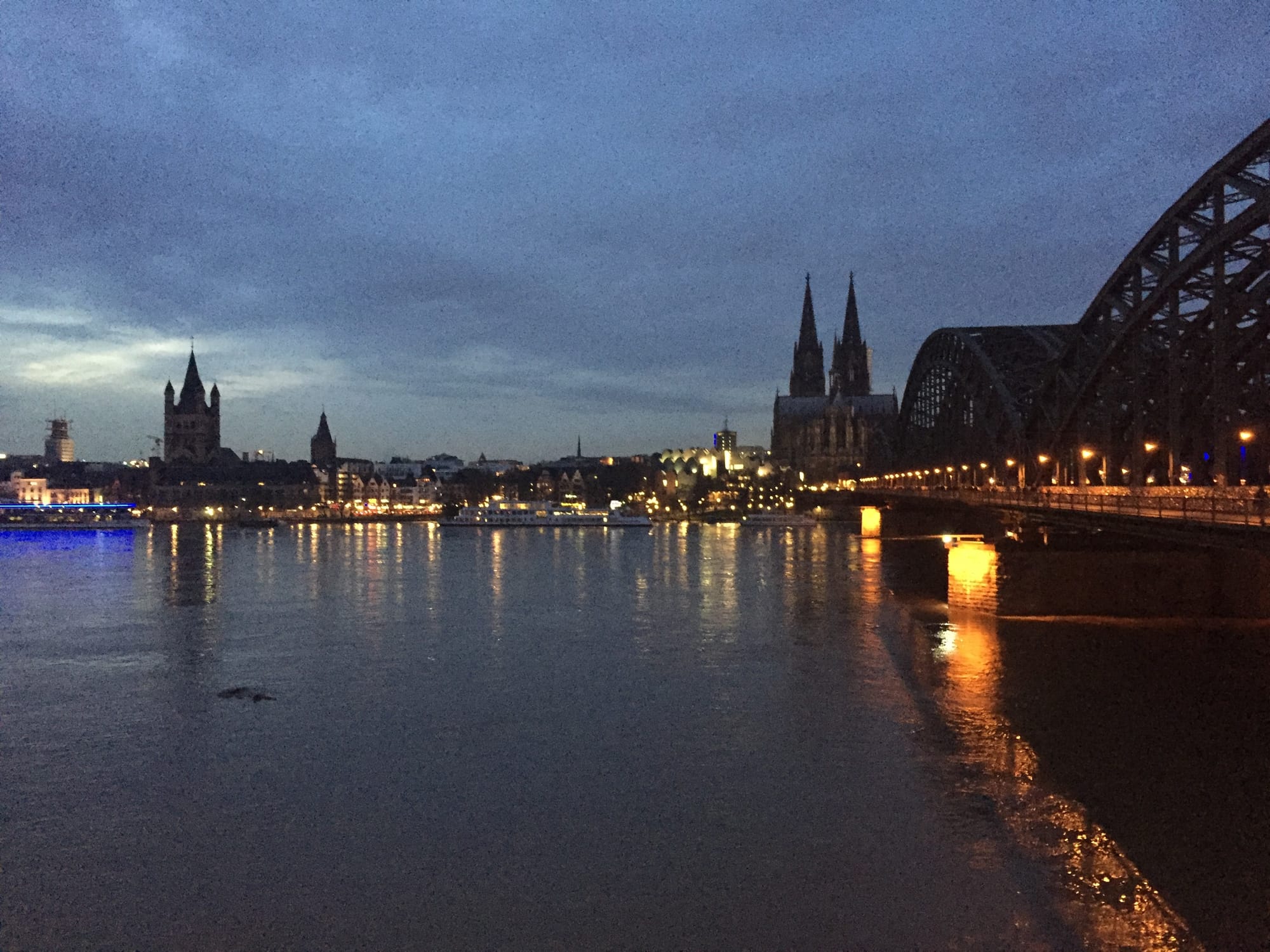 The walking tour was interesting though was dragging on so we decided to duck off for a bite to eat and to just explore the city on our own terms. It was nice to just wonder around the city and take it in. The Christmas markets were still open, it was nice to duck in for a drink and just relax.
Unfortunately, it was time for me to fly, so we headed back to the Bonn airport to drop me off.
It was a fun weekend catching up with a good friend, exploring Bonn and Cologne, meeting her friends, and celebrating Russian New Years!
Bonn and Cologne are nice cultural cities with rich histories. Being winter it was pretty cold and grey though I am sure in summer along the Rhine River running through they are just beautiful cities. I am glad I got to see the Cologne cathedral and architecture and I know it is world-renowned.